John deVadoss on Decentralization and Neo Blockchain | Ep. 163
Disclosure: Crypto is a high-risk asset class. This article is provided for informational purposes and does not constitute investment advice. By using this website, you agree to our terms and conditions. We may utilise affiliate links within our content, and receive commission.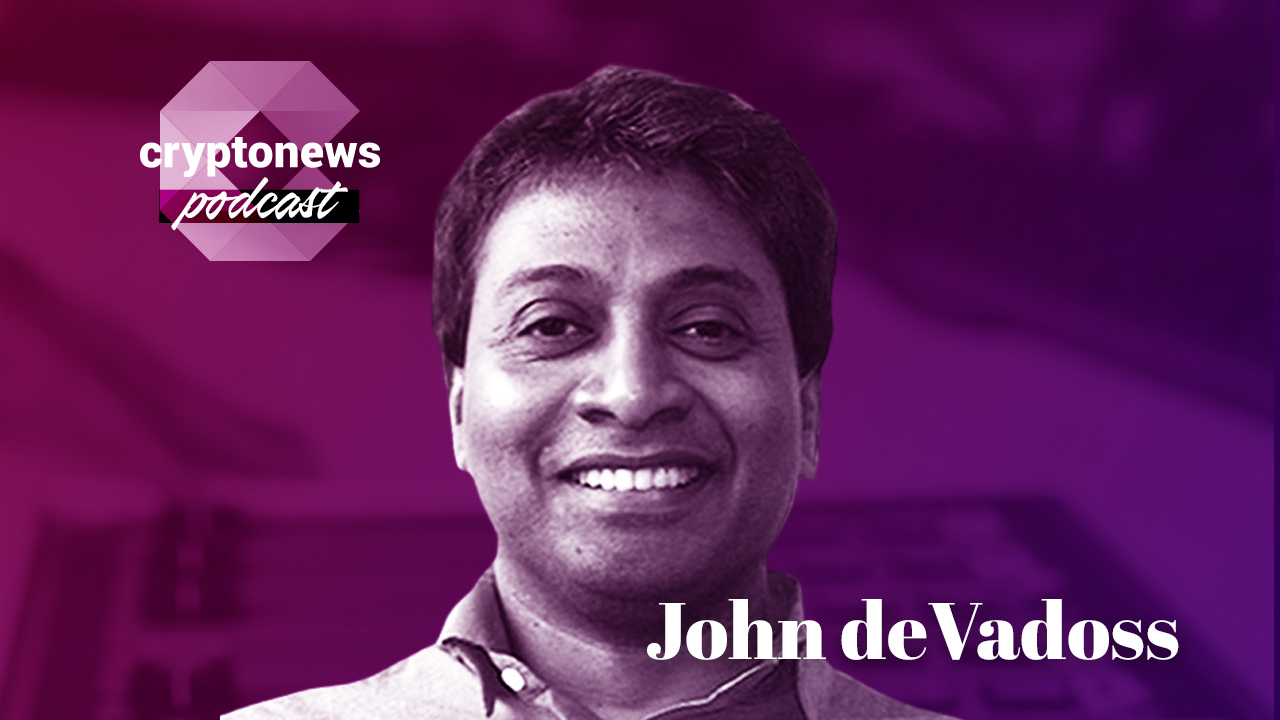 In an exclusive interview with cryptonews.com, John DeVadoss, Head of Development at Neo Blockchain, discusses how blockchain technology can become economic platforms that will give sovereignty and self-governance to individuals.
About John deVadoss
John deVadoss is the Head of Development at Neo Blockchain. John worked at Microsoft for 16 years as Managing Director before moving to crypto and choosing Neo in his mission to make it the go-to blockchain for developers for creating dApps. John believes that adding functionality to the chain and growing its DeFi ecosystem is the best way to get more mainstream users on the protocol.
John deVadoss gave a wide-ranging exclusive interview which you can see below, and we are happy for you to use it for publication provided there is a credit to www.cryptonews.com.
Highlights Of The Interview
Blockchain technology becoming an economic platform, giving sovereignty to individuals
The journey from Web1 to Web2 to Web3
Lessons learned from working at Microsoft
How NEO blockchain will help onboard the first billion people to Web3
The next evolution of blockchain – true decentralization and the platform for digitizing assets



Full Transcript Of The Interview
Matt Zahab
Ladies and gentlemen welcome back to the Cryptonews podcast. We're buzzing as always, lovely day in Toronto, and today we have a guest across the pond in Seattle. Super pumped to have John deVadoss on the podcast, who is the Head of Development at Neo blockchain. And John has a clear and strong vision for Neo and the decentralized web that the future of Web3 lies in attracting the brightest minds. His vision was born during his time as a former managing director and general manager at Microsoft, ever heard of him, where he incubated and built Microsoft digital from zero to 0.5 Bill and revenue and lead architecture strategy, product and developer engagement from the microsoft.net platform v1 as well as his time at Microsoft and Neo. John has also published a number of books on software architecture and is currently working on a book on decentralized systems. John also leads MGT enterprise Inc in Seattle, is a focus on blockchain developer experience and tooling. He is also a board member of the Global Blockchain Business Council as well as Co-chairman of IEEE Blockchain and IEEE Blockchain Standards Association. Wow, what a bio I need a drink of water after that. Without further ado, I'm very pleased to welcome John deVadoss to the Cryptonews podcast. John, welcome to the show, my friend.
John deVadoss
Matt, thank you. So that was a very, very kind intro. I really appreciate it. It certainly sounds like a very long intro. But I'm humbled, truly a privilege to be on your show to be able to discuss all things blockchain. Thank you.
Matt Zahab
John pumped to have you on. And thanks for the tire pump on the intro there. Let's start way way back. You were one of the few people in Web3 who not only experienced Web2, but also experienced Web1 , and the sense that you were building shit in Web1, not even shit, you were literally building Web1. Walk me through that process. What are some of the craziest changes and trends you've seen from the whole 20 Year? More than 25? year plus rip from Web1 all the way to Web3?
John deVadoss
Absolutely. So it would be a pleasure. Yes, you're right, way back when late 90s built the platform that eventually became known as dotnet for Microsoft. So you're right, we built the stack, the plumbing, and the developer tools and the experience for Web1, you might say, of course, the Segway also into Web2, circa you know, late 2000s, early 2010s, through the cloud transition. And of course, now, the so called Web3, I would say, with respect to what we call Web1 these days, Matt, what was very interesting. The fundamental principle, if I could emphasize one principle, is one of loose coupling. You know, prior to that in terms of the PC, wave, client, server, and so on, you know, we built very tightly coupled systems. And the big shift, the fundamental shift that we had to educate, evangelize, and really sort of promulgate across the stack was the emphasis on building services, being able to build loosely coupled services that you could compose, in turn to build applications. Now, at that time, I had this very naive view that, you know, these loosely coupled services composable services would lead not just to technology implications, but also economic implications. And unfortunately, that was not the case. We realized very quickly that yes, we could build loosely coupled systems, however, it was going to be plumbing. And the reason I say this is because it will segue into web three in a couple of minutes. The shift from Web1 to Web2, was the fundamental shift. And I would say the industry lost many developers, and also probably many companies in that shift. Why? Because the Web1 commercial model was very traditional was very vanilla classic, you know, you knew how to monetize your services and products, but with the so called Web2 wave, as we now know, you know, the customer became the product, the consumer became the product. And so this is a very fundamental shift in terms of how to think about monetization, and profits and revenue and market share. Right. And that was the, you could say, almost a chasm in between, of course, many people made the leap very successfully, but also many did not. Because if you think of yourself as a geek, as a technology guy, which I used to back then it's very hard to say, okay, look, the economic model is now completely different. Right? And so likewise, the shift from Web2 to Web3, Matt in a Web2, if the consumer is the customer became the product in Web3, what we have is this shift of blockchains as economic platforms. Now what I mean by that in the history of computing, going back a long time back to the mainframes, and even before right client, server, PC, web cloud, they're all plumbing platforms, Matt. It's just the plumbing, the wiring, the pipes, infrastructure, passive inert. But with Blockchain block platforms, we have the crypto economic protocols baked inside the stack, meaning, you know, we have incentives, rewards, penalties, codified via smart contracts for the first time in history. And so once again, I see this chasm, you know, similar to what we saw with Web1 to Web2, going from vanilla business models to the customer is the product now from Web2 to Web3, where developers technologists IT people have to really grok economics, or at least incentive models, because otherwise, they're using Blockchain as a database, which of course is pointless, right? So that's where we see this hurdle, if you will, you know, we have built the best dev tools and experiences for them. But unless and until we have millions of developers who can see the shift and say, Look, how am I going to apply? How am I going to exploit these crypto economic protocols? For my business's benefit, you know, we haven't really made that shift. And that's kind of why I see a parallel, if you will, between that first shift. And the second one, which is even bigger, to close the loop, right. In terms of web1 and loosely coupled systems, I finally see the light where now, of course, you know, web3 is about loosely coupled systems. But the lines are drawn from an economic perspective, not from a technology prospective. And that's why we have, you know, what you call DeFi right, is composable finance, but the lines are not drawn in terms of technology components, but in terms of economic components. And with that, let me pass and it's been a kind of a few minutes of back and forth. But I want to just pause right there. And, you know, any questions, thoughts on what I said?
Matt Zahab
No, that was a great spiel. And I love how you threw that back to me there. I just, I guess in summation, you're a big believer that economic platforms, aka blockchain is an equals serenity of the individual really sort of gives them the power to invent themselves and do what they want with their money.
John deVadoss
So very good question. Yes, absolutely. And I could talk for hours and days on this topic. Yes, you're absolutely right. Right. The first time in history, we have economic platforms, and as you said, so why do we care? Why does the user care? Why does the customer the consumer care? It is because for the very first time, we can offer them, as you said, self sovereignty, being able to protect their data. Now, in obviously, we talked about web2, but I will say, and this might be very politically incorrect. But mad web2 is a bit of a cesspool. In terms of the social media, the censorship, the, you know, the flame wars, and, you know, it's a bit of a cesspool, in terms of what goes on, unfortunately, what began is probably a very good idea, which is why I'm not very comfortable with this web3 moniker, you know, it implies that we are building this on top of the web2 fabric, which I believe is not the case at all, we made a fundamental shift, right?
Matt Zahab
Good point.
John deVadoss
And that's why to your point, the self-sovereignty of the individual, which goes back to again, sort of almost retracting every mistake we have made with web2, you know, if web2 is surveillance capitalism, right, then really web3 is self-sovereign capitalism if you could put those in those words. And so I would say sort of, it's really a detour and a diversion away, having learned from those fundamental, you know, false mistakes, principles, and even the value system. So yes, unless and until the customer, the consumer understands and internalize this. And furthermore, demands self-sovereignty. I don't believe we have truly reached this vision of web3.
Matt Zahab
Very interesting. Let's, let's take a break from web3 for sec. We'll go back to sort of web you know, and web DOS, you built some really important shit at Microsoft. Very important shit. What was it like working for, you know, a top-five company of all time kind of thing? Like, could you feel the innovation and the buzz and the culture? Again, I know it's very qualitative and shitty question.
John deVadoss
Yes, sir.
Matt Zahab
Did you feel that, like, did you know how special it was being a part of that back in the day?
John deVadoss
We had an idea? I'll confess, I don't think we realize the impact we were creating in the industry and across the market. And I lead architecture for dotnet v1 and v2, long before it was called dotnet at that time, you know, we called it in fact, NGWS which meant Next Generation Web Services and the NG SLR carried down, obviously, as you can see, right. So next gen Web Services became dotnet. And we didn't quite realize how much of an impact that the stack the platform would have. You know, Matt, there are 20 22 billion plus developers worldwide. And I would say, with dotnet, you know, we probably hit, you know, a significant majority of and I remember back then, you know, being in airports and traveling and meeting customers, and people would say, Hey, John, you know, it's pretty cool stuff, you guys have dealt with that net. And so that was very fulfilling, to look back and say, Look, we are making a difference, right? And that's the one thing I would say, this, this element of positive energy coming from, we are truly making a difference in terms of helping these millions of developers to be successful. But also to have fun. There is a mental model, Matt, I used to use back in those days. I don't know. Are you a climber? You hiked you climb mountains?
Matt Zahab
I love I can hike but not climb. No, that's way out of my paygrade.
John deVadoss
All right. You ski when you live in Toronto, do you sign probably the way I can see? Yes. So the way I would talk about this, Matt back then is, you know, when you're climbing, right, and I have friends who do ice climbing, so I watched them, I work with them, I helped them. So you know, it's a lot of work. You know, you have maps, you have compasses, you have equipment, you have planning, very rigorous planning. It's hard work. Right? Of course, when you reach the top, the peak, you know, the dissatisfaction is very hard work. But skiing, on the other hand is downhill. You don't have a map when you're skiing, right? There is no compass. You just go. Right, its fastest is fluid. It's fun. It's effortless, right? And so when we built those tools, Matt, the driving principle for me is building software. And today, building smart contracts are to be like skiing downhill, not like climbing. Right? It's a fundamental shift, right? Because that's what makes developers enjoy the experience. Have fun. energized.
Matt Zahab
That's a great, pardon my French, fucking analogy. I know you're very likely to get, sorry, keep going there. You're on a roll.
John deVadoss
Yeah. So basically, that's the driving principle, right? Because, look, building software is like building anything. And it's like engineering, it's like architecture. But unless it is fun, you know, it cannot be productive, because the key is to be in the flow. And in the flow. If you're a skier, you know what it's like to be in the flow, and you're skiing, right? That's when magic happens, man. So that's the driving principle. It's easy to build dev tools. But, you know, most dev tools out there, it's like climbing, you know, it's hard to climb up the hill. Right? It's time, sir. You know, it's, you're sweating. It's hard work. And, you know, you're hungry. And you're looking at a map and you're saying, you know, how do I get this next, you know, this next leg done, but really, for me building tools back then for dotnet, building tools for Windows Azure, really was driven by this profound observation that we realized that look, you know, if it's not like skiing down the hill, you know, go back and try again, you're not there in terms of the tools in terms of the developer experience
Matt Zahab
Great point there. Let's change avenues one more time here. And I want to get specific on John, you're very high performer, you built a lot of stuff, high output individual, what daily disciplines, morning routines, nighttime routines, do you have anything that you know, has to be in your calendar? That one thing that just really makes you tick makes you fire on all cylinders?
John deVadoss
Well, thank you. So thank you for the very, very kind comment. I would say it's not a discipline, per se, that might be perhaps, to, to discipline, the word to talk about what I do. But a couple of things, that one is positive energy. You know, I believe that energy is the force multiplier, and certainly positive energy. So finding things to do to focus on during the day, that give me positive at that feed, my energy that helped me to amplify to scale is critical, because negative energy drags you down. So I would say, you know, ensuring that early in the day you have those blocks of time to work on activities that give you back that don't take your energy. The second thing I would say is in terms of think time, you know, there is this perception, right, but you have to be working you have to be creating, delivering output. And for me, it's the quite the opposite. I spend a lot of time just sitting around thinking. And I like it because I'm a patterns guy. Okay. The reason I can do what I do is because I'm able to find those patterns that are bringing those points of data to connect and say, Aha, right. There are two kinds of people in the software space, Matt, you know, one profile, basically you give them a problem. And they can decompose it and decompose it and decompose it. And eventually, they say, Okay, this is how I'm going to solve this right? Superb technologist. and problem-solving and decomposition, there is a second group of people much smaller. And they can go abstract up and up and up, and they look for the patterns. And so I think I'm more of a pattern guy. So having the think time to really sit down, you know, probably listen to music, but just sit down and think and figure out what those cross-connection points are. And then when I'm productive, it only takes maybe half an hour or 40 minutes to do what I want to do. But because I've done the think time, right, because I've had so many days, maybe weeks to reflect, like to put the puzzle pieces together, when I am productive, I can get it done very, very quickly. And I will say those two things in terms of positive energy, being a force multiplier, and ensuring that look, you know, in the commercial world, right, there is a perception, you got to show up at nine o'clock, you got to be busy or act busy, or look like you're busy, right? This is a fatal flaw, right? leave people alone, basically, to think to understand, because once when you do that, then you can make magic happen. I will say those two things. The last thing is, of course that you know, lots of coffee, Matt.
Matt Zahab
Yes, or tea, or tea.
John deVadoss
Right? And some other things that we cannot talk about publicly, but certainly at least lots of coffee.
Matt Zahab
I love that John. You mentioned the importance of sort of doing nothing and having that creative time yourself, do you put this in your calendar? Do you block these, you know, hour-to-hour, three-hour time slots off?
John deVadoss
Yes, absolutely, religiously, religiously, because I need to clear up my mind and it declare up my energy space, right, I need to clear up, you know, the fields around me and so absolutely supercritical for me to just block it and say, Look, you know, I will not be reachable, I need to enter to think and to sit down and to lie down and it'd be going for a walk, and had to go bicycling, but anything I can basically, you know, close off my, my audio visual channels coming in, and you block those, because there's so much noise out there, right? And so it's not about reading or, you know, it's just blocking off all those channels so that I can process for myself, and then, you know, I can reach my own conclusion as to what this means. What are the implications, right? And what do we do about it? So I would say it's, you know, it's a bit like, like being a hermit. Right. But for certain days during the week, or even certain hours during the day. Otherwise, I find that the hassles the noise. There's so much noise out there, right? So little signal, the noise distracts you and then you end up being, you know, visibly productive, but actually significantly counterproductive.
Matt Zahab
Interesting. Very
John deVadoss
Makes sense?
Matt Zahab
Yeah, it's a paradox, but it makes total sense. You know, it's, it makes a whole lot of sense. Let's jump into decentralization, then we'll get into Neo, we'll get into the fun stuff. Well, man, you were having a blast. But you have a couple very, very strong opinions on decentralization, I tend to agree with, I guess pretty much all of them. But you think that decentralization is a red herring? What do you really mean by this? You know, what should we do? Is this helped or hindered the industry? I guess, let's start by you giving your take and definition of decentralization and how crypto isn't actually decentralized. And we'll go from there.
John deVadoss
Yeah, thank you for asking this question, Matt. It's a topic very close to my heart. And I think a lot about it. In fact, I'll be publishing a couple of articles on this in the coming couple of weeks or so. My opinion is that yes, it is a red herring, because it has been used and is still being used, I believe, by venture capitalists, and certainly, you know, by some pioneering key leaders in this industry, really as a distraction, because what why do we really care about these? First of all about decentral? What Why do we care? Why should the common man care? Why should the developer care? I make a distinction between the means and the end. Right? Always critical, because we oftentimes we confuse the symptoms and the problem, right, there is a problem and there are symptoms and likewise, the means and the end are two very different things. So at best we can think of decentralization as a means then what is the end goal? Right, the end goal, I believe, lies in the area of self-regulation, self-governance, self-regeneration, right. So that is the key we are looking to build these systems that can endure. In fact, I should not say systems because when you look at a Bitcoin, right? It's not an application. It's not even a system. It's an institution. And so, what is an institution it is self-regulating, self-governing. self-perpetuating, it endures. Right? So from that perspective, this notion of decentralization, I believe, has been used and probably abused, you know, along the way to distract, maybe purposely I don't know. But certainly, it's a distraction. Let's focus on what is the end goal. Self-sovereignty, as we discussed earlier, right? self-governance. Now, how we get that there are many ways, you know, back in the 90s, I spent many years in grad school working on AI, you know, long before machine learning became sexy and became cool, right? So we ought to be looking at what are the capabilities that we need to infuse into these systems to ensure that the end goals are met? And by the way, when people talk about decentralization in a from what perspective? You know, is it around the number of nodes? Is it around the teams? Is it around who holds the tokens.
Matt Zahab
law? Write Checks? Yeah, yes, exactly. You know, there's a point. It's very true, right?
John deVadoss
Who are the moneybags? You know, there's so many different perspectives. And so for someone to say, you know, this one is more decentralized, or even people in the past have created metrics, right? We have the so called metrics to sort of define and measure how decentralized spear nonsense, I think, you know, at best, and at worst, it's a distraction, that takes away the focus from what are we trying to do? Let's focus on self sovereignty, let's focus on self governance. And let's figure out what we need to get there. And, of course, there is an aspect of decentralization. But, you know, I also want to make a very controversial comment here, people talk about, you know, socialism, man. Right. You know, and oftentimes, the response is, well, it's never been done, right. It's never been tried. Right, right. Or, you know, sort of aspects of you will have communism, right. And so I see a similar aspect around decentralization, when you push people say, Oh, it hasn't been done right yet. Right? It's a very slippery slope, let's forget about the means. Forget about the means. Focus on the end goal. And let's make sure as an industry, as developers, and certainly as consumers of this amazing, you know, technology revolution, that we don't lose sight of what is the end goal? And let's not be distracted, but what might be shiny objects along the way, in my opinion.
Matt Zahab
Interesting point, they're sort of comparing that to socialism, because that's literally the one when I get asked about this, or when I feel the need to throw my two cents in my hand in the cookie jar. That's usually what I say. I go, Well, you know, it's batting 0%. It's never even got on base. You know what I mean? Like, it's been an absolute failure, 100 times out of 100. And then I get bored.
John deVadoss
Or they say, they say, Well, it hasn't been done. Right. Give me one more chance. Give me one more turn. Right.
Matt Zahab
And I usually go okay, how and then it's usually along the lines of, well, what if we got a piece of land and place X and money from place Y, it's like, if you were filthy rich, and we're an elite? Would you want to give up your land for some socialistic experiment? And would you want to give your money as well? Like, you know what I mean?
John deVadoss
Yes.
Matt Zahab
It's one of those. I know, we're going a little off the rails here. But yeah, that's a
John deVadoss
No, no, this is important.
Matt Zahab
It's interesting, though, you know, it's very interesting. And on that topic, I find that a lot of socialists are very, they have a good goal in mind. You know, it's like, they want they actually want to do good, they want to do better for the planet. But it's like, if you really want to touch as many people as possible, work your ass off, take advantage of capitalism, become a billionaire, and give it all away. Like, that's just you know what I mean? That's really how you're going to make the most impact. It's not about being a social worker, and social workers are incredible people, nothing against them. I'm just saying, if you want to touch as many people as possible, at the end of the day, take advantage of the current system that has got us to the year 2020 To become a billionaire. Give it all away. The show goes on, you know.
John deVadoss
Well said, Matt. Absolutely. Well said. You know, I spent about eight, almost nine years working for the government. I was, well, not exactly working, but I was volunteering in the planning commission of the city council locally. And to your point about good people. I agree. It's good people but you know what they say like the road to hell is paved with good intentions, right? I can tell you that well, if I came away absolutely convinced of that, aphorism, you know, there is so much truth in there you realize.
Matt Zahab
Yeah, very well said very well said. Let's let's take a quick break, give a massive shout out to our sponsor the show PrimeXBT. You guys know I love PrimeXBT, been using them for almost two years now as they offer a robust trading system for both beginners and professional traders. Doesn't matter if you're a rookie or vet you can easily design and customize your layouts and widgets to best fit your trading style. PrimeXBT is also running an exclusive promotion for listeners of the Cryptonews Podcast. After making your first deposit, you get 50% of that deposit credited to your trading account. The promo code is CRYPTONEWS50. That is CRYPTONEWS50 to receive 50% of your deposit credited to your trading account. Now back to the show with John. John got more questions on the whole decentralization thing here, as you were very, very passionate about this. And I do also, you and I are in the same yacht here. And sense of I do think we need to do a hell of a lot to fix this on the tech side. And on the dev side is I have zero rights to be giving any advice in that regard. You, on the other hand, do what can we do? What can people like you do actual builders on tech side, to make our system our ecosystem as decentralized as possible?
John deVadoss
Well, first of all, thank you, thank you for the question, Matt. Again, I would say, to your point, you know, in my humble opinion, and I want to, I want to really call this out that there is a perception, I believe very wrongfully that somehow somebody has to be a developer, a dev, you know, to be able to contribute to shape this in the ecosystem, I vehemently believe otherwise, to be able to read code, to be able to read code to be able to understand the design, the design principles, the design philosophy, that design patterns, I believe, is equally if not more important. So I would say again, to your listeners, you know, if you have time, if you have the interest, go look at the code, you know, become, you know, become good at reading the code, you want to understand, you want to see what are these guys doing? How are they building it? You know, I call Bitcoin an institution, go dig into it and see, you know, what exactly, is this an institution? Someone emphasizes upfront, very much so, right, because I get this asked a lot, man, and I firmly, vehemently believe that, you know, we need to educate people to say, look, reading code, being able to understand code is equally if not more. Now, to your question in terms of writing. I know I spoke about, what 20 22 million developers worldwide, right? Yeah. And we look at the blockchain industry people talk about, you know, I have 50,000 or 100,000, or, or a couple of 100,000 developers. It's a rounding error, Matt, in the bigger scheme of the case where we are surrounding error, to put it very, very bluntly. Right. Unless and until we have millions, 357 10 million developers, we really cannot say that, you know, we are making a difference. So how do we get that? Again, to the earlier point, right, developing, you know, smart contracts developing, you know, Blockchain Apps has to be fun has to be like skiing downhill. We discussed this a few minutes ago, right? Yeah. But also, you know, when I began this journey, a few years ago, I will tell you, you know, debugging smart contracts was a nightmare. There was really no way, you know, on the premium across all the premium stacks out there, you know, and debugging code was like, for me, witnessing the debugging of code back in the early 90s. You know, you had to do printf, and paper and check and log. And so when we set out to build the dev tools for N three, we said, look, this is not going to work. The tools, the experience has to be comparable to what we have done earlier, you know, for developers building on Azure, or Amazon Web Services, right? And so, we with the blockchain toolkit, for example, right? In about three, four minutes, you know, you can build, test and deploy a smart contract. And that's how it's got to be right. It doesn't matter which language and what is unique about the entry ecosystem. And what I enjoy about this is look, no constraints. You know, some of the early chains out there early stacks, right? I believe they came in without empathy for the developer ecosystem. And they said, Thou shalt use this language or this framework. fatally flawed, shouldn't matter. Come in, as you are, if you like, go, you'd like, type JavaScript, Java C doesn't matter. You know, there is no constraint in terms of how you come in. And so what we have done is basically look polyglot, just the way the world is right. And no specific framework. With that said, the flip side is, is the rails to make it easy to make it safe in terms of safety of writing code. Yes. But no, no constraints, I would say. That's why in the last, I think, two, three years, we have certainly seen, and of following from our work with the entry toolkit, the industry at large, you know, shift and evolve to address more of the developer experience. And again, the bar is very high that anybody who says that, you know, we have made a dent already. Absolutely not, you know, tell me when we have 5 million developers or 7 million developers, then we can say, Yeah, we're making a difference. So it's a long way to get there. But as we said, one is the dev tools that have experience. And yes, we are there. In some cases, we are superior to what how you can do with the Azure or an Amazon. But the second piece is also to be able to grow that this is a different kind of platform, right? It's not like it, like you said, web1 or web2 is very different. And being able to exploit this platform requires not just technology skills and technology thinking, it requires economic thinking. Right? And that, unfortunately, has not been a forte of the developer community for eons. Right. So we are making a very big shift. In fact, you know, when I mentor young people, that the one thing I tell them is, look, you know, if your major is in computer science, or engineering, you know, get a minor in economics, you need to understand and blend and harmonize these two thinking models, right? To be able to be successful, and exploiting these stocks. Otherwise, you know, you have sort of, at best, half the coin, right, at best, right. And again, I cannot emphasize no one in terms of reading code, right? Do not be sort of, you know, do not listen to those people who say, unless you're a developer on GitHub, writing committing, not adult, be it be lead code, critical skill, right. And the second is, you know, economic skills. This is where I would say, the classic developers, the mainstream developers do not understand this, Matt. So huge opportunity for people out there who want to come in and disrupt this, it's like, if you can come in with an economic lens with an economic mindset, you know, being able to grok and apply economic models, you can change the game. So still very early in this, with that said, though, you know, we have not seen anything like this in the history of computing, I'll tell you, and I've lived through multiple waves, we have not seen anything like this. And this will change every aspect in terms of not just computing, but the socio economic implications. Right. I'll tell you a story, you know, back in, I guess it was the early days of Azure, right? You know, we had the saying, we will say look, when, you know, social trends, economic trends, and technology trends converge, that's when magic happens. Look, back in history, there have been times when you know, technology makes leaps and bounds, and you have social disruptions out in the world. And sometimes you have economic, you know, like we had the crisis back in 09, we have another kind of crisis right now. But when you have economic trends, good, bad, or ugly, social trends, good, bad, or ugly, and technology, innovation, you know, at the same time, then that's when magic happens. And I believe we are seeing another similar sort of wave of that particular intersection right now, Matt.
Matt Zahab
Again, John your on a roll man, tons of points, I want to talk about one thing that really hit home, there was sort of, you know, having the doubt the dev skills and the economic skills, how that almost gives you superpowers, that's sort of like the I want to say it was the Steve Jobs quote, when he's like, if you can build and sell, you'll be unstoppable. I don't know, if it was someone else, but like, sort of reminds me that you know, because if you can, for at least more specifically for the next wave of coding and developing and building, if you have the dev side, and you have the economic side, and a lot of the next, you know, a lot of the code that is going to be written will have economics and finance involved, like you've been preaching, you're going to be a freaking superhuman, you know?
John deVadoss
Absolutely, absolutely. And this is this is opportunity, right? Opportunity galore. For people out there listening on your show and beyond this is opportunity. You know, use it exploit it. Right. You know, the traditional developers are kind of stuck, right? It's hard change for them. It's, you know, it's the non trivial change the user. Absolutely. Very well said, Matt, thank you.
Matt Zahab
That's, that's a good point. We barely touched Neo, I know, you brought up Web3 a couple of different times. When you go on the Neo website, it hits you hard. There's a lot on the website, it's you know, it should pretty much just say we do everything because it does do everything. But give me the elevator pitch on Neo, talk me a little bit about Web3 how it's sort of so powerful and comparable to Azure. And you know, AWS kind of thing.
John deVadoss
Yeah, so we could talk for a long time, I'll give you sort of maybe two or three key aspects, right. One is, Web3 is designed as a platform for digitizing assets, a singular goal. Digitizing assets. Now, of course, this is a very big surface area, right? You know, you could go all the way from on one side gaming, because gaming is about digitizing assets, and all the way to the other side, where in terms of real world, you know, commodities, you know, you equities, real estate in a bank. And as you can see, this trend of digitizing assets is going to be is unstoppable. Right? It's growing by leaps and bounds. And it's a question of when and how soon and how big. So this notion of a platform for digitizing assets is unique. And to me, that was really the big draw early on in terms of investing and building, you know, putting my energy to build the dev tools for entry. The second aspect I would say is this is Something people might not be familiar with. But N3. early on was built on dotnet core bat. So there was a lot of carryover in terms of what I had built earlier during the first wave of the web, and what was being done with NEO and N3. And so for me, there was another aspect of why I was enthused about, again, putting my time my energy to build the best, the premier developer experience for developers in the blockchain world on top of Anthony, which we have done. The third I would say is in terms of the ecosystem, obviously, you know, everybody talks about community and ecosystem, but truly having a global community across Asia, across North America, Latin America, Central America, Europe, you know, the Eastern Europe Far East, being able to bring people across a wide variety in terms of cultures value systems, appreciation, because this notion of digitizing assets is universal. We can look at other trends, we can look, we can talk about, you know, defy dolls. And you know, there are many, many things out there that will be sort of that will come and go. But I firmly believe that if there is one thing that this track, these technologies will change at the core is that assets will be digitized. And this means many things in obviously, in terms of deeds, transaction contracts, also, in terms of fractionalization, being able to use it collateralization it, there's a lot in terms of how we can parse it out. And I would say so as a stack for digitizing assets, as a developer experience that is targeting the 20 plus million developers out there. And making it like we said, you know, as fun, you know, as much about being in the flow as skiing downhill, at the same time being as productive, if not more than when you are building, for example, a lambda function on AWS Are you building? You know, likewise, in terms of function functions on Microsoft Azure, right, that's what we have done? Of course, you know, we haven't we're not stopping you know, we, you know, me and the guys here in Seattle, you know, we, every day, we are focusing on the dev experience, we are pushing the bar in terms of what we see as the needs. That's kind of really I would say, you know, over a few minutes in terms of a summary. There's plenty more we can talk about. But this should give you a sense. Yeah.
Matt Zahab
That was a great dive, I feel like another topic you're very passionate about is onboarding. You know, you've just talked not just but 20 minutes ago, you talked about onboarding the next million developers, how do we onboard the next million or billion people to work through? Because everyone, everyone has their hot take in that regard. But you know, what's, what's your two cents on that?
John deVadoss
Yeah. So I would say across sort of maybe two personas, one is the developers. And then one is what you might call consumers or users or people that will benefit from these technologies on the developer side. Two things, tooling and experience, which obviously, you know, we've made leaps and bounds in terms of providing them a tools that is comparable, if not superior to what they have currently. The second is the economic thinking. And I've made it a kind of a mission, you know, I publish a lot, I write a lot on this topic, because this notion of economic computers is real. It is here. Right? Now, the challenge is how do you take 30 40 50 60 years of thinking about? What is the computer? And how do you use computer systems to now say, "hang on a second", you know, you have to really think about economic protocols, crypto economic protocols, because if you are going to be able to exploit smart contracts, you have to understand and know, what are the design patterns? What are the anti patterns? Right? That is kind of the second part, which obviously, I have a focus, you know, I sort of a co chair of it, it blockchain also serves on the board of the GBBC, the global blockchain Business Council, these are facets of my own commitment to give back. I believe that, as an industry, you know, its people, people like us, me, you know, coming together to share, right, what we can see as the challenge as the opportunity. And then how do we invest in terms of mainstream developers, in terms of students in the universities, colleges, schools, and more? Those two aspects? On the flip side, the other persona of the customer, shall we say, I don't like the term user customer, right? Are people who benefit from these technologies, I want to emphasize self sovereignty. Let's be very clear. The challenges the problems, if you will, around web2, you know, we're self imposed because of the underlying stack. Now, if we do this, right, the shift from web2 to web3 is not incremental. In fact, web3 is not built on web2. Web3 is very much a detour. Like I said, it's a segue. It's, you know, off in a different direction. So but fundamentally rolling back many of The blunders of web2, in my opinion, going back to again, sovereignty, being able to have privacy, being able to decide how much in how, where and when of your data will be accessible to somebody else, being able to ensure that what you put in, you know, you get back commensurate with the with your inputs, right? Being able to design systems where everybody has a shot, in terms of being able to contribute, but also significant benefit from the contribution. Those are all very much antithetical to web2. Web2, in many ways to me, how do I say it politely, an exploitative model, unfortunately, in many, many ways, not just economically, but also socially, in terms of the cultural impact of what has happened across social media, for instance, right, we have the opportunity, we truly have this window, to roll it back and go off in a different direction, which is where like I said, I'm not a big fan of calling it web3, right? It's not about web2 or No, no, we are going back to web1, and really go off in a different direction. So those are it's a long answer. But I wanted to just sort of give you the perspective of goes back to again, the economic thinking, you know, we need to demand from both the developers and the customers that they come in with the economic expectations. This is not your father's or your grandfather's in a computing system, right.
Matt Zahab
I love that. John, this has been an absolute treat man. While you've dropped many knowledge bombs, a couple more questions then we'll wrap up here. Let's put our shitcan boots on it's jumping the hot take factory. I'm sure you got a couple of give me a good hot take you got does not be crypto or finance related can be life politics, nutrition, sports, you name it. But what's something that maybe only John believes in that most others don't?
John deVadoss
Ah, that's interesting. What is one thing that I believe that others don't? I believe that blockchain platforms are only the beginning that these are economic, and I call them economic platforms, we will have socio economic platforms. That is the next shift the evolution of blockchains. I firmly believe this. I don't think anybody else out there I've talked to has this perspective on socio economic computers. I know it's kind of a building up on our discussion, but it is certainly something I vehemently believe in, Matt.
Matt Zahab
Can keep going, give me What's What do you mean by that?
John deVadoss
Yes. So we talk about incentives, right economic incentives, blockchains, you know, crypto economic protocols. What is baked in is economic incentives. But life, society out there is not just about economic incentives, right? We have this thing called altruism. Altruism has no economic incentives. Right, we do things we contribute, we give because we feel good about it. Right. So being able to design these systems, not to be obsessively focused on economic incentives, is going to be the next big leap. Now, I'm talking well beyond where we are, obviously, we haven't even, you know, sort of driven mass adoption of blockchains yet, and I'm talking about what happens next. But the reason I'm calling it out is if we become obsessively focused on economic incentives, then there is a risk, much like web2 the once again, we kind of go off on a tangent, where everything is economic, or is nothing. And that is not a good trend, I think in terms of society at large. So we need to understand we need to have these systems reflect and also create the code that is able to manifest incentives well beyond economic incentives, otherwise, it becomes very much a robotic, you know, existence, if you will.
Matt Zahab
Damn, good point.
John deVadoss
That makes sense.
Matt Zahab
Man, you brought the noise. I love that. Any other hot take for me?
John deVadoss
Well, I would like to think that, you know, back to our discussion on the intersection of social, economic and technology trends, I think we are living in a very, very interesting time. It is very clear that from a social perspective, people are not happy. I think we can see why from an economic perspective. I think people are not particularly enthused either. So we have this magical piece of technology called blockchain. It's much more than a chain, it's much more than a ledger, it's a platform. And I would like to believe that, you know, this might be the turning point in terms of building what I call institutions, not systems, you know, not applications, but institutions that can be self governing, you know, self regulating, and really put self sovereignty at the core of it. In terms of hot takes, I would also say that, you know, what we have seen in the last two and a half years, hopefully, you know, people's eyes open up and they realize that the systems are not always working for you. systems work for themselves, you know, there is a how do I say it politely? Right? The system Matt, the system has no incentive to fix itself. Think about it, right? The system, no system has an incentive to fix itself. So if you need us, your listeners, right, if we want to see something fixed, be aware, the system has no incentive, there has to be an outside force, an external agent that is going to catalyze the system towards fixing those so let's not be naive, and wait, because otherwise the system is just gonna keep going at it.
Matt Zahab
John, well spoken man. Well spoken I the skiing analogy that will be stuck. Like me that can be used for a lot of different a lot of different things, you know, a lot of systems topics, you name it, it's just it's a, it makes so much sense because the joy of skiing is such a treat, you know, yesterday, you take your two butt cheek, you throw it in a chairlift, and boom, you're at the top, and you're in an absolute flow state the whole way down. But then when you've hiked, and you climb the mountain, and I love hiking, don't get me wrong, I have bad knees. So for me going up is more fun than going down. I like the pain and the grind and going down. It's just nightmare fuel for me. But again, this isn't about me. It's about it's a both sides of the spectrum can reference and be familiarized with being at the top of the mountain, whether it's going up or going down. And it's just it's a great, it's a great freakin analogy, well done.
John deVadoss
It's a mental model, right? And mental models are critical for us as humanity to be able to evolve. You know, we have good, how do I say? positive mental models, you know, we can move forward, right? If we have, shall we say destructive mental models, then they hold us back in terms of what is possible what we could do. And I say, I'm a big believer in these mental models, which is why I call myself a patterns guy. Right? You know, and we need to look more for these patterns. Sure. But again, maybe going back to the system, right? The system has no incentive to fix itself. Well, that's the opening with blockchains perhaps we can design institutions that are self governing. That's the potential the promise if you will.
Matt Zahab
There's a lot of talent over here too. That's one of the best parts. John, there's been absolute treatment. Thanks so much for coming on. You're definitely coming on for round two. I like you so we kind of chatted for a health long time. Last question for you go. You Seahawks fan? Yes. I'm a big hockey guy. You're cracking fan.
John deVadoss
I am getting that I you know, I'm a big NFL fan. Hockey. I'm the Kraken are here right now. So working that maybe you could come out and watch a game sometime with us.
Matt Zahab
I'd love that. I'd love to go see a crack and game they look pretty rowdy. That team has good young team, not good but young team a lot of draft picks give it five six years and there'll be trouble and your city with how you know you guys jump on the sports teams. That would be a lot of fun. So get your popcorn ready. That'll be good. So great jerseys too. I love what the different shades of blue. It's great.
John deVadoss
Yes, that's true. I like it too. It's very, very well done. By the way the Broncos are here in about four hours it's going to be it's going to be an interesting game.
Matt Zahab
That is one thing the NFL speaking of systems and procedures that's better than anyone else. Their ability to create watercooler talk is it is second to none how they literally have turned that into a never-ending. Paparazzi media story never like the NFL narratives are plentiful. They are infinite. It is like you can't write rust going back to you know that back to Seattle on the first Monday night game of the year. It's just they're magicians in their marketing.
John deVadoss
Yeah, brilliant marketing.
Matt Zahab
Created a culture around. John, thanks so much, man before we let you go please let our listeners know where they can find you and Neo online and on socials.
John deVadoss
Certainly, I mean, look, easiest way send me email [email protected] or, you know, if you'd like you can look me on LinkedIn. We have all the websites, links to the tools, the platforms, the stacks, you know, Twitter if you'd like as well on a big fan of it, but certainly email again, John at dividends. dotnet very happy to follow up to discuss to share more as well. And again, Matt, a true pleasure, a real privilege. Thank you for the discussion. I really appreciate it man.
Matt Zahab
John, thanks so much, folks for an episode with John deVadoss brought the noise tons of knowledge in some incredible analogies as well. I really hope you enjoyed this one. If you did, please do subscribe. It would mean the world to my team and I speak in the team love you guys to the listeners you are the absolute goats keep on growing those bags and keep on staying healthy, wealthy, and happy bye for now and we'll talk soon.
---