Green Lists, Red Lights and 20 Crypto Jokes
This past week in the Cryptoworld saw a lots of greenery: XRP price rallied, Chainlink jumped 33%, and then it climbed 45%, but also ETH went over USD 180, Tron went up 11%, and LTC appreciated 4.4%. And the up-'n'-down nature of the space continues, as we've seen DeFi dapps growing, but also Bitfinex and Tether accused of USD 1.4 trillion market manipulation, a lawsuit which failed to impress the market. However, no BTC theft will remain unpunished as the hacked hack the hackers. Speaking of BTC, it'll be returning to 5,200 French tobacco shops. In the meantime, a government gold-backed token was unveiled, as were some secrets Binance's CZ doesn't want to be written about.
Meanwhile, Russia's crypto law is postponed yet again, but a compromise has been achieved, and while in the U.S. CFTC denied that ETH is a security and the SEC may not approve BTC ETF for two years, we've made an optimist's guide to the new IRS rulings, and found out that Ukraine plans to legalize cryptocurrency mining in the next 2-3 years. Interestingly, while the U.S. fires at Libra, the U.K. is working on a path for it. On the other hand, Ripple told us why it made major changes to its site, Ethereum is on the hunt for 1 million developers, while we also learned that blockchain follows the same path the internet had taken. In the meantime, Latin America dominates crypto adoption news agenda, producing news every week. It's giving us a glimpse into what would a state in which neither the government nor the Central Bank control money look like – as the experts we talked to discussed.
And here is our set of weekly jokes, handpicked for your viewing pleasure.
__________
It's all she's ever dreamed off. Lucky, lucky she!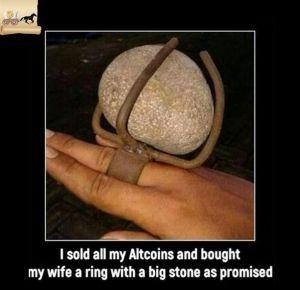 __
Mind you, this is a very important disclaimer! Otherwise, you might be held responsible for what anything you said before it.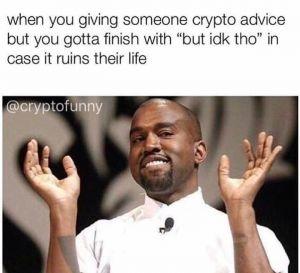 __
The perpetual alt cycle.
Ah shit, here we go again pic.twitter.com/r9I3c1ILIZ

— CryptoChimp (@Cryptanzee) September 30, 2019
__
And you may think it's the last time your heart will sink all the way down to your heel...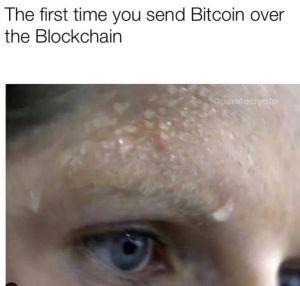 __
...but then, there's this.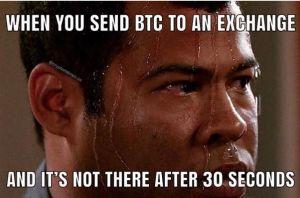 __
The Cryptosphere has a GIF offering for every hodler type.
October 8, 2019
__
Don't be jealous that they got to choose how they die!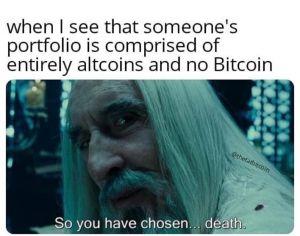 __
I don't know do I focus on the amount of risk or the amount of trust showcased here.
Following Trades posted on Twitter. pic.twitter.com/lTzGe66Ozj

— fil₿fil₿ (@filbfilb) October 4, 2019
__
So beautiful!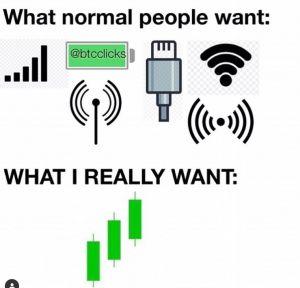 __
A very normal day, really.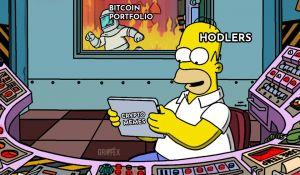 __
One thing is certain: there's never a dull moment on Crypto Twitter.
CT in a vid this year... pic.twitter.com/shac0MkkPZ

— Panama ₿ (@Panama_TJ) September 26, 2019
__
Speaking of Crypto Twitter...
#cryptomemes #cryptocomedy pic.twitter.com/pUtDr4mQUY

— Crypto Inferno (@CryptoInferno_) 9. oktober 2019
__
All waiting for a dip!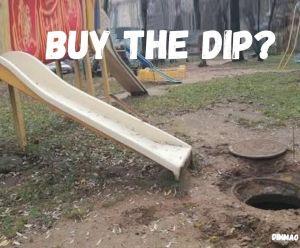 __
So nimble!
September 25, 2019
__
He did ask!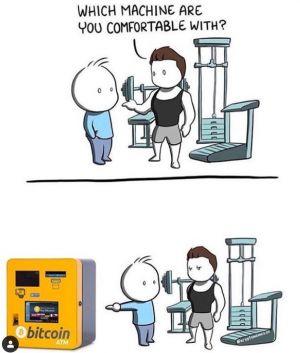 __
You're good. You're good. Walk it off.
#cryptocomedy #cryptomemes #blockchain pic.twitter.com/NfGHREeibE

— Moonhub (@houstonwecool) October 4, 2019
__
The Unbreakable Trader
__
Bird Bitcoin Maximalist. Bitcoin Maximalist Bird? Wait. Bitcoin Bird Maximalist?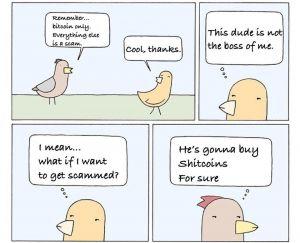 __
Describe alt seasons in 2019. You've got 8 seconds. Go!
2019 #AltSeason pic.twitter.com/YHxm6JASeL

— CryptoChimp (@Cryptanzee) September 24, 2019
__
And here's your crypto song for the weekend.