Grace "Ori" Kwan on Solana-Based DeFi and Orca | Ep. 168
Disclosure: Crypto is a high-risk asset class. This article is provided for informational purposes and does not constitute investment advice. By using this website, you agree to our terms and conditions. We may utilise affiliate links within our content, and receive commission.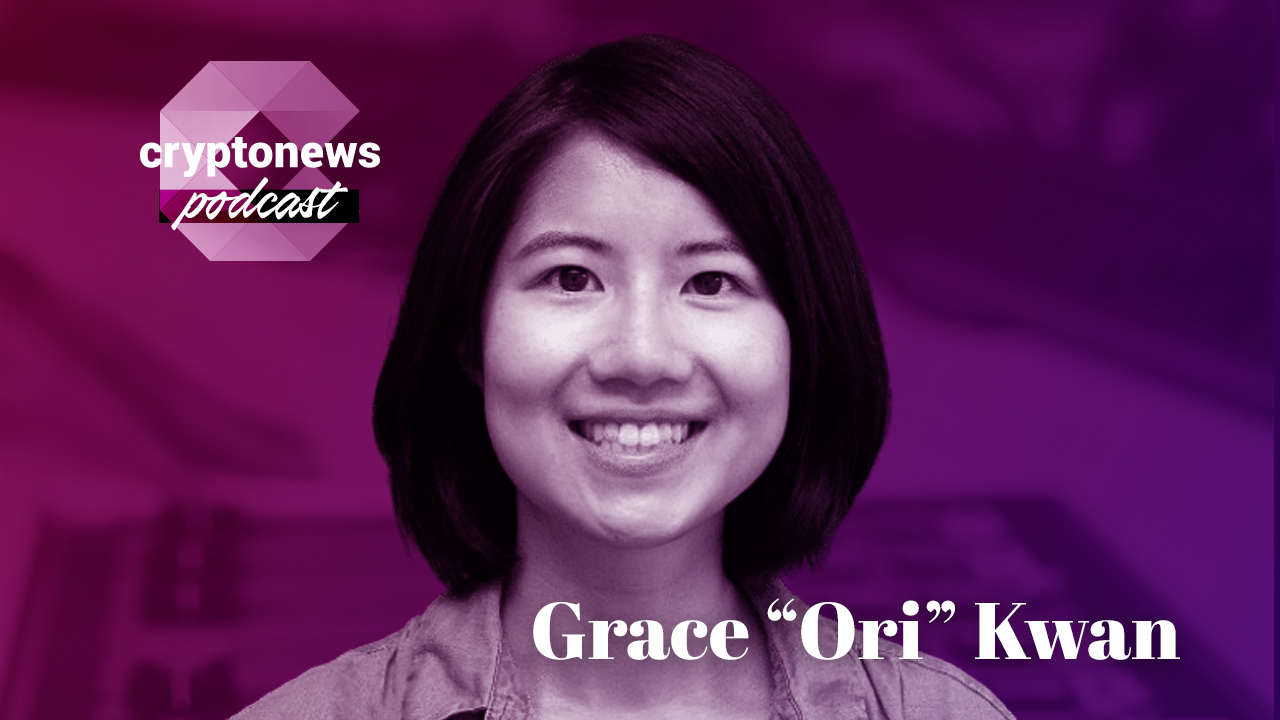 In an exclusive interview with cryptonews.com, Grace "Ori" Kwan, Co-Founder of Orca, talks about Solana-based DeFi, Orca Finance, measuring climate footprints, and design fundamentals.
About Grace "Ori" Kwan
Grace "Ori" Kwan is a programmer, designer, illustrator, and Co-Founder of Orca. Her specialty is creating simple, human-centered interfaces for deeply technical fields. Upon graduating from Stanford with a B.S. and M.S. in Computer Science, she started her career as a software engineer at Coursera in the Bay Area. After that, she became an Interaction Designer at IDEO's Tokyo studio, which gave her a deep appreciation for the many and varied meanings of "good design." Outside of the space, Ori dabbles as a food writer and has contributed stories to Gastro Obscura.
Ori Kwan gave a wide-ranging exclusive interview which you can see below, and we are happy for you to use it for publication provided there is a credit to www.cryptonews.com.
Highlights Of The Interview
How Web3 leaders can support climate initiatives by purchasing high-quality, nature-based offsets.
Measuring Orca's climate footprint via energy consumption, SDKs and validators.
Design fundamentals; talking to people and finding solutions to problems.
DeFi lego; giving builders the blocks to create financial tools.
Orca, the leading crypto market place on Solana based on trading value.
Society rewarding specialists more than generalists.



Full Transcript Of The Interview
Matt Zahab
Ladies and gentlemen welcome back to the Cryptonews Podcast. We're buzzin as always, and my guest while we are recording is a whole day ahead of me. I absolutely love to see it. It always puts a smile on my face. Knowing how crazy our world works. I'm recording at 8pm and our guest Grave "Ori" Kwan is 12 hours ahead in beautiful Tokyo can't wait to go there one day time for the intro. Ori is a programmer, designer, Illustrator, and co-founder of Orca. Her specialty is creating simple human-centered interfaces for deeply technical fields, a true UX and UI master. Upon graduating from Stanford with a BS and MS in computer science. She started her career as a software engineer at Coursera in the Bay Area. After that she became an interaction designer at IDEO's Tokyo studio, which gave her a deep appreciation for the many and varied meanings of good design outside of the space, Ori dabbles as a food writer and has contributed stories to Gastro Obscura. Without further ado, I'm very pleased to welcome Ori to the Cryptonews Podcasts. Ori, welcome to the show.
Ori Kwan
Thanks so much for having me.
Matt Zahab
That is quite the bio there. You are a computer scientist, you are a food writer, and you love design a little bit of everything. I love to see that I'm a big foodie myself, I have to start with the topic of food. What is your go-to? What is your favorite food? And what is it like being a food writer, I feel like that is a low-key everyone's dream job.
Ori Kwan
I'm really the kind of person who wants to eat something different every day. So I don't know if I have a go-to but something that I end up eating a lot of is curry, you know, I'm actually in Japan right now, which is where I was living before the pandemic. And most people when they think of Japanese food, I think they think of you know, sushi or like Tempura or Udon that kind of thing, of course, ramen. But actually,` the number one food that Japanese young people eat and that kids eat growing up. It's actually curry here. So Japanese style curry, and there's also a whole sort of alternative movement of like spice curry is what they call it spice cut it which is really just like any curry that actually has any spice influenced often by Indian Sri Lankan cuisines, etc. And I love it. It's like really creative, you get like really Japanese stuff like, like local fish put in the curry and stuff like that. And it's just like super fun. So yeah, being a food writer, I don't know if I've I really haven't done much lately, and I've been pretty busy with the whole crypto thing. But it was a really fun kind of like side hustle to try being a food writer. And I think it's really rewarding. So I would recommend that to anyone who's interested because all you need to do is just like pitch them articles. And if one of the editors likes your idea, you're off to the races.
Matt Zahab
So interesting there. The curry take I've never heard of that before. And like Japanese culture is so, it has such a lens on it. You know, like every not every other but so many other cultures really look up to Japanese culture, whether it's food, or whatever. But the curry thing that just that's bananas to me like I've never heard of that.
Ori Kwan
Yeah, people just don't know, because Japanese curry is really not that popular abroad. Unless you're part of probably like the Asian community. I guess it's something that we just kind of know about. But there's not a lot of like Japanese curry restaurants in the States, for example. And so that's something that I encourage you to try out because I think it is really great. It's very unique. It's actually more inspired by the British curries, I was brought over when the British Navy first visited Japan. And so that's where it has no spice whatsoever. But it's still curry.
Matt Zahab
That's so cool. Let's jump right into design. I'm a huge fan of incredible design, shout out to your website, I'm sure you had some influence on that. It is just about as beautiful, simple and sexy as it gets the little jellyfish in the background, the little fish. He's the sort of bottom of the ocean, the blues, the yellows. It's so bloody clean. I absolutely love that I love going on a website, or using an application or a mobile app. And it just makes you feel good. How can the average Joe or Josephine sort of steal and learn from literal experts like you like what do you guys do? Are there other any bits of low-hanging fruit that people like me could take from this because this is such an important part of life. 99% of everything we use is just terrible from a design perspective, and then there's the oddballs and outliers like this, what can we do to learn some
Ori Kwan
Actually, talk to people I would say is the key like show people your design how people use it and watch how they end interact with it. And that really is the core principle of human-centered design, which is what we practice at IDEO, what we practiced at Stanford's design school. And it really is not rocket science, it means that when you're starting with your design your project, it's not. Okay, what do I think would look good on this page? What do I think my users would like? It's actually going and talking to those users understanding what they react well to understanding what their actual needs are, and then designing a solution to that problem. I think good design can come in many, many forms, like I mentioned earlier in my bio, but I think one that's really underrated, it's actually about user experience design. I think it's wonderful if a site is beautiful, and I really am grateful to the talented illustrators who helped make Orca's site beautiful. But what's even more important, I think, is that it's very simple to use. And that really just comes from continued testing continued practice and intuition. And anyone who wants to learn it, I'd say, just look up human centered design. And there's tons of free resources available on the internet.
Matt Zahab
Is that where you would say to start? That's the best place?
Ori Kwan
I would say so. So honestly, like I know, IDEO, which is the design firm that I used to work at has like free toolkits online for starting to learn about human-centered design. There's sort of this repeatable process that we use for all of the projects back when I was a consultant at IDEO. And it really always starts with the same thing like need-finding, talking to people. And then you do some synthesis, like, what are the things we learned from those people? And then we do some idea generation, like, what types of things could we build that actually solve those needs? Then you narrow down to a solution, et cetera, et cetera. And so it really is this repeatable process. And, you know, starting my career at Coursera, as well, I know that there's so much high-quality free education out there. So if you're serious about practicing design, that's a whole discipline that you can just learn just like engineering.
Matt Zahab
Well said, Yeah, Coursera is absolutely brilliant. There's so many. So many of these just sort of free course platforms out there. Heck, you can get, you know, an E Online Harvard degree, right, like it's and where you went Sanford as well. Absolutely insane. Bananas. You are a programmer, designer, Illustrator and the co-founder of Orca with such a design-oriented background. What made you get into crypto like that? You don't I mean, that doesn't? Yes, there's such a need for the two to be intertwined, but it's not a traditional career path into the cryptocurrency space.
Ori Kwan
Yeah, it's totally true. I was chatting with my co-founder the other day, and we're like, what would ourselves three years ago, which is just before we started working on Orca, have thought seeing ourselves today? And my thought was like, I think Oreo three years ago would be like crypto No, no way. Because I was definitely not one of those people who's been following since like, 2014, I really kind of fell down the rabbit hole. Because I was pulled, so to speak, I think a lot of people are pulled. And that really was by meeting my co-founder, here in Tokyo, I was actually living in Tokyo at the time and had just moved into a new place. And across the hall was my co-founder. He just happened to live there already. And he had been working and been interested in crypto for a long time. At the time, he was actually contributed to the Ethereum Foundation. And it just so happened that that was around the time when like COVID was getting really intense. We all got locked in, in Tokyo. And so you know, it was kind of actually really fun, at first, like being locked in with your friends. But after some period of time, we just started getting bored, and like hacking on some projects together. And one thing led to another. And finally, we had this crypto startup. So sometimes life just kind of like takes you by surprise.
Matt Zahab
It's crazy. And I assume that's the best of both worlds. Obviously, as part of the Ethereum Foundation, he had and has quite a sort of technical background, and you come in with the design and you know, artsy side. And that's really what exactly what you want. That's how you get that match right now.
Ori Kwan
Yeah, I think we got really lucky. Like, I think our conversation was pretty much like, Hey, I'm an engineer and a designer, you're an engineer, like I probably favor that front end, and you probably favorite, the back end. Like there's a lot we could build together with just the two of us. I've always actually identified as like a jack of all trades, and never had really a strong leaning towards any particular one thing growing up, which made me I think, feel very mediocre. And a society that really rewards and celebrates people who are very, extremely good at one thing. But I've realized that often it's like folks like myself who are willing to wear like any hat and actually kind of enjoy wearing any hat that can make a startup happen because you really do need people who can juggle all these different roles when you only have like two or three people on a team.
Matt Zahab
So well that there are society rewarding specialists over generalists, that's very true. It's no different than other aspects of life cooking, right? The best chefs in the world usually specialize in a couple of different things and boom, they're off to the races. Athletes do the best and the best is zero point. 00 1% in your sport, that's why you're getting paid 10 to 50 mil a year. It's crazy. It's very, very true. Most of us, myself included generalist for the most part, but you really want to get out there and make a name for yourself. God become a specialist. Well said already well said. Let's talk about Orca. Give me the elevator pitch. Give me the 32-second. What do you and the team do? And I can't wait to get into some of the cylinder base stuff. But let's start with the Orca elevator pitch.
Ori Kwan
For sure. So Orca is the leading crypto marketplace on Solana. By leading, I say we're actually leaving in terms of trading volume, which is what we believe is the key metric that you should look at when it comes to measuring a crypto marketplace. I think when it comes to discussions of crypto if everyone's like TBL, TBL TBL. But if you're looking at a marketplace, I think what really matters is how much people are trading. So there's that. And Orca is known for a couple of different things. I think one is the focus on human-centered design that you've mentioned so far. I think that goes beyond just how people are interacting with the interface and into really everything that Orca does. From the Climate Fund that we'll talk about, I believe a little bit later, to being extremely developer friendly. So a lot of Orca's efforts lately have gone into building the best possible development experience for builders who are extending Orca for all sorts of applications from you know, these liquidity aggregators, to trade aggregators, to vaults and games, etc. And so, say Orca, at its core is really a concentrated liquidity, AMM, that is designed to take away all the complexity that goes into being in concentrated liquidity AMM. And just provide a really simple trading interface for everyone.
Matt Zahab
You talked about the importance of developers, this seems like a very straightforward point. And it is, the more devs you have building on your platform, the wider you become, the more powerful you become. It's how you onboard the next billion users, which is the thing we're all trying to do. The thing that interests me the most. And my question for you, Ori, how do you incentivize developers to come on your platform, the easiest is always the money aspect, right bounties here, Grant here, big floats or incentive programs, but money financial incentives side, how do you get devs to build on your platform?
Ori Kwan
You have to make it easy for them. Like this is something that I deeply understand having been a dev for actually, like the longest stretch of my career was as a dev, right. And as a dev, really what you're doing is not writing code from scratch, I think people who, you know, see the those like, movies of like programmers kind of like judges, and they're just like writing tons and tons of code. Like, that's not really the reality, right? Like, what we're doing is actually taking these Legos and web2 actually has like an even bigger library of Legos and web3, and people are just like composing these Legos. And really, usually what you're doing is like building a ton of these Legos, and then you write like a, like one new Lego on top. And so like, what you got to do is make your Lego extremely easy to use, right? And that's what we've done through a super, super simple SDK. And also through having this staff of really incredible developer advocates who just shout out to Yeti and you good air current to amazing developer advocates who are there to answer developers questions every step of the way. Because nothing is more frustrating than just like getting an error no matter what you're doing, whether you're coding or like trying to buy a plane ticket, and then you go to the Help button. And then it just like gets you down some kind of automated phone support rabbit hole, right? Like you want to talk to an actual person. And so I think those are the two ways that are different.
Matt Zahab
And the second one, sorry, you touched on the second one, the summation of that was customer support kind of thing.
Ori Kwan
Yeah, so developer support. And first of all, is like, you know, the ideal situation is that it just works. And now in the majority of time, I think Orca's SDK is designed to be super simple, so that anyone can really just use it without much effort. Everything is open source. The Whirlpool smart contract is open source. And the SDK itself is open source. So developers can also really like look at the guts, but if they have questions, there's also like real people they can talk to and Orca's discord.
Matt Zahab
Gotcha. Interesting. See, as someone who does not code that would be so freakin awesome. And that's like when I have problems that are not even remotely as complex as ones that your devs are working on I also like, no shit, I don't know why I'm having this aha moment right now. It's so friend of mine. It's so simple, but this is huge. Very good point. There. Very, very good point. Wow, can you just put my head in a blender there? I can't believe more. Why don't more people do this? It seems like there's really not that much overhead. Either right, having one or two senior devs who can answer questions in a quick and remote fashion or creating again, just like what you guys have some type of developer discord where the community almost manages itself like Is this really that hard to implement?
Ori Kwan
Well,it is. And it isn't. I mean, I think it is hard and that finding devs is hard. And then every dev who you have that's focused on, like answering other people's questions, well, those are hours of the day that could go into core development, right. And so it's a hard trade-off. And also, not every dev really enjoys, like answering questions, right, there's like a certain personality type, I think. And that personality type is usually like the kind of person who gets a lot of joy out of helping other people, which is just really lovely to see. But I think I probably know more devs who get joy out of like the art of creation, which is the other thing that they should be spending time on, and many do both as well, right. And also, I should also say that many other projects do have developer support. And many of the most successful ones do you know, many companies are built on top of good customer service and Dev experience is really just one of those versions. So that's why when I talk about user experience, I think of users in many different forms. You know, Orca has a couple audiences. There are the traders there, the market makers, and then there is these builders, and all of them are users and all of them deserve a good experience.
Matt Zahab
Love that. Let's jump into Orca's initiative with climate. Now. I know this hits very close to home with you. It is very front and center with a lot of your company ethos, your company narrative, you guys do an incredible job of really pushing this out to the public, for great reasons. Climate footprint is a massive issue present day and Orca is doing a hell of a lot to not just sort of manage that, but measure it as well. The one thing that I couldn't find on my show notes, and this is definitely on me and not your team. But you guys talk a lot about your climate footprint and how you are measuring that. How do you measure that? How do you measure the climate footprint of you know, your output?
Ori Kwan
It's a really hard question, because it really depends on what you determine is as yours or ours. Right. I think there's a couple of different scopes. And this is something that we've only recently started to look at on the Orca Climate Fund, which I'm a contributor to so Orca directs like a portion of all of its trading volume to the Orca Climate Fund, which has historically, and my original idea was to use it all for philanthropy. But more and more recently started to move towards Orca actually doing its own proactive initiatives like the carbon accounting, unlike the article that I published recently, and welcome anyone who's interested in this topic to read, because that really chronicles the deep dive that I did, along with other Orca Climate Fund contributors to zoom in and Andy, into really everything that could be considered part of the footprint. And so I would say long story short, one, the simplest way of thinking about it, and the way that I felt was most important to start was really just by looking at the energy consumption of the protocol itself. And the protocol itself is a much smaller scope, really just like the smart contracts, the SDKs. And then ultimately, like the validators and RPC nodes that are powering the transactions that Orca runs on. And so, you know, what we discovered is actually that, compared to, you know, the everyone always loves to talk about, like how proof of work is destroying the world. And you know, it does use a lot of energy. But Solana is like already incredibly energy efficient, right? I think just like, it's actually so efficient, that almost like trying to reduce the energy consumption of the Solana protocols is not necessarily the most effective way to approach the problem. And just like one example of that, is just based on the accounting that I've done, like on average, it looks like roughly like a round trip flight from somewhere like New York, to Lisbon, which is where the Solana conference will be is like 1.5 metric tons of carbon emitted. And the entire Solana network only takes something around, I think it was like 3000 metric tons of carbon for 2021. So the Solana breakpoint conference this year has 5000 Tickets available. So if there are 5000 tickets, on average, takes like one metric ton of carbon to fly there, then the conference is generating more than the entire network. And so you know, what we've done looking at the Orca Climate Fund is to commit to either buying tokenized offsets for the actual like RPC nodes that Orca rounds, which are the servers that actually serve Orcas requests to the blockchain. And that's one thing, but then another is to actually just offset all of the flights that the team contributors are purchasing to break point because ultimately, I think we want to put things in perspective a little bit like yes, it's important to take responsibility for what energy the protocol creates, but like, what's the actual bigger impact here and it's probably off chain activities.
Matt Zahab
That's crazy that you have that outlook, it's absolute cash. I friggin love that. Again, I'm just looking at my notes and it's like, so often companies will do what they think is the right thing, right? What sort of the public wants to hear, but like, you just look me dead ass in the eye. And we're like, look, we're, I'm telling you right now, we can make a better change. And we can do more for climate by showing that, hey, the flights we take is a hell of a lot more no bueno than using Solana as a whole. And therefore we are going to offset this via Orcas climate. Yeah, this is this is I absolutely love this. This is, this is great. Or you should be helping a lot more web3 leaders in this. How could you do that? If you were running a crypto backed sort of Climate Initiative? What would your protocols be? What would your rules and regs be? What would sort of your you know, your top five or whatever big points? What would you attack right off the bat? What's the lowest hanging fruit?
Ori Kwan
I think the lowest hanging fruit really is starting to look at like energy reduction and offsets. So asking your validators or you're like the RPC node providers that you work with, for example, to move towards more renewable energy if available. I think, you know, offsets are very contentious. And there we've also written a lot about this in the article. So I think doing your own research, or if you choose to purchase offsets and making sure that you're purchasing high quality offsets that are actually nature based and contributing to the long term health of the planet, is another one. But I would say the ultimate principle to abide by is exactly what you said. It's not about what looks good. Because philanthropy for the third purpose of looking good is very common. Greenwashing is a term that's used a lot here, but really more thinking about what is the actual impact of the actions. And that's something that you know, I think, even I felt a little bit guilty of when to sin, who is another the OCF contributor who has a sustainability background was saying, like, hey, it's really, really great that we're doing these donations, it's meaningful, but what can we actually do that's more like Orca native, that's more web three climate native. And, you know, it's not ultimately up to me to make all the decisions and because it is a decentralized protocol, and I'm, at the end of the day, actually just a contributor. But I do think it's very meaningful for founders to come out and say that this is important. And so Orcas two missions are one to create more financial opportunity through equal access to markets, but second to also have a positive impact on our climate. And I think enshrining that at the Mission level of the company is like the most important thing that a founder can do.
Matt Zahab
Why did you feel the need to enshrine that at the core level of the company? Because again, at the end of the day, you guys are your Solana based defi ecosystem, right? Like the climate isn't primary, it very well could be secondary. And again, I'm nitpicking here, but why do you feel that it's such an important topic that it is the second most important part of your ethos.
Ori Kwan
Everyone needs to take responsibility for climate like it or not? Right? And this is something that yeah, I don't have the deepest climate background, but it's just become very obvious to me that this is the biggest threat facing our planet today. And it's irresponsible, I think for someone who has as much influence and power as like a company founder to not care about this at all. And when we started Orca, like, to be honest, yeah, I'm very dubious about the ultimate like impact of crypto on the world right now, I don't think crypto is necessarily like a net positive or negative, right? There's a lot of different lenses through which you can view good or bad. But one thing that I felt was strictly a good thing and it was important for us to do was to make an impact on something that was kind of like undeniably good, in my opinion that that's climate.
Matt Zahab
I love that well said extremely well said alright, let's jump into Solana a little more GameFi-ish. Right. Solana GameFi is absolutely popping off at the moment. There are tons of new games being built. One of my favorite parts is the play to earn movement is sort of almost gone now, which I absolutely love to see. Use the power of the blockchain to let gamers and users own their in-game assets and play and maybe earn not play to earn earnings should not be the primary ethos. The primary ethos is having fun and rewarding the attention economy and if you want to own your in-game assets, great. You can do that for you the blockchain more specifically, we know where to Solana GameFi I know Orcas doing a lot of work there. How will Orca power the Solana game fight ecosystem?
Ori Kwan
Building a game is hard, like crazy hard. Yeah, I'm a lifelong gamer. I grew up I remember like five years old. My dad took me to a secondhand game shop and he was like, Pick anything you want. And like I just picked Kirby's Dreamland and it really all just started there. I'm proud of my five year olds choice like Sal for making that choice out of probably all the really crap games that were available there.
Matt Zahab
That's a vet move.
Ori Kwan
Yeah, very proud. Looking back. Um, but yeah, like looking forward. You know, as a dev and someone who loves games, I had always thought about building a game, and I've dabbled a little bit like You know, not much. But when I was at Coursera, I took their game developer specialization, I dabbled a bit in unity and made like some really simple platformers. And like, man, it is so hard to build a game like, it's actually incredible that games run as well as they do. And like, you know, a lot of the time we can't even get basic web apps to work, right? So I think what Orca is really offering is that Lego, because now games have to worry about not only all of the existing things around frame rates, and bugs, and blah, blah, blah, but also bootstrapping a functioning token economy. And that's clearly something that entire companies and protocols are built around. So it's kind of unrealistic to expect them to spin it up themselves and just add that to their workload. So in this, what we're really aiming to be is that truly simple, truly easy to use, DeFi Lego. And we found that like games really appreciate having someone who understands that point of view as well as like having that dedicated support to help them bridge over from web2 to web3.
Matt Zahab
DeFi Lego? Can you keep going on that term? For me? I feel like you have a hell of a lot more. On that term. I feel like there's a bunch of gold nuggets just chilling up there. Keep going on that.
Ori Kwan
I love it. Yeah, I guess DeFi Lego, maybe that was like a hotter term, even two years ago. Now everyone's like web3 and NFTs. But it really is like the promise of being able to build anything that has to do with like finance or financial tools in web3, using all these existing building blocks. So Lego really just speaks to building blocks, right. And as I mentioned, most folks building in web2 are also using these Legos, right? If you go on to NPM, there's just an amazing, incredible resource of open source tools that people have put out there. I think the most beautiful thing about like the internet, is that openness, right? Like the fact that there are so much information, so many tools that you can just go out there and use right like, I can't even imagine front end development without react. And you know, as soon as people have different opinions about Facebook, but I think the best and like most clearly good thing that Facebook has ever done is open source, the React library, because it just made building so much better. And that's what we want to do with like Orca is just put out these tools that people can use to build things that honestly like we couldn't even dream of. And really, it's like building anything that requires a market. And like markets, you know, people have lots of negative views on finance in general, but everyone wants like financial opportunity, right? And financial opportunity is created when people have the actual assets or value to like be able to take risks, right I think it feels very abstract as I'm talking about this, but let's say like, you know, back in the day, some explorer wanted to go on a voyage you know, they need assets, they need a ship, they need all these like you know actual goods to power the voyage and you need someone to actually transfer those assets. And this is like a very abstract version of that in the future where people can build anything that allows people to transfer these assets to fund these different opportunities
Matt Zahab
Great analogy! Folks we are gonna take a quick break and when we come back Ori is going to keep dropping knowledge bombs got a huge shout out to our sponsor the show that is PrimeXBT you guys know I love PrimeXBT as I've been using them for a hot minute now. Why do I love them because they offer a robust trading system for both beginners and professional traders doesn't matter if you're a rookie or a vet, you can easily design and customize your layouts and widgets to best fit your trading style. The promo code is CRYPTONEWS50 and that gives you 50% of your deposit credited to your trading account only for listeners of the Cryptonews pod that is CRYPTONEWS50 to receive 50% of your deposit credited to your trading account. And I'm back to the show with Ori. Alright, let's keep buzzing on Solana for a little bit. I know this is very cliche. But whenever I have an industry leader who specializes within the salon ecosystem, I always learn something new that I didn't know before. And I'm going to ask the same question to you. Tell me about a couple of the benefits of building on Solana.
Ori Kwan
Solana's is team is ridiculously good. And they are ridiculously good developers. One thing that I think differentiates Solana from other chains is that their team really understands what it means to build an extremely difficult to operate network at this very high scale. And yes, that sometimes means that there are troubles, you know, early on when you're actually fielding like a ton of network requests. And we've seen like Solana go down. But I think the recovery has actually been very, fairly elegant. And folks in the ecosystem are very supportive and very mature. And they all really believe in building this decentralized ecosystem that is fast enough and has low enough fees to actually scale to support any kind of application. Right and just from talking to Anatoly to Raj and to the team, I think, like you can tell that they really believe in this vision and they're not just like theoretical researchers. You know, I think a lot of chains it's like, oh, really cool theoretical consensus mechanism, but ultimately, like, can they scale to serve all of these different users? So it's kind of like the jury's out but we fit on Solana.
Matt Zahab
Do you guys have access to the team? Like is it like literally, you know, signal or telegram quickness kind of thing, fire off a message, they get back to you ASAP.
Ori Kwan
I mean, I do, which is pretty great. But that's like human relationships, right? Like, I think we've met these folks. We've been around since the beginning, like we hung out at break point. And I'm a nomad. So I've kind of just tried to hang out with folks wherever I go. And so I was like, doing a 24 hour layover in Chicago the other day, and Solana has an office there. So I just like spun by grab coffee, and just try to focus on the fact that, you know, we're all humans just kind of grinding. Like, it sounds glamorous. But you know, we're all tired, where we all can like empathize and the challenges we face. And like having those connections on a human level is so meaningful.
Matt Zahab
That's so cool. And the classic question, which everyone always wants to know. Did you ever think about ETH. Did you ever know polygon wouldn't have worked for what you guys are doing, but was there ever another option? Another protocol in which you decided to build on or was it just like salon from the get go, we're gonna do this and we're gonna run with it.
Ori Kwan
Well, before we actually built Orca on Solana, my co founder Yutaro. And I actually did build a little application on Ethereum. It was called Wallaroo, it was supposed to be like a high interest savings app type thing on Ethereum. And, you know, when we started Yutaro, was actually a contributor at the Ethereum foundation. So we're definitely not chain maxis. I think it was really just the starting from user experience, right? Like, it doesn't make sense. And it's not a good experience for users who want to like, do like a high interest savings app type experience, when gas fees are like $50. And so it's like, how can we develop the experience that we want for users? Looked around? Yeah, Solana basically caught Yutaro eye back when SPF and FTX were actually investing in ecosystem as well. And just like, did some due diligence or like, mind blown like this. There's actually like a non sharded L one that can provide this type of like TPS and these incredibly low fees? Well, you know, the All that sounds like ridiculous, like SpaceX jargon to anyone who's not already, like pretty deep in the technical side of crypto. But what does it really mean? It means that you can build credibly simple and elegant experiences. And that's what matters.
Matt Zahab
Well said, building incredibly simple and elegant experiences. Wow. very articulate. Craziness. craziness. Craziness. Ori, this has been an absolute treat. I do know we're getting a little bit tight for time here. Let's keep going on Solana, what are the next couple months look like for the Solana ecosystem? I know there's a lot of big things planned. I know there's a lot of big things planned for Orca as well. What do we as consumers? What can we look forward to?
Ori Kwan
That's a bear market, which also means that it's a builder's market, I think a lot of folks echo my feeling that it's just less distractions, right. And so what Orca is focused on right now is making that best possible Lego and making improvements to it. So one project that I'm really excited for that's kicking off is what we call the smart router, which is actually being able to route trades across multiple concentrated liquidity pools to provide better execution. Again, this is like at its core, one of those really complicated algorithms problems that ultimately translates to a much more elegant and simple experience for the end user. better prices, right? That's what every trader wants. And so they think it's these type of fundamental improvements that whereas actually might not even be that understandable to people on the outside actually prepares these Legos for like primetime use.
Matt Zahab
So on the back end, crypto nerd explanation that would be being able to route trades across multiple complex liquidity pools, but on sort of the front end, not so nerdy, just you know, consumer facing more singular goal oriented, it would be cheaper trades, better prices.
Ori Kwan
Exactly. Yeah. So there's like technical improvements, which lead to better user experiences. And I think on the Solana side, as well as the protocol side, like also something Orca is doing is really investing in these like BD and these partnerships. I'm really excited for some of the upcoming game launches, really excited for some of the other kind of more retail focused partnerships that Solana side that I can't speak to, but I think I've definitely seen, you know, conversations flying around. And so I think what I see right now, as is laying the foundations, making sure that when we actually do, hopefully have like a super lively bull market ahead in the future, those applications are actually delivering real value to people.
Matt Zahab
You continuously bring up the importance of user experience, it seems like, again, I'm putting words in your mouth, my apologies in advance here, but it seems like when you're building Orca, or when you built things in the past, that's like literally the forefront of everything. Do I have any grounds to say that and if that's the case, I'm just like, I'm thinking and I'm trying to look back at some of the things I've built and I'm just like, why haven't I prioritized user experience more than that that just makes so much sense. It's so bloody front of mind and simple, but no one does it. Is that true with you?
Ori Kwan
What I care about is creating value, right? I'm a builder at heart, I actually remember when I was like, you know, 12. And we had talked about how, you know, they're kind of a jack of all trades, I didn't really know what I wanted to do. But I remember a piece of advice that my dad gave me at the time is try to focus on actually creating value and not just moving value around. Like, he's an engineer as well. So I think that's kind of like, where, where that spirit comes from. But I think you can't really create value, if no one is taking advantage of the things that you've created. So no matter how cool the thing is, if no one's using it, it's not creating value. And that's where user experience comes into play. Right? And I think you asked for a hot take earlier, so I'll just preempt you with a hot take, I think like very little in the entire NFT community is creating any value. I'm just like, I thought NFTs are really cool back in like 2019 when nobody was paying attention to NFTs I was like, but what kind of utility can they have? Like, what can these things power and so far, I think mostly what NFTs are, are these like exclusive boys clubs that are concentrating wealth in the hands of the already wealthy, because access to these NFTs gives you access to information that other people don't have, which you can use to like speculate on more NFTs. It's mostly just like all speculation. So personally, I'm very disappointed in what kind of exists out there. But I also at the same time, I'm very excited and hopeful for what NFTs, can power in the future. I think there's a ton of potential in the idea of these digital representations that can evolve over time, you know, based on like, metadata or based on just pure ownership. I think what's interesting about blockchains is like radical transparency, and also this like radically verifiable ownership. And there's tons of things that can be built on top of that, but we're just not there yet. And so, you know, crypto is a very money driven space speculation is bound to happen. But what I'm waiting for is the things that are happening after all of that kind of settles down a little bit.
Matt Zahab
Or you can't just stop there, you got to keep passing on that subject. Give me Give me some good give me some good NFT use cases. No, you got a hell of a lot more up there. You can't leave behind dry like that.
Ori Kwan
Well, I think the most imminent ones I really on in games, right. And I think that's why people are allowed to be very creative, because ultimately, the value that's created is entertainment. And I don't think I need to be like super stodgy and say like, all value has to be like, you know, lifting people out of poverty. Amazing. But I think entertainment is a value in itself as well. And that's where we're starting to see things like you know, even like composed NFTs one of the projects that we were talking about, was talking about NFTs that own and other NFTs. So I'll just like give an example is maybe, you know, I was like a NEO pets girl growing up, me too. You have these pets? Yeah, but those pets can own other pets. And then those pets can have like different equipment, right. And all of that stuff is can be expressed through NFTs. So that's kind of like one way of actually making these things like pretty interesting, right is like you can actually transfer that representation very simply and easily so that you actually can, you know, give someone else this this pet that you've invested in. But that's like a pretty well understood one, you know, this is purely just like my dreaming in my mind. But something that I experienced recently when I was actually in Mexico City for the first time, which shout out to Mexico City is probably now my other city favorite city in the world besides Tokyo. But it's so popular that when I went I was immediately Yeah, it's incredible. It's like super leafy super green, amazing climate cute dogs everywhere, amazing food friendly. People love it. And like a lot of other people love it and the Nomad community. So I was immediately hit with these, like eight different guides to Mexico City that different friends or friends of friends had created. And they were all in different formats, and all like, incompatible, right? So I ended up pretty much just kind of like, going back to my roots. And I just use the one that I thought was the nicest format, because that nice formatting means user experience, right? And all these other ones, like, they're just like, gone, you know, like, people put all these effort into these things, but like, unless I'm probably just gonna, like end up losing it in my email, right. And so one thing that I thought could be pretty interesting is actually to like have these different types of guides actually be NFTs in some kind of like, more standard format. So maybe you could see like, all of these different recommendations on a map and they could all be annotated, like this one's from Matt, and this one's from Ori This one's you know, has all the information like people's actual recommendations built in this kind of like very web2-type experience, I think that it still provides value in different ways. Maybe it's not like something as epic as like billions of dollars of trade volume, but like they're totally valid use cases that I think NFTs and like web three can be integrated into you in a way that's meaningful, just that it's perhaps the financial incentives aren't there yet.
Matt Zahab
Interesting. That's a great take there. I gotta ask a follow up, but Mexico City, I've never been on the bucketlist. At least the danger, I always hear crazy stories about the danger, is that still present that you need to know where to go or not to go? What's that like?
Ori Kwan
So there are definitely parts of Mexico that are very dangerous. I've never been outside of Mexico City. And you know, again, this is speaking to what I've generally heard. But to be honest, I felt like incredibly safe the entire time I was there, I was traveling as a solo female. But there's like a very, very strong expat community in Mexico City. And there's certain neighborhoods that I think are just really lovely. They're just like, filled with both expats and actually a lot of locals, I think as well. You know, it's super affordable for someone who's lucky enough to come from America at least to like, take Ubers everywhere. Public transit is like a flat five pesos, which is like 25 cents. I just so easy to get around. And the fact that I couldn't, you know, Uber home after, like, a night out with friends meant that I actually didn't feel very safe. And so, you know, personally, I these days, I feel pretty unsafe in New York, like, yeah, that's like a whole another topic, but I think everything's relative, right?
Matt Zahab
Yeah. 100% Yeah. New York's the homelessness there. And just the shootings and stabbings it's out of control. It's bananas.
Ori Kwan
Yeah, the world is a crazy place. I mean, if you weren't really safe come to Tokyo. Like this is definitely the safest place I've ever gotten to the point where you know, you get a little lax if you spent too much time here. I'm like, Yeah, I can just like leave my laptop open on a cafe table and no one's gonna take it right. That's just how things are.
Matt Zahab
That's crazy. You must have been to Dubai right?
Ori Kwan
I haven't actually, no.
Matt Zahab
The reason why I asked is because that's the safest I've ever felt I you know, swim in the ocean you laptop phone, wallet wide open on a beach chair. Not a worry in the world would didn't even look back at it. Whereas I don't think I genuinely don't think I've ever been anywhere else on the planet where I would do that. Even in my own country in Canada. I wouldn't, Toronto, I would never dream after that my phone would be gone at t minus two minutes like crazy. But then again, if you steal there, like your risk cut off. So different strokes for different folks, right?
Ori Kwan
Yeah, well, definitely a place I hope to visit. I do hope to keep my risk because those are pretty important for development. I've heard a lot. But yeah, you know, there's trade offs for wherever you go. That's something I've gotten a lot of appreciation for. And just like my Nomad time, you have to appreciate that. Also, you're a visitor in these countries. So like, what I'm speaking to is really like my small expat slice of a view on Mexico City and can be very different than a locals view. But one thing that I did feel is just a lot of love for the country from both like locals and expats and being there on the Mexican Independence Day. I think I felt that more strongly than any other time. So definitely recommend.
Matt Zahab
I feel like you and I could buzz about travel forever. One more question, then we'll wrap up or what's the most underrated city you've ever been to?
Ori Kwan
Underrated? Ooh. Yeah, I feel like my favorites might be kind of mainstream. I think out of the places that I've been. The ones I've really loved are I mean, of course, Tokyo and Florence and Istanbul and Mexico City. I mean, in some ways MEXICO CITY I feel like it's still relatively undiscovered. But maybe I'll put a shout out for like, the more we call it Inaka. But like countryside regions of Japan, there are a lot of areas of Japan that are really just like not very traveled to everyone goes to like Tokyo, Kyoto, but I personally love the southern regions of Japan like Kyushu. Shikoku. Like Fukuoka is an incredibly well developed city that's actually like very easy to live out of like it's super affordable. It's beautiful. There's like a nice river that runs through. And for people who are actually local to Japan, they know that it has some of like the most incredible nature like hiking, scuba diving, surfing, like really whatever you want, and like and is incredible food or like really unique food and that the Americans probably love most is ramen. And that like really sort of like fatty, rich style of poem klutzy ramen originates in Fukuoka, at least in Kyushu. And so that's where you should go to get like the real stuff. I'll cost you like $3
Matt Zahab
How many languages do you speak by the way?
Ori Kwan
I speak three conversationally I would say like Chinese Japanese and English and then I speak like Spanish and Italian well enough to like get by and you know, survive.
Matt Zahab
Interesting because yeah, the Japanese accent was very on there like see Yeah, effortless. All right, this has been incredible. Thank you so much. I have learned just an absolute shit ton pardon my French but I've learned yet to put that on your list of languages to learn. I've learned so much from you very grateful that you came on the show. This will be one that I will definitely be listening to on a walk. I hate hearing my own voice. But it will be nice listening to all of the knowledge bombs that you dropped. As a marketer myself, I have so much to learn about the fundamentals of design, user experiences you In finding, talking to people talking to users finding the solution to problems, this was a nice fire that was lighted or has been lit under my derriere. So thank you for that. Really appreciate it. And I definitely would love to have you on for round two. Until then, now, I wish you in the team all the best and before you go, can you please let our listeners know where they can find you and Orca online and on socials?
Ori Kwan
Of course. Thank you so much, man. Yeah, I've done a fair number of podcasts. This is one of the most fun for sure. You can find Orca on Twitter. It is at twitter.com/orca_so we are Orca_so on all channels so you can find links to discord telegram etc there and I'm also on Twitter as well usually tweeting really long tweet thread that I hope someone will eventually read. I am @oritheorca.
Matt Zahab
Alright, Ori, thank you so much for the treats really appreciate it and can't wait to have you on to the next one.
Ori Kwan
Thanks so much Matt. Have a good one.
Matt Zahab
Folks, what an incredible episode with Ori from Orca dropping absolute knowledge bombs left right and center we absolutely love to see it I know you guys will love this one. As always everything Orca related and Ori related will be in the show notes and this will be a long shownotes as well as there were tons of bombs dropped. Folks if you love this and I really hope you did please do subscribe it would mean the world to my team and I speaking of the team love you guys until the listeners you are all the GOATs keep on growing those bags and keep on staying healthy, wealthy and happy. Bye for now, and we will talk soon. All the best.
---