Fuad Fatullaev on Building Web3 Ecosystems for Learning, Earning and Playing | Ep. 174
Disclosure: Crypto is a high-risk asset class. This article is provided for informational purposes and does not constitute investment advice. By using this website, you agree to our terms and conditions. We may utilise affiliate links within our content, and receive commission.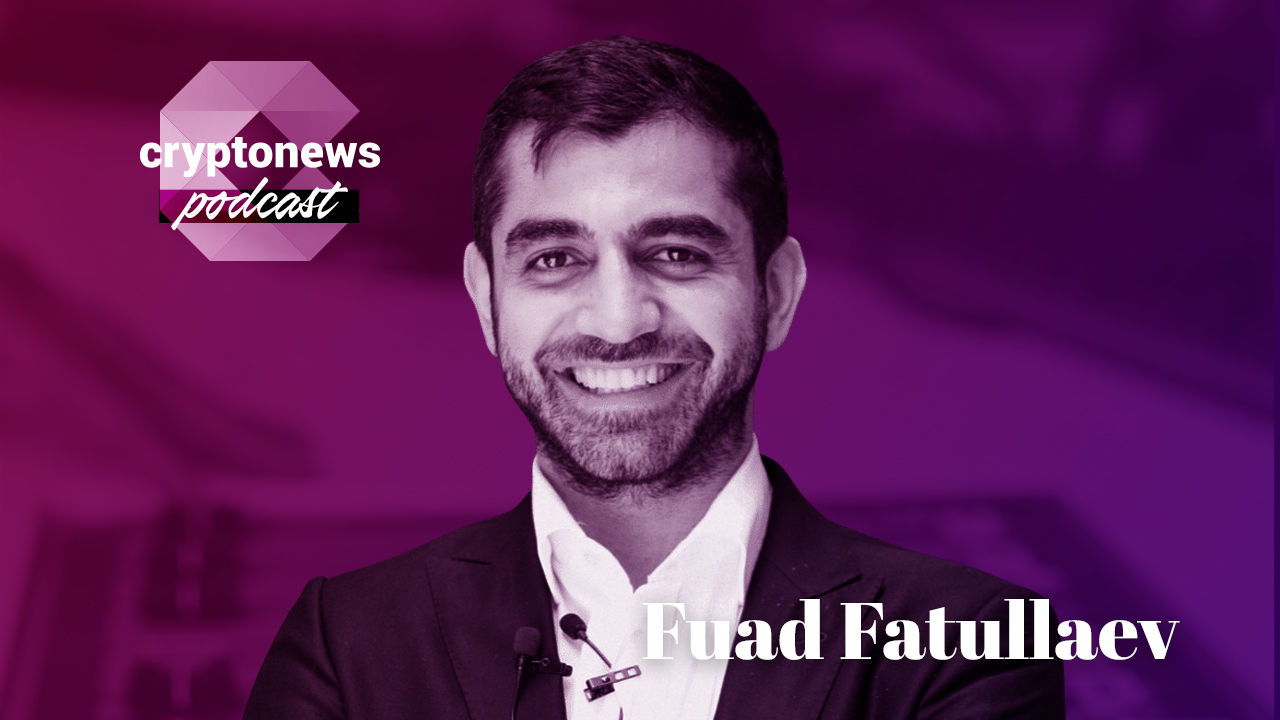 In an exclusive interview with cryptonews.com, Fuad Fatullaev, Co-Founder and CEO of WeWay, talks about the future of crypto, creating decentralized Web3 ecosystems and how to onboard the next million people to blockchain technology via Web3 gaming.
About Fuad Fatullaev
Fuad Fatullaev is the Co-founder and CEO of WeWay, a Web3 ecosystem for influencers and content makers to support their metaverse presence and teach them how to reach their full potential.
Fuad is an entrepreneur with more than 10 years in launching and developing fintech startups in the UK and UAE. He graduated from Harvard Extension School and launched a startup partnered with McKinsey's startup club. Fuad Fatullaev ran projects with a contract value of over $16.1M and led an international team of more than 300 people in cross-functional departments.
Fuad Fatullaev gave a wide-ranging exclusive interview which you can see below, and we are happy for you to use it for publication provided there is a credit to www.cryptonews.com.
Highlights Of The Interview
The future of crypto and Web3 belong to blockchain gaming.
Find-to-Earn – using a similar strategy to replicate Pokemon Go's success.
Creating decentralized Web3 ecosystems – Learning, Earning and Playing.
The key to GameFi mass adoption – penetrating active internet users.
Dubai becoming the new Switzerland – very neutral economical company.



Full Transcript Of The Interview
Matt Zahab
Ladies and gentlemen, welcome back to the Cryptonews Podcast. It's your host Matt Zahab. We're buzzin as always, and today we have Fuad Fatullaev on the show. The co-founder and CEO of web 3 ecosystem WeWay, which is the bread and butter for learning, earning and playing. Fuad is a professional entrepreneur with more than 10 years experience in launching and developing FinTech startups in the UK and UAE. He graduated from Harvard Extension School and launched a startup partnered by McKinsey's startup club, Fuad ran projects with a contract value of over 16.1 Mellie and led an international team of more than 300 people in cross functional departments. Since 2017, Fuad has been actively immersed in the blockchain industry and opened a new enterprise dedicated to the NFT cryptocurrency and Metaverse is just the way it was. And here we are with WeWay that's how it was born and ecosystem for influencers and content makers to support their Metaverse presence and teach them how to reach their full potential. Without further ado, I'm very pleased to welcome Fuad Fatullaev to the Cryptonews Podcast. Fuad, welcome to the show my friend.
Fuad Fatullaev
Matt, it's a pleasure to meet you, my friends. What a pleasant introduction. I was actually flattered to do that stuff about myself. So hopefully I'll be able to engage the audit and get engaged audience in the same way the way that you presented me so an absolute pleasure, my friend.
Matt Zahab
You as well mate, you as well. I love the background. I got the quick little tour of the office, you and the team are kicking it in Dubai, what a treat that places heaven on earth. I know it's very cliche for the crypto folks to move base camp to Dubai. Even the team was at the same reason as everyone else. You got the very chill legislations obviously, the tax breaks the beautiful people the good food, the sun, the beaches, the tall buildings, same shit for you.
Fuad Fatullaev
I mean, I think the biggest reason why we moved to Dubai is just the whole crypto space is here. It's like a look, I mean, like CZ lives here, right? Binance is here like this is the current kind of AQS of Binance. I mean, I think by now, Dubai has always been leading in terms of innovation and in growth, and especially now you know, it seems like it's like seems like a new Switzerland to be honest, you know, like whether that's Switzerland because I was kept neutral has always been neutral. And Dubai is like a neutral place right now there's not getting into politics, much thing to ever, whatever conflicts are going on. And it's just follows the follows the people's dream of establishing themselves and establishing their businesses. So it's actually pretty easy to do anything new. But I think the main reason you're moving here is just because like, this is such a tech savvy and crypto friendly place right now. You know, every day there is a lot every day but like twice, three times a week there's a crypto conference here you know, like this I like how massive the adoption is and I think we're in the right place and definitely you know, considering the amount of network that we were able to gain you know, during our presence in Dubai was astonishing. So as you know, you know, any type of business especially crypto is all about network who do you know how do you know what's your accesses? You know, so and it allowed us to actually grow faster in terms of different types of product development and also engaging in different types of activities so we evolved into not only WeWay but as of outside of WeWay you know, we've been running out running running few other crypto projects and successful and that was I think mainly because we are establishing in Dubai but the only thing that is pretty bad at that you can't do anything here of the makers fucking hot boat five degrees brought like just want to get the hell out of this place because that's like literally impossible literally impossible like people live on the seas and did you know that Dubai is actually the most air polluted place I'm sorry like this ever gets around like to the buyer not trying to get it by government phase, but start now the buyers pretty polluted in terms of air pollution in top two. But yeah, but there's some ups and downs for businesses this is definitely a place and for me to buy is like a transition place. You know like as like, as like you move in July this is my like transition spot for like accelerating growing up, man. Like, I want to end up on an island and I'm enjoying myself in the next five years.
Matt Zahab
Hey, I love that you're preaching to the choir, bro. One funny thing I heard about Dubai. And again, I've only been once I'm a rookie, so I don't know how true this is. But we were on the streets is that in the summer? And because again, Dubai, you know, it's they there's it's their own government. They run the show. They're really there's no rules. I heard that when the temperature gets to 51 or 52 degrees, workers don't have to work. And they will just like tell the weather networks to put it as 49. So they still work. Have you heard that?
Fuad Fatullaev
No, no, I actually didn't hear that. I didn't hear that. But I was surprised that the weather this summer wasn't that hot. And I was even thinking maybe they're kind of like artificially somehow, you know, they do that, like different types of technology. Like Yeah, fuck with the nature right. So like, that's what they do. I don't know that they're doing that. But this summer wasn't as hot. But maybe bro, maybe that's the case because they have different like in like in that Russia or like some other European countries have I think by law, if it gets like to minus 50 minus 60 a lot and have to wear to school, you know, the body works, I'm not sure. But I love the place. And I definitely for someone to look into expand their business to, you know, start up a business. Like I've been starting startups in London. In my mind I was kind of my background is in UK I went to UCL and after UCL it's of course and Harvard Extension School and stuff like that, but like for me going to Europe is like they all restrain you. You know, it was like so much bureaucracy, you know that they have and just building things you're just like, overwhelmed with taxes and how they fill in this reports, you know, to the tax and revenue departments and then you just crazy like crazy yet, and you're just a guy that is trying to start up some idea and see if it works out or not, but at the same time, you know, like any mistake you do you kind of get screwed here is so much more chilled, you know?
Matt Zahab
Yeah. So it's the way it's the way it should be. So again, you have extensive experience launching and developing FinTech startups and present day who you are even team are moving and grooving with WeWay. Before we get into WeWay walk me through why you made the jump from FinTech to you know creating a web3 ecosystem.
Fuad Fatullaev
Yeah, I think that there was almost confusion between FinTech I think on the on the on the beer that they gave me. I wasn't tech. I wasn't in FinTech. But my experience in telco was, I was I launched a startup before. Before deliver on Uber Eats Well, in the market. I did a very similar extent to them. But I did it in London. So that's what was my background in terms of launching something why I launched like several, several others tech startups and different areas. But main my main kind of when I was I was I worked for BP, when I was younger after I graduated in oil and gas and then tried myself in consulting but it didn't like it that was always kind of entrepreneurial. And then there's a startup that I did that was specializing and on demand delivery, like some of the PostMates in US and similar to delivery but I did that before those guys were and so kind of that was that was one thing and then you know, started to explore other opportunities and few others things and started to move towards crypto. I got some good advisors and friends of mine that advise me on how to get into the market. One of them is Alex, Alexandra, and Farhat. They're the guys behind CoinPayments and velis. CoinPayments is the largest crypto processing, crypto online crypto to crypto. online payment solution the world puts in more than $2 billion per month started from Psalm 40. So I was like I didn't know what blockchain was. I was like, What the hell is this stuff? You know, like this is like our narrative Bitcoin was like a scam. And that's what like, for me like this cryptocurrency stuff, like sounds like too big and like using dark knight to buy weed. Right. So like, that was kind of my impression of what crypto was, you know, and then I just started to dive in more and understanding technology more. And so that's, that's how I basically got it. But I think crypto has a lot of potential in general, I think we're talking about technology here. We're talking about a new era. I mean, look at us, like from the first of all, like, why I believe that crypto is revolutional. First of all, because it's decentralized. Like if you look at the world decentralized, it means that no one controls you. All right, so essentially control and also now we're seeing the evolutions of Tao, for example, and how decentralized, autonomous organizations start to be implementing in different types of areas of the business and the world, you know, how this model actually works, but for me, kind of the, it's not being a rebel, but it's just being understanding that like, I own money in a bank, but like the bank money doesn't belong to me, you know, like, how does that sound? Does it seem right the sound right so, so to me crypto and the first phase was kind of understanding the first the core that this is our money, you know, we should control it, we should we should control the supplier itself. And how is the supply of the money is not controlled, you know, like, how is $1 being printed? How does inflation gets this kind of levels, you know, so, the crypto was first like understanding this because this is the core of the utility of crypto right apart from actually being a blockchain right so the first utility is the actual payment of Bitcoin right? method of payment or an or whatever use the T whatever came afterwards right? So I just think it's just we enter a new era of over revolution and I call this way because it is a revolution because we will see ourselves in 10 years time you know, I highly doubt we're going to see any Fiat transactions and most surely hidden they'll be you know, stablecoins controlled by government and governments and fully regulated but at the end of the day that now we will move away from Fiat and the young generation of us who are already doing that look, I was in a cafe in Dubai recently. I paid for my coffee using USDT I have a machine your vending machine Do you mind if I work I work in a podcast I'll show you it's literally one minute away yeah, what two meters away Look at that. So this is this is our office by the way to anyone looking at us but look, I have a we have a vending machine here that I that we can literally buy Coca Cola sorry, it's literally all service. But we can buy Coca Cola or Pepsi using SHIBA using USDT using BNB. So choose a currency that you choose choose whatever you want, and then you can pay was any like in a matter of a second you pay was a bad that means you're paying was the Ethereum.
Matt Zahab
Is that it might get a little pricey.
Fuad Fatullaev
Yeah, I'll get the takeover. Take a while. You know, and that stuff is just you know, when you look at it, this revolution. And also you're just you know, you go to a restaurant, for example, I don't hold any money on my bank account, like non like, rarely when I have to use money, I transfer funds. But imagine like you're going to a restaurant and now I can confess You can literally pay with crypto in restaurants, you know, and the solution lies in so I know we're going to touch more on the GameFi sector and what I think generally of the web3 market and where we're moving, what are the current trends, but this is just my general, kind of initial pitch.
Matt Zahab
Ey, I love it 100%. What let's get right into that. Tell me more about the whole blockchain gaming space again, you obviously have some pretty hot takes. I don't know if I agree with Fiat being gone in 10 years, there's too much of it, you know, buzzing around. Personally, I would love to see it. I'm in the same. You know, you and I are in the same yacht. Right now. It's more like a 10 boat, but hopefully the same yacht soon. But again, I digress. Moving forward to blockchain gaming, that's the bread and butter of Wii games. That's the bread and butter of WeWay it's part it's one of the biggest aspects and pillars of the whole ecosystem. And again, I've read some of the stuff you put out. And you're a big believer that that will be sort of the catalyst to growth that onboards you know, the first couple million people over to crypto and by free, why are you so focused on this?
Fuad Fatullaev
I mean, let's look at some numbers right now. The total, what's the total market cap of the whole crypto market right now? What is it on 1,700,000,000,800 100 billion, something like that? Something like that? Do you know how much of it accounts for game if I have a guess?
Matt Zahab
I'll go something low. I'll go 100. Bill.
Fuad Fatullaev
Yeah, actually less than 1% is gamified.
Matt Zahab
Wow.
Fuad Fatullaev
Yeah. So that's, that's astonishing. So this is this is a numbers, I'll walk you through some of the more numbers that will be extremely surprising to you, but just generally talking about the gaming market. In terms of the gaming market, it is actually the whole gaming market currently is valued at around let's say, you know, $200 billion, you know, $200 billion 200. And it's actually grown, you know, five 6%. annually.
Matt Zahab
You mean, you're talking? You're talking web2.
Fuad Fatullaev
I'm talking about two, we're talking about general global games market, right. And again, it is estimated that by 2025, now by the global markets report by the news or it's actually really reported and forecasts that the GameFi market is going to be $50 billion. So $50 billion out of the $200 billion dollars market. That's a stamps that's counters of 25%. One more interesting note to take and that mobile gaming, mobile gaming is 50% of the whole gaming market, mobile gaming. Imagine that so you would think that you know, like the, the guys at PlayStation and the Fortnite and the PCs, and Gen box PC games, or tablet games, console games, that was such a big part of the market, but they're not. And the biggest the biggest markets are actually smartphone games, and they establish their account for you know, around half $100 billion of the market. No, so what we see now is there's a lot of people playing different types of games, and on their phones, but without making money, just they're just using that time just wasting that time casual games, whatever, but that's 50% of the whole market is actually accounted for mobile games. I mean, so, but look at some real, some interesting facts as well. So GameFi there's many, many big problems on the GameFi market the game, first of all the, you know, the incorrect model of how the math mathematical models of, of game design work inside of the games, I mean, look like Stefan launches, people make money, and then they stopped making money because the token is inflationary, and people just lose money. Right? So the model is the, you know, people put in the GameFi, the current kind of trans people play Axie Infinity, not because it's a great game, that's because the way of making money, and this is a problem of it, because people need to enjoy the games. And the biggest problem, the game of white market, is the fact that, you know, it's the fact that fun should come first. And whenever fun is not first, you cannot retain users, you know, you cannot first of all, retain users. Because the biggest problem is that people just get tired of this game. That's number one. Number two is know nothing about the fan fact, it's all about making money. You know, if you look about the top Axie Infinity game, like, look, there's some interesting stats as well that they actually teams and in the in, like families in Sri Lanka, you know, like, oh, Indonesia, that play was like Axie Infinity. And just this is a way of making money and making a living, you know, but it all seems to be like, like a big Ponzi scheme for me, because people, you know, was also inflationary models, like, like, Stephen, you know, like, in many other like, analogies step up, you know, many, many other than the name the band that you would know, right? So now all of them they just didn't perform well. So actually, what are the key drivers for the GameFi sector in 2020 tunes on 23, there's four factors. And number one of which is, is actually traditional gaming companies joining the GameFi. That's because they have the most knowledge and how to do that, if you can see that they are late in the game, meaning that late they're not late very early was the 1% of the market cap terms of the total market cap of GameFi. Right. But we don't see big AAA companies, like one year ago, tapping into GameFi, we didn't see that, right. So we see we seeing that now. This is one of the things is going to help us drive home GameFi sectors, traditional companies, you know, jumping into the GameFi sector that actually understand that fun comes first, right? So number two is, you know, the second drive or the GameFi is the appearance of triple A games now. And the games that we see are is not triple A like it's just like, it's just like, I don't even like look like it's just incredible bad quality of type of games, and all that is played. And also you would never play it. If that wasn't a game that would generate your revenue, you would never play this kind of games. If you're a gamer. No.
Matt Zahab
So this is changing right now, though, you know, like, a lot. A lot of companies that got funding over the last couple years are putting millions of dollars into not incentivizing the user to play in the form of financial gain, which has been sort of M.O. over the last year and a half now. I do wholeheartedly believe that these massive organizations and gaming companies and studios are actually trying to build legit games. That's just me, but that's what I'm seeing right now.
Fuad Fatullaev
That's True. Yeah, that's this is exactly what I mean, this is this is actually the trends that are happening right now. So those are they, there's, I mean, there's one way of looking at it as for example, EA Sports so EA tapping into the market and going full on crypto, and then just guys gathering in team and trying to do a triple A game and raising $20 million, like, like Soul checks, right? Like, like the ones that raised like, what 20 $30 million? Like they nothing or they you know, we saw a lot of big guys raising a lot of funding and all and releasing amazing trailer video games of the potential game that is going to come out and nothing comes out. Look at the case look at Gala Games. I mean, Gala Games is one of the biggest in the field right now. Right? And look at the dollar games, look at the quality of the games, if anyone has ever played their games, their whole model is based on NFTS rather than on the form comes first and this is actually playable interesting game. So this is like you know, if you look at the Gala Games production, some of their games and all their main focus is NFTs rather than funfairs. Although they have strategic partnerships with like Zombieland level strategic partnership with some of the big brands that you know, they made partnerships to establish mutual games, but you know, look at them now. And look look at the number of players I'm look, I will tell you the step one, active number. Have you seen the stats right of Decentraland?
Matt Zahab
I don't know about that, though. They said there's like, like 60 people or something. There's no way that could be legit.
Fuad Fatullaev
Oh, trust me, trust me. This stuff was legit, bro. Because when I was looking at this stuff, and guess how many of you think there's active stuff on users per day? What's your guess? How many active users are stubborn? How many daily users stubbornness? What's your guess?
Matt Zahab
5k.
Fuad Fatullaev
5k? So that's the right yes. That's the right guess, man and look at what The current market cap, but we're gonna even Google that market cap is insane. Like it's just driven, fully driven by FOMO. You know, like even as of now. And also, like, look, there's more people playing Doodle Jump on the phone that more than the whole of GameFi sector in order to jump the game when I found that used to like kind of jump jump higher client heart, there's literally Oh, yeah, there's yeah, there's still more people playing below job that the hope I can GameFi sector, you know, this is what I mean, how early stages where, you know, how early stage where, so I believe in the, I believe in the space evolving in a massively, but first of all, what should be his fun first, right? So GameFi glory is declining, because the whole hype around that is declined. A lot of investors still believe in the future of GameFi, you know, the 81%, according to some stats from the general investment, investor outlook, but you know, the whole point is, form comes first. You know, as soon as the form comes first model is achieved, you know, then we can see that, we can also look at some of the I mean, I'm not I'm going outside of the questions agenda, by the way, right? So, if you want, we can just call it free conversation, or, or you can stop me and you can.
Matt Zahab
No, no. Keep going, keep going are chillin, yeah, do your thing.
Fuad Fatullaev
Yeah? All right. All right. So I'll tell you some, some other stuff. So mostly, like most of the new listings, on tier one exchanges, like 20% of listings, or tier one exchanges will actually buy for GameFi. So like, if you look at the quarter, a quarter one of 2020 to 20% of the of the launches of listings, the new listings, were GameFi considering that only 1% of the whole market is still GameFi. Right? So but 20% in the listing GameFi. Another interesting stat to look into is that actually people are playing more right now. So the number of users is not declining. GameFi was Bitcoin, right? So it's actually not declined. So the number of new users and the GameFi is actually being studied. Islam declining, I'm not talking about high projects, like step on and using the audiences, I'm just generally saying about people that it's not related to that bitcoin price is not related to people using GameFi. Right. So in general sense of it, we can share with you and with your community, some of the research that we have also made around subject. So I actually do believe that, you know, GameFi has a lot of a lot of opportunity. And this is why we are also you know, focusing a lot on the sector. You know, we have some of the strongest partners with us on board that are ranked in top three biggest and most successful app developers you know, when having, having built for they were the ones behind Angry Birds, too, and many, many other successful games. So yeah.
Matt Zahab
Ey, I love it. Keep a, look. Let's take a quick break give a massive shout out to the sponsor to the show. That's PrimeXBT you guys know, I love PrimeXBT. I've been using them for a hot minute now. Why do I love them because they offer a robust trading system for both beginners and professional traders doesn't matter if you're a rookie or a vet, you can easily design and customize your layouts and widgets to best fit your trading style. PrimeXBT is also running an exclusive promotion for listeners of the Cryptonews Podcast after making your first deposit 50% That is five 0% of that first deposit will be credited to your account as a bonus that can be used as additional collateral to open positions. This promotion is available for a month after activation and will be the boost you need to get the hang of trading quickly and efficiently. Again, the promo code is CRYPTONEWS50 that is CRYPTONEWS50 to receive 50% of your deposit credited to your trading account. Now back to the show with Fuad. Mate, the game that you and the team created madbackpacks.io Obviously that's the website. The game is MAD Backpacks. I love the name. I want to hear more about the inspo behind it. But what makes me very curious is you guys coined a bunch of big term sort of the move-to-earn the find-to-earn the play-to-earn what's with the "to-earn". Now I get the importance of going along with sort of the trendy terms and the trendy buzzwords doesn't move the needle. You guys created a couple new ones, sort of combined a bunch together. What's the deal with this game? And what do you sort of pick those buzzwords?
Fuad Fatullaev
Yeah, sure. I mean, the biggest buzzwords here is find-to-earn. But I will explain you why kind of you have to always be very flexible in terms of kind of which what you do. Look 50% of the whole gaming market is mobile gaming. Right? fully separate GameFi Alright, so the whole gaming market, the one on tracklists, the traditional gamers, right? So mobile games mainly are built on casual games, meaning that like you do very simple things on your phone without like, you know, using your brains a lot. That's what it is, right? So. So this is this is why we're kind of keeping ourselves very flexible in terms of what type of minigames we implement into MADBACKPACKS and everything is built around. It's an AR NFT base game, meaning I will explain you like different mechanics to using the game. By the way we the game is releasing to the public for public testing for public beta on Monday. So you know, people will be able to publicly test it. But the game the game is about, how do you play Pokemon Go, which heard about Pokemon Go? Everyone knows.
Matt Zahab
Yeah, of course. Yeah. That's the whole purpose of geo located. Yeah, yeah, move and groove in real life.
Fuad Fatullaev
Yeah, that's what it is. So it's basically what MAD Backpacks is, you have you can find different types of tokens, the internal token of the game, but we're also partnering with a lot of other companies as well in the future. So you can collect that token skated around the world was an AR was an AR experience. You can also have PvP models, you can also form a league, you can also get a like a, you know, get an Eiffel Tower and be the one that leaves a tower and whoever makes money near the Eiffel Tower, you will be the one getting Shirreff share from the southern center. So very similar logic to Pokemon Go but with NFT MAD Backpacks, which allows you to collect those tokens and different types of minigames so many games can be like you have to visit AR, you have to throw the pack, throw the throw your back to the coin, but the far the far the more distant you are from the token, the more token rewards that you get closer you get because easier for you to catch. The last token you get there's different types of mechanics, how you can upgrade your MAD Backpacks, which is an NFT, and a different type of rarity. But the upgrading of it allows you, for example, to get bigger durability of the game, high capacity of demand backpacks to collect the tokens, and many, many other features to be implemented. Soon, why you touched on a very, very interesting subject saying like flat, you're moving along the current trends, but like, an all Crypto is about crypto is about trends. So it's about flow of money, right? So because for me, like those type of things that come out, you know, I do believe in GameFi, but like there's a lot of hype around certain things that come in and then go right, so hype on DeFi and hype around NFTs and the blasts, and then it goes down and hype and moved around and a blast and the money flows elsewhere. So I think the next day, the other next big thing is going to be when people will be able to do something between each other like fight or gamble or make, you know, make bets, you know, between each other was to sub tab minigame. So it was MAD Backpacks will be allowing people in the another series of mini games of becoming a next month. So apart from the NFT, AR, we have to actually work with backpack to collect those tokens, you will also be able to compete between one another, and also bet on one another who will be able to collect more or play another different type of mini games inside of it. So our idea is to, you know, to allow people as again, fun comes first, right? It's to allow people to play different types of mini games that both implement inside the game related to the whole ideology of Mad backpacks. Yeah, so this is this is kind of what it is. And the first game the first mini game of MAD Backpacks is PokemonGo like game where you can skate around the world, you can walk around the world and collect tokens and then convert them into the real money and those tokens actually deflationary. So we're using WeWay token for all of our games that we develop, but both models are deflationary. So you will get a free you get free Matt free packs, but for you to be able to get a you know, an exclusive package which is a WeWay token rewards and repairment and the upgrades are done with the internal token of the game that is to be collected and rewarded and used. So we have established both deflationary model for the for the tokens to be able to sustain those prices and you know, a very different model to GMT and GST. So I think we'll be able to create a lot of buzz once a month once the market is right.
Matt Zahab
So walk me and again I'm full disclosure, I am currently working with a team who is also building a mobile game and it's been an incredible journey and I can't wait to see a pop off very similar to you. But for our listeners at home could you let us know how much of a shitshow it really is building a mobile game like this is not easy this is not some Cakewalk This isn't baby food this is not a walk in the park you need a full team of devs full team of engineers you need front end back end marketing folks sales folks someone like yourself and C suite running the show it you know it's not easy can you walk me through like one and again you don't need to give us all the numbers but about how much how much money it takes to build a game and like how many different people you really need to actually develop a triple A rated mobile game.
Fuad Fatullaev
First of all, you can do shit tons of mistakes that will that will make you lose money right so in anything that you do in crypto in general and in tech so that's really depends how Our, you know, the hardest part I think, is to get the right team. That's the hardest part in anything that you do. And because you need the right dealing with the right tech team, you need the right marketing team, you need the right product team, and you need the right r&d team. So everything is super important. So that is the hardest part. And anything that we do so we, and we, it took us a while to do that. And we've been developing a game for around six months from scratch. So maybe less than that. Maybe around four and a half months. But it's for some it takes two years, three years, depending on the quality of the game they want to release. I'm not saying they're releasing a new Fortnite, right. So this is a different type of kind of games, right? But the gaming section, the build is not easy. Because first of all, you need to test out the games as well to make sure that the game design works, right to make sure that people you need to you need to have a lot of feedback from a lot of people, right, so constantly. So building a game as a constant development. It's not like you've built your core, let's say we have a pad, right we have we were as its own idea launch pad. So it's like you build a pad. But like you just need to sustain that you just you don't need to of course, there's some new tweaks and pieces that's coming in place. And every month, you want some improvements, and there's something new that comes out. By the way, we think that our own launch pad WeWay as Launchpad is going to be in top five in the next year, Trust my words, we have advisors from number one launch pad on board with us, we have a lot of big guys and they're helping us to become a top five but we have a flow of projects everyone that goes to buy within Q coin comes to WeWay Launchpad but one large K well bases and you know, we were launched by this doing well, if you look at our project flow that's going to be upcoming ideals and, and then freeze ideas where we are we are doing what the website is wepad.io. So let me give you an example, we only have around like 2000, I think less than 2000 KYC stakers and participate in our ideal because we just recently launched it, but people get an allocation of like $2,000 One and a half $1,000 for projects were at Brazil or Dollmaker game be escapa that would only get like 50 bucks or 100 bucks. Because like we first because there's just not many people yet but we have the same project flow of tier one projects that come to our path. Because of our very strong K well base and not people moving us in the market. So in terms of the like, in terms of the Wepad, like part of the WeWay ecosystem, if you look at weway.io you can have a look more about what we do, like you do a pad and it's kind of sustainable, right? So you don't kind of there's new tweaks and pieces, right, there's new things, but when you do a game, it's like it's a constant development of the game, you know, it's just like a constant burn rates have tech team that has to, you know, this has to constantly upgrade the, the game to make it better to get less bugs, etc. And it just literally takes a lot of time and efforts and number one number two, like if you're not from the sector, it's so much harder for you. Like if you're not from, you know, game development sector, it's so much harder for you. And it's so much harder for you to build the right team because you don't know it yourself. So my experience was is to getting the best guys that actually know that stuff, you know, to trust them to set up certain processes, especially in the development phase, but it's not an easy task and I will tell you, it's not an easy task to do anything in the crypto market. But let me tell you that two of our projects that we launched in 2022 are ranked in top 10 Most well performed tokens out of the whole market by crypto rank now that's because we have one of the largest care well bases in Western Europe. And the thing is like it's very very hard especially now at a bearish market to do anything and if you look at projects like the lid there is no secondary market right now. There is like there's literally no retail market right now and exchanges nothing there's no volumes there is no spot volumes everything's fake there's literally no words exchanged or die. And now like we see some of the volumes that that we have on also like green zone tier one exchanges they're almost unknown on some of the exchanges and then you would think like damn, you know, that exchange I used to have a volume like this this amount but now just the whole market is that so especially working under this condition, I think a lot of people I know we are not because we are well funded you know and but a lot of a lot of projects are experiencing a lot of difficulties not only by building a team and forming the team and creating the project but also facing the fact that just short of cash and short of funds and this is not the right time to launch and markets move a person like you will build an NFT marketplace and then you realize it's five months that the hype is gone. No one needs to marketplace. You build a game you really think that this game is like the next big thing and then like that that trend is out broad there is a new trend there's a new flow of money that is going into crypto. Who is this flow created by the next all time high hype such a stubborn or the stubborn before It was Axie Infinity they did some garbage like different types of stuff so the trends are made by the communities by the people not only but by also some of the guys who are the biggest in the market right so it's like the set the trendsetters such as Binance Right? So they're the trendsetters right so the set the trends is trying to set the money flows the trial if we're talking about GameFi especially try to send money flow try trends, different money flows so it's also very you have to be very careful of what your take on the development for two years as a triple A game and then realizing that no one gives a shit anymore about this type of type of game.
Matt Zahab
Now that's interesting give me give me some predictions and hot takes here I you again, you got a bunch of them. I love this. These are great sound bites. Give me a couple of what do you what do you offer me you just you just told me that centralized exchanges have next to no volume which again there's really no way for us to truly know I know a lot of it's unchanged, but that can be a break give me some hot takes.
Fuad Fatullaev
I will give some hote takes. My partner's own and operate 10 cryptocurrency exchanges, we have the largest exchange in Ukraine. We you know, one of our exchanges is ranked and top 50 on coin market cap my partner's exchanges not mine, but they're my co founders of many projects, but then my partner's in the same office. And we know well on what is happening in the markets and especially in the exchange market, there's no volumes like they there is 95% of there's 5% of volumes that were there before even less than that, if you think about real volumes, and all the volumes that are being bought look at the exchanges like LBank, BitMart they're all dying, not dying, but there's no volumes like this is all fake. And others literally the volumes are very, very low. The only exchange that is actually doing well right now this current version mark is our kicks and bybit Except Binance Of course and Coinbase and there is no volumes on crypto.com Look at the volumes like $300 million check coin market cap. Like for an exchange of this size. You know especially I'm sure how this is being bought, but there is no money people don't have money like the people like before people were like everyone is sitting everyone invested in different types of altcoins and bull market and sitting in deep shit right now. So like people don't make money in crypto right now. So it's hard I think in terms of next trends, but it will move in our cycle things will change and will be a different cycle. People will forget about ICOs like they forgot about the ideals like there'll be a different fucking name for it and then they'll still people people have a have a memory of some people most of us have official memory in us like you bite on one thing like Ico in my fucking out this is a crazy thing then there is an ideal and then he just like made sure done the money then you're fucked again and then there's a new thing that comes out and the greed kills people so for me like you know crypto is a lot about gambling because it is what it is like it like it's a greed right people buying stuff like literally when I was when it was out seasons and it was the bull market I bet you that 99% of people that will not even going on the websites of the tokens that they will buy will just literally like think oh shit it's a pump they'll go to Google News check out like do they have any activities or news coming up whatever the bail that is like look at the charts and by no not even use something not 99% But most of the people most of the retail not talking about this too but now there is no return on the mindset down and I think the next trend is going to be there's going to be more depth in DeFi I think it's going to be you know evolving even more and I think you know gambling and betting and crypto and anything that related to that will be maybe will be one of the one of the things that will also thrive in the upcoming future in crypto. So those and GameFi as well but by GameFi I actually mean triple A games like look when I was telling that about the math Decentraland Decentraland has 180,000 holders I think or 200 Sounds like correct me if I'm wrong. Maybe they have more like but from the ranges like from 200 to 300k holders. Yeah, like crazy like the biggest fucking Metaverse in the world, right. Metaverse is additionally Metaverse is based in Unity like some bullshit marketing thing like I'm not a fan of neither sandbox new decentralized things bullshit. I think this is not the future I think this is just fucking Lego. And I like I'm not a big fan of those guys. And like I like not not a fan in terms of like okay they don't from the marketing point of view fuckin amazing which you guys do right? But like, it's not like a fucking Doodle Jump has more game more users than this line. This is the reality the biggest, the biggest Metaverse has 250,000 Like you and maybe less like we can check on that on corn market cap because it's because you have to log into meta mask and you use whatever but you know we're talking about holders like 200,000 holders. And now for four coins. That is a top one top 50 coin market cap. We're saying that this is the this is the biggest type, biggest multiple.
Matt Zahab
The reason why those coins wrapped is because people think that all the money that these ecosystems have received, if they can build with the money they've received, they do have a good chance at creating a pretty prominent sort of Metaverse, if you will. Now, obviously, it's centralized. There's a parent company who owns it. But the end of the day, these two Realistically speaking, do have one of the best shots just based on how much funding they received. But yes, I do. I do see your point in regards to it being a bit of an outlier. But again, who knows, you know, dual jumps been around for what, 15 years sandboxed for a couple. So give it give it 10 years, you never know.
Fuad Fatullaev
Yeah, but look what the current market cap of Decentraland is $1.1 billion. That's the current market cap. The whole of the games market right, is $200 billion, right? Sorry, $1 billion, which most of it is illiquid, right? So if you look at the voluntary, like no liquidity insurer, they actually are good words. But anyways, if you look at it at 1.1 billion, so what they're saying is that it's what is it? It's 5%, that Decentraland accounts for 5% of the old game, but now it's just not true. Like, it's crazy. It's just like, overly pumped. And I like look at this shell. Okay, yeah, we like to log in and play tried to try to work around, it's just a marketing tool for people like to do some to play some ads there, you know, like, you don't, yeah, activations and stuff. And also, bro, we're in, we're in, and they were in the beginning of the Internet era. Imagine like, we're just at this early stages, where like, all of those things is artificially pumped up, the hype is created Facebook to Meta Decentraland to whatever the fuck it is, you know, to sandbox to whatever it is, step into whatever it is, I'm not saying MAD Backpacks is not going to be just one of those games is going to be super hyped and then forgotten. I'm not, I'm not even saying that maybe it will be maybe it'll be the case. And I'll just, like, look at the market. The whole crypto market, like I was speaking at a conference in Istanbul, because we have a crypto Academy, right? Like, I'm like one of the one of the speakers Academy. And I was saying like, literally like a lot of people like a lot. It was in Istanbul, the there was like a recent big, big one. And I was also speaking in Singapore and the late and the latest one. But in Istanbul, my I was speaking about crypto literacy of the top people like there's lack of education in crypto, people don't understand crypto, like people just understand that. And I was telling everyone like, there was literally like, three or 400 people and I was telling everyone is here because we are part of one big hype. We know this is a hype, we know that this is not real. We know that we are not valid as what we are valuing ourselves at. And we know that those valuations and numbers and this is ridiculous. This is this can never last. We know this is not true. And we know that we have to educate the masses that, you know, guys, this is crypto, this is how to use it. You know, this is ideals. This is projects. This is the utility of it, like Look, stop and active users. 5000 What's the market cap? stuff? Like let me just let me just to show you some quick numbers. And by the way, I was right Decentraland This top 47 Right, it was 1.1 billion Stephens market cap is $280 million. I'm not talking about fully diluted I'm talking about circulating fully diluted 2.8 million circulating that's bananas $180 million. Right? And you know, how does that work? You know, like, how does this stuff work? So it's time for the whole market some will wake up and open their eyes some will not probably most will not. It will be a second ICO IDO another term that will come out people just driving the crazy their money. But we're here to make real products and we will be honest is about trying to firstly educate people because we build an academy for that secondly, to allow them to make money as well idea Launchpad. Launchpads are charities because you allow people literally on the bull market right now than a bear or another bear market there is no charity in crypto at all. That launchpads a charity right so you're allowed people to make money by entering and forming a community to other projects and entering and number three, we have fans of GameFi we're surrounding ourselves strong, strong partners and backers and releasing games where we were talking will be one of the main governance tokens for all of the stuff that we're building. So we were talking as you as both now pad Bolsonaro gaming apps that we are releasing.
Matt Zahab
Fuad what a treat. Appreciate you coming on you had some great takes here we love it's an incredible sound bites and this was really really good episode appreciate it. Before we let you go, can you please let our listeners know where they I can find you and WeWay online and on social.
Fuad Fatullaev
Sure, you can, you can go to weway.io to look at our going out page, and there you can find all the links to our social media. You can also follow me on LinkedIn and you can also follow me on Instagram. And you can find all fun sources on the main website of weway.io. So there's links so Instagram, Twitter, etc. So have a look guys, we're all in there. So follow us i There's a lot there's a lot of my content that be posted on the WeWay's Instagram itself. So you can have a look at some of the some of the stuff that I've been posting and I've been speaking about.
Matt Zahab
I'll be posting this everywhere. Fuad, I'd really appreciate your time bro had a blast and looking forward to round two in the next couple months.
Fuad Fatullaev
Thank you my friend anytime you are in Dubai your our guest and thanks so much for community we'd love to we'd love to know more and also dive into you guys and I'll subscribe to you we'll have a look at you guys. I think you're doing an amazing stuff and my team is really excited about you as well. So great stuff what you do and hope to hope to communicate more.
Matt Zahab
Fuad, what a treat, man. Folks if you enjoyed this episode and I hope you did please do subscribe it would mean the world to my team and I. Fuad is dropping knowledge bombs left right and center all epi long to the team love you guys and to the listeners. Keep on growing those bags and keep on staying healthy, wealthy and happy bye for now, and we'll talk soon.
---