Erez Rachamim, CEO of Stables, on Consumer Facing Stablecoins, The Future of Stablecoins, and Navigating Regulation | Ep. 224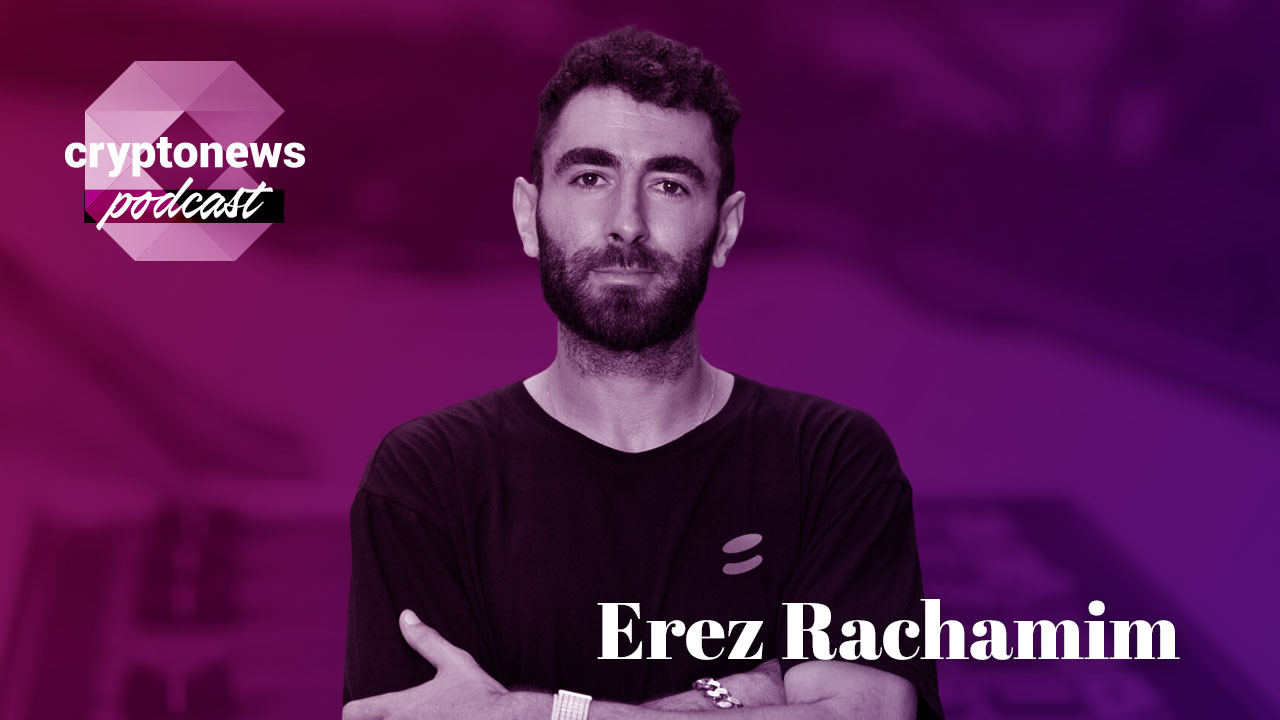 In an exclusive interview with cryptonews.com, Erez Rachamim, CEO and Co-Founder of Stables, talks about consumer-facing stablecoins, navigating regulatory developments, and the future of payments.
About Erez Rachamim
Erez Rachamim is the CEO and Co-Founder of Sydney-based Stables (previously Tiiik) — a one-stop digital wallet enabling users to grow, spend and earn from a single balance powered by stablecoins. Before this, he was the Head of Fundraising at Equitise — a leading investment platform for venture capital in Australia & New Zealand — raising over $40M for the company. He was also a financial analyst for Rough Diamond — a seed-stage incubator. A veteran in the space, Erez graduated from the University of Technology Sydney with a Bachelor's of Business.
Erez Rachamim gave a wide-ranging exclusive interview which you can see below, and we are happy for you to use it for publication provided there is a credit to www.cryptonews.com.
Highlights Of The Interview
Navigating turbulence and regulatory developments in the crypto market.
The Stables team, how it all came together, and its journey toward co-launching a product with Mastercard.
The significance of launching a retail-facing stablecoin product amidst current market conditions.
What sets the Stables digital Mastercard apart from other digital wallets and USDC payment solutions on the market?
The role stablecoins will play in the future of payments and how Stables' long-term vision fits into this.
Full Transcript Of The Interview
Matt Zahab
Ladies and gentlemen, welcome back to the Cryptonews Podcast. We are buzzing as always, and I love when my guests are coming in hot a whole day ahead of me. Today our guest, this lad is 14 hours ahead in beautiful Sydney, Australia, place of never been, but need to go to. Today we have Erez Rachamim, the CEO and Co-⁠Founder of Sydney-⁠based Stables, which was previously Tiiik, a one stop digital wallet enabling users to grow, spend and earn from a single balance powered by stablecoins. Prior to this, he was head of Fundraising at Equities, a leading investment platform for venture capital in Australia and New Zealand, raising over $40M for the company. He was also financial analyst for Rough Diamond, a seed stage Incubator. A true veteran in the space. Pumped to have him on. He also graduated from the university of Technology Sydney with a Bachelor's of Business. Erez, welcome to the show my friend. Pumped to have you on.
Erez Rachamim
Thank you, Matt. Real pleasure to be here and hail you from the future. Yeah, thank you for that. Real pleasure.
Matt Zahab
From the future. Does it ever trip you out how you guys are so far ahead of us in the world? For me the first time I was cognizant of that is being at my parents place, I guess my family home when I was younger. And we'd have whatever the news on because my parents always loved watching the news. And it would be noon and my parents would have whatever noon news show on on New Year's Day. And they'd be showing clips of like, oh, Australia celebrating New Year's Eve. And I'm like, mom, dad what? How does this make sense? You know what I mean? Does it ever trip you out how crazy the world is?
Erez Rachamim
I've been fortunate to have lived in a couple of different places, so I lived in Israel for a while, I lived in London for a while, and then I came back to Sydney and being in different parts of the world and then coming back and doing business here. It's an amazing country, really modern and beautiful beaches in Sydney, all of the amenities. But, yeah, it's an entirely different time zone to the US. So when we're speaking to a lot of our investors or partners, it's kind of you're heading off to sleep and I'm just, you know, kicking off in the morning. And it can be troublesome. Like when we're doing our first initial raise, a lot of the investors are on US time zone. So we were pitching at 01:00 A.M., 03:00 A.M., 04:00 A.M., and it was quite funny because I said to them at the time, I was like, look, I'm doing my best here. It's like 01:00 in the morning, but next time we're going to reverse it. So we're going to do it on your time at 01:00 A.M.. So the next podcast we can do at 08:00 A.M. In the morning on US time.
Matt Zahab
Hey, I'm good with that. I'm just happy that we got to arrange something that wasn't midnight or literally not midnight, twelve. I'm talking like 2, 3 A.M., for me and vice versa for you. So glad we got to make this happen. Quick question about Australia Erez. I think Australia might be in the lead. Besides Dubai, I think Australia is and obviously Australia is not a city. Dubai is a city. But besides Dubai, which easily I've had the most podcast guests from one singular city, but I've had a shit ton of Aussies on the pod. It seems like the Crypto community is absolutely booming in Australia. Is there a particular reason for that?
Erez Rachamim
That's a great question. There is a huge and growing community here. I mean, look, you've got a beautiful lifestyle in Australia, similar to other countries in the world, but in terms of the financial infrastructure, the human capital, the regulatory landscape, it's a very stable and trusted economy in the region. And I think because you're sitting in between kind of you're in APAC, but it's between east and west with kind of a more Western economy. It definitely has its benefits, it has its research and development incentives as well in Australia. So a whole raft of reasons to have that. And then I think there are just people that in the Australian financial system, it's actually one of the most advanced in the world in terms of domestic payments and other types of laws and technology. But we can send money for free to any other bank account very quickly. All the interchange fees are very low. So we can build awesome things here, which is typically what our builders like us do, and then we can export it into other countries.
Matt Zahab
Interesting. Yeah, it's just it's weird that one country and continent has so much has such a, you know, a plethora of really prominent Crypto builders. But that is a story for another day. We are here to talk about you and Stables. Now firstly, congrats on the partnership co-launching a product with Mastercard that is absolutely massive. This is the kind of shit that we need in Crypto. We need teams like you, builders like you launching products with brands that everyday Joe's and Josephines are cognizant of. We need the shit way more often. So huge shout out to you and the team before we get into the Mastercard partnership. Walk me through the inception story of Stables. Why did you and your team decide to do this? Why jump into a space as crazy as stablecoins? Give me the inception story. Walk me through everything.
Erez Rachamim
Yeah, let me give you a background, as you mentioned initially. So my background is kind of in venture capital, corporate advisory incubation. Always working with early stage or growth stage companies either to invest in them, to advise them for growth or to help them effectively raise money in structure capital raises. Along that journey I had a lot of overlap with Crypto from the early days, from probably 2016, 17. Whilst I didn't really jump into the space wholeheartedly at that point I was very aware and by virtue of my role and what I was doing, I was across a lot of different technologies and sectors. So Blockchain was like its own sector as well as there were like neo banks and consumer tech and whole raft of other companies. So along that journey I helped raise money for some of the first Australian Crypto exchanges, came across lot of different Blockchain projects in Australia and other countries and it really piqued an interest and I did a bit of a deep dive early on in that kind of 16 17 period. Along the journey I met one of our other co-founders, Daniel, who has a number of other businesses. So he was kind of building this business. I helped him raise money for that business structure, his first capital raise. As you can imagine, that first time you're raising money as a founder is a very emotional and tough process which I helped with quite a few people but Daniel and I built a very strong relationship and I was helping with the business ever since. So along that journey he kind of said to me what are your interests? What do you want to do? And I said, Well, I'm helping all of these businesses but I think I'm a builder, I love to build, I love to sit in your shoes and think about what's kind of strategically the right options to kind of take these next steps, what's important. So we set off on this journey to start, he wanted to build a neo bank and in Australia I had helped some of the first neo banks to come off the ground not instrumentally, but kind of raising capital for them and seen them from a very early stage. So he kind of said I want to build a neo bank. I said I could think of better way than to burn because you're burning like tens of millions of dollars building these types of business off the ground.
Matt Zahab
Oh yeah.
Erez Rachamim
We started to investigate the space around new types of banks, new types of holding money, how you can manage finances and then along that journey, one of my best mates from university, Bernardo. So Daniel is our COO, and Bernardo is our chief product officer. And so Bernie is an OG Crypto guy. He likes to say he is a fintech product guy by day and a degenerate by night. Crypto degenerate, but I had to specify what type of degenerate. But he's a really brilliant guy. Like, even from the early stages when I met him at university, you could tell there's something special about the way he thinks and sees the world. So we presented to him. So we started Stables about two years ago, a little bit over two years. And Bernardo, at the time, we presented him what we had and what we were looking at, and he kind of said, this is all great, but this is all based on fear and regular banking systems, and that's all cool, but look at this. And we started to look at stablecoins in general and what they were doing, where they were at. At the time you saw Stables go from 1 billion stablecoins go from 1 billion market capital, saying over the last four years to $150 billion. At the time, it was probably at about 40. So it was just kind of proliferating into that bull run over that 2021 period. So we looked at each other and we said, okay, there's this wave coming. We can see and we investigated all the different types of stablecoins, all the different types of DeFi protocols, all of the regular digital wallets. And we arrived at this thesis that if Bitcoin is going to a certain like if you're a maxio Bitcoin, you think Bitcoin would be 100 or 500 whatever, the lifeblood similar to what William was touching on in your last podcast, like stablecoins are the lifeblood of Crypto, really. Majority of trades are done in them, the majority of DeFi TVL is done in them.
Matt Zahab
You need them.
Erez Rachamim
But they're not being used in the real world, and they're not being used by the everyday person it's too complicated. They need to hold all their different keys. They need to understand what all the different Cryptos are. But if you look at the core utility of stablecoins, and game changing innovation. And no wonder it's being paid close attention to all around the world, from governments, private companies, everything in between. So we sat there and we said, can we build one of the first digital wallets? Similar to like, revolute you've got in Asia pact and Southeast Asia. You've got Grab. Obviously, that is like ride sharing component, but these people are holding FIAT in a digital account very easily. You see the rise of digital wallets over the last ten years. Today you're sitting at something like 3.2 billion digital wallet penetration, and they expect that to be well over 6 billion. And we looked at where Crypto wallets are, which is a couple hundred million, and we're like, well, if this is going to converge, there's going to be intuitive, beautiful and just simple and trusted apps where you can hold Stables in a really easy frictionless way. And by virtue of that being the core of your engine in the wallet, you can do some amazing things. So we started off on that path and that's kind of how it all accepted. He got Rolly. Bernardo jumped on board. We were fortunate to have some good networks in the space in Australia and beyond, so we could bring on from day dot a big stick of ours is regulation. So we brought on a chief risk officer, like they used to run one of the first neo banks in Australia, and very deep fintech veteran. So he came on pretty much from day dot, as well as our CTO, Tony. So Tony built some of the payment rails for Zip money, one of the largest buy down payments in Asia Pac. So we built this stellar team across that were all in Web2, all individually in different parts of fintech innovation in Australia, and then brought them together in this high caliber team for Stables in Web3 and that's kind of how it all kicked off.
Matt Zahab
I love that story that's incredible. The partnership with Mastercard, that's absolutely huge. And obviously, you guys are a retail facing, consumer facing, Crypto product, a consumer facing stablecoin product, right? Not stablecoin product, but product that focuses on the use and power of stablecoins. Without a crazy partnership like partnering with someone like Mastercard or Visa, it's like, again, it's going to be tough. Your job and your goal is to onboard all the masses. I've listened to the stuff you've done. I've read the articles. Heck, you guys had a crazy little PR fiasco a couple of weeks ago. I want to say it was around early March 20s when the news came out, I believe. And you guys were absolutely everywhere. Every single news outlet, exchanges. I'm pretty sure I saw your article on Binance as well, so kudos. I mean, that's amazing. But with that in mind, walk me through the troubles and the journey and the craziness and the objections that they must have thrown at you. Like, if I was a fly on the wall, what are some of the things I would have heard when you were talking to the exact same Mastercard, trying to make this deal go through?
Erez Rachamim
Look, I think everyone likes to think you've got a massive company like Mastercard and a little up and coming startup like Stables, and there's a bit of and you could think we're at loggerheads. I think when you look at Mastercard, I just read an article recently, and it's kind of talking about how they've got a great incentive to pay close attention to this space, especially around stablecoins. So with Stables, one of our key challenges was, okay, we've built this beautiful wallet. It's secure, we've built the vault, but what can you use it on in your everyday life? So we've got a strong relationship with Mastercard. Some of the key team in their team worked with our CTO, worked with Bernardo. So Bernardo helped to build also some of the most heavily adopted fintech apps in Australia and Asia Pac. So we have strong credibility and ability to deliver our team internally as great payment expertise when it came to Mastercard things take time. And that's always, I think, the biggest friction. Not that they don't move quickly when they can, they move really fast, but the initial conversation takes a good six months to get all the commercials, to get all the various t's and I's and all of the various things. It's a financial product, so you really need to get the right structuring and licensing and all of those things. A fly on the wall wouldn't hear anything out of the ordinary other than like, sometimes we just we move quickly. We have a brilliant team that knows what they're doing, and it's like, not the first time they're doing this, they're experiencing this. So anyway, it's been actually quite a smooth relationship. We move quickly, they've been responsive. There's always a bit of push and pull in that. But in terms of building credibility, getting a massive scheme on board, it allows Stables out the gate to be accepted in millions of vendors across the world.
Matt Zahab
Social proof, that's marketing 101. You have pricing, you have timing, and you have social proof. Those are the three biggest marketing pulls of all time. And you guys just pulled on. That's huge. That's incredible. It's just such a game changer. And again, doing research on the show, on you and the team, your guys ethos is to onboard the masses. I know that's what you want to do. You want to provide incredible consumer facing products to onboard people into Web3, into Crypto. And without a partnership like this, it's just like. And again, everyone who's listening, you guys got to follow Erez and the squad. You guys got to do the same type of shit. Everyone needs to heck me I need to get some maybe Web2 sponsors. I feel like that's what we have to do to really bridge the gap.
Erez Rachamim
There's a growing overlap between the two worlds, right? And I think you've got this beautiful but this complex ecosystem in Web3 and getting people in, and you can see it from adoption rates of wallets, like it's clearly there. And they need to converge in usability in kind of how simply you can onboard and how you can use it. And the beauty with Stables is that you send in your Stables or you send in your FIAT and you can spend as you would your regular money. The fees are competitive and very similar. The user experience is beautiful and very intuitive. What that allows us to do at least is so we have a blueprint in Australia, we get it off the ground and then we can very quickly expand the stack, the payment stack we built to other countries. And that's what I was touching on before being in Australia you can build an incredible product here that you can export globally. And with what we're doing around Stables, Mastercard is part of it and obviously a huge push and piece of validation for what we're doing in the market here. But it also will allow us to very quickly roll out into other countries, which we're very excited about and be a game changer with people sitting on Stables, but they can't really do anything except for off ramp and spend it. But lot of them are holding their Stables or getting paid in Stables and they want to realize it in the real world, yeah.
Matt Zahab
You're looking at one of them sitting on Stables with the Tether hat on my head right now.
Erez Rachamim
It's actually what Williams said in the last I'm not sure if it was the last podcast, but he kind of said. If you can go to someplace and spend your Crypto, it's kind of like a light bulb moment and where things are at, it's tangible. And that's what we want to bring to the Crypto ecosystem and community, and that's why people love our product and what we're doing.
Matt Zahab
One and again, perhaps this is totally off and I very well and probably am 100% wrong in this regard, but when I always think down the road and sometimes, I like to daydream and think about what would it look like if I went to the grocery store and grabbed a couple of steaks and some broccoli and some other proteins and maybe a nice bottle of wine for dinner and paid with Bitcoin or ETH. I feel like it would just be weird paying with, oh, that's $100 Canadian. That's equal to 0.004 Bitcoin, whatever. I'm pulling numbers out of my you know. But it's just weird. It's like how I feel. I was just in Mexico for three months. Love Mexico. It's incredible. But even just the conversion from Canadian dollars to Mexican pesos, you go to a bar or a night out or even a nice meal, and it's a couple of thousand pesos. You do the math in your head. Okay? But when you're talking about, like, crazy decimal points, I feel like it's just like people are just going to be like, what the heck's going on? And then you have stablecoins. Oh, this is $100 Canadian. Okay, that's 134 Tether. You just do the quick CAD to USD conversion. You know what I mean? I feel like that's very much needed. And it doesn't have to be, obviously, Tether or USDC or a US dollar denominated stablecoin. If Canada never had one, great, I'd use it. Well, probably not, but you know what I mean? It's just the fact that stablecoins are so much easier to use, and I feel like a lot of people forget the importance of removing friction, right? That's so paramount to anything mass adoption related. And I just feel like there would be a shitload of friction if we were paying with stuff in Bitcoin and ETH. Maybe I'm completely wrong there. What do you think about that?
Erez Rachamim
I mean, it's a question we ask ourselves, what type of assets should be held? And really the mantra and all the way through is around stablecoins, principally because if I'm paying in Bitcoin or Ethereum, it's a volatile asset. I say that's for me, the biggest thing is the speed at which you can transfer and the volatility of the assets. So you're paying something that's moving as you're doing it. Whereas the peg to an FX like the USD, it's only moving. I mean, it is moving, but only a couple of percent each day, depending on the day and how much, but it makes it a much more stable mechanism to transfer value. We're not reinventing the wheel, that's how you transact every day is in your regular FIAT that you trust is holding value. So we believe that people are holding Stables or they're holding other assets, they convert them back into Stables. That's what you do as a trader or as an investor. And from there you can just deposit in the wallet and it's transactional with Stables, what we're seeing is there's a growing number of users that have different wallets. They've got cold wallets where they're kind of not really doing much with that on a day to day basis. They've got a percentage in a hot wallet, and it could be custodial or noncustodial. But then with Stables, it serves a niche in there that you want to take out your funds from your exchange or what other wallet you're holding it and then you can send it to Stables. And it's not just about Bitcoin is one part of a consideration of whether you accept that as a transactional currency or not. It's also about with FTX at the end of last year and all the way through from inception, the security in Stables is also top notch. So all the balances we've architected, so the balances in the back end are not pulled together. So if you sign up deposit funds, I sign up deposit funds. All of those balances are held separately in separate wallets within Fireblocks, which is a very trusted custodial environment. And you can verify that on chain as, as well as sending lots of different assets in, and then you can ensure it's secure in the sense that it's like multiparty computation. We can't really initiate transfers from your wallet unless we override it for certain reasons, but otherwise the money needs to be moved from you. Otherwise it can't be done on scale. So there's been very deliberate choices of what assets you spend from how they're stored to ensure it's secure, how you onboard to make sure it's as easy as you're onboarding to any other app, or even better than any other app you've used before. So there's a lot of deliberate considerations in building a product like this.
Matt Zahab
Need more of that. Imagine the pulls an SBF and just goes on the back end. Rinses everyone's funds rips to the Bahamas, I'm joking. You'd never do that. Crazy. When did that happen? That was that November, December?
Erez Rachamim
Yeah. That was a there's been a lot of turbulence building over the last couple of years from an inception point of view, but I think as a business person or person who conducts business or in my everyday life, I think it's all of us in the team is you just stick to your values and that's your little compass every day as you're going across this difficult and volatile world of Crypto or just building on a frontier that has to do with being honest, having integrity, showing transparency. We do that with the team. We've got an amazing team. We make sure they're on track and understand everything we're doing. But from a consumer level, that's a very high bar that we don't take for granted that people are trusting us with their money. So you can verify on chain, there's no rehypothecation of assets. It's not something that we need to do to make money. And we think that people really appreciate that based off what's happened.
Matt Zahab
But when you're playing in the arena of public facing wallets and consumer facing products and stablecoins like, you don't have a choice it's crazy. And again, we need more teams like you in the space. Got to take a quick moment Erez to shout out our sponsor of the show that is PrimeXBT. We love PrimeXBT at Cryptonews. They have an incredible team, phenomenal people, and also a phenomenal product. They have a robust trading system built for beginners and professional traders. It doesn't matter if you're a rookie or a vet you can easily design and customize your layouts and widget it's to best fit your trading style. Doesn't matter what you want to do. They offer innovative products and professional trading conditions to all customers and are running an exclusive promo for listeners of the Cryptonews Podcast. After making your first deposit, 50% that is 50% of that first deposit will be credited to your account as a bonus that can be used as additional collateral to open positions. The promo code is CRYPTONEWS50. That is CRYPTONEWS50 to receive 50% of your deposit credited to your trading account. Now back to show with Erez. Question for you mate, and this is something that intrigues the shit out of me. You guys had an incredibly successful retail facing, stablecoin product launch amidst just an absolute shit show in the market. And on top of the shit show in the market, on top of the bear market, you also throw in some turbulence, regulatory developments, everything. I just look at this and I'm like, okay, look how successful this launch was. Imagine if this was in the bull market of 2021. What would have happened? Who knows? Again, it's what it could have, should have. But I'd love if you could walk me through that whole process. It can't be easy. I've launched stuff in bear markets before. You're always doubting yourself. There's tons of FUD going around you. How do you stay true to yourself? What did you and the team do to make this successful?
Erez Rachamim
Well, I mean, first of all, operating over the last year or two years, this is now the third time that in my eyes, that we're kind of on the precipice of launching something at Stables and something else is going on that's really not in our control. And you look at it, and to be honest, to start off, I just kind of laughed. I was like, oh my God, it's happening again. We're about to launch this partnership. So that was always fun. But then, as you said, you've got to stay true to where you're going or what you're doing. There's only so many things that you could control. So what was really funny was it takes time to get these types of partnerships and things announced. But the day a that Mastercard approved the release, it was a Saturday morning, and I was looking, I was, okay, cool, we got this Mastercard release. But also, on the other hand, USDC's D-pegging. So that was a lot of fun. So what it just meant is that we kind of held off a little bit just to see how it settled. We can get into the kind of however that, if you like, in a second, but really because the actual physical card is coming out in the next couple of weeks, which will announce as well, we had to kind of get the news out sooner than later. So we waited a week. That was the week where the Fed guaranteed all the deposits from SVB. But it was a turbulent week looking at it. We're like, okay, we're about to launch this PR into this not necessarily favorable environment, but we really cut through the noise, I think, in the following week, we released it on a Tuesday. The Fed slightly raised rates on the Wednesday, so it just got cut through on the day. That was fortunate. The timing wasn't great, but there's only so many things that you can do. If it was a couple of weeks before, it would have been even greater. But you've just got to be around long enough to see those good days. And I think going through the hard ones gives you the right to see the good ones. That's what I've learned. And you've got to hold yourself and your team steady. There's volatility, there's FUD. There's all of these different things that are going on at once, but with what we do, we just incrementally build and hold true to what we're doing. We know stablecoins are going to come off in some way, shape or form. And this is a major thesis of ours, like building on that technology and that innovation. It's not just to allow you to be able to spend your stablecoins, it's also ease of to be able to get them in the first place. Our vision, our mission is to empower underrepresented communities around the world with transparent stablecoin products. So what's incredible is we get through these types of volatility and difficult pieces, but holding true to building this core technology in Australia, but something that can be used around the world. So you could download the app Matt the core wallet is able to be downloaded in 128 countries at the moment, but we start to bolt on payments in certain geographies where there's demand. But it was definitely an interesting week. It was kind of just another week for me on the frontier and it all worked out. I think it was a very interesting scenario that needs to happen with emerging technologies anyway, that they have these shocks. As builders, we have confidence in the seal.
Matt Zahab
It's part of the process. What was the overrun around coffees? How many coffees did you crush that week?
Erez Rachamim
Well, I need to be a bunch of coffees. Might have had a beer in the evening once or twice as well, just to kind of laugh and have a cheers and things. Yeah, I mean, to be honest, after the last year, like after last year, going through Terra, going through FTX, seeing lots of different things and getting a decent handle on the space and learning a lot. And as a builder in a startup, to any founder, I would say like, you've got to hold yourself steady in those situations. You exert energy that you need to conserve for the long run and that's a blip, but it's now whatever it is a month later and sentiments, I wouldn't say change, but you can't allow yourself to be so gripped by that emotional turbulence, I think, on the ground.
Matt Zahab
Good point. Where does the future stablecoins look like? Like, let's try to take Stables out of this question and just stablecoins aside.
Erez Rachamim
Great question, really good one.
Matt Zahab
What does that look like?
Erez Rachamim
So, first of all, I think we need to look at stablecoins in kind of three different ways. One is a collateral backed stablecoin. So a FIAT backed stablecoin, you've got decentralized stablecoin, that's kind of algorithmic not really holding anything behind it. And then thirdly, you've kind of got central bank digital currencies. I think each one will have its own use cases and adoption, like around the world. With central bank digital currencies, I'd say the majority of the use cases they're looking at is around wholesale fund settlement. It's not necessarily for the end retail consumer. Of course, there's a lot of skepticism of a central bank currency because of privacy. They can pretty much see everything you're doing, if you've got programmatic money and it's got its records. But looking forward, I think you've got a trillion dollar market in market cap. It's already in volume. And as you see Crypto proliferate, prices go up, more assets come out. Stablecoins are the backbone of that so it's only going to snowball. This is just the start of what we're going to see with the adoption of stablecoins. Of course, at the moment, in terms of the collateral ones, the main ones that are used globally, USDT, USDC, and that's pegged to US dollar. But as you were saying before, and we can see it already on the ground, there's a whole raft of various currencies coming online for stablecoins. If you really wanted to, you could have an Indonesian Rupee stablecoin, it exists. Or a Singapore dollar stablecoin. There are Aussie dollar stablecoins. They're all privately kind of issued not by a central government. And I think in the future, one of the key things that I am super bullish on is the way that you can transact peer to peer with stablecoins.
Matt Zahab
That's huge.
Erez Rachamim
I think the thing about stablecoins, for me, if we take it back one step, just as to why they are where they are, is because you can settle a transaction peer to peer with pretty much no middlemen and very quickly and very cheaply. When you understand how regular fear works, there's heaps of middlemen.
Matt Zahab
It's crazy. When my friends ask me, Matt, what's the future of Crypto? Is Crypto real, blah, blah. And it's crazy. I still have tons of dozens of people who still ask me this all the time. I always tell them, I'm like, when was the last time you made a cross border payment? 95% of them don't make cross border payments because they don't need to. They aren't business owners, which is totally fine. They are employees and most of them, a lot of them are very successful and make a lot of money. But when you're an employee, unless you're in finance, you don't need to make cross border payments. And if you are in finance, it's like you're making it for the company you work for. So you're so used to the process and procedures you were trained in. It doesn't matter if you're in your own business and you need to pay someone in another country. It is a absolute shit show. And furthermore, if you live in a country with a shitty currency, you're hooped. What are you going to do? Yeah, that's just such an easy use case for Crypto. And again, you need stablecoins for this. It's the best. I love Tether, I wear this out everywhere, shoutout Paolo and the team. It's crazy the FUD that they've hammered through as well. On the stablecoin topic, one that I am worried about and one of our most recent guests I'm not going to spill the beans, but one of our most recent guests, depending on when that episode airs. Also has a pretty hot take and legitimate take in regards to BUSD, the Binance US dollar being a complete joke and how CZ and the Binance crew said they were going to wean off of it. And they did, and the volume hasn't gone through the floor and if you're not really using it anymore, there shouldn't be any volume left. But there's still tons of volume and of course, the SEC and everyone else is currently suing CZ and Binance as well. So, I mean, that could be the next big stablecoin to fall. I think they're ranked number three right now after USDC. It's Tether circle than them still up there.
Erez Rachamim
Definitely. I think how those types of things work is you've got this ripple out of the US still a lot of people using Binance and BUSD aren't in the US, they're actually in these other countries and they will still use it. That will just prohibit kind of the US people. That's maybe why you saw a short term tip, but it's still being used. Of course, even in Binance, it's got so much liquidity and scale that it's the trading pair. It's very hard to replace.
Matt Zahab
Yeah, very interesting. Erez, this has been an absolute treat man. This has been truly a lot of fun. We have one segment on the show and it's called the hot take factory. You and I jump in, put our shit kicking boots on, knee high, and we let a couple of hot takes fly. Something that really only Erez believes in, whereas most other people do not. It doesn't have to be Crypto related. It can be health, wealth, happiness. You want to get super spicy politics, something along the realm of that. You can go food, space, AI. I've been loving AI too much fun. But give me a couple of Erez hot takes before you leave.
Erez Rachamim
Sure. First of all, my one big hot take that I'm super bullish on is of course, the proliferation of stablecoins. So we're sitting today Bitcoin around 28,000 USD. If we're sitting 5 10 years from now, half a mil, 100K, if that's what you believe in, stablecoins are going to be the backbone of that. So I'm very excited to see how that proliferates and where it's going. We're talking a trillion dollar market, massive potential, lots of adoption that needs companies like Stables. So very excited about that. That'd be my first hot take that I wake up pretty much every morning to and think about, that I'm excited for. In the meantime, the second hot take, It's obviously not happening today. Well, it's happening slowly today. So, as a builder, as a founder, we have our head up, looking at the sky. But your expectations in the short term can be misaligned when you're building day to day. So on the ground, I make sure, especially when you're working hard. This is all consuming, what we do to bring this mission to the masses. So keep focus on our little breadcrumbs that make us happy as we go. Make sure we have a decent balance, keep good exercise, sleep well. That it's a marathon and we're marathon runners. At times you need to know how to sprint in a marathon. But at the end of the day, it's about that consistent building, kicking goals little by little. And we'll see once it changes the next bull run or the next wave of adoption, you've got to go through the hard times to earn the right to see the good ones. So keep focus and keep building.
Matt Zahab
Well said, man. Very well said. Erez, what a treat. This was a lot of fun. Can't wait to have you on for round two.
Erez Rachamim
Thank you, Matt.
Matt Zahab
With the pace you guys are buzzing at, it will be in the near future. Next couple of months, we'll have you on for round two.
Erez Rachamim
Yes. Sounds good. We got to get you a shirt. We don't have hats just yet, but I'll hit you up. We'll send you a Stables shirt as well, so we can get you some.
Matt Zahab
I love that. I brought this hat to Mexico. I go away every winter and even in the summer in Toronto, whenever my clients or podcast guests send me merch. I literally wear it all the time. I wear it out and about and I'll get stopped and whether I'm at the bar. Sometimes it's usually the guys who will see my Tether hat and be like, that's sick, where'd you get it? But a couple of girls know what it is too, so you never know. Maybe I'll get approached and be like, hey, what's that?
Erez Rachamim
I think it's just an easy segue.
Matt Zahab
Easy conversation. I love that.
Erez Rachamim
You can also hit up the Stables app on the app stores. So if you just type in Stables wallet, you can get it for yourself. Or you can head to the website as well at stables.money and, yeah, love this feedback and love all the community engagement we're getting.
Matt Zahab
And on Twitter it is @stables_money as well.
Erez Rachamim
Yeah.
Matt Zahab
Do go give him a follow. As always, I will include all of the links in the pod. Erez, what about yourself? I know you're active on LinkedIn. You're not a Twitter guy, right?
Erez Rachamim
I'm not. I do follow, but that's something that I can improve on. But, yeah, just hit me up on LinkedIn or wherever it is.
Matt Zahab
You got it. Thanks again for coming on, man. Truly appreciate it. Had a blast. We'll keep in touch.
Erez Rachamim
Thanks, Matt. All the best. We speak soon.
Matt Zahab
Folks, what an episode with Erez from the one and only Stables who just launched the massive, did I say massive? Partnership with Mastercard, the company that we all know and love. Feel like there's not a country in the world that doesn't use Mastercard. Pretty darn cool. Huge shout out to Erez and the team for coming on. Loved the alpha that he brought on the show and as always, do go check out all their products. I will include everything in the show notes. To the team love you guys. Thank you so much for everything truly appreciate it. Justas my amazing editor you are the GOAT. Appreciate you and love you. And to the listeners, love you guys as well. Thank you so much for everything. Keep on growing those bags and keep on staying healthy, wealthy, and happy. Bye for now and we will keep in touch. Ciao.
---