Bitcoin Transactions Are Down: Should Investors Worry?
There are many factors that could contribute to the falling bitcoin usage. Simply looking at the transaction count does not give the full picture.
Bitcoin has struggled to make any substantial price gains since falling back from record highs in December last year. Meanwhile, the daily number of transactions for the world's top cryptocurrency by market cap has also shown a lack of steam in climbing back, prompting fears among some that bitcoin may be waning in popularity and usage.
As investors and market watchers are trying to understand the dynamics behind bitcoin price movements, a discussion about the relationship between the price of bitcoin and transaction volume has intensified within the bitcoin community.
The number of daily transactions on the bitcoin network hit the lowest level in nearly seven months on February 25 at 144,000, slightly higher than the 132,000 confirmed transactions recorded on August 1, 2017, according to data from bitcoin.com.
As of March 18, the seven days average number of bitcoin transactions stood at 194,652 and was down by 50% compared to the record high of 390,565 on December 18.
All of this points to the basic economic theory that market prices are the result of supply and demand. In the case of bitcoin, while the supply side remains steady, some believe the demand for the cryptocurrency might be winding down, at least judging from the number of transactions being made.
Relationship between price and transaction volume
At Trefis, a provider of a business analysis technology, a group of analysts has developed a model for estimating the price of bitcoin with a surprisingly high accuracy rate, outlined in a recent article on Forbes. According to the groups' model, the price of bitcoin can be estimated with a historical accuracy of 96% by looking at the number of active bitcoin users and the daily transaction volume in dollars.
These findings once again confirms that transaction volume, number of users, and the price of bitcoin is related to each other.
It also also debunks the myth that bitcoin investors don't care about fundamentals, are not interested in real-world use cases for bitcoin, and are simply looking to make a quick profit off of the hype. Instead, they show a clear link between the extent to which bitcoin is being used and the current price.
Venture Capitalist: Bitcoin is in the process of failing
There are indeed many factors that could contribute to the falling bitcoin usage, from the rise of altcoins to a worsening regulatory environment for cryptocurrencies worldwide. Regardless of the reason, bitcoin investors are feeling the heat.
Charles Morris, chief investment officer at London-based Newscape Capital Group, which invests in cryptocurrencies, told Bloomberg in March that bitcoin might be "entering a bear market." He added that "we had a hype-cycle and now it's cooling down."
Others are even more direct. Kyle Samani, managing partner at crypto hedge fund Multicoin Capital recently told Bloomberg that "Merchants, payment processors and online gambling are moving off of bitcoin […] Our bitcoin position as a fund is small — I believe bitcoin is in the process of failing."
Dwindling number of transactions and its value
Still, not everyone thinks the declining number of bitcoin transactions is a bad thing. Some are saying that the lower number of daily transactions is a result of more and more exchanges adopting new solutions such as SegWit and batching of users' transactions to relieve bitcoin network congestion and reduce transaction fees.
It's important in this regard is to distinguish between the number of daily transactions and estimated transaction value. While batching of transactions do lower the total number of transactions, it does not affect the total value and the output of those transactions. However, at this stage both metrics are down.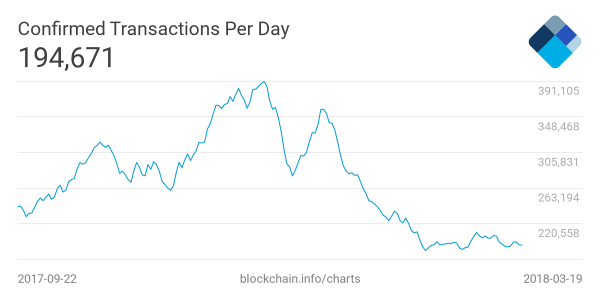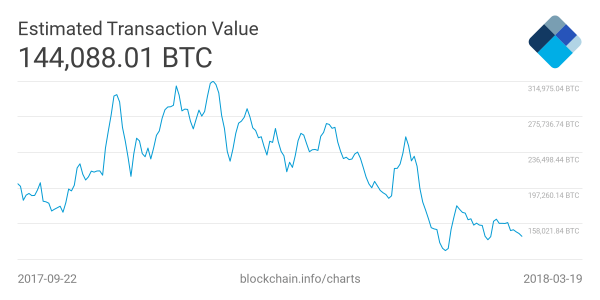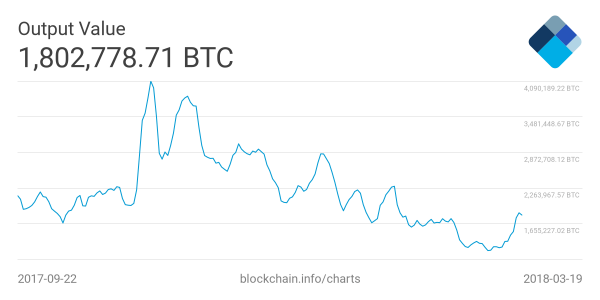 Richard Bensberg, Asia-Pacific Director at San Francisco-based fintech start-up Wyre, argues that the ratio of transaction outputs to number of transactions has gone up recently, meaning "people are practicing better transaction management, combining their payments rather than processing one at a time"
When asked by Cryptonews.com about the declining number of transactions and its significance for price, Bensberg said that "High price volatility in a bull market is responsible for a lot of transaction volume, as people trade between exchanges. I would say transaction count is likely more a function of the price rather than the other way around."
Along with many of his peers in the bitcoin community, Bensberg also believes that batching of transactions by exchanges is responsible for a large part of the decline we have seen in the number of transactions.
"It's ridiculous that exchanges were pushing hundreds of transactions into every block when you really only need 1 transaction per block," he told.
Whether the bitcoin price is a function of the transactions being made or the other way around remains to be seen, but what is for certain is that simply looking at the transaction count does not give the full picture of the state of the bitcoin network today.
---