Bitcoin and Ethereum Price Predictions for 2022
Disclosure: Crypto is a high-risk asset class. This article is provided for informational purposes and does not constitute investment advice. By using this website, you agree to our terms and conditions. We may utilise affiliate links within our content, and receive commission.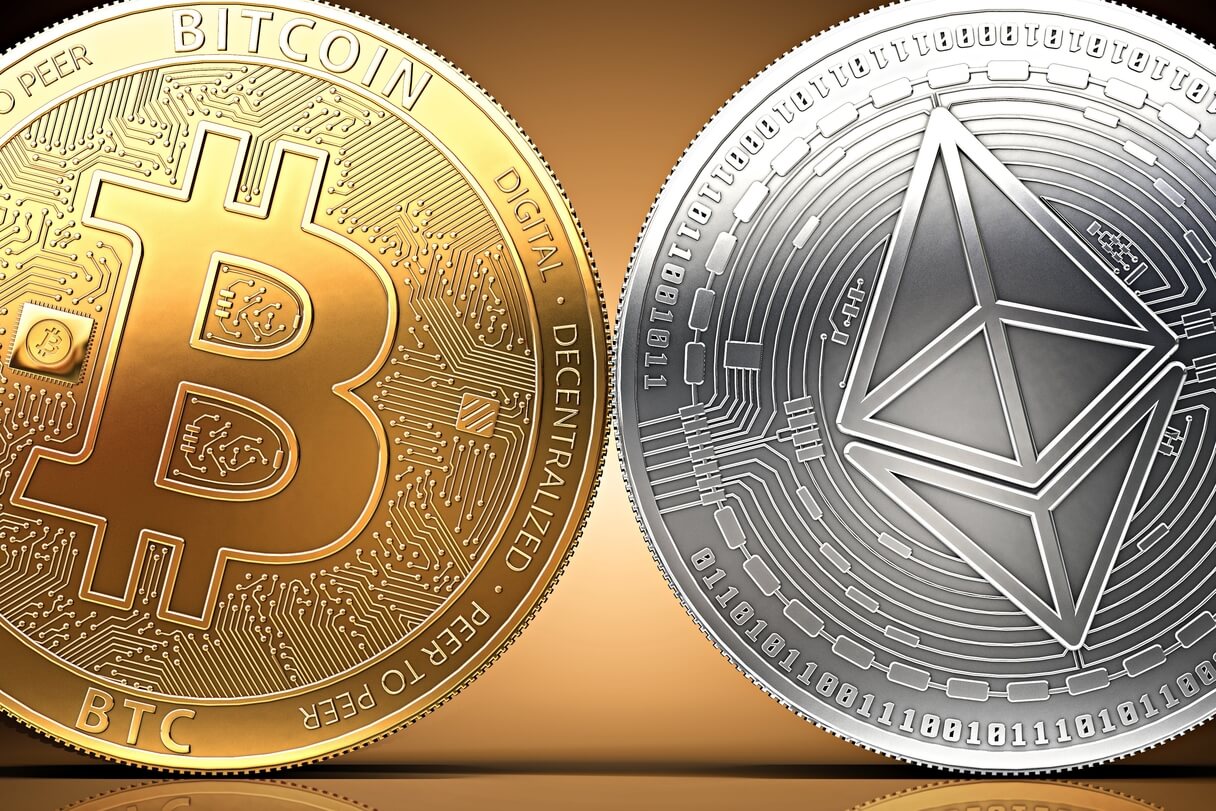 The past year has been another great year for the cryptoasset market, with bitcoin (BTC) having almost doubled in price year-to-date, and the total crypto market capitalization increasing from just over USD 750bn to almost USD 3trn.
For bitcoin's part, the price gains this year were fueled by major developments like El Salvador becoming the first country to make the cryptocurrency legal tender, and electric car maker Tesla becoming the biggest company so far to add bitcoin to its balance sheet.
Similarly, ethereum (ETH) also saw major bullish developments this year, with the implementation of the EIP-1559 upgrade which for the first time introduced a supply-reducing token burn mechanism, arguably being the most important one.
And while 2021 was a great year, 2022 may turn out even better for the crypto market, according to some analysts Cryptonews.com has talked to. However, as usual, opinions vary wildly.
To give an idea about what to expect for 2022, we reached out to a number of crypto industry players to hear their price predictions for BTC and ETH in 2022.
(At the time of writing, BTC trades at around USD 56,250 and is down 11% in a month, trimming its gains over the past 12 months to less than 193%. ETH fluctuates around USD 4,500 and is down by almost 2% in a month. It rallied by 656% in a year.)
Bitcoin price predictions for 2022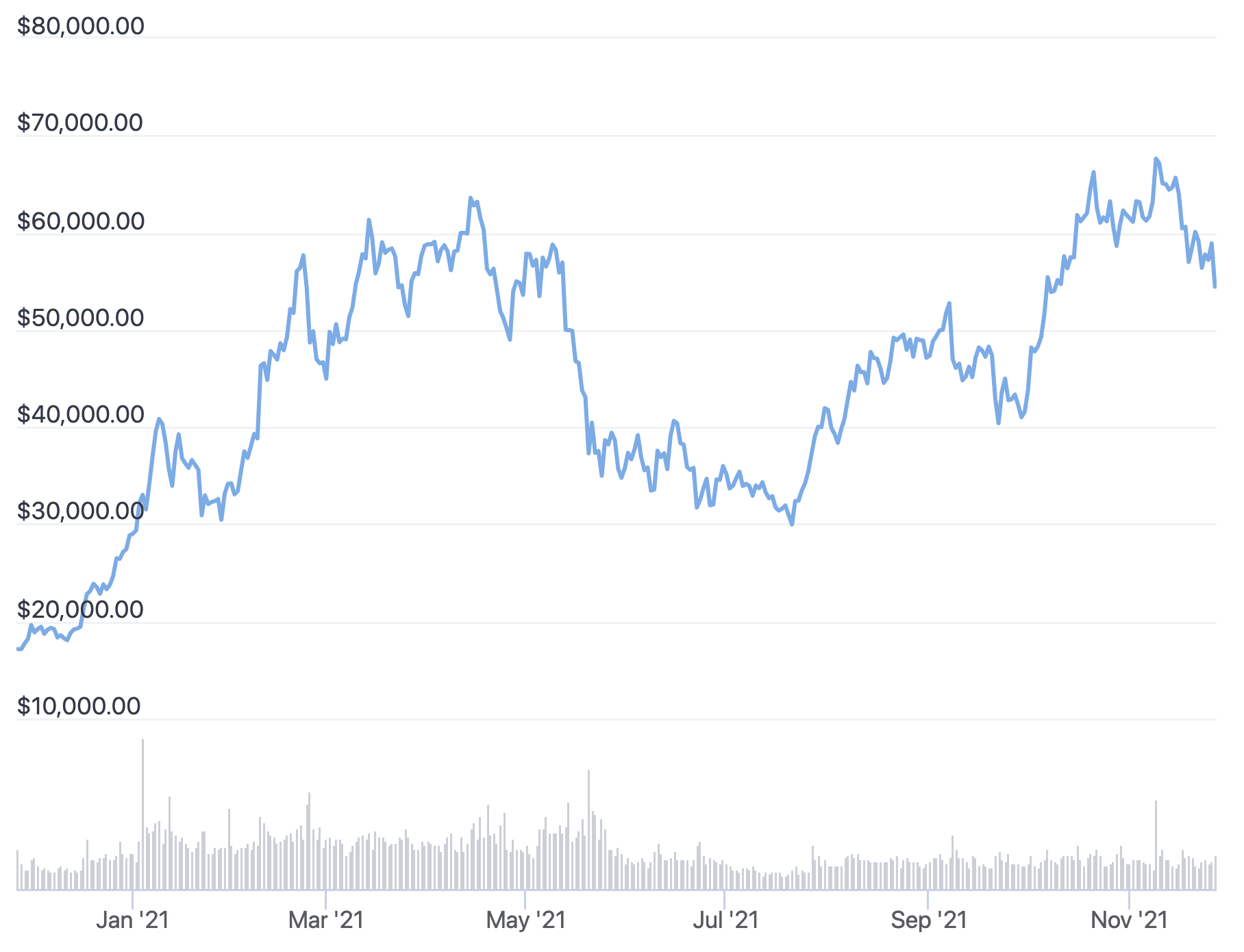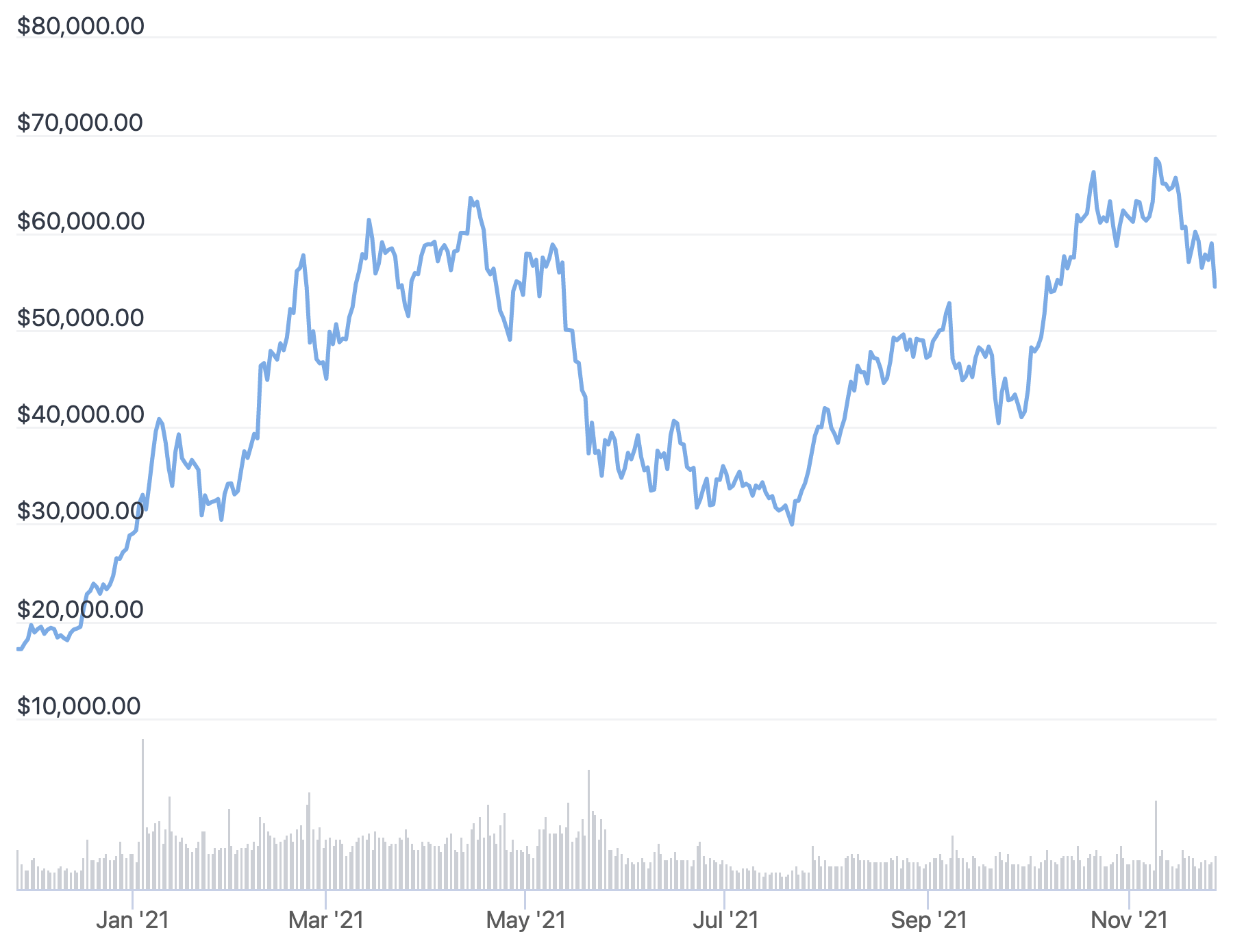 Although the past year by no means has been smooth sailing for bitcoin holders, with both sharp rallies and deep corrections seen during the year, all of the commenters were optimistic about its price for the next year.
"My prediction is that it will continue to be volatile, however the long-term trend will point upwards and it is going to more than double in terms of total market cap per annum on average," Kjetil Hove Pettersen, CEO of Norwegian Bitcoin miner Kryptovault, said, adding:
"I expect a sharp increase short-term, in 2022 we may see 140k USD or higher."
However, Pettersen also stressed that it is "impossible to predict with any accuracy" where the price might go, and that technical analysis will not necessarily work when external factors come into play.
"[…] there are so many factors and external influences in play which makes it difficult to apply traditional [technical analysis] or historical comparisons," the Bitcoin miner said.
Meanwhile, Bernardo Schucman, Senior Vice President of Bitcoin miner CleanSpark's Digital Currency Division, was also optimistic about the number one cryptocurrency over the next year.
"I believe in 250K USD per BTC at the end of 2022 based on the huge number of Bitcoin mining companies that were founded in the United States in 2021," Schucman predicted.
He added that these new miners are not only increasing the hashrate, or the computational power of the Bitcoin network, but that they are also "strong holders of the asset."
"The last, but very important, key factor to maximize the BTC price increase will be bigger adoption of the use of the BTC wallets implemented in social media, such as Twitter," Schucman further said, noting that Bitcoin's Lightning Network will offer "a great push for BTC mass adoption."
Most bullish among the experts we talked to about the next year was Julian Liniger, CEO of Switzerland-based bitcoin broker Relai, who said we may be about to see BTC adoption taken to a whole new level in 2022.
"Individuals, companies and now even countries start to adopt bitcoin more and more and inflation of fiat currencies is on the rise," Liniger told Cryptonews.com. He added that the daily price swings in bitcoin "went from hundreds to thousands to tens of thousands, and will end up in the hundreds of thousands of USD in 2022."
And if Relai'a CEO is right, the next year is looking extremely bullish for the number one cryptocurrency:
"I think 2022 will be the year bitcoin reaches 500K USD," Liniger estimated.
Others were also optimistic about the next year, although less so than the Relai CEO's extremely bullish call.
As predicted by the popular independent bitcoin on-chain and technical analyst Matthew Hyland in early November, bitcoin could hit USD 250,000 as soon as in January 2022, although this would require a large and rapid increase from where the cryptocurrency stands now.
Hyland justified his lofty price target by saying that we have not yet seen euphoria like we saw in 2017 in the current market cycle, explaining that this should be seen in "the final part of a bubble."
"I predict euphoria will begin when bitcoin breaks USD 100,000," Hyland wrote on Twitter just before the market began correcting lower in late November.
Lastly, Simon Peters, a crypto analyst at the forex and crypto trading platform eToro, did not provide a firm price target, but said the bitcoin price generally revolves around the block reward halving every four years.
"We saw a bull market in 2013, 2017 and we're seeing it now in 2021. However, where we saw parabolic price increases towards the latter end of the 2013 and 2017 bull markets, we haven't yet seen it this year, which suggests there could be further price increases to come before we reach the ultimate top," the analyst said.
Ethereum price predictions for 2022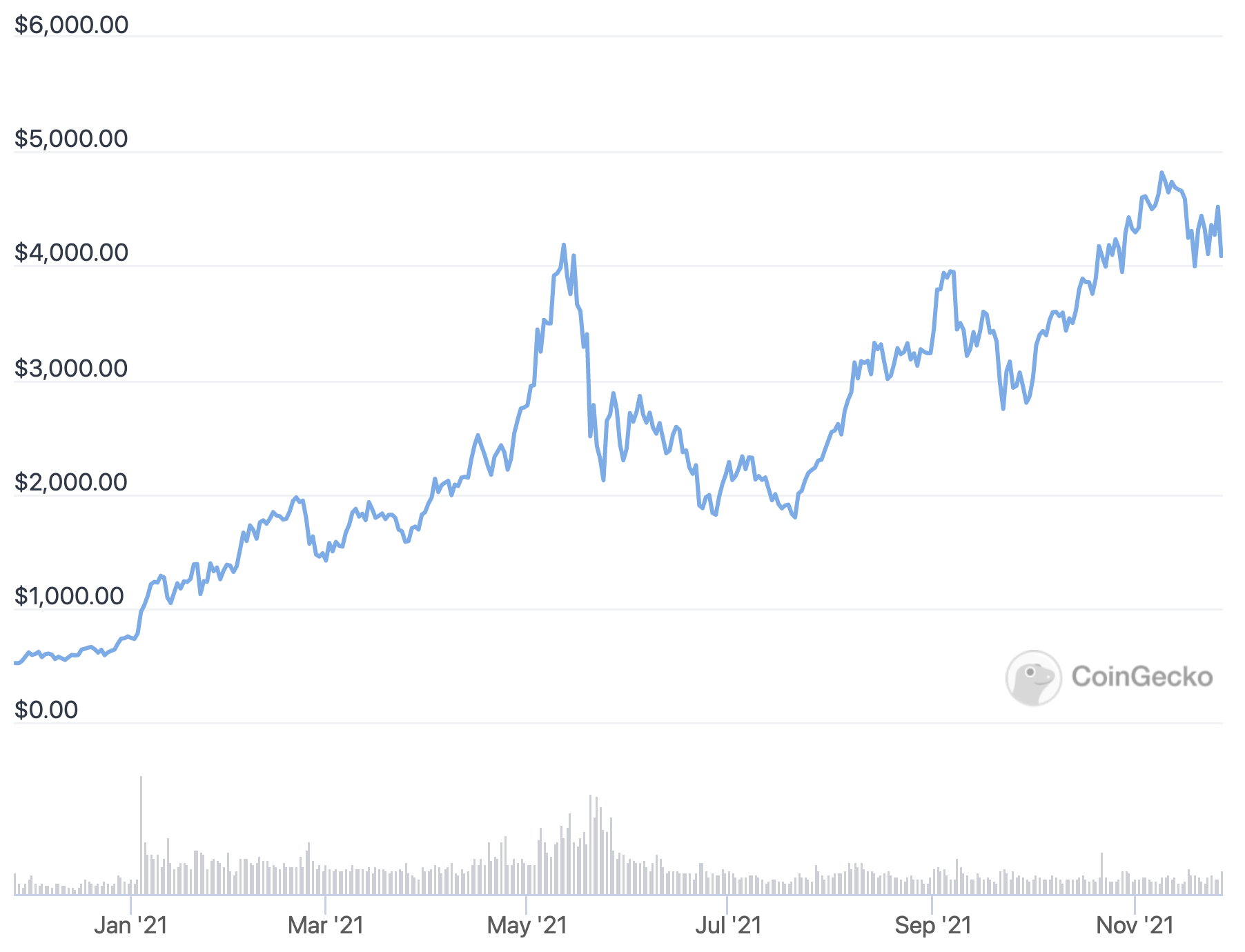 Like bitcoin, ethereum has also seen its fair share of bullishness in 2021.
However, the second-most valuable cryptoasset is known to be more volatile than bitcoin, and according to some of the analysts we spoke with, it is also more difficult to predict. As such, fewer commenters were willing to give firm price targets on ETH.
"I dare not speculate" where the price of ethereum is going in 2022, Kryptovault's Kjetil Hove Pettersen said, while also emphasizing that it will likely be "even more volatile than bitcoin."
"It is possible that it will outperform bitcoin, but there is also a lot more risk associated with it, just like with every altcoin," Kryptovault's CEO said.
On a similar note, eToro's crypto analyst Simon Peters said that ETH could see higher prices due to a combination of increased demand and less supply, although he was not willing to offer a firm target.
Demand from both institutions and retail investors looking for alternative investments, combined with a "supply tapering and slowdown of new ETH coming into circulation" due to EIP-1559 could lead to "a potential price increase" for ETH, the analyst said.
He added that more of the existing supply of ETH is now locked in staking contracts. This comes in addition to the supply that is already locked up in decentralized finance (DeFi) applications, and a dwindling supply of ETH on exchanges, the analyst explained.
Among those that dared to offer a more specific target was CleanSpark's Bernardo Schucman, who predicted that growth in DeFi and a general trend towards more tokenization would push the asset to new highs in 2022.
ETH "will move towards 20K USD because of the great number of new DeFi and tokenization projects that are catching on in the ecosystem," Schucman said.
Lastly, Bloomberg's Senior Commodity Strategist Mike McGlone also has a rather vague prediction for ETH, saying in a November crypto market report that it "appears on track for USD 5,000, with support around USD 4,000," albeit with an unspecified timeframe.
The prediction last month follows bullish comments from the analyst in September's crypto outlook, where he said that ETH is "gaining traction" amid "diminishing supply" and increasing demand.

____
Learn more:
– 'Failing' S2F Model Refuels Debate on Bitcoin Price Model's Usefulness
– 2022 Crypto Regulation Trends: Focus on DeFi, Stablecoins, NFTs, and More

– Watch: CryptoBirb on Trends in Crypto Trading, His Exit Strategy, Bear Market, and More
– Watch: Tone Vays on Bitcoin Narratives, Bear Market, DeFi, NFTs, and Ethereum

– Crypto Investment Trends in 2022: Brace for More Institutions and Meme Manias
– Crypto Adoption in 2022: What to Expect?

– 'Paper Money' Hits All-Time Low Against Bitcoin & Other Hard Assets – Pantera's CEO
– Altcoins in for a Bumper 2022 as Number of Crypto Traders Set to Double – Report

– Mt. Gox Payouts Nearing, But Is the Market Ready for It?
– Huge Differences Seen in Banks' Ethereum Valuation as ETH Tests All-Time High

– USD 20,000 Weekly Moves in Bitcoin's Price Likely This Year, Author Says
– 'Extreme Volatility' Expected as Bitcoin Investors Learn to Value It
---