A Very Spooky Crypto Halloween!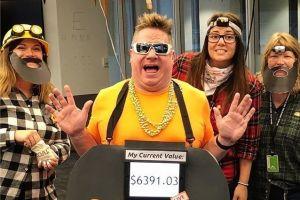 Halloween is one of those holidays that many celebrate - regardless of religion, ethnicity, political affiliation or personal ideals, people love dressing their kids up (or themselves), go trick or treating or to a party and generally let go. The crypto community is no exception, and we've collected our favorite ways in which people from the cryptoverse are celebrating Halloween.
Happy haunting!
__________
This guy dressed up as the blockchain for his Halloween party.
Apparently, people brought over glowsticks, so by the end of of the night, he became Lightning Network.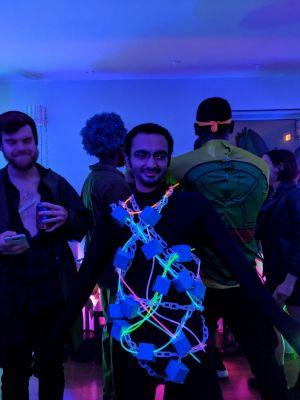 __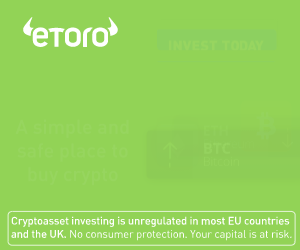 This Redditor's family is giving out these chocolates for Halloween, and each of these has some claimable BTC! Each coin is worth around USD 10 in BTC, but how many will actually be redeemed?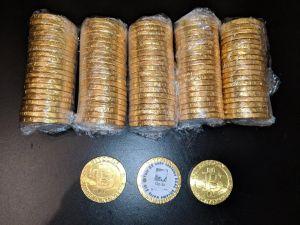 __
Cryptocurrency exchange OKEx has a competition for Halloween. You can win BTC 0.02 by sharing your crypto-themed costume. These are some of the contestants:

___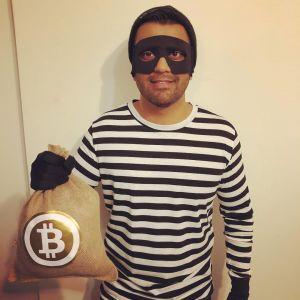 ___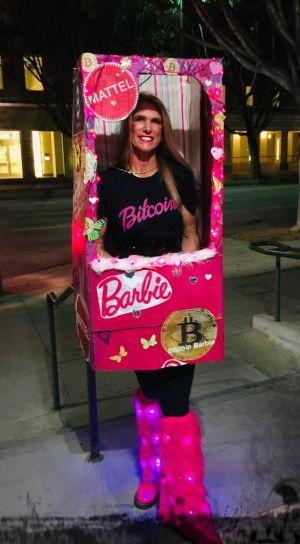 ___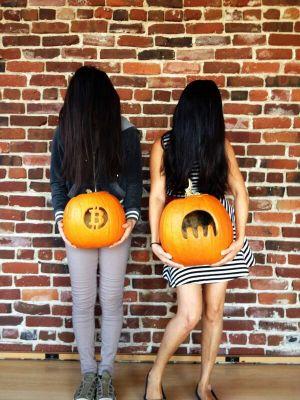 ___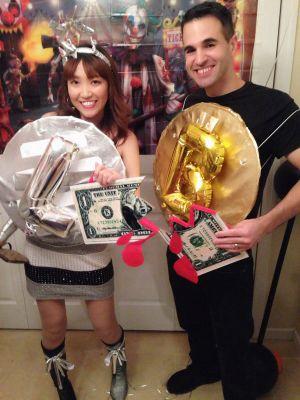 ___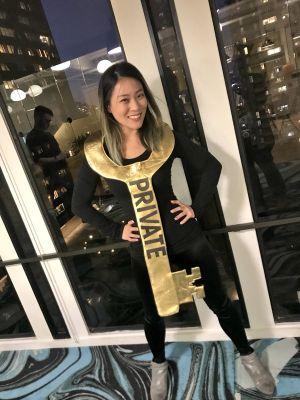 ___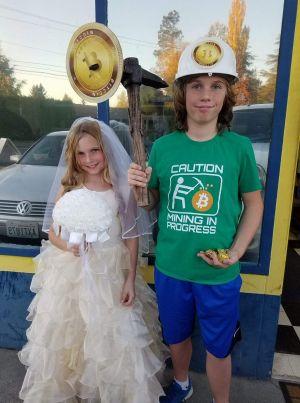 ___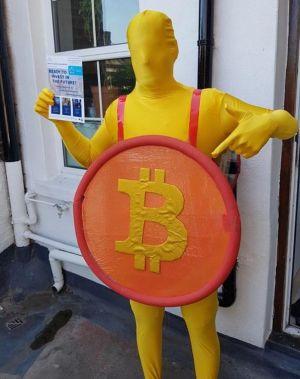 __
When the bear run doesn't treat you right even for Halloween, and you have to find another costume.
I wanted to be a #crypto millionaire for Halloween, but I had to settle for a unicorn 😭 #xrp #cryptolife #makemerichalready pic.twitter.com/NuhU3DGCSM

— xrp mami 💕 (@xrp_mami) 25 October 2018
__
The scariest costume you will see all year!
Scary Halloween costume https://t.co/ky5FcgHgzj pic.twitter.com/zTSYOnXDFE

— Crypto Connoisseurs (@CryptroCrypto) 29 October 2018
__
Sometimes your creativity goes beyond dressing yourself, so you choose to dress Roger Ver as well.
I picked a halloween costume for you @rogerkver pic.twitter.com/vqJqE7qGBi

— Olya (@olya_crypto) 29 October 2018
__
Gifto is going as another scary thing, especially in the context of this year.
What crypto-themed costume are you wearing for Halloween? We know what we're going as.... #Gifto #Halloween #Wehatebears #CryptoScares pic.twitter.com/meER1ePszs

— Gifto (@gifto_io) 26 October 2018
__
At least everyone recognizes what you're supposed to be in both of these examples.
30 October 2018
The beard was a nice touch.
Atlanta Tech Village @atltechvillage building costume party. Hannon Hill bringing it as "Bitcoin Miners" #halloween #halloweencostumes https://t.co/uiX7outd7n pic.twitter.com/zgSshNA3NT

— Adam Caskey (@RadioACC) 26 October 2018
__
If you're not mining, are you HODLing? Because we know what you should dress as.
Halloween costume idea: bitcoin HODLer pic.twitter.com/JOhh2zh8q6

— Hipster (@Hipster_Trader) 28 October 2018
__
We know it's photoshopped, but it's an idea for everyone still wondering what to go as.
Best Halloween costume pair of the year 😂😂😂 via r/bitcoin #bitcoin pic.twitter.com/ZuOG34e2fH

— Eric Lo ⚡️ (@Skyline1224) 27 October 2018
__
Here's a Bitcoin whale, too. Are you ready to have this guy explain Bitcoin to you through terrible analogies?
Please welcome to the ring
Your 2k18 Halloween costume

The holder to HODL
The slayer of cyber
The king of crypto

BIG MONEY BITCOIN pic.twitter.com/XkrUz3Hcxx

— Jesse 👽🔪 (@TurboBurpo) 20 October 2018
__
If you're still not convinced, Whale Panda has more ideas for you.
Inspiration for $Crypto-themed halloween costumes:
- Ripple Bagholder
- Sealion (optional: film crew following you around)
- Nouriel Roubini
- illegal ICO issuer (optional: in prison)
- Carnivore Bitcoin Maximalist
- Reckless Lightning Network user

— WhalePanda (@WhalePanda) 13 October 2018
__
Also known as a "stablecoin" lately.
im a bitcoin for halloween pic.twitter.com/4gczzQsyyq

— Monkey Rothschild (@MonkeyCharts) 10 October 2018
__
And if you're sick and tired of costumes, here's more horror movies reimagined as crypto!
ICYMI here's the full 7 #Bitcoin #Halloween cartoon series from https://t.co/3uyQXNWqI3! pic.twitter.com/c8tyqZSjMb

— luis buenaventura (@helloluis) 1 November 2017
__
This is not the first crypto Halloween and "crypto bubble" year. Check out this idea from last year!
For Halloween I went as a Bitcoin Bubble. pic.twitter.com/vi8ve0A4qH

— zooko (@zooko) 31 October 2017
__
A great way to pay homage to early memers!
My Halloween costume came! 🧙🏽‍♂️ #bitcoin #magicinternetmoney #wizard #crypto #ethereum #halloween pic.twitter.com/ZMztmTRSpm

— Ethereum Jesus ⟠ (@EthereumJesus) 19 October 2018
__
How about using this idea from last year to dress as something everyone would love to see again?
Happy Halloween from the Bitcoin Bull/El Toro de Bitcoin. World Tax Federation Heavyweight Champion. IRS CONQUERER #Halloween #Crypto pic.twitter.com/EkixsNhrk7

— Squeeze ฿ocachica III 🇵🇷🇺🇲 (@squeezeb3) 31 October 2017
_____
By the way, did you know that Halloween has its own coin? Ranked as No. 2028 by market capitalization, Halloween Coin (HALLO) is scaring its owners by dropping 35% in the past 24 hours (its trading volume stands at USD 27.) While it's pre Halloween week chart is worth mentioning, too: