A Guide to Cryptocurrency Tipping Bots
When bitcoin first started to gather more attention in online forums and on social media, one of the most talked about use cases for the digital currency was online micropayments. Not too long after, the first bitcoin tipping bot was launched, which enabled social media users to tip each other in small amounts of bitcoin (BTC). Since then, we have the creation and disappearance of several cryptocurrency tipping bots including the probably most prominent bitcoin micropayments platform ChangeTip.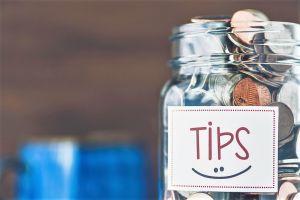 ChangeTip was launched in 2013 and enabled bitcoin users to tip each other on platforms such as Reddit, Twitter, YouTube, and Facebook. The bitcoin micropayments service managed to established itself as the go-to bitcoin tipping bot until the company was bought by Airbnb who shut down ChangeTip's operations in November 2016. Since then, a void has been left in the cryptocurrency tipping bot space that is yet to be filled by a successor.
As a result, there are now several cryptocurrency tipping bots that are being used in the cryptocurrency community. In fact, most major cryptocurrencies have one.
How to Cryptocurrency Tipping Bots Work?
While there are slight variations amongst each tipping bot, they generally all function the same way.
First, you create an account and fund your tipping wallet with the bot's native digital currency. Then, you go onto the supported social media platforms and pay users who you believe are worthy of a small tip by tying the bot's payment command. The command line could be something like /u/tippingbotsname or @tippingbotsname @username.
The recipient can then collect their cryptocurrency tip by creating an account with the tipping bot and then transferring the money from that account into their personal wallets.
Popular Cryptocurrency Tipping Bots
Tippr Bot (Bitcoin Cash)
The most marketed cryptocurrency tipping bot today is probably the bitcoin cash (BCH) tipping bot TipprBot. Tippr enables BCH users to tip one another on social media platforms Reddit and Twitter.
Due to the bitcoin cash community's strong push for BCH adoption, the Tippr bot has seen regular use on both Twitter and Reddit and has been covered extensively in bitcoin news publications run by bitcoin cash supporters.
Since its launch, the Tippr Bot claims it has processed more than USD 100,000 in BCH, sent by 15,227 users. The most tipped Reddit users have received several thousand dollars in tips, which shows that tipping is still very popular in the cryptocurrency community.
Tips per day (August-September)

TipJar Bot (Ether)
The TipJar Bot is Ethereum's tipping bot, which enables Reddit users to tip each other using ETH. Aside from ether, the TipJar also accepts a range of ERC20 tokens for its micropayments service.
TipJar is a free service and charges no fees and is being used quite actively by the Ethereum community on Reddit.
SoDogeTip (Dogecoin)
The dogecoin community on Reddit has been known to be generous tippers. Unfortunately, the most popular dogecoin tipping bot, dogetipbot, ceased operations in late 2017 after its operator announced the company was bankrupt and he cleared out all wallets.
Fortunately, for the tip-loving dogecoin community, a new tipping bot, called SoDogeTip was launched to quasi-replace its popular predecessor in early 2018. SoDogeTip is Reddit's only on-chain cryptocurrency tipping bot, according to its developers and enables seamless dogecoin tipping on Reddit.
NanoTipBot (Nano)
Cryptocurrency project Nano also has its own Twitter tipping bot, called NanoTipBot, which has managed to gain traction since its launch in March 2018. The NanoTipBot aims "to introduce new users to Nano without them having to set up any wallets." NANO Payments incur zero fees and are near instant.
Stellar Tip Bot (Stellar)
Another relatively new cryptocurrency tipping bot can be found in the Stellar community. The StellarTipBot was created "to thank people for help, be friendly, buy someone a coffee and spread the word about the amazing stellar network." The tipping bot can be used both on Reddit and on Twitter.
Reddcoin TipBot (Reddcoin)
This list would not be complete without mentioning Reddcoin and its tipping bot, the Reddcoin TipBot. Reddcoin was launched in 2014 to become the "social currency of the digital age."
The ideas behind Reddcoin is to be able to send zero-fee digital currency payments to other users of social media platforms. The Reddcoin TipBot currently works on Twitter, Twitch.tv, and on Reddit.
---