Haru Invest Review
Haru Invest is a digital asset management platform enabling users to earn interest on their crypto.
General info
| | |
| --- | --- |
| Web address: | Haru Invest Review |
| Support contact: | Link |
| Main location: | Not stated |
| Daily volume: | ?? BTC |
| Mobile app available: | Yes |
| Is decentralized: | No |
| | |
| --- | --- |
| Parent Company: | Haru Invest |
| Transfer types: | Crypto Transfer, |
| Supported fiat: | None |
| Supported pairs: | 0 |
| Has token: | BTC, ETH, USDT, USDC |
| Fees: | Very Low (Compare rates) |
Business inquiries: [email protected]
Pros & Cons
Offers various products to earn crypto
High APR for certain coins
Operates a help center and provides live chat support
Enables mobile investing
Zero security breaches since launch in 2019
Only five tokens supported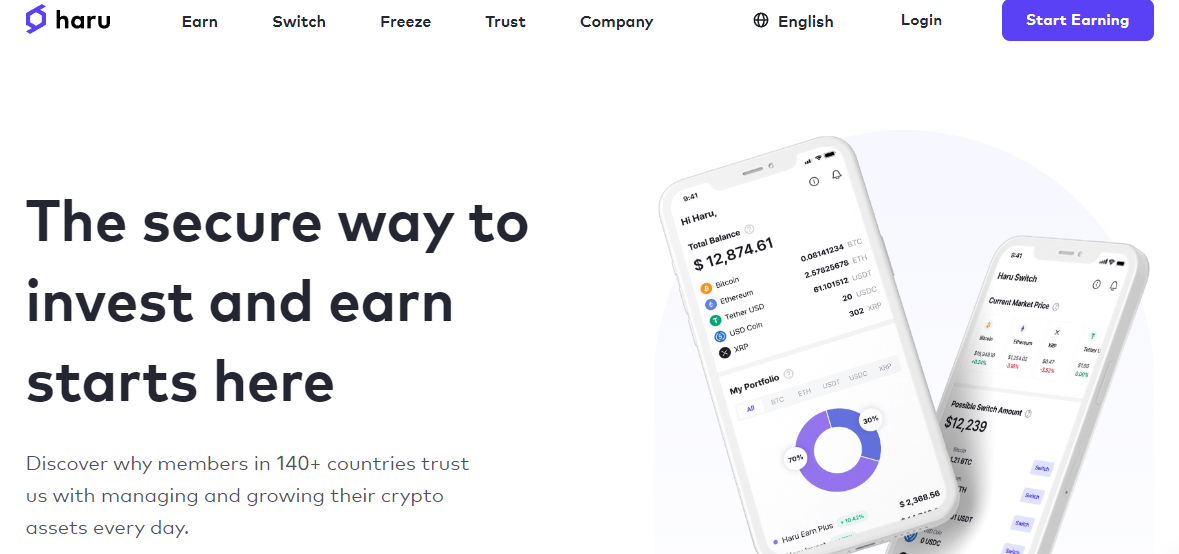 With members in more than 140 countries, Haru Invest has accumulated total transactions exceeding $2 billion. Its in-house traders manage user funds based on algorithmic trading and strive to provide competitive returns in the long haul.
Our Haru Invest review explores the platform's offerings and how they benefit investors.
What is Haru Invest?
Haru Invest is an investment platform for crypto enthusiasts seeking to increase the amount of their assets.
The company boasts a team of traders managing assets by algorithmic trading and also offers interest on staked coins, as well as a feature allowing investors to swap cryptocurrencies.
The platform claims to retain 87.5% of investors who deposit money and prioritizes asset safety, not being exposed to a single security breach.
It supports five tokens - BTC, ETH, USDT, USDC and XRP - is not decentralized and was founded in South Korea and has its HQ in Singapore.
Earning Crypto Interest on Haru Invest
Investors can choose several options to earn interest on their crypto with Haru Invest. Each avenue provides various interest rates and requires investors to lock up their coins for a specified period.
Two ways investors can earn interest are via Earn Plus and Earn Explore
Earn Plus
Haru Invest has made this feature flexible. Investors can lock up their assets for any period they wish and can withdraw their earnings at any time. Investors can choose to lock up Bitcoin of some of the best altcoins for 15 to 365 days. Higher earnings are yielded for longer lock-up periods.
Investors choose the amount to invest, and their earnings are automatically reinvested daily. Once investors decide on the lock-up period, they cannot withdraw the principal prematurely and no additional deposits are accepted during that time.
The earning rates on an Earn Plus account change based on the performance of Haru Invest strategies and are adjusted every two weeks. Investors can catch up to the latest earn rates on the Haru Invest Medium.
Haru Invest provides an estimate calculator, enabling investors to check their potential earnings for different lockup periods.
As an example, locking up 1 Bitcoin for 365 days will provide 12% interest approximately. The best part about this service is that there is no fee to make deposits into an Earn Plus account.
To ensure the safety of investors' assets, Haru Invest transfers them to a cold wallet managed by Block Crafters.
Earn Explore
The other option to earn interest is Earn Explore, providing higher returns than Earn Plus but also higher risk.
Earn Explore is an automated investment option requiring investors to choose a trading strategy that the algorithm constantly monitors the market for and enters positions likely to provide profits.
Investors can also check out Haru Invest Earn Explore performance updates on the Haru Invest Medium.
Earn Like the Best
Investors only select the strategy while the algorithm enters buy and sell positions. Earn Like The Best strategy emulates positions of the global top trading firms, targets a rate of at least 25% and requires a Bitcoin investment for a minimum of 3 months.
Surf with the Volatility
The Surf with the Volatility strategy exposes investors to high returns when the market is volatile. That also means higher exposure to risk if a trade is unfavorable.
This strategy seeks to provide returns of 25% and higher for USDT, which needs to be invested for at least 1 month. The minimum amount required for the investment is $10, and Haru Invest doesn't charge a management fee.
A performance fee of 15% of the total profit applies only if returns exceed a 15% annual percentage rate (APR).
Beyond Staking
A less risky strategy to earn interest on assets is by staking. Haru Invest enables investors to earn up to 21.5% annually by staking Ethereum.

A minimum investment of 3 months is required and 0.005 Ethereum on Haru Invest's staking platform.
The other earning option is to become a liquidity provider by locking up BTC, ETH or USDT. Earnings are based on the crypto market's value, an investor's contribution ratio of the swap pool and the Haru Invest Switch order volume.
Haru Invest APR and Interest Rates
Haru Invest offers various interest accounts, and we have made it convenient for investors to compare the potential rates that can be earned.
| | | | | | |
| --- | --- | --- | --- | --- | --- |
| Option | Wallet | Earn Plus | Earn Explore (Earn Like the Best) | Earn Explore (Surf with the Volatility) | Earn Explore (Beyond Staking) |
| Interest | Up to 6% | Up to 13% | 25%+ | 22.5%+ | 21.5%+ |
Other Haru Invest Features
One of the reasons investors across the globe use Haru Invest is because it offers investors several methods of earning interest. Two additional ways are Switch and Freeze, while the site also offers regular promotions.
Haru Invest Wallet
The Haru Invest Wallet is the gateway for the other products offered by the platform.
Generated automatically, users can earn up to 4.5% APR on BTC, 4.2% on ETH, 6% on USDT, 4.5% on USDC and 2.5% on XRP.
The wallet features limitless withdrawals 24/7 with no lockups and earnings are compounded daily.
Switch
Haru Invest has simplified the process of obtaining crypto by offering a swap platform so that investors don't have to scout various exchanges to find the assets they desire.
It functions as a crypto exchange with transparent pricing and strong security features. Haru Invest has designed the platform to accommodate beginners, simplifying the transaction process. However, it has also provided advanced functions for investors wanting to take advantage of different order options.
The pool consists of the community's asset contribution. Switch enables contributors to earn from swap transactions. Using this feature allows investors to enjoy competitive pricing and no gas fees.
Investors desiring the convenient option just need to pick a crypto pair to switch, set a market or order rate and then enter the amount to switch. The system will generate an estimated total for preview.
The platform's liquidity staking program enables providers to earn rewards after swaps are completed. A service fee of 0.2% is added to the investor's total order and charged after the order is completed
Investors can become a liquidity provider by joining the Earn Explore — Farming Just Got Easier feature and can swap assets only in their Haru Invest wallets and not the ones that are locked up.
Freeze
The Freeze feature enables investors to earn higher returns for buying and selling assets without lockup limitations. This feature enables investors to create a new investment by combining crypto and digital art and receiving rewards for their collection.
To receive Frosts, investors freeze Earn Plus lockups. Frosts can be deemed as a collectible form of Earn Plus that has an intrinsic value. They consist of different shapes and colors. Haru Invest offers seven unique Frosts for each asset type, and the shapes and colors depend on the amount of crypto in the Earn Plus lock-up that investors froze.
The Freeze marketplace enables investors to sell their Earn Plus lockups and Frosts, then buy discounted ones to enjoy further redeemable benefits.
Investors who collect a full set of Frosts and complete a collection receive a collectible reward known as a Crystal — unique graphic to celebrate each completed collection.
Crystal rewards can be a discount on the Earn Explore management fee, Earn Plus earn rate boost or crypto provided in Earn Plus lockup.
A key benefit of buying on the marketplace is that investors get a higher yield than the remaining period. To sell Earn Plus, an investor has to convert it to Frost. Investors can then melt Frost after purchase to change Frost into Earn Plus.
Frosts and Crystals aren't NFTs because they can't be exported and traded on other platforms. However, Haru Invest is working on the export feature.
Promotions
Haru Invest offers regular promotions throughout the year which many users come and stay for.
For example, from December 23, 2022, to January 5, 2023, Haru Invest will offer the following holiday savings:
3% more on earnings with an Earn Plus lockup
2-day flash sale (Jan 4 & 5, 2023) to buy Frosts at a discounted rate
Visit the Haru Invest seasonal earnings website for full information.
Haru Invest Platform Security
Besides earnings and fees, investors need to analyze the security that yield farming crypto platforms offer.
Haru Invest does not lend investors' assets to provide earnings. It uses an algorithm trading model to generate stable earnings. The trading strategies are evaluated to assess the risk and profitability.
The in-house trading team manages the assets without using CeFi or DeFi platforms. Haru Invest doesn't use high-risk strategies to adjust to price fluctuations and instead uses mid-high frequency trading.
The multi-layer security system Haru Invest instituted requires investors to complete various stages of a transaction to process it. The assets are transacted through BitGo, which also serves as a custody provider and protects keys with a hardware security module.
Haru Invest implements Know Your Customer (KYC) and Anti-Money Laundering compliance standards. It also uses Know Your Transaction (KYT). Investors can activate a 2-Factor Authentication to have an added layer of security.
Customer Service
Haru Invest's platform is simple to use, yet it provided a help center to assist users in navigating the platform. The guides help new users understand what services Haru Invest offers and how they benefit investors.
Further explanations about this platform are available in the FAQ section. Otherwise, investors can submit a form to request more information from support.
Haru Invest has divided its help center into different categories, enabling users to navigate efficiently to the information they seek. Investors seeking immediate feedback can access the live chat, available from Monday to Friday.
Besides learning about the Haru Invest wallet and how to earn, investors can also find out more information about the Luminary Club loyalty program, which is for distinguished members and the referral program, open to all users.
Haru Invest Mobile App
On-the-go investors who want to earn and benefit from this platform wherever they are will enjoy Haru Invest's mobile crypto app. It's available on iOS and Android and provides all the features found on the desktop version.
The features are designed to make investing on a mobile screen convenient while reducing eye strain with dark mode. The app provides easy login with biometric authentication and enables investors to track their performance by receiving notifications.
Haru Invest made the login simple and secure by offering a Face ID feature. The features of Haru Invest wallet, Earn Plus and Earn Explore are designed to enable investors ease of navigation to start earning money.
Download Haru Invest Mobile App
How to Use Haru Invest
Although Haru Invest's website is easy to navigate, we've made the process of investing on this platform even more convenient with a step-by-step guide.
Step 1: Open an Account
Visit Haruinvest.com and click 'Start Earning' in the top right corner.
Enter an email and a password, then click 'Sign Up' at the bottom.
Step 2: Verify Your Details
Haru Invest upholds high standards to ensure investor assets are protected. It requires each user to identify themselves via the KYC process. Users will need to verify their emails and upload documents to prove their identity.
After the verifications, click 'Get started'.
Step 3: Choose How to Invest
At the bottom of the screen, investors can select Earn to access the different rewards products. Other options include Switch and More — enabling investors to personalize their accounts, set notifications enabled 2FA and view transaction history.
Investors can choose Earn Plus or scroll down to choose the Earn Explore option.
Step 4: Set Investment Goals
The Earn Plus option requires investors to choose their ideal asset by clicking the drop-down arrow at the top, then selecting the desired lockup period by sliding the scale to the right.
After setting those parameters, click 'Get Started'.
Conclusion
Haru Invest enables investors to earn crypto in various ways. Investors can lock up their coins or opt for higher rewards and risks with algorithm trading.
The in-house team manages investors' assets, and Haru Invest provides a multi-layer security system to ensure assets are safe.
Investors can access the platform from any location via the mobile app, offering the key features found on the desktop version.
Haru Invest's platform is easy to navigate but investors can use the help center for more information or enter a live chat.
FAQ
What is Haru Invest?
Haru Invest is a platform allowing investors to earn crypto by locking them up, algorithm trading or contributing to the liquidity pool. It enables investors to choose a strategy aligned with their goals.
What products does Haru Invest offer?
The two main products are Earn Plus and Earn Explore. Earn Plus enables investors to earn up to 13% APR by locking up their coins and Earn Explore is automated investing, with an algorithm following the strategy investors choose.
Haru Invest also provides an exchange called Switch, enabling investors to swap cryptocurrencies and earn rewards by contributing liquidity to the pool.
Is Haru Invest safe?
Haru Invest has partnered with BitGo to serve as a digital asset custodian. It offers a multi-layer security system that investors have to go through to finalize a transaction. Investors have to verify their identities via a KYC process, and asset protection is strengthened by activating 2-Factor Authentication.
Does Haru Invest offer a mobile app?
Yes. The mobile app offers the same features as the desktop version and in a convenient format that enables on-the-go investors to earn money even when they don't have access to their computers.