YieldFlow Review 2023
YieldFlow enables investors to grow their crypto portfolio in a secure, anonymous, and decentralized way. Users simply need to connect their wallet to YieldFlow before choosing their preferred interest-bearing product.
In this YieldFlow review, we take an in-depth look at the core features, benefits, and potential drawbacks of the platform.
What is YieldFlow?
YieldFlow is a decentralized platform providing various yield earning methods. It uses smart contracts to automate the investment process, allowing users to earn passive income on their crypto holdings with minimal effort.
YieldFlow removes the technical complexities of crypto investment opportunities. This decentralized platform makes earning crypto interest simple and frictionless.
YieldFlow's investment products are carefully handpicked by a team of blockchain and finance experts.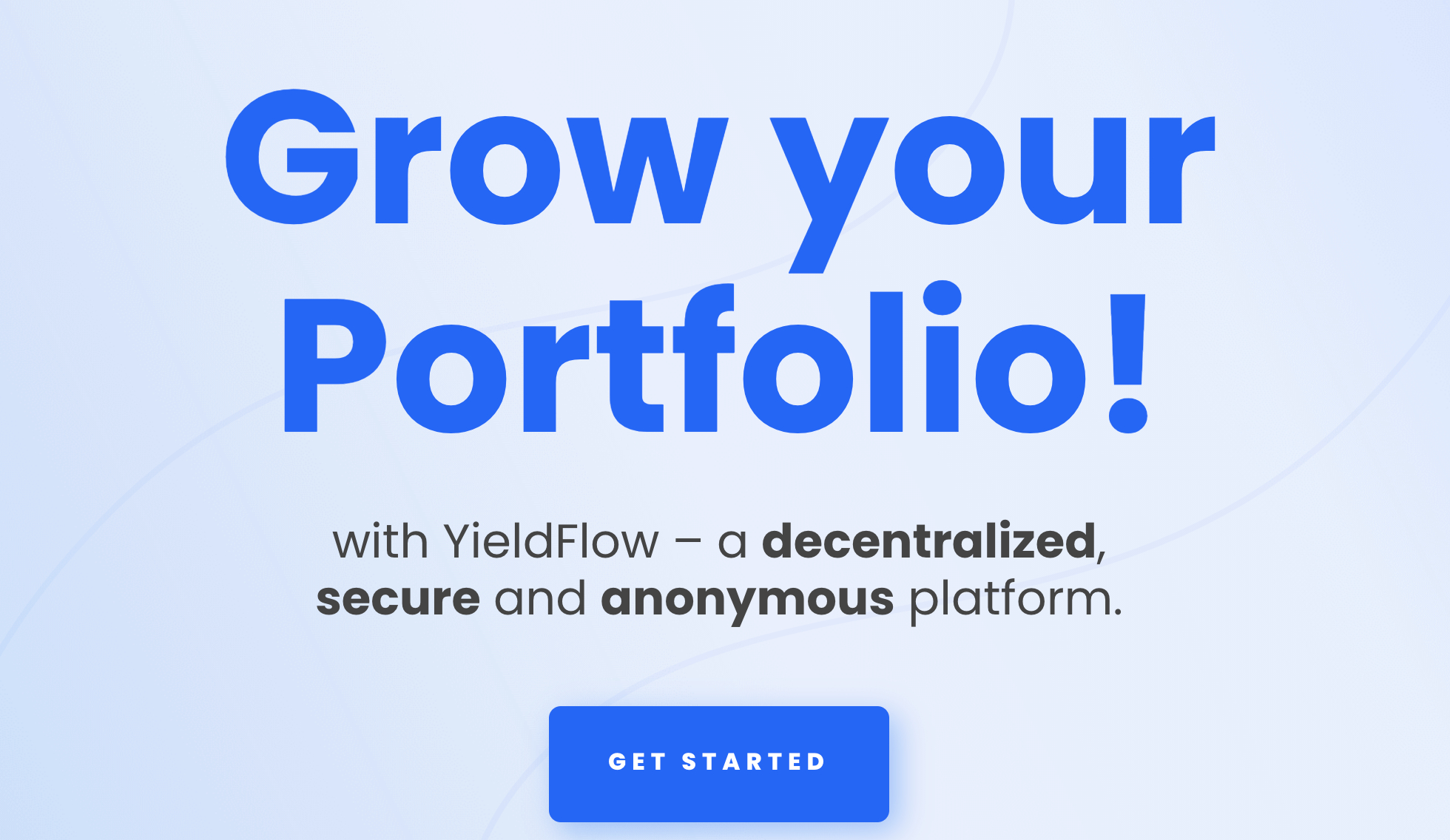 Users can get started by connecting their wallets and choosing their preferred product. The platform supports staking, lending, and liquidity pool mining. Once the user activates the smart contract, the platform will automatically execute it and allocate funds without any third-party interaction or interference.
This way, YieldFlow maximizes security, anonymity, and profitability for its users. Moreover, the YieldFlow team constantly adjusts its products and yields based on market conditions. In other words, the platform makes it easy for crypto holders to diversify their investments without having to do any of the legwork themselves.
What Can You Do on YieldFlow?
YieldFlow supports a variety of crypto interest methods. In this section of our YieldFlow review, we take a closer look at the platform's different products.
Staking
YieldFlow supports staking for multiple cryptocurrencies, allowing users to set up a steady stream of passive income. Users can contribute their crypto funds to YieldFlow's staking pools, which will then be used to validate transactions on the blockchain.
In return, users will receive a share of the rewards earned by the pool. YieldFlow supports some of the best staking coins in the market. This includes Polygon, Fantom, Aave, and the Sandbox. The APYs offered currently range between 4.5% to 10.87%.
YieldFlow doesn't stipulate any specific lock-in periods for its staking products. Every 24 hours, users can claim their staking rewards. If a user wishes to discontinue staking, they can simply deactivate the contract and withdraw their assets when needed.
Lending
Lending is another popular way for crypto holders to generate interest on their tokens. YieldFlow is one of the best crypto lending platforms for this purpose. This is because investors don't need to worry about credit checks on borrowers or obtaining collateral. Instead, YieldFlow handles all of these aspects.
YieldFlow offers crypto lending services for USDT and SNX. Currently, the platform provides an interest rate of 2.28% and 1.93% for these cryptos, respectively. After activating the product, users will start receiving interest after seven days. As with staking, lending products at YieldFlow are flexible and have no lock-in periods.
Liquidity Pools
Liquidity pools require users to deposit two cryptocurrencies in equal amounts to create a trading pair. These tokens will be used to provide liquidity to execute trades. In exchange for contributing liquidity, YieldFlow offers a portion of the transaction fees collected.
YieldFlow has 11 different liquidity pools that investors can deposit funds into.
This includes:
LINK - ETH
MATIC - ETH
USDT - ETH
MANA - ETH
SAND - ETH
BAT - ETH
HEX - ETH
OCEAN - ETH
SHIB - ETH
WBTC - ETH
PEPE - ETH
Currently, the lowest APY of 1.41% is offered for WBTC - ETH. On the other hand, those contributing to the PEPE - ETH pool will find an APY of 1430.86%.
YieldFlow allows users to buy tokens for liquidity platforms directly via its website. This involves swapping one of the supported tokens for another. The transaction will be handled through the user's wallet by the Uniswap protocol.
Additionally, YieldFlow also allows users to stake the tokens deposited in liquidity pools. This enables users to boost their yields. Moreover, users can also end a liquidity pool contract and withdraw the assets at any time.
YFLOW Tokens
YieldFlow has launched its own native token, YFLOW. These tokens can be used for two purposes within this ecosystem:
Governance: Token holders are offered voting power proportional to the amount of YFLOW they hold. This allows investors to actively participate in the governance of the YieldFlow platform.
Staking: YieldFlow also enables YFLOW holders to stake their tokens. This can be done via single asset staking or through Uniswap liquidity pools. There are both fixed and flexible lockup periods available, with varying interest rates. Currently, the APY offered ranges from 8.5% to 20.5%, depending on the staking contract.
Additionally, YFLOW token holders receive a discount on trading fees. In other words, YFLOW has the required elements to become one of the best utility tokens in the market.
The total supply of YFLOW tokens is fixed at 50 million. Currently, YFLOW is trading for $2.60 per token. Investors can buy YFLOW tokens via the Uniswap exchange.
Recommendation Program
To incentivize users, YieldFlow shares 90% of the platform's fees with YFLOW token holders. Moreover, users can also generate rewards from affiliate marketing. Users can earn a 25% performance and a 75% management commission for each referral.
Moreover, there is no cap on the number of referrals or payments. With this recommendation program, YieldFlow is building a loyal community of users who benefit from the platform's growth.
YieldFlow Roadmap
It's worth mentioning that YieldFlow is still in its early stages of development. Based on its roadmap, YieldFlow will implement many new features and tools over the next three years.
For example, the platform will integrate digital assets based on real estate, art, and the stock market. The platform will also support decentralized passive trading. In other words, YieldFlow aims to become a full-fledged DeFi protocol.
What Cryptos Does YieldFlow Support?
Currently, YieldFlow supports the following cryptocurrencies:
Aave
Basic Attention Token
Chainlink
Dai
Ethereum
Fantom
Hex
Mana
Matic
Ocean
Pepe
The Sandbox
Tether
USD Coin
The platform regularly adds new tokens to its ecosystem. Users can check the website directly or visit YieldFlow's Telegram channel for the latest updates.
YieldFlow Interest Rates
Our YieldFlow review found that the platform offers competitive interest rates. The APY available depends on the type of product and the token.
The interest rates offered for staking are as follows:
| | |
| --- | --- |
| Cryptocurrency | APY |
| Polygon | 5.56%. |
| Fantom | 4.5% |
| Aave | 6.22% |
| The Sandbox | 10.87% |
| YFLOW | Up to 20.5% |
Below are the interest rates offered when lending cryptocurrencies on YieldFlow:
| | |
| --- | --- |
| Cryptocurrency | APY |
| AAVE - USDT | 2.19% |
| AAVE - SNX | 1.93% |
And finally, here are the APYs available when depositing crypto in a liquidity pool:
| | |
| --- | --- |
| Cryptocurrency Pairs | APY |
| LINK - ETH | 4.65% |
| MATIC - ETH | 4.76% |
| USDT - ETH | 13.02% |
| MANA - ETH | 18.63% |
| SAND - ETH | 5.28% |
| BAT - ETH | 2.44% |
| HEX - ETH | 55.92% |
| OCEAN - ETH | 3.74% |
| SHIB - ETH | 15.86% |
| PEPE - ETH | 1427.56% |
| WBTC - ETH | 1.41% |
Bear in mind that the interest rates above are subject to change based on market conditions.
YieldFlow Fees
Three different fee types might be applicable when using YieldFlow:
Performance fee - calculated based on the earnings.
Management fee - calculated based on the annual deposits of the user.
Withdrawal fee - amount deducted when removing funds from the platform.
However, the fees charged are built into the APYs shown when logged into the YieldFlow dashboard.
Moreover, YieldFlow fees will depend on the amount of YFLOW tokens staked by the user. In simple terms, the more tokens staked, the lower the fees. This way, YieldFlow rewards those staking YFLOW over the long term.
YieldFlow Platform & User Experience
With the global DeFi market growing rapidly, investors are constantly looking for ways to maximize their crypto earnings. And YieldFlow makes it effortless to earn free crypto. Not only does YieldFlow offer attractive products and yields, but it also has a simple onboarding process.
Users can get started with YieldFlow by connecting their private wallet. YieldFlow supports many of the best crypto wallets, making the platform highly accessible.
To start earning with YieldFlow, follow these steps:
Step 1: Select Product - Choose one of the available products from staking, lending, or liquidity pools.
Step 2: Activate Smart Contract - Click on the 'Activate' button to start the process. This will redirect the user to their connected wallet.
Step 3: Choose Chain - The majority of YieldFlow products are on the Ethereum mainnet. However, products involving Fantom and Polygon require their own respective chain. Typically, the wallet automatically asks the user to change the network depending on the product.
Step 4: Approve - Next, click on 'Approve' to activate the smart contract.
Step 5: Add Funds - Enter the desired sum and confirm the activation. Depending on the product, users can click on the 'Stake,' Add Liquidity,' or 'Lend' buttons.
That's it; the process is straightforward and requires no prior experience with DeFi at all. For all products, YieldFlow allows users to collect rewards every 24 hours. Users can track their investments directly via their account dashboard.
If a user wishes to discontinue a contract, they can select the product and use the action button. Once again, depending on the product, the button will appear as 'Unstake', 'Remove Liquidity', or 'Unlend'.
We found that YieldFlow offers the best crypto interest accounts for beginners. The website is minimalistic and easy to navigate. Moreover, users can effortlessly activate and deactivate smart contracts at the click of a button.
YieldFlow App
YieldFlow doesn't have a dedicated app for its services. However, YieldFlow has a mobile-optimized website that offers a seamless user experience via smartphones.
As with the desktop site, users can get started by connecting their wallet - once connected, users will have access to all YieldFlow features directly from their phone's browser.
YieldFlow Regulation & Security
YieldFlow is a decentralized platform. Users simply connect their wallet, and the funds are moved to pools automatically through smart contracts. In other words, YieldFlow or no third-party services have access to the funds.
Moreover, as a decentralized and independent protocol, YieldFlow isn't subject to centralized regulatory frameworks. That said, the protocol is currently in the audit process. This will add further legitimacy to the YieldFlow dashboard.
Plus, YieldFlow is completely transparent and has listed its technical infrastructure on GitHub.
YieldFlow Customer Service
YieldFlow is a community-governed platform. As such, the platform offers customer support via Telegram, Discord, and Twitter. When compiling this YieldFlow review, we found that the support team regularly sends updates and engages with its users.
Additionally, YieldFlow also features a dedicated help center with comprehensive guides on all its features. It also explains how to get started with the platform. Put simply, users can find all essential information right from the website.
YieldFlow Pros & Cons
Before concluding this YieldFlow review, we have summarized our findings via the following pros and cons:
Pros
YieldFlow is completely decentralized and allows investors to earn passive income via smart contracts
Supported interest tools include lending, staking, and liquidity pools
The YieldFlow dashboard is very user-friendly, so will appeal to beginners
Users can access the platform anonymously with a digital wallet
There is no need to provide any personal details or complete a KYC process
APYs are very competitive across many cryptocurrencies
Cons
YieldFlow supports fewer cryptocurrencies compared to its competitors
Since the platform is currently under development, some core features are yet to be released
Nonetheless, we found that overall, YieldFlow is one of the best yield farming crypto platforms in the DeFi space.
The Verdict
In conclusion, YieldFlow allows crypto holders to generate passive income in a user-friendly environment. It is decentralized and allows users to access its products anonymously. Moreover, YieldFlow offers multiple investment tools.
Users can stake, lend, or deposit their cryptocurrencies in liquidity pools. Best of all, it's possible to withdraw funds at any time. Crucially, YieldFlow also has a native token, YFLOW, with multiple utilities.
YFLOW holders save on fees and stake their tokens to receive an APY of up to 20.5%. Furthermore, YieldFlow has an exciting roadmap, with the platform building a complete DeFi ecosystem.
FAQs
What is YieldFlow?
YieldFlow is a DeFi platform that offers various interest tools, such as staking, lending, and liquidity pools.
How does YieldFlow work?
YieldFlow automates liquidity mining for its users via smart contracts, thus allowing investors to earn interest on their crypto securely and anonymously.
What APY does YieldFlow offer?
The interest rates offered by YieldFlow depend on the investment product and the cryptocurrency; nonetheless, the PEPE - USDT liquidity pool has an APY of 1427.56%.
---