XRP Price Prediction as Judge Tries to Ban Prominent XRP Advocate in Court – What's Going On?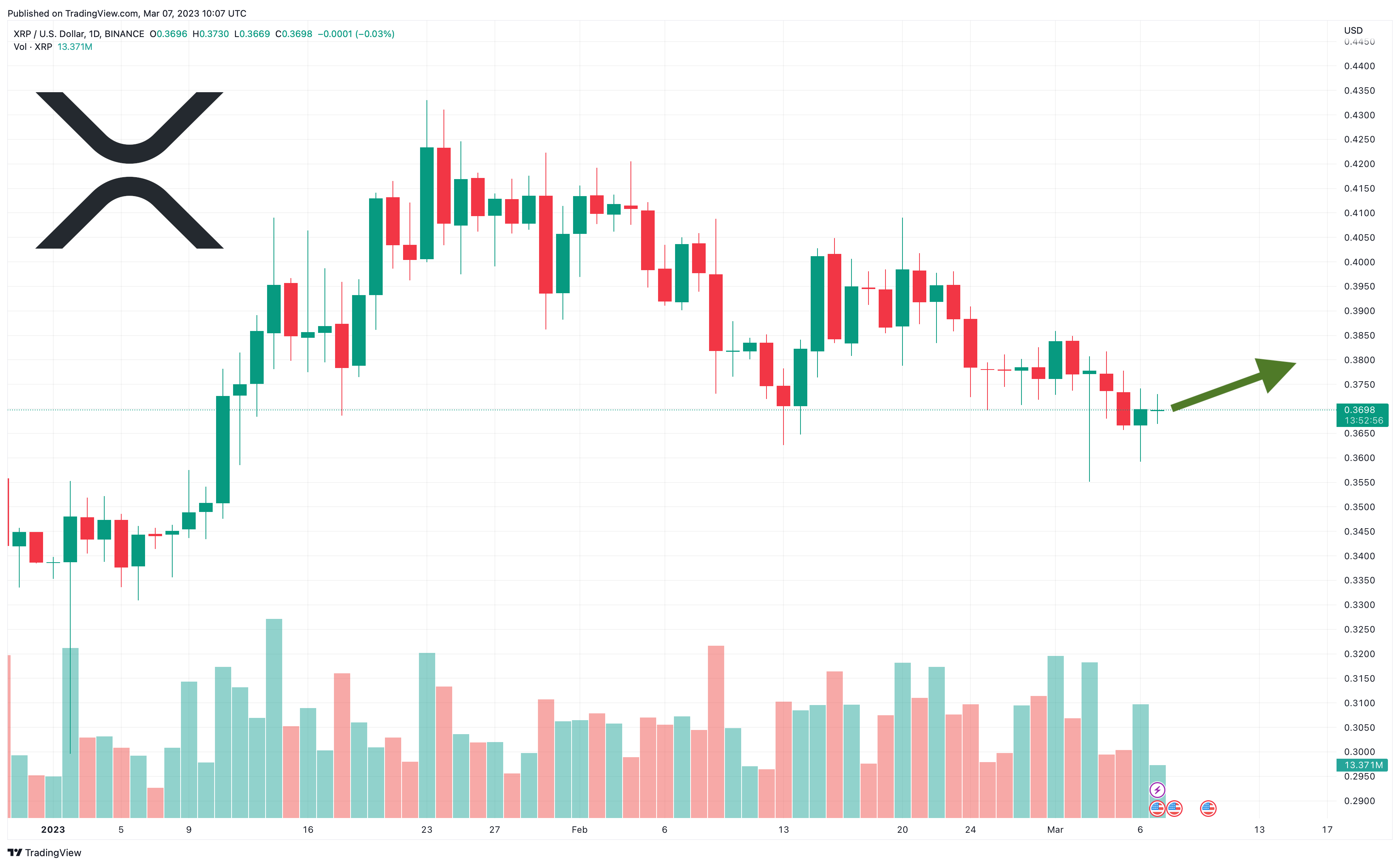 The XRP price has risen by 2% in the past 24 hours, reaching $0.369805 after the cryptocurrency market barely moved overnight.
The coin has fallen by 2.5% in the past week and by 10% in the last 30 days, caught up in the negative market sentiment that has arisen out of the news of Silvergate Bank's financial difficulties.
However, the ongoing Ripple-SEC case looks as though it could end up having a positive outcome for XRP.
Judge Analisa Torres has granted Ripple's motion to exclude testimony from a so-called expert witness called by the SEC, while she has also denied the regulator's motion to revoke the amicus status of popular XRP advocate John E. Deaton.
This confirms suspicions that the SEC's case isn't especially strong and that the judge may reach a judgment that enables Ripple to continue its business as before.
XRP Price Prediction as Judge Tries to Ban Prominent XRP Advocate in Court – What's Going On?
XRP's indicators are close to a bottom, signaling that it's due a rebound sooner or later.
Its 30-day moving average (red) has recently fallen below its 200-day average (blue), and the further it sinks, the more likely a recovery rally becomes.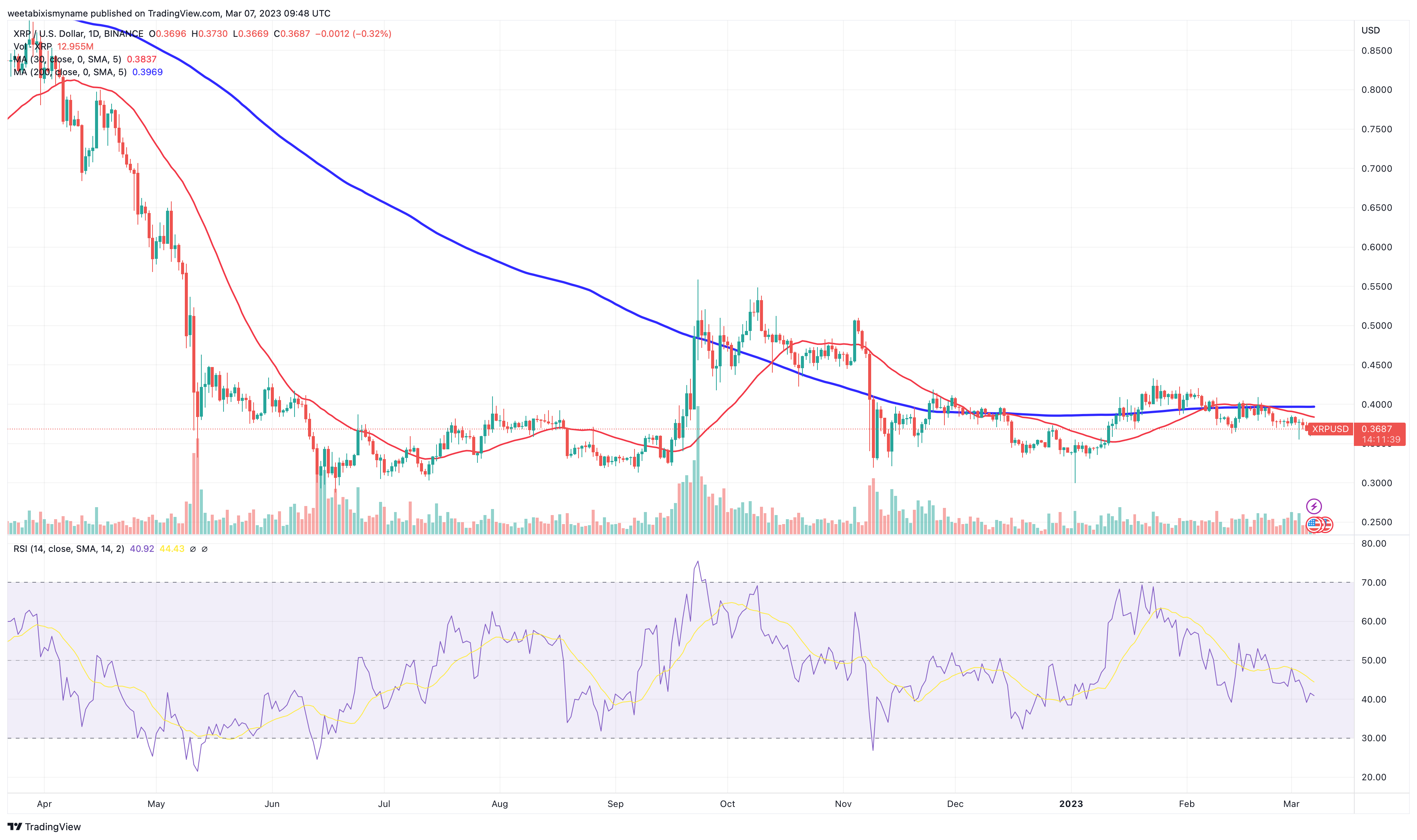 At the same time, XRP's relative strength index (purple) has dropped to 40, indicating it's close to becoming oversold.
The key resistance level today is $0.37, a price which may signal further gains if XRP could decisively break through it.
Based on the recent news from the long-running Ripple-SEC case, the coin could indeed mount a sustained rally in the not-too-distant future.
As noted above, two recent rulings have gone Ripple's way in the past couple of days, with Judge Analisa Torres granting the firm's motion to remove Patrick Doody as an expert witness.
The SEC had called on Doody to provide testimony and analysis of the likely expectations of the 'average' XRP purchaser, with the regulator aiming to establish that said purchaser expected the price of XRP to rise on the basis of Ripple's 'common enterprise.'
However, a number of witnesses for Ripple called into question Doody's expertise on this particular subject, with Judge Torres effectively agreeing that Doody should be excluded.
In addition, Torres refused to grant the SEC's motion to remove crypto-focused lawyer John E. Deaton as an amicus (i.e. 'friend' of the court who can present testimony).
Taken together, these two rulings arguably come as a big blow for the SEC's case, insofar as the regulator may now struggle to demonstrate who purchasers of XRP had a reasonable expectation of profit.
This is the conclusion of longtime commentator on the case, Jeremy Hogan, who tweeted, "how the heck can the SEC prove 'reasonable' reliance?"
Combined with other recent developments and news, this all suggests that XRP could be in for a big rally, assuming that the above signs point to a Ripple victory.
And according to Ripple's Brad Garlinghouse, the case is likely to reach a conclusion by the end of the year.
Assuming a positive outcome for Ripple, there's every chance that XRP could end up challenging its current all-time high, which stands at $3.40.
Of course, it will need a more bullish overall market to achieve such a target, but given that it missed out on 2021's bull market, it has plenty of catching up left to do.
Fortunately, Ripple's business as a whole remains remarkably sound, despite the fact that it has been fighting a damaging legal battle over the past couple of years.
January saw it publish its Q4 2022 XRP Markets Report, revealing that it had processed $226.31 million in net XRP sales in that quarter alone.
Indeed, its on-demand liquidity product is now available in over 40 countries, following launches in France, Sweden and Africa.
In the event of a favorable judgment, Ripple will be given even more space to continue expanding its business.
Needless to say, this is very bullish for XRP, which could end up becoming one of the most successful coins of 2023 and beyond.
Alternatives to XRP
While XRP is hugely undervalued, it won't see a big rally until after the Ripple-SEC closes, something which may not happen until the latter half of the year.
Fortunately, there are other high-potential crypto projects in the market right now, and we've put them together in a list of the top 15 cryptocurrencies for 2023, as analyzed by the Cryptonews Industry Talk team.

The list is updated weekly with new altcoins and ICO projects.
Disclaimer: The Industry Talk section features insights by crypto industry players and is not a part of the editorial content of Cryptonews.com.
---