What Happened Today at ETHDenver 2022
Disclosure: Crypto is a high-risk asset class. This article is provided for informational purposes and does not constitute investment advice. By using this website, you agree to our terms and conditions. We may utilise affiliate links within our content, and receive commission.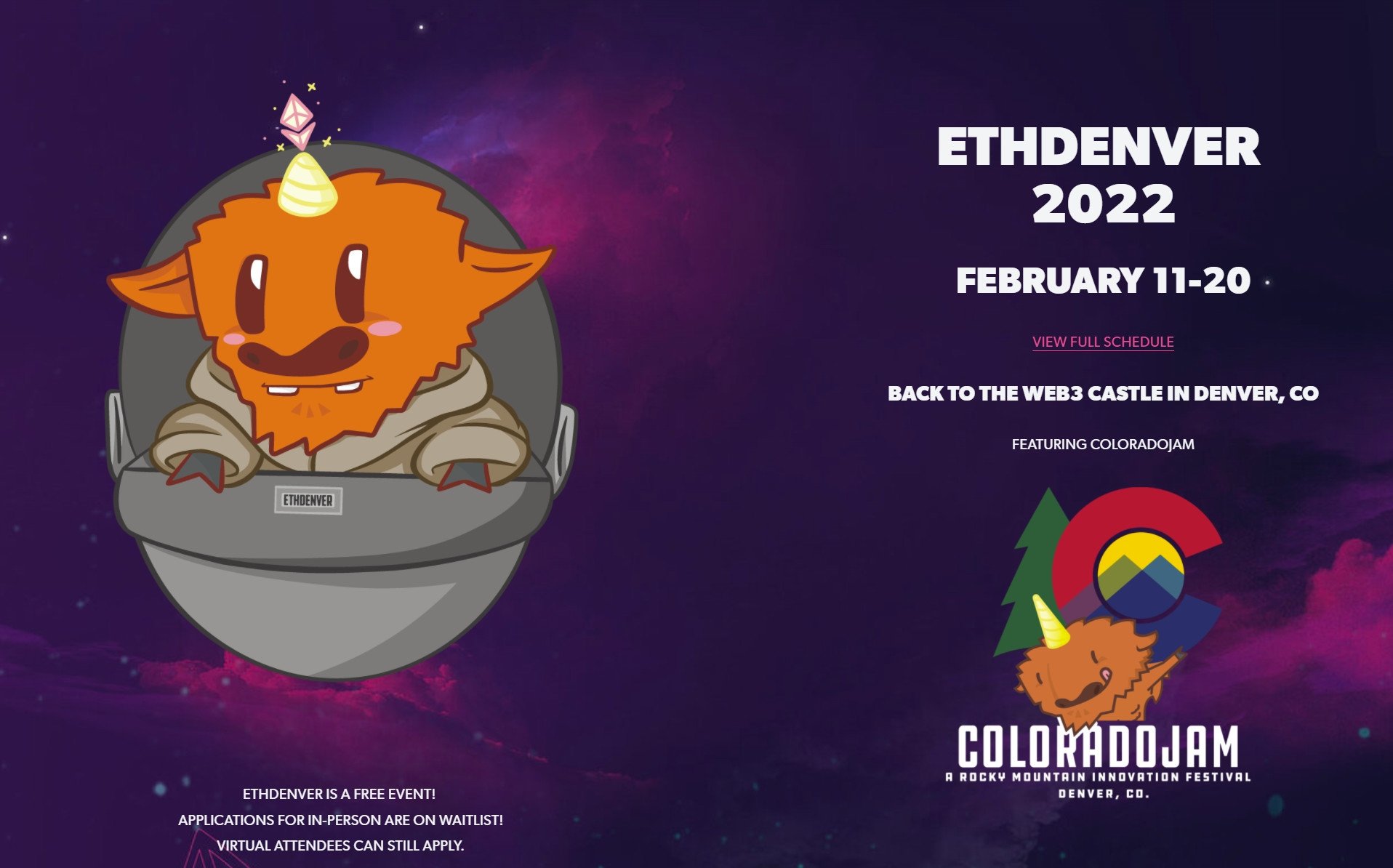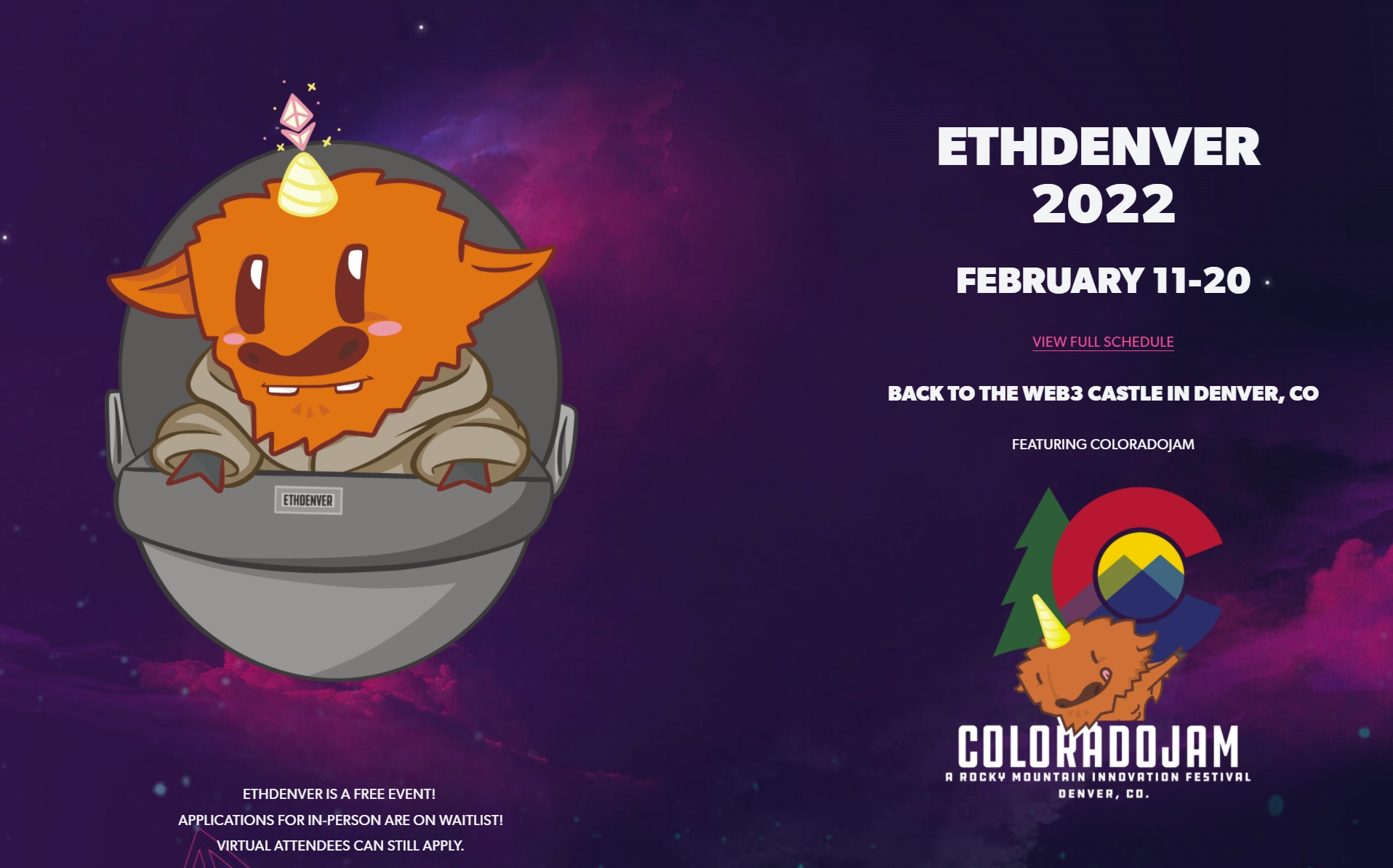 Follow the latest updates from ETHDenver 2022 conference with Cryptonews.com!
Disclaimer: The Industry Talk section features insights by crypto industry players and is not a part of the editorial content of Cryptonews.com.
ETHDenver is the largest and longest-running ETH event in the world. It is also a member-owned Community Innovation Festival and the first event-based decentralized autonomous organization (DAO) in the world. From February 11 to 24, be ready to immerse in a #BUIDLathon, listen to hundreds of expert speakers, and even go to a mountain retreat. The main ETHDenver 2022 event is taking place on February 17-20, 2022.
Latest from ETHDenver 2022:
"All of a sudden the energy of ETHDenver is calling you…" said founder of ETHDenver, John Paller, as he welcomed the ETHDenver crew from #BUIDL week, which had roughly around 3,000 attendees check-ins, into the start of the official conference. 🙂
More than 150 countries are represented this week! More than 20,000 people have registered, up from 2,500 from the previous physical conference. 🌎
David Hoffman, co-founder of Bankless and MC of the opening ceremony, reminded us of how "at home and comfortable" he felt at ETHDenver when he first attended in 2018, he "immediately resonated with everyone."
Russell Castagnaro, Director of Digital Transformation of Colorado Governor's Office of Information Technology, stated his excitement about integrating blockchain technology into state infrastructure as Colorado works to become the First Digital State of the US. He shared the government-adopted use case of blockchain technology in the form of a livestock provenance platform, My Colorado Verification.
Russell explained he's most looking forward to Vitalik covering Digital Citizenship tomorrow to really push the creative boundary within the "community of all communities".
"So much more is possible, [for example], why do we vote in a box? We're excited to see all these pitches for the next frontier. I can't wait to mix and match with all of you guys."
— Day Zero highlights have included —
The proliferation of NFTs in our day-to-day is no doubt largely attributed to the adoption of big brands. Camilla Mcfarland, Head of Partnerships at Mojito spoke about how traditional brands are already adopting NFTs from Sotheby's, Philips to Porsche, Coca Cola to Louis Vuitton. "We're in the early phase of middle adoption and I think 2022 will be an absolute course change in NFT adoption," she said. 🚗
Being a proponent of crypto and its potential of contributing towards social good, Gabriela Chang, CSO and Co-Founder of EthicHub talked to the win-win arbitrage of DeFi connecting with micro-financing loans and the sustainable development goals, helping farmers across the world.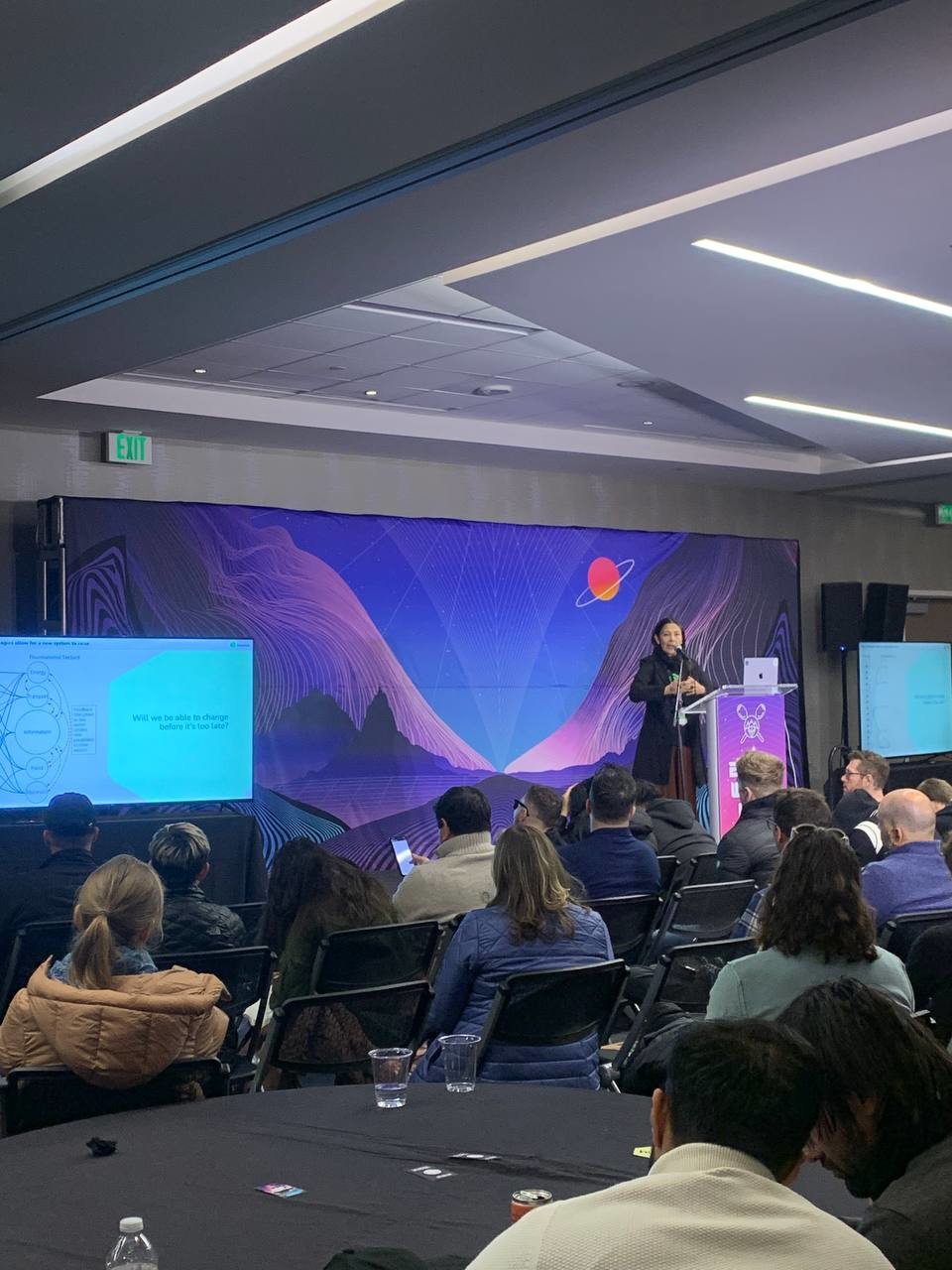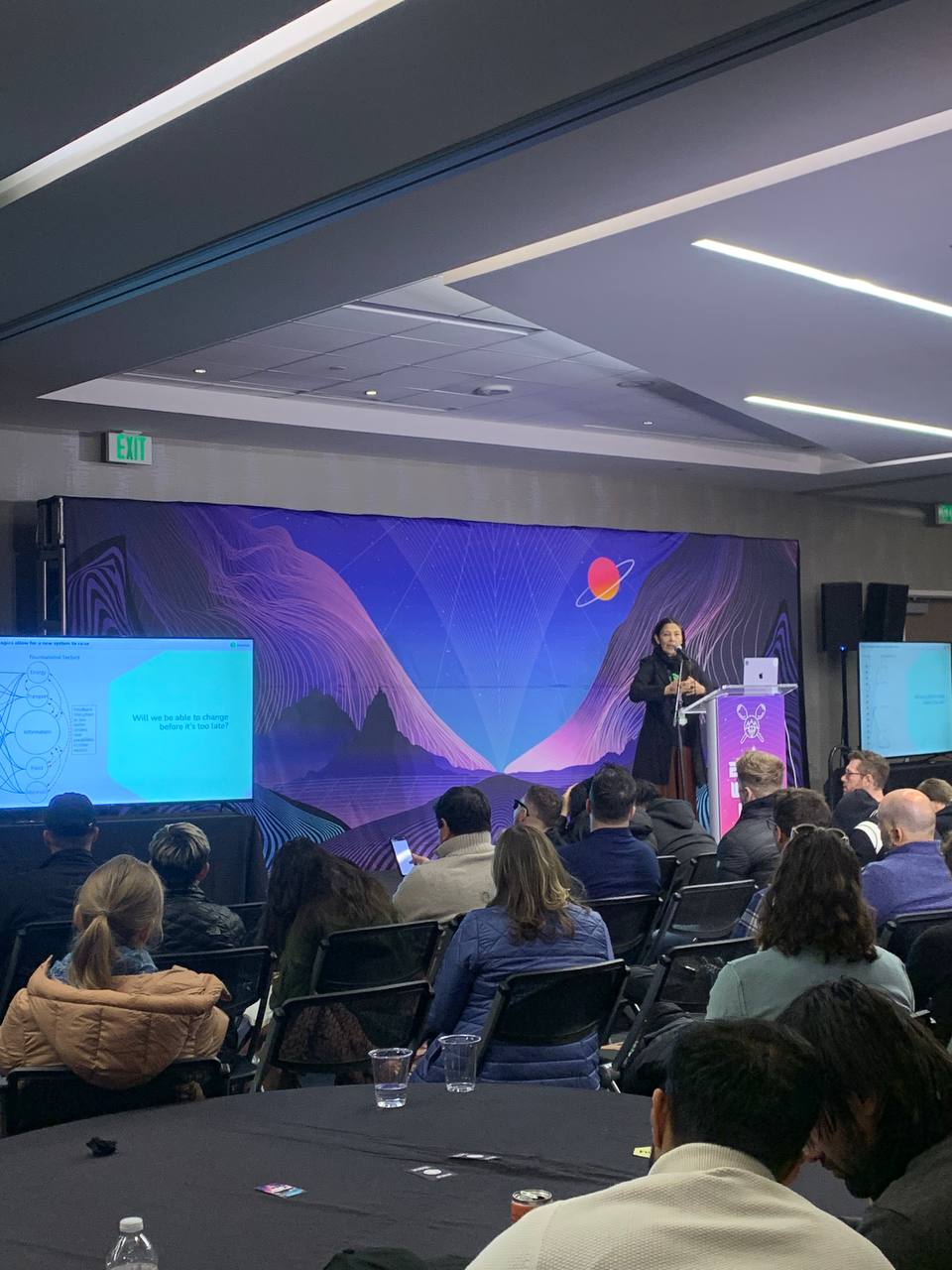 Sam Kazemian of FRAX Finance talked about the first decentralized consumer price index, where an asset is connected to rising goods and items, instead of inflationary fiat. ✨
Chase Coleman, Data Science and Economics Lead of UMA Protocol gave an insightful talk about the tension between Rewards and Risks from long-tail assets. He opined how more "slow DeFi" can provide recourse – a way out if you have been inaccurately liquidated.
Our very own Samantha Yap, CEO & Founder of YAP Global explained to make the media read the story it needs to Engage, Educate and Elevate. "I think it's better to assume that the media doesn't care about your crypto project and work backwards to figure out why," Yap said. ✅
To help the industry keep up with the top line narratives to be aware of each week, YAP Global has officially launched a newsletter called "the context". Subscribe here.
Livia Deschermayer, Cultural Build at Commons Stack, a framework for self-actualizing economies explained how to build a healthy culture, stating, "it's important to have common ground for communication and concepts that are important for how we interact with each other."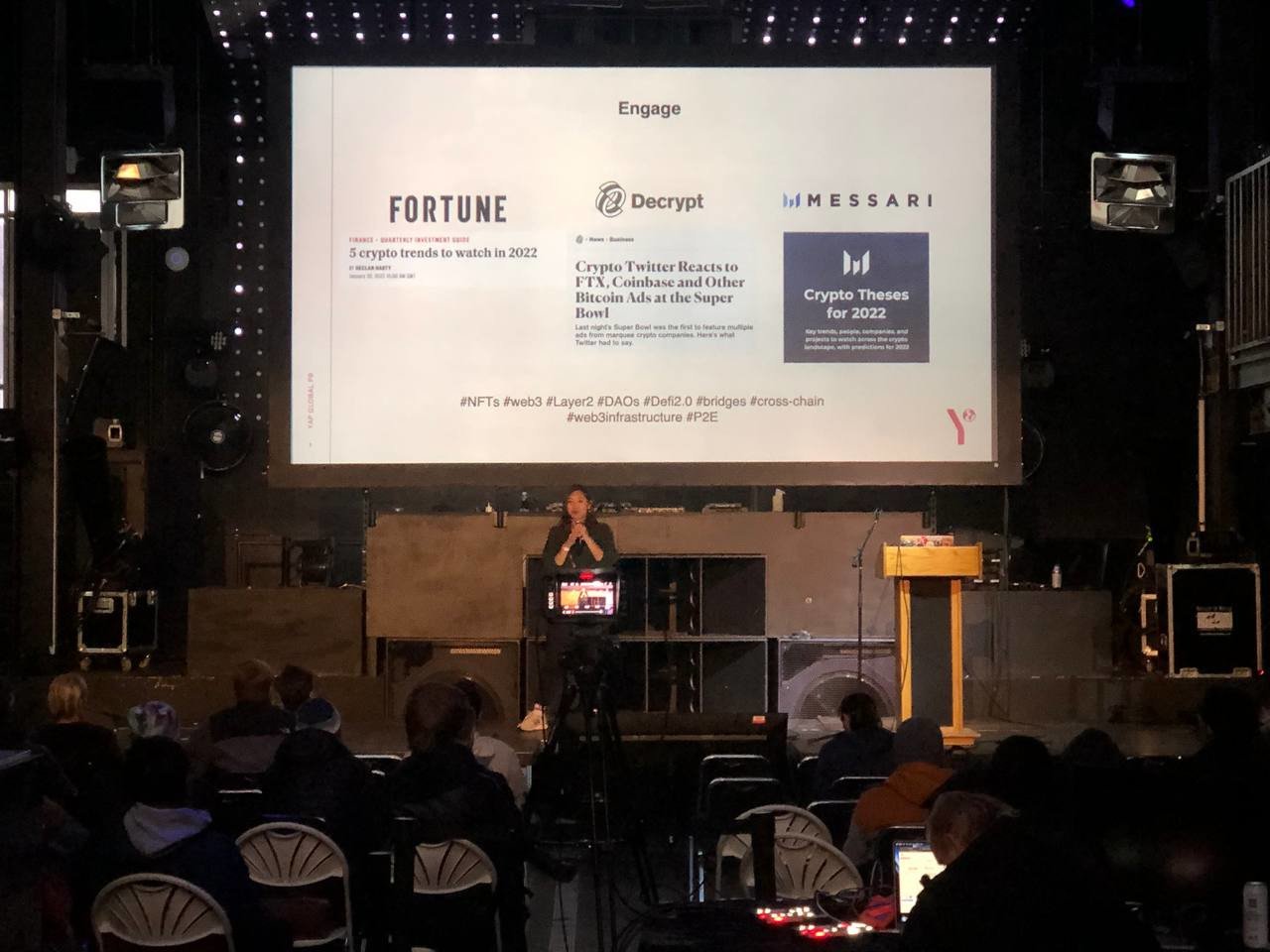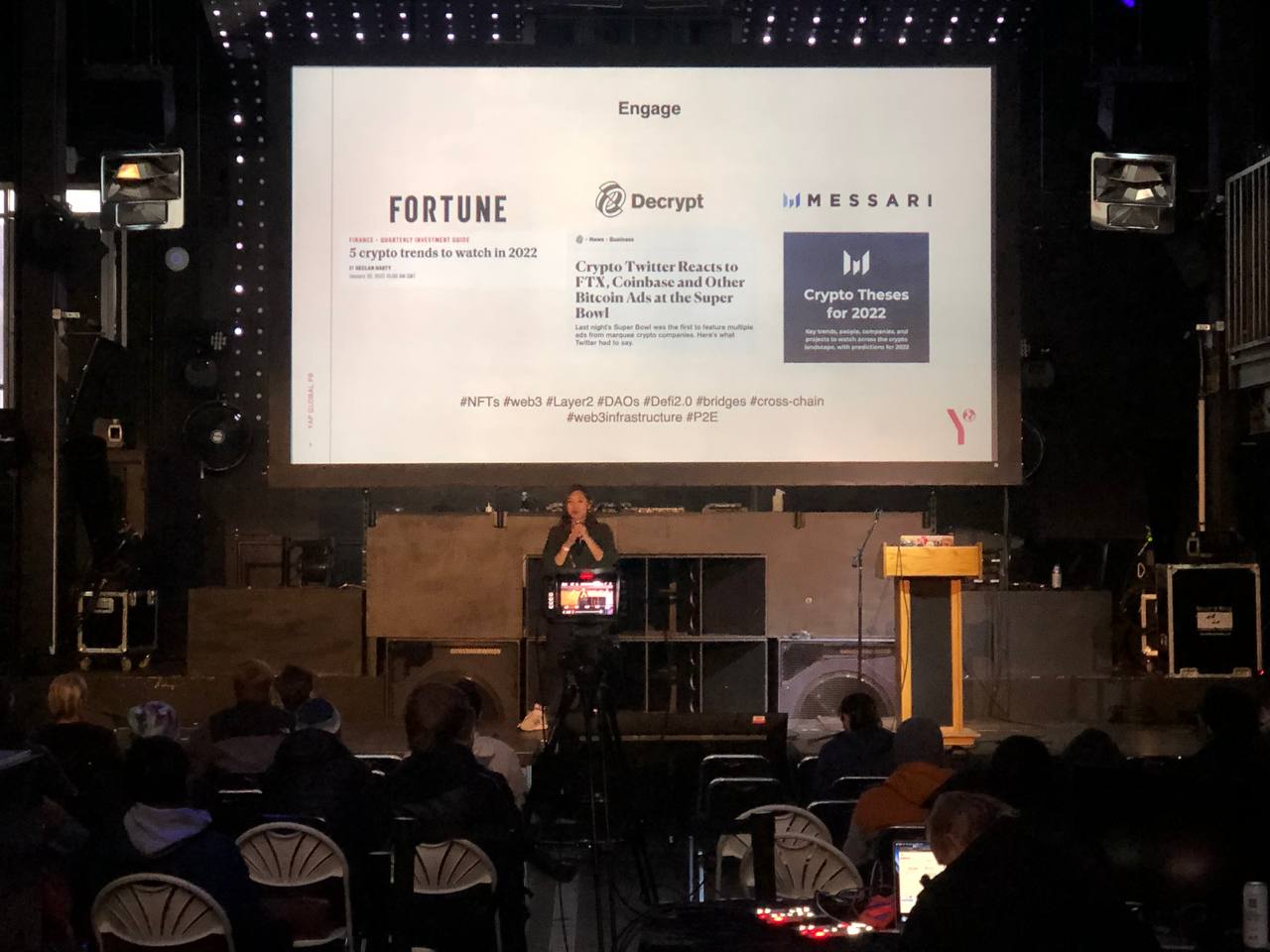 To help the industry keep up with the top line narratives to be aware of each week, YAP Global has officially launched a newsletter called "the context". Subscribe here.
Livia Deschermayer, Cultural Build at Commons Stack, a framework for self-actualizing economies explained how to build a healthy culture, stating, "it's important to have common ground for communication and concepts that are important for how we interact with each other."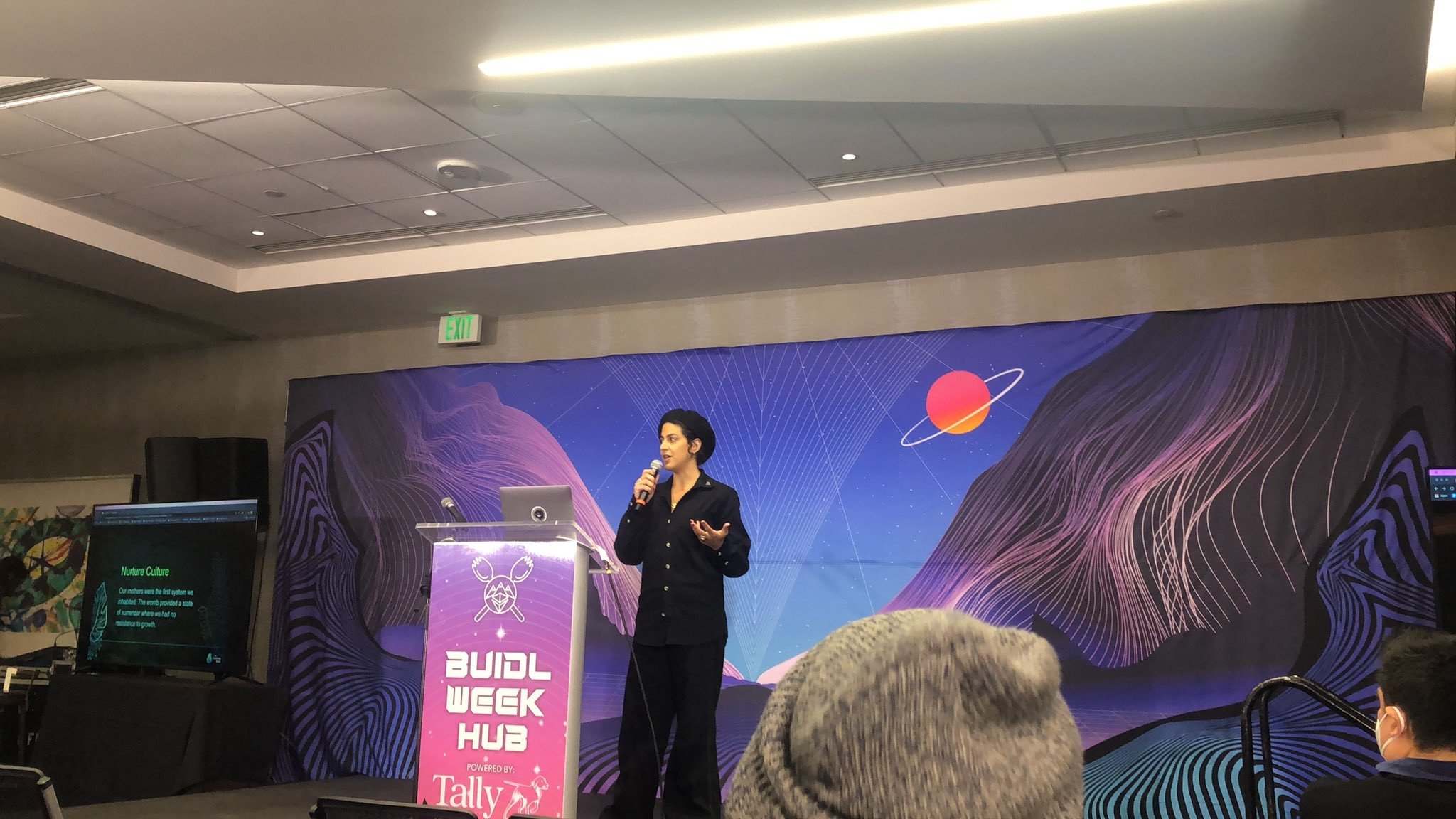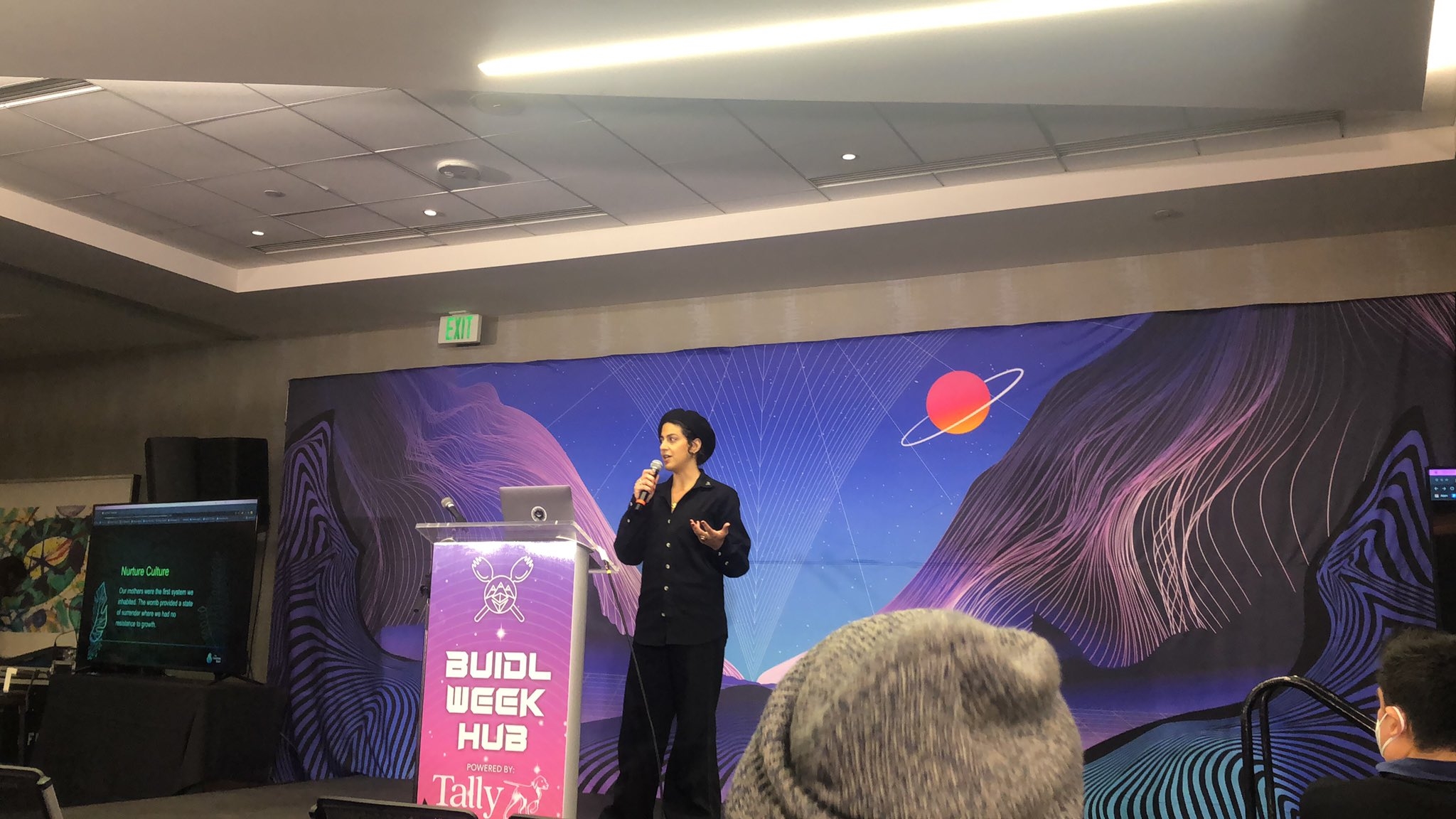 — Morning of Day One highlights —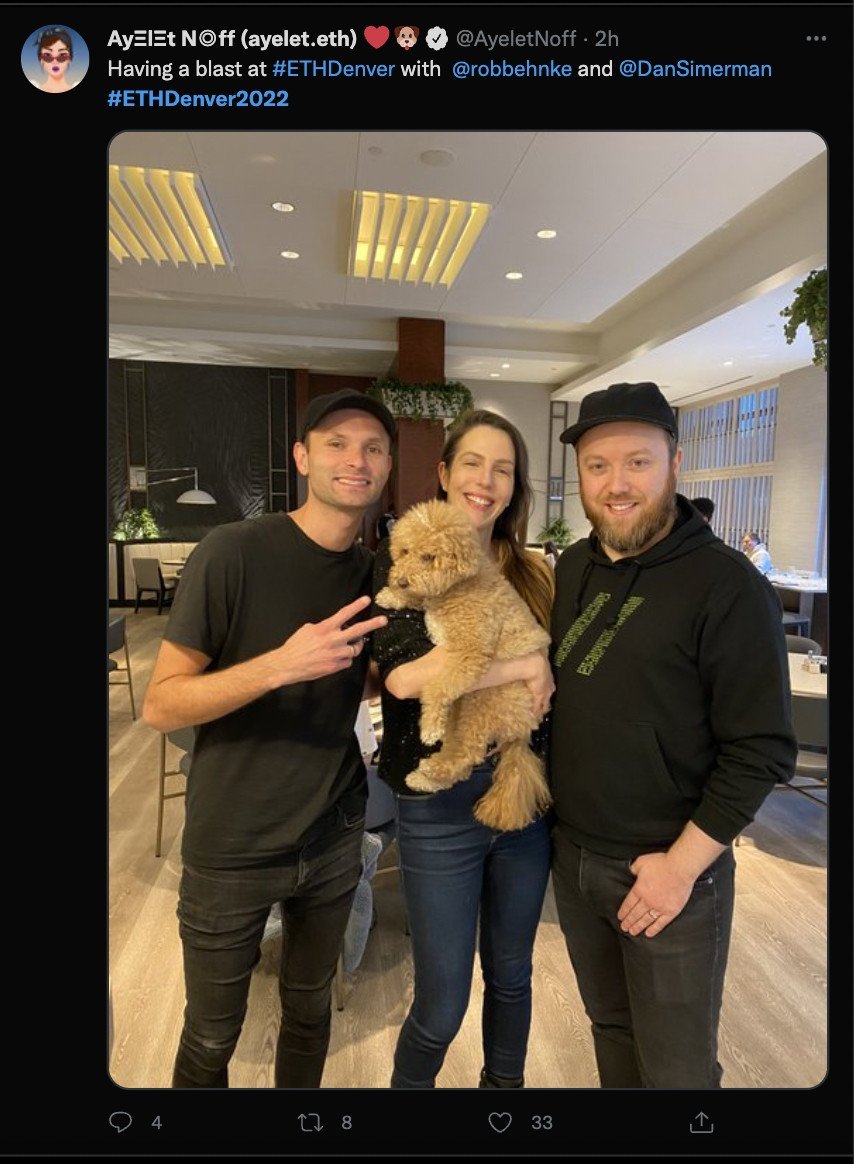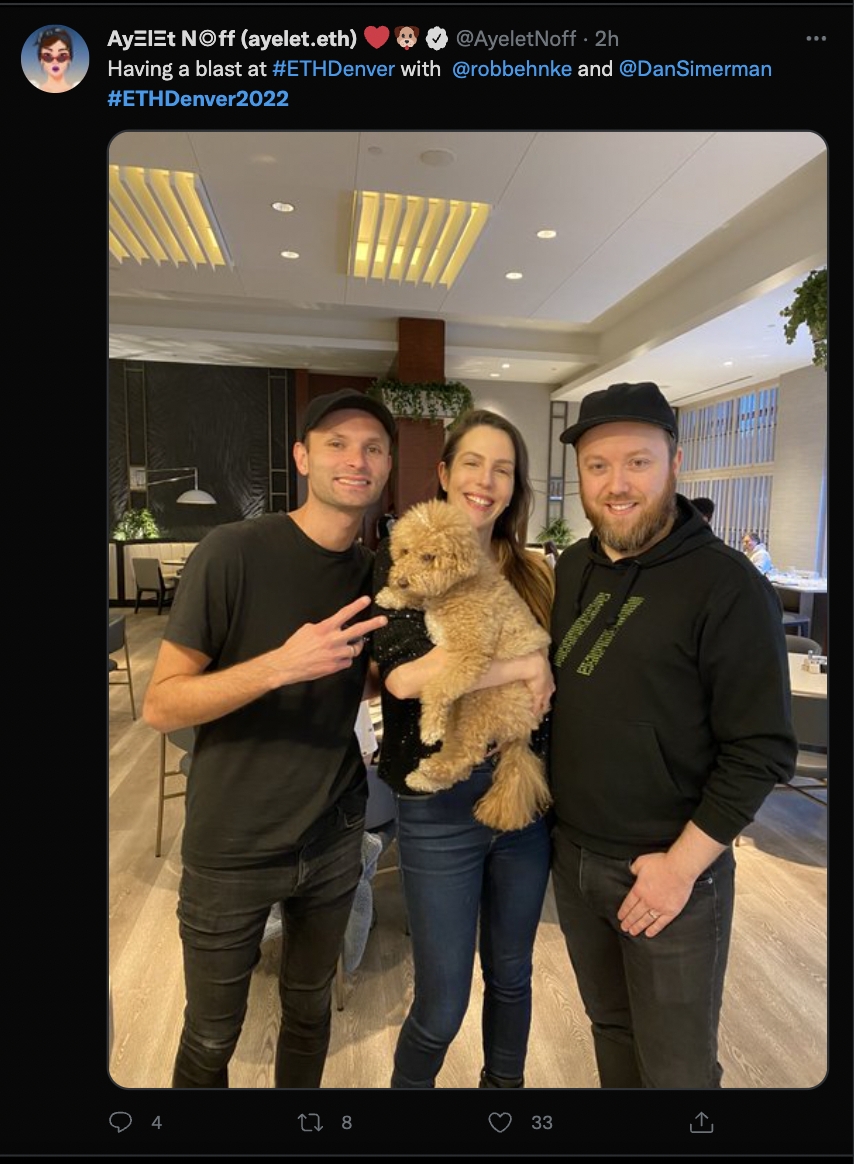 Sandeep Nailwal, Co-Founder of Polygon kicked off the morning at the main stage with a thoughtful session on the future of decentralized governance. He spoke to the unprecedented innovation coming out of the ecosystem, stating that "decentralized governance communities are able to bring together unique backgrounds and expertise, allowing for the unique crystallization of ideas," he said.
The morning continued with a fireside chat moderated by Jeff John Roberts with Joseph Lubin, CEO & Founder of Consensys. Lubin listed Gitcoin, Bankless DAO, and Gnosis as DAOs that set good reputational examples. "Gnosis is another tremendous project that has essentially taken its treasury and moved the bulk of the treasury into a DAO just to create a more broadly governed ecosystem around technologies that they care about," he said.
EG Galano, Co-founder of Infura, covered the evolution of blockchain infrastructure showcasing the timeline from running nodes to send transactions back and forth and the additional layers of infrastructure being built to simplify user experience. He commented, "Developers can solve things together in a way that's not just trying to capture value for ourselves, but trying to solve it for the rest of the community as well."
Christopher Peikert, Head of Cryptography of Algorand, spoke about enduring value alongside post-quantum Algorand and state proofs. He highlighted the importance of state proofs to enable people to trustlessly bridge tokens and assets from one bridge to another.
Gilad Edelman, Technology, Politics and Law reporter of WIRED, moderated a panel with Frankie Pangilinan (Balance), Lane Rettig (Spacemesh) and Nick Dodson (Fuel Labs) on Why Decentralization Matters, posing the additional question, does it really matter at all? An interesting debate followed covering topics from regulation to the levels of centralization required for society to function.
MacKenzie Sigalos, Technology Reporter of CNBC, moderated the Future of Ethereum panel with Cayman Nava (Technical Lead of ChainSafe); Alex Stokes (Ethereum Foundation) and Preston Van Loon (Co-Founder of Prysmatic Labs). "Wen Merge?" MacKenzie asked as the experts discussed the roadmap of ETH1 and ETH2, and the move from proof-of-work to proof-of-stake. "Then the next phase is scalability," Cayman said.
Leilani Ledingham, Product Marketing Manager of Covalent, focused on the multichain future with Web3 trends and challenges we face today. She said, looking at what the next 5-10 years could look like, we could see billions of data points that will be on-chain.
Zaki Manian, co-founder of Sommelier Protocol, gave an insightful talk on the importance of bridging the gap between degens and regulators, in bringing DeFi truly mainstream. He said, in order to bring DeFi mainstream, we need to establish "a mature regulatory system which offers positive incentives rather than using enforcement." This will look like deep collaboration between DeFi and wallets to reduce the trust in the system and more trust in the DeFi brand.
Jeremy Epstein, Head of Fundraising of Open Forest Protocol, discussed how to bring decentralization to climate solutions, saying "ReFi can harness globally distributed value and use that greed for a positive outcome on the world."
— Full Day One highlights —
How are we already more than halfway through ETHDenver? Time flies when there are multiple stages featuring talks from the brightest minds in ETH, while meeting like-minded people and gathering almost too much swag. 👕
Much like the majestic Bufficorn, ETHDenver is not short on delights and surprises 🌈
🌟 A jam-packed day with all the big hitters, rounding off with Governor Jared Polis, Kimbal Musk of Big Green DAO and Vitalik Buterin, Founder of Ethereum.
"It's our once a year annual shareholder meeting, it's sort of a new age family gathering," John Paller, Founder of Opolis and SporkDAO, said explaining the story and mission of ETHDenver.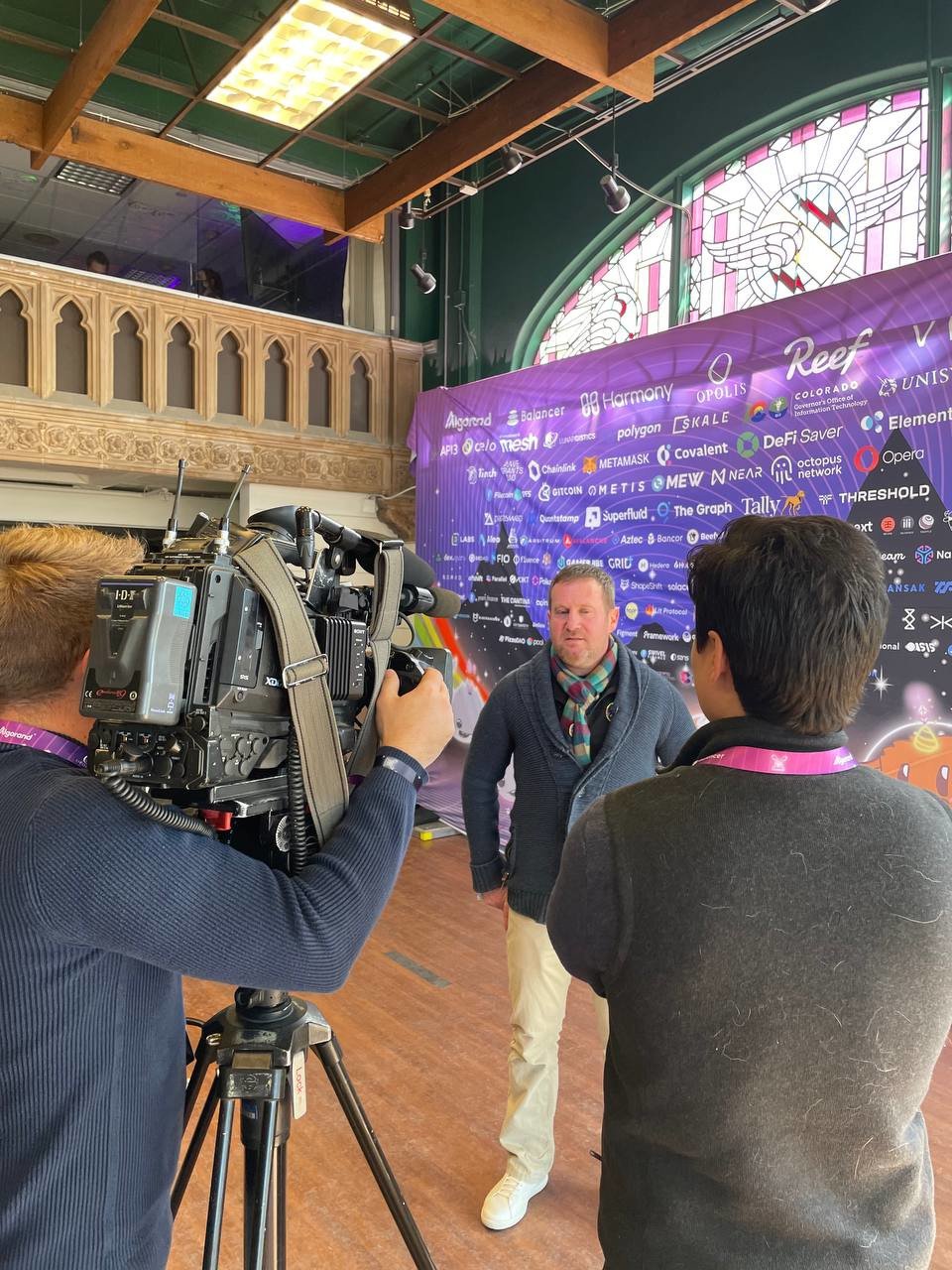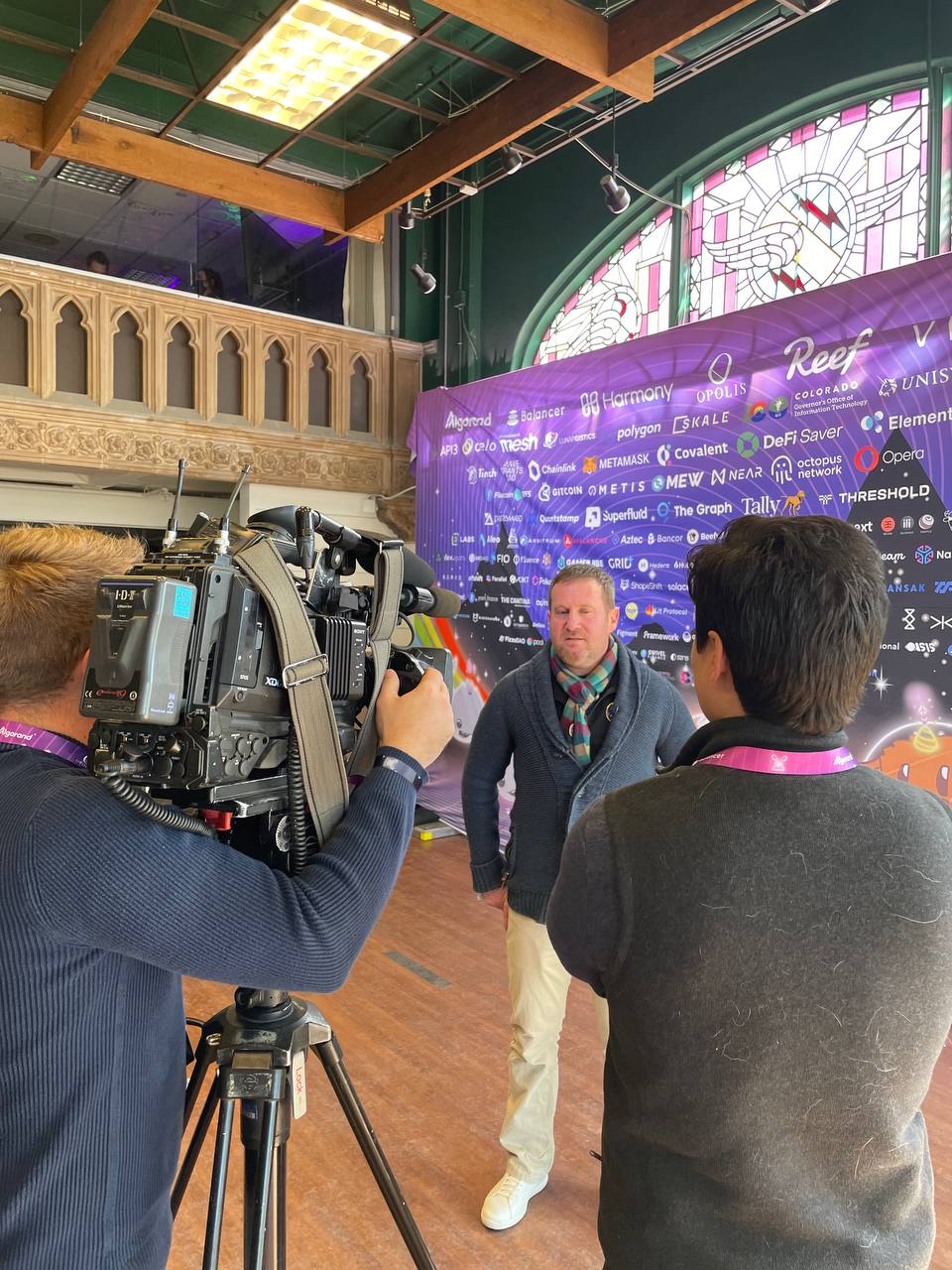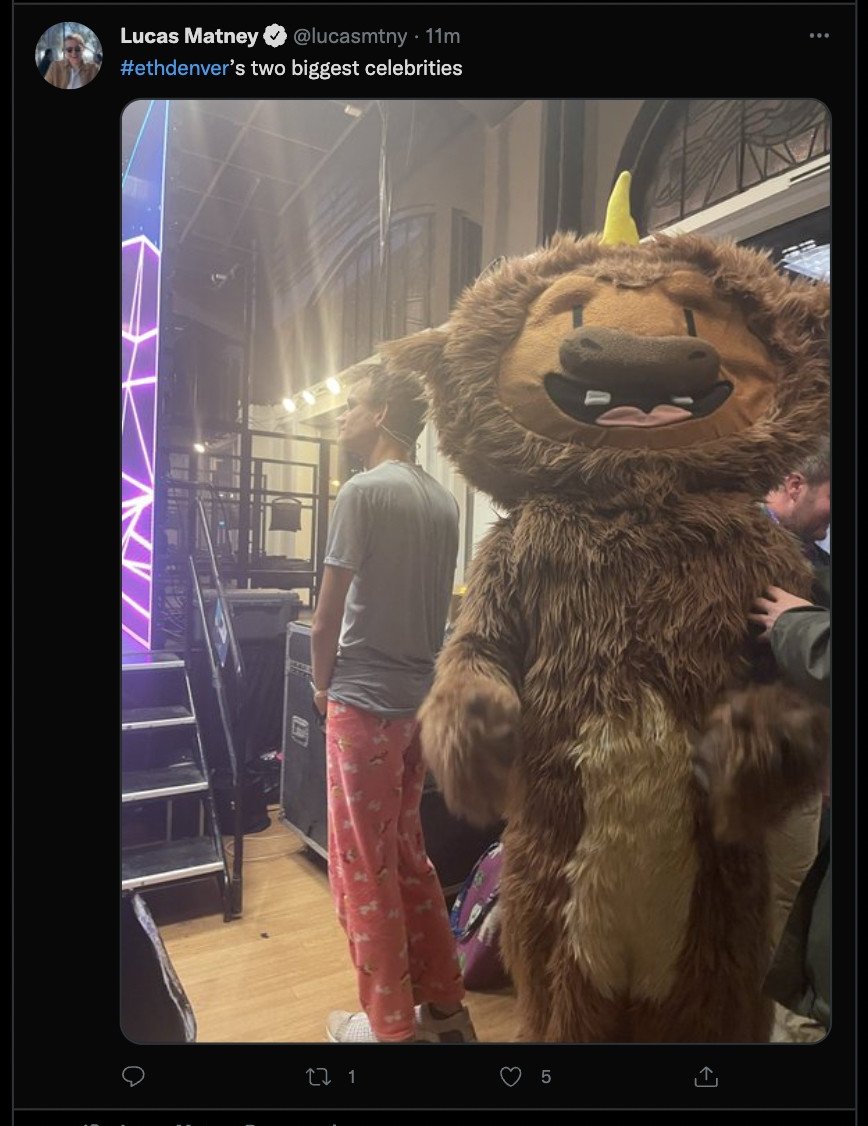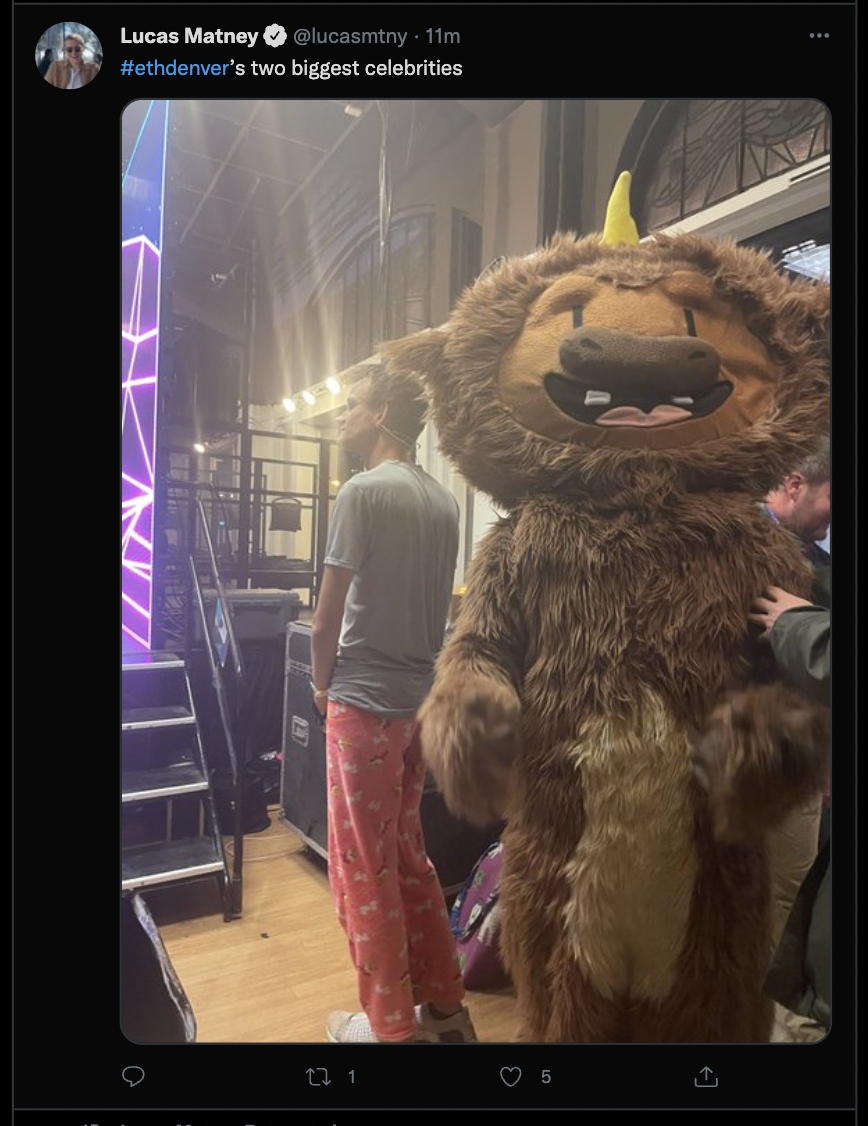 Governor Jared Polis of Colorado spoke about being a proud "Coloradoian" and warmly invited all the ETHDenver attendees to the center of Ethereum innovation and blockchain. He also shared that Colorado will be the first state to accept cryptocurrencies for taxes. 👀
"Ethereum enables so much more than payments, it enables cooperation and collaboration," he said.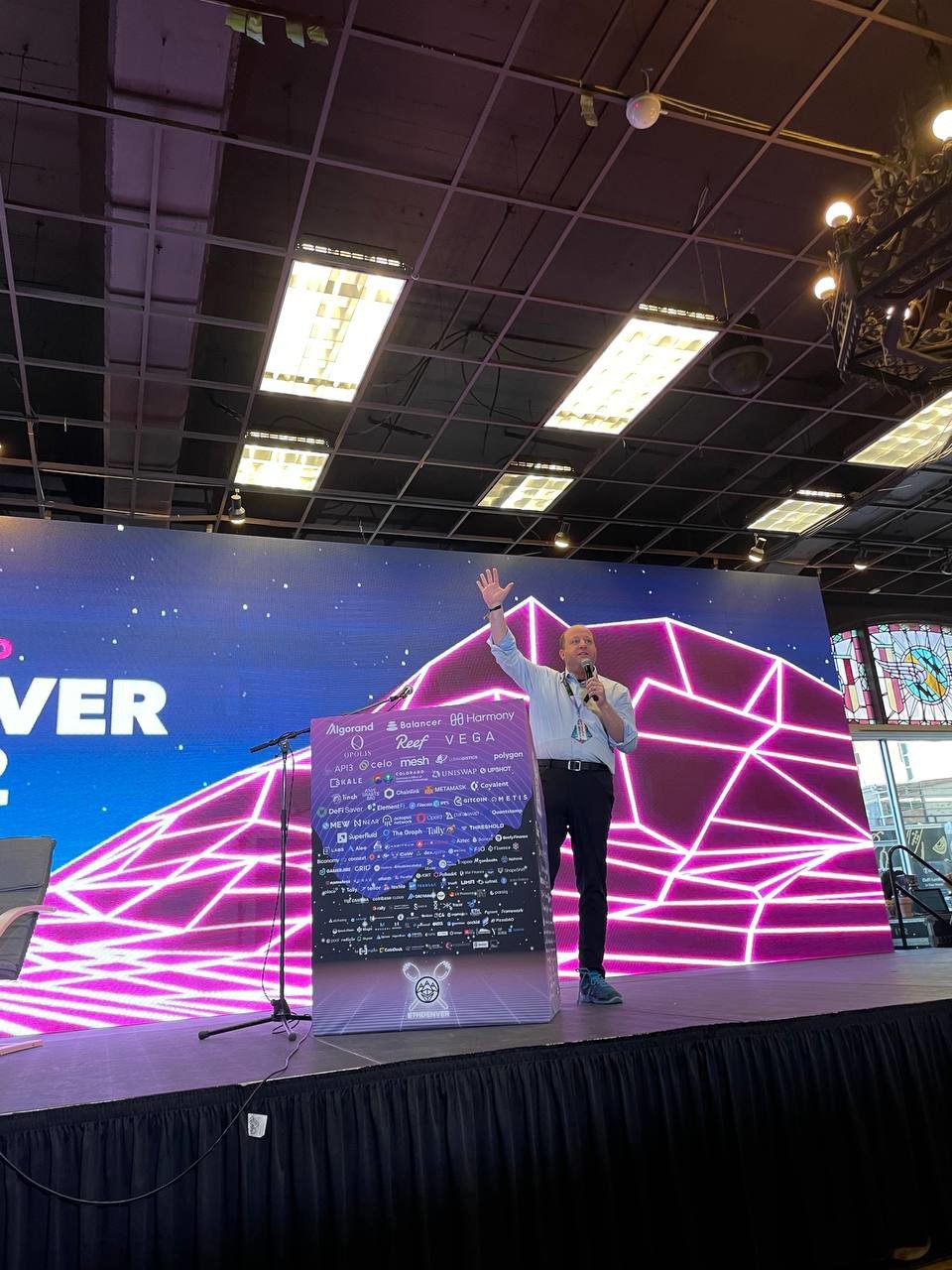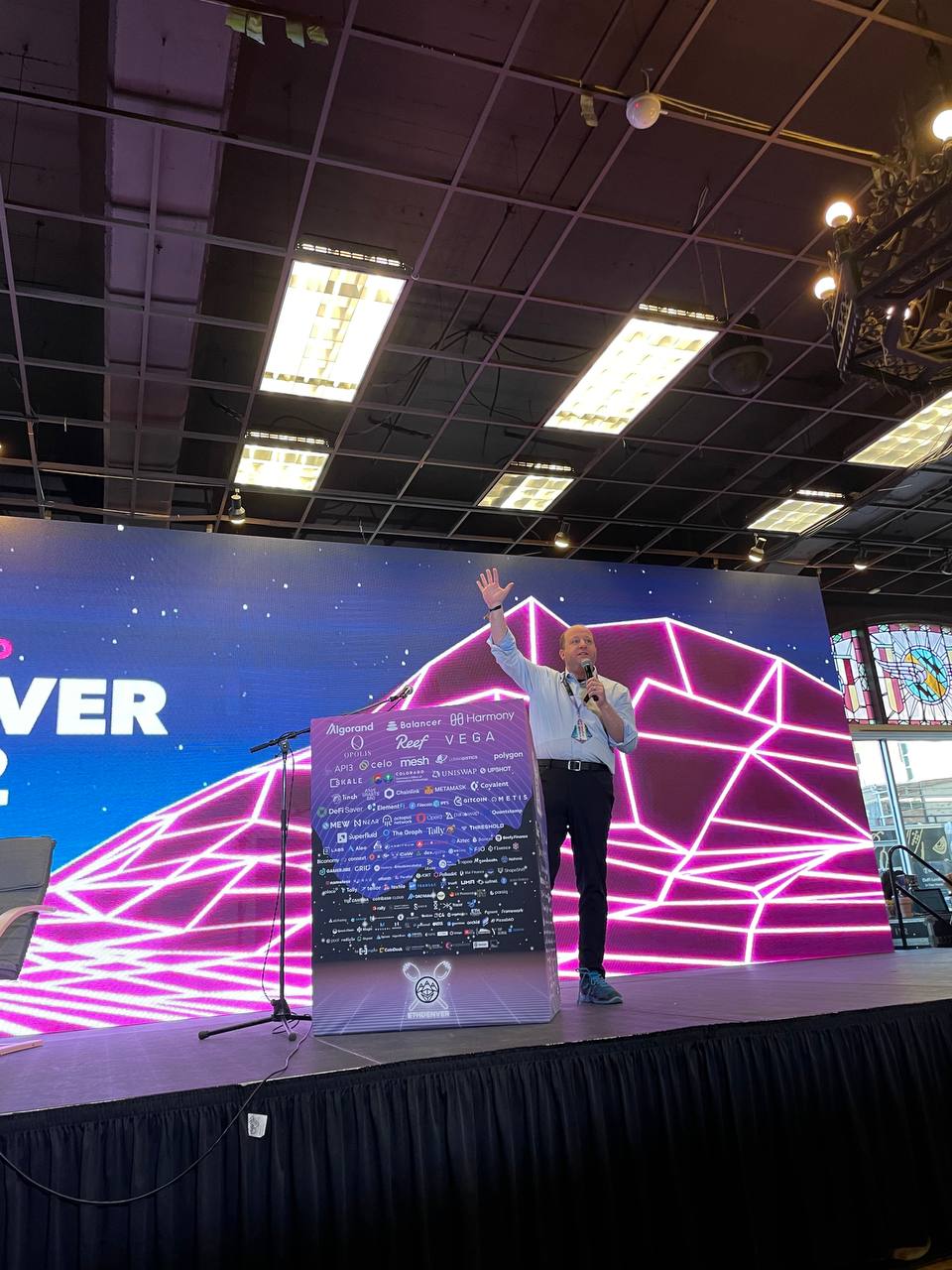 "Giving away money is actually really hard, Kimbal Musk of Big Green DAO said. Kimbal was shocked to receive 1700 donations within the first month of launching the Big Green DAO. "In this space I don't know a lot, [but] we want the nonprofits to have the strongest voice". 🗣
He unpacked how to reach a sustainable future for agricultural justice outlining these goals, spotlighting his excitement for the new government structure around "decentralizing authority and how you can apply it to philanthropic decisions and Web3. It's really about decentralizing power." 🤝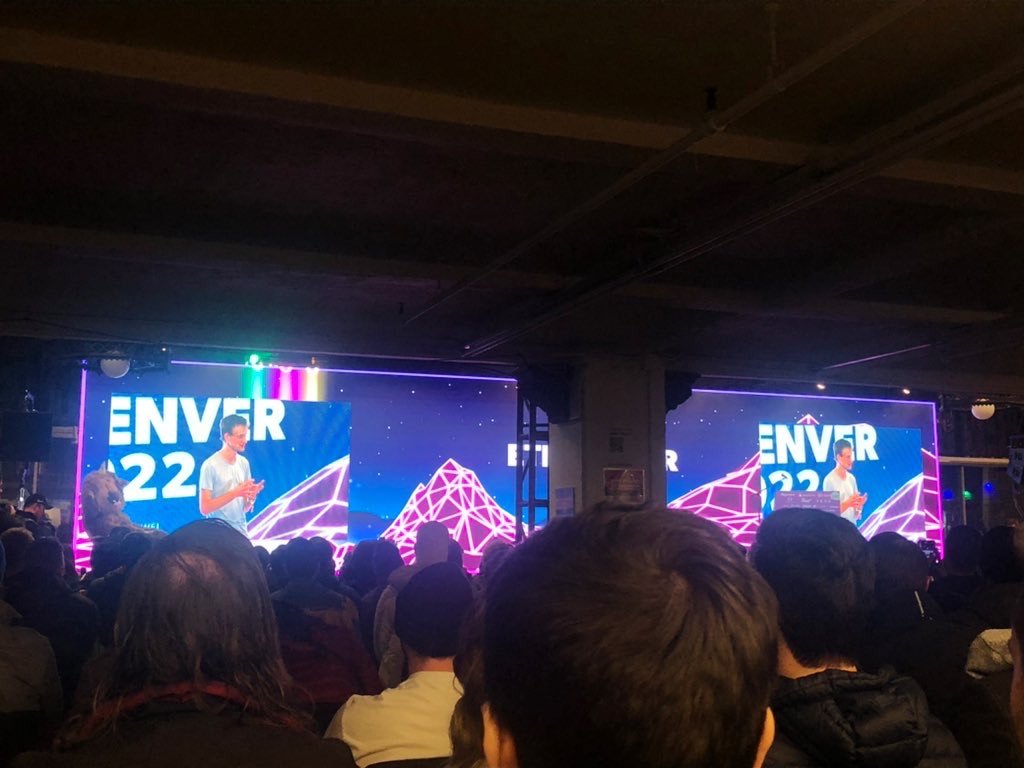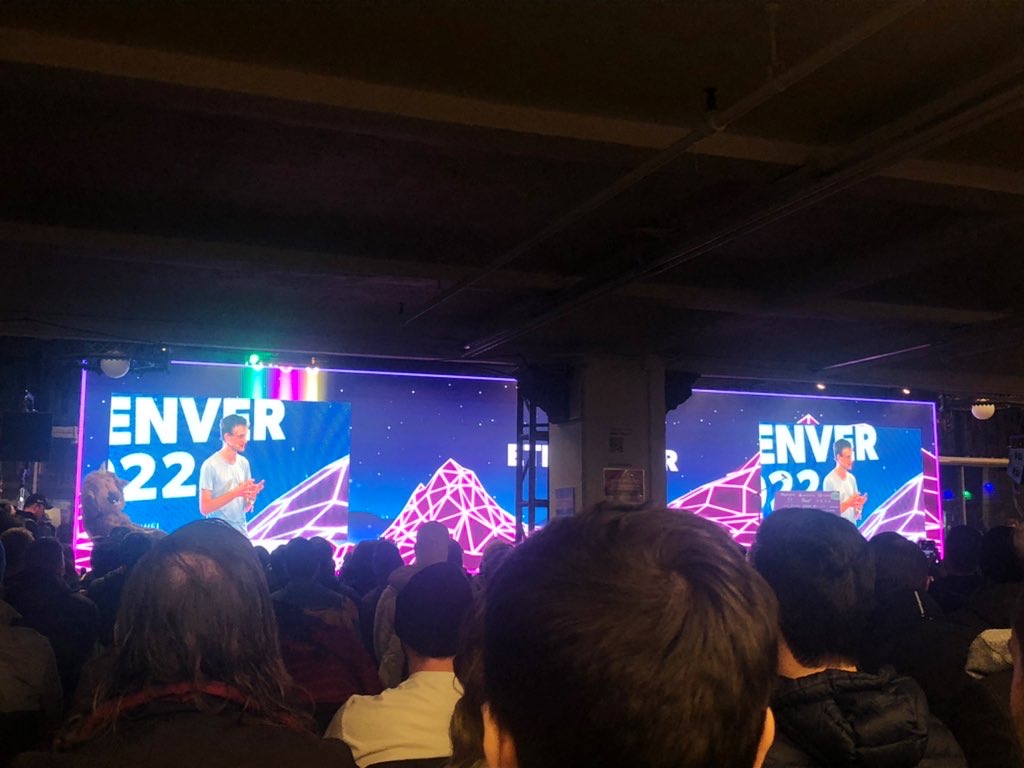 In a completely packed first and second floor of the Sports Castle, Vitalik Buterin, Founder of Ethereum spoke about the Digital State, discussing how Ethereum and any nation state can work together to create cohesive, regenerative societies.
He believes that decentralized governance is one of the biggest challenges of the 21st Century and goes far outside of the crypto space itself.
"Don't think about it as in what this institution can do, think about it as what problem is being solved and what are the different groups of people that can do it," said Vitalik.
Vitalik explained how despite the variety of visions found in the Ethereum community, everyone is still working together to utilize crypto to make a better world. This includes the positive interactions between the community and every institution current and future.
Immediately following his talk, Vitalik did a 15 minute AMA with the Ethereum community, reminding everyone that these relationships – between states and nations, institutions and collectives, and humans to humans are fundamental to develop better systems that can help more people.
David Hoffman of Bankless led a panel on transcending individualism and collectivism with Eric Vorhees (Founder of ShapeShift) and Kevin Owocki (DAO Member of Gitcoin) discussing these opposing views on cryptocurrency and how each sees crypto contributing to the overall public good.
"You can tell just from this event how individualistic cryptocurrency is. We see [cryptocurrency] as different things and I think that's a beautiful thing," Eric said.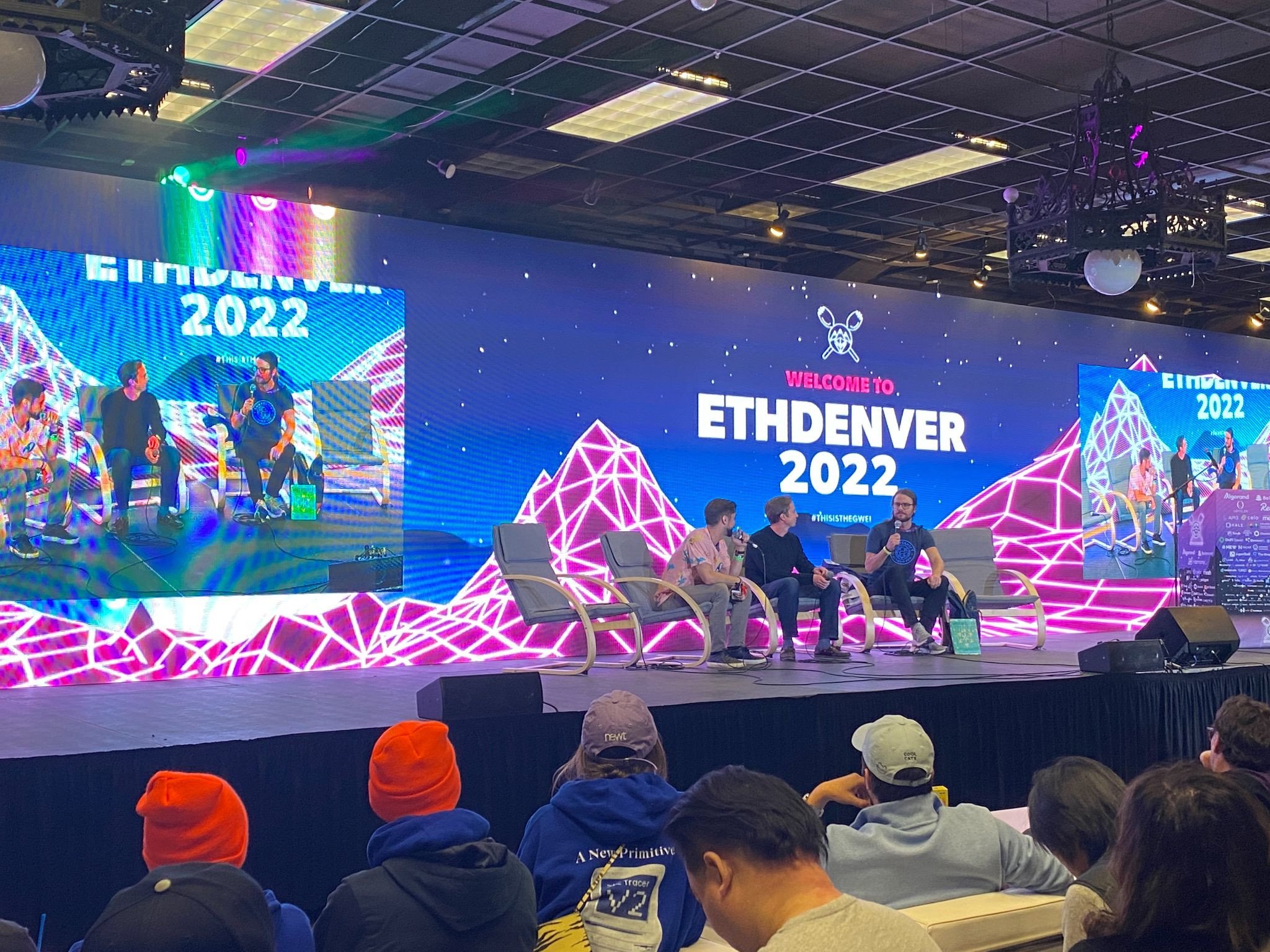 John Paller, Founder of Opolis and SporkDAO, and Dani Osorio, Head of Content of ETHDenver, dove into the Bufficorn Ventures: The SporkDAO Community Investment DAO. They explained how all attendees are part of the SporkDAO and its investment in growing the Web3 community by supporting projects. "This is about returning value to you for just being here," said Paller. 🧑🏽‍💻
Kevin Owocki, Founder of Gitcoin, introduced the concept of "taking the Green Pill," which references creating a regenerative world through crypto. He posed the question, "What kind of world are we trying to bring into being with this technology?"
He explains that to use this tech for public goods, we need to do it collectively. "We're creating a pluralistic infrastructure for funding public goods," he said. 💫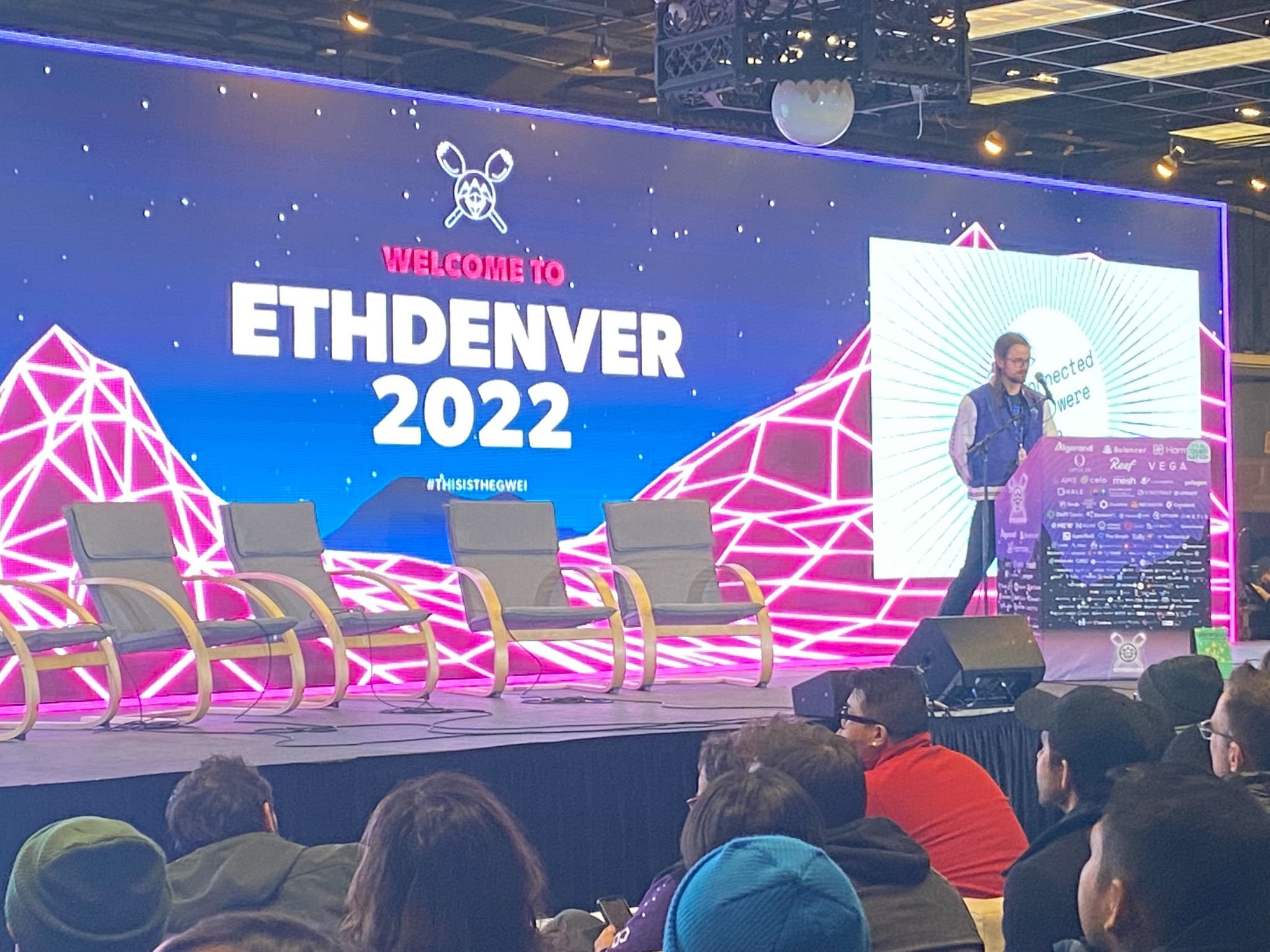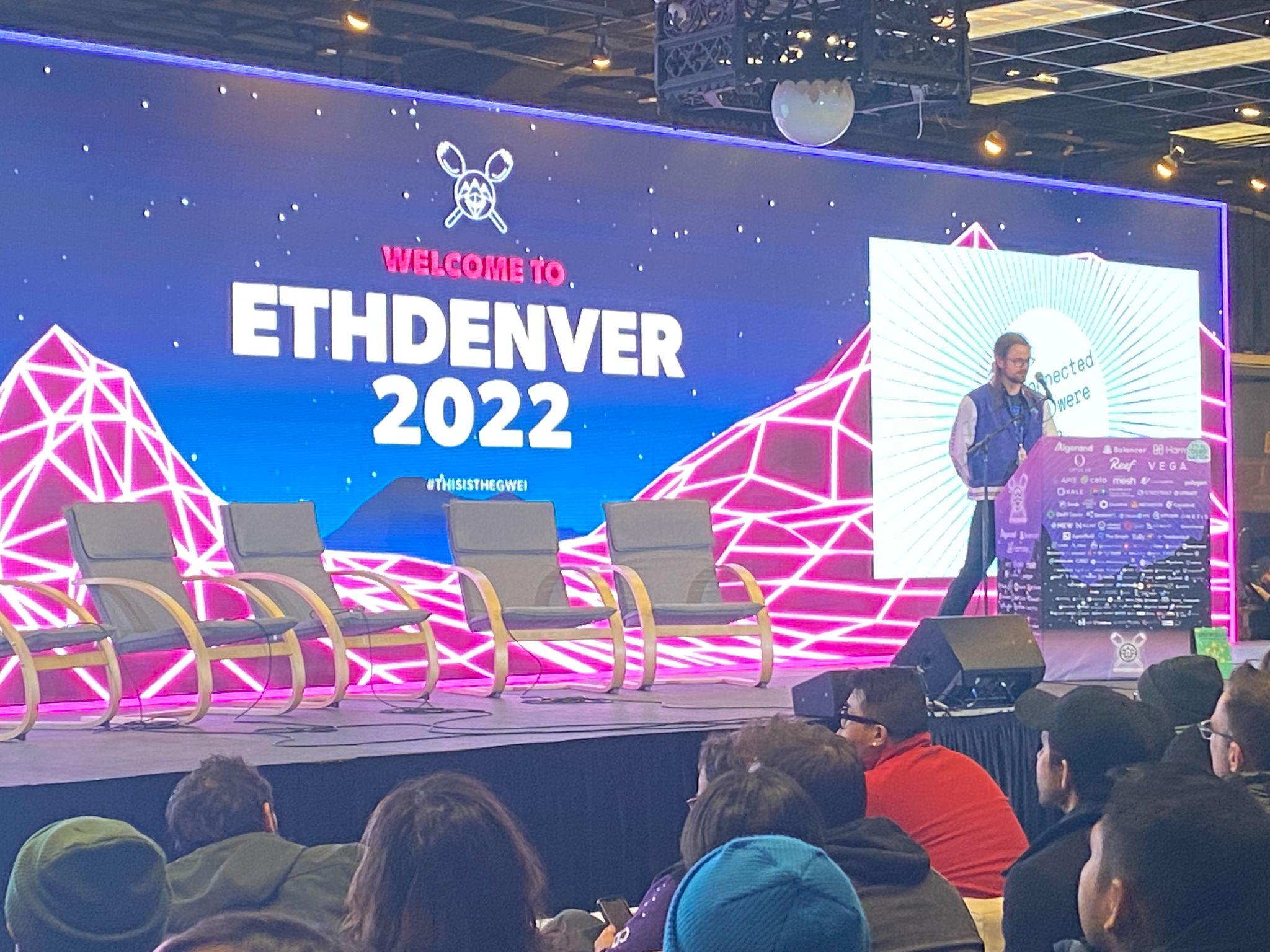 Danny Ryan of Ethereum Foundation gave an overview of the technical development of the ecosystem and the priorities for 2022. ⏰
Austin Griffith of ScaffoldETH advised on how to quickly prototype your own app and his own journey learning about the importance of decentralization.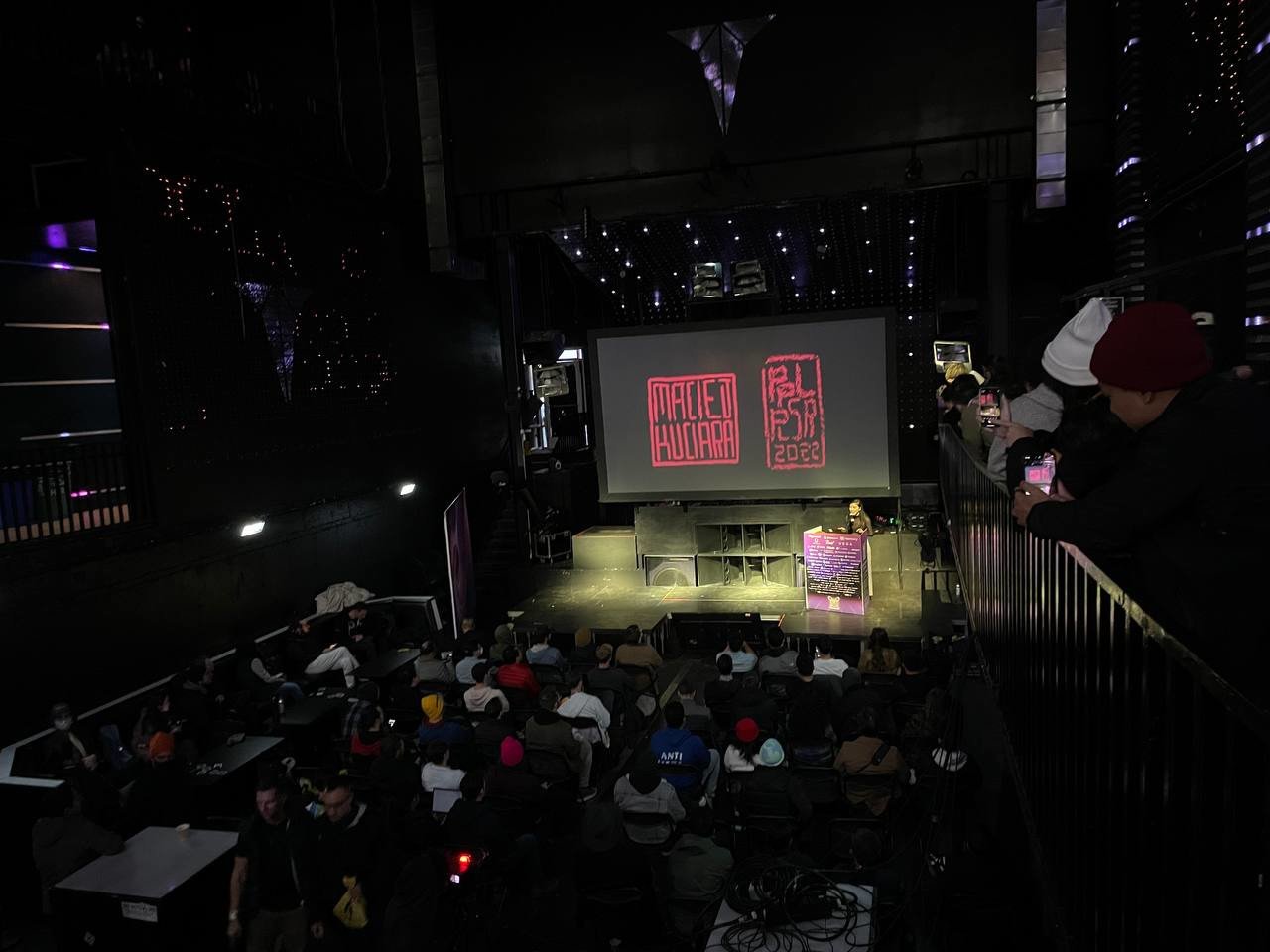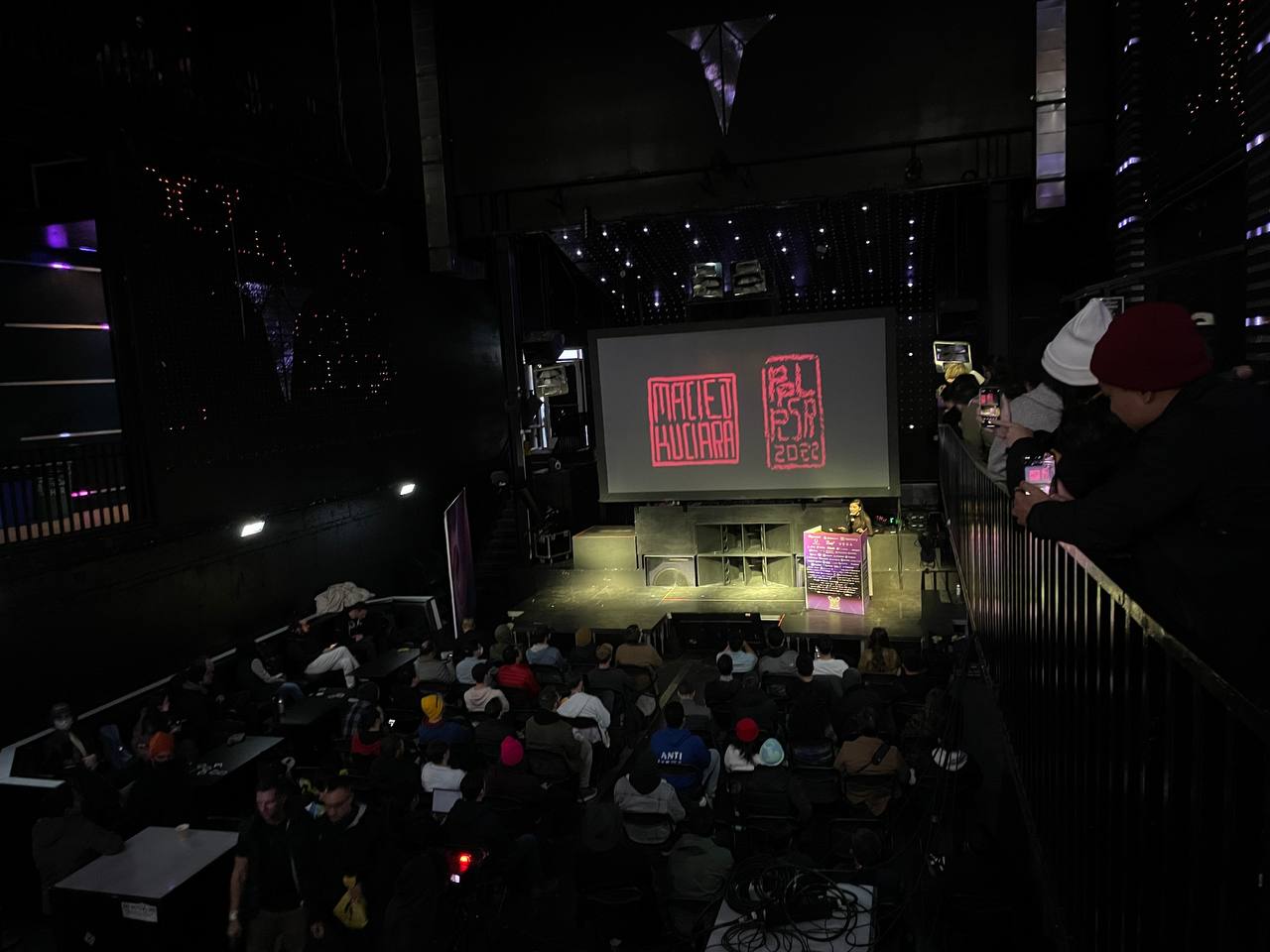 — Morning of Day Two highlights —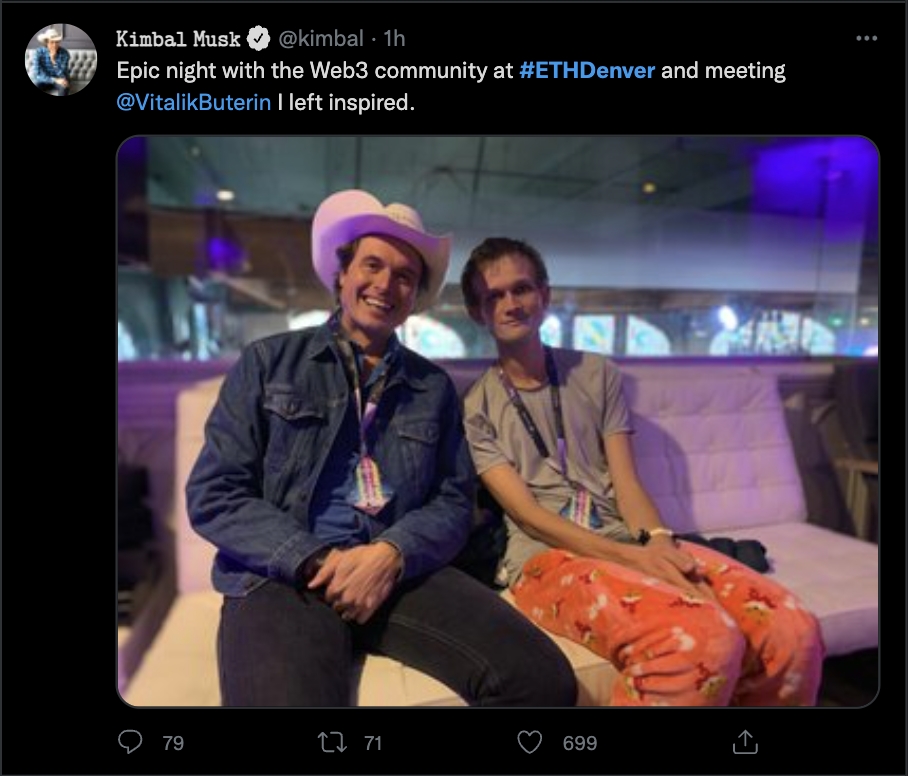 It may be the last day of the ETHDenver 2022 talks, but the day's lineup was nothing short of eventful! 😻
The first half of the day we heard from Andrew Yang, founder of the Forward Party, Anna George of CowSwap, Illia Polosukhin, Co-founder of NEAR Protocol and panels hosted by Melissa Henderson of ApeWorX and Laura Jaramillo of Upshot. 👍🏽
Melissa Henderson of ApeWorX moderated a panel with Tyler Mulvihill, Global NFTs Co-Head of Consensys NFT and David Feinstein Head of Partnerships of SuperRare analyzing how brands can empower and work with creators that have similar beliefs. 👩🏻‍🎨
"We want to give the artist the power. It's all about putting the artist in control of their contents and ideas. When we talk to these brands we advise bringing the artist on the platform." 🎨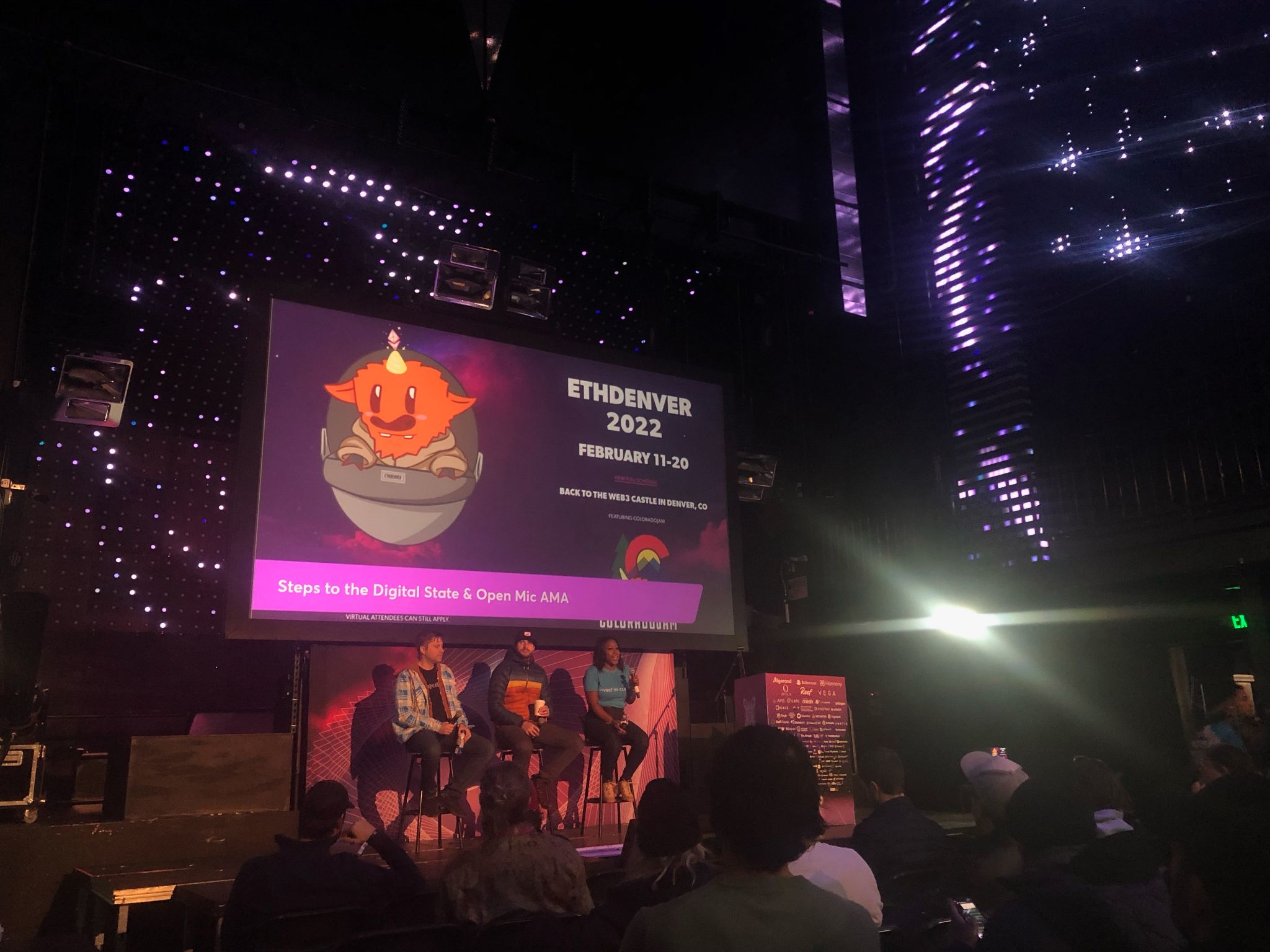 Stephen Tse from Harmony shared his vision of a better future that is possible through blockchain. Stephen expanded on this idea by sharing the ways in which Harmony is building out a more equitable and fair world. ✨
He announced Blu3D DAO, an education-based DAO with the mission of empowering women to learn, and build their careers in the web3 space with the aim to achieve financial freedom.
And before he left the stage, Stephen also announced that 88 Rising, a multinational music company with 160 Million users, is partnering with Harmony to help shape the future of music, the metaverse, and culture.
Silke Elrifai, Chief Legal Officer of Gnosis and Fatemeh Fannizadeh of Paris 2 announced "Dark(er) DAOs" which will tackle the urgent need for privacy in DAOs. 🕵🏻‍♀️
🐢 🐶 Anna George of CowSwap and CoWProtocol unpacked why DAOs should use CowSwap, simplifying her explanation via animal cartoons. She explained how CowSwap directly addresses DAO execution issues, specifically execution time problems, dealing with slippage tolerance all to avoid failed transactions. 🐵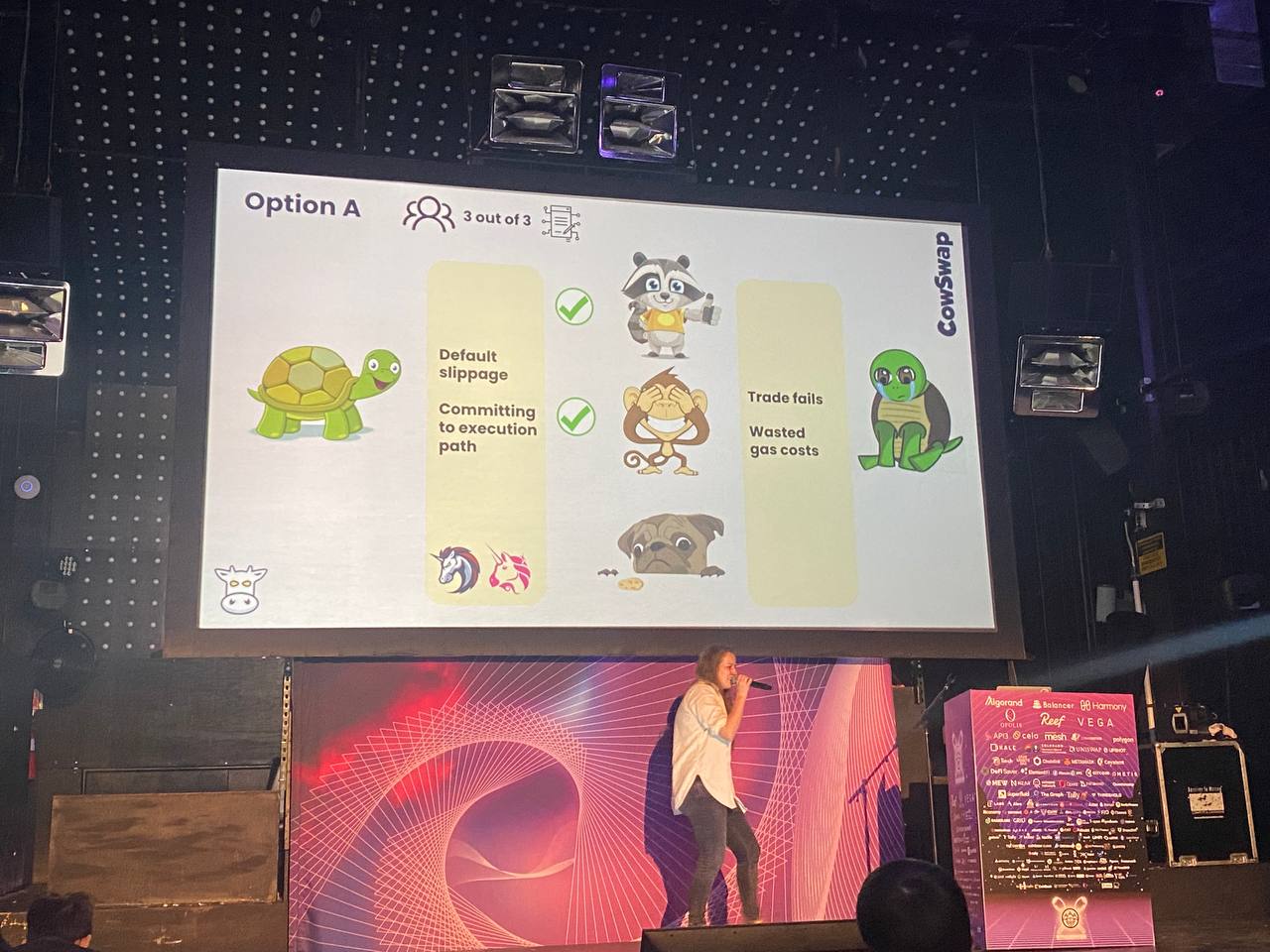 🚀 Illia Polosukhin, Co-founder of NEAR Protocol, covered the importance of building platforms where startups can build and launch blockchain-based businesses quickly and efficiently, and how setting up the networks for them to receive funding will bring even more people, and projects, into blockchain ecosystems. 🚀
👩🏽‍💻 Laura Jaramillo, Lead Product Designer of Upshot, Katy Jeremko, Co-Founder of IndieDAO, Rebecca Lamis, from Commonlands, had a discussion on what women, non-binary and LGBTQIA+ people need in Web 3 and how we can all work to bring more of this kind of diversity into the space.
"We do not need empowerment, we need resources, we need opportunities," said Lamis. 🤝
Later in the morning, Jeff Benson of Decrypt Media kicked off a panel on Innovation in Governance with Sunayna Tuteja, Chief Innovation Officer of Federal Reserve System, Robin Nunn Partner of Morgan Lewis and Rachel Epstein, Director of Government Affairs at Cardano, by asking about whether "Innovation" & "Government" is an oxymoron.
Sunaya touched on how many centralized entities are very decentralized, and similar to a web3 ecosystem, pointing out that it's "akin to entering a whole new solar system".
Robin shared that a key issue for projects is "trying to neatly put [digital assets] into the boxes that the US financial regulation has been set up for."
The morning ended off with a surprise talk with Andrew Yang, founder of the Forward Party. He discussed not only Web3 and it's benefits for poverty alleviation and public good benefits, but also how crypto can play a part in how we change the way we're governed.
"Web3 could be the biggest anti-poverty initiative in the history of the world," Yang said.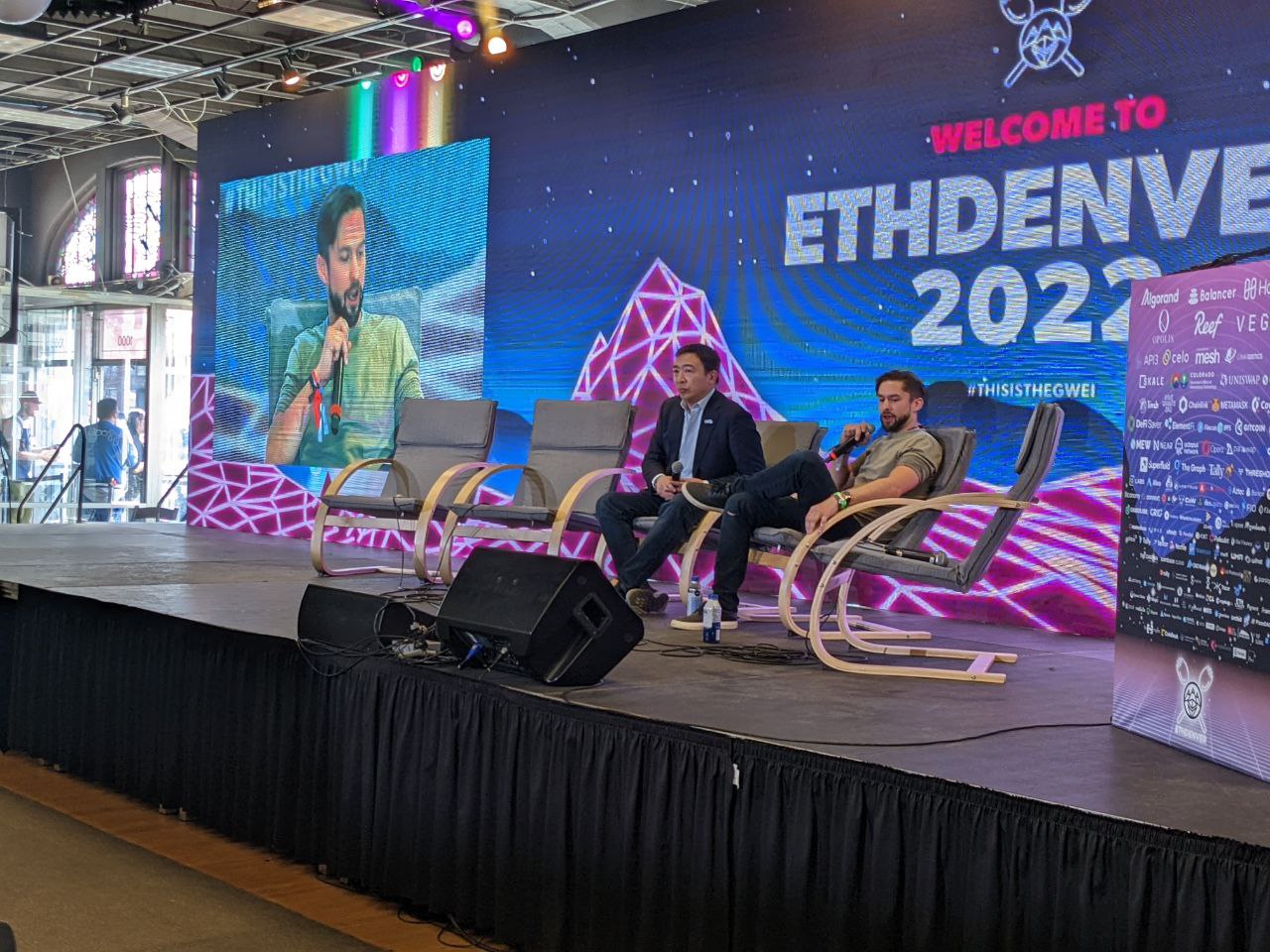 — Day Two final highlights —
Can't believe that we have almost come to the end of ETHDenver 2022. 🌝
While ETHDenver 2022 may nearly be over, the #BUIDL'ing never stops. 🌈
On the Laser Stage, we rounded up the day with notable panels unpacking some of the most interesting areas of Web3 development. These were led by Teck Chia, Andrew Thurman, Brady Dale and Jaye Harrill.
📊 Chandler De Kock of UMA educated an audience on what oracles can do. From prediction markets, optimistic governance, rewards as a service, synthetic assets and more, Chandler highlighted how there is much potential for the development of more use cases for connecting blockchain with the real world by building more price feeds or building data fees on anything verifiable. 💹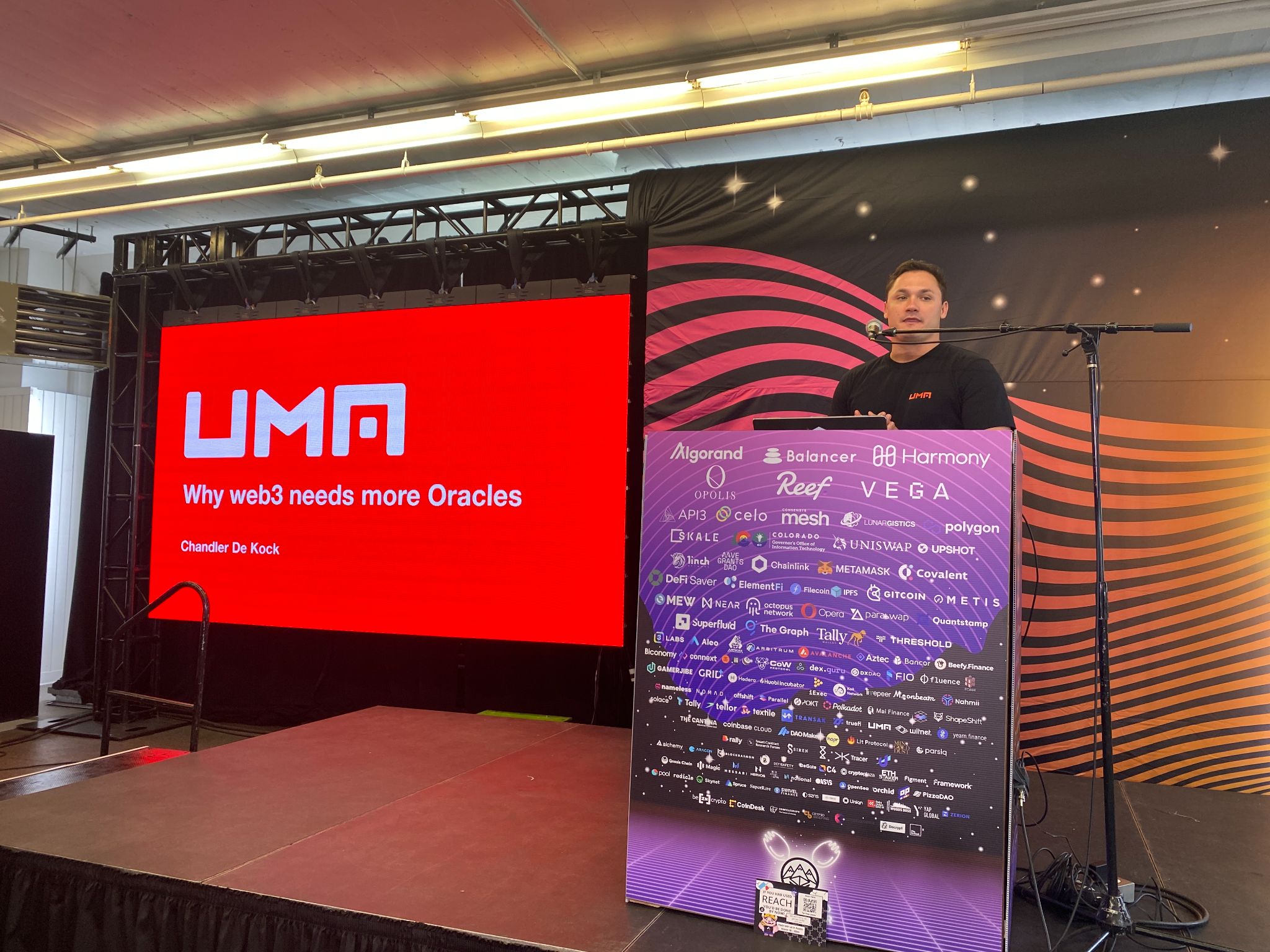 Lauren Michelle, a professional international Opera singer, told her story (after a beautiful live classical Opera performance) about how NFTs are allowing us to be creative and build "anything we want." Lauren has released an NFT tier system where users access a piece of mixed visual and audible art representing a VR concert experience. 🎤
NFTs will allow anyone to come to perform from anywhere, including Lauren's underwater theatre in a metaverse Opera house. 🌊
Andrew Chow of TIME Magazine led a panel on, "Is Blockchain the Future of Technology?" with a broad range of experts in the industry, including Eva Beylin of The Graph, Ric Burton of Balance, Sam Kazemian of FRAX Finance and Illia Polosukhin, co-founder of NEAR. 🤯 The common thread of what they believe to be the future of blockchain lies in the ability to reward positive actions within society thanks to the incentives of token systems.
Maria Mihu of Fayyr brings charitable art auctions to the digital world. "Fayyr bridges the world of digital art so everyone feels represented in the space. We want artists to feel supported and charities to make revenues from their sales." 👭
Artists are able to create art, then mint as an NFT, and sell it for a cause they support if they choose. 💸 Additionally, they can choose what percent of the sale they receive before the rest goes to charity.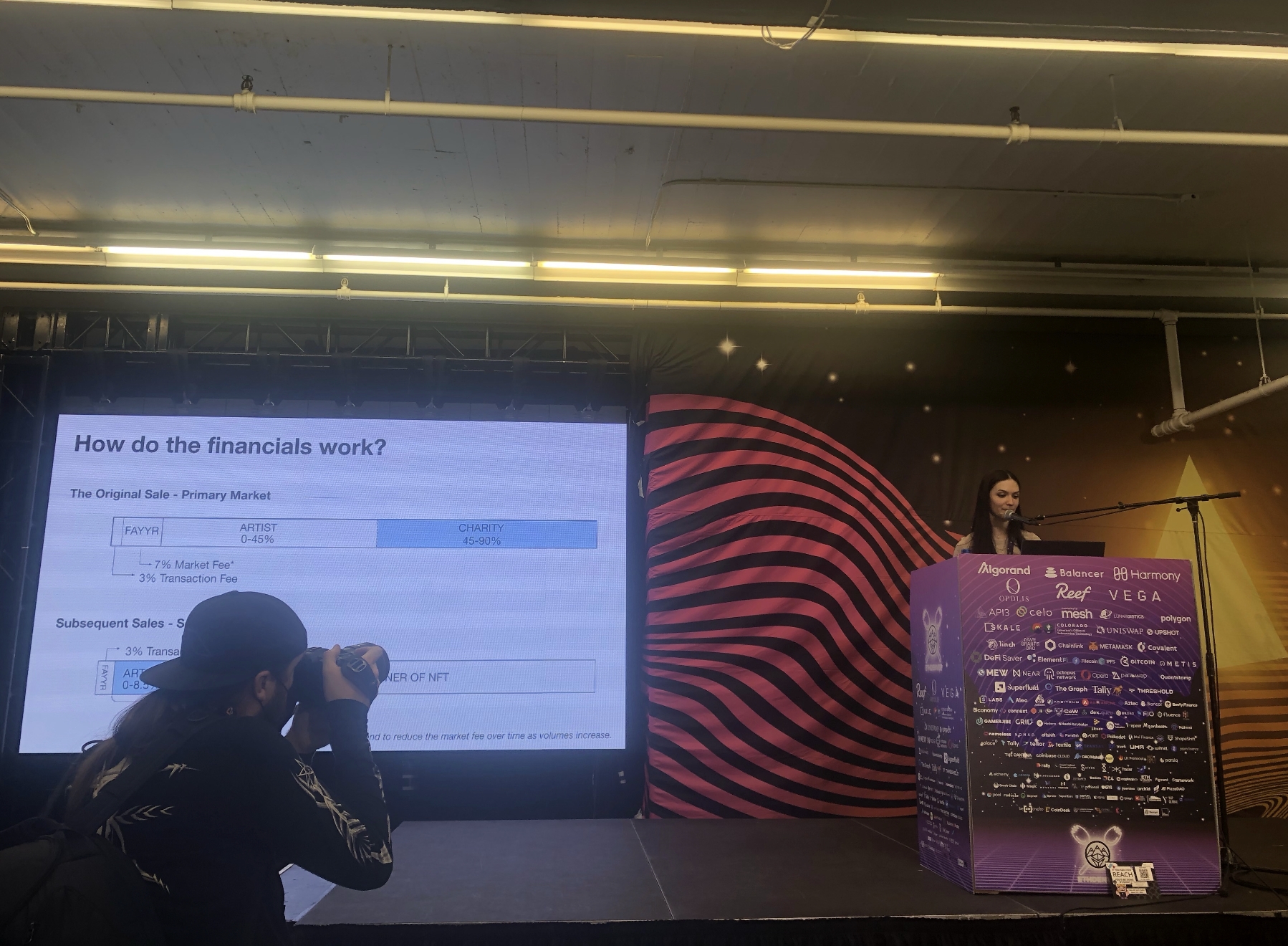 On a panel about 'Interoperability and the Multichain Future' moderated by Teck Chia, a partner at Binance, Arjun Bhuptani, Founder of Connext, spoke about how the Wormhole hack brought bridge security to the forefront on whether multichain is viable. 🔗
"The reality is that if people are going to do it anyway, we have to find safe ways to do it," he said. 🪄
One way he proposed is to think about cross-chain circuit breakers. He was joined by Parker Feierbach, Protocol Onboarding Lead at Figment, Francesco Renzi, co-founder of Superfluid and Anna Carroll, of Nomad.
Andrew Thurman of CoinDesk, moderated a panel with Matjaz Hirsman, technical lead at Reef and Dane Lund, Head of DAO Architect Alliance DAO discussed the merging of DeFi and DAOs, highlighting that nation-states could be DAOs. 🌎
Andrew suggested, "I love the idea of a DAO having a standing army. Let's get to this weird future – LFG!" 🕺🏻
Brady Dale of The Defiant moderated a panel covering the financialization of the crypto ecosystem and how it's accelerating with Aidan Hyman co-founder and CEO of Chainsafe, Vanessa Grellet Head of Portfolio Growth at CoinFund, and Sam Flamini Developer Experience of Superfluid.
"[We're at] a really interesting intersection of culture and money where NFTs and DAOs can enable liquidity in a way that they used to have to sell their soul to a Spotify or a centralized company in the past. Those who have creative ability, have to have the ability to [make revenue] directly." Sam mentioned.
Jaye Harrill led a discussion on how data is the foundation of dApps with Harish Raisinghani, Developer Relations Manager at Covalent, Daniel Olshansky, Protocol Specialist at Pokt Network, Josh Neuroth, Head of Product at Ankr, and Albert Hu, Developer Advocate at Alchemy.
Olshansky doesn't consider the dApps currently being built to be of critical importance to our day-to-day lives. However, in the future, when there is true risk because people are using dApps for everyday tasks, he says it will matter much more how data is used, maintained and stored. 🗄
A panel of experts featuring some leaders responsible for many of the largest music deals in the world, including Julia Xu, Christina Beltramini and Cherie Hu, discussed some of the interesting ways the industry is experimenting with musical NFTs.
🎨 Blockchain holds great potential in this space in an extremely centralized industry where musicians often get one-tenth of a cent when someone listens to their productions. 🎧
"We are building tools for the 99%," said Ahmed Al-Bahalgi, co-founder of Biconomy, during a panel on user experience in Web3 and how to make it better for mass adoption. 👩🏽‍💻 The panel was moderated by Jacob Oliver of Cryptobriefing and included Roger Brogan, solutions architect at Chainlink Labs, Kayla Kroot, Creative Director at Koii Network and Nikola Vukovic, Frontend and UX at DeFi Saver. 🚀
While ETHDenver 2022 officially wraps up tomorrow, this is where we love and leave you.
Hope you have enjoyed every minute of ETHDenver 2022 as much as we did and we look forward to doing it all again next year at EthDenver 2023! 🎉
— Last Day highlights —
We can't believe that ETHDenver 2022 has to come to an end – but know that the magic will fuel us until the next one. ✨
This week has demonstrated what the power of community can create. 💻 ETHDenver brought together more than 15,000 thinkers, developers, creators and change-makers from more than 150 countries, 🌎 creating an experience as unique as the Bufficorn itself. 🎨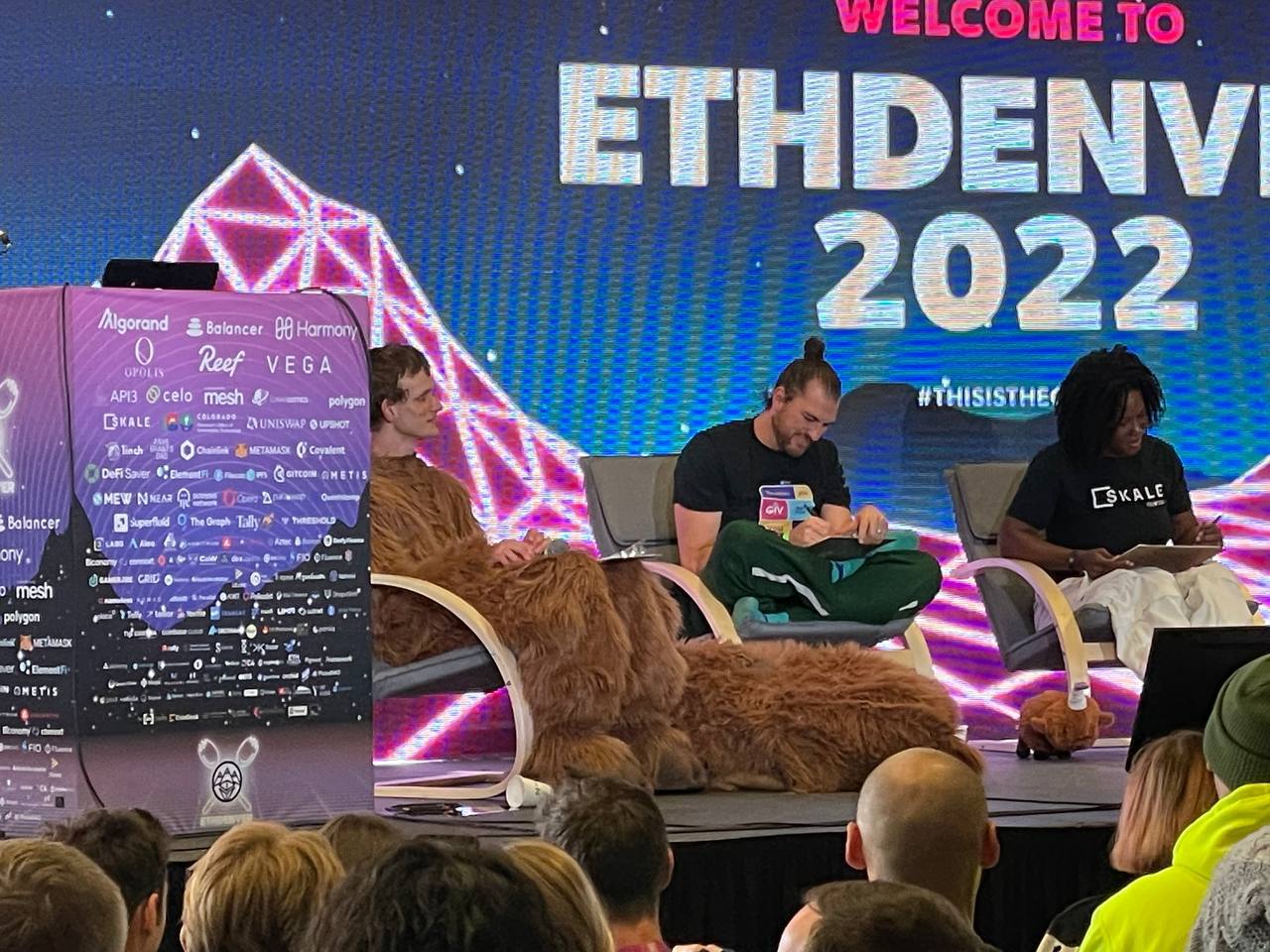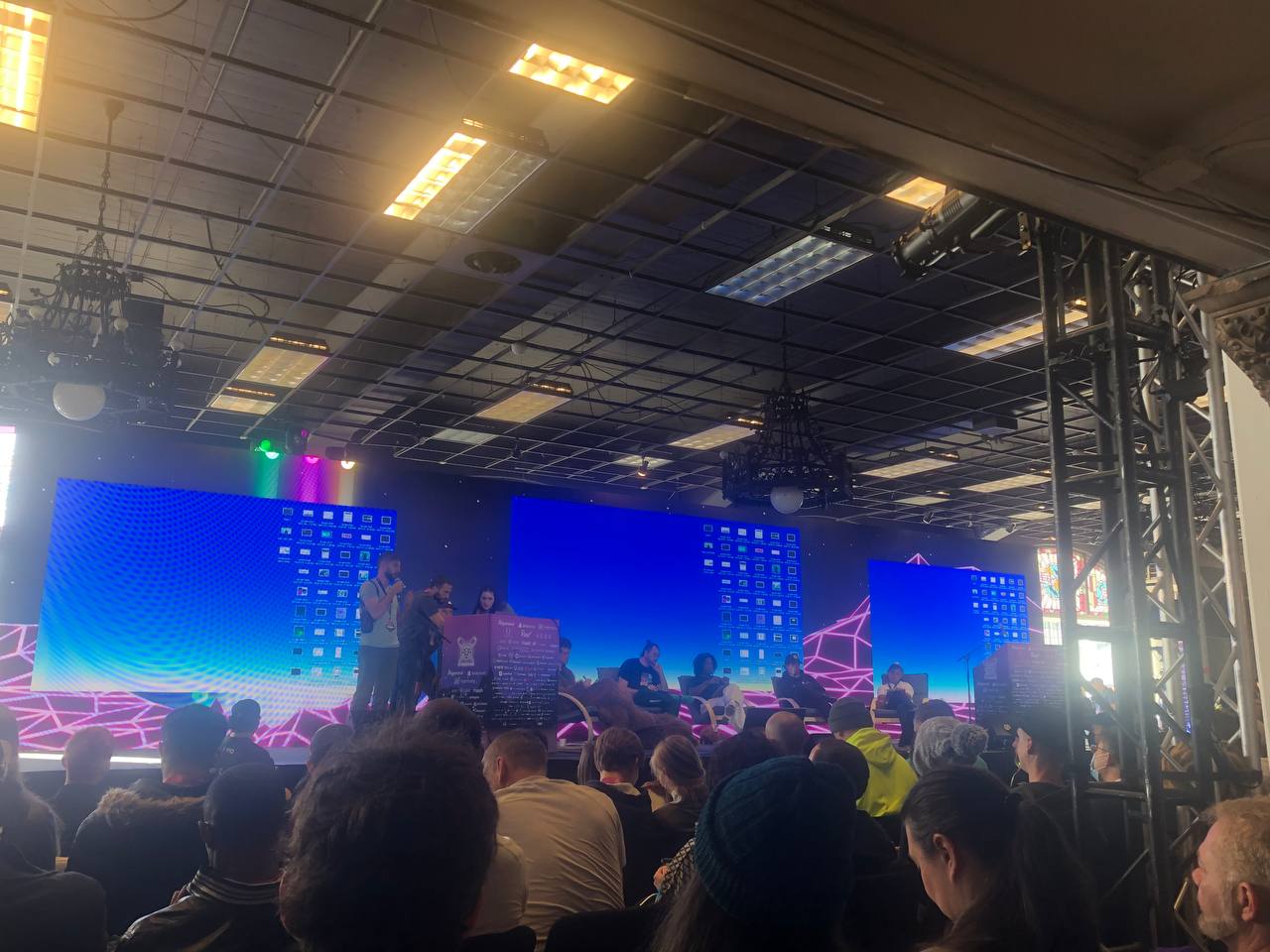 Out of the 30 teams who presented in the final round, congratulations 👏 to the #BUIDL hackathon winners! 🧠
🏆 Cannon
🏆 Dustsweeper
🏆 Proof of Meditation
🏆 Deus Ex Securitas
🏆 Loudverse
Bounty winners are being published on ETHDenver.com. Projects will be supported across the year so keep your ear out for even more developments and innovations coming out of the community that will accelerate the Ethereum ecosystem in the future.
If you missed anything across the weekend, you can watch the footage back on ETHDenver's YouTube Channel here.
Event links:
---