Up or Down? Data Send Mixed Signals About Sell Pressure for Bitcoin & Ether
While some data shows the selling pressure increasing for ethereum (ETH) this year, and remaining largely unchanged for bitcoin (BTC) as it keeps hitting new all-time highs - other data sends mixed signals, suggesting that more market participants want to buy the two major coins, not sell them.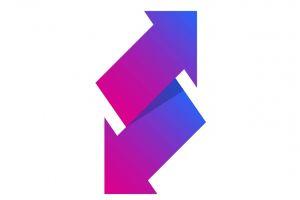 According to the data by blockchain analysis firm Chainalysis, there was an increase in ETH inflows to exchanges since the year began, suggesting an increased selling pressure in the market. Starting with ETH 358,309 on January 1, the number went up 361.8% to nearly ETH 1.66m on January 4, dropping somewhat since. "ETH inflows to exchanges in the last day are 1.09M ETH [USD 1.3bn], above the 180-day average," noted the Chainalysis Market Intel website.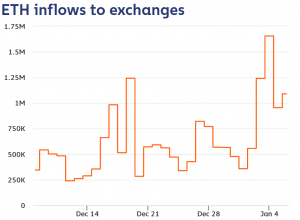 Furthermore, assets held on exchanges have jumped in the first days of this year when it comes to the world's second cryptoasset by market capitalization. Assets held on exchanges increase when there are more market participants who want to sell than there are those who want to buy, as well as when buyers choose to store their assets on exchanges. Chainalysis provides what they call "certain change in assets held," which is the difference between inflows and outflows that have been received by other services, thereby leaving exchanges for certain.
While the certain change was ETH 34,112 on December 31, just as the year was closing, it went up to ETH 81,460 on January 1 already. Since then, the highest point it reached so far is ETH 560,097 on January 4 - a 587.6% rise since the first day of the year and 1,542% increase since the very end of 2020. Also, the change in ETH held on exchanges in the last day is ETH 344,110 (USD 411.5m), above the 180-day average, said the firm.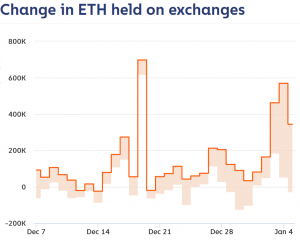 As the number for ETH is rising, those for BTC seem to be more or less stagnating. Besides a few minor, expected drops, BTC inflows to exchanges are overall stable, though lower from the point they stood at on December 31. At that time, BTC inflows to exchanges were 118,260, dropping to BTC 73,523 a day later, rising again, and pretty much maintaining the level of above USD 111,000 (USD 4.15bn). "BTC inflows to exchanges in the last day are 111.51k BTC, above the 180-day average," said Chainalysis.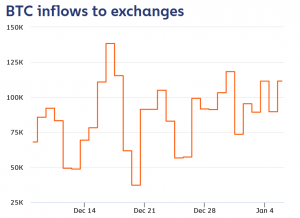 Yet, following a slight drop on January 1, the certain change in BTC held on exchanges has been steadily rising. Overall, it climbed nearly 100% from BTC 20,617 to BTC 41,110 (USD 1.54bn) recorded in the last day, which is above the 180-day average.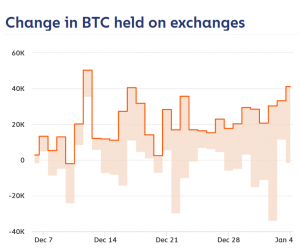 But there is a twist, suggesting some conflicting results, or at least that while many look to sell, many also look to buy. When we observe the ETH trade intensity, which compares the value of order book trades to exchange inflows, we see the median trade intensity - rising by 74.6% since the year begun. And an increase in trade intensity suggests that more market participants want to buy ETH than sell it. As the data shows, ETH median trade intensity in the last day is at the highest level it's been in 46 days.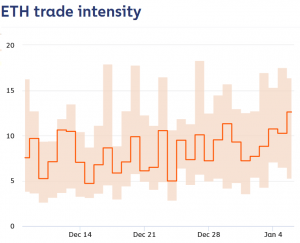 A rise can also be seen in BTC median trade intensity, though a smaller one. Save for a brief jump on January 3, the intensity went up 11.6% between January 1 and yesterday, with the current level being above the 180-day average. However, it dropped since January 3.
The Cryptoverse has noted the differences in the buying pressure as well, with many waiting to catch the dip, and with some commenting that we are likely not going to see dips "like those in the past; not with institutional players onboard."
Meanwhile, the prices of both cryptos have been increasing.
At the time of writing (14:58 UTC), BTC trades at USD 38,298 and is up by 11% in a day and 35% in a week. It also rallied by 103% in a month and 365% in a year. Ethereum is outperformed by BTC today (+7%, to USD 1,223), but ETH rallied more in a week (+67%), a month (+111%), and a year (+761%).
___
Learn more:
Ethereum Nears All-Time-High...but Nobody Knows which Watershed to Aim for
Bitcoin, Ethereum, XRP, Bitcoin Cash, Litecoin, Chainlink Price Predictions for 2021
Current Bitcoin 'Mania' 'Unsustainable', Long-Term Target - Over USD 146K - JPMorgan
What's in Store for Ethereum in 2021?
---