UFC Takes the Fight to NFTs, Reportedly Plans Its Own Cryptoasset
The Ultimate Fighting Championship (UFC) could soon become another league to start selling non-fungible tokens (NFTs) and launch a new cryptocurrency. The mixed martial arts (MMA) organization's parent company Zuffa has reportedly filed several new trademark applications signalling its intent to jump on the trend.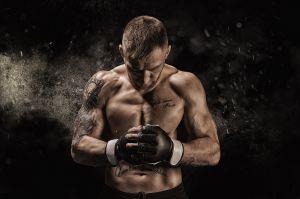 Josh Gerben, Founder of trademark law firm Gerben Intellectual Property, recently tweeted that the UFC has submitted a number of filings to the US Patent and Trademark Office (USPTO). The filings suggest the league is planning to roll-out an app allowing users to manage cryptocurrency and NFTs, as well as a new UFC-branded cryptocurrency.
The latest development could spur a significant source of revenue for the UFC, similarly to how other North American sports leagues have used the NFT technology. These include the National Basket Association (NBA), which is offering digital collectibles under the NBA Top Shot brand. As of April 23, the marketplace attracted 460,000 collectors (a 100x increase year to date) who engaged in more than 4m marketplace transactions, according to the data from the league.
The Major League Baseball (MLB) is also taking part in the trend, as earlier this month, The Topps Company released its NFT collectibles that represent the company's flagship annual baseball card collection.
"As collectibles enjoy a breakout moment with NFTs and blockchain technology, we can't think of a better way to honor the legendary players from years past and look forward to the incredible careers ahead of today's stars and breakout rookies," said Evan Kaplan, Managing Director of MLB Players.
Meanwhile, according to some observers, the UFC's recent move could be connected to the initial public offering (IPO) of the league's owner, entertainment group Endeavor. The group's shares rose 12% during their trading debut on the New York Stock Exchange on April 29, before back-stepping down. Through selling some 21.3m shares at USD 24 each, Endeavor raised about USD 511.2m, with a valuation of USD 10.8bn.
"Very suspect the week of their IPO. A few thousand in legal fees to pump the stock. It may be true but the timing is suspect. The UFC have used trademarking IP for earned media in the past," commented a Twitter user who goes by the name of Oisin Quinn, adding that "they are in a great spot to make money on the NFT space as the UFC owns all the fighters rights anyway."
____
Learn more:
- Someone Paid USD 1.7M In Litecoin For Tom Brady Football Card
- MLB's Oakland A's Sell Full-Season Suite For Bitcoin
- Second-Hand NFT Market for NBA Top Shot Packs Appears on eBay
- Super Bowl Champion Gronk Set to Auction His Own NFT Collection
- Another World-Famous Meme Capitalizes on the NFT Hype
- New WWF Project To Use NFTs to Save Animals
- Japan Edges Closer to its First IEO – an NFT Platform
- NFT Explosion Coming over Next 2 Years & Will Create Jobs, Say Insiders
- Why NFTs Aren't Just for Art and Collectibles
- NFT Performance Art: Corporations Could Capitalize On Protest
- Why Would Anyone Buy NFT – A Link To A JPEG File?
- Check These 4 Make-Your-Own-NFT Platforms
---