7 Best VR Crypto Projects to Invest in 2023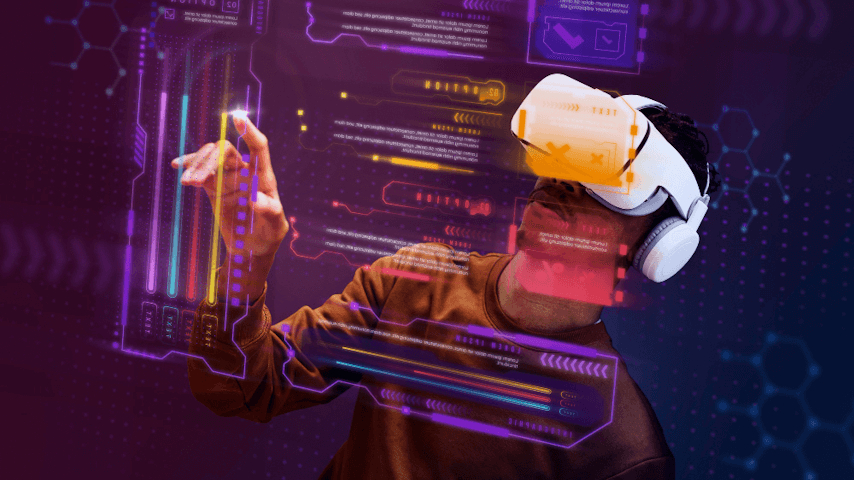 Disclaimer: The Industry Talk section features insights by crypto industry players and is not a part of the editorial content of Cryptonews.com.
One of the latest trends in the crypto industry is virtual reality (VR). Various innovative projects are using VR to build metaverses, games, and other experiences.
In this guide, we explore the 7 best VR crypto tokens to buy right now.
Top VR Crypto Coins to Buy
The overall best VR crypto projects are listed below:
Wall Street Memes - Overall, Wall Street Memes is the best crypto to buy right now. While the project isn't specifically involved in VR, its ongoing presale is generating a lot of hype in the crypto space and has been tweeted by Elon Musk. Currently on presale, Wall Street Memes has raised nearly $10m so far.
Decentraland - One of the best VR crypto projects is Decentraland. This is an established metaverse world built on the Ethereum blockchain. It allows users to play games, enjoy immersive experiences, and even invest in virtual real estate. One of the core roadmap targets for Decentraland is to incorporate VR into its metaverse.
Ethereum - All of the VR crypto projects on this list have one similarity - they all operate on the Ethereum blockchain. As such, Ethereum allows VR crypto investors to gain exposure to multiple projects. After all, as more VR ecosystems opt for the Ethereum framework, this will continue to create demand for ETH.
Highstreet - Founded in late 2021, Highstreet is a play-to-earn gaming project built in a unique metaverse world. The game will eventually support VR headsets, offering players immersive experiences. Rewards earned from the Highstreet ecosystem can be used to buy metaverse products, such as homes, furniture, and plots of land.
CEEK VR - CEEK VR is a small-cap project that bridges the gap between metaverse users and content creators. This enables creators to reach global audiences in a virtual world. Not only does CEEK VR support Oculus and HTC Vive, but it has also developed its own VR headset and headphones.
Metahero - This crypto VR project has developed scanning technology for virtual worlds. Users can book a scanning appointment and have their real-world appearance reflected in the metaverse. In addition to consumers, Metahero will also appeal to businesses that want exposure in the VR universe.
Somnium Space - Somnium Space has built a futuristic metaverse world that is compatible with major headsets, including Oculus, HTC Vive, and HoloLens 2. The platform has developed its own desktop-based VR software, currently available for Windows. The Somnium Space metaverse allows people to explore, socialize, and buy virtual land.
What is VR Crypto?
Cryptocurrencies will play a major role in the future of virtual reality. Within each VR ecosystem, cryptocurrencies enable users to transact. This includes everything from buying metaverse land and real estate NFTs to accessing DeFi products.
As we move into the Web 3.0 era, various blockchain projects are now developing concepts that align with VR experiences. At the forefront of this are decentralized worlds, otherwise referred to as the 'metaverse'.
These are virtual environments that allow people to socialize, play games, and buy virtual plots of land. All without revealing their real-world identities. Some metaverse projects have already incorporated VR technology into their ecosystems.
This includes CEEK VR, which supports major headsets like Oculus and HTC Vive. Investing in VR crypto projects early offers a first-mover advantage. Each VR crypto project has its own native token, which offers holders various perks.
For example, those holding MANA tokens can invest in virtual real estate in the Decentraland metaverse. In addition to metaverse experiences, some VR crypto projects are focusing on gaming. This will take current gaming possibilities to the very next level.
Another area of VR crypto is hardware. Projects like Metahero have developed hardware that can scan people's appearances in the real world. So, instead of being represented by a generic avatar, Metahero users will appear in the metaverse as a life-like carbon copy.
Ultimately, the possibilities are endless. While it remains to be seen which VR crypto projects will be successful, never has there been a better time to gain exposure to this market. After all, the best VR tokens discussed on this page are mainly low-cap projects, offering plenty of upsides.
A Closer Look at the Top VR Crypto Projects
Choosing the best VR crypto coins is no easy feat. Investors should conduct plenty of research, focusing on the whitepaper, roadmap targets, and future potential.
To help clear the mist, we will now review the top VR cryptocurrency projects for long-term investors.
1. Wall Street Memes - Best Alternative to VR Crypto Tokens
Wall Street Memes is a brand-new crypto project based on the infamous Wall Streets Bets movement. For those unaware, Wall Street Bets is a Reddit forum with over 14 million subscribers. The forum colludes and collectively invests in distressed companies, having had unprecedented success with GameStop and AMC Entertainment
Wall Street Memes is also looking to make traditional finance a fairer and more equal place. It will achieve this goal through decentralization, blockchain technology, and community-driven memes. At its core, Wall Street Memes is a meme coin that has the potential to explode. Its ecosystem is backed by WSM tokens, which are currently in presale.
In fact, the presale has already raised nearly $9 million, showing WSM could be one of the best meme coins to buy. This is in addition to its ever-growing community of loyal followers. For example, Wall Street Memes has over 235,000 followers on Twitter. It also has an active community on other socials, including Telegram, Discord, and TikTok.
Wall Street Memes has also developed robust tokenomics. For instance, 50% of the WSM supply will support its marketing efforts. This is crucial for a meme coin that relies on hype and FOMO (Fear of Missing Out). Similar tactics were employed by other successful meme coins, including Pepe, Shiba Inu, and FLOKI.
While Wall Street Memes could be one of the next cryptocurrencies to explode, investors should remember the risks. Sure, the project has a huge community and continues to create hype in the crypto arena. However, this is a brand-new project with an unproven concept. What's more, this is a low-cap cryptocurrency, so expect enhanced volatility.
Nonetheless, Wall Street Memes will appeal to investors with a higher appetite for risk. Its ongoing presale is offering early investors a discounted cost price. Currently, WSM tokens can be purchased for just $0.0295 each. This will yield over 3,330 tokens for every $100 invested. After the presale, Wall Street Memes will be listed on an exchange at a premium price.
2. Decentraland - Leading Metaverse Project Developing VR Experiences
Decentraland is an established metaverse project that operates on the Ethereum blockchain. its metaverse can be accessed via web browsers and a compatible crypto wallet. Users can then create their own personalized avatars and socialize with others. All without needing to reveal their real-world identities.
Decentraland also allows users to buy virtual plots of land. All purchases are 100% owned by the user and paid in the project's native token, MANA. While sales have cooled down owing to the crypto bear market, some Decentraland plots have sold for several million dollars. What's more, users can build real estate onto their metaverse plots.
The possibilities are endless. Users can build anything from a house and museum to a sports arena and casino. Then, should the land owner wish to sell their creations, they can do so on the Decentraland marketplace. Transactions are secure and transparent, as they go through the Ethereum network.
Although Decentraland is already a fully-fledged metaverse, it is yet to incorporate VR capabilities. Nonetheless, this is a clear roadmap target, as described in the Decentraland whitepaper. The idea is that once VR headsets become mainstream, users will be able to enjoy immersive experiences in the Decentraland metaverse.
Those who believe Decentraland is the best VR crypto can buy MANA tokens with ease. For example, eToro - one of the best crypto exchanges, supports instant payments with debit/credit cards and e-wallets. The bear market has been tough for Decentraland, meaning that MANA tokens are now trading at a 90% discount from their all-time highs.
3. Ethereum - De-Facto Hub for New and Established VR Cryptocurrencies
While Ethereum isn't directly involved in virtual reality, its native blockchain is popular with VR projects. In fact, all of the VR crypto tokens discussed today operate on the Ethereum network. This means that buying Ethereum allows investors to diversify across various VR niches.
This includes everything from Decentraland and Highstreet to CEEK VR and Metahero. The important factor here is that all VR cryptocurrencies on the Ethereum blockchain must pay GAS fees in ETH. This is the case for all smart contract transactions.
Examples include playing VR games, buying metaverse land, and trading collectibles. This means that as more VR crypto projects opt for Ethereum, there will be more demand for ETH. The Ethereum blockchain also enables VR crypto projects to utilize NFTs.
For example, metaverse investments can be backed by ERC721 NFTs and then traded on marketplaces. Once again, this creates additional demand for ETH, as NFT minting and transaction fees require GAS. Currently, Ethereum is trading at a huge discount from its all-time high. While Ethereum was priced at nearly $5,000 in late 2021, it now trades at just $1,700.
4. Highstreet - Decentralized Ecosystem With Gaming Rewards and Metaverse Ownership
Launched in late 2021 and built on the Ethereum blockchain, Highstreet is an up-and-coming metaverse. The project is largely focused on gaming experiences, which will eventually support VR headsets. Crucially, Highstreet is backed by leading VR manufacturer HTC - so it has sufficient resources to achieve these goals
Highstreet users can explore virtual cities and universes via the Solera Express. This is a futuristic transportation tool that is fully customizable. Players can add their own artwork and mint the end product as an NFT. The Highstreet game also comes with a combat system, allowing players to enter battles to defeat virtual monsters.
As a play-to-earn game, users will be rewarded with crypto tokens. All rewards are paid in HIGH, the native utility token of the Highstreet ecosystem. HIGH tokens can be used to purchase metaverse products, such as homes, vehicles, and collectibles. Token holders can also buy virtual plots of land in the Highstreet metaverse.
Any purchases made in the Highstreet ecosystem are backed by NFTs. These can be sold and traded on the Highstreet marketplace. Currently, HIGH tokens have a market capitalization of just $48 million. Such a small valuation will appeal to growth investors seeking an attractive entry price.
5. CEEK VR - Immersive Experiences With a Native VR Headset
CEEK VR is building an ecosystem that will host virtual experiences. This includes everything from sports and music to education and arts. All experiences go through the CEEK VR app, available for iOS and Android. CEEK VR has developed its own VR hardware that offers the most immersive experiences possible.
Retailing for just $99, this is considerably cheaper than many VR headsets in the market. To take immersive experiences to the next level, CEEK VR has also developed 4D headphones. This has been designed specifically for its VR app and retails for $249.99. The CEEK VR ecosystem is also aimed at content creators that wish to monetize their VR experiences.
Monetization will be funded by third-party marketers that want to advertise in the CEEK VR metaverse. Although CEEK VR has a strong presence in the real world, it has developed its ecosystem on the Ethereum network. Moreover, CEEK VR has its own utility token, CEEK. According to CoinMarketCap, CEEK has a market capitalization of $45 million.
That said, this is a major decline from its previous all-time high of almost $700 million. This means that buying CEEK tokens today offers a 90% discount. Those who believe CEEK is one of the best VR crypto coins can complete their purchase on KuCoin, Gate.io, OKX, and other leading exchanges.
6. Metahero - Scanning Technology to Bring Real-World Appearances in the Metaverse
Metahero is one of the best virtual reality crypto projects to revolutionize metaverse experiences. In a nutshell, Metahero has developed technology that scans people and physical assets in the real world. It uses a combination of photogrammetry and AI technologies to yield real-life representations in the metaverse.
This solves a major issue in the metaverse space, as currently, people are represented by generic avatars. But by using Metahero's 3D scanning technology, people can explore metaverse worlds with their own appearance. This will also appeal to brands, considering that real-world products can be scanned for the metaverse.
This enables Metahero to operate a sustainable business model. After all, scanning payments must be made in the project's native token, HERO. Metahero is also one of the best VR cryptocurrencies for community input. Those holding HERO tokens can vote on where the scanning technology should be made available.
Currently, Metahero is accepting bookings for Warsaw and Zurich. After that, there are plans to operate in Dubai, New York, London, and Tokyo. To gain exposure to Metahero and its VR scanning technology, HERO tokens can be purchased for just $0.003 each. Based on its 2021 all-time high of $0.24, this represents a discount of almost 99%.
7. Somnium Space - Virtual Reality Metaverse Supporting Major VR Headsets
Founded in 2018, Somnium Space is an established metaverse project that has a head start on many of its competitors. The project has already developed its own native software, currently available as a Windows application. Those without a Windows device can access Somnium Space via standard web browsers.
The Somnium Space metaverse allows people to explore virtual worlds and socialize with other users. Everything within the metaverse can be minted as NFTs. Somnium Space also allows users to invest in metaverse land. The platform comes with user-friendly creative tools, allowing anyone to build their dream real estate project.
Crucially, Somnium Space is already compatible with leading VR headsets, including Oculus, HTC Vive, and HoloLens 2. That said, in its current form, Somnium Space's graphics and experiences are very basic. For the project to succeed, the Somnium Space metaverse will need to improve to meet Web 3.0 demands.
This is reflected in the Somnium Space market capitalization, currently just $15 million. This is a far cry from its $100 million valuation in late 2022. Nonetheless, this offers plenty of upside in preparation for the next bull market. The project's native VR token, CUBE, is available to buy on the leading US exchange Gemini. It also trades on Uniswap and CoinEX.
How we Picked the Best VR Crypto Coins
The best VR crypto projects offer proprietary software or hardware that will revolutionize the virtual reality industry. But investors must ensure their chosen cryptocurrencies have an actual use case within the ecosystem. In the long run, this will ensure that the VR crypto tokens remain in demand.
Now that we have discussed the best VR crypto projects to keep an eye on, let's examine what metrics we focused on. This will enable investors to do their own due diligence when building a portfolio of VR tokens.
Relevance to Crypto VR
The first step is to build a shortlist of crypto projects that are involved in VR. Then, investors will need to spend some time reading the whitepaper of each identified project. The idea here is to assess the project's relevance to VR technology.
After all, there are many different niches within the VR crypto space. For example, Somnium Space has developed a metaverse world that enables users to socialize, play games, and build virtual real estate. When accessing Somnium Space with a VR headset, users will benefit from immersive experiences.
Then there's CEEK VR, which has developed its own native VR headset and headphones. These are to be used specifically in the CEEK VE ecosystem, which offers immersive sporting and music experiences.
VR Token Use Case
All VR crypto projects have their own native token. But not all tokens have an actual use case within their VR ecosystem. From an investment perspective, it's best to focus on tokens that have utility, meaning people have a reason to buy them.
For example, those buying MANA tokens can purchase land plots and virtual real estate in the Decentraland metaverse. This gives MANA tokens real-world utility. After all, purchases and sales cannot be made without MANA.
Similarly, Metahero has built 3D scanning technology that can replicate people and products in metaverse worlds. To benefit from this technology, users must pay in HERO tokens.
Notable Partnerships and Investors
When selecting the best VR crypto tokens, investors should also explore whether the project has formed any notable partnerships.
For example, Decentraland has formed a partnership with LICKD. The platform allows YouTube content creators to add copyright-free music to their videos. The partnership will enable landowners in Decentraland's Vegas City to add music to their venues.
Additionally, the metaverse project Highstreet is backed by HTC - a leading electronics manufacturer. Having HTC on board is notable, considering it already has multiple VR headsets in the market.
Sustainability
Investors should also have a grasp of the VR project's business model. The key here is assessing whether the project is sustainable long-term.
For example, we mentioned earlier Metahero's scanning technology requires payment in HERO. If the technology becomes mainstream, this will require more and more people to buy its native tokens.
Market Capitalization and Performance
It is also important to assess the investment thesis before buying VR crypto tokens. A good starting point is to evaluate the market capitalization. This highlights the total value of the project, based on its current price and the number of tokens in circulation.
For example, Decentraland currently has a market capitalization of almost $640 million.
While this might sound sizable, consider that at its peak, Decentraland was worth over $8 billion.
If the project is able to regain its former peak during the next bull run, this would result in an upside of over 1,000%.
But perhaps, bigger gains are available by investing in a micro-cap VR crypto. For example, Somnium Space is currently valued at just $15 million. This offers plenty of upside, especially when VR cryptos become more mainstream.
Many VR crypto projects are trading at huge discounts from their prior all-time highs. This is often due to the broader bear market, rather than being reflective of the project itself.
For instance, while CEEK VR continues with its roadmap objectives, its native token is trading over 90% below its bull market peak. This offers a favorable entry point for new investors.
Why Invest in Virtual Reality Crypto?
The virtual reality market continues to grow each year. Crypto VR projects enable investors to gain exposure to this growth while the market is still young.
In this section, we explore why VR cryptocurrencies are increasingly becoming popular with investors.
Rapidly Growing Market
Virtual reality is one of the fastest-growing markets today.
According to Vantage Market Research, the VR industry was worth over $21 billion.
The same research company estimates that this will increase to over $248 billion by 2030.
If these projections are correct, this represents annual growth of 35.6% for the next seven years.
While estimates should be taken with a grain of salt, there is no denying the future potential of VR. Not only for gaming but metaverse experiences on a global level.
As such, investing in VR cryptocurrencies today offers a first-mover advantage before the industry goes mainstream.
Access to Pureplays
On the one hand, there are various large-cap companies that currently lead the VR space.
This includes Meta Platforms (Oculus), Samsung (Samsung Gear), HTC (HTC Vive), and Microsoft (HoloLens2). All of these companies trade on the stock market, making it simple for investors to buy shares.
However, virtual reality only forms a small segment of these companies. This means investors are not getting full exposure to the growth of VR. In comparison, the best crypto VR projects have virtual reality at the forefront of their concept.
For example, CEEK VR has built its own virtual reality headset for its native VR world. While Somnium Space has developed a metaverse ecosystem that is already compatible with third-party VR headsets.
Micro-Cap Valuations
As noted above, traditional VR stakeholders - such as Microsoft and Meta Platforms, already have large-cap valuations. This means that the upside is limited - even if its VR headsets perform well.
In contrast, the best VR crypto tokens carry a micro valuation. This is because the projects are still at the very start of their VR journey.
From an investment perspective, buying micro-cap cryptocurrencies offers a much higher upside potential. Equally, the risks are also increased.
Simple Diversification
To counter the risk of making poor investment decisions, it's worth considering a diversification strategy. Not only does this mean buying a wide range of VR cryptocurrencies but across different niches.
For example:
From the metaverse niche, there is a Decentraland and Somnium Space.
To gain exposure to VR hardware, consider the likes of CEEK VR.
Then there are ancillary providers like Metahero, which offers 3D scanning technology for metaverse avatars and products
Ethereum also allows investors to diversify, considering its blockchain hosts many VR crypto projects
Ultimately, creating a diversified portfolio is a risk-averse strategy that avoids putting all eggs into one's basket. If one VR crypto project fails, some of the other tokens in the portfolio could counter the losses.
What is the Future of VR in Cryptocurrency?
Virtual reality is expected to sit at the heart of the Web 3.0 economy. This is in addition to cryptocurrencies, blockchains, metaverses, and decentralized finance.
For example, consider a metaverse world that enables users to buy virtual plots of land.
Currently, most metaverses operate in 2D. This makes the process uninspiring for many.
In contrast, utilizing virtual reality offers an immersive experience - allowing people to view their land and real estate projects in 3D.
What's more, VR worlds will likely have their own economy. This means cryptocurrencies will be the medium of exchange, allowing people to work, invest, and live in the virtual universe.
That said, the VR cryptocurrency space is still in its early days. Nobody quite knows which virtual reality crypto tokens will become mainstream - if at all. As such, it's important to consider the risks of this emerging concept.
Conclusion
In summary, virtual reality and cryptocurrencies go hand-in-hand. Whether it's VR gaming, metaverse real estate, or immersive experiences - cryptocurrencies allow people to transact in the virtual world.
That said, the industry is still young, so knowing which VR cryptocurrencies to buy can be challenging. Instead, we much prefer Wall Street Memes - a newly launched meme coin project that is currently in presale. So far, almost $9 million has been raised - illustrating its potential.
References
https://coinmarketcap.com/view/memes/
https://www.reddit.com/r/wallstreetbets/
https://docs.decentraland.org/player/general/introduction/
https://www.reuters.com/markets/currencies/virtual-real-estate-plot-sells-record-24-million-2021-11-23/
https://coinmarketcap.com/currencies/decentraland/
https://coinmarketcap.com/currencies/highstreet/
https://www.binance.com/en/blog/ecosystem/binance-labs-to-announce-strategic-round-of-highstreet-421499824684902898
https://www.ceekvr.com/product/4dheadphones
https://coinmarketcap.com/currencies/metahero/
https://coinmarketcap.com/currencies/somnium-space-cubes/#Markets
https://ethereum.org/en/developers/docs/standards/tokens/erc-721/
https://lickd.co/blog/inspiration/lickd-metaverse-music-deal-with-decentraland-vegas-city
https://www.vantagemarketresearch.com/industry-report/augmented-reality-and-virtual-reality-market-1448
FAQs
What are VR tokens?
VR tokens are cryptocurrencies that have a use case within a virtual reality ecosystem, such as a metaverse or play-to-earn game.
Which crypto is used in virtual reality?
Many cryptocurrencies are used within virtual reality ecosystems, including MANA (Decentraland), HIGH (Highstreet), and HERO (Metahero).
Is Sandbox VR crypto?
Although Sandbox is developing a virtual metaverse world, it does not currently support VR headsets.
---