Top 5 Trending Cryptocurrency Today February 3 – MEMAG, NEO, FGHT, RNDR, CCHG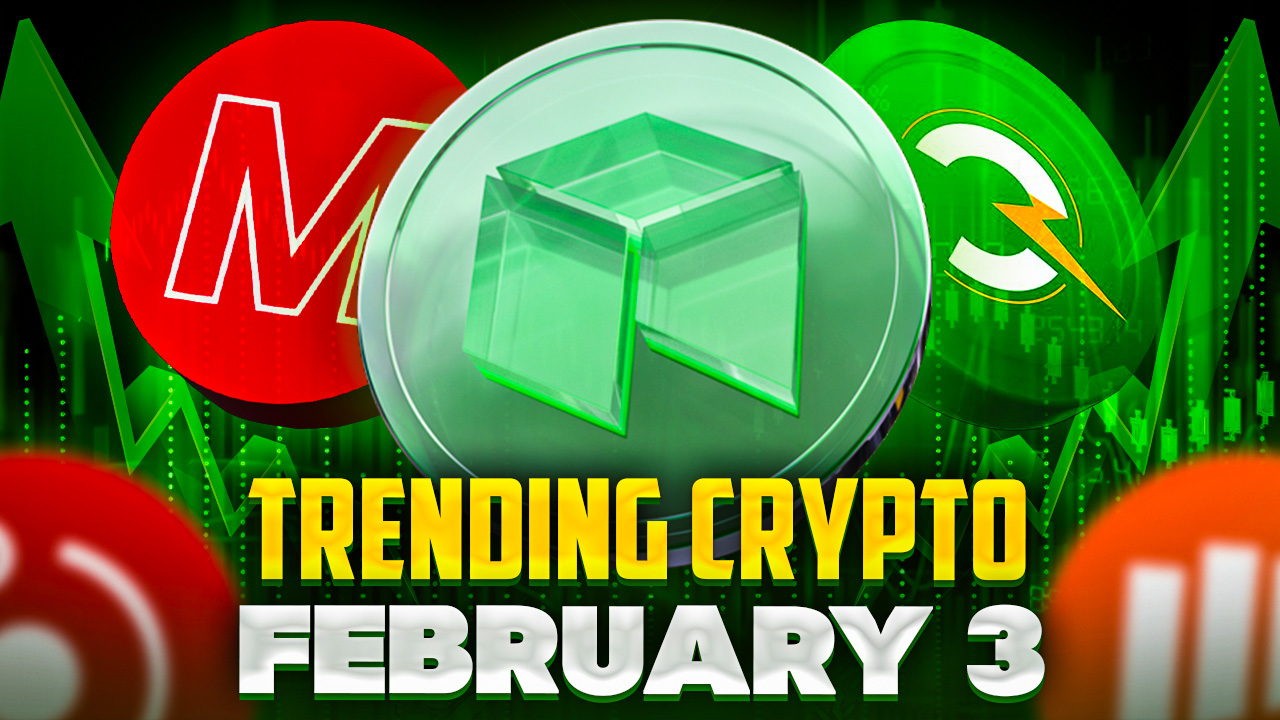 Our team of crypto analysts have taken a live snapshot of opportunities with our deep dive into the top 5 cryptocurrency's trading today - February 3. Find out which projects are getting the markets most excited this week!
The next face of GameFi - MEMAG
Meta Masters Guild (MEMAG) is changing the way we play and earn with its innovative decentralized GameFi ecosystem.
This cutting-edge platform combines high-quality mobile games with the power of blockchain. Allowing players to earn and use a single native currency, the Meta Masters Guild token ($MEMAG), to control their in-game assets.
The ecosystem prioritizes community engagement and fairness. With $MEMAG designed to put players in the driving seat of ecosystem development.
The presale of $MEMAG is currently underway, giving early adopters the chance to buy tokens at a discounted rate of $0.016 USDT. Get in before they reach their planned CEX listing price of $0.023 USDT. That's a built-in 43% return.
This is a once-in-a-lifetime opportunity to invest in a growing ecosystem. A project intent on shaking up the traditional gaming industry with its focus on sustainable GameFi economics and enjoyable gameplay.
One of the key developers behind the Meta Masters Guild ecosystem is Gamearound. A blockchain developer with a track record of creating games for top fashion retailer Boohoo.
Gamearound CEO Gideon Clifton is thrilled to be part of the MEMAG journey.
"A landmark moment for Gamearound and blockchain gaming, bringing ground-breaking, fun, and enjoyable titles to the global P2E community," applauded Clifton.
Gamearound is set to release the playable version of Meta Master's exclusive Meta Kart Racers later this year.
The game will feature a free entry-level NFT character and kart. With premium versions available for sale in the NFT marketplace or unlockable in the game using $MEMAG.
Players can earn Gems from their in-game activity and also win rare NFTs through the Play-to-Earn (P2E) system.
To get started, players select their favorite drivers and karts, then choose from one of the many fun racing tracks. They can go solo in arcade mode or test their skills in PVP (player vs player) competitions.
Other partners in the Meta Masters Guild ecosystem include blockchain development company RWaltz. Whose product development encompasses work with Probit exchange, 100XCoin, and BTC Bizarre.
With the full support of Gamearound, RWaltz, and other GameFi industry players under their belt. The Meta Masters Guild ecosystem is set to revolutionize the mobile gaming community and offer players a new way to play and earn.
Best Ethereum alternative? NEO
NEO, formerly known as Antshares or colloquially 'Chinese Ethereum'. A leading blockchain platform aimed at building the foundation of the next-gen internet.
The platform was founded by Da Hongfei and Erik Zhang. NEO has a growing ecosystem designed to digitize payments, identities, and assets.
NEO leverages the Delegated Byzantine Fault Tolerance (dBFT) algorithm to secure its network. It is therefore capable of handling thousands of transactions per second and sudden spikes in demand.
The platform's continuous development ensures its future-proof nature. This is tried and tested after the Chinese crypto ban in 2021. NEO's international developer community remained both resilient and defiant.
The Neo blockchain has two native tokens: NEO and GAS.
NEO acts as a settlement token and enables voting on blockchain improvements for governance. While GAS is used to pay for transactions on the network..
This week, NEO is trending in the crypto market, thanks to its impressive price action. The coin's 24-hour performance has it on a 2.56% uptrend. A continuation of a 45% rally into 2023. This has piqued the interest of many investors looking to buy the cryptocurrency.
NEO is therefore a promising smart contract-capable blockchain platform.. Its performance in the crypto market this month has generated a lot of buzz and makes it one of the most exciting projects in the space.
Take fitness to the next level with Fight Out
Fight Out is a promising fitness tech offering shaking up the industry with an innovative approach using Web3 technology.
The project combines real-life workout tracking with in-app rewards and challenges. The move-to-earn (M2E) concept.
This incentivizes users to take part in fitness activities, with rewards in the form of $REPS. These $REPS are redeemable for discounts, perks, and more. The in-app token $FGHT offers even more exclusive benefits, including the opportunity to level up earnings.
As part of the presale Fight Out are giving away $250,000 to a lucky presale participant.
The project has already attracted over $3.8 million in investments and is poised to rewrite the P2E space.
Former world boxing champion Savannah Marshall has endorsed the project as an ambassador.
What makes Fight Out unique from projects such as STEPN is its ability to reward users for a wide range of exercises, not just steps.
The app tracks movement, effort, sleep, and nutrition to build a personalized digital fitness profile. This then provides tailored training programs.
The digital profile is 'soulbound' and cannot be sold or traded, offering a high level of privacy and customization. Another example of the power of Web3 for self-sovereignty of ID.
The app is suitable for all levels, from world-class athletes to beginners. Offering high-quality instructional videos and other training resources at all levels.
Fight Out is also planning to build real-world gyms with Web3 features. These include ideas such as movement tracking sensors and digital profile displays.
CEO Carl Jones says "Fight Out stands for quality, innovation, and performance" and with the presale price of FGHT tokens increasing every 12 hours, now is the time to invest in this revolutionary project.
Deliver art to the IoT with Render
Render (RDNR) is a distributed GPU rendering network built on top of the Ethereum blockchain.
It aims to connect artists and studios in need of GPU computing power with mining partners willing to rent their GPU capabilities.
With a novel use case, $RNDR is thus an ERC-20 utility token used by artists on the network to exchange for GPU compute power from GPU providers.
The network uses a combination of manual and automatic proof of work system, called proof of render. This verifies all art has been successfully rendered before payment disbursal and art release.
The RNDR team is from Los Angeles and backed by parent company OTOY. The RNDR advisory board includes industry leaders such as Ari Emanuel, JJ Abrams, and Brendan Eich.
The price of RNDR has increased by over 90% in the past week. Bulls are rushing to continue a bull run that has seen RNDR has surged over 300% in the last 30 days.
The current price sees RNDR trading around $1.71.
Project governance is handled by the Render Network Foundation. A not-for-profit organization dedicated to maintaining the core Render Network protocol and growing its community and ecosystem.
The foundation is active and recently passed a new tokenomics model by the project's DAO.
The project voted 100% in favor of the new tokenomics model. Named 'burn-and-mint equilibrium', the burn-and-mint equilibrium model means RNDR will now act as the proprietary payment currency.
Jobs-to-be-done will be priced in USD and creators will burn RNDR tokens equal to the job price. Then, non-transferable, non-fungible Coupon Tokens (or Render Credits) will be issued to track completed jobs.
Node operators are compensated for their work through base-asset issuance incentives. These reward operators availability to take on jobs and the number of jobs they completed within a network's epoch.
The system would be in equilibrium if the number of tokens burned is equal to the number minted. If usage grows, supply decreases and creates upward price pressure, and vice versa for usage slowdowns.
The recent increase in the price of RNDR can be attributed to the launch of the Render Network Foundation and the passing of a new tokenomics model. Alongside macro sentiment.
Empower Green Revolution with C+Charge
C+Charge, a new start-up, is introducing a blockchain-based payment system for electric vehicle (EV) charging stations.
Offering EV owners the opportunity to earn carbon credits every time they charge their car.
The system, which aims to democratize the carbon credit markets in favor of EV owners and improve the charging experience, will reward EV owners with carbon credits in the form of Goodness Native Tokens (GNT) every time they pay to charge their vehicle. The EV owners will pay using C+Charge's native cryptocurrency, CCHG, and the more they charge and drive and the more CCHG they spend, the more GNT they will earn.

The carbon credit market, valued at $211.5 billion in 2019, is expected to grow to over $2.4 trillion by 2027. Yet, the market remains centralized and dominated by big players, making it largely inaccessible to individuals.
C+Charge hopes to change that by opening up the carbon credit reward market to EV owners and providing a platform that allows them to geolocate nearby charging stations and access real-time charger wait times and technical information.
CCHG is operating on the BNB Smart Chain and is deflationary, meaning the more it's used, the more valuable it becomes.
The C+Charge app, which is also a carbon credit tracker, will allow EV owners to track their holdings and rewards, making it easy to manage their portfolio.
With over $500,000 raised, the first CEX launch of CCHG is set to go live on March 31st. Don't miss out on the potential gains from investing before in the presale.
EV owners are encouraged to buy CCHG during the presale stage before the price increases. Don't miss out on this opportunity to join the future of EV charging and be a part of the blockchain revolution.
Disclaimer: The Industry Talk section features insights by crypto industry players and is not a part of the editorial content of Cryptonews.com.
---