'The Most Honest Sh*tcoin,' Dogecoin, Will Survive Alongside Bitcoin - Analysts
One of the oldest cryptocurrencies, created as a joke, dogecoin (DOGE), continues to rally, with financial services firm Galaxy Digital researchers attributing it partly to its honesty, simplicity, and self-awareness.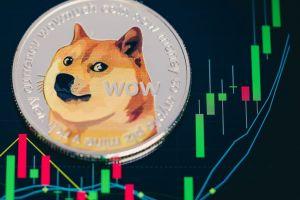 In their report titled 'Dogecoin: The Most Honest Sh*tcoin', Galaxy Digital Research writes that a bull run, combined with "retail trading manias fueled by mobile trading apps and Reddit-borne trade ideas," led DOGE to emerge as the best performing crypto year-to-date (YTD).
But the appeal of Dogecoin has always been its honesty, they said. Its only purpose is to be the world's most fun currency - it does not seek or pretend to be anything else. There is no business development or market infrastructure, or even a serious long-term narrative.
Despite its deficiencies, Dogecoin has "remarkably strong fundamentals and powerful forces supporting its rise" - a genuine origin story, longevity, and a growing community, they said, adding:
"DOGE has a long history of self-awareness and simplicity that makes it an attractive tool for expressing a wry cynicism about the state of the world. The coin offers a certain honesty that resonates in a complicated world and an often duplicitous cryptocurrency ecosystem. Most assets cannot rival that honesty, and Dogecoin's longevity is ensured so long as one truism remains: people love a good joke."
In 2021, DOGE has become the best performing major digital asset YTD; more people than ever own it; there's a record number of addresses interacting with the Dogecoin blockchain; it has settled a record amount of value; and it's the most profitable time ever to mine it.
At 9:26 UTC, DOGE is the 4th largest coin by market capitalization at more than USD 86bn. It's up 35% in a day, 95% in a week, as well as 1,051% in a month and 26,395% in a year. Its price is now USD 0.666. Its latest all-time high was earlier today, hitting USD 0.686 (per Coingecko).
DOGE price chart: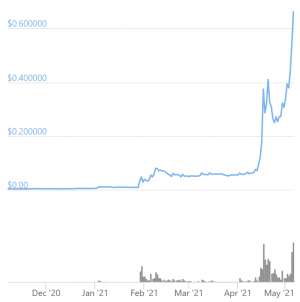 Trading volumes have been up as well, to USD 75.8bn recorded on April 16. On May 5, this number is almost USD 56bn, compared to USD 68bn for bitcoin (BTC) and USD 75bn for ethereum (ETH).
"DOGE is liquid enough to support significant investment," said the researchers.
The 30-day moving average active address count passed 100,000 addresses for the second time in 2021, seeing around 115,000 daily active addresses on May 4. There are about 3.6m addresses holding any amount of DOGE.
In the last year, more than 60% of the coins' total supply has been moved, indicating a significant transfer of coins from older holders to newer entrants, said the report.
Much of Dogecoin's core architecture is inherited from Bitcoin. Despite its "deficiency" when compared to Bitcoin, with no pre-mine or initial coin offering (ICO), Dogecoin's 'fair launch' "positions it more closely to Bitcoin than most other projects in the space, ensuring that no hidden group of insiders stands to benefit disproportionately from its rise," the report noted.
While its volatility is fuelled by mania, "DOGE is likely to live on as long as Bitcoin lives, and as long as jokes are funny," they concluded.
Much opposing views, wow
Galaxy Digital CEO Mike Novogratz commented on this "very balanced" report, admitting: "I had been too bearish. Glad I'm not short."
This comes after he had advised people not to buy the coin in late April and after he had said Mark Cuban was making a "mistake" in letting Dallas Mavericks fans pay for tickets and merchandise in DOGE.
On May 4, crypto exchange Gemini announced that users are able to deposit dogecoin to their accounts. "Dogecoin is the people's money," they said. "It's organic, irreverent, and fun. It's not forced on us by a government or some other central authority, it's chosen by us, for us — by the people, for the people. Wow." Another major platform, eToro, has also started supporting DOGE trading this week.
On a question if dogecoin's all-time high is "a triumph of a F U to the crypto community', Anderson Kill Partner Preston Byrne replied "both."
While Guardian Circle founder Mark Jeffrey said he doesn't understand DOGE and won't "touch" it as trying to time it seems dangerous, Arcane Assets' Chief Investment Officer Eric Wall stated he "wildly underestimated the degree to which people are unironically buying dogecoin," and trader Alex Krüger argued that "Dogecoin should ensure nobody listens to an efficient markets proponent ever again."
Blockstream engineer Grubles had a different take on the coin:
Coin Metrics' data scientist Kevin Lu noted that, despite some insiders looking down on the DOGE, it shouldn't be forgotten that crypto is intimidating to newcomers. "Dogecoin can still serve as a lighthearted introduction to crypto, and it has some of the purest principles of any coin," Lu said.
Indeed, there are those who said that they got into the Cryptoverse through DOGE, which they claim have sold for "a nice profit," and are now looking to invest into other cryptoassets as well.
Some commenters are saying though that investing in DOGE is "terrible," and that it's a giant bubble leading to a giant dump.
And as for that eternal question of 'will DOGE reach USD 1', some suggest that it now may be possible.
___
Other reactions:
__
__
__
__
__
__
__
__
____
Learn more:
- TikToker Creates Joke 'SCAM' Coin – and People Are Buying it in Droves
- Cuban & Musk Turn up the DOGE Again – Critics Ring Warning Bells (Again)
- Bitcoin Dominance In Payments Drops Amid Dogecoin, Altcoins Surge - BitPay
- Who Let the DOGE Clones out? Dogecoin Knockoffs Dominate DEX Trading
- DOGE's Rally Has Revived Dogecoin Development, But For How Long?
- Are GameStop-Style Surges In Crypto Any Different From Old Pumps & Dumps?
---