Terra Luna Classic Price Prediction as Bears Push LUNC Down 0.4% – Is the Sell-Off Over Now?
Disclosure: Crypto is a high-risk asset class. This article is provided for informational purposes and does not constitute investment advice. By using this website, you agree to our terms and conditions. We may utilise affiliate links within our content, and receive commission.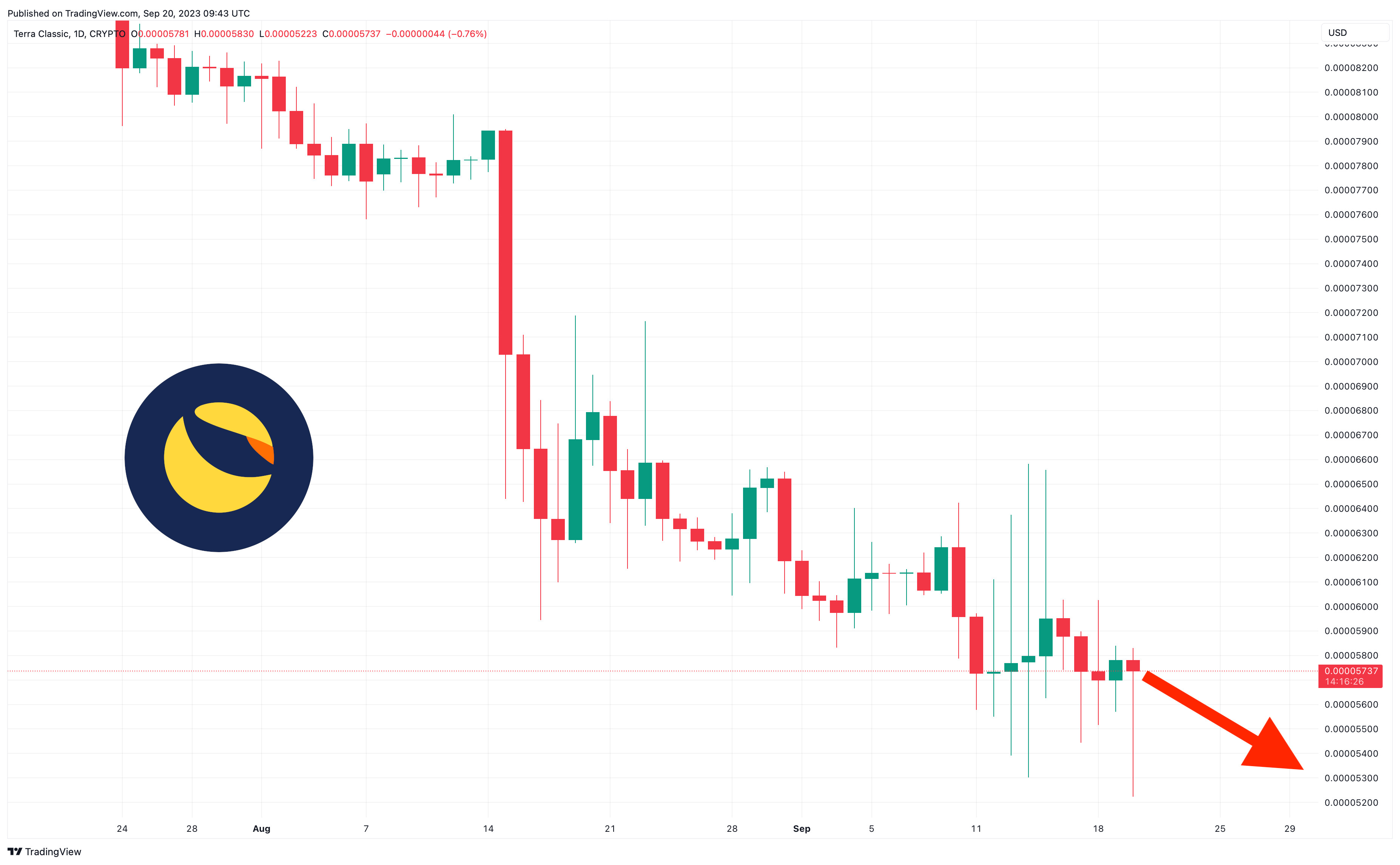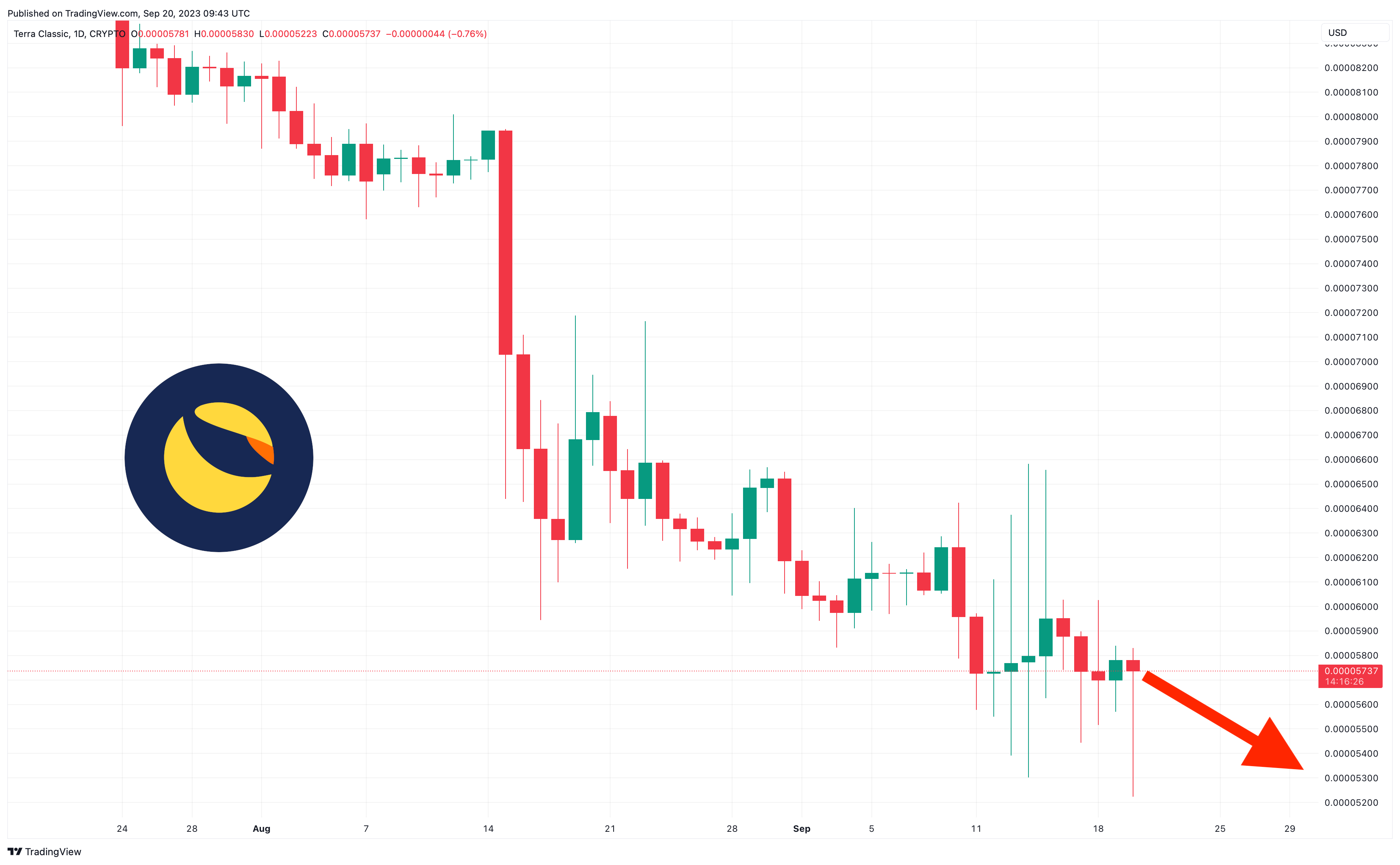 The price of Terra Luna Classic (LUNC) has dipped by 0.5% this morning, with its fall to $0.00005748 representing a similar fall in the past week and a 14% drop in the last 30 days.
Given just how heavily LUNC has been sold in the past few months, many traders may be tempted to think that it has finally bottomed out and could be ready to mount a significant recovery.
However, the failure of the Terra Luna Classic community to rally around a particular strategy for boosting LUNC could mean that the altcoin remains in a long-term state of decline, and that no major rebound is ever likely to arrive.
Terra Luna Classic Price Prediction as Bears Push LUNC Down 0.4% – Is the Sell-Off Over Now?
LUNC's chart makes for some grim reading, in that its indicators have mostly been in a condition of weakness for several weeks now.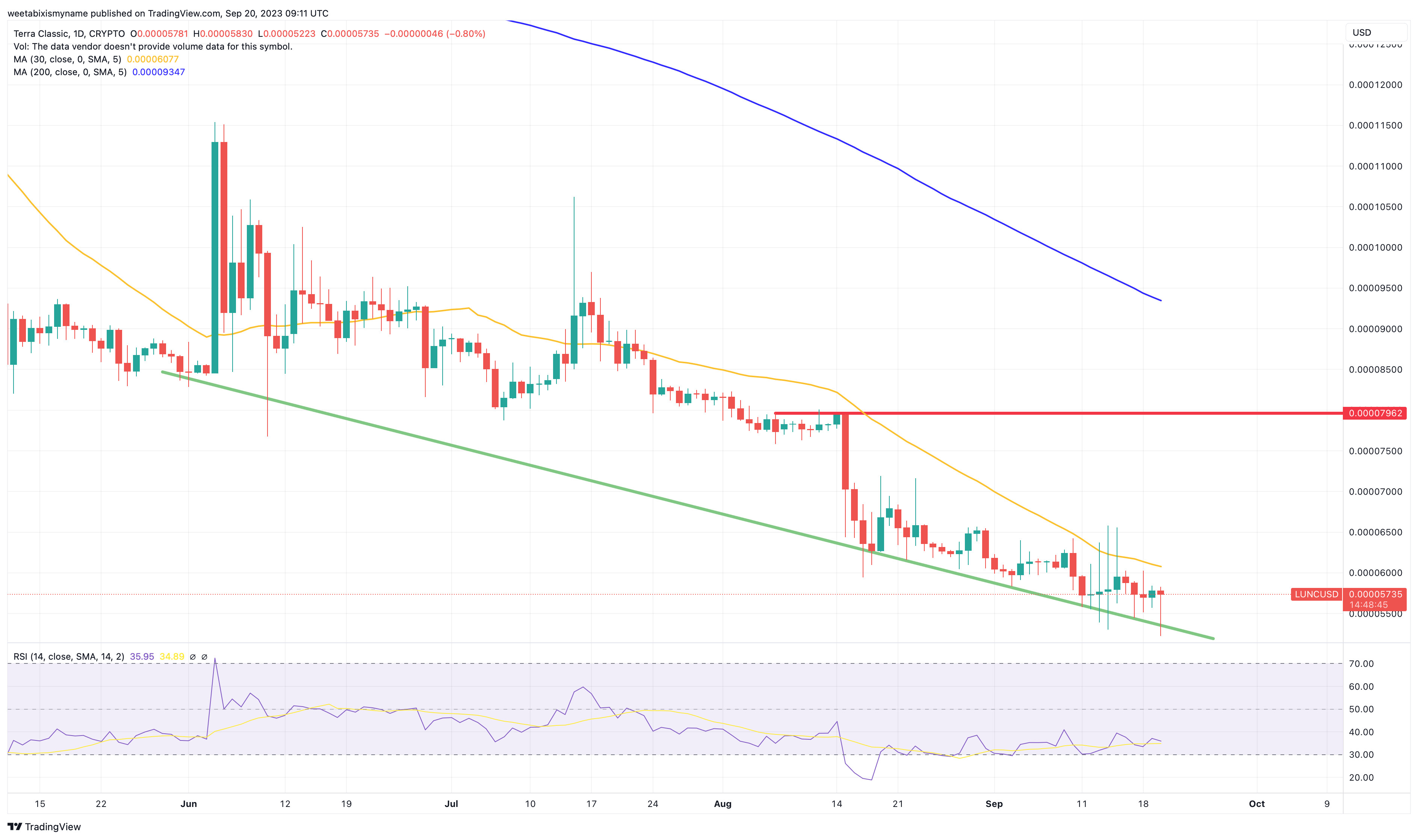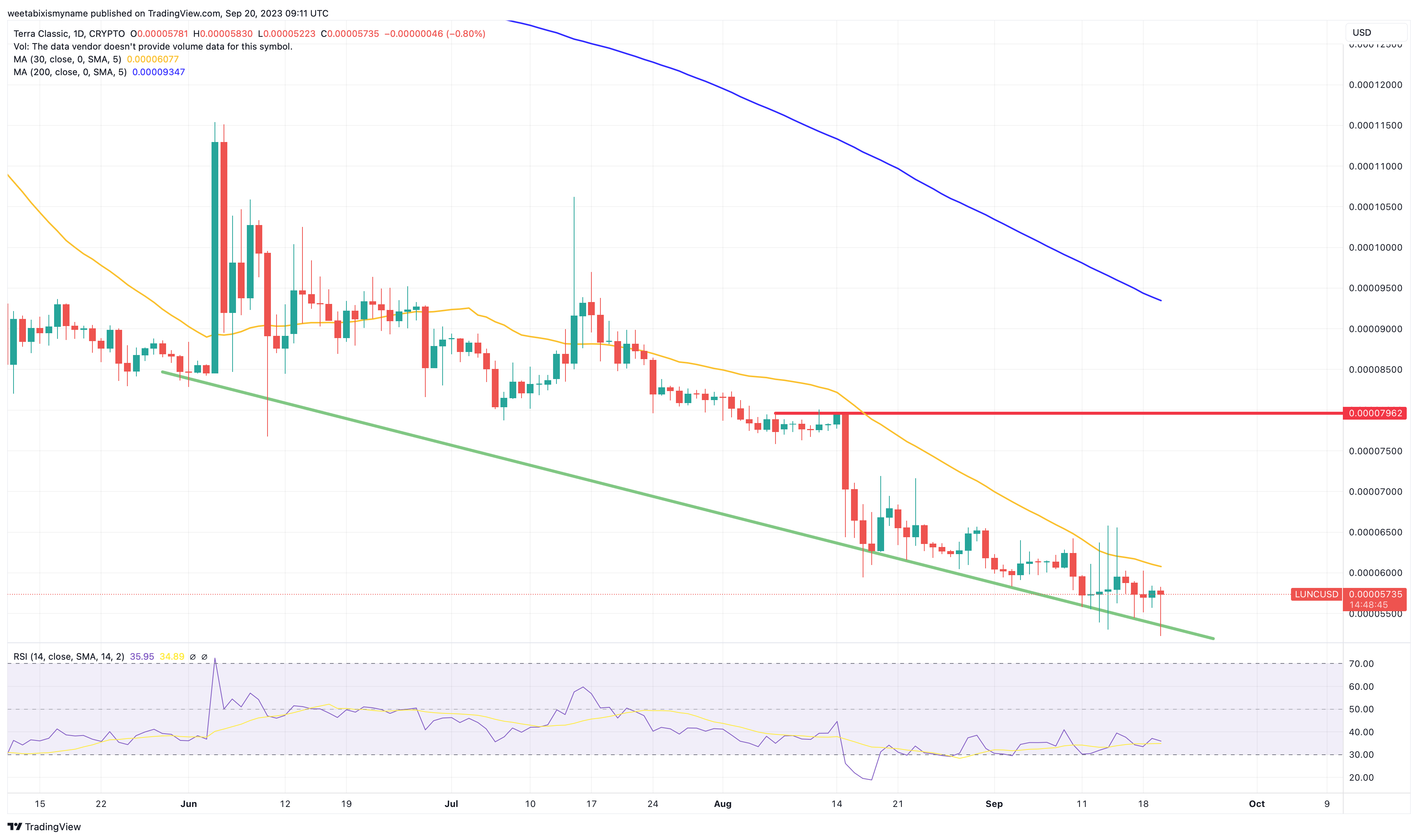 Most notably, the altcoin's 30-day moving average (yellow) has been substantially below its 200-day average (blue) for an incredibly long time, and it continues to sink further.
Normally, the 30-day tends to dip below the 200-day for a temporary period, before the related asset sees a recovery.
However, things are clearly different with LUNC, which has also seen its relative strength index (purple) remain below 50 for the past few months, another sign that it's really struggling to regain any kind of serious momentum.
Even more discouragingly, the coin's support level (green) has been declining steadily for pretty much the entire year, falling through one short-lived floor after another.
Again, this all points to a coin trapped in a terminal state of decline, with the realists among us probably having to concede that all available technical indicators predict ongoing stagnation.
On the other hand, the Terra Luna Classic community does continue its efforts to boost LUNC and its related stablecoin, USTC, in whatever ways it can, even if such efforts clearly haven't borne much fruit this year.
URGENT $LUNC ARMY!!!

VOTE YES ON THIS PROPOSAL SO #BINANCE    BURNS 50% OF #USTC!!!

THIS WILL HELP US REPEG!!! pic.twitter.com/96gVC8iG2b

— Terraport Finance  (@TerraValidators) September 18, 2023
Most recently, a governance proposal was submitted that would formally ask Binance to burn 50% of its USTC supply, a move that would ultimately help re-peg the stablecoin to the US dollar.
But as positive as this proposal seems at first glance, there are two things worth pointing about it.
Firstly, it's currently not passing as things stand, with the vote due to close tomorrow.


Secondly, even if it does pass, Binance is under no obligation whatsoever to act upon its recommendations.
As such, it will likely represent yet another failed attempt to do something to resuscitate USTC, LUNC and the wider Terra Luna Classic ecosystem.
This is why it's hard, as an analyst, to honestly predict anything other than ongoing pride declines for LUNC, which may fall to $0.000040 in the next few weeks.
Higher Growth Altcoins
In view of how LUNC doesn't like it will escape its downward spiral anytime soon, many traders will be recommended to diversify their portfolios into other altcoins, particularly those which could have market-beating gains coming up.
It's obviously hard to predict just which coins will have such gains, but one promising opportunity is provided by presales, with the best presale coins positioned very well to rally big once they list on trading platforms.
A good candidate for significant rallies is Launchpad.xyz (LPX), an all-in-one Web3 trading platform that has already raised more than $1.7 million.
Tired of scams and empty promises? #LaunchpadXYZ is here to help 🙌

Over $1.7M raised in our #Presale and we're just getting started 🚀

Secure your $LPX bonus today 💪https://t.co/ZUZaIKgy84#Crypto #Web3 #Altcoins #Trade pic.twitter.com/P49sW2S0KE

— Launchpad.xyz (@launchpadlpx) September 19, 2023
Launchpad.xyz is due to launch its platform in the next few months, with its ecosystem providing a wide assortment of tools and resources, all of which will help traders (of all skill levels) keep up with the cryptocurrency market.
This includes a play-to-earn gaming hub, AI-based analytics, trading signals, collaborative trading rooms, automated trading bots, fractionalized assets and presale listings.
Launchpad will also launch its own decentralized exchange and an NFT marketplace, enabling its users to get early access to some of the hottest new tokens and collectibles in the cryptocurrency sector.
Making LPX even more attractive is the fact that it will be used to pay for Launchpad's fees and subscriptions, providing the token with real utility and ensuring that it will grow in parallel with the growth of the platform.
On top of this, LPX will also be used for staking, providing holders with a double source of income (in addition to price rises).
Meet Apollo, your new AI trading assistant 🌐

Make calculated decisions with sentiment news and market insights to keep you one step ahead of the game 🤖📊

Join the $LPX presale today ⤵️https://t.co/VP1YsOx6jB#LaunchpadXYZ #Web3 #Crypto #Presale pic.twitter.com/dkdFDZoR2J

— Launchpad.xyz (@launchpadlpx) September 19, 2023
New investors can buy some LPX early by going to the official Launchpad.xyz website, with 1 LPX selling at a discounted price of $0.0445.
This price could soon be superseded, with LPX due to list on exchanges as soon as its presale ends in the next few weeks.
Disclaimer: Crypto is a high-risk asset class. This article is provided for informational purposes and does not constitute investment advice. You could lose all of your capital.
---