Ripple Increases Its Dominance in the Market
Following the "flippening" last week where Ripple's XRP cryptocurrency dethroned Ethereum as the most valuable digital asset in terms of market capitalization, XRP has managed to strengthen its positions in the crypto market after the crash last week.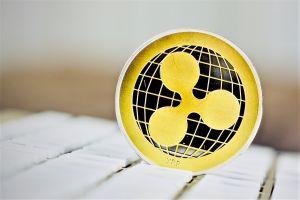 Percentage of total market capitalization (dominance):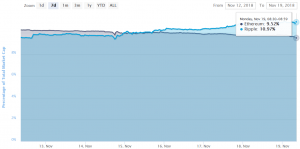 ____
Top 3 coins by market capitalization:

Also, despite dropping more than 6% in the past 24 hours (UTC 07:35 AM) (another 6 coins from top 10 cryptocurrencies by market capitalization slumped by more than 6%), XRP has registered the smallest weekly drop among top 50 coins (-4.90%.)
XRP price chart: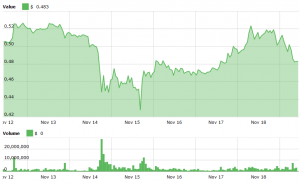 Regardless of whether the surge in XRP should have been expected by the crypto community or not, the token has possibly been helped by positive news in recent days, in addition to the drama surrounding bitcoin cash.
According to a statement from MUFG Bank, one of Japan's largest banks, the bank will deploy Ripple's technology to facilitate cross-border payments between Japan and its Brazilian partner, Banco Bradesco S.A. The two financial institutions signed a memorandum of understanding last week to develop the new cross-border payment service, and the news has gotten widespread attention among XRP followers. However, it is unclear whether the new partnership actually involves the use of Ripple's XRP cryptocurrency, which has so often turned out not to be the case in the past.
Also, a few months ago, similar partnership news stories hardly did anything to move the price of XRP higher.
On Twitter, many are now asking what's going on with XRP, and how the cryptocurrency has managed to garner such a huge following on social media. Mati Greenspan, senior market analyst at online broker eToro, had this take when asked about it:
However, not everyone agrees, suggesting instead that the rise of XRP was inevitable and that it has just been expedited by "civil war" going on in the Bitcoin Cash community, which some believe may have caused the price of bitcoin (BTC) to crash as well:
Meanwhile, Simon Dixon, an "investment banker turned Bitcoiner", co-founder of online investment platform BnkToTheFuture, tweeted, angering the XRP crowd:
---