The Market Crash: What, Why and What to Expect
After a strong sell-off the crypto market just touched new lows. On Thursday morning (UTC 05:50 AM), out of top 100 cryptocurrencies by market capitalization only three are in green. Two of them - stablecoins.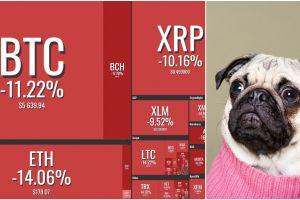 What is going on? What possible reasons for the sell-off are and what the market might expect? Let's dive in.
The price of bitcoin fell sharply Wednesday night and early Thursday morning, breaking the pattern of extremely low volatility seen over the past weeks and months. The technical support area formed by bitcoin's previous low from late June was not enough to keep bitcoin prices from falling, and the sell-off did not stop until price reached USD 5,281 on Coinbase.
The sell-off in bitcoin over the past 24 hours adds up to 11.2% on average across exchanges, data from CoinMarketCap shows. Data from the same source also reveals that bitcoin's market capitalization has now fallen below USD 100 billion for the first time since October 2017, while the value of the entire cryptocurrency market has fallen from nearly 210 billion 24 hours ago to 184.2 billion as of press time.
Top 10 coins by market capitalization in the past 24 hours: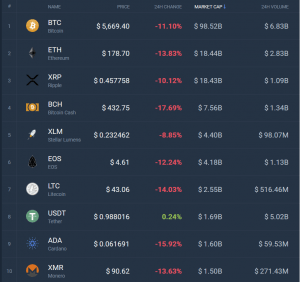 It's still early to tell for sure what the reasons behind the most recent sell-off are, but some speculate that volatility in the Bitcoin Cash (BCH) market caused by the controversial BCH hard fork may have affected the BTC market as well.
Altcoins also selling off
Interestingly, the overnight crypto sell-off also brought Ethereum and Ripple's XRP closer to each other in their battle for the number two spot on the ranking of the most valuable digital assets. Following a 14% sell-off in the price of ether, XRP has now overtaken Ethereum's traditional position as the second most valuable cryptocurrency by a margin of about USD 100 million.
Among other major movers Thursday morning, BCH again stood out with a loss of 18% over the past 24 hours. The sell-off follows heightened tensions ahead of the upcoming BCH hard fork, where Bitcoin SV has really caught up with the more mainstream fork proposal Bitcoin ABC in pre-fork trading on the Poloniex exchange.
Best performers among top 100 coins: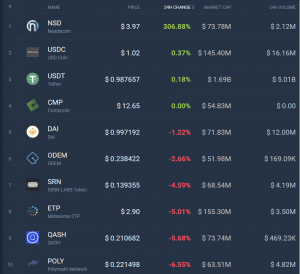 ____
Worst performers among top 100 coins: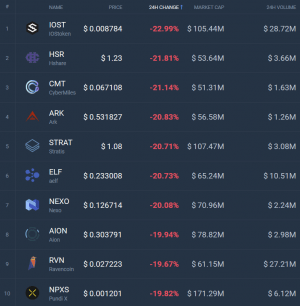 _____
What industry players are saying
Mati Greenspan, Senior Market Analyst at eToro, a social trading platform:
"Three main factors are contributing to today's drop in Bitcoin price.
First, the Bitcoin Cash hard fork is turning out to be an arms race among bitcoin miners. It may not have direct impact on price but it's something people are concerned about — there is a fear that miners might be diverting mining power away from bitcoin into Bitcoin Cash. On paper, however, bitcoin has more than enough hash rate to maintain their transaction rate.
Another contributing factor is the selloff in tech stocks, which could be having a spillover effect into crypto markets.
Finally, from a technical analysis standpoint, as bitcoin's price falls below USD 6,000 we're seeing liquidation: stop loss orders automatically going into effect and/or people trying to play the breakout."
Marshall Hayner, Founder of Metal Pay, a blockchain-based payments and rewards company:
"To put it plainly, today's dip is likely indicative of the fact that the most recent round of crypto speculators are capitulating. Thanks to revised short-term expectations that call into question the idea of a bull run by the end of the year, many are likely taking their chips off the table. A key takeaway from this most recent decline is the continued need for crypto liquidity, which will likely be found in future stages of industry maturation, hopefully in the form of adoption by retail consumers in their day-to-day activities."
Donald Bullers, North American Representative for Elastos, a developer of an internet operating system:
"It's safe to say that Bitcoin Cash's upcoming hard fork was stirring uncertainty amongst crypto investors, and forecasters across crypto and traditional markets alike have predicted a prolonged bear market heading into 2019. Crypto investors have proven to be highly reactive to changes across the landscape, and this dip could be the most recent case study of that phenomenon."
Casey Kuhlman, CEO of Monax Industries, a blockchain and smart contract software technology company:
"Crypto price slumps can often create misconceptions about the future of our industry, but perhaps what is most important to remember during periods of volatility is that the underlying blockchain technology solves real-world problems across the real economy. Crypto prices may rise and fall for reasons that are difficult to identify, however, the blockchain industry will remain strong and continue to grow."
Rohit Kulkarni, Managing Director of Private Investment Research at SharesPost, an online platform that links investors with late-stage venture-backed companies and shareholders:
"We believe that there are three likely catalysts that could result in a crypto market turnaround in the next six months: There is greater clarity from regulators which could embolden the market; A select group of blockchain startups that have completed token offerings in the past year finally announce innovative commercial products; As smart money and institutional capital keeps piling up, investors pull the trigger and call the bottom of the market."
Meanwhile, Meltem Demirors, Chief Strategy Officer at CoinShares, a crypto focused investment company, sees brighter future for Bitcoin, but suggests that smaller cryptocurrencies might be in trouble.
_____
Find the best price to buy/sell cryptocurrency: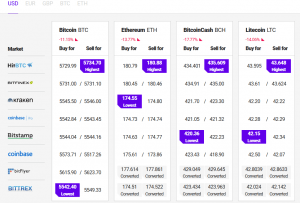 ---