Pikamoon Crypto Presale Review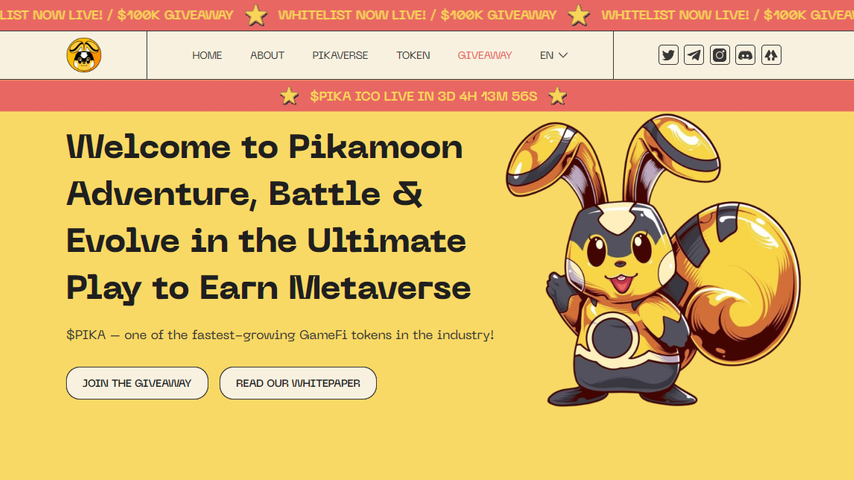 Pikamoon is a brand-new play-to-earn game that allows gamers to earn tokenized rewards in the Pikaverse metaverse.
Its native in-game currency, PIKA, is about to be sold to early investors via a presale campaign - in this article, we explore the Pikamoon ecosystem and discuss the benefits of investing in the PIKA presale.
What is Pikamoon?
Pikamoon is a newly founded gaming project that is being built on the blockchain. Players will explore the 'Pikaverse' looking for gems and entering battles, which is the native metaverse of the project.
In a similar way to Axie Infinity, this is a play-to-earn game and players will earn rewards for completing tasks and progressing through the four distinct regions of the Pikaverse.
Rewards are earned in the project's in-game currency, PIKA. PIKA tokens can be used to purchase in-game boosters, such as spells and potions, or sold on exchanges. Moreover, those holding PIKA tokens will be eligible for a free NFT - each is unique, and there will be just 18,012 first-generation NFTs available.
Having had a sneak peek of the Pekaverse, we were impressed with the quality of the graphics and how engaging its adventure-themed metaverse is. And ultimately, the longer players engage with the Pikamoon game, the more rewards can be earned.
The aim of the game is to explore the continent of Dreva, collect items and Pikamoons and, ultimately, defeat the 13th God - a malevolent entity intent on conquering the world.
Players earn rewards by entering in turn-based battles. When the player has their turn, they can choose from one of five actions, including attacking, using an item (e.g. potion), fleeing, swapping for another creature, and talking.
The turn-based system continues until one of the two creatures is defeated - those that are victorious will receive PIKA tokens directly in their wallet, which can be used to further a player's progress in the game or be sold on an exchange.
Pikamoon is just about to launch its presale campaign, where early investors can buy PIKA tokens at a huge discount. There are three stages of the presale, each selling 10% of the total supply.
Stages one, two, and three are priced at $0.0002, $0.0004, and $0.0006 respectively - meaning that stage one investors will secure an immediate upside of 200%.
How to Buy Pikamoon – Full Tutorial
Looking to invest in one of the best crypto presales of 2023?
Below, we explain how to buy PIKA tokens at the best price possible. Just remember, buying in stage one secures an upside of 200% - and that's before PIKA is listed on a crypto exchange.
Step 1 – Set Up a Crypto Wallet
When the Pikamoon presale goes live on April 16, 2023, investors will need to ensure they have a crypto wallet. This needs to be a wallet that connects to the Ethereum network. For this tutorial, we explain the steps with Metamask.
Metamask can be installed as a browser extension for Chrome, Firefox, Edge, and Brave. It can also be downloaded as an app for Android and iOS. We prefer the browser extension, as it allows for a seamless investment process on a desktop device.
Next, open Metamask and choose a password. Finally, write down the 12-word passphrase carefully. This should never be shared with anyone, as it provides access to the wallet if the password is forgotten.
Step 2 – Get Crypto
Investors will need to get some crypto tokens before they can invest in the Pikamoon presale. Supported cryptocurrencies include Ethereum (ETH) and Tether (USDT).
These popular utility tokens can be purchased from most crypto exchanges.
Step 3 – Transfer Crypto to Wallet
The next step is to transfer the ETH/USDT tokens to Metamask. This will require the Metamask wallet address, which is unique for each user.
This can be found by clicking on 'Assets' and copying the address below 'Account 1'. Then, head over to the private wallet or exchange that is holding ETH/USDT and transfer the tokens to Metamask.
Step 4 – Connect Wallet to Pikamoon
Once the presale goes live on, visit the Pikamoon website and connect the Metamask wallet.
Before the wallet is connected, the investor will need to authorize this via Metamask.
Step 5 – Buy Pikamoon Tokens
Now that the wallet is connected, the investor can buy Pikamoon tokens. Choose the payment currency from ETH/USDT and type in the desired quantity. For example, those investing $200 USDT in stage one will get approximately 500,000 PIKA.
After the presale, the tokens can be claimed. The PIKA will then be transferred to the investor's Metamask wallet. However, there will be a vesting period depending on which stage the investment was made.
For example, stage one investors will have a two-month cliff after the Token Generation Event (TGE). This is one month for stage two investors. Stage three investors will have no cliff from the TGE.
A Closer Look at Pikamoon
Before investing in any new cryptocurrency, it is important to conduct due diligence. In this section, we help clear the mist by taking a much closer look at Pikamoon and its native PIKA token.
Put simply, Pikamoon is building one of the best NFT games to hit the market. Players will be tasked with exploring the Pikamoon world, known as the continent of Dreva. They will be represented by their own Pikamoon character, backed by an NFT.
There are four unique regions in Dreva, each with their own style, atmosphere, history and lore - the Earth Region, Water Kingdom, Thunder Collective and Flame Empire.
The role-playing game (RPG) will see players explore each region, discover hidden places, complete objectives and collect items to gain experience and assets and improve their Pikamoons, upgrade stats to progress through the game, defeat high-powered Guardians and eventually come face-to-face with the 13th God.
Ultimately, the most effective way of earning PIKA is to enter battles. There are two versions of Pikamoon battles, player-vs-player (PVP) and player-vs-environment (PVE). The former means that Pikamoon players will battle each other on a peer-to-peer basis. And the latter will see players battle against the AI software, which is backed by the blockchain.
Both PVP and PVE battles are turn-based, meaning that the player will choose how to proceed on their respective turn, such as launching an 'attack' or 'fleeing' - players can also deploy items to help them gain an advantage in battle, such as a weapon or potion. Items can be purchased from the Pikamoon NFT marketplace with PIKA or discovered when exploring Dreva.
Unlike many crypto games in the market, Pikamoon will be accessible to all types of players. This is because it has partnered with Transak, enabling players to purchase in-game items and NFTs with fiat money. This will appeal to players that do not have any experience with crypto. It is also securing a custodial storage option for players that do not wish to use a private crypto wallet.
Investors who purchase PIKA during the presale can use it to mint their Pikamoon NFT for free, however, potential players will not need to own an NFT to still be able to access the game.
The game's design and style has been heavily influenced by Pokemon and Fortnite, with the game not containing mature themes so it is suitable for players of all ages and having a vibrant and cartoon-influenced style to make the world visually exciting and interesting.
We also like that the vast majority of in-game assets are backed by NFTs, enabling players to hunt for rare items, and when found, ownership is secured on the blockchain. Players can then list their NFT items on the Pikamoon marketplace at their preferred price.
Pikamoon will initially be an offline, single-player game, but the project has huge plans for its own metaverse with multiplayer functionality coming later in the roadmap.
Full details of the project, the lore of Dreva, gaming mechanics and future plans can be found in the Pikamoon whitepaper.
When earning PIKA tokens within the game, players have several options. Some players will look to HODL their tokens, considering that PIKA will trade on crypto exchanges. Alternatively, PIKA can be used to buy in-game assets, allowing players to progress through the Pikaverse faster.
The presale has just launched and is currently in Stage one. There are just three stages to the presale, representing 30% of the overall token supply. Stage one investors will secure an upside of 200%.
This is because stages one and three are priced at $0.0002 and $0.0006, respectively. Stage two is priced at $0.0004, meaning those who miss stage one can still secure a 100% upside.
Ultimately, the earlier the investor is made the bigger the presale discount.
| | |
| --- | --- |
| Presale Start Date | April 16, 2023 |
| Accepted Payment Methods | ETH, USDT, Credit/Debit Card |
| Blockchain | Ethereum |
| Minimum Investment | N/A |
| Maximum Investment | N/A |
PIKA Tokens – The Fuel of the Pikamoon Ecosystem
As noted above, PIKA is the native in-game currency of the Pikamoon ecosystem. It also serves as the project's investment token, considering it will trade on crypto exchanges. In this section, we explore the tokenomics of PIKA.
First and foremost, unlike Axie Infinity and other play-to-earn games, PIKA is the only native token of the project. This is beneficial from an investment perspective, as having multiple tokens can dilute the amount of liquidity in the market.
PIKA tokens are earned when playing Pikamoon, mainly by entering PVP and PVE battles. Tokens can also be earned when exploring the four regions of Dreva and, as players accumulate more PIKA tokens, they can be used to purchase in-game items to help them progress.
All in-game items are backed by NFTs, ensuring that the player retains full ownership. In-game items will help players progress through the game, meaning they have real-world utility.
In total, there will be 50 billion PIKA tokens. 10% or 5 billion PIKA are being sold in each stage of the presale. The balance is split between liquidity (7.5%), the team (12.5%), staking (10%), ecosystem development (32%), and marketing (8%).
It is also important to note that there is a 2.5% tax on sell orders and transfers. This is to help sustain the Pikamoon ecosystem long-term. 1% goes to marketing, 1% towards ecosystem development, and 0.5% is burned. As such, PIKA is also a deflationary token.
Is Pikamoon a Good Investment? Key Takeaways
Still not sure whether Pika represents the best future crypto project? In this section, we discuss some of the key reasons why some analysts believe Pikamoon could generate sizable returns in 2023.
200% Upside for Early Investors
First and foremost, those investing in the Pikamoon presale will secure a huge discount. As noted above, stage one investors will pay just $0.0002 per PIKA token.
Stages two and three are priced at $0.0004 and $0.0006 - therefore, stage one investors will secure a 200% upside on the presale purchase.
Crucially, this is before PIKA tokens are listed on a crypto exchange.
Anti-Dumping Mechanisms
The team at Pikamoon has developed anti-dumping mechanisms, which protects the project long-term. For instance, stage one and two investors will need to meet a vesting period of two and one months, respectively.
This is to prevent early investors from dumping their tokens straightaway. Considering that Pikamoon is a long-term gaming project, this mechanism will allow PIKA tokens to grow organically over time.
Another safeguard in place is the 2.5% tax on sales and transfers, which will again de-motivate PIKA holders from dumping their tokens. There is no tax when buying PIKA.
Huge Online Following
Although Pikamoon is a newly launched project, it is already creating lots of hype in the crypto community.
In fact, the platform already has 15,000 followers on Twitter - its followers are highly engaging too, with a recent post generating nearly 1,300 retweets and over 1,300 likes.
The growth potential of a new cryptocurrency like PIKA is often dependent on hype, so this is good news for investors.
Interested parties can also join a growing community on Telegram.
Long-Term Growth Potential
Pikamoon is still in its early stages of development. As such, this project will suit investors that like to allocate funds to growth projects from the earliest stage possible.
Like most new tokens, it will be listed on an exchange after the presale as a micro-cap crypto. This means that investors can target sizable gains as Pikamoon becomes mainstream.
Pikamoon Price Forecast – What to Know
It is challenging to make price predictions on new crypto launches. This is especially the case in the current market landscape, with crypto prices remaining volatile. Nonetheless, some industry experts believe that Pikamoon could witness similar growth to Axie Infinity.
This hugely popular play-to-earn gaming token was trading at just $0.14 when it first hit exchanges in 2020. Just one year later, AXS tokens hit highs of $160 and players in developing countries such as the Philippines were earning more from the game than the national average wage. This means that early Axie Infinity investors saw gains of over 114,000%.
Pikamoon will be listed on exchanges at a similar low market capitalization, so early investors will be targeting huge gains. Moreover, stage one investors will secure a 200% upside before the exchange listing, so it is wise to catch the Pikamoon presale as soon as it launches on April 16.
Another thing to note is that the global gaming market is predicted to be worth over $520 billion by 2027. This can only bode well for Pikamoon, considering that more and more gamers are turning to play-to-earn ecosystems.
After all, projects like Pikamoon not only enable players to earn tokenized rewards but also own in-game assets via NFTs.
The Verdict?
Pikamoon is building a new and innovative metaverse gaming ecosystem with play-to-earn rewards. Players will earn PIKA tokens for entering and winning battles, as well as by exploring the Pikaverse.
Players can also earn and buy in-game assets to increase their chances of winning battles. All in-game assets are backed by unique NFTs.
PIKA tokens launched to the public on April 16 across a three-stage presale - the Pikamoon presale is expected to sell out fast, considering that stage one investors will secure an immediate upside of 200%.
As such, growth investors will need to move fast to secure the best entry price possible.
FAQs
How do I buy Pikamoon tokens?
The Pikamoon began on April 16 and early investors will get a huge discount. Investing in stages one and two will secure an immediate upside of 200% and 100% respectively.
What is the price of Pikamoon?
Stage one of the Pikamoon presale will price its native utility token, PIKA, at just $0.0002. Stages two and three will price PIKA at $0.0004 and $0.0006, respectively.
Is Pikamoon a good investment?
Some analysts believe that Pikamoon could be the fastest-growing play-to-earn game in 2023. Its native metaverse - the Pikaverse, allows players to explore four virtual regions to enter battles and win tokenized rewards. Players can also find in-game assets along the way, such as weapons and potions. All in-game assets are backed by NFTs and tradable on the Pikamoon marketplace.
What is the total supply of Pikamoon tokens?
The total supply of Pikamoon tokens is 50 billion. 30% of the supply will be sold during three presale stages. The balance will be used for marketing, liquidity, staking, tokenized rewards, and other core requirements.
Disclaimer: The Industry Talk section features insights by crypto industry players and is not a part of the editorial content of Cryptonews.com.
---