New WWF Project To Use NFTs to Save Animals
While some skeptics criticize non-fungible tokens (NFTs) for their alleged carbon footprint, an unusual partnership has emerged.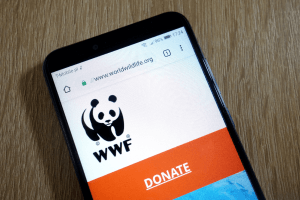 This time, Carbonbase, a Hong Kong-based greentech start-up that leverages emerging technologies to reduce emissions for individuals and enterprises, has partnered with the World Wildlife Fund (WWF)' Panda Labs division, to launch a marketplace for rare digital collectibles, Project Ark. Launched this month, it aims to "save animals and protect biodiversity through collectibles worth saving." Artists and buyers can be connected here, with the goal to support international NGOs and local communities.
The NFTs sales are used to form crowdfunding campaigns for projects, with the majority of the proceeds going towards the conservation efforts and the rest to the artists and the platform. Buyers will know exactly where their money goes and the impact it creates, as a report will be made for each completed campaign, said the team. Meanwhile, the partnering organizations hope to be able to access new funding.
The first project is set up with WWF Romania, a part of Panda Labs, with the idea to "have both a local and international perspective, bringing to life a Proof of Concept and then provide a model that can be used for other locations and scale."
"For those of us, living and working in a natural hot-spot, it is always a question of how we can empower locals to become conservationists," said Oana Mondoc, Community and Innovation Specialist for WWF Romania. Therefore, "we want to try different mechanisms to direct the most benefits to communities on the frontlines, to incentivize responsible use of resources until it becomes the new norm. […] I see Project Ark as a transparent pipeline for motivation and impact to flow faster and with fewer intermediaries."
Meanwhile, Project Manager at Project Ark, Mihai Hrimiuc, told Cryptonews.com that the team has already calculated the average emissions for the campaign, which will amount to around 30 t of CO2, from which they will purchase emissions for 100 t, "making the project not only neutral but Carbon-Negative as well."
At this stage, the focus of this pilot project, which is selling "NFT eggs," is on improving their existing conservation efforts in the Carpathian forests of Romania, home to wolves, bears, Lynx, and the endangered European bison.
The limited number of the eggs offered are described as ornate, 3D, and coming in four tiers: Bronze, Silver, Gold, and Platinum.
The eggs also come with original music, incorporating traditional Romanian instruments to "preserve the locality of the project," said Hrimiuc.
For this first partnership campaign, according to Carbonbase founder Max Song, they will try to raise as much as they can. If they're successful, the eggs will 'hatch' - meaning, it will trigger a reward for everybody involved in the project in the form of bonus NFTs, representing local endangered wildlife animal statues and unique works of art.
In either case, WWF Panda Labs is just the beginning, Hrimiuc said, as they want to expand the model to other locations of WWF along with other NGOs.
Project Ark is already collaborating with 20 artists for the first campaign, with a waiting list of about 100 more artists, he added.
Meanwhile, Business Development Advisor at Carbonbase, Roy Weissbach, said that unspecified luxury brands "are getting interested to combine NFT's as part of their CSR (corporate social responsibility) activities which works well with Project Ark."
In terms of future collaborations, what they were also able to disclose are the Nashulai Massai Conservancy and Wildography.
The project future plans also include transitioning the community towards a decentralized autonomous organization (DAO). This would include the governance ARK token, which would be used to choose projects and artists for collaborations, as well as creating an endowment fund to support big natural resources in a sustainable way, without having to depend on a regular basis contribution, Hrimiuc said.
The team also said that their project was selected for pitching in the final for the recently announced Sound Ventures NFT challenge, where they showcased Project Ark and had a Q&A session with the judges, including Mark Cuban, Ashton Kutcher, Snoop Dogg, and others.
____
Learn more:
- NFT Explosion Coming over Next 2 Years & Will Create Jobs, Say Insiders
- Why NFTs Aren't Just for Art and Collectibles
- NFT Performance Art: Corporations Could Capitalize On Protest
- Why Would Anyone Buy NFT – A Link To A JPEG File?
- Check These 4 Make-Your-Own-NFT Platforms
- Non-Fungible 2021: Prepare Your NFTs For DeFi, Staking, and Sharing
- Oversupplied NFT Market Sees Interest and Sales Plunge
- Proof-Of-Bitcoin Needed As Critics & Competitors Unite To Play Climate Card
---