New Uniswap Coins a Good Buy If Bitcoin Price Top In – Wall St Prediction as Traders Hunt Next Dogecoin, Shiba Inu or Pepe
Disclosure: Crypto is a high-risk asset class. This article is provided for informational purposes and does not constitute investment advice. By using this website, you agree to our terms and conditions. We may utilise affiliate links within our content, and receive commission.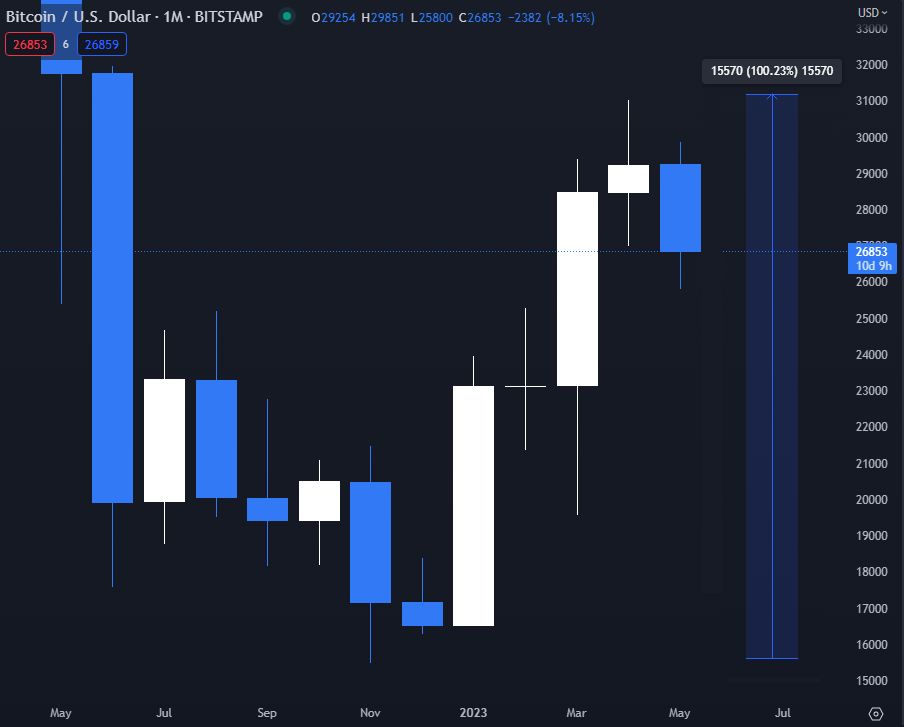 Wall Street investment bank Morgan Stanley thinks the Bitcoin top could be in as investors are diversifying into newer cryptocurrencies on decentralized exchanges like Uniswap, particularly speculative meme coins.
Heading into June 2023, the Bitcoin price has risen approximately 100% from its November 2022 lows of just under $15,500.
Wall Street Bitcoin Price Prediction
The bearish price forecast appeared as an update this week on a Forbes article titled 'The Game May Be Over', referring to Bitcoin and Ethereum.
Morgan Stanley crypto analyst Sheena Shah stated:
At the peak of the crypto bull run in 2021, the Bitcoin price had an inverse relationship with the pace of new token listings.

The number of new cryptocurrencies created and listed on Uniswap exchange has doubled in the past month, a pattern that, since 2020, has often occurred around market tops.
The original article also covered the bearish Bitcoin price prediction of Paul Tudor Jones – the hedge fund manager has stated Bitcoin may fall out of favor as an inflation hedge for investors, as inflation has fell to its lowest rate in two years in the US.
In addition Bitcoin still has the 'real problem' of unfriendly regulation in the US, Paul Tudor Jones added.
Investing in Bitcoin, Ethereum vs New Cryptocurrency Assets
With the Bitcoin price dropping back under the $27,000 level earlier today, the market cap of Bitcoin now stands at $522 billion.
A move back to its all-time high hit in the last crypto bull run – $69,000 in November 2021 – would be a 2.5x increase in the Bitcoin price.
The Ethereum price retesting its ATH of $4,800 from its price today of $1,800 would be a 2.66x rise.
View our latest Ethereum price prediction video on the CryptoNews YouTube channel above.
For traders more interested in short term price speculation, buying new Uniswap coins can often outperform that rate of return within the space of minutes, especially as an early investor in a new initial coin offering (ICO) that launches with a low market cap.
The Pepe price has dominated crypto news headlines for its explosive rise since its April 2023 launch, leading New York Magazine to write that $PEPE and similar meme coins such as $SPONGE are even 'causing problems for Bitcoin'.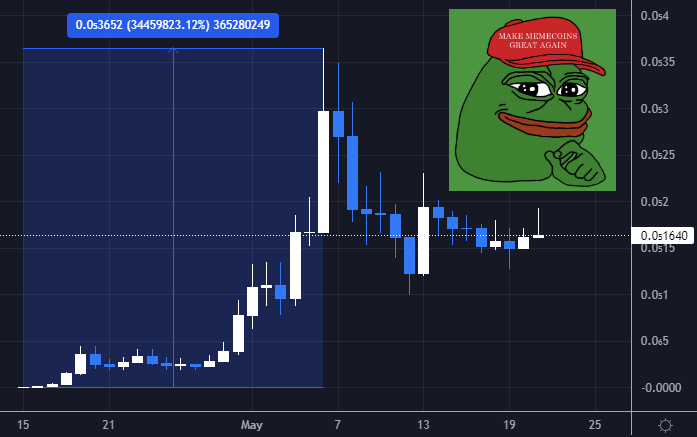 Like Pepe coin this year, during the 2021 bull run it was meme tokens like Dogecoin (DOGE) and Shiba Inu (SHIB) that provided the highest gains for investors that got in and out at the right time.
Shiba Inu was hoped by many to be the next Dogecoin – and it did at one point flip DOGE in market cap – but after its October 2021 explosion in price, the Bitcoin price topped out shortly after. It remains to be seen if the same pattern will repeat this year, of FOMO for meme coins signalling a market top.
Next Dogecoin, Shiba Inu or Pepe?
Yahoo Finance this week noted former Coinbase CTO has given up on his bullish Bitcoin price prediction – $1 million in 90 days, a viral prediction he made back in March.
It also highlighted some new crypto ICOs, for which gains in the thousands of percent are 'not uncommon'. Alongside $SPONGE, it picked out $COPIUM – two coins we've reviewed on our best meme coins article.
If Wall Street and Forbes are right that investor attention is 'surging away from BTC towards newer cryptocurrency assets as traders try to maximize profits', those tickers could be two to watch.
We've also reviewed a new meme token ICO set to launch later this quarter, AiDoge, which has raised over $10 million in seed round funding.
In total we've picked out 19 new crypto coins with high upside potential for the remainder of 2023.
Read More
---