Market Deaf to Tron's Justin Sun Call to 'Buy His Shitcoin' as TRX Down 4%
Justin Sun, CEO of Tron, has said that the native coin TRX is a shitcoin. The price of the "shitcoin" fell 4% in a day.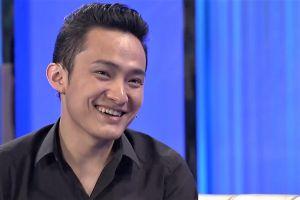 Sun, possibly inebriated, said in a short video by cryptocurrency podcaster Peter McCormack, that Tron is a shitcoin - a derogatory term the Cryptoverse uses for those altcoins it sees as worthless, pointless, or simply less than. So it's surprising that its own founder - who frequently promotes TRX and Tron blockchain as worthy of mass adoption - would define his coin this way. "Buy my shitcoin," urged Tron's founder, laughing, with McCormack joining in on the laugh.
The 13th coin by market capitalization dropped 4% in the past 24 hours and has continued falling, but the market is generally in the red for the last day. It appreciated 11% in a week and 47% in a month, and it's currently (9:15 UTC) trading at USD 0.021.
This wasn't the only surprise for the Cryptoverse though. Prior to this, a photo has been shared, taken at the Satoshi Roundtable event, depicting together Sun with Blockstream CEO Adam Back and creator of hardware devices the OpenDime and ColdCard Rodolfo Novak, who said in an apparent joke that Tron has a new home.
It's unlikely that there's work being done on integrating Tron with Bitcoin, though the discussions about this have continued, still likely in jest. The joke may be at the expense of Ethereum fans though, as these Bitcoiners seem to trolling them (and perhaps Tron along the way), by shilling Tron as superior to Ethereum (ETH). Samson Mow, Chief Strategy Officer at Blockstream, tweeted a comparison between ETH and TRX, in TRX's favour, while developer Udi Wertheimer also finds Tron superior of the two, and places Tron over MakerDAO.
CEO of Chainstone Labs and host of The Satoshi Roundtable, Bruce Fenton, going by the Twitter handle "Bruce FenTron" now,said that the event was pro-Ethereum and that the photo was just meant to be surprising given the combination of people it shows, with ETH supporters responding that the situation has gone beyond the photo.
That said, while Sun "LOLed" the video, McCormack posted that he has completed his goal.
Angel investor and BTC maximalist, WhalePanda, tweeted saying that he thought the "Tron thing" stupid until seeing the number of triggered people, adding: "ETH people calling Tron a scam is pure hypocrisy. If you call Justin a scammer, then so is Vitalik [Buterin]. Both a shady ICO with overhyped features and (at least in Tron's case) good marketing."
People had various reactions to the video, with some taking it as a confirmation of their opinion, and others saying that McCormack played friendly with the drunk Sun to get a statement, thus taking advantage of him. Tron supporters found the act deceitful and manipulative. And while some say that alcohol brings the truth out of people, others find that this was an obvious joke on Sun's part.
And while a majority, for one reason or another, is perpetuating the joke, others are warning of potential danger, such as Dovey Wan, a founding partner of investment company Primitive Ventures, saying that trolling like this is a bad idea, and that many will take it seriously.
---