Litecoin Price Prediction as LTC Trading Volume Surges Past $800 Million – Are Whales Buying?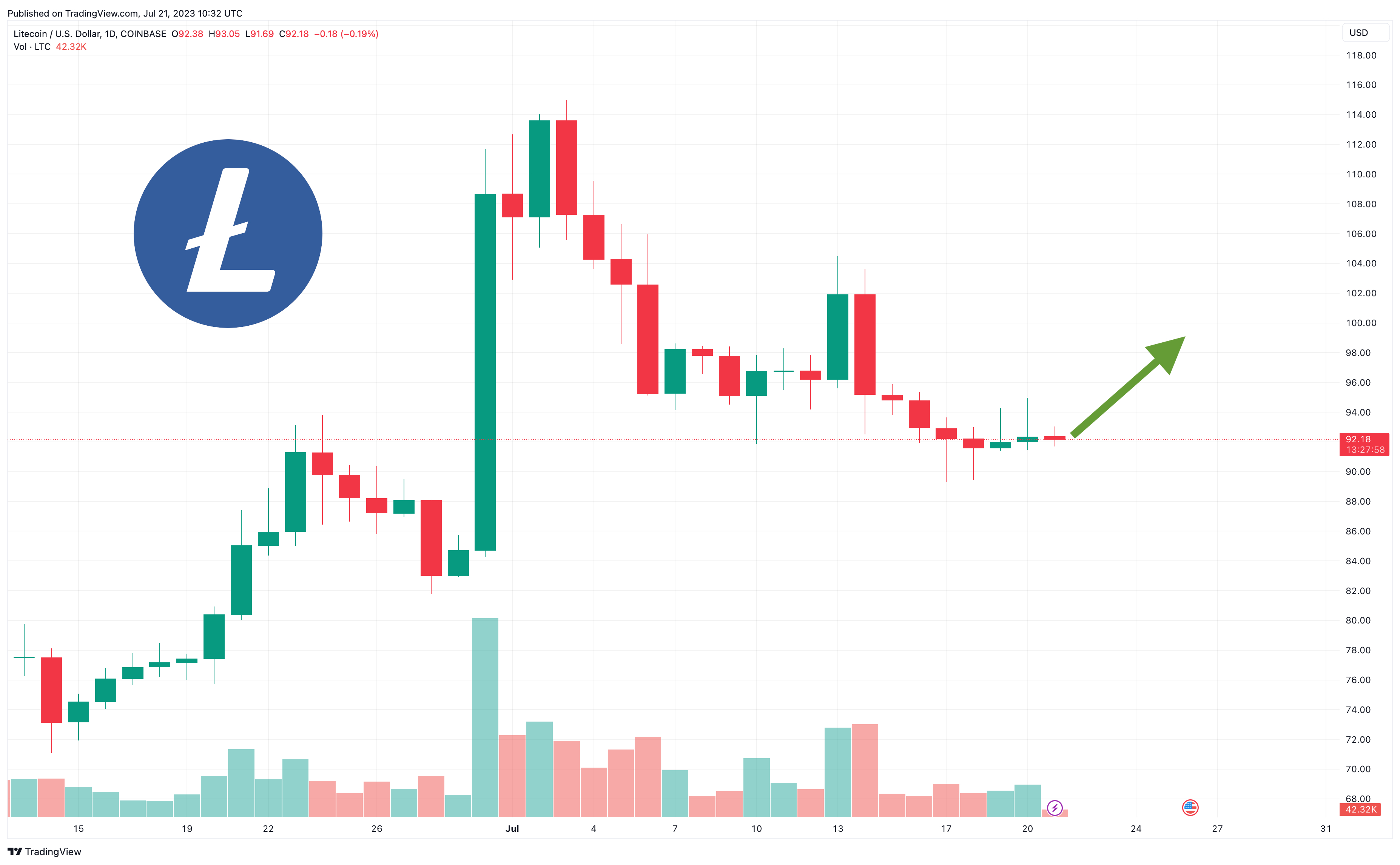 The Litecoin price has dropped by 2.5% in the past 24 hours, with its fall to $92.11 also marking an 8.5% fall in the last seven days.
LTC's losses today comes as the cryptocurrency market as a whole slides by 1% since yesterday, although the altcoin remains up by 10% in the last 30 days.
It's also up by 63% in the past year, while the coin's 24-hour trading volume has passed $800 million, in a sign that market activity remains elevated and could possibly help it recover soon.
Litecoin Price Prediction as LTC Trading Volume Surges Past $800 Million – Are Whales Buying?
While Litecoin has suffered over the past week, its chart suggests that it could be in a position to begin rallying again soon.
LTC's relative strength index (purple) is nearing 50 again, after spending several days earlier in the week closer to 30, with its partial recovery here signaling that it may be about to regain momentum.
At the same time, the altcoin's 30-day moving average (yellow) has recently fallen below its 200-day average (blue), meaning that it's not too far away from bottoming out and seeing more gains.
However, it's hard to say when exactly the market can expect LTC to rise, with the coin's support level (green) potentially remaining weak and unable to resist a few more falls.
This may be a negative view of things, but recent data suggests that whales are more inclined to sell LTC at the moment rather than to accumulate it.
As the above tweet illustrates, there have been some large LTC transfers to exchanges in the past couple of days, implying that whales are preparing to sell or selling the coin.
This suggests that much of the elevated trading volume LTC is seeing at the moment relates more to traders trying to offload the token, than to new buyers entering its market.
For this reason, we could really see LTC falling a bit more before it begins a recovery, yet the approach of Litecoin's halving event in early August would suggest that the coin is due a recovery rally sooner or later.
While it remains possible that the halving has already been priced in by the market, it's likely that LTC will see gains at some point over the next 12 days.
From its current position of $92, it could very likely return to $100 soon enough, before possibly rising as high as $110 by the time the halving takes effect.
A New Litecoin Alternative
Because LTC may not necessarily be in line for big gains in the near future, some traders may opt to look towards newer tokens, particularly those that haven't yet had their initial big surges.
One of the most promising examples of such a cryptocurrency is BTC20, a new ERC-20 token that will provide an Ethereum-based version of Bitcoin that can be staked to earn passive income.
Its presale opened a few days ago and has already raised more than $500,000, in a sign of growing market interest in the token.
Interestingly, the presale will make 6.05 million BTC20 available at a fixed price of $1, providing investors with the opportunity to compensate for having missed out on BTC when it was priced only $1.
As with the original Bitcoin, BTC20 will have a total maximum supply of 21 million, with the remainder of its supply being minted over the course of 120 years via staking rewards
This limited and gradually released supply will make BTC20 as deflationary as BTC itself, yet it will have the added advantage of enabling its holders to profit from staking.
This feature explains why it has already managed to raise more than half a million dollars in a couple of days, with new investors able to participate in the presale by going to the official BTC20 website and connecting their software wallets.
Buyers can acquire BTC20 using ETH, USDT or fiat currency, and while the token's price will be fixed at a low $1 during the presale, it could easily rise much higher soon after.
Disclaimer: Crypto is a high-risk asset class. This article is provided for informational purposes and does not constitute investment advice. You could lose all of your capital.
---