Immediate Alpha Review - Scam or Legitimate Trading Software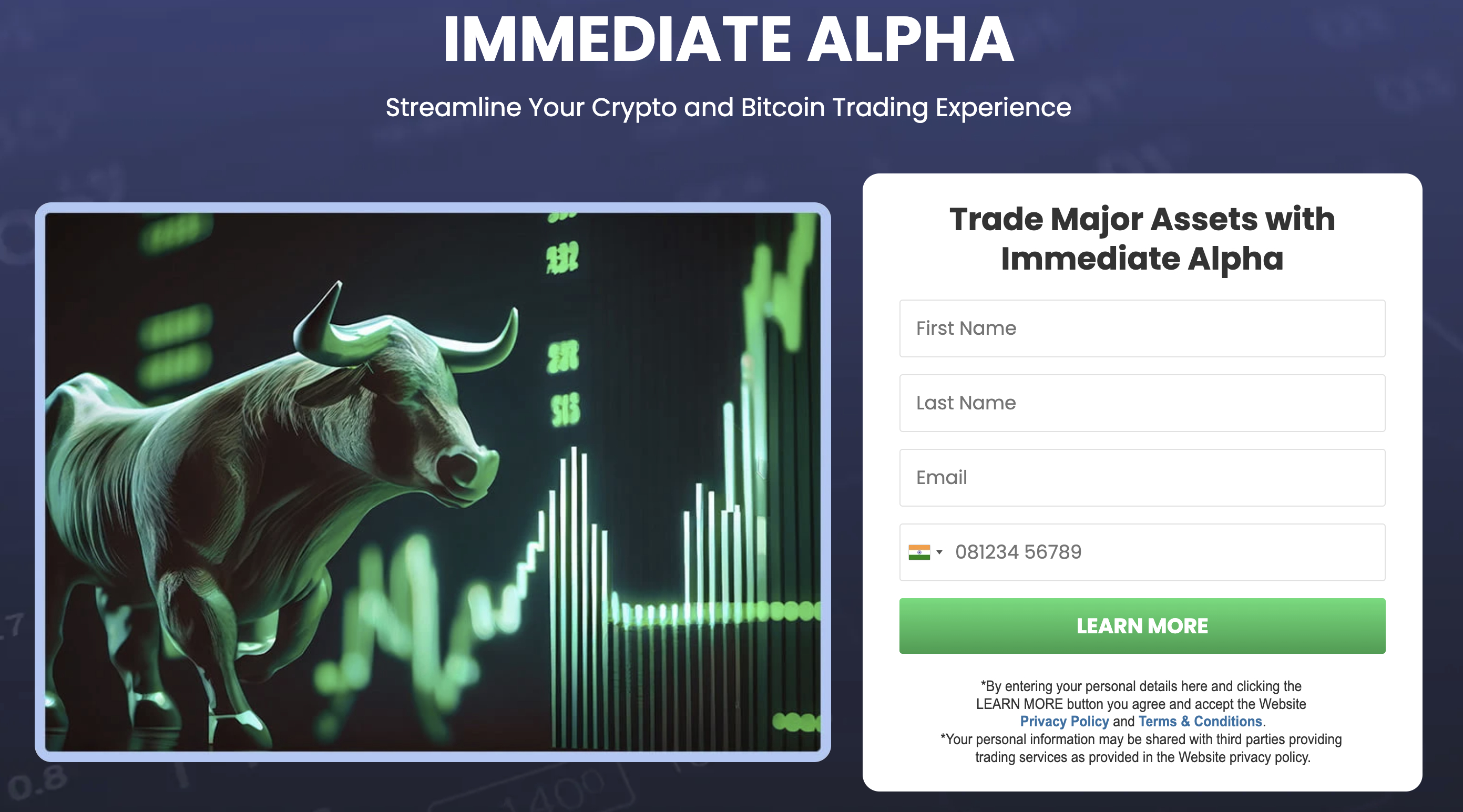 Disclaimer: The text below is an advertorial article that is not part of Cryptonews.com editorial content
Immediate Alpha is a crypto trading platform that promises to streamline your crypto and Bitcoin trading experience with a series of inclusive tools to give you an edge in the market. It promises an extensive network of trading services and claims to support multiple assets, allowing you to diversify your investment.
Are these claims true? Let us dive into this Immediate Alpha review and assess the site's promises to learn whether it is a scam or a legitimate trading software.
Immediate Alpha Summary
Immediate Alpha's website portrays itself as an info-focused trading site with inclusive features that point to it being a manual trading platform. But before we get into its details, here are the facts to know:
| | |
| --- | --- |
| Supported Crypto | Multiple cryptocurrencies, stocks, CFDs, and indices |
| Claimed Success Rate | There is no mention of a success rate since the site doesn't have an autonomous trading system |
| Available on Mobile? | No mention of a mobile app |
| Fees | No details available about the fee |
| Customer Support | Accessible to registered users |
| Withdrawal Speed | It can take up to 24 hours - depending on the payment mode |
| Minimum deposit | No mention of a minimum deposit |
Cryptocurrencies are unregulated. Trading with unregulated brokers will not qualify for investor protection
What is Immediate Alpha?
The current volatility of the crypto market has increased the demand for trading systems that offer a no-nonsense, streamlined trading experience. Immediate Alpha promises to offer it in droves, claiming to be a "premiere crypto trading destination" that can help you stay ahead of the market.
The term 'alpha' is synonymous with insider knowledge, crypto signals and analysis.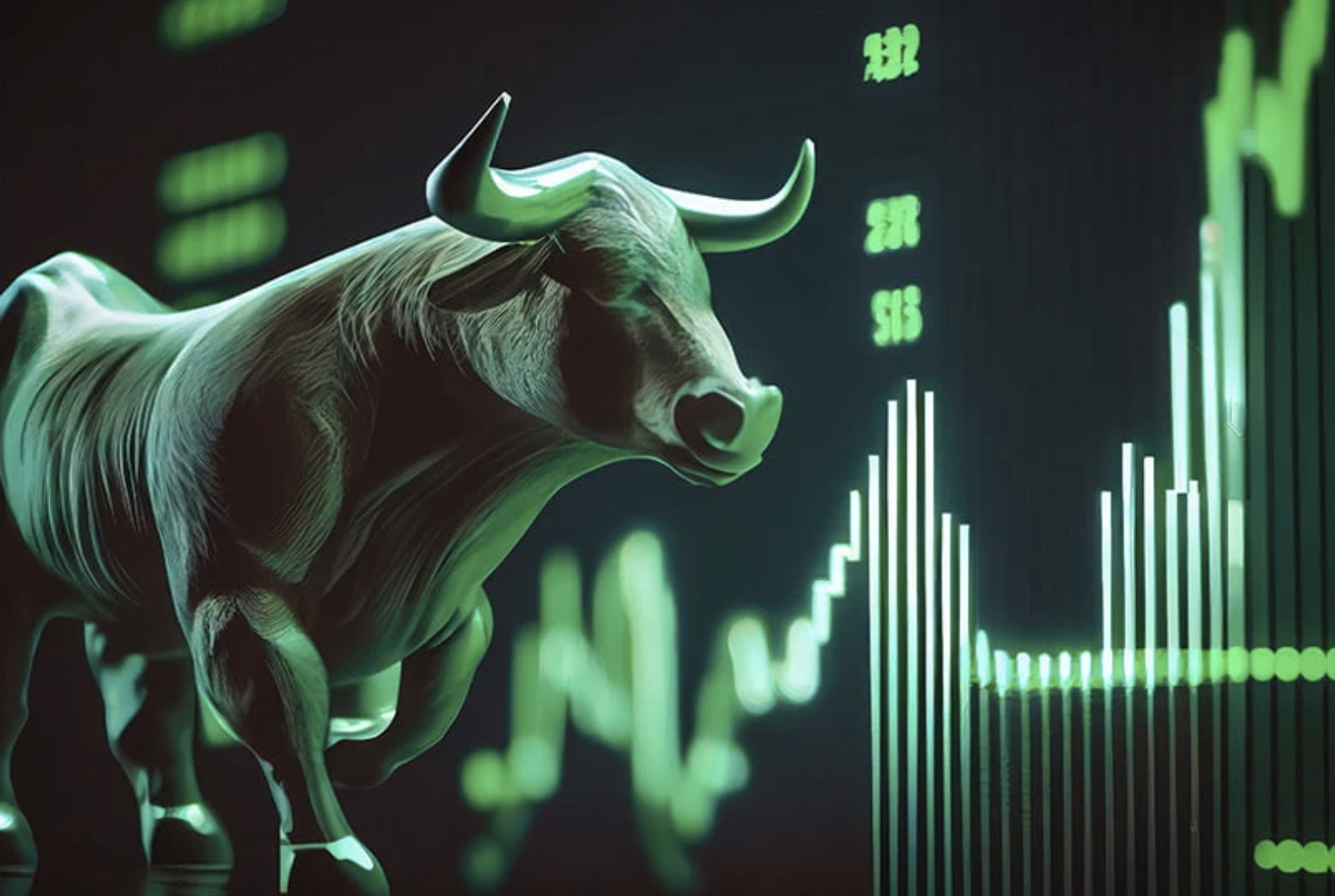 Through its array of trading services and tools, the Immediate Alpha platform promises to make trading of Bitcoin, Ethereum, Litecoin, and XRP accessible to all types of traders. With its trading system, Immediate Alpha claims that you can analyze market conditions and monitor, track, and manage your crypto assets with ease.
Since staying updated with the current price of the assets is so important, Immediate Alpha promises to offer a "snappy and reliable" connection to accurate data streams that will keep you informed of the latest price action to help you guide your next trading move.
Helping with it are bar charts that Immediate Alpha claims can help you navigate the volatile crypto market like a pro. Its candlesticks will tell you whether the bulls are in action, the bar charts will offer price-related information about an asset over a period of time, and its histograms may let you assess how many people are interested in an asset. These features, according to Immediate Alpha, are highly customizable, allowing users to change colors to analyze the market properly.
That said, whether the platform offers these facilities is up for debate. Third-party reviews of the site are minimal at best, and there are no AI crypto trading bots mentioned anywhere on the website. Since much of what this platform offers isn't that different from the norm, we recommend caution. Invest carefully and remember that crypto markets are always volatile; proper research before investing is a must.
Immediate Alpha Pros and Cons
Immediate Alpha is not completely upfront about its services. But as we went through its vague content, we did find some pros and cons:
Pros:
Claims to offer a streamlined trading service
Offers multiple charting and analysis tools
Supports multiple assets
Claims to offer access to price charts and updates about cryptocurrencies
The platform is secure - according to the claims
A demo trading account is available
Cons
The site doesn't go into much detail about how it works
The marketing copy doesn't provide any information about the makers
The win rate of the platform is too high
How Does Immediate Alpha Work?
Upon reading the marketing copy of the Immediate Alpha, we didn't find much that would set it apart from traditional trading platforms. There are no promises of autonomous trading features that are provided by a crypto trading bot. In fact, most of the details given on the site point to the presence of a manual trading system.
So, we guess that once a user creates an account, they may get access to the trading platform, which has a demo trading account as well. Once you have practiced enough on this trial version, you may jump to live trading. While the trading services and facilities aren't highlighted, the discussion about charts and analytics tools indicates that there may be spot trading facilities available. That can indicate a partnership with other brokers whose names aren't mentioned.
Once you buy and sell an asset, the revenue generated may be transferred into your trading account. However, whether or not there is a native crypto wallet available is not mentioned on the website.
Overall, Immediate Alpha looks like it offers standard tools but has rebranded them to market itself. There may be a robo advisor available, however, since much of what this platform offers seems to focus on educational tools.
Immediate Alpha Key Features
Limited as the site is, we did find the Immediate Alpha website highlights some features that could make it worth an investor's time:
Demo Trading Account
Not all crypto trading platforms offer a demo trading account. But those that do allow users to test the site before they can trade under live market conditions. Immediate Alpha claims to be the same. "You can test your trading strategy using real-time market data and insights with full simulation of real crypto trading," the site states, claiming that it will allow you to brave the learning curve of crypto trading at no cost.
Support for Multiple Cryptocurrencies
Immediate Alpha claims that it offers a range of cryptocurrencies and online crypto assets, including Bitcoin, Dogecoin, Ethereum, Ripple, Bitcoin, and others. Stablecoins are also mentioned. The platform also promises that it is continuously in the process of adding new assets so that you can keep on diversifying your investments. Other than crypto, stocks, forex, and indices are also supported.
Secure Platform
Security is our top priority, states Immediate Alpha. It claims it has the latest security measures and protocols in place to help you protect your personal and financial information. There is also 2-factor authentication enabled by default, according to the platform, which would ensure that only authorized users can access what the platform has to offer.
Streamlined Trading Experience
Immediate Alpha claims that all of the assets it supports, including Cardano, Ripple, and Litecoin, are possible to trade using simple trading tools. There are analysis tools and comprehensive trading data available through several feeds that you can use to make an informed investment decision.
Immediate Alpha Account fees
According to the website, Immediate Alpha has asked for no trading fees. The platform's usage is completely "free of charge," it says, with no fee imposed on trading, withdrawals, and deposits. This "fee-less" approach does not seem practical. So, make sure to talk to the customer support team before making any decision.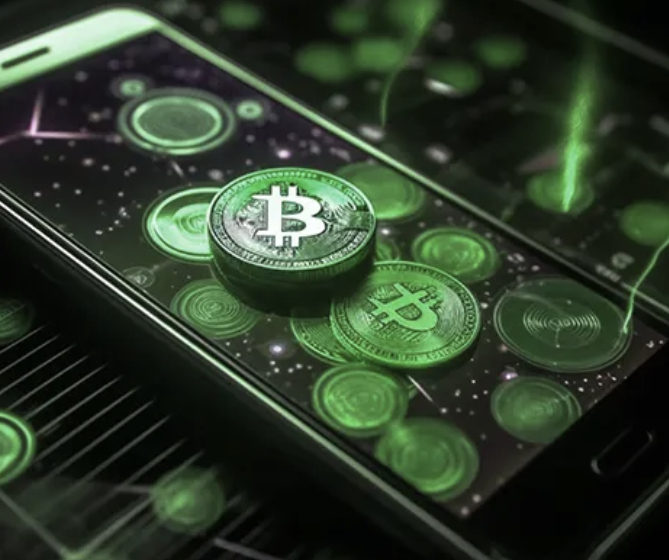 Immediate Alpha Minimum Deposit
Like most crypto trading platforms, Immediate Alpha must require a minimum deposit that you can use as capital to buy and sell cryptocurrencies. Unfortunately, the platform hasn't provided any details about it. Talk to the customer support team about it when you get the chance. It is crucial to know this info before you can make a decision about trading on this web application.
Immediate Alpha Compatible Devices
Immediate Alpha bills itself as a 100% web application, which means it is accessible via the official website on multiple devices in the same way. We tested the website and found these claims to be true.
Whether we used the desktop to open the platform or tried to sign up using mobile, the results were the same. The texts were clear, the buttons were easy to interact with, and the site loaded quickly. Be mindful, though, as we can only say this for the site's marketing copy.
Is Immediate Alpha a Scam?
Minimalistic tools with no large claims to be made - that would be an apt description of how we would define Immediate Alpha. Since we only had access to the marketing copy and some third-party reviews, we only have limited information about this trading site.
On the positive side, the official website is responsive. We didn't encounter any issues as we opened the site on several devices. The sign-up process is also simple. These show that there may be a legitimate platform behind the marketing content.
However, it is the second part that has got us worried, and it is the lack of information. The platform states that it charges no fee for trading, but there is information about the payment methods. Also, there is no information about the minimum deposit required. While you can get that information upon talking to the customer support team, having the details beforehand is important.
Then, it is a matter of the founders. There is no information available on them. Even third-party platforms have failed to provide us with any details regarding this. The lack of an independent audit is another reason the site hoists many red flags.
However, categorizing Immediate Alpha as an outright scam won't be a sensible thing to do. Despite the lack of testimonies, it is possible that the site is new, as evident by the limited third-party reviews available online.
We recommend that investors test the site independently with a small deposit before investing large amounts.
Immediate Alpha Customer Support
There is customer support available on Immediate Alpha - but only for registered users. Unregistered users can reach out to the team via the Contact Us page, but we cannot verify the response times. For registered users, however, the site states that the support team is available throughout the day.
How to use Immediate Alpha?
If Immediate Alpha meets your trading requirements, follow the steps below to start trading:
Step 1 - Visit the Immediate Alpha Website
Go to the Immediate Alpha website and enter key details like name, email, and phone number. Submit the form and talk to the customer support executive to finish creating your account.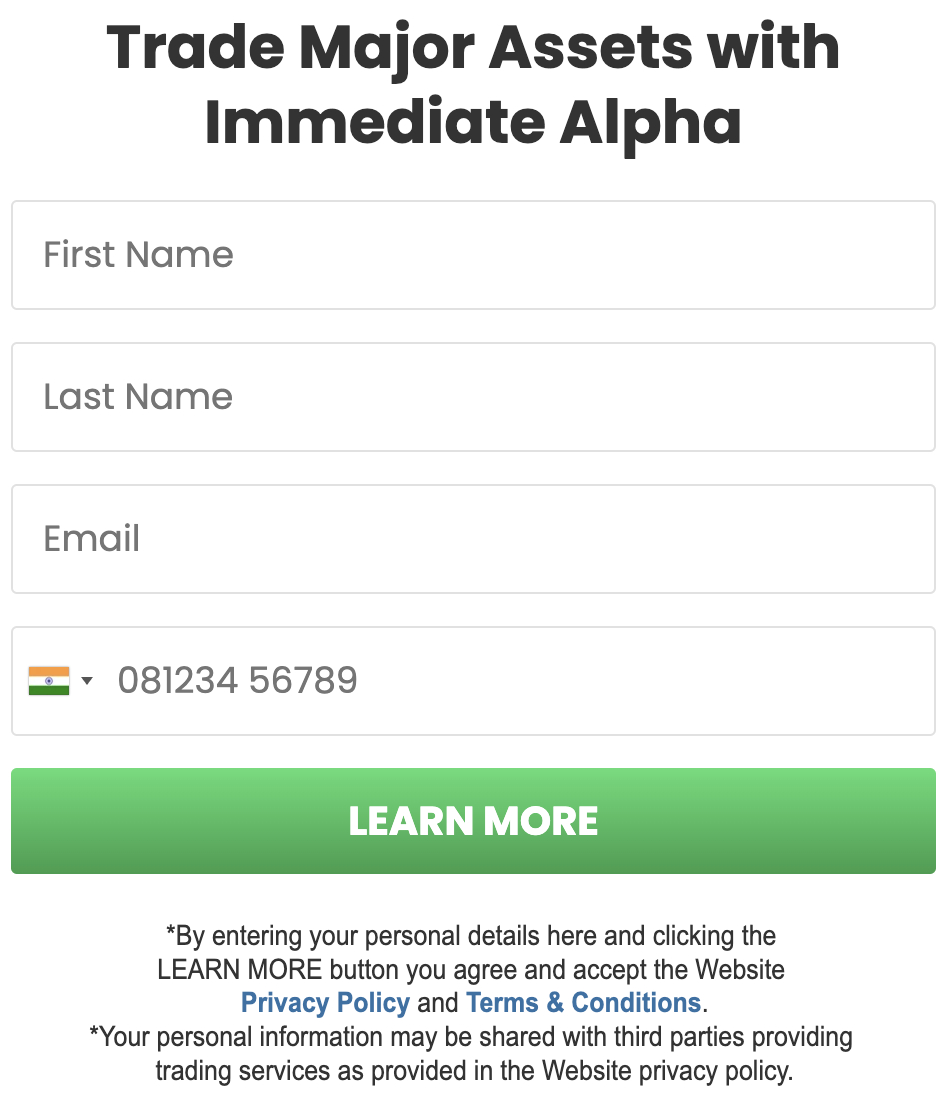 Step 2 - Make the Minimum Deposit
Once you have chatted with the support team, you will likely receive a link to deposit the required amount. Click the link and use one of the available methods - wire transfer, PayPal, Credit Card, and other options - to make a deposit.
Step 3 - Start Trading on Immediate Alpha
Try out the demo trading account first. Test the analysis tools and see if all the analysis tools are available. Make sure that you can use more than three indicators at the same time. If that's not the case, talk to the customer support team. Switch to live trading only after you have assessed all the trading facilities.
How to Delete an Immediate Alpha Account?
Here are the conventional steps to follow to delete an Immediate Alpha account:
Go to the official website
Login and get into your dashboard
Go to your account settings
Find and click the delete account option
Fill in the form
It is likely that a customer support member will reach out to you to help you with the process. Confirm the details and get your account deleted.
Is Immediate Alpha Endorsed by Celebrities and Big Brands?
Immediate Alpha is a new platform, with only a few recent third-party reviews available online. Since it is less likely that this platform has any notoriety, it is also less likely that it would have celebrity support. That may not always be the case, however, since if this platform's claims turn out to be true, more customers may join up.
Who is the Founder of Immediate Alpha?
The About Us page of Immediate Alpha does not talk about who the members of the team are but about the team's vision and how powerful the platform can be. Since the platform is new, it also has no social media presence, which made it more difficult for us to find out the names of the team responsible.
It is not new for a crypto development team to remain anonymous, but it is odd for a platform that claims to offer CFDs and other trading facilities.
Latest Bitcoin News
Bitcoin has had a volatile time on the price charts this year, which makes it important for you to stay updated. Here are the key updates about Bitcoin to know:
Bitcoin has gone above the $26k mark once again and has started to consolidate. Bulls believe that positive news will push its value further.
Bitcoin's clean energy is now more than 50%, and Elon Musk has stated that it will reinstate Bitcoin payments soon.
Crypto presales are gathering steam since the traditional crypto market has continued to be volatile.
The Verdict
Immediate Alpha claims to offer a simple trading system that may be streamlined for all types of traders. It does not make any tall claims and does not talk about any autonomous trading features.
But while the site advertises manual trading features, there are some red flags. We don't know how those features work. There are no customer testimonials, and the names of the devs are hidden. Be careful when trading on this platform. Diversify your portfolio by not relying on only one site to buy and sell crypto and hedge market risks by investing in new cryptocurrencies.
Cryptocurrencies are unregulated. Trading with unregulated brokers will not qualify for investor protection
Immediate Alpha FAQs
What is Immediate Alpha?
Immediate Alpha is a crypto trading platform that promises to provide streamlined trading facilities that focus on simple tools, deep analysis, and easy trading. The platform was recently released, and the information about it is limited.
Does Elon Musk endorse Immediate Alpha?
Immediate Alpha is a novel crypto trading system that is yet to make its mark on the market. So, it is not possible for it to gain the attention of Elon Musk, even though the Tesla founder has voiced his support for Bitcoin and Dogecoin.
---