9 Best Crypto Robo Advisors 2023
Disclosure: Crypto is a high-risk asset class. This article is provided for informational purposes and does not constitute investment advice. By using this website, you agree to our terms and conditions. We may utilise affiliate links within our content, and receive commission.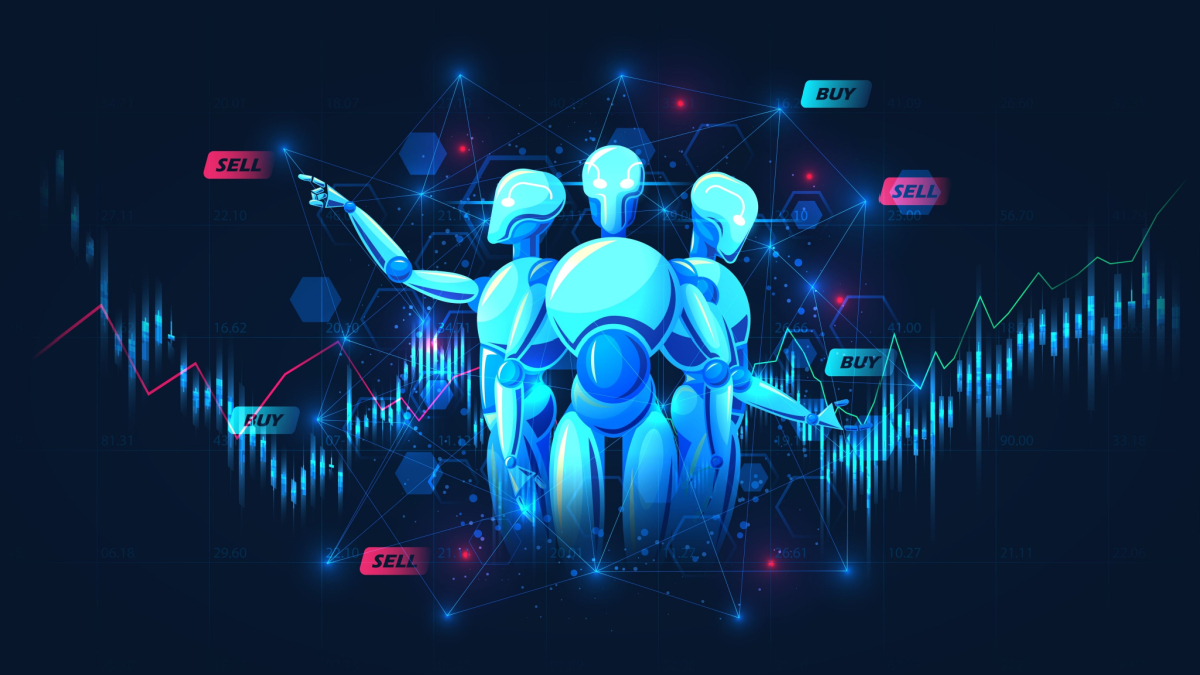 Disclaimer: The Industry Talk section features insights by crypto industry players and is not a part of the editorial content of Cryptonews.com.
While it can be difficult to figure out the ins and outs of investing, utilizing one of the best crypto robo advisors can help to eliminate guesswork and improve the long-term success rate of market participants. 
Throughout this guide, we'll be sharing eight of the best crypto robo advisors currently available, discussing how they work, and explaining whether they can be profitable. Let's get started. 
9 Best Crypto Robo Advisors 2023 List
Below, we've summarized our top picks for the best crypto robo advisors. Detailed reviews of each platform can be found slightly further down the page. 
Dash 2 Trade – Crypto Intelligence Platform Providing Superior Advisory Tools
Learn 2 Trade – Robo Advisor Using 100+ Technical Indicators
CryptoSimple – Secure and Easily to Use Robo Advisor 
Betterment – Crypto Advisory Platform with Automated Portfolio Re-Balancing
Wealthfront – Robo Advisor Specializing in Long-Term Investments 
Autopilot –  Smart Portfolios Managed by Advanced Algorithms 
Titan – Investment Management Platform for a Range of Assets
M1 Crypto – Free to Use Crypto Advisory Platform
Sarwa – Smart Investing Platform for Mobile and Desktop
Best Crypto Robo Advisors Reviewed 
To ensure that we've included something appealing to everyone, we've included a variety of different crypto robo advisors with a host of different features. 
1. Dash 2 Trade – Crypto Intelligence Platform Providing Superior Advisory Tools
Dash 2 Trade (D2T) is a crypto intelligence platform that offers a suite of different tools powerful enough to rival even the best crypto robo advisor.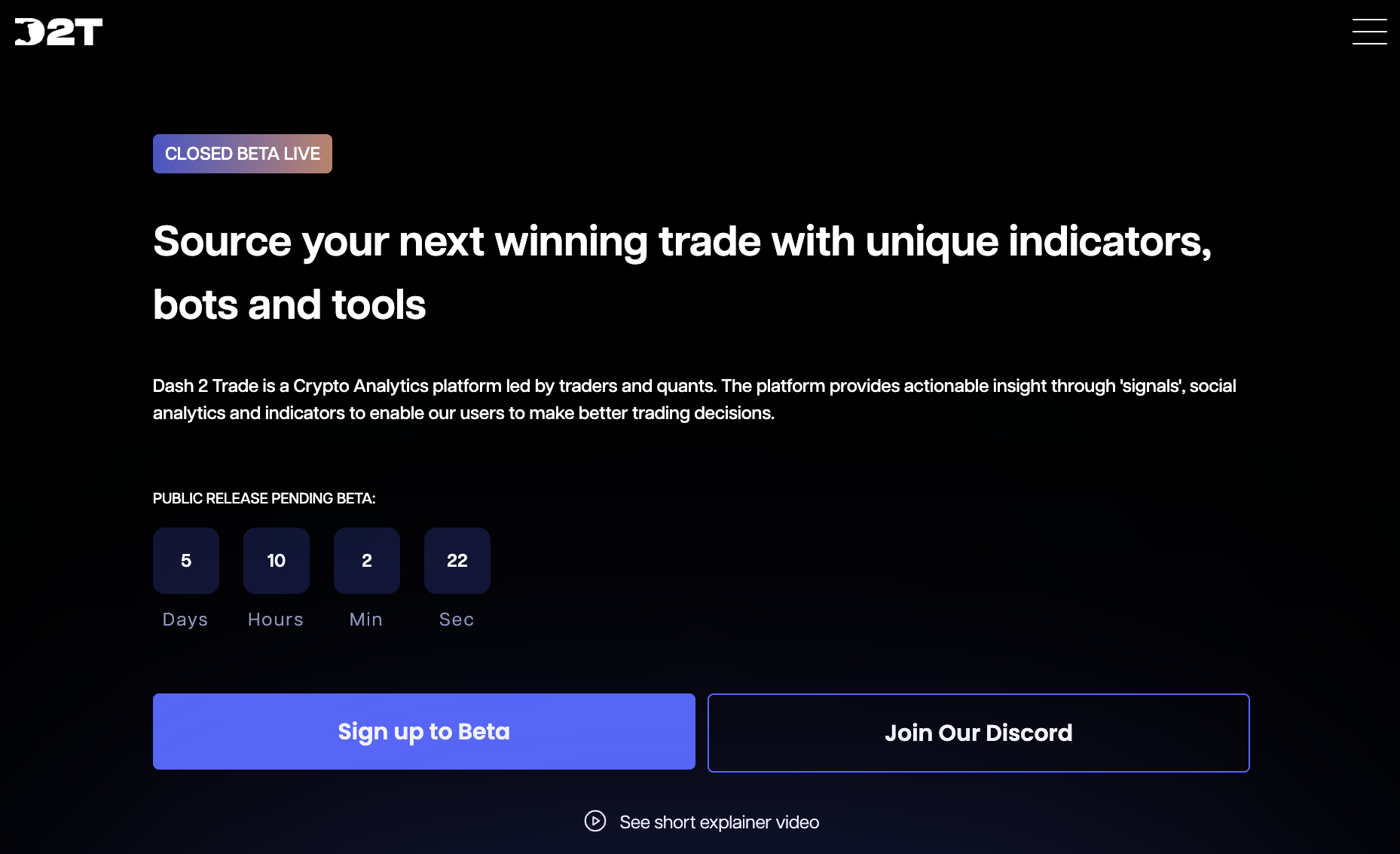 While Dash 2 Trade isn't strictly a robot advisor, the platform provides everything an investor or trader needs to spot trends in the market. The platform offers buyer sentiment analysis for understanding how people feel about an asset, a strategy builder with an in-built backtester for creating efficient trading plans, and an automated crypto trading bot. 
At the center of the Dash 2 Trade ecosystem is the taxless, ERC-based D2T token. It is used to pay for advanced features like the strategy backtester as well as being used to purchase a subscription to the Dash 2 Trade platform. 
As highlighted in the Dash 2 Trade whitepaper, access to the Dash 2 Trade platform is locked behind the following tiers:
Free – Allows members to get a feel for the Dash 2 Trade platform and grants access to basic on-chain metrics. 
Starter 400 D2T per month) – Anyone that subscribes to the starter Dash 2 Trade plan can access every tool on the platform as well as foundational analysis and advanced DEX data. 
Premium (1,000 D2T per month or 9,600 D2T per year) – Premium subscribers are granted unlimited access to everything Dash 2 Trade has to offer, including detailed presale insights as well as professional-grade buyer on and off-chain analysis.
Dash 2 Trade is an innovative and powerful platform that, while not technically a crypto robo advisor, empowers investors and traders to make better-informed decisions, helping to boost success rates and, consequently, profits. The platform is set to launch on May 24th, 2023.
Pros
Track important metrics like buyer sentiment
Includes a variety of useful tools for improving the trading experience
Provides detailed analysis of market trends
It can be used to find profitable opportunities
Cons
D2T used to pay for subscriptions
2. Learn 2 Trade – Robo Advisor Using 100+ Technical Indicators
Learn 2 Trade is a trading community and a crypto signals and automated trading platform that uses 100+ indicators and over 1500 lines of code to find the best trading conditions and advise users about the best trading strategies.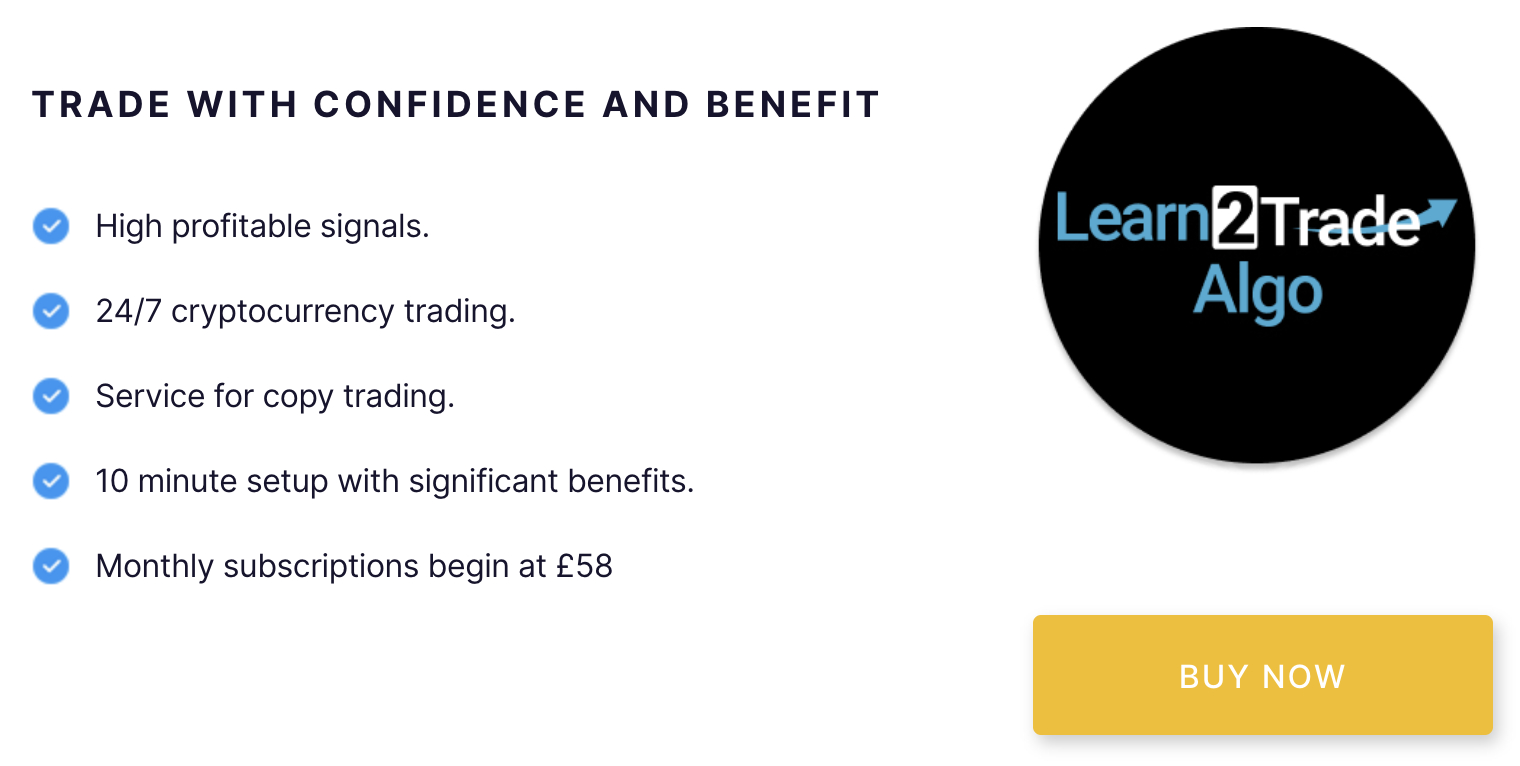 This Robo advisor hinges on the expertise of a community of over 75000 traders. Many of them have funneled their trading experiences and strategies into creating an algorithm that sends regular trading alerts to users via Telegram. The alerts are quick and consider holistic market conditions so that traders can act on them quickly and generate profits. 
Learn 2 Trade offers an automated trading facility via Cornix, a trading robot that allows users to achieve an almost 79% win rate. Via Cornix, Learn 2 Trade is also compatible with Binance and Bybit – cryptocurrency exchanges that are among the top 10 trading platforms per CoinMarketCap. 
Accessing the platform's robo-advisory facilities requires users to pay a subscription fee. Users can pick between monthly, quarterly, and annual subscription packages to get started. 
Overall, for those looking for a robo advisor as well as a trading community that can help make crypto trading under volatile market conditions easier, Learn 2 Trade is a great pick.
Pros
Simple to access
Regular alerts
Automated and manual trading services
Regular alerts via Telegram
Cons
The fee structure could have been a bit better. 
3. CryptoSimple – Secure and Easily to Use Robo Advisor 
CryptoSimple is a powerful and secure robo advisor for crypto that aims to streamline the investing experience through the use of a simple yet feature-rich platform designed to maximize profits through a host of smart, algorithmic strategies.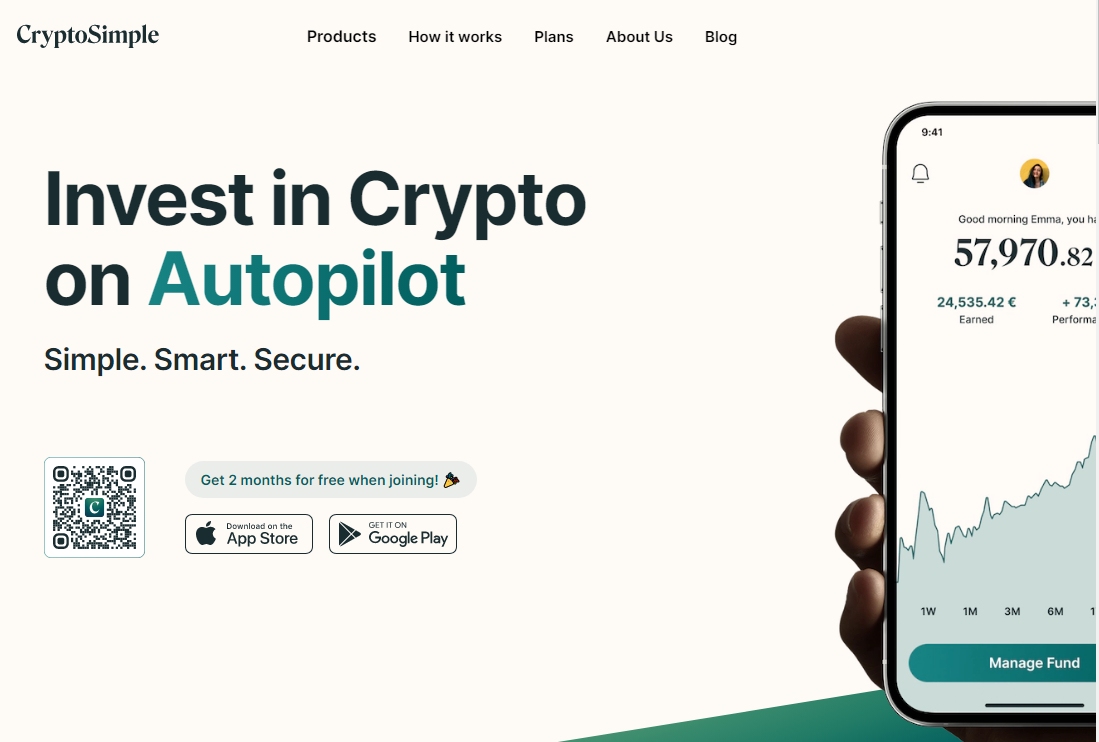 The CryptoSimple platform acts as a digital financial advisor, offering useful tips and tricks to investors. As a beginner-centric platform, CryptoSimple provides investment advice without complex jargon and overly specialized terms. This has attracted a large number of users to the platform, cementing its status as one of the best crypto robo advisors. 
CryptoSimple boosts a transparent fee structure based on the total holdings within an account. Monthly fees for the services provided range from 0.15% (less than $10k held) to 0.11% (over $100k held).
Overall, CryptoSimple provides an exemplary service that significantly streamlines the investing experience. While the tiered percentage-based fee structure can be slightly expensive, it could be worthwhile for those with a larger crypto portfolio size. 
Pros
Simple to use
No unnecessary jargon
Strategy-based advice
Popular platform
Cons
The holding-based fee structure can be expensive
Heavily beginner-focused
4. Betterment – Crypto Advisory Platform with Automated Portfolio Re-Balancing
Formally known as Makara, Betterment is a cryptocurrency robo advisor that assists crypto investors around the world to create a well-diversified and expertly managed crypto portfolio. This concept has proven popular, with Betterment quickly becoming one of the best crypto robo advisors.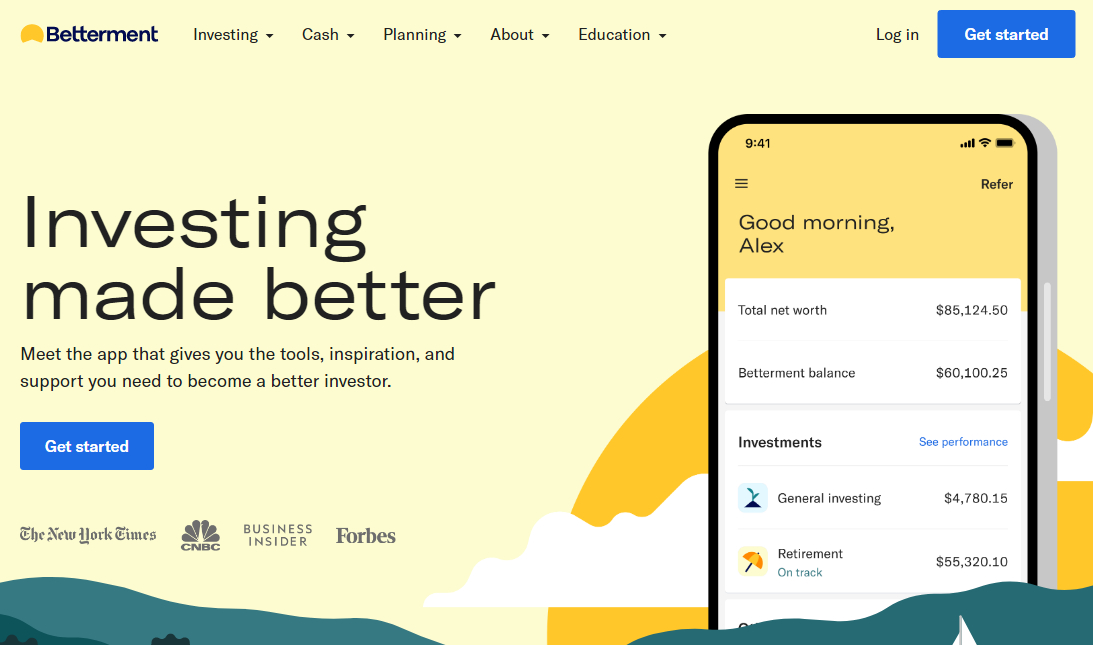 The platform gives its users the option to invest in a variety of different categories, including DeFi tokens, Metaverse coins, and everything in between. This provides users with far more customizability than some other platforms offer. Betterment provides members with a portfolio risk level, helping to keep investors safe. 
To help make investing as simple as possible, Betterment supports reoccurring deposits, meaning users need only complete an initial setup to passively invest. Pricing for the platform is a flat 1% annually for access to the crypto investing platform. 
It's simple to see why so many consider Betterment to be the best crypto robo advisor on the market. The platform offers a wide range of features tailored specifically to beginners, yet provides enough advanced tools that the platform will remain useful to experienced investors. As such, this robo advisor for crypto is worthy of consideration. 
Pros
Offers a variety of different crypto portfolios
Recurring deposits
Beginner-friendly
Good risk management tools
Cons
The 1% annual fee can be expensive
Gemini is used to conduct trades meaning fees are high
5. Wealthfront – Robo Advisor Specializing in Long-Term Investments 
Wealthfront is one of the world's best-known robo advisors. The platform has been around since 2008 but didn't branch into the smart investing sector until some time later. Today, Wealthfront has accrued an impressive 475,000+ users from all over the globe, making it one of the most widely used crypto robo advisor platforms out there.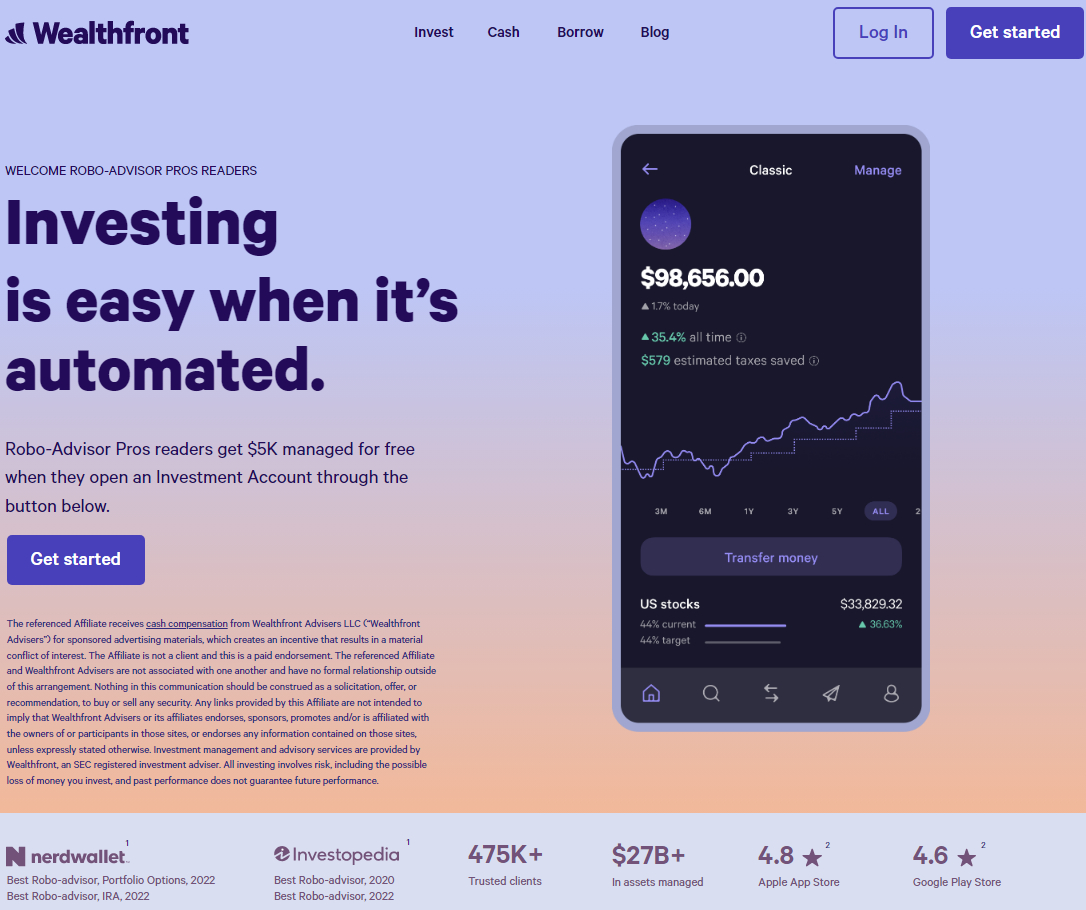 The platform allows users to automatically invest in a broad range of assets including cryptocurrency through the Grayscale Bitcoin and Ethereum trusts. This ETF-focused approach aligns well with Wealthfront's goal of providing users with stable returns.  
Wealthfront users are also given the ability to adjust the balance of their portfolio through simple-to-use sliders, adding a great deal of customizability to the platform.  
With Wealthfront charging an annual fee of just 0.25%, it's one of the cheaper options out there. However, despite its price point, Wealthfront packs an impressive amount of utility designed to maximize returns while minimizing risk. 
Pros
Low-cost 0.25% annual fee
Over 475,000 users worldwide
Long-standing platform
Portfolio adjustment sliders
Cons
Direct crypto investment is not supported
6. Autopilot –  Smart Portfolios Managed by Advanced Algorithms 
Autopilot by Osom is widely considered to be one of the best crypto robo advisors out there. The platform has been designed especially for cryptocurrency investors and has become popular with users thanks to its simplicity and familiarity with platforms like Coinbase.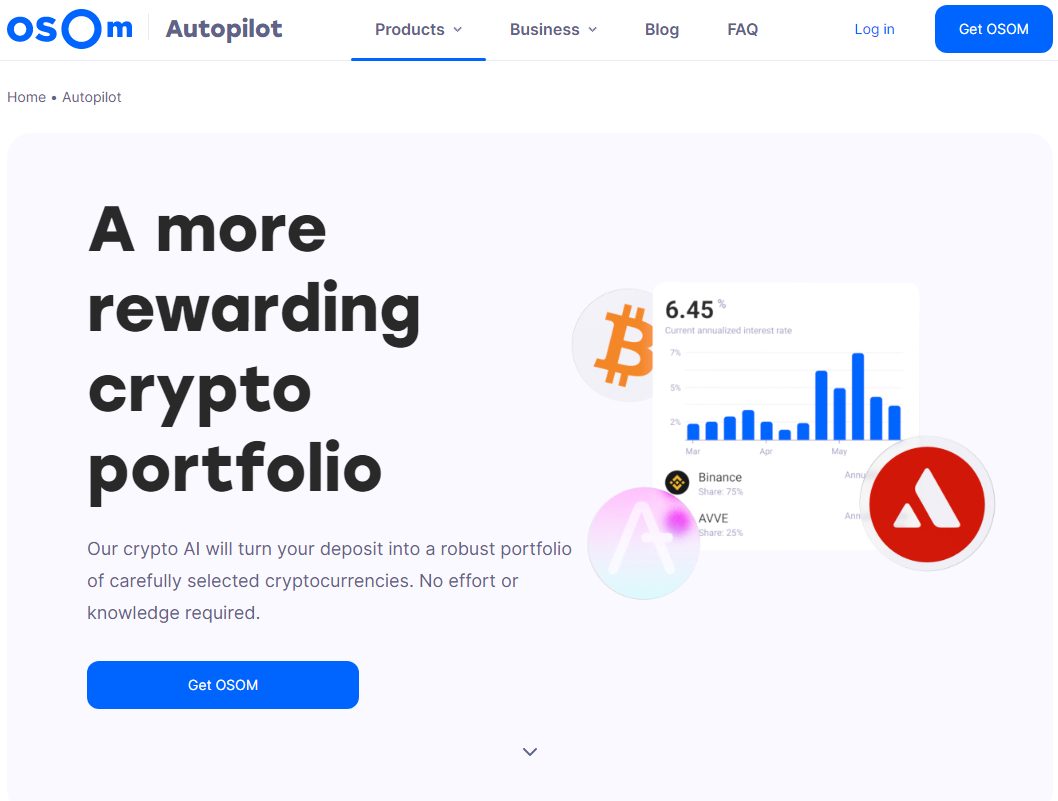 While the Autopilot robo advisor for crypto utilizes advanced algorithms to buy and sell at favorable prices, the platform only offers support for Bitcoin, meaning those looking to create a diverse portfolio with the best crypto robo advisor will likely be better served by a different platform. 
Since 2019, Autopilot has averaged far better returns on Bitcoin when compared to a buy-and-hold approach. A euro invested in Bitcoin would have yielded 280% returns by November 2022 whereas a euro added to autopilot would have provided over a 620% increase.
Autopilot is one of the best crypto tools currently available. While the platform charges a monthly fee equal to 10% of profits, Autopilot's impressive performance against Bitcoin could make that cost worthwhile for some users. 
Pros
Historically outperformed Bitcoin
Familiar platform
Makes investing simple
Cons
The autopilot platform only supports Bitcoin
A monthly fee equal to 10% of profits is far higher than the average
7. Titan – Investment Management Platform for a Range of Assets
Aiming to create the best crypto robo advisor for modern investors, Titan supports a variety of asset classes including cryptocurrency. In contrast to some other platforms, Titan supports a variety of different crypto assets, with its robo advisor portfolio typically splitting funds between 5 to 10 large-cap coins.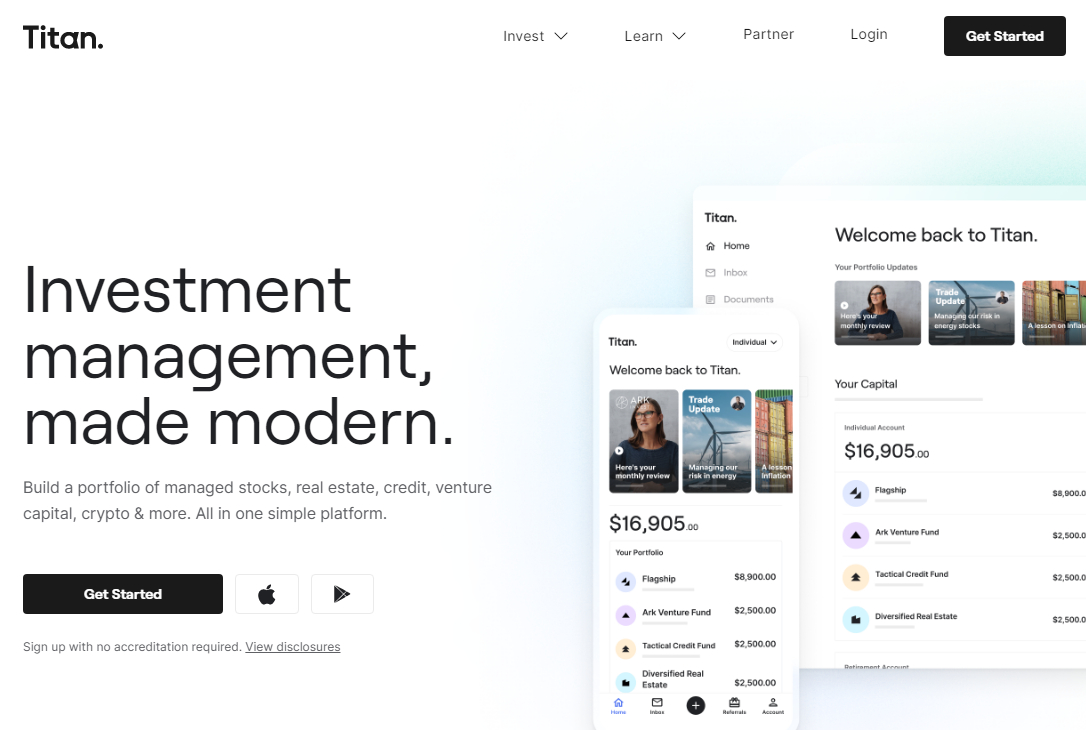 To achieve its goal of being the best crypto robo advisor, Titan aims to beat the Bitwise 10 Large Cap Crypto Index over a medium-length time horizon (3 to 5 years).To achieve this, assets are routinely swapped at opportune times to maximize returns. The Titan platform is regulated by a number of prominent authoritative bodies including SIPC and FDIC, ensuring consumer safety. 
The cost of using the Titan crypto advisor is 1% of holdings per year or $5 per month for users with over $10,000 invested. With a long-term vision, Titan aims to provide stable returns for its users, making it perhaps the best crypto robo advisor out there.
Pros
Aims to exceed a prominent index
Focused on long-term performance
Regulated
Fairly low-cost
Cons
More complex platform than others
Struggling to beat the Bitwise 10
8. M1 Crypto – Free to Use Crypto Advisory Platform
For anyone searching for the best crypto robo advisor, M1 Crypto is a worthy consideration. The M1 platform was launched back in 2015 with support for traditional assets like stocks. However, in 2022 M1 announced that it would begin to support cryptocurrency investing, attracting massive worldwide attention.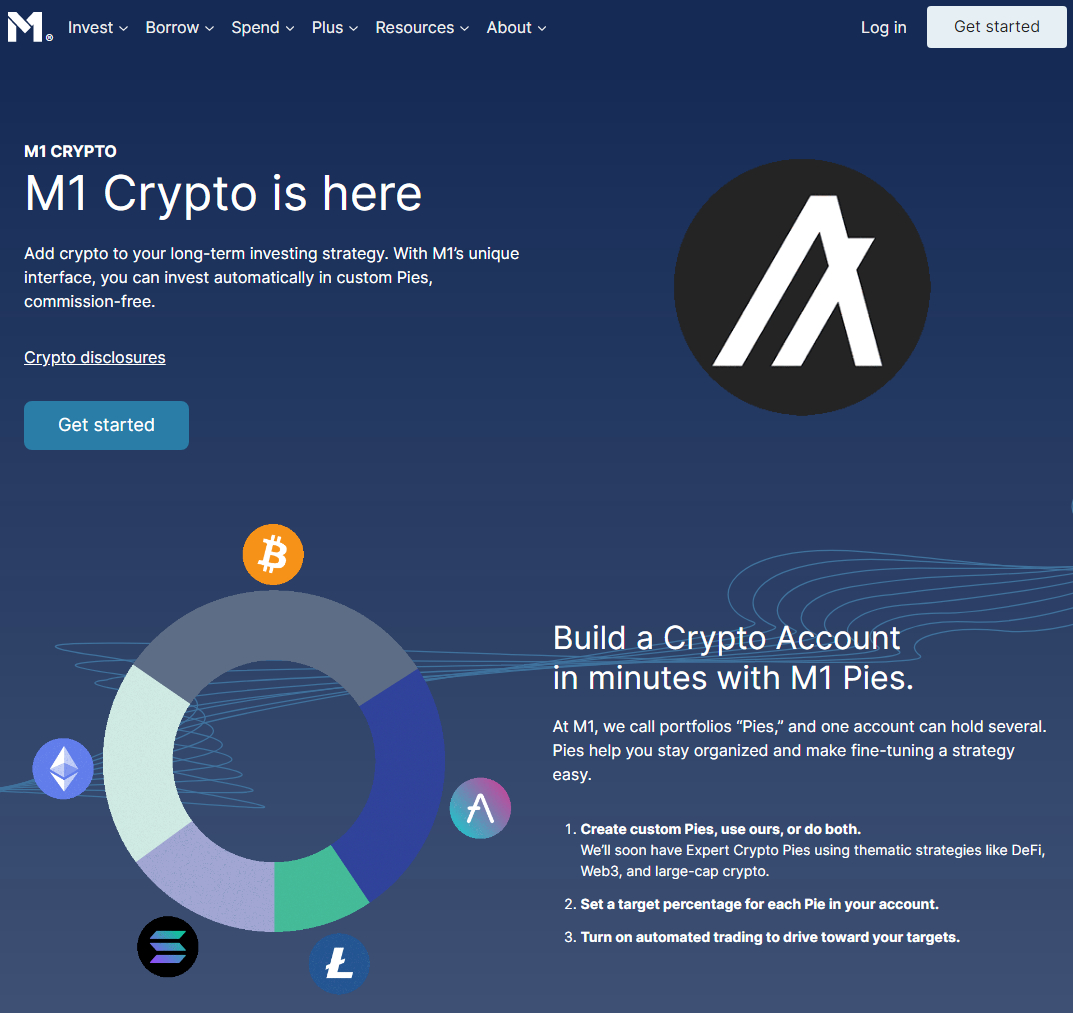 On the M1 platform, portfolios are known as 'Pies' and be customized with ease, allowing investors to adhere to specific strategies that appeal to them. In the near future, M1 crypto is expected to release a feature they dub 'Expert Crypto Pies' that will allow people to invest in specially crafted portfolios based on a variety of categories including Web3 and large-cap assets.
With M1 Crypto working hard to constantly improve its offerings, the platform could find itself being crowned as the best crypto robo advisor before long. people can utilize the M1 Crypto platform free of charge, making it a solid choice for beginners. 
Pros
Free of charge
Customizable portfolios
Simple to use
Constantly working on new features
Cons
Limited crypto-assets
Some features locked behind a paid M1 Plus plan
9. Sarwa – Smart Investing Platform for Mobile and Desktop
Rounding off our list of the best crypto robo advisors is Sarwa, an established platform that has recently launched crypto robo investing services. While Sarwa offers a wide range of stocks and ETFs, the platform only offers its crypto robo advisor services for the Grayscale Bitcoin Trust. However, users are free to buy other crypto assets on the Sarwa platform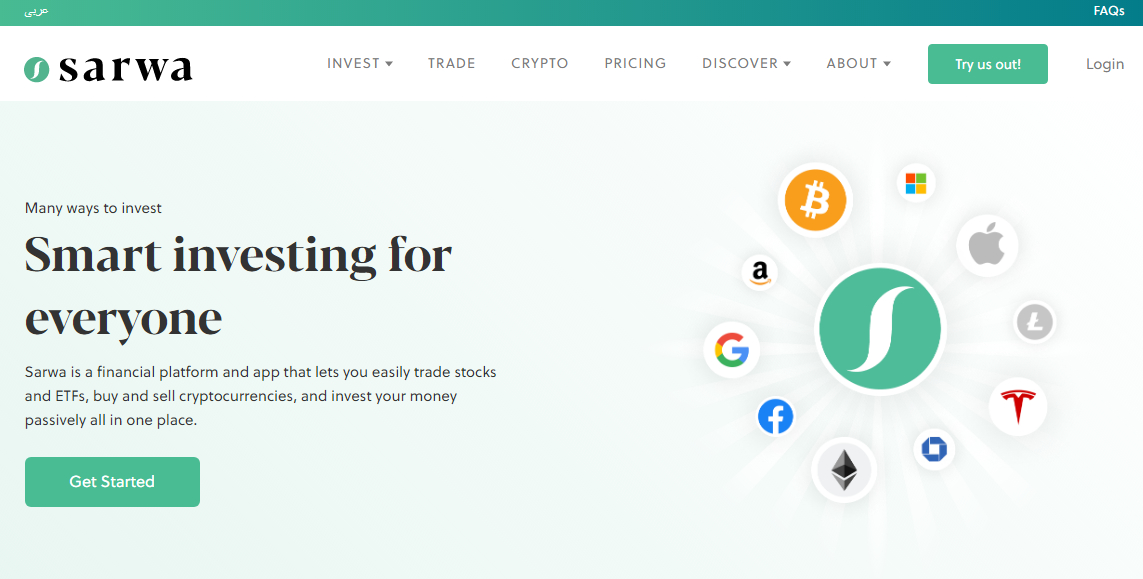 Sarwa offers features common among the best crypto robo advisors. The platform provides targeted portfolios and will automatically rebalance any held assets in order to maximize returns while limiting risk. This ensures that any portfolio created with Sarwa remains aligned with the investor's predetermined strategy. 
While Sarwa might only offer robo advisor support for the Grayscale Bitcoin Trust, access to the platform comes at some of the lowest costs in the industry. For anyone investing under $2,500, the first year is free with fees increasing to 0.85% for subsequent years. As such, Sarwa could be the best crypto robo advisor for investors trying to minimize expenses.  
Pros
Some of the lowest costs in the industry
Supports a wide range of assets
Free for the first year
Cons
Crypto exposure limited to the Greyscale Bitcoin trust
What is a Crypto Robo Advisor?
On the surface, it can be difficult to determine exactly what a crypto robo advisor is. However, almost every robo advisor shares a common goal and a similar feature set. 
A crypto robo advisor is essentially a computer or mobile application designed to automatically assist people throughout the investing process. Keeping an eye on the markets to ensure that a portfolio always remains optimal can be extremely time-consuming and inefficient.
However, robo advisors utilize advanced algorithms to generate actionable advice on the best times to buy and sell as well as which assets to invest in, similar to a crypto signals group but powered by algorithms rather than an actual person.
Furthermore, most robo advisors will offer recommendations, helping investors to build a well-diversified portfolio with the goal of providing the maximum returns while keeping risk low. As such, the best crypto robo advisors will typically utilize long-term strategies (often focused on 3-5 year periods at a minimum). 
With crypto robo advisors being generally focused on making the investing process as simple as possible, they're most popular among beginner investors and those new to the crypto space. 
How Do Crypto Robo Advisors Work?
Before using any crypto robo advisor, it's crucial to understand exactly how they work and function. While some investors might think that robo advisors are constantly searching for the next big crypto, it's far more common for them to invest in established, large-cap projects and focus on long-term returns rather than short-term gains. 
The algorithms utilized by crypto robo advisors to generate tips and recommendations are essentially step-by-step instructions that change based on the results of a previous step. This allows robo advisors to which assets are likely to perform well and which aren't. It's common for these advisors to filter through thousands of data points before generating advice.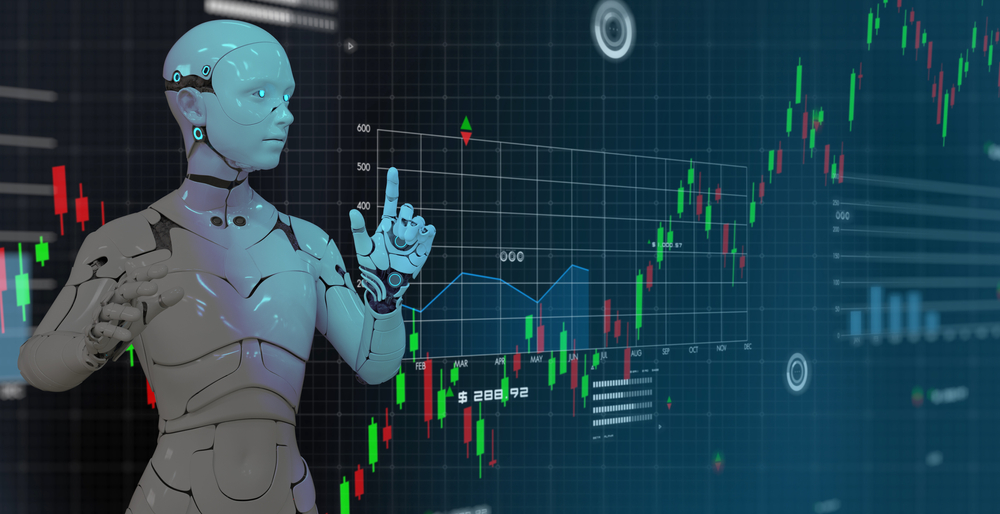 By carefully analyzing these data points, robo advisors can produce actionable tips to reduce risk and maintain targeted returns. It's common for a robo advisor to offer recommendations when it comes to constructing a portfolio, ensuring that the investor is including cryptos with the most upside potential. 
A phenomenon known as 'portfolio drift' is common with long-term investments. The term refers to the changes in portfolio allocation that occur as assets rise and fall in price. If left unchecked by an investor, this can eventually lead to large problems. However, a robo advisor will ensure that a portfolio remains balanced in accordance with a chosen strategy. 
Furthermore, some crypto robo advisors will offer support for loss harvesting for tax purposes. This system keeps track of and buys and sells, helping to reduce any capital gains tax that is accrued through investing. 
To summarize, the best crypto robo advisor will constantly monitor the market and any price changes to ensure that the investor's portfolio remains aligned with a chosen strategy through portfolio rebalancing and actionable tips, including recommendations on which assets to purchase. 
Why Use a Crypto Robo Advisor?
With the demand for crypto robo advisors growing by the day, there is naturally a large number of reasons why utilizing this technology can be beneficial and help to improve the investing experience. We've highlighted a few of our favorite uses for crypto robo advisors. 
Maximize Returns
Perhaps the most common reason why people are flocking toward crypto robo advisors is to maximize their return on investment. While it can be difficult and time-consuming to track thousands of crypto assets in an attempt to find the fastest-growing cryptocurrencies, robo advisors automate the process, providing specially tailored recommendations. 
Although using a crypto robo advisor doesn't guarantee immediate, massive returns, they can drastically improve a person's chances of outperforming the market by following a specific strategy. 
Invest with Ease
The crypto market is rapidly expanding and the number of people invested in the asset class has been climbing sharply over the past few years. Naturally, this has led to an increased number of beginners entering the market and investing for the first time. 
Unfortunately, the cryptocurrency market is packed with complex terminologies, making things difficult for new investors. However, robo advisors can make the investing experience far more simple by closely monitoring portfolios and providing tailored recommendations, making them perfect for new market participants. 
Limit Risk
One of the primary reasons why crypto robot advisors have gotten so popular is for risk management. Robo advisors can take in a huge amount of data and use it to ensure that a portfolio remains within a predetermined risk tolerance. Considering this can take hours manually, it's no surprise that robo-advisors have become so popular. 
Stick to a Strategy
While it's common for investors to aim to follow a specific investing strategy, it's far easier said than done. When the market is moving, it doesn't take much to get caught up and rush to buy a particular asset. However, working with a robo advisor makes it simple to stick to a specific strategy, lowering the risk associated with long-term strategies like dollar-cost-averaging.  
Reduce Time Spent Investing
It's easy to get lost in the markets and spend hours per day researching the best altcoins to invest in. However, because a cryptocurrency robo advisor can automatically scan for opportunities, they can drastically reduce the amount of time that needs to be dedicated to researching assets, boosting the time a person has for more important tasks. 
Receive Targeted Advice
On the internet, there is a huge amount of advice related to investing in cryptocurrency. However, the majority of these tips are generalized, meaning they can actually cause more harm than good if not fully understood. This issue can be alleviated as a robo advisor offers recommendations specific to a portfolio.
Are Crypto Robo Advisors Profitable?
Now that we've discussed the different ways in which crypto robo advisors can be used, it's time we discuss their potential in terms of profits. There is a massive number of factors that can affect the profitability of crypto robo advisors, but we'll be breaking down a few of the most impactful. 
Trading Strategy
Every robo advisor will follow a slightly different strategy, meaning returns can differ significantly from platform to platform. While it's common for robo advisors to adhere to a similar ethos (providing low-risk returns), the way goals are achieved varies greatly. Some advisor platforms will issue recommendations solely based on algorithms, while others retain a human element. 
With this in mind, it's important to research the strategies utilized by a specific provider in order to fully understand the potential of a platform and to ensure that there won't be any nasty surprises later down the line.
Investing Goals
When first beginning to use a robo advisor, it's common for an investor to input their goals. For example, whether they want to invest solely in crypto, aim to maximize returns or reduce risk, or invest in a specific segment (e.g. Web3, DeFi, etc),
Naturally, a person's specific goals can increase or decrease profits in a big way. While using an aggressive strategy like buying low-cap assets can yield greater returns, it's also possible to lose more from bad trades. While just about every robo advisor will aim to be profitable, it's important to consider investing goals when working out potential profits. 
Time Frame
When considering how profitable crypto robo advisors can be, it's important to consider time frame. Most platforms aim to produce long-term returns in order to account for any volatility in the market. Because most robo advisors prioritize stable returns over longer periods, it can be a good idea to explore other avenues when attempting to generate immediate profits. 
Wider Crypto Market
While robo advisors aim to outperform the crypto market, any large movements will still have a significant impact on profits. During a bull run, robo advisors will generate more profits whereas, in a bear market, they will generate less. As such, it's important to consider the wider crypto market to get a basis for potential profits.  
Conclusion
Throughout this guide, we've explored the ins and outs of eight of the best crypto robo advisors, discussed how they work as well as what they are used for, and explained the factors impacting their profitability. While conducting our research, a specific platform stood out from the crowd.
While not a typical robo advisor, Dash 2 Trade is an innovative crypto intelligence platform that provides specially tailored recommendations on strategy, in addition to highlighting trends in the market that can be taken advantage of to turn a profit.
Dash 2 Trade provides detailed explanations for its recommendations. Furthermore, access to Dash 2 Trade is set at a flat price rather than a percentage of holdings, making it far more cost-effective than other platforms. 
FAQs

Is there a robo advisor for cryptocurrency?
There is a good number of different robo advisors for cryptocurrency, with more being released daily. While the majority of robo advisors only provide limited exposure to the cryptocurrency market, Dash 2 Trade was created specifically for cryptocurrency investors, making it the best crypto robo advisor out there. 
What is the best crypto advisor?
Each of the platforms we've discussed is a solid choice in its own right. However, most lack in terms of crypto-related features. On the other hand, Dash 2 Trade provides the greatest number of crypto-specific tools, making it the overall best crypto robo advisor. 
Is a crypto robo advisor worth having?
Robo advisors share tailored recommendations that can be utilized to quickly gauge the market and risk. While not a substitute for conducting your own research and learning about how the cryptocurrency market works, a crypto robo advisor can be an invaluable tool. 
How much does a crypto robo advisor cost?
With there being a wide variety of different robo advisors available, the cost for one can differ massively. While some platforms like M1 crypto offer a free service, others are paid. Our top pick for best crypto robo advisor, Dash 2 Trade, has both paid and free versions available, making it perfect for just about everybody.  
---