If History Rhymes, ETH Might Hit USD 19K; Downside Risk Stronger Than BTC's
Should ethereum (ETH) follow bitcoin (BTC)'s former path, its price might hit USD 19,000 this year, one analyst estimated, while another one argued that ETH is now being driven by demand, and BTC - by scarcity.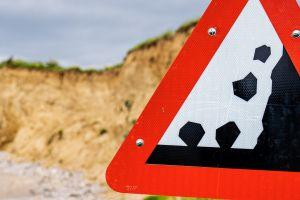 Mike McGlone, Senior Commodity Strategist at Bloomberg Intelligence, wrote in his latest report that bitcoin, or digital gold, has crossed the Rubicon of legitimization, while ethereum has won the adoption battle. "The mantra appears to be: "Adopt and embrace the advancing technology, or become the next Kodak, Sears or Blockbuster"," he said.
McGlone found that price dips in both BTC and ETH are more likely to be limited by the rising adoption we're witnessing, until a higher plateau has been achieved. Led by ETH, the Bloomberg Galaxy Crypto Index (BGCI) is "paving an upward path, and we don't know where it will plateau," he added.
Notably, McGlone opined that ETH may be on an upward trajectory similar to BTC's in 2017. Like bitcoin won the adoption race as the world's digital-reserve asset, ETH won the battle to become the foundation for non-fungible tokens (NFTs), smart contracts, decentralized finance (DeFi), and decentralized exchanges (DEXes).
He wrote,
"If on a similar price-path as Bitcoin in 2017, Ethereum may reach USD 19,000 in 2021; to May 4, the No. 2 crypto at about USD 3,400 is more than double Bitcoin on the same day four years ago."
As for BTC, the supply is shrinking and demand is rising, but its transition into the mainstream should result in a more subdued path, argued the strategist. At about USD 50,000, BTC appears similar to USD 10,000 last year, before the breakout higher. Getting too extended near USD 65,000, it "probed below USD 50,000 and found responsive buyers in April."
If a mean-reverting stock market pressures the crypto again, it may prove to be transitioning to risk-off, and a "risk-off period in the stock market is top a potential threat for the crypto's advancing price, but like the April dip to below USD 50,000, it might be a good test for the Bitcoin bull market."
The 15x price gain BTC saw in 2017 was about one-third of 2013's gain, said McGlone, adding that,
"A similar fraction of the 2017 surge would translate to a price just above USD 100,000 in 2021, and other than Bitcoin's continued maturation, conditions aren't much different now."
In his previous report, McGlone argued that "to reach price extremes akin to those years in 2021, [BTC] would approach USD 400,000, based on the regression since the 2011 high."
Demand, scarcity, and risks
Meanwhile, Philip Gradwell, Chief Economist at blockchain analysis company Chainalysis, claims that, more ETH is now available to buy than BTC. Ethereum's use in DeFi explains the demand, he said in his latest report, but price is also determined by supply.
Around 30% of the ETH supply is in the free float, meaning that it is likely to be available for purchase on the market, while that's 13% for BTC, declining from 19% in March 2020.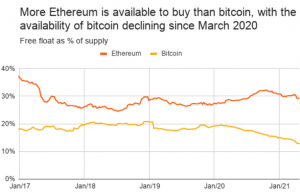 Gradwell said,
"The price of Ethereum is rising because Ethereum is being used, while the price of bitcoin is rising because it is scarce. [...] So, the ETH price comes from increasing demand, while the BTC price comes from ever scarcer supply."
The 24-hour BTC trading volume now stands at almost USD 88bn, compared with ETH's almost USD 55bn.
Other findings in his report include that:
ETH 1 will currently buy at least BTC 0.05, the highest exchange rate since August 2018, suggesting that ETH is now starting to recover its value relative to BTC after price declines during the late-2018 crypto winter.
ETH price has increased faster than BTC's, so the average percentage USD gains that ETH holders have made are approaching those of BTC holders - while the average ETH was held at a loss for much of the time between August 2018 and May 2020, it now has an unrealized gain of 150%.
The concentration of ETH wealth is increasing, especially from March 2020, while it is decreasing for BTC, likely because more ETH is being locked into DeFi contracts, while BTC is increasingly held by new investors.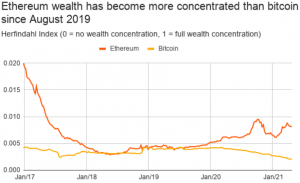 Meanwhile, Bloomberg Wealth noted that, with a slide of about 20% in the Bloomberg Galaxy Crypto Index, there's "notably more downside risk" to ETH than BTC. Benson Durham, a strategist at Cornerstone Macro, added that with "a rally of the same magnitude (so up 20%) you don't really get the concomitant upside to ether compared to bitcoin. [...] Ergo the convexity, if you will, favors bitcoin."
Nonetheless, according to Cornerstone strategists, as there are diversification opportunities among digital coins themselves, a small basket of them should be considered, rather than just BTC alone, when assessing whether some allocation to crypto assets can reduce portfolio volatility alongside traditional assets.
At 12:32 UTC, both BTC and ETH are up by 4% in a day, trading at USD 57,790 and USD 3,505, respectively. BTC is up by 5% in a week, while ETH rallied by 27.5%.
____
Learn more:
- Ethereum Shortly Flips Bitcoin on Google Amid USD 5,000 Per ETH Forecasts
- 'Fulfilment of Satoshi's Dreams' Ethereum Gets a Nod from JPMorgan
- ETH 'Insanely Cheap,' DeFi To Rally, BTC Dominance to Drop - Pantera Capital CIO
- Are Wall Street Giants Playing the 'Make-Bitcoin-Cheaper' Game Again?
- What's in Store for Ethereum in 2021?
- Inflation Is Here & Bitcoin Will Hit USD 115K 'Ahead of Target' – Pantera
---