How to Earn Free Crypto – 14 Best Methods
Disclosure: Crypto is a high-risk asset class. This article is provided for informational purposes and does not constitute investment advice. By using this website, you agree to our terms and conditions. We may utilise affiliate links within our content, and receive commission.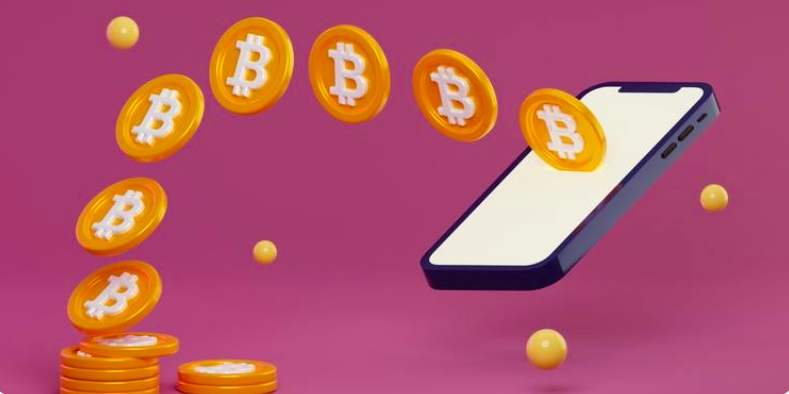 Disclaimer: The Industry Talk section features insights by crypto industry players and is not a part of the editorial content of Cryptonews.com.
With the development of cryptocurrencies in recent years, platforms provide multiple use cases that allow investors to earn free crypto rewards by participating in their networks. Whether long-term investors want passive income or players earn rewards by participating in in-game activities, anyone can earn crypto for free in 2023. 
This guide informs readers how to earn free crypto through 15 different methods – including airdrops, giveaways, staking and more. 
15 Best Ways to Earn Free Crypto in 2023
The section below provides a quick look at the 15 best ways to earn crypto in 2023.
Use Cryptocurrency Interest Accounts
Earn Cryptocurrency Rewards with Debit/Credit Cards
Get Free Bitcoin with Crypto Faucets
Earn tokens with Crypto Mining
Learn and Earn Crypto 
Best Methods to Earn Cryptocurrency Reviewed 
Wondering how to earn crypto? The sections below analyze some of the top methods to earn with digital assets. 
From earning high APY (Annual Percentage Yield) with the best crypto interest accounts to winning multiple cryptocurrency giveaways, here are the best ways to earn free cryptocurrency rewards. 
1. Earn Up to 500% in Annual Staking Yields with Bitcoin ETF Token 
One of the best ways to earn free crypto is with $BTCETF – the native cryptocurrency of Bitcoin ETF Token. This new cryptocurrency can be staked to earn high staking yields. Furthermore, the token is available to buy during the early phases of its presale. 
Currently, $BTCETF is priced at only $0.0052 per token on presale. The presale is allocating 840 million tokens – representing 40% of the total 2.1 billion token supply. By the end of the presale, Bitcoin ETF Token aims to raise almost $5 million. 
A further 25% of the token supply will be distributed through staking rewards. Bitcoin ETF Token speculates the upcoming arrival of a Bitcoin ETF, and will offer staking rewards and burn tokens as the Bitcoin ETF's release schedule progresses. 
This cryptocurrency has been created to celebrate the arrival of the Bitcoin ETF (Exchange-Traded Fund) and will reward long-term investors. Once the Bitcoin ETF is approved by the SEC, Bitcoin ETF Token will burn 5% of its supply. Another 5% will be burned when the ETF is released. 

Thus, loyal investors can earn from a pool of staking rewards. Furthermore, as the tokens start to burn, $BTCETF can potentially increase in price. To earn passive income, investors can stake $BTCETF and earn annual yields as high as 500%. So far, more than 55 million tokens have already been locked on Bitcoin ETF Token's smart contract. 
Since the start of the presale, Bitcoin ETF Token has raised $500K in under one week. Once the presale ends, $BTCETF will be listed on crypto exchanges. For further details, read the Bitcoin ETF Token whitepaper and join the Telegram channel. 
| | |
| --- | --- |
| Presale Started | 6 Nov 2023 |
| Purchase Methods  | ETH, USDT, Card |
| Chain | Ethereum |
| Min Investment | None |
| Max Investment | None |
2. Earn Cloud Mining Credits and Staking Returns with Bitcoin Minetrix
Another way to earn free cryptocurrency is by leveraging the Bitcoin Minetrix platform. This revolutionary cryptocurrency project is tokenizing the cloud mining space. In recent times, third-party cloud mining corporations have recently been scamming investors by performing dubious activities.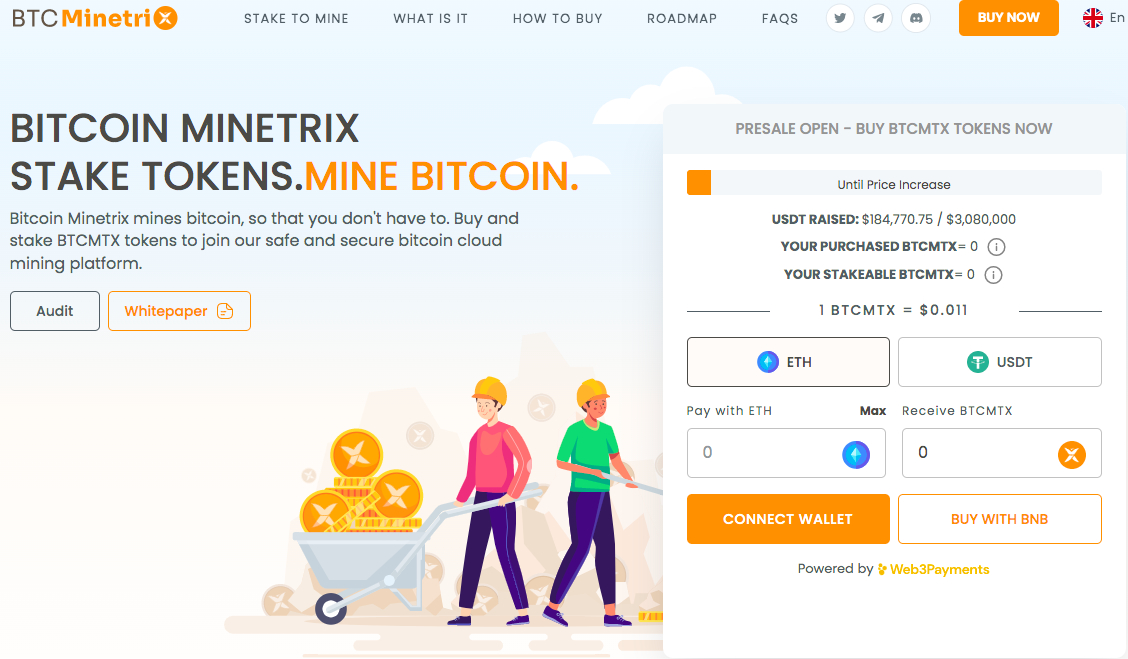 Bitcoin Minetrix is solving this problem by decentralizing the process. By leveraging $BTCMTX, the native cryptocurrency, Bitcoin Minetrix will offer tokenized ERC-20 cloud mining credits. Since these are recorded on the blockchain, there is no chance of fraud. Users will have more autonomy over their credits. 
To access these credits, you must first buy and stake $BTCMTX. Currently, Bitcoin Minetrix is allocating 2.8 billion tokens across ten presale rounds. This represents 70% of the total 4 billion token supply. The $BTCMTX token is priced at only $0.011 during the first presale round. The price will increase to $0.0119 by the final round. 
Presale investors can instantly stake their holdings through the Ethereum-powered smart contract. The platform promises to offer high staking rewards. You will also collect the cloud mining credits by staking tokens. You can burn your credits on the ecosystem to earn Bitcoin mining power. This will be used to earn allocated mining time, which will get you a share of mining revenues.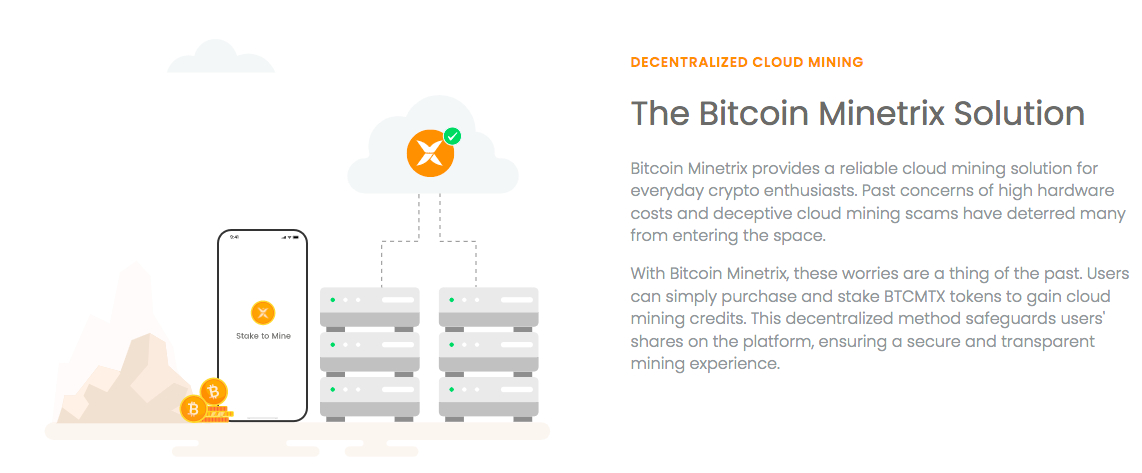 Therefore, this cryptocurrency platform will make cloud mining cost-effective and more transparent. Bitcoin Minetrix has raised more than $180K in a few days since the presale launched. Stay updated with this cryptocurrency by reading the Bitcoin Minetrix whitepaper and joining the Telegram channel.
| | |
| --- | --- |
| Presale Started | 26 Sept 2023 |
| Purchase Methods  | ETH, USDT, BNB |
| Chain | Ethereum |
| Min Investment | $10 |
| Max Investment | None |
3. Lock and Earn Huge Staking APYs and Community Rewards with Meme Kombat
Meme Kombat ($MK) is an exciting meme cryptocurrency platform that will feature a play-to-earn battle arena and a staking mechanism. $MK, the native cryptocurrency, is available to buy for just $1.667 through the ongoing presale.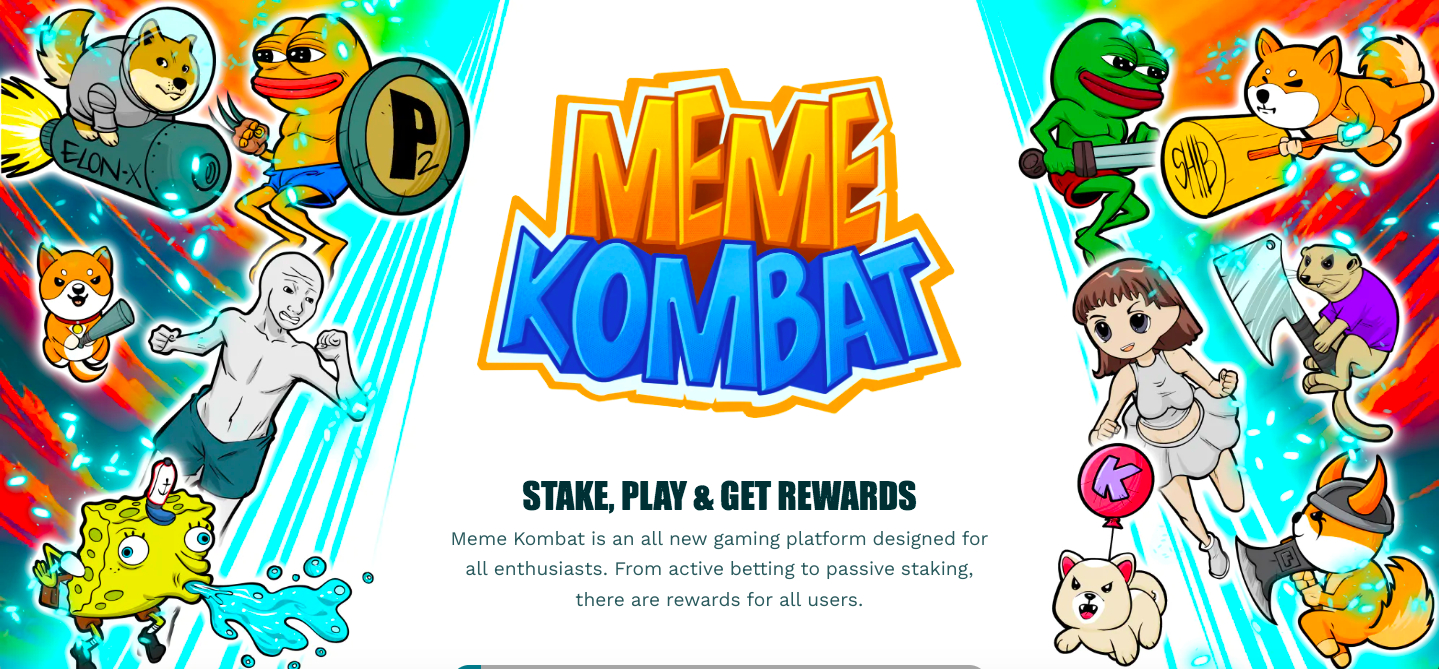 Those seeking free crypto can purchase $MK on the presale now. As soon as you purchase the tokens on presale, your holdings are automatically staked on the Meme Kombat staking contract. The passive income generates daily. At press time, Meme Kombat is offering a 112% staking APY (Annual Percentage Yield). 
To collect the staking rewards from the presale, users must re-stake their tokens at least once after the presale ends. Tokens only need to be locked-up for a minimum of 14 days. The Meme Kombat whitepaper states that some of the staked tokens can also be used to bet on the battle arena. 
Meme Kombat's battle arena will be released after the presale ends. The arena will feature battles between different meme coin avatars. Users can challenge their friends into Player vs Player battles, and lay wagers on their fights to earn free $MK tokens. The same can be done on the Player vs Game mode.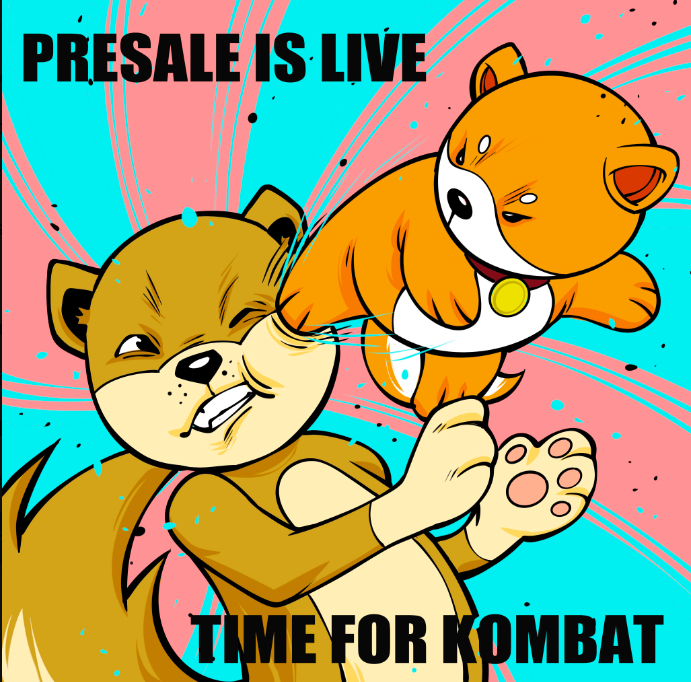 From a low token supply of just 12 million, 6 million tokens have been allocated for the presale. Meme Kombat wants to raise a $10 million hard cap from the presale. Another 30% of the token supply will be distributed as stalking and battle rewards. A further 10% will be offered as community rewards. 
The remaining will be used for the DEX allocation. Stay updated with this cryptocurrency by joining the Meme Kombat Telegram channel. 
 
| | |
| --- | --- |
| Presale Started | 21 September 2023 |
| Purchase Methods  | ETH, USDT |
| Chain | Ethereum |
| Min Investment | $5 |
| Max Investment | None |
4. eTukTuk – Earn 33,487% APY And Help The Planet With eTukTuk's Multi-Utility Token
eTukTuk (TUK) is a campaign based in Sri Lanka, that has two core aims. The first is to remedy socio economic barriers. The second is to help the environment by reducing CO2 emissions from environmentally unfriendly vehicles. 

It aims to do this through the introduction of Zero Emission Vehicles (ZEVs), which will replace TukTuks. TukTuks are a form of 3-wheeled vehicle common in parts of Asia. But they are very problematic for the environment, emitting more CO2 than regular cars. The new ZEVs will be powered through electric, at designated charging stations.
This means that drivers won't have to use any of their returns for fuel. The vehicles are also much more affordable than existing TukTuks and drivers manage their earnings and their route right from the dashboard. The routes will be optimized by AI, to further help in terms of energy conservation. AI will also assist in terms of long term vehicle maintenance, so nothing goes to waste.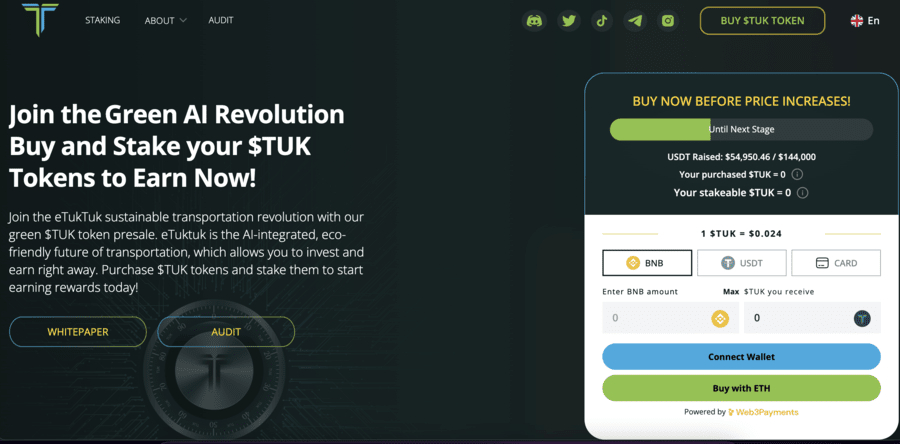 Drivers and retail investors can also benefit from huge yields, which currently sit at 33,487%. This is a Binance Smart Chain (BSC) project. This blockchain was selected due to being more eco-friendly, as well as faster and lower cost than the competition. The TUK token further supports green transportation through AI research. 
Sri Lanka currently has a poor carbon footprint, and this initiative is meant to bring it up to speed. But electric vehicles are not in play even in developed countries, so this campaign would put it on the map in a global context, if it was implemented at the national level. It is also intended to be a means of banking the unbanked, solving a large number of problems through one unified ecosystem.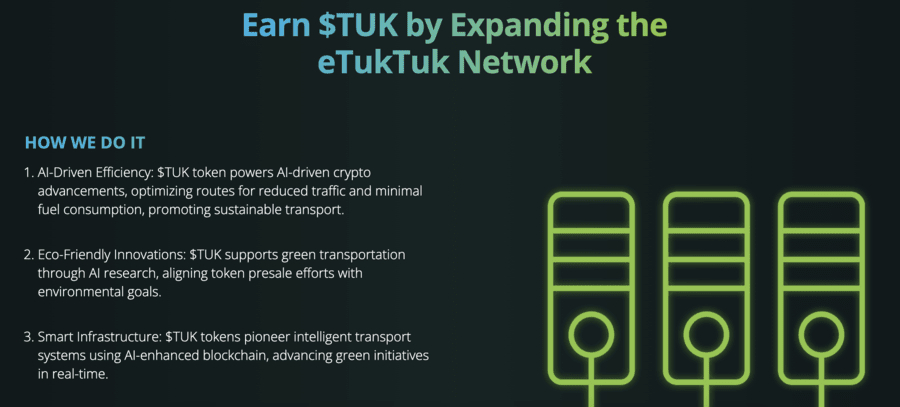 The price per token is $0.024, thought this will likely increase as the presale progresses further. This is a multi-utility token used to earn high APY, bank the unbanked, and facilitate transactions within the wider ecosystem.
More information can be found in the project socials (Telegram and Twitter) as well as the official Whitepaper. 
This project has further undertaken a smart contract audit, with no issues found.
| | |
| --- | --- |
| Presale Started | August 2023 |
| Purchase Methods  | ETH, USDT, BNB |
| Chain | Binance Smart Chain |
| Min Investment | $5 |
| Max Investment | None |
5. Earn 2,336% in Staking APYs and Get Free NFTs and Prizes with TG.Casino 
Another way to earn free cryptos and rewards is by joining the TG.Casino. This is a fully licensed Telegram casino that does not require users to complete any KYC (Know Your Customer) requirements. 

By leveraging $TGC, the native cryptocurrency of TG.Casino, users can avail staking benefits and premium rewards. Token holders can instantly stake their $TGC holdings to earn high APYs. At the time of writing, TG.Casino is offering a staggering APY of 2,336%. 
In under a week since the $TGC presale started, more than 1.68 million tokens have been staked on the contract. In the future, TG.Casino will use a part of its profits to buy back $TGC tokens. 40% of the tokens bought back will be burnt to reduce the overall token supply. The remaining will be distributed to token holders through a staking pool. 
Through the TG.Casino presale, investors can buy TG.Casino token for just $0.125. If you purchase $5K worth of tokens on the presale, you can get access to premium NFTs and exclusive post-launch rewards. 
Holding $TGC will also give players access to exclusive casino games on TG.Casino. On certain games, $TGC will also be offered as rewards. The TG.Casino offers a 150% matched deposit bonus of up to $30,000 on your first deposit, along with 500 free spins. 
Since users can leverage cryptos such as $TGC on the online casino, deposits and withdrawals will be instant. In only a few days of the $TGC presale, TG.Casino has raised over $200K. Read the TG.Casino whitepaper and join the Telegram channel to find out more about this cryptocurrency. 
| | |
| --- | --- |
| Presale Started | 21 September 2023 |
| Purchase Methods  | ETH, USDT, BNB |
| Chain | Ethereum   |
| Min Investment | None |
| Max Investment | None |
6. Earn Free Tokens By Staking On The Wall Street Memes Platform, Presale Complete
Wall Street Memes (WSM) offers high staking yields and user traction.
Originating from the successful Wall St Bulls Ethereum NFT collection introduced in 2021, WSM has a massive social media following—surpassing one million. The presale has already secured over $25 million and will list on top exchanges by month's end.
Staking your $WSM tokens allows you to earn rewards based on the Wall Street Memes ecosystem. The rewards you receive are calculated by considering two factors: your percentage stake in the $WSM pool and the project's annual percentage yield, currently set at 68%.
Rewards are given out per block, currently at a rate of 75 WSM. Notably, the pool's total amount of staked tokens has already exceeded 293 million, showing strong community backing.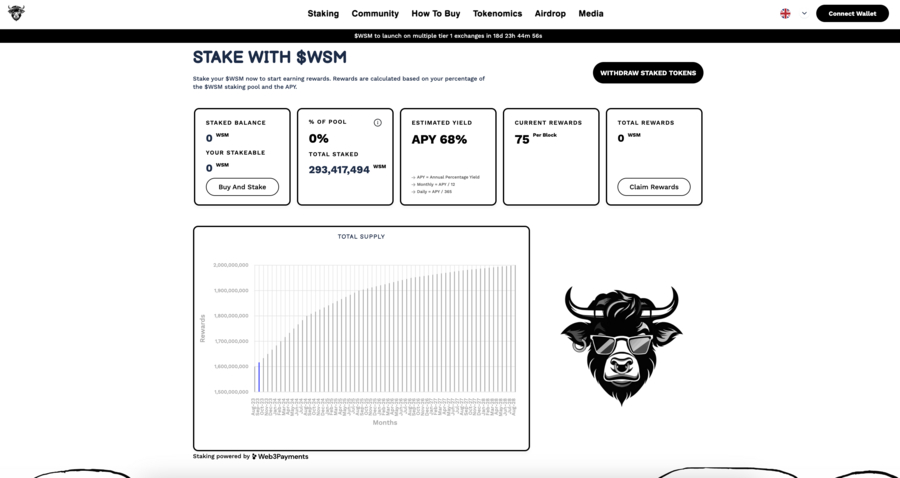 Moreover, the platform's broad reach is evident. Even celebrities like Elon Musk have engaged with its content, highlighting its viral presence.
The $WSM token pool comprises 2 billion tokens, with plans to distribute them entirely within the community. 
Per the Wall Street Memes whitepaper, half of this supply was reserved for the presale, and the rest is split between rewarding the community and liquidity provisioning. Through the $WSM presale, Wall Street Memes raised more than $25 million. The token is now trading on popular crypto exchanges such as OKX and Huobi. 
Such a community-centric token distribution eliminates the risk of a potential rug pull in the market.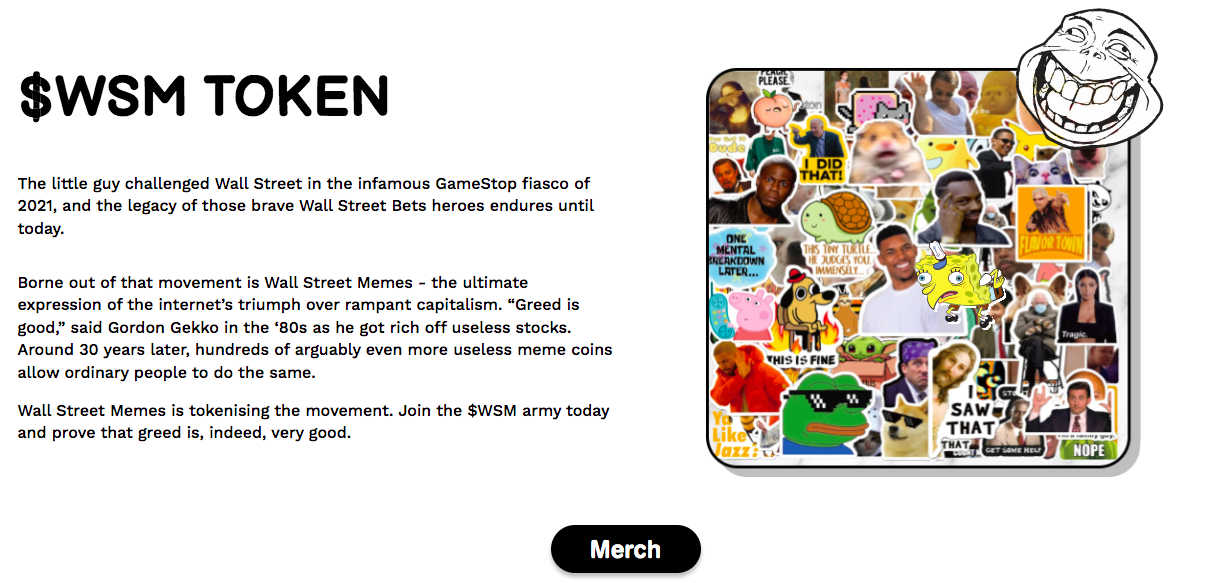 To stay updated, follow the Wall Street Memes Telegram channel.
7. Play Games at the Lucky Block Casino
During our research and testing, we found that one of the best ways to earn free crypto is to partner with Lucky Block. Lucky Block is a brand-new crypto casino launched in late 2022, backed by the groundbreaking LBLOCK token. LBLOCK was a breakout star in 2022, nearly hitting a $1bn market cap at its peak. 
The process to earn free crypto with Lucky Block differs from the other approaches on our list, as users must rely on skill and luck to win prizes. Lucky Block's casino offers over 2,700 games users can play to earn crypto, including world-class games like Aviator, Crash, Keno, and Mines.

Lucky Block supports ten different cryptos, meaning users can fund their accounts using coins like BTC, ETH, and DOGE. No deposit fees are charged, and Lucky Block's minimum deposit threshold is just $1 (or crypto equivalent). There are also no KYC checks to create an account, meaning users can sign up in minutes.
As one of the best Bitcoin casinos to launch in recent times, Lucky Block ensures it remains enticing through its cashback promotion. This promotion allows new users to earn free crypto, as 15% cashback is given on net losses for the first seven days on the platform. This cashback can be paid out in various cryptos by contacting the customer support team.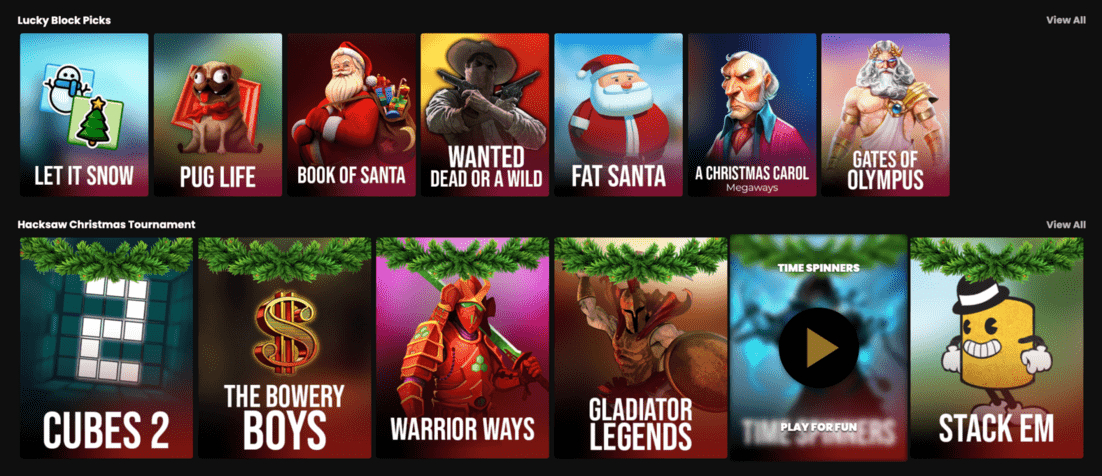 Lucky Block also stands out from the best decentralized gambling sites thanks to its $10,000 LBLOCK giveaway, with one lucky winner being picked on December 31st. All new users can be in with a chance to win this prize by creating an account and placing a bet on the platform.
Lucky Block has also just launched a new 'Races' feature that sees users with the most turnover being awarded lucrative prizes. Prizes of up to €1,000 are on offer to active gamers – providing an incentive to choose Lucky Block to earn free crypto.
Finally, it's important to note that US and UK users can only access Lucky Block casino by using a VPN – as it's currently geo-restricted in these locations.
8. Earn Free Crypto Tokens with Tamadoge on ByBit
Tamadoge (TAMA) is a new cryptocurrency project and the native token of the Tamaverse – a play-to-earn (P2E) ecosystem offering in-game earning opportunities to investors. After purchasing TAMA tokens, the community members can purchase playable NFT avatars known as 'Tamadoge Pets'. 
These NFTs are minted using smart contract functionality and can be grown and bred by purchasing other virtual items from the Tama store. Eventually, Tamadoge pets can be used in community-wide competitions to earn points on a monthly leaderboard. The top performers are rewarded with free Tamadoge crypto.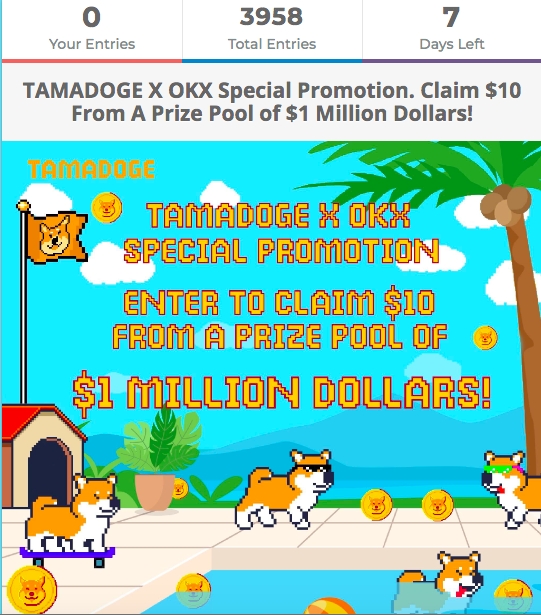 Tamadoge has already conducted crypto giveaways worth $100K to presale investors to promote this crypto project. After completing one of the best crypto presales in 2022, Tamadoge raised $19 million in just over 8 weeks. The price of TAMA increased from $0.01 to $0.03 by the end of the round – a 300% price increase. 
Following the announcement, Tamadoge was listed on OKX – a global multi-asset trading platform with more than 20 million traders. On September 26th, TAMA began trading on the OKX centralized (CEX) and decentralized exchange (DEX) – making it available to investors, regardless of geographical regulations.
On OKX, Tamadoge is offering investors the opportunity to earn free crypto rewards. Users must sign up with OKX, complete the KYC Level 1 and trade the TAMA/USDT pair (no minimum trade size). After completing this, investors will win $10. 
Along with the opportunity to earn free crypto, Tamadoge (TAMA) has the potential to become one of the best long term cryptocurrency projects. The token offers a maximum supply of 2 billion tokens, making it a deflationary asset. Furthermore, 5% of all TAMA spent on the ecosystem will be burnt. 
Thus, the token will increase demand against the supply, potentially making it more valuable in the long run. According to the Tamadoge whitepaper, the platform plans to implement an AR-based P2E app and a P2E-arcade game and make strategic metaverse partnerships in the coming years.
Currently, Tamadoge (TAMA) is trading on the OKX exchange at $0.073 per token – more than a 700% price increase since its presale launch price. Tamadoge will also be listed on MEXC exchange and LBank on 5th October 2022. 
To stay up to date with the game's latest developments, investors can join the Tamadoge Telegram channel. Please, be careful of imposters, channel admins never DM subscribers first.
9. Earn 25% APY on the Battle Infinity Ecosystem 
Battle Infinity (IBAT) has emerged as one of the best metaverse games in 2023 – offering several in-game earning opportunities in its virtual ecosystem. The platform allows players to access the Battle Arena – a virtual ecosystem where all characters and avatars are minted as NFTs, using ERC 721 smart contracts. 
Players can update their virtual avatars on Battle Infinity's NFT marketplace and access the metaverse reality via VR headsets. One of the best play-to-earn crypto games, Battle Infinity offers an NFT-based sports fantasy league where players can earn rewards with IBAT – the native cryptocurrency. IBAT tokens can be accessed and swapped with other cryptos on the IBAT Battle Swap – Battle Infinity's decentralized exchange.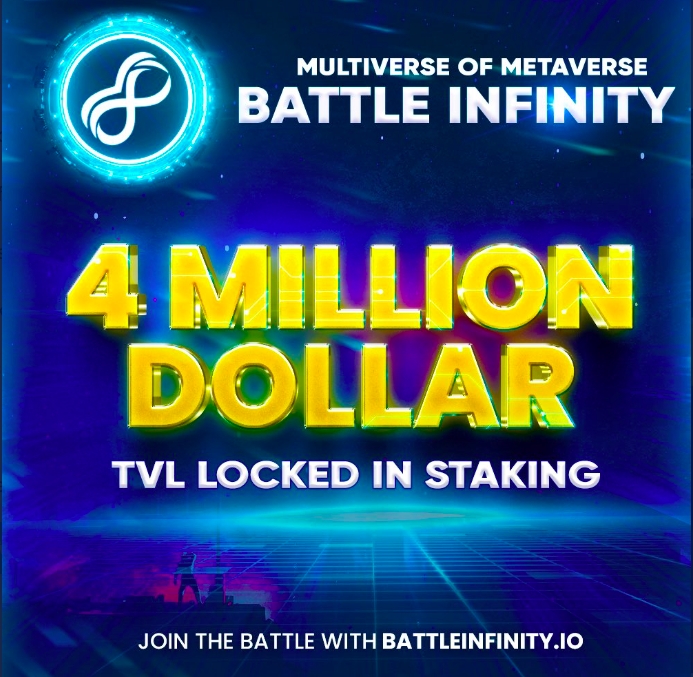 Notably, the cryptocurrency exchange's new staking platform offers investors free to earn cryptocurrency. In September 2022, Battle Infinity launched the IBAT Battle Stake – the staking platform where IBAT can be deposited to earn potentially high APY. 
2 days after the launch, Battle Infinity witnessed over $3 million worth of tokens locked on the staking protocol. Players can access flexible staking – which offers 12% APY and allows you to withdraw your tokens at any time. 
The locked staking option lets players earn higher yields by locking up IBAT. For example, a 30-day lock-up results in 14% APY, while you can earn 17% for 90 days of staking. The yield increases to 20% and 25% for 180 days and 360 days lock-up, respectively. One of the best proof of stake platforms, more than 10% of the 10 billion maximum supply of IBAT deposited on the Battle Stake. Currently, over $4 million worth of IBAT has been staked on Battle Infinity's staking protocol.
As the staked amount increase, the reduced supply of tokens can potentially lead to a higher price movement. The coin's popularity increased as it collected 16,500 BNB worth of IBAT in 24 days of the presale. After being listed on presale for only $0.0015, IBAT is trading on PancakeSwap at $0.0035.
10. Use Cryptocurrency Interest Accounts
Cryptocurrency interest accounts act similar to saving accounts – deposit different crypto assets and earn interest on your holdings. Therefore, long-term holders that want to hold their digital assets can leverage these services to earn free rewards. 
One popular cryptocurrency account is Aqru – crypto savings account that offers high APY returns on popular assets such as Bitcoin. Aqru offers 7% APY on Bitcoin and Ethereum, offering lucrative passive income earning opportunities. Notably, Aqru also lets investors earn interest on stablecoins such as USD coins and DAI – with a 12% APY.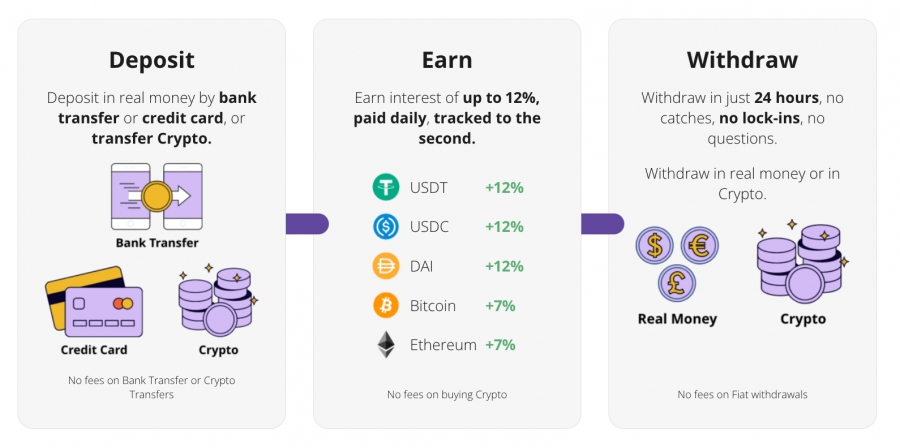 Notably, the interest earned on Aqru does not differ per deposit. Many exchanges offer differing APY depending on the amount deposited, but Aqru supports free crypto-earning opportunities without any limits. Furthermore, with Aqru, investors do not need to lock up their cryptocurrencies for a specified amount of time. 
Investors can access other cryptocurrency interest accounts from platforms such as BlockFi, Binance and Crypto.com. 
11. Earn Cryptocurrency Rewards with Credit/Debit Cards
Regular cryptocurrency traders can benefit by purchasing cryptocurrency credit and debit cards. With a crypto debit or credit card, investors can convert popular assets such as Bitcoin, Ethereum and more to fiat currency at merchant points. This process can also be conducted at specific ATMs where VISA and MasterCard are supported. 
Therefore, the crypto cards can be used to purchase goods and services, even if the particular outlet or merchant does not support direct crypto payments. In such instances, the merchant at the other end of the transaction does not have to accept the payment in cryptocurrency since the providers handle the exchange process. 

Importantly, cryptocurrency credit and debit cards can give holders cashback rewards – allowing them to reclaim a certain amount of the transaction. For example, Crypto.com offers the Crypto.com VISA card – which offers up to 5% cashback when buying cryptocurrency. 
Some offers include a 10% rebate on Expedia or Airbnb bookings and a 100% rebate on your basic subscription plan for Netflix. Importantly, Crypto.com offers a maximum of 1 reimbursement per merchant per month. 
Crypto.com offers different card types, each requiring a different amount of minimum investment staked in CRO – the native cryptocurrency. For example, the Ruby Steel Cashback card requires a minimum of $400 staked in CRO. 
12. Get Free Bitcoin with Crypto Faucets
Crypto faucets are online websites or apps where you can stand a chance to win free cryptocurrency rewards by carrying out specific tasks or competing in various games. One of the top crypto faucets is FreeBitcoin – a platform which offers free Bitcoin (BTC) rewards to players. 
The FreeBitcoin website claims to offer up to $200 worth of free BTC per hour by competing in games. The site allows players to compete in the HI-LO game, which leverages math and cryptography to offer players a fair chance to win rewards. The platform states that players can wager on the HI-LO dice game, with the top 10 ranked performers standing an opportunity to earn up to 1 Bitcoin every month.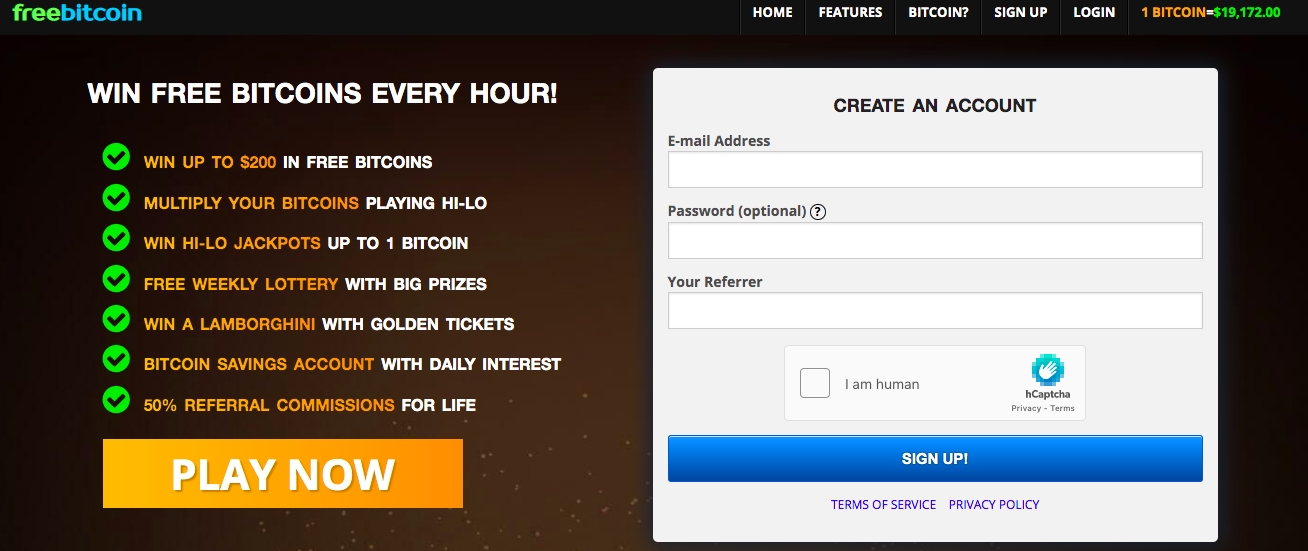 Players can also enter into golden ticket draws after wagering BTC on the HI-LO game to stand a chance to win a free Lamborghini. FreeBitcoin also hosts a referral programme – where you can refer an individual and earn 50% of their rewards won on the site. With FreeBitcoin, players can also earn interest on crypto such as Bitcoin. Deposit Bitcoin in your FreeBitco.in wallets to earn up to 4.08% annual interest. 
Hosting weekly free lotteries, FreeBitcoin states to have over 50 million registered users on its platform. 
13. Earn tokens with Crypto Mining
Cryptocurrencies can be created using either the Proof-of-Stake (PoS) or the Proof-of-Work (PoW) algorithm. The PoS consensus involves staking cryptos to validate new blocks, with the potential to earn cryptos as a reward. 
However, the PoW consensus involves mining cryptocurrency to earn new tokens as a reward. For miners to generate new tokens, they must deploy machines and use large amounts of computational power to solve complex mathematical problems. For example, Bitcoin miners work to solve a mathematical problem – simultaneously validating new blocks on the blockchain in return for BTC rewards.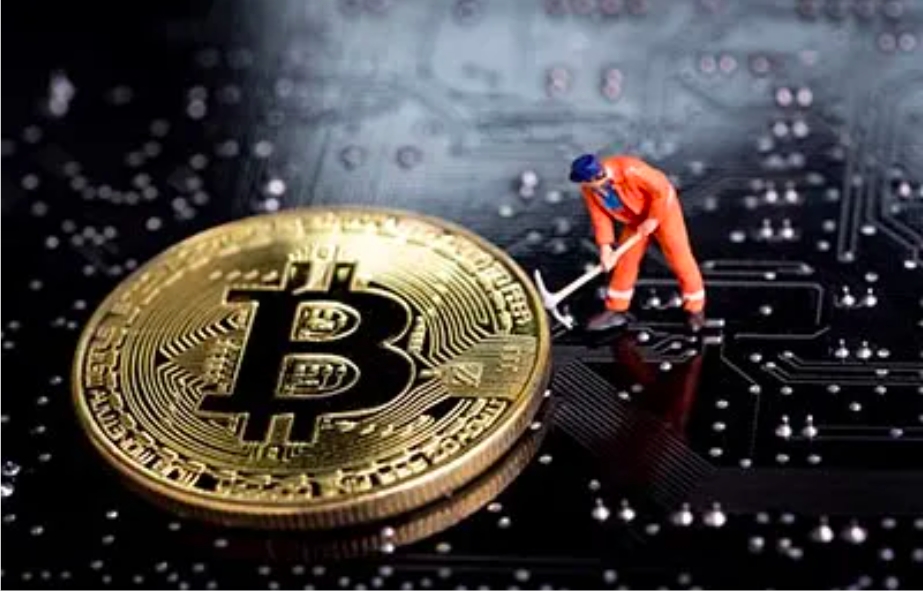 One of the best proof of work cryptos, Bitcoin provides an estimated 6.25 tokens as rewards for successfully validating a new block. With a maximum supply of 21 million tokens, around 19.17 million tokens are circulating right now. After every 210,000 blocks, the rewards are halved to ensure the demand outweighs the supply. 
It is estimated that all the 21 million BTC tokens will be mined and be in circulation by 2140. Unlike staking cryptocurrencies, crypto mining requires large amounts of hardware devices and computational power. As of July 2022, it is estimated that the average cost of mining 1 Bitcoin is $13,000. 
14. Learn and Earn Crypto 
Learn and earn cryptocurrency programs promote crypto education by leveraging cryptocurrency rewards for cryptocurrency investors. By accessing educational material from various sites, users can earn free cryptocurrencies and simultaneously increase their knowledge of digital assets. 
For example, Coinbase is one of the biggest cryptocurrency exchanges integrating crypto learn and earn. With 'Coinbase Earn', investors can take part in various online quizzes and free courses to earn cryptocurrency rewards. On Coinbase, rewards can be earned in over 20 tokens, depending on the courses you complete.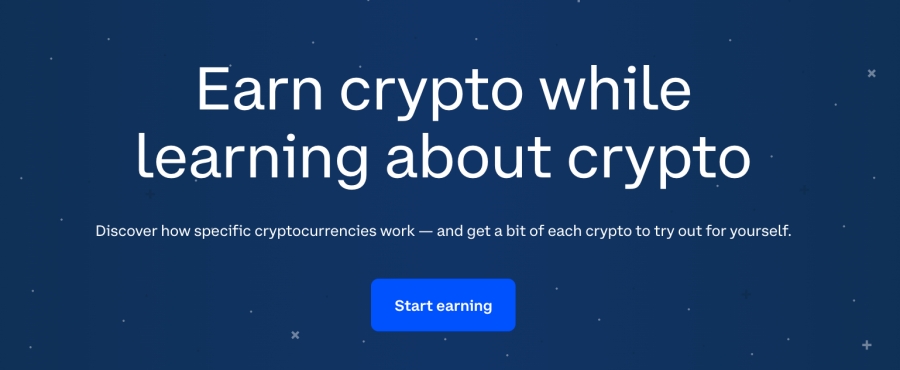 Binance is another top cryptocurrency exchange that offers learn and earn crypto rewards. The platform offers 'Binance Academy' – an online educational platform that provides reward certificates and free cryptos. The Binance reward certification requires investors to buy additional digital assets to redeem their rewards. Therefore this method incentivizes new investors & beginners to learn more about this asset class while giving them a chance to earn rewards. 
Some beginner traders are also interested in the best crypto auto trading platforms that offer convenient features and tools to help make the entire investment process a more hands-off experience.
Conclusion
This guide has provided some of the best methods to generate free cryptocurrency rewards in 2023. One of the best cryptos right now is Bitcoin ETF Token. $BTCETF can be staked to earn APYs up to 500%. This deflationary cryptocurrency will also decrease 25% of its token supply in the long-term. 
Buy $BTCETF during the early presale stages, before the price increases. Bitcoin ETF Token is allocating 840 million tokens for the presale – aiming to raise a hard cap of $4.956 million. 
FAQs
How can I get free crypto?
Free cryptocurrency can be generated by multiple methods, including staking on Bitcoin ETF Token, and through minedrops on Bitcoin Minetrix.
Which apps give free crypto coins?
FreeBitcoin is a cryptocurrency faucet application that claims to offer up to $200 worth of free Bitcoin every day. Other interest-earning apps like Aqru offer competitive annual yield prices on Bitcoin, Ethereum and stablecoins.
---