How to Buy Spongebob Token in 2023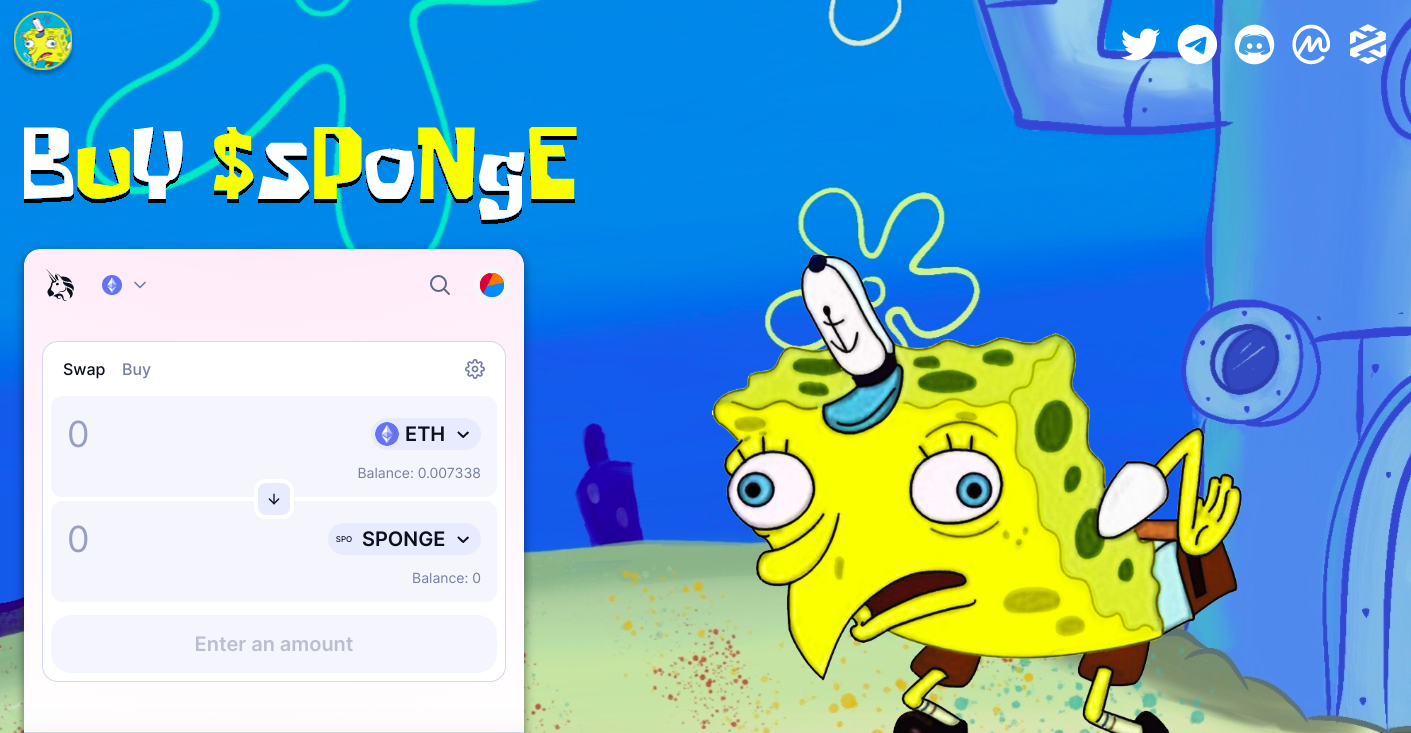 Disclaimer: The Industry Talk section features insights by crypto industry players and is not a part of the editorial content of Cryptonews.com.
Spongebob ($SPONGE) is one of the hottest new meme tokens in the whole of crypto that is still more than 500% above its launch price.
It initially had a stealth launch and is available to buy on Uniswap, a popular decentralized exchange (DEX), but is now listed on a number of centralized exchanges (CEXs) with more to follow in the coming days and weeks - including MEXC and BitGet.
$SPONGE has already reached a market cap of $10 million and looks set for even further growth in the near future once it reaches a mainstream audience.
Our guide will show users how to buy Spongebob token in just a few simple steps. We also cover the basics of this cryptocurrency and discuss the reasons for Spongebob's popularity.
How to Buy Spongebob Token - Quick Summary
In the sections below, we take a quick look at how to buy Spongebob tokens from the Uniswap DEX:
Step 1: Create a Crypto Wallet - Users can buy $SPONGE tokens with a compatible wallet. Choose and download a popular wallet such as MetaMask, Uniswap wallet, or Wallet Connect.
Step 2: Buy Tokens - $SPONGE can be swapped for a range of tokens, including Ethereum (ETH) or Tether (USDT). Purchase one of these tokens from a crypto exchange, and send it to your wallet.
Step 3: Visit Spongebob and Connect your Wallet - Head to the Spongebob website and click on the crypto wallet you hold. Follow the instructions on-screen to finish the process.
Step 4: Enter the Swap Amount - Enter the number of $SPONGE tokens you wish to receive. Click on 'Swap' to complete the transaction. You will be able to view your $SPONGE holdings in your wallet.
$SPONGE tokens are also now available to purchase on a variety of leading centralized exchanges, Bitget, LBank, MEXC and others.
What is Spongebob Token?
Spongebob ($SPONGE) is a decentralized meme cryptocurrency that has been built on the Ethereum network. $SPONGE, an ERC-20 token and the native crypto of the network was recently launched on the Uniswap DEX on May 4th, 2023.
One of the largest decentralized exchanges in space, Uniswap has a 24-hour trading volume of more than $650 million. Offering over 1,000 tokens, Uniswap allows millions to access some of the best cryptocurrency tokens from around the world.
With the recent launch of $SPONGE on this exchange, investors will hope that a popular platform such as Uniswap can make the token available to more users and help increase the trading volume.
It is also listed on a number of centralized exchanges - securing its first CEX listings within 48 hours after it launched, a rapid turnaround compared to the likes of Pepe, which took three weeks.
More exchange listings are expected to be announced in the coming days and weeks.
According to the Spongebob Twitter page, this meme token has been termed as the 'Krabby Patty of all meme coins.' As the name suggests, the token has been named after the popular TV show 'Spongebob Squarepants.'
Why are People Investing in Spongebob Token?
One of the reasons why users are keen on investing in $SPONGE is due to the monumental growth the token has already offered. After launching at a price of $0.00005844, the token soared to a 434% in its first 24 hours and didn't stop.
Just four days after it launched, $SPONGE pumped all the way to a price of $0.0024, an incredible 3,000% increase, and saw 24-hour trading volume of more than $100 million.
Although its price has dipped, it is still outperforming the likes of $PEPE, the meme token based on the popular 'Pepe the Frog' meme, and at the time of writing is still more than 500% above its launch price.
Looking to ride off the success of such meme tokens, $SPONGE aims to be the next token to multiply its price in the coming weeks. $SPONGE has a total supply of just 40.40 billion coins and has lined up several significant CEX listings in the coming weeks.
Further indicators that the token should again rocket up in price is that it is yet to reach any kind of widespread adoption.
While Pepe now has a market cap of around $600 million - having briefly surpassed $1 billion - the $SPONGE market cap is only $10 million, 60x smaller than Pepe.
Furthermore, there are only 10,000 holders of $SPONGE, meaning a mainstream breakthrough or a tier-1 CEX listing could see a significant uptake in the number of buyers.
Join the Spongebob telegram channel to stay updated with this meme token.
How to Buy Spongebob Token - Full Tutorial
Let's take a step-by-step look of how to purchase $SPONGE via the Uniswap DEX in 2023:
Step 1: Create a Cryptocurrency Wallet
Firstly, investors must download a compatible cryptocurrency wallet before buying $SPONGE.
Some of the best crypto wallets, such as MetaMask and Wallet Connect, are compatible with Uniswap. Alternatively, one can download the Uniswap or Coinbase wallet.
Step 2: Purchase Compatible Tokens
One can purchase $SPONGE by swapping it for other tokens. Some of the best tokens, such as Ethereum, Tether, and USDC, can be purchased from suitable crypto exchanges. Transfer these tokens to your crypto wallet.
Step 3: Connect your Crypto Wallet on Spongebob
Visit the Spongebob website and select the cryptocurrency wallet you hold.
Follow the on-screen instructions and connect the wallet to the exchange.
Step 4: Search for $SPONGE and enter the Purchase Amount
After connecting the wallet, type 'Spongebob' on the search bar and click enter.
If you are buying with Ethereum, enter the amount of ETH you wish to swap for $SPONGE. To confirm the transaction, click on 'Swap' to receive the tokens.
FAQs
What is the $SPONGE token?
$SPONGE is an ERC-20 token and the native cryptocurrency of Spongebob - a new meme cryptocurrency. The project has been dubbed the 'Krabby Patty of meme coins.' Spongebob aims to generate a market cap over $1 billion in the long term.
What is the price of $SPONGE?
After launching at just $0.00005844 per token, $SPONGE soared by over 3,000% within four days and is still up 500%. Currently, $SPONGE has a relatively small market cap of just $10 million.

---