How Good Is Mike Novogratz In Guessing Bitcoin's Price?
Former Goldman Sachs partner turned crypto investor Mike Novogratz believes that Bitcoin (BTC) will finish 2020 above the USD 12,000 mark. However, his previous predictions show how unpredictable the crypto market is.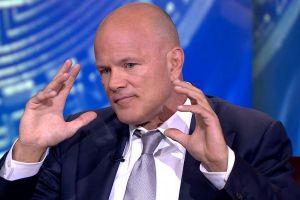 Though he didn't explain the reasoning behind this particular BTC prediction, this isn't the first time Novogratz expressed his opinion on it.
For example, in the end of July 2019, he thought it could go up to USD 20,000 by the end of the year, pushed upwards by the merchant and consumer adoption, as well as experiments such as Telegram's TON network and Gram token, or Facebook's Libra. As more institutional investors come in, it'll "kind of clean the image of the crypto space," with bad actors being pushed out.
Since this prediction was made, BTC dropped by c. 25% and now trades below USD 7,500.
In October this year, Novogratz said that USD 6,500 could be the next downside for the world's most popular coin, but that its future is on an ascending path afterwards, particularly after it breaks USD 8,200, as it'd return to USD 8,000 or USD 10,000 range. "It's gonna need new energy to really make the big move," the CEO of Galaxy Digital Holdings Ltd. said in this interview.
In August 2019, to the question if BTC could go below USD 5,000 the investor replied: "I don't think so. I think if it goes below USD 8,500 I'll get nervous. If it goes below USD 6,000 I'll get real nervous." Since August, Novogratz had multiple opportunities to get nervous, as BTC traded below USD 8,500 longer than above this line. The price is also well below USD 8,000 for more than a month now. However, it didn't drop below USD 6,000. In August, Novogratz also said that 2%-3% of each person's net worth should be in crypto and that he owns more in BTC than in gold.
In the end of May of this year, when BTC jumped above USD 8,000 for the first time since July 2018, the investor estimated that bitcoin "probably consolidates somewhere between USD 7,000 and USD 10,000" as "trees don't grow to the sky."
"If I'm wrong on that, I think I'm wrong to the upside, that there's enough excitement and momentum that it could carry through," he said, adding that greater adoption of crypto and blockchain and their acceptance by established Wall Street and technology companies had led to the 2019 rally. To get to the USD 20,000 he once predicted, institutions need to see crypto as a safer space, and Novogratz urged crypto exchanges to "self-regulate" in order to boost both their security and confidence in BTC.
In June, BTC peaked above USD 13,000 and has been gradually declining since then.
Meanwhile, in November 2018, when BTC changed hands at c. USD 4,000, Novogratz was guessing that bitcoin will remain in the USD 3,000-USD 6,000 range until institutional buyers step in. Earlier in October, he confirmed his prediction that BTC will stay below USD 10,000 for the rest of the year and the market rally might start in late first quarter or early second quarter as institutional investors will enter the market then.
The big rally of 2019 started in the beginning of April, when BTC was already above USD 4,000.
In October of 2018, when his firm lost millions, Novogratz was convinced that the crypto winter will end. "One thing I've learned in this process is everything takes a little bit longer than you hope it does," he said, adding that the crypto ecosystem is a 4th-grader that we want to be a high school graduate tomorrow with a PhD the next day.
His predictions in November 2017 were less accurate.
In the end of the month (BTC was already above USD 9,000 back then), Novogratz said that the price could reach USD 40,000 by the end of 2018, with the total crypto market capitalization going to USD 2 trillion.
"There's a big wave of money coming, not just here but all around the world," said Novogratz, and demand from Asia cold push BTC's price up too.
BTC ended 2018 below USD 4,000, while the total market capitalization stood at c. USD 125 billion.
Just a week earlier in November 2018, he predicted BTC reaching USD 10,000 by the end of the year.
In December, the price touched USD 20,000 and dropped below USD 14,000 on the last day of 2017.
Meanwhile, this past weekend Novogratz also jokingly agreed to a bet with 1 Ethereum (ETH) at stake, that Donald Trump will not be elected for his second term as the U.S. president.
__
At pixel time (12:18 AM UTC), BTC trades at c. USD 7,336 and is almost unchanged in the past 24 hours. The price is down by 3% in a week and by 5% in month, trimming its annual gains to less than 88%.
---