FTT Price Pumps, Dumps as FTX Claims Portal Opens, Then Becomes Unavailable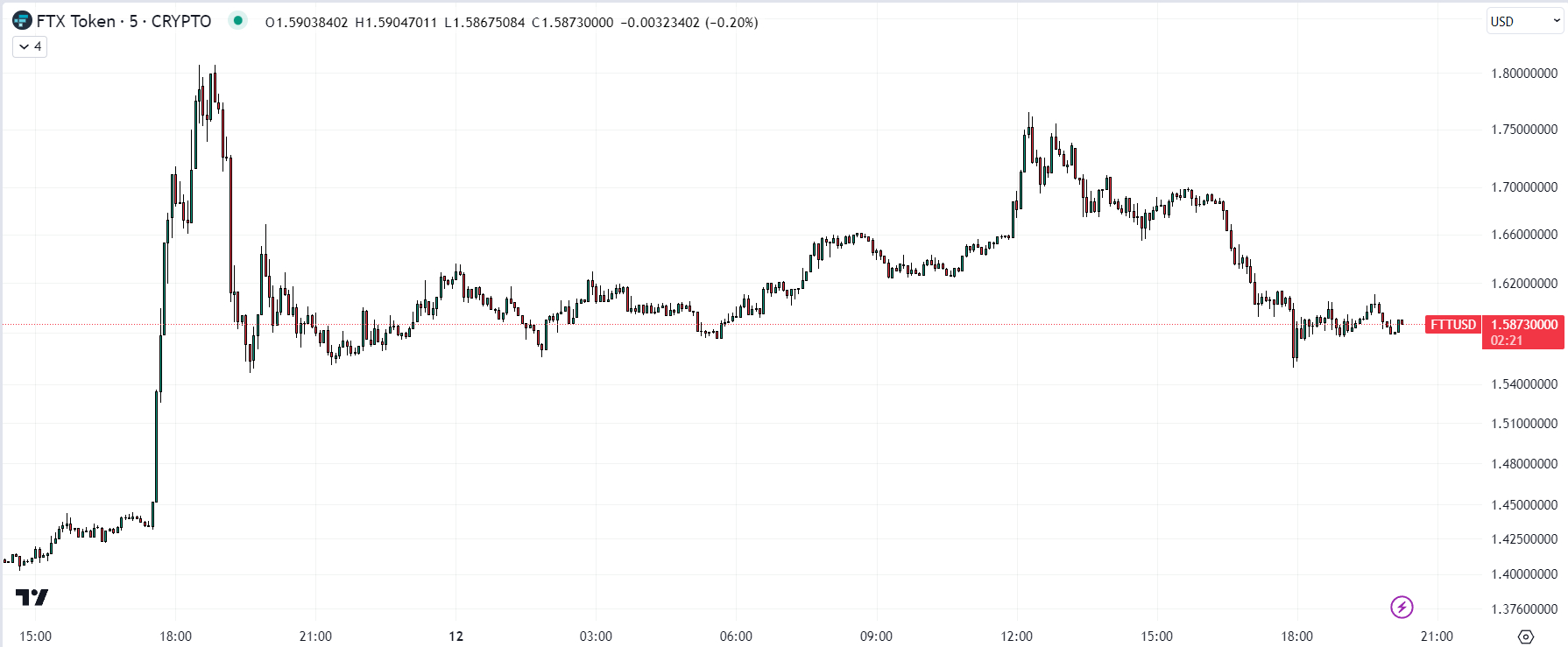 FTT saw a massive 26% pump from the $1.40s to the $1.80 area on Tuesday in a matter of minutes, before pulling back under $1.60 on Wednesday.
FTT is the utility token of the now defunct cryptocurrency exchange FTX that is currently going through a lengthy, arduous bankruptcy process in wake of its collapse last November.
The token pumped on Tuesday on reports across social media that FTX had launched its online claims portal at claims.ftx.com.
However, just as soon as the portal had seemingly been opened, it became available once again.
Indeed, no official announcement that the online claims portal was open ever came from the official FTX Twitter account.
Rather, the account tweeted a reminder that "all official public communications by the FTX Debtors will come from official company channels" and said the portal was still being finalized.
As a result, initial optimism has been mostly priced out of the FTT token.
FTT Meme Coin Alternatives to Consider
Crypto degens looking for a high-risk play might still be looking at the FTT token as a possible trade that could deliver quick returns.
While positive future news about FTX customers getting their funds back, and even the exchange reopening again, could facilitate future pumps, small-cap meme coins offer a much better chance of handing investors exponential gains.
Here are a few new meme coin projects vetted by analysts at Cryptonews.com that could deliver solid upside.
Wall Street Memes (WSM)
Wall Street Memes, one of the internet's hottest retail investing communities, rose to prominence in the meme stock craze of 2021 and has recently been expanding its relevance in the cryptocurrency space with the presale of its new $WSM token.
The success of the $WSM presale, which has raised $14.3 million in just over one month, isn't surprising given the size of Wall Street Memes' community.
Not only are there 523k hyper-engaged community members on its wallstbets Instagram account, there are another 214k on Twitter and more than 100k across its two other Instagram channels, wallstgonewild and wallstbullsnft.
All told, Wall Street Memes has a 1 million-strong social community of degens, which analysts think all but guarantees that the $WSM token will be listed on tier 1 crypto exchanges like Binance.
With 30% of the token supply being held back for community rewards, it can reasonably be expected that airdrops to holders will be a big part of the ecosystem.
Indeed, the first $WSM airdrop is open now.
Analysts are already predicting big things for Wall Street Memes when it lists on exchanges and you can be a part of it.
Mr Hankey Coin (HANKEY)
A brand-new meme coin themed on South Park's Mr Hankey, a sentient, jolly piece of feces and the cartoon's former Christmas deity, has been going viral on social media in the past two days ahead of the launch of a stealth presale that anyone can get involved in on Thursday.
Mr Hankey Coin, which is proudly marketing itself as the crypto industry's best shitcoin, already has over 5,600 followers on Twitter, while the project's Telegram is fast approaching 1,000.
Web3's hottest new shitcoin is understood to be looking to raise a modest $500,000 via a sale of 40% of its 1 billion token supply, valuing the token at a very modest $1.25 million, which means plenty of room for a potential pump.
Meanwhile, the limited availability of the token in presale means that pent up demand and FOMO will be sustained into its DEX launch.
Additionally, the project has pledged to lock 40% of the token supply into Decentralized Exchange (DEX) liquidity, ensuring smooth trading conditions and removing the possibility of a rug pull.
Finally and most importantly, Mr Hankey Coin appears to be backed by a savvy marketing team, with rumours are already circulating the teams behind $SPONGE and $PEPE might be involved.
Whoever the team is, they appear to be hard at work spreading the word, with Mr Hankey Coin already featuring all over the crypto media on reputable news sites like Beincrypto and here on Cryptonews.com.
Thug Life Token ($THUG)
Despite only launching a week ago, brand new meme coin project Thug Life Token has already been able to raise a whopping more than $1.2 million via the presale of its $THUG token.
Various industry observers have tipped $THUG to be a major success given the refreshing take it brings to the meme coin space.
$THUG is not based around out-of-fashion dog memes or short-term social media fads, like meme coins created in response to Elon Musk or Andrew Tate tweets.
Rather, $THUG is themed around the timeless Thug Life movement that was first popularized by hip hop stars such as Snoop Dogg back in the 80s.
As the word of $THUG spreads, more degenerates are expected to pile cash into the project.
That's because Thug Life Token has all of the makings of the next 100x meme coin.
At the presale price of $0.0007 and total maximum supply of 4.2 billion, the Thug Life Token presale only values the coin at a very conservative $2.94 million fully diluted market cap.
That's much smaller than most other comparable presale projects and the low presale market cap leaves plenty of room for explosive upside.
Meme coin degens have no time to lose when it comes to getting involved in the project early.
That's because the $THUG presale will end once the $2.058 million mark is hit, or when the 10-day countdown runs out (whichever comes first).
After that, the only way to secure $THUG tokens will be via the project's airdrop and community rewards campaign or at a potentially elevated price on major decentralized exchanges (DEXs).
Disclaimer: Crypto is a high-risk asset class. This article is provided for informational purposes and does not constitute investment advice. You could lose all of your capital.
---