"Faketoshi" Leads the Race in BCH Hash Power
With just two days left until the controversial Bitcoin Cash hard fork is scheduled to occur, the race is heating up between the two competing proposals: Bitcoincash.org's Bitcoin ABC, and Bitcoin SV ("Satoshi's Vision") backed by so-called "faketoshi" Craig Wright and a fairly large group of BCH miners.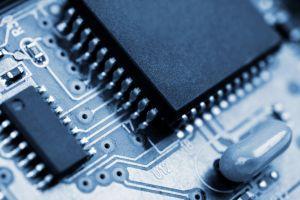 According to data from Coin Dance, a provider of crypto statistics, the alternative advanced by Craig Wright and the team at blockchain company nChain has managed to gather the most hashing power (or computing power) ahead of the fork, with at least 63% of BCH miners supporting BCH SV compared with 18% who support ABC.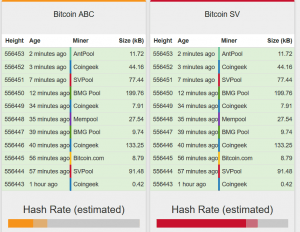 In a series of tweets posted earlier this month, Craig Wright has even implied that he supports "killing" Bitcoin ABC by getting miners to mine empty blocks on the Bitcoin ABC blockchain. This would be technically possible if the SV side controls more than 51% of the overall BCH hashing power, which right now appears to be possible.
However, Peter Rizun, chief scientist at Bitcoin Unlimited, a full node implementation for the bitcoin and Bitcoin Cash networks, has previously told Coindesk that he thinks "that's a bluff, and they don't have [the] technical capacity to make it happen. If it does, it could hurt BCH."
Despite Bitcoin SV's lead in terms of hashing power, it is important to remember that there is more to a successful cryptocurrency than its hashing power. For example, it is clear that a large majority of nodes running on the Bitcoin Cash network are Bitcoin ABC nodes, with 48% of all nodes vs. 7% for Bitcoin SV nodes.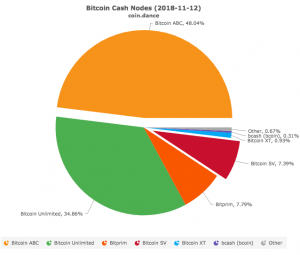 Another important question is which coin exchanges will ultimately support, as it could be argued that the additional hash power backing SV would be a waste if no exchanges were to list the coin.
So far, most exchanges have given only vague statements when it comes to which proposal they will ultimately support.
Although the fork has yet to happen, so-called pre-fork trading has already been enabled on the Poloniex exchange. In terms of its market price, BCH ABC got a head start compared to its competitor, but "Satoshi's Vision" has been playing catch-up in recent days, posting a gain of more than 100% over the weekend. However, at roughly USD 110 per coin, Bitcoin SV is still far behind the more mainstream Bitcoin ABC at USD 392.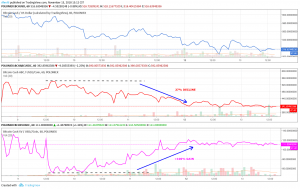 A fun drama
"It should be clear that as confusing as the Bitcoin Cash hard fork may seem, especially for beginners, it is unlikely to have any significant impact on the broader crypto industry, are very slim. However, this drama is a lot of fun to watch and a great exercise for people to increase their knowledge and understanding of how these things work," concluded Mati Greenspan, Senior Market Analyst at eToro, a social trading platform.
Over the weekend, we've seen videos emerging from both Roger Ver, a controversial Bitcoin Cash supporter, and Craig Wright explaining their positions, how this fork came about and what they think will happen next. Both Roger and Craig are advocating a different version of Bitcoin Cash. According to Greenspan, the end result will most likely be a split in the network resulting in two different versions of Bitcoin Cash when both upgrades go into effect this Thursday.
In this video released last week, Ver described Wright's behavior as less than professional:
"One thing that Dr. Wright failed to mention is the amount of hashpower that is currently allocated to BTC. Crypto miners, for the most part, are not as ideological as Ver and Wright, they're in it for the profit. At the moment, BCH is only running about 8% of the total SHA256 hashpower. This makes it very difficult for people to mine BTC. So it wouldn't surprise me if some people who are currently mining BTC would switch a small portion of their hash over to Bitcoin ABC or Bitcoin SV, whichever givesthem the best bang for their buck. This might actually be a healthy thing for BTC as well," Greenspan said.
---