BCH Hard Fork Receives Support from Major Exchanges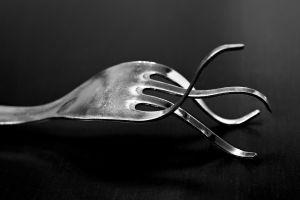 With the contentious Bitcoin Cash hard fork fast approaching, a number of exchanges have come out with statements that generally say they "support the hard fork."
Previously, major exchanges including Binance and Coinbase have announced their support for the Bitcoin ABC proposal as published on bitcoincash.org. However, Coinbase added that "unlike previous BCH hard forks, there is a competing proposal [Bitcoin SV] that is not compatible with this published roadmap. Coinbase will monitor the hard fork process and work to minimize customer disruption until the network meets Coinbase security standards."
Similar to another US-based cryptocurrency exchange Poloniex, Coinbase also added in a statement that it will "ensure that customers have access to their funds on each chain" in the event "multiple viable chains persist" following the hard fork.
Top 10 Bitcoin Cash markets: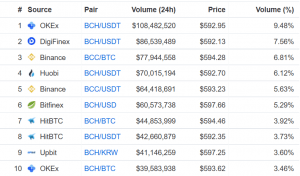 Exchanges such as OKEx, BitForex, Huobi, Upbit, Coinbase Pro, Coinsuper have also confirmed their support for the fork, according to Coindesk.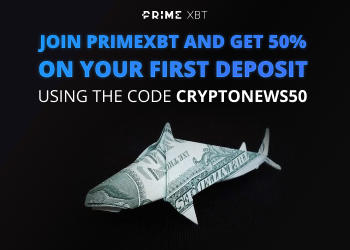 Poloniex, however, differed from the others by saying that it is "prepared to support trading markets for both tokens" following the form. In addition, the exchange has also taken a completely different approach leading up to the November 15 hard fork by enabling trading in the new cryptocurrencies even before the fork has even happened.
According to Poloniex, "pre-fork trading" has already been enabled in the trading pairs BCHSV ( Bitcoin SV)/USDC, BCHABC (Bitcoin ABC)/USDC, BCHSV/BTC, and BCHABC/BTC.
2/ The following pairs will be available for trading: USDC/BCH, USDC/BCHSV, USDC/BCHABC, BTC/BCHSV, and BTC/BCHABC. Customers can convert Bitcoin Cash (BCH) into equivalent amounts of BCHABC and BCHSV. Customers can also convert SV and ABC back into BCH.

— Poloniex Exchange (@Poloniex) November 8, 2018
The exchange also added in a blog post that "Customers can convert Bitcoin Cash into equivalent amounts of BCHABC and BCHSV and, also convert BCHABC and BCHSV back into BCH if they'd like to withdraw funds. Customers won't be able to withdraw BCHABC and BCHSV ahead of the hard fork."
The bitcoin cash price has been on a rollercoaster ride as of late, coming in as the best-performing coin among the top 50 cryptocurrencies over the past 7 days (+39.61%), while it is the worst performer over the past 24 hours, trading down 4.92% to USD 592 as of press time.
As previously reported by Cryptonews.com, a sharp divide has emerged within the bitcoin cash (BCH) community that could lead to two different BCH chains remaining as viable alternatives after a scheduled hard fork on November 15.
The bitcoin cash blockchain goes through regularly scheduled hard forks every six months as part of upgrades to its core code. Unlike previous hard forks, however, there are now two competing proposals for the fork, known as Bitcoin ABC and Bitcoin SV.
Bitcoin ABC is the "mainstream" proposal supported by bitcoincash.org, while Bitcoin SV – short for "Satoshi's Vision" – is backed by the self-proclaimed Satoshi Nakamoto, Craig Wright and a group of BCH miners.
When the debate was starting to heat up back in August, Ethereum co-founder Vitalik Buterin posted his take on Twitter, referencing the now-defunct Ponzi scheme BitConnect Coin (BCC):
The BCH community should NOT compromise with Craig Wright to "avoid a split" and should embrace it as an opportunity to conclusively ostracize and reject him. Bitcoin Craig (BCC) can go take the ticker symbol from the now-defunct cryptocurrency to which it is a fitting successor.

— Vitalik Non-giver of Ether (@VitalikButerin) August 22, 2018