'Failing' S2F Model Refuels Debate on Bitcoin Price Model's Usefulness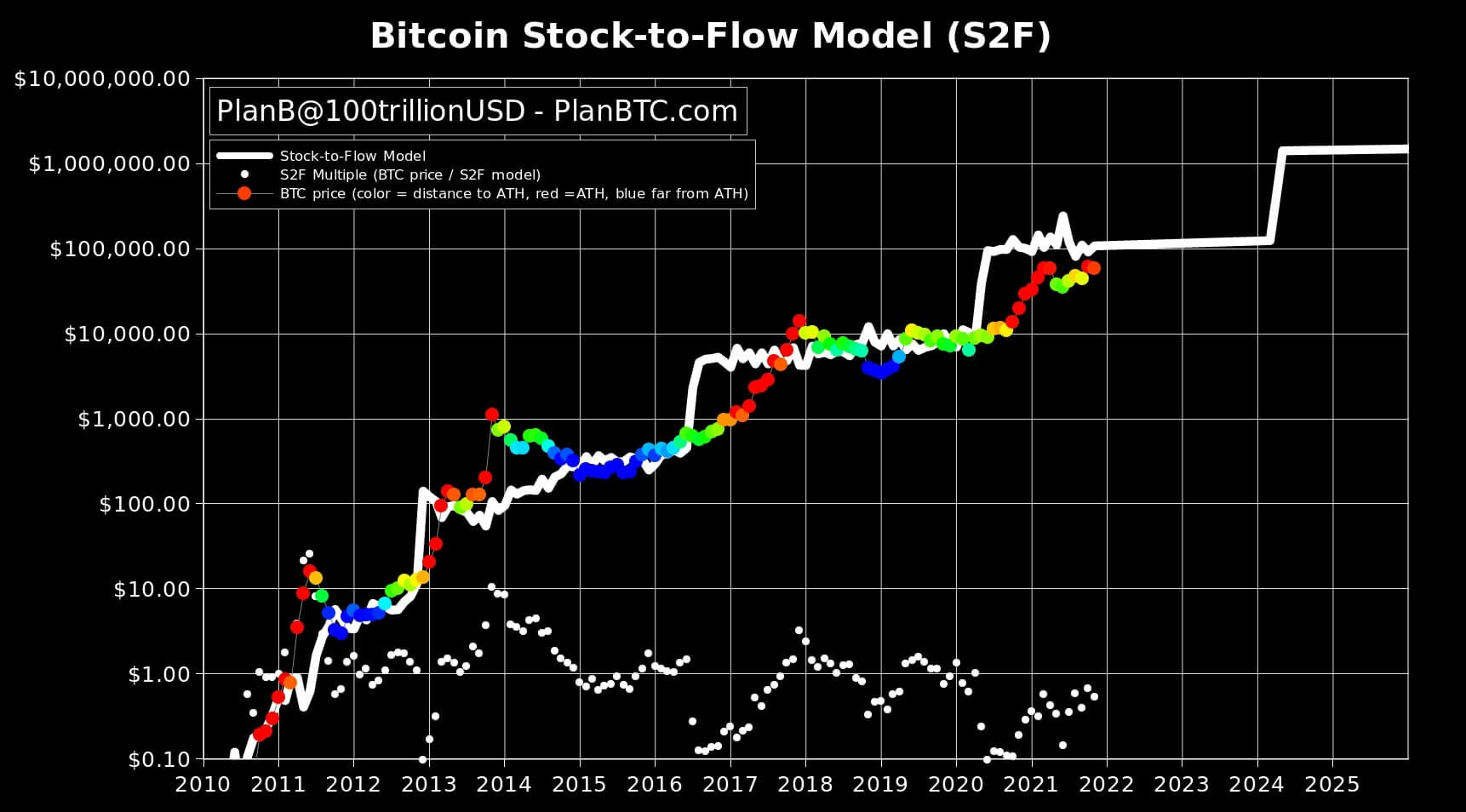 With only one day left before the end of the month, a USD 98,000 price prediction for November by the pseudonymous bitcoin (BTC) analyst PlanB is officially out of the question. And with that, a new debate on the validity of PlanB's well-known bitcoin stock-to-flow (S2F) model is again raging among analysts.
The USD 98,000 closing price for November, which PlanB has famously said is his "worst-case scenario" for bitcoin, has kept hopes high among some BTC holders that the number one cryptocurrency would end the year with a price well over USD 100,000.
The hopes have been kept alive by accurate predictions from the same model for bitcoin in August, September, and October. With the November miss, however, the model's predictive power now seems to be facing its first major test.
The discussion on the model over the weekend followed an admission from PlanB on Thursday last week that the USD 98,000 November closing price "will probably be a first miss" for his so-called Floor model. However, he added that the S2F model itself remains unaffected and "on track towards USD 100k."
The Floor model is the name used for PlanB's "worst-case" bitcoin price month-by-month. It differs from the ordinary S2F model, which takes a longer-term view, and according to PlanB, only requires "an average price over this halving cycle" of at least USD 100,000 to remain valid.
In theory, the model works by looking at the reduction in supply of new coins to the market, using a similar logic as some analysts have applied to study price moves in commodities and precious metals markets.
The admission by PlanB was also followed by an explanation from the pseudonymous analyst that he sees the missed target for November as "an outlier" and "a black swan that has not occurred in the data last 10 years."
Not surprisingly, PlanB's explanation for his model's failure to predict the November closing price was quickly picked apart by his critics, with for instance Cory Klippsten, founder of bitcoin brokerage Swan Bitcoin, going as far as to suggest PlanB is "trying to fool" his followers."
"If you claim anything about bitcoin price action is a 'black swan,' either: (1) you don't understand basic statistics, probability, and the work of [Nassim Taleb], or (2) you're still trying to fool your followers," Klippsten wrote.
But although the model's November price prediction appears to be failing and many bitcoin holders are losing faith in it, some prominent members of the community still came to its defense over the weekend.
Among them was Adam Back, early Bitcoin contributor and CEO of blockchain development firm Blockstream, who replied to accusations on Twitter that S2F is "a bad model" by saying "a model is a model" and that "all a model has to do is hold within some reasonable error bars, and inform some thinking for bonus points."
A similar sentiment was also shared by others on Twitter, with for instance the popular bitcoin technical analyst TechDev saying that the failed November prediction "will only be by weeks" and "a rounding error in the grand scheme."
And as the discussion around the model is heats up again, old arguments from last year about the model are again starting to appear relevant.
Among the strongest critics of the model last year was the popular crypto trader and economist Alex Krüger, who back then said that it is "nonsensical" to believe that bitcoin's stock-to-flow ratio can be used to predict price. The reason Krüger gave for this was that bitcoin's stock-to-flow ratio "goes down programmatically" with bitcoin's block reward halvings, and that "everybody knows what it will be at any point in time."
"An increasing stock to flow ratio leads to lower volatility. That is all it does. Nothing else," Krüger said at the time.
In addition to Krüger, another strong critic of the model has been Eric Wall, Chief Investment Officer at crypto hedge fund Arcane Assets, who last year published what he called "A list of the greatest blows to the S2F model."
"With cointegration out the window and other equally correlated variables found, it's apparent that the correlation is just an effect of both S2F & price increasing over time," Wall wrote in a summary of the published resources at the time.
Meanwhile, community members on Reddit also discussed the model over the weekend, with one user asking "So now that planB has failed and it's confirmed, who do we turn to?" and another suggesting to look for a "plan C."
"Don't listen to anyone that tells you what will happen, because nobody knows," a Reddit user concluded.
At 16:23 UTC, BTC traded at USD 57,082 and was up by almost 6% in a day, trimming its weekly losses to almost 3%. The price is down by 8% in a month and still up by 223% in a year.
___
Learn more:
- BTC Rainbow Proponent Wants to Bet USD 1m that S2F Advocates Are Wrong
- New 'Red Dot' and Criticism Hit Bitcoin S2F Model

- Crypto Investment Trends in 2022: Brace for More Institutions and Meme Manias
- 'Extreme Volatility' Expected as Bitcoin Investors Learn to Value It
---