Is it too Late to Buy Dogecoin Today? Expert Analysis
Disclosure: Crypto is a high-risk asset class. This article is provided for informational purposes and does not constitute investment advice. By using this website, you agree to our terms and conditions. We may utilise affiliate links within our content, and receive commission.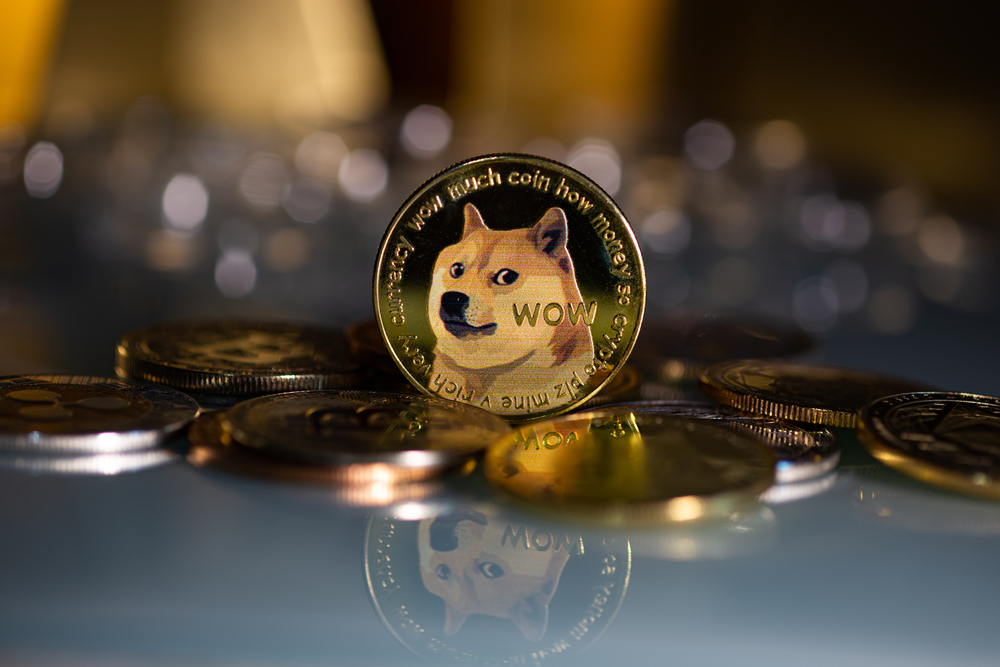 While Dogecoin was one of the fastest-growing cryptocurrencies in 2021, the asset has since traded below its all-time high of that year, even with its main backer Elon Musk acquiring Twitter (now X).
In this guide, we'll answer the question 'is Dogecoin still a good investment', forecast a Dogecoin price prediction spanning 2023 to 2030, and share a DOGE alternative that could perform well over the coming months.
Is it too Late to Buy Dogecoin?
Is it too late to buy Dogecoin today? With DOGE dropping in 2022 to levels last seen in 2020, then bouncing in 2023, this question is becoming increasingly common among investors.
There are many factors influencing the price of DOGE at present as well as the meme coin's future growth potential. We'll explore all these issues later in this guide – as a quick preview, DOGE grew too quickly, high-inflation rates limited consumer crypto spending, and uncertainty arising from macro economic conditions have held back Bitcoin at the $30k resistance level.
Despite these issues, we believe that it is not too late to buy Dogecoin today. The asset will likely recover alongside the wider crypto market and even soar to new heights if Elon Musk utilizes the leading meme coin as part of Twitter's payment system.  
Dogecoin Price History 
Dogecoin was launched in 2013 first priced at a fraction of a cent, initially tracked by CoinMarketCap with a price of $0.0003, and trading as low as $0.0000869 even well into 2015.
Dogecoin (DOGE) caught traders' attention when it shot up in value by over 1,250% during 2021, hitting $0.74 following frequent promotions from Tesla's CEO, Elon Musk, and his appearance on Saturday Night Live (SNL). Since then, DOGE has largely struggled to provide investors with high returns since that meteoric pump.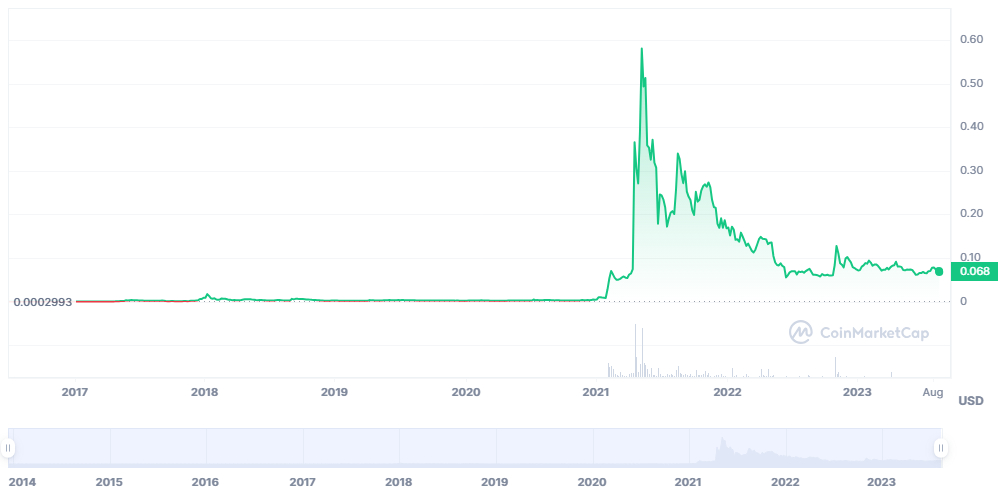 After slowly losing value throughout the second half of 2021 and the early months of 2022, DOGE plummeted by around 42.75% in late May 2022, hitting $0.0875. Following this collapse, the token traded within a range between $0.0567 and $0.0747 until late October. 
As news of Elon Musk's Twitter acquisition circulated, investors piled into Dogecoin, speculating that the DOGE token would become a usable currency on the social media platform, an understandable conclusion considering Musk's plans to monetize Twitter and his sentiment towards DOGE.
When DOGE shot up by close to 100%, investors went wild wondering, 'should I still invest in Dogecoin?' However, following the collapse of the FTT token and subsequent purchase of the exchange by Binance, the majority of DOGE's gains were retraced. 
Then Elon Musk's April 2023 move to switch Twitter's bird icon with Dogecoin's dog logo pushed the DOGE price back closer to its $0.1 mark. When he reversed that however, DOGE crashed.
As of late 2023, the Dogecoin price is trading at around $0.07, slightly above its yearly lows of just over $0.06.
Dogecoin Highs and Lows
To make it simple for investors wondering is Dogecoin still going up? we've summarized the significant highs and lows of DOGE. 
2013 to 2017 – Since the launch of Dogecoin, the asset struggled to grow, trading for roughly $0.0003
2017 to 2020 – After gathering a bit of traction, the DOGE token rose up in value trading for between $0.0025 and $0.003. 
Q1 2021 – DOGE became one of the fastest-growing cryptocurrencies following Elon Musk's endorsements of the digital asset, climbing to a high of $0.74.
Q2 2021 to Q2 2022 – DOGE slowly lost value eventually dropping to approximately $0.0875.
Q3 2022 to Q4 2023 – Despite a few brief pumps, DOGE remained largely dormant until late October when news of Musk's Twitter takeover caused the asset to surge. However, DOGE quickly dropped following the collapse of FTX. 
Q1 2023 to Q3 2023 – Bitcoin's bounce in Q1 2023 fuelled the growth of other altcoins, including DOGE, which went from $0.07 to $0.098 before a correction. Now with Bitcoin finding resistance at $30k, DOGE has retraced to $0.07.
How Has Dogecoin Performed in 2023?
As is often the case with assets that have enjoyed a large upward move over a short period of time, DOGE has been falling in value quickly alongside the wider crypto market, testing key areas of support on its way down. 
Dogecoin is still well below its ATH well into 2023, but to answer the question is it too late to buy DOGE, it's important to understand the reasons why. 
Crypto Market Struggles
In something of a feedback loop, as more people and institutions began to invest in crypto during 2021, prices surged as demand outpaced supply. However, as prices continued to climb, the number of buyers decreased while the number of sellers increased as long-time investors began to cash out positions that were in sizable profit. 
Once the number of sellers grew larger than that of buyers, the price of key assets like Bitcoin and Ethereum began to fall, taking the best altcoins like DOGE with them. Combined with record levels of inflation and debt following the Coronavirus pandemic, this led the entire crypto market on a sharp downward spiral, with prices of most assets hitting levels not seen since 2020. 
Investor Speculation
As 2021 saw a large number of beginners enter the crypto market, there was a natural gravitation toward cryptos with high upside potential like DOGE as new market participants hoped that they could attain similar profits discussed in headlines throughout the year. 
While this speculation helped to pump DOGE, once the market began to turn sour, investors quickly lost confidence and sold their assets, causing DOGE to drop rapidly in the midst of immense selling pressure. 
This sell-off was worsened by Musk distancing himself from crypto, selling 75% of Tesla's BTC holdings as well as macroeconomic factors like record inflation and mass uncertainty resulting from Russia's invasion of Ukraine and rising tensions in the Middle East. 
What Does This Mean for DOGE?
Although people are asking is it too late to buy Dogecoin today, things seem to be picking up. DOGE has built an extremely strong support at $0.05 – $0.06, and following Bitcoin's move to the $30,000 level DOGE retested the $0.10 region.
Furthermore, Elon Musk is now at the helm of X and announced plans to begin charging for various features. If Musk decides to utilize DOGE for payments, we could see the asset explode, making DOGE one of the best crypto winter tokens.
To summarize for those wondering is it still a good time to buy Dogecoin, while the asset fell over 90% from its all-time high to its 2022 low, DOGE seems to have found a bottom. As such, if the market continues to recover this year, we could see the Dogecoin price grow alongside it.
Dogecoin Price Prediction 2023-2030
While Dogecoin has had a troublesome year, the future continues to look bright for the meme coin. While Bitcoin dropping in price since 2021 has had a negative impact on DOGE, many investors have begun to call a market bottom, meaning that we could start to see some growth once again pushing DOGE into the realm of the top crypto gainers.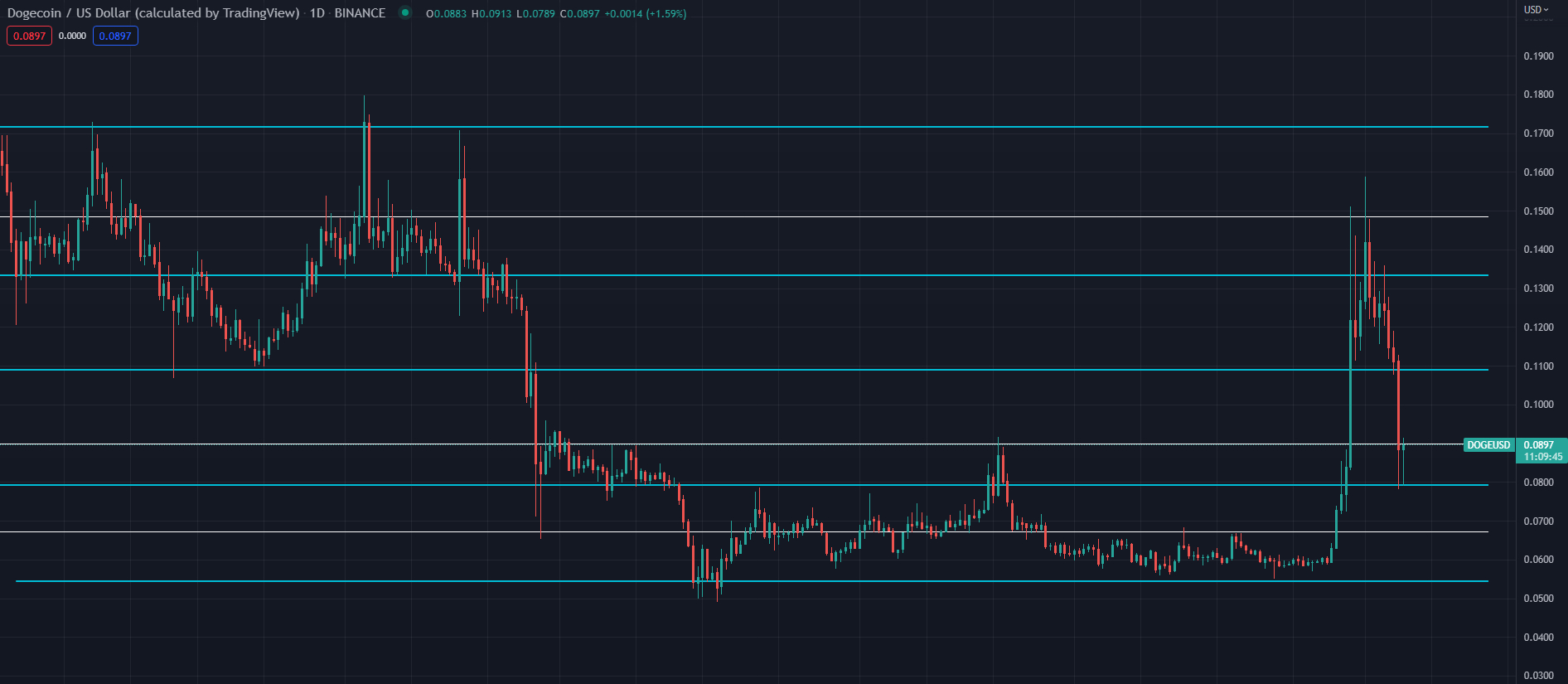 Elon Musk's ownership of X will likely play a large role in the future of Dogecoin – that takeover resulted in the rapid pump shown above, although the DOGE price has since retraced.
As the most widely known proponent of Dogecoin, Musk could continue to sway the market. The CEO's actions over the coming months will greatly influence the answer to the question 'is Dogecoin a good investment?'
One of the main draws to the Dogecoin network is the cryptocurrency's use as a fast and low-cost transactional crypto. While a number of platforms have begun to accept the coin, continued adoption will be instrumental in the growth of DOGE. 
End of 2023 – With some time for the cryptocurrency market to find its bottom and began to pick up, we could see the price of DOGE begin to reclaim key support/resistance zones. The most significant resistance level above the current price of DOGE may be $0.17.
End of 2024 – By the end of 2024, it seems likely that the crypto market will once again show signs of positivity, helping to boost assets like DOGE. As the number of investors climbs and trading volumes increase, DOGE could hit approximately $0.326
End of 2025 – It seems likely that DOGE will be trying to build an area of support around its previous all-time high of $0.74 before a move upward. However, attention from Elon Musk or an excessive number of DOGE tokens getting minted could send this figure higher or lower.
End of 2030 – As the cryptocurrency market matures, and DOGE adoption increases, it could pump massively making it the best long-term crypto. This could take the price of DOGE above its previous all-time high and send the asset toward the key psychological resistance zone of between $1 and $1.20. 
How Could Dogecoin be Used in the Future?
Intrinsic value is perhaps the single largest driving force behind the value of an asset, whether crypto-based or otherwise. As a result, understanding what Dogecoin offers in terms of utility is crucial to answering the question should I still buy Dogecoin.
While being one of the oldest uses for Dogecoin, tipping is still one of the primary uses for the token many consider to be the best crypto under $1. As crypto adoption grows, it seems likely that DOGE tipping will become increasingly commonplace.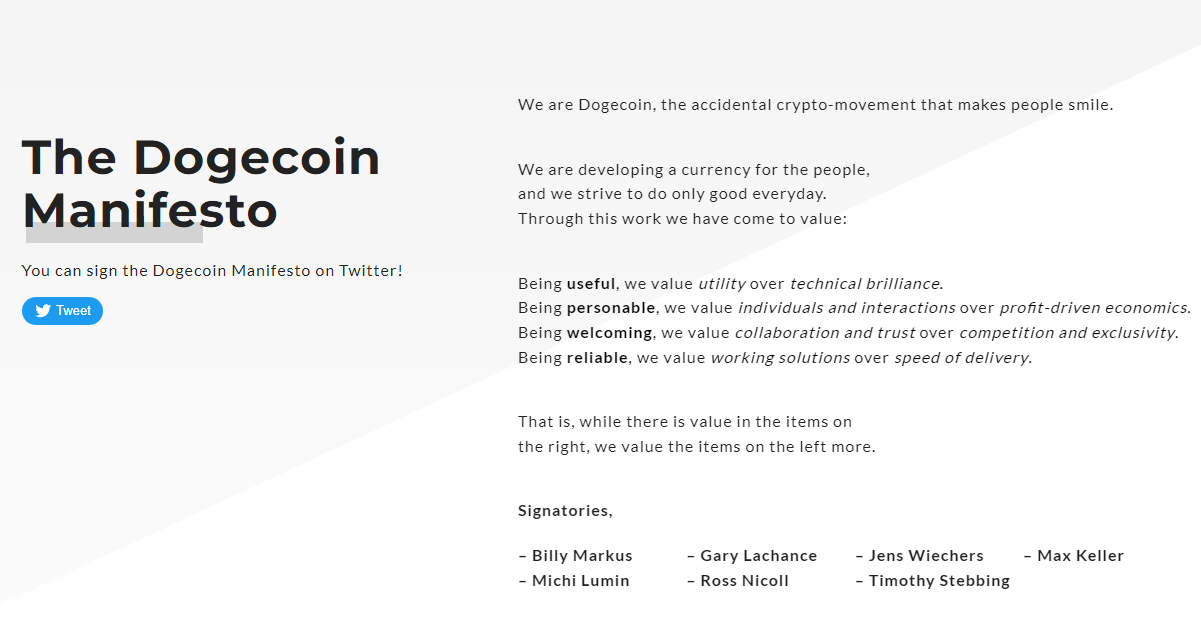 Branching from its use as a tipping currency, DOGE also has potential as a payments-focused project. Similar to XPR or XLM, DOGE boasts extremely fast settlement times and offers low-fee transactions, making it an excellent choice for money transfers. 
Before questioning is it too late to buy Dogecoin today, it's worth considering its smart contract potential. A network known as Dogechain has been created recently, bringing smart contract capabilities to the meme coin. While not an official collaboration, if Dogechain becomes established, we could see it implemented into the official Dogecoin ecosystem. 
What Experts Say on Whether it's Too Late to Buy Dogecoin
To help our readers answer the question is it too late to invest in Dogecoin, we'll be taking a look at the thoughts of a few different prominent figures in the cryptocurrency community. 
Susannah Streeter, an investment and markets analyst with the leading firm Hargreaves Lansdown, told readers of the Wall Street Journal that there might not even be a good time to invest in DOGE. The respected analyst liked investing in meme-based assets like DOGE to gambling rather than investing.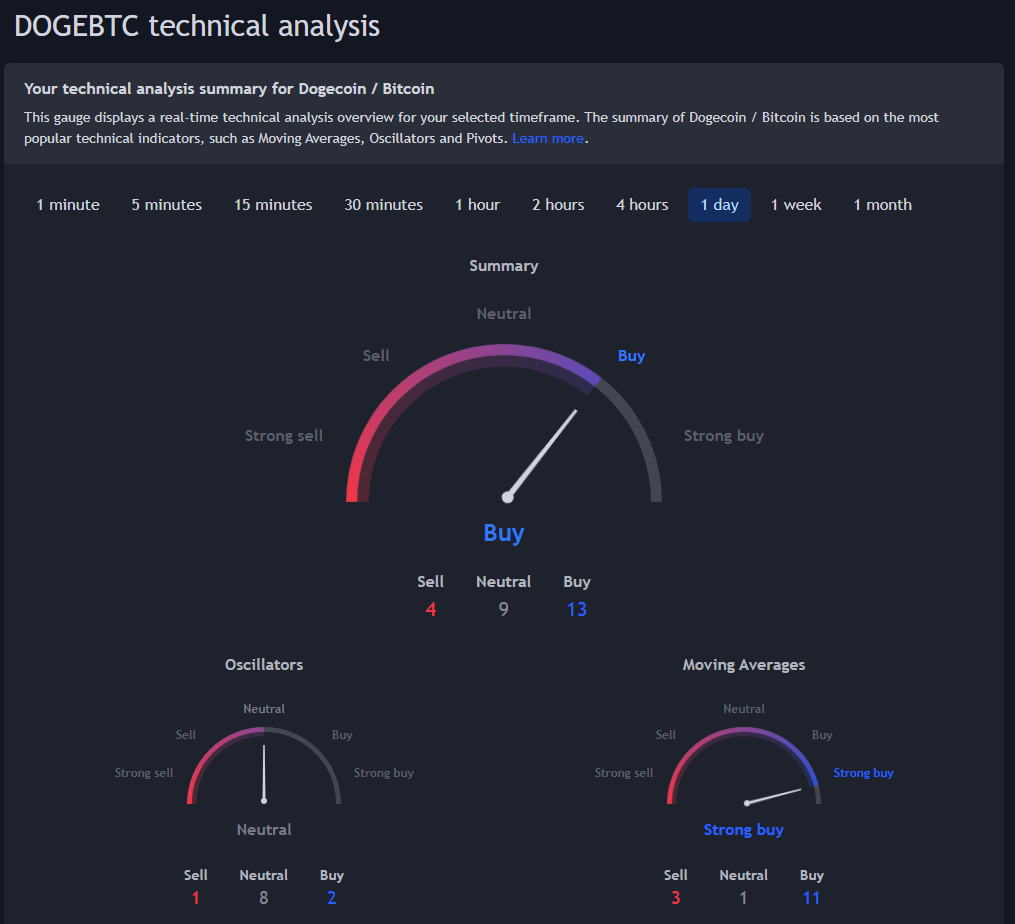 While Streeter shared a rather bleak outlook, crypto swaps platform Changelly shared much more positive findings. in an article, the platform indicated that DOGE is currently a strong buy and could climb as high as $0.19998 by 2023 and even further toward $2.71 as early as 2030.
Capital.com also shared its thoughts on the future of Dogecoin, offering a balanced opinion. The investment platform shared its Dogecoin price prediction, highlighting figures from a myriad of analysts. The general consensus was that while Dogecoin could increase in value, any positive move would have to take place over the long term. 
Where to Buy Dogecoin
Naturally, investors seeking an answer to the question is Dogecoin still worth investing in will need to know where to buy Dogecoin. We've shared our pick for the best DOGE exchange below. 
MEXC – Buy DOGE with 0% Spot Market Fees
MEXC is a full-fledged crypto exchange with tools to cater both to beginners and seasoned traders. You can buy DOGE within a few minutes either via bank or SEPA transfer or a credit card purchase.
Those who want to grow their DOGE coins in a low-risk manner can stake their coins by locking them for a certain period of time to earn 1% APR. Those who want to take some risk can trade on the spot market with 0% fees, or on the futures market with 0% fees for limit orders and 0.02% fees for market orders, which is by far the lowest fees you pay with a crypto exchange.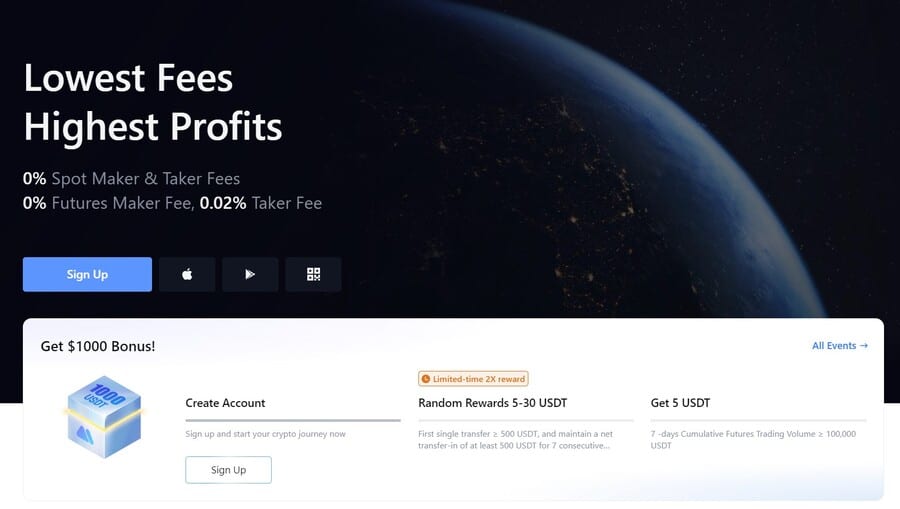 To increase your chances of success, MEXC offers advanced trading charts and tools, some of which are integrated with TradingView. There are copy trading features as well where you can copy successful traders without doing any manual work.
Moreover, if you want to quickly buy a coin but you don't have the funds available at the moment, use your crypto assets as collateral and borrow against them with MEXC Loans. This comes with low interest rates, calculated daily. It can be a handy tool in your crypto endevaurs.
Overall, MEXC is the best crypto exchange to buy DOGE due to 0% spot market fees and multiple tools you can use to potentially increase your crypto holdings. 
Is it Too Late to Buy Dogecoin? Our Verdict 
Now that we've discussed the ins and outs of Dogecoin, it's time we present our verdict on the question is it too late to buy Dogecoin today. 
Looking at the past prices of DOGE since its 2013 launch, we can get a good bearing on the overall direction of the asset. The price of DOGE has steadily risen since its inception and while 2021 yielded impressive results for the meme coin, the token's value was heavily inflated by speculators trying to make a quick dollar, leading to DOGE's sharp decline.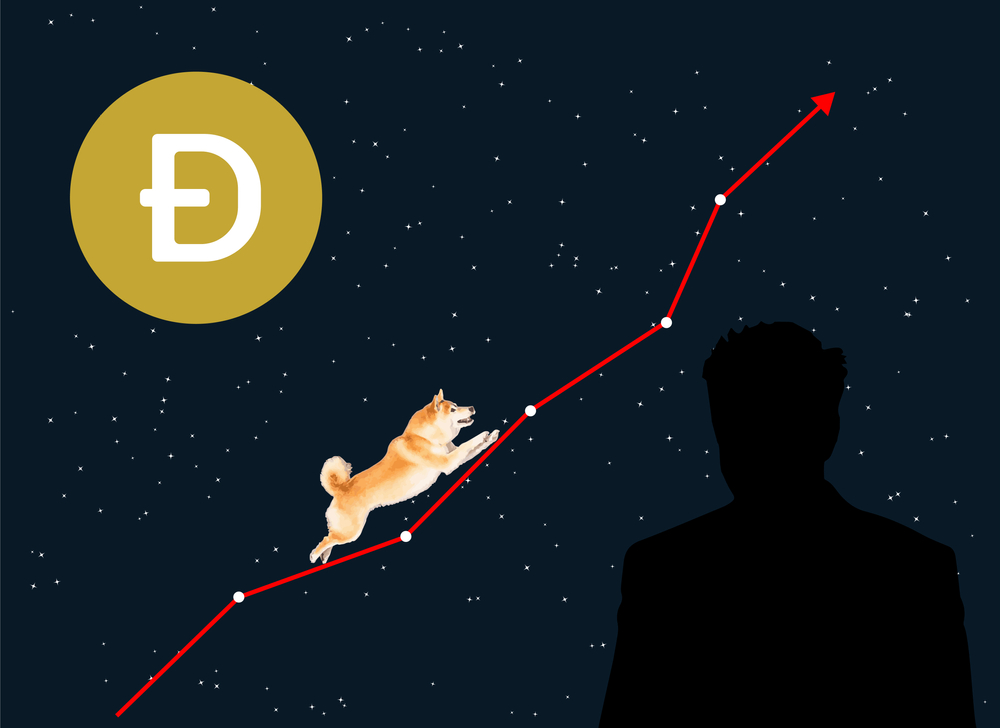 While considering the potential future performance of Dogecoin, we determined that the asset has a lot of room for growth and is potentially the best penny crypto to buy right now. We anticipate the DOGE could climb to $0.17 by 2024 and could reach as high as $1.20 by 2030. This would mark a well over 1,000% increase from today's prices. 
Although some crypto enthusiasts claim that DOGE lacks any real utility, it has potential as a transactional crypto and could worm its way into being a natively supported currency on X following Elon Musk's takeover. If successful, this could lead to a significant pump for DOGE. 
However, the analyst consensus for the future of DOGE is still largely mixed. While some could see the asset explode in value, others believe that the cryptocurrency will fizzle out as Musk moves on and losses interest in the asset. 
So, is it too late to buy Dogecoin today? In our opinion, the answer is not at all. While it seems likely that the road to recovery for DOGE will take some time to transverse, the future looks bright for the meme coin. If Musk implements DOGE into the Twitter ecosystem we could see huge growth from the asset. Nevertheless, its status as a meme coin makes DOGE a high-risk investment.  
FAQs
Should I still buy Dogecoin right now in 2023?
If you're wondering Dogecoin is still worth investing in, the answer is likely yes. However, as with any investment, it's possible for the price of DOGE to go up or down. As such, it's important to only invest what you can afford to lose. 
Will Dogecoin ever go back up?
The growth of Dogecoin has been severely hindered by the falling cryptocurrency market. However, once the crypto market finds a clear bottom and begins to build up strength, we could see DOGE climb back up in value. 
Can DOGE go over $1?
It's important to understand that $1 is an important physiological level for Dogecoin, meaning DOGE will need quite some momentum to exceed this price point. However, as crypto adoption increases, it could be possible.
Can you still mine Dogecoin?
As a fork of the Litecoin network (which itself is a Bitcoin fork), Dogecoin uses the proof-of-work consensus mechanism and can be mined. While this could change later down the line, it seems unlikely for the foreseeable future. 
Disclaimer: The Industry Talk section features insights by crypto industry players and is not a part of the editorial content of Cryptonews.com.
---