How to Buy yPredict Coin - Easiest Guide to Follow in 2023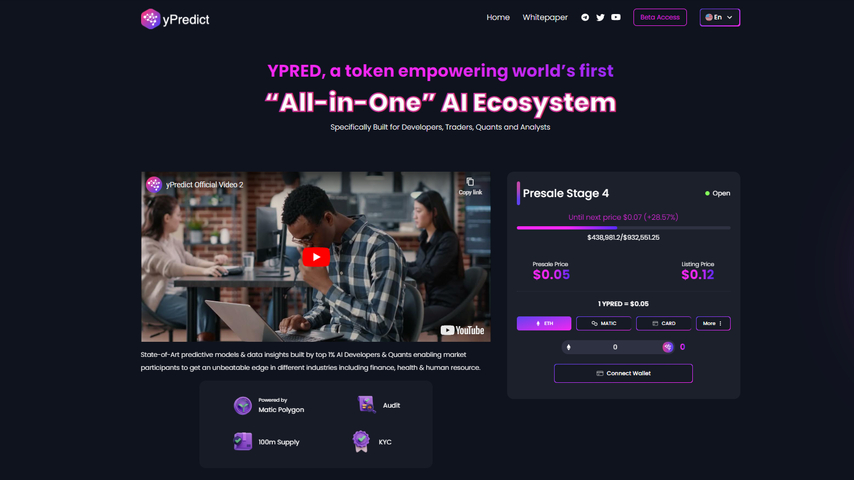 Disclaimer: The Industry Talk section features insights by crypto industry players and is not a part of the editorial content of Cryptonews.com.
yPredict is a new blockchain project that leverages AI for trading analysis. It provides data-driven insights to help users make better trading decisions. Crucially, all trading models will be verified by yPredict DAO members.
In this yPredict review, we analyze the project's ecosystem, features, and roadmap. We also provide a step-by-step guide on how to buy yPredict tokens during the ongoing presale.
yPredict Crypto: What is it?
yPredict is a next-gen trading research and analysis platform driven by artificial intelligence. It allows users to get data-driven insights for improved trading decisions.
yPredict is a cutting-edge trading research and analysis platform. It leverages artificial intelligence and machine learning to study financial markets and gather data. The result is a suite of advanced predictive tools that can help improve trading strategies.
According to the project's whitepaper, predicting market movements has become arduous. For instance, currently, many platforms rely on advanced algorithms to execute crypto trades. These programs constantly impact the price structures of cryptocurrencies. Consequently, traders find it challenging to find reliable information.
This leaves traders to rely on news and public opinion, giving them no statistical advantage. This is where yPredict steps in. The platform has multiple tools that provide traders with data-driven insights and analytical metrics. Additionally, yPredict also includes an innovative prediction marketplace.
Here, financial data analysts can sell their predictive models or trading signals. Traders, on the other hand, can subscribe to access these tools. All transactions will be handled in YRED, the platform's native digital token. In a nutshell, yPredict offers an innovative platform for both AI data scientists and crypto traders.
yPredict Mechanics
yPredict offers multiple opportunities for investors and traders to benefit from the platform. It has numerous trading tools and earning mechanisms.
In this section, let's consider what makes yPredict one of the best crypto to buy now.
yPredict Market Predictions Platform
The yPredict market predictions platform is a tool open to everyone, not just YPRED holders. It offers price predictions on thousands of cryptocurrencies developed by yPredict's in-house tools.
yPredict aims to use this prediction platform to showcase the credibility of its AI-driven tools. It will also serve as a preview of yPredict's other core offerings, such as the analytics platform and prediction marketplace.
yPredict Analytics Platform
The algorithmic trading market worldwide is projected to reach a value of $3.56 billion by 2030. To tap into this growing industry, yPredict is developing a new generation of trading tools. These tools will be powered by AI, providing traders with data-driven insights.
The yPredict analytics platform offers a range of features. This includes pattern recognition tools, technical indicators, and sentiment and transaction analysis. The platform will run a freemium pricing model and offer three membership tiers.
yPredict Prediction Marketplace
The yPredict marketplace connects AI/ML developers with cryptocurrency traders. In simple terms, data scientists can offer their predictive models and signals as a monthly subscription service. This way, AI developers can leverage their skills without engaging in trading activities.
Traders can choose from hundreds of predictive models and subscribe to those they prefer. Subscriptions can be paid with YPRED tokens every month. yPredict calls this approach 'Results as a Service.'
The yPredict marketplace charges a commission of 20% on subscriptions. The developers will receive 70% of the subscription fee, and yPredict will offer 10% to YPRED token holders.
yPredict Trading Terminal
The yPredict ecosystem will also include a full-fledged trading terminal. This will be intuitive, user-friendly, and feature multiple order types.
Moreover, the terminal will also be compatible with the platform's other tools, such as prediction models and analytics. Traders can also set up signal alerts and take advantage of order books.
YPRED Tokens
YPRED tokens are the lifeline of the yPredict ecosystem. YPRED tokens are built on the Polygon network and are also compatible with Ethereum.
The YPRED token has multiple utilities, including:
YPRED token holders have free access to the yPredict analytics platform.
YPRED tokens can be used to pay for subscriptions on the yPredict prediction marketplace.
Investors can also stake their YPRED tokens and earn lucrative APYs.
The liquidity of these pools comes from 10% of the platform's revenue, ensuring steady returns on investment.
Aside from these aspects, traders can also earn YPRED tokens as rewards by participating in different activities on the platform, such as voting or completing courses. These use cases indicate that YPRED could become one of the best utility tokens in the market.
What Makes yPredict Unique?
yPredict is not the first platform to apply artificial intelligence in the crypto markets. However, we found numerous features that sets this project apart. First, yPredict doesn't rely on trust-based models.
For instance, many traditional signal providers don't have a verifiable track record. Moreover, it isn't uncommon for signal providers to fabricate results or provide fake testimonials to lure users in.
On the other hand, yPredict takes a different approach. Each new prediction model offered on its marketplace will be verified by its DAO members. This trial-based system prevents the sale of low-quality models.
Additionally, yPredict also has multiple reward systems. As noted above, data scientists are rewarded for contributing to the platform. On top of this, yPredict also incentivizes traders to complete educational courses and quizzes.
Traders can also participate in a play-to-earn model, making directional bets and earning a share of the YPRED reward pool. In other words, the platform provides traders and data scientists with plenty of opportunities for passive income, while aiding their trading endeavors.
Is YPRED Token a Worthwhile Investment?
yPredict is a presale coin allowing investors to gain access to a new project at discounted prices. Some cryptocurrency presales in the past have generated big returns for investors. As with any investment crypto presales are volatile and subject to risk.
For example the Tamadoge presale was such a success that it ended early and now has a market cap of $26.6M, according to CoinMarketCap.com. As such, some projects are worth considering when it comes to building a diversified portfolio of digital assets.
When it comes to finding the best crypto ICOs, due diligence is the key. Before investing in a new project like yPredict, investors need to understand the potential upsides and risks.
Besides profit potential, yPredict also offers the following benefits to its investors.
Lifetime Free Predictions
One of the most attractive tools of yPredict is its analytics platform. And YPRED holders can access all yPredict analytics base models, designed by the top 1% of AI developers.
According to yPredict, these prediction tools offer unparalleled precision. To qualify for free access, investors need to buy at least $250 worth of YPRED tokens via the presale.
Staking Rewards
YPRED holders have the opportunity to earn passive income from staking. As per the yPredict website, staking APYs can go up to 45%.
These rewards are generated by taking 10% of each subscription on the platform. This feature distinguishes YPRED from other AI crypto coins in the market.
Presale Bonus
yPredict also offers early presale investors a bonus that is paid in YPRED tokens. The bonus varies depending on the investment amount. Investors can use the in-built calculator on the yPredict website to determine the bonus.
The minimum investment required to access the bonus is $250. The higher the investment, the better the bonus. For instance, investors putting in $250 get a 2% bonus or 128.56 YPRED tokens. And those who invest over $5,000 receive an additional 5%, worth 6545.35 YPRED tokens.
Who is Behind yPredict?
Researching the project team is crucial before investing in a cryptocurrency. The team's industry experience, qualifications, and track record can indicate their ability to execute the project and overcome challenges. yPredict is spearheaded by a group of developers, traders, and analysts.
The project's CEO is Raj Sharma, the founder of Renske Technologies Inc. The Chief of Technology is Chirag Purohit, and Sirojiddin Nuriev heads the AI department.
And Haidar Ali is leading the blockchain development team. yPredict was also audited by CoinSuit, and the reports are accessible on GitHub.
yPredict Roadmap
yPredict has a well-defined roadmap that can demonstrate the project's future plans. The team aims to complete the presale by June 2023 and list the token on exchanges by Q3 of this year. The team will also launch a full-fledged marketing campaign to promote the token.
The platform is also preparing to launch the beta version of its analytics platform. This will offer traders a glimpse into its offerings. By Q4 2023, traders can expect full functionality on all yPredict tools.
yPredict Presale
The yPredict presale commenced in February 2023 and is currently in the final stage. Not so surprisingly, it has become one of the best crypto presales of the year. The platform has already raised nearly $1.5 million in just over two months.
Out of the total supply of 100 million YPRED tokens, 8 million are being sold via the presale. The presale takes place in eight stages, with the price increasing at each phase. As such, investing in YPRED tokens during the presale allows early investors to benefit from a discount.
For instance, YPRED tokens are currently priced at $0.03889. The listing price of YPRED is $0.045. This indicates that presale investors can get an immediate ROI of 15%. Nevertheless, investors must do their own research and assess if this presale is suitable for their portfolio.
How to Buy yPredict Tokens
Next, we will provide a step-by-step breakdown of how to buy YPRED tokens before the presale ends.
Step 1 - Set Up a Wallet
First, investors need to set up a compatible crypto wallet. yPredict supports some of the best crypto wallets, such as MetaMask and Trust Wallet. Investors can visit the website of their chosen wallet, download the app, and follow the instructions to set it up.

Investors should also ensure that they hold sufficient ETH, BNB, or MATIC in their wallet.
Step 2 - Visit yPredict
Next, head over to the yPredict website. The presale widget can be found on the right side of the homepage.
Here, enter the desired investment amount and the platform will display how many YPRED tokens can be purchased. The minimum investment amount required is $10.
Step 3 - Make the Payment
Next, choose from a supported cryptocurrency as a presale payment method. As noted above, yPredict accepts ETH, BNB, and MATIC. The platform recommends using MATIC for the lowest GAS fees.
Upon choosing the preferred payment method, the payment box will load. Enter a valid email address, and yPredict will display the wallet address to send the payment.
Investors can copy the address or scan it to make the payment via their wallet. The payment will only take a few seconds to complete.
Step 4 - Request Allocation
Once the payment is processed, investors must provide their wallet address. This is the location where the purchased YPRED tokens should be sent. Investors should also provide their email address.
Then, click on 'Request Allocation.' It takes up to 12 hours for the yPredict team to verify and allocate tokens to the investor's wallet.
To check the YPRED token balance, investors can head over to yPredict app and connect their wallet.
Conclusion
This yPredict crypto review found that the project has high growth potential. yPredict is designing a next-generation analytics platform for crypto traders and investors. It offers state-of-the-art financial prediction methods and metrics to enhance trading success.
yPredict also allows AI developers to sell their prediction models on the platform for subscriptions. The platform is offering its native token, YPRED, via presale. YPRED is the main transactional token of the yPredict ecosystem and has multiple utilities on the platform.
YPRED holders have access to the analytics platform and can use the tokens to pay for prediction models. Interested investors can visit yPredict today and participate in the presale.
FAQs
What is yPredict?
yPredict is a new and revolutionary crypto analytics platform offering a suite of AI-based tools to traders and investors.
Is yPredict crypto a worthwhile investment?
yPredict has numerous AI-backed features that can help take trading portfolios to the very next level - but investors should do their own homework to analyze the risks.
---