How to Buy Fight Out Token – Step-by-Step Guide for Beginners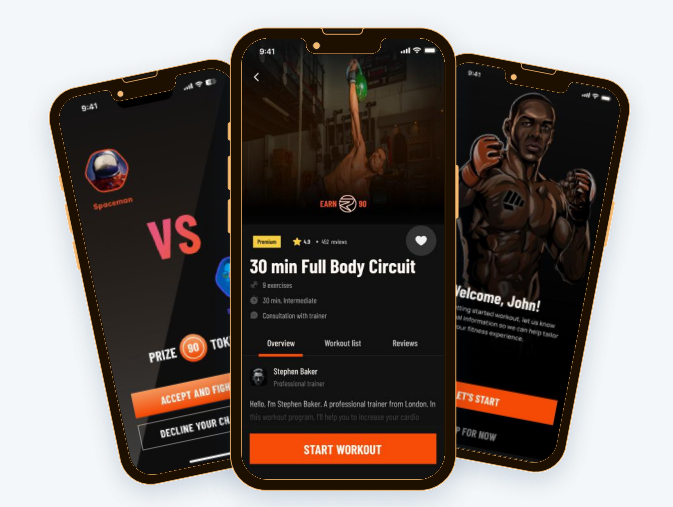 Disclaimer: The Industry Talk section features insights by crypto industry players and is not a part of the editorial content of Cryptonews.com.
Play-to-Earn (P2E) is a rapidly-expanding area of the crypto market, enabling those interested in digital currencies to generate tokenized rewards for playing Web3-powered games. Fight Out getting major attention by supporting its Play-to-Earn games with Train-to-Earn mechanics – and looks set to be one of the most talked-about P2E cryptos of 2023.
With that in mind, this guide highlights how to buy Fight Out tokens today and earn up to 67% in bonuses, before presenting a detailed overview of the project and how it incentivizes users to become fitter, healthier, and happier – all whilst benefitting financially.
Potential investors should now note there is only limited time remaining in the presale, which is set to close on March 31, 2023, ahead of the IEO on April 5, 2023.
What is Fight Out?
Fight Out is a pioneering Play-to-Earn (P2E) ecosystem that taps into the growing desire for gamers to incorporate more of their real lives selves into their gaming. The overarching goal of the Fight Out project is to incentivize users to train in their daily lives to enhance their gaming enjoyment and financial rewards.
The Fight Out team has identified several pain points within the gaming industry, such as exploitative monetization practices that do not give players a financial return on their purchases, and games that detach the user from their real lives rather than incorporating it, and Web3 games fail to gain mass audience appeal due to high Web3 knowledge requirements. Fight Out's gaming ecosystem looks to change the face of gaming forever.
This new cryptocurrency offers all the tools for the user to train and live a more active lifestyle. Users can create a 'soulbound' NFT avatar within the app. As users train they are able to upgrade their avatar for competitive advantage in the Fight Out gaming ecosystem where they can earn financial rewards.
As per the Fight Out whitepaper, training earns the player REPS – Fight Out's in-app transactional currency. REPS can be spent on in-app purchases for real life and digital benefits and can be used to upgrade your avatar. In addition, users can buy more REPS by using FGHT, which is Fight Out's native on-chain token.
We'll explore the utility of FGHT later in this article – as it looks set to be one of the cryptos with the most potential for 2023. But for now, it's important to note that FGHT is currently on presale, meaning early investors have a limited-time opportunity to buy Fight Out tokens at a discount.
Presale investors also have the chance to earn up to 67% in additional bonus tokens - triggered depending on the size of the purchase and the vesting period chosen - as well as take advantage of a 5% USDT affiliate program.
This top crypto presale has already raised more than $5.95 million and will see 9.5% of the total token supply being sold to early investors, with another 4.5% available through the bonus scheme and only 10% available as liquidity on exchanges.
Through this process, Fight Out's team aims to generate the funding needed to develop and launch the Fight Out app. Now, let's take a closer look at this presale and showcase how investors can buy Fight Out tokens today.
How to Buy Fight Out – Full Tutorial
The Fight Out crypto project occupies a unique place within the market due to its innovative use cases and lofty goals. Although the ecosystem is still in development, Fight Out's team has opted to launch a presale phase to generate capital and 'buzz' around the project.
Now in the final days of its presale and with more than $5.95 million raised, the price of FGHT tokens increases every week to a max of $0.0333 on March 31, 2023, while investors can earn up to 67% in bonus tokens and take advantage of a 5% USDT affiliate program.
That means it's important for investors to move quickly and secure the best price and bonuses. Below are the five simple steps investors must take to buy Fight Out tokens today, which can be done via a laptop, smartphone, or tablet.
Step 1 – Set Up a Crypto Wallet
The first thing investors need to do is create a crypto wallet. These wallets are designed to store crypto and facilitate transfers. There are hundreds of crypto wallet providers, but Fight Out's team recommends using either MetaMask (for desktop users) or Trust Wallet (for mobile users), or through a one-click wallet creating through their partner Web3Auth.
Using MetaMask as an example, head to the provider's official website and click 'Download'. Select the relevant operating system and follow the on-screen instructions to download the wallet and create a password.
Step 2 – Obtain ETH or USDT
Investors must then obtain Ethereum (ETH), Binance Coin (BNB) or Tether (USDT) – as these are the three digital currencies supported by Fight Out's presale dashboard. These currencies can be purchased through most centralized and decentralized exchanges and then transferred to the crypto wallet created in Step 1.
If using USDT to buy FGHT, buyers must ensure they have enough ETH (0.015) or BNB (0.0025).
Alternatively, Fight Out's team has partnered with Wert to allow investors to buy ETH directly through the Fight Out website using a credit/debit card.
Step 3 – Link Wallet to Fight Out Presale
Head over to Fight Out's website and click the 'Connect' icon. In the pop-up box that appears, choose the relevant wallet provider and follow the on-screen instructions to link a crypto wallet. Or click 'Buy with Card' in order to create a one-click wallet through Web3Auth.
Step 4 – Buy FGHT Tokens and Earn Bonuses
Once a wallet is connected, an order box will appear on-screen. Choose whether to buy Fight Out tokens using ETH or USDT, enter the number of tokens to be purchased, and confirm the transaction with the wallet provider.
Different purchase amounts will trigger different bonuses - for example, those over $500 will get a 10% bonus and those over $50,000 will get a 25% bonus.
Further, buyers have the option to vest their tokens. The minimum amount is no vesting period - which comes with no bonus - and the maximum is 36 months, which will reward the buyer with an extra 42% in FGHT.
Step 5 – Get the Affiliate Link
Once an investor holds FGHT in their wallet they can also earn 5% USDT via the Fight Out affiliate program.
While connected to the website, press the '5% Referral Link' Button. A unique link is then generated and for every new investor into the project, the wallet that generated the link will be sent 5% of the purchase in USDT.
Step 6 – Claim FGHT Tokens
Once the Fight Out presale ends, a Token Generation Event (TGE) will occur, which is when the FGHT tokens will be brought into existence. On April 5, 2023, presale investors can claim their purchased tokens directly through Fight Out's website.
A Closer Look at Fight Out
Now that we've covered how to buy Fight Out, let's take a closer look at the project and what it hopes to achieve. As mentioned earlier, Fight Out is the latest crypto project to venture into the rapidly-expanding Play-to-Earn (P2E) niche, which focuses on rewarding players with digital currency for success in their gaming ecosystem.
As one of the newest crypto launches in the niche, Fight Out looks to build on the foundation created by those that have come before. The cornerstone of the Fight Out project is the hybrid Play-to-Earn and Train-to-Earn mode.
When combined with the seamless onboarding of Web2 natives to Web3 through tech partnerships allowing easy wallet creation and purchase of FGHT, Fight Out is well placed to capture a significant share of the gaming market.
Fight Out's ethos is Train Hard. Fight Easy. Win Big. Central to the Fight Out gaming ecosystem is the utilization of the 'Soulbound' Avatar. Instead of requiring players to purchase pricey NFTs in order to play, Fight Out shakes things up by providing players with an avatar that represents them in-game.
This avatar's stats can be upgraded based on the player's real-life training and cosmetic NFTs can be earned or purchased to stylize their avatar.
Underpinning the entire Fight Out ecosystem is REPS – Fight Out's in-app currency. REPS has the potential to make Fight Out one of the best future cryptocurrency projects since users can earn this off-chain token by training, completing achievements and supporting the Fight Out community.
Once users earn enough REPS, they can spend these tokens in the Fight Out store to buy training equipment, supplements, and apparel. However, REPS isn't the only token involved in the Fight Out ecosystem – as FGHT tokens also play a crucial role.
Let's take a look at the key takeaways from the Fight Out presale:
| | |
| --- | --- |
| Presale Started | December 14, 2022 |
| Purchase FGHT with | ETH, USDT |
| Chain | ERC-20 |
| Min Investment | None |
| Max Investment | None |
FGHT Tokens – The Heart of the Fight Out Ecosystem
When investors buy Fight Out tokens through the presale, they'll be purchasing FGHT – not REPS. FGHT is the Fight Out project's native ERC-20 token and is crucial to maintaining the economic stability of the ecosystem.
Fight Out users can buy FGHT tokens and exchange them into REPS, which they can then use to purchase in-store items or receive a discount on the monthly app subscription. Notably, users who buy REPS using FGHT will receive 25% more tokens as a bonus – providing a clear incentive to invest in FGHT.
However, FGHT may also become one of the best metaverse coins in 2023 due to the development team's exciting plans. In the future, Fight Out's team aims to construct a metaverse where users can compete in tournaments and earn prizes. FGHT will be the token used within this metaverse – and will also be used in the upcoming 'Stake-for-Membership' feature.
Given the FGHT token's importance, investors may also wish to purchase tokens to gain financial exposure to Fight Out's growth.
As noted on the project's roadmap, the development team has plans to facilitate a CEX listing drive in early 2023 and has already secured listings with Uniswap, DigiFinex, BKEX, LBank, Changelly Pro, XT.com and BitForex, with the IEO to take place on April 5, 2023.
Listing FGHT on several major exchanges will significantly boost liquidity and accessibility – potentially leading to substantial price movements.
Those looking to learn more about FGHT and the Fight Out project can join the official Telegram channel.
Is Fight Out a Good Investment? Key Points
Investors are already clamoring to buy Fight Out tokens through the presale – as this project has the potential to kickstart the crypto market rebound in 2023.
But is Fight Out a good investment opportunity right now? To answer this question, detailed below are some standout features to bear in mind:
Building a Bridge to Mass Web2 User Adoption
Fight Out looks set to become the hottest crypto to buy in the P2E niche due to the major focus they have in building a gaming ecosystem that is both accessible and appealing to Web2 natives.
Fight Out is utilizing partnerships with Web3Auth (easy wallet creation), Wert (buy tokens with credit card) as well as not requiring token usage to use the app initially in order to remove all barriers to entry.
Beyond this, Fight Out does not require the user to purchase a high-priced NFT in order to begin playing the game removing the financial barrier to entry of entering the ecosystem.
Strong Train-to-Earn Connection
Fight Out has an innovative approach of incorporating real-life training and achievements into their games by having the player's lifestyle impact their avatar's stats.
They call this system 'Train to Earn' in which players can train to earn the in-app off-chain currency REPS and exchange them for rewards including perks and cosmetics for their avatars.
The soulbound NFT avatars are fully customizable, with hair, shoes, clothes, tattoos and more, all available to make their avatar unique, and they grow and are upgraded as users continue on their fitness journey.
The app will allow its userbase to help and encourage each other, keep others on track with their training goals and push users further than they've been before.
A Large, Dedicated Community
The result of mass Web2 adoption into the only ecosystem that allows players to bring their real-life achievements into a game with them looks set to build a large and dedicated community.
First-mover advantage means that Fight Out can become the go-to space for gamers who want to lead a more active lifestyle and active people who want greater utility for their physicality.
Exceptional Price Potential for FGHT Tokens
FGHT will undoubtedly be one of the cryptos to watch in 2023, due to its strong, well-thought-out utility. Users can buy more REPS using FGHT in order to purchase more and better cosmetics and upgrades for their avatars and to unlock other in-app rewards.
In-app transactions are something the Web2 market is well conditioned to and the seamless UX of the process means the user does not even need to know FGHT is a Web3 currency in order to utilize it.
This use case from a mass, well-conditioned Web2 audience means the demand for FGHT is expected to rise as more users get involved with the Fight Out app.
Further, users are able to stake FGHT instead of paying the Training apps monthly subscription with fiat. Depending on the amount staked for 12 months the user can receive additional exclusive perks and rewards.
Fight Out with its Stake-for-Membership model has created the means for vast sums of FGHT to be removed from circulation, driving the value of the FGHT token up.
Most significantly, FGHT is the currency of the Fight Out gaming ecosystem and is used in all transactions on the platform. Gamers will be rewarded tokens for gameplay, such as ranking higher than other players in leagues, battling it out in player-vs-player sessions and even wagering on real-life MMA fights and digital 'dream fights'.
Users will also be awarded tokens for their contributions to the project, such as sharing knowledge with fellow gamers and helping to grow the platform through social sharing - all adding upward pressure on the token as it gains adoption.
Given the usefulness of FGHT, any future CEX/DEX listings could prove fruitful for early presale investors.
Fight Out Price Action – What to Know
Those who opt to buy Fight Out may wish to hold the token long-term – which has proven to be a wise move for presale investors in the past. However, since presale cryptos aren't subject to the laws of supply and demand, the pricing system works a lot differently.
At the time of writing, investors can buy Fight Out tokens through the project's official website. Tokens are not yet publicly listed, so investors must purchase them directly from the development team.
Tokens were first on sale for $0.0166 during the first stage of the presale but now FGHT is priced at $0.0333 in the final days of its presale.
As well as the 67% rewards scheme on offer (see the chart at the top of the page) and 5% USDT affiliate program, Fight Out is also offering four membership tiers to investors.
The tiers - contender, champion, world champion, undisputed champion - will see holders get additional perks such as discounts on app subscriptions and signed merchandise.
The total supply of FGHT tokens is 10 billion – with just 9% (900 million) allocated to the presale and a further 4.5% to the bonus/rewards scheme.
Another 10% has been marked for exchange liquidity, while the remaining tokens will be unlocked over five years.
Those tokens will be used for the development of the platform in the long term, marketing costs and the real-world Fight Out content studio - a space to amplify the brand and develop additional content for their app and gaming ecosystem.
Fight Out Price Forecast
Those looking for a Fight Out price prediction may find one hard to come by – as there's no way of knowing the price that FGHT might reach once it's listed on major exchanges. However, like many of the best IEO cryptos, FGHT has the potential to generate explosive returns due to the discounted presale price.
When a presale crypto is first listed on an exchange, its price usually rises rapidly. This is generally down to the increased accessibility to retail investors and the boost in liquidity. What's more, most CEXs now allow investors to make purchases using FIAT, contributing to even more price momentum.
Although there's no way of telling where FGHT's price could go once listed, we can look at previous successful presales for context. Top cryptos like Tamadoge and Battle Infinity sold out their presale allocations before being listed on major exchanges – which led to explosive price movements for both.
Early investors will be hoping the Fight Out price reacts similarly, assuming the ongoing presale is a success. Either way, the discounted token price means the barrier to entry for investors is as low as possible, making it easy for everyone to get involved.
The Verdict?
To conclude, this guide has detailed everything investors need to know about how to buy Fight Out tokens before presenting a comprehensive overview of the project and its roadmap for the year ahead.
Fight Out's presale is now almost at the finish line having raised more than $5.95 million - it will close on March 31, 2023, and after a brief period to claim tokens, the IEO will take place on April 5, 2023.
That means presale investors only have limited time to take advantage of a rewards scheme that offers up to 67% in bonus tokens, depending on the size of the purchase and the length of the vesting period, as well as a 5% USDT affiliate program for attracting new investors.
Given Fight Out's unique use case and lofty ambitions, the project is naturally attracting attention from all quarters of the crypto market. As such, the hype is already building around Fight Out – meaning this could be one of the hottest presales of 2023.
FAQs
How do I buy Fight Out tokens?
Fight Out is currently in its presale phase, meaning investors must buy tokens directly through the project's website. This can be done by connecting a wallet or creating one through your one-click Gmail login on their site through Web3Auth, obtaining ETH, BNB or USDT, and using one of these currencies to purchase FGHT tokens, or purchasing directly with a credit card.
What is the price of Fight Out?
FGHT tokens are currently in their final presale phase with the price $0.0333. Presale investors can also earn up to 67% in bonus tokens depending how much FGHT they purchase and how long they decide to lock it for, as well as 5% in USDT via an affiliate program. However, the presale is due to end on March 31, with the IEO taking place on April 5.
Is Fight Out a good investment?
Fight Out's innovative use case and health-focused goals have set the project apart from others in the space. Due to this, Fight Out has a unique selling point (USP) within the ultra-competitive crypto market – meaning it could have exceptional investment potential if its strategic goals are met.
What is the total supply of Fight Out tokens?
The total supply of FGHT tokens is 10 billion. A total of 9% (900 million) of these tokens will be allocated to presale investors, 4.5% to the bonus scheme and 10% to exchange liquidity. The remaining tokens are locked over five years and will be used to develop and launch the Fight Out project.
---