Blockstack Token's Conversion to Non-Securities Would be 'Unprecedented'
After the launch of Stacks Blockchain 2.0, stacks tokens (STX) will no longer be treated as a security in the US, finally opening the doors to US investors, said the company's co-founder - with an expert calling this a major deal for the Cryptoverse, as the regulator would have finally given one clear answer.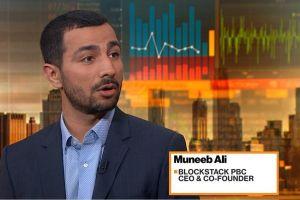 "If true, this is amazing. Unprecedented," said Marco Santori, Chief Legal Officer (CLO) of major crypto exchange Kraken. "This would represent the first ever transmogrification of a token from a security to a non-security, where the journey was explicitly blessed by the SEC." He explained in his Twitter thread that from what he saw "as a lawyer sometimes involved in Stacks transactions," this has been a long and complex road to compliance, complete with forks and detours." He added:
"The question of how a utility token can enter the world a security but then become a non-security has been open - painfully open - for years. SEC just blessed one very specific answer."
The comments come after Muneeb Ali, Co-founder of Blockstack, a company building a decentralized network and app ecosystem for Web 3.0, shared a December 7 article by Reuters, which cites Ali, saying that Stacks can become tradable by US investors with the launch of Blockstack's new blockchain Stacks Blockchain 2.0 on January 14, 2021.
Ali said that, with this launch, the company's network will no longer be controlled by any one entity and its Stacks token can no longer be considered a security under US Securities and Exchange Commission (SEC) regulations.
"This means Blockstack will not be required to submit regular financial reports as a company and its Stacks token can be traded by US investors on US digital asset exchanges," said the article.
Therefore, according to Ali, "Blockstack plans to file an exit report to the SEC that states it would no longer be filing the required reports with the US regulator."
So it seems that, at least for one token, their long, and complex process may have worked, but an open-ended question Santori asked still remains: "What happened to cause the token to shift from security to non-security?", adding that under the Simple Agreement for Future Tokens (SAFT) framework, "there is no "transformation" from security to nonsecurity."
Currently ranked 73rd by market capitalization on Coinpaprika.com, STX is availalbe on exchanges outside the US. At pixel time (10:54 UTC), it trades at USD 0.28 and is up by 17% in a day and 16% in a week. The price rallied by 58% in a month and 174% in a year.
Meanwhile, in November 2017, Blockstack raised USD 26.3m through a STX sale, followed by USD 21.2m in December 2017. In September 2019, they raised USD 23m by issuing stacks in a public offering under the SEC's Regulation A+ exemption, but the tokens couldn't be traded by US investors and on US exchanges.
____
Learn more:
Breaking: Harvard Goes Crypto
A New Kind of Token Sale Puts You Next to Harvard Endowment
---