Bitcoin Volatility Index Hits 6-Week Lows Despite Looming Macro Risk Events – Watch These Key BTC Price Levels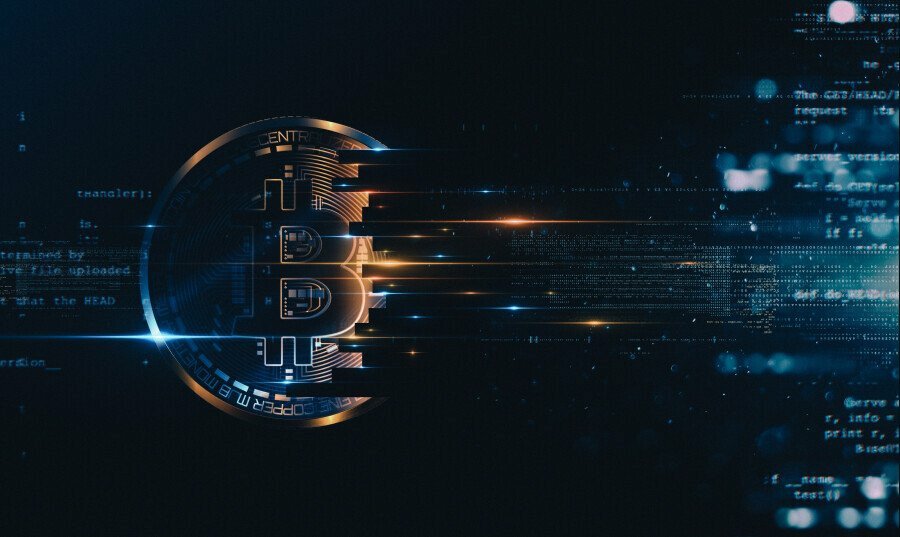 Derebit's Bitcoin Volatility Index (DVOL) just fell to 52, its lowest level since the 8th of March.
The drop to fresh more than six-week lows comes despite the Bitcoin price's recent pullback from the 10-month highs it hit last week above $31,000.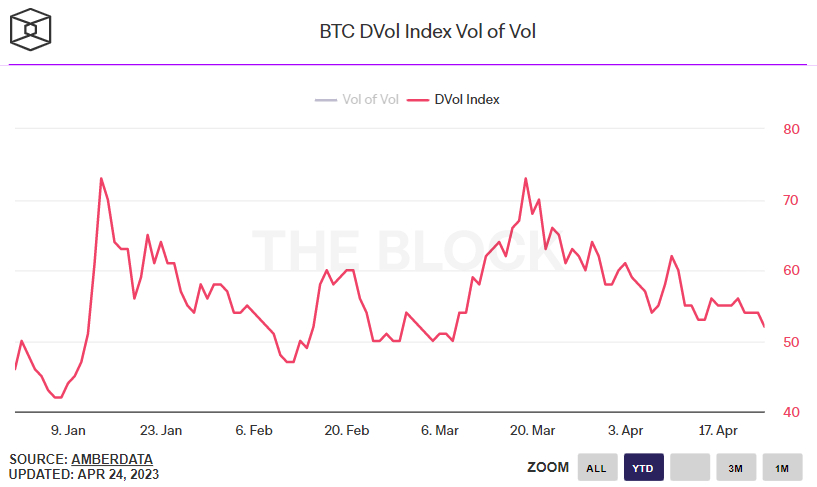 BTC was last changing hands in the mid-$27,000s as a barrage of key macro risk events loom in the coming two weeks.
This week sees the release of the first estimate of US GDP growth in Q1 this year on Thursday and the release of the Fed's favored monthly inflation gauge (the Core PCE report) on Friday.
Major US tech behemoths like Amazon, Apple, Microsoft and Google will also be reporting earnings this week, which could also have a big impact on macro sentiment.
Next week then sees the release of monthly US ISM PMI survey and jobs data, as well as a rate decision from the US central bank.
The Fed is seen lifting interest rates by a further 25 bps from 4.75-5.0% to 5.0-4.25%, though money markets currently imply this will be the last rate hike of the cycle, with a rate-cutting cycle likely to begin later this year.
The drop in Bitcoin volatility expectations, as represented by the drop in DVOL, suggests that traders/investors view the recent BTC price pullback as making it more likely that the weeks ahead will see Bitcoin consolidate within recent ranges (i.e. in the $25,000-$30,000 area) rather than continue with aggressive pushes higher, as was seen in March when Bitcoin bounced rapidly from a brief dip under $20,000.
Alternative measures of Bitcoin volatility expectations in the form of implied volatility according to At-The-Money (ATM) option pricing are also hovering close to recent lows.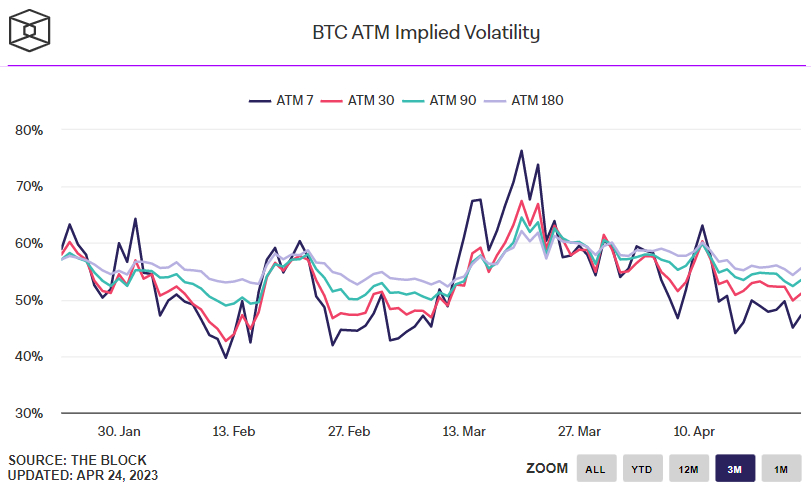 But traders shouldn't discount the risk that upcoming macro risk events can upend the market.
Keep an Eye on These BTC Price Levels
The $27,000 and $28,000 levels are the most immediate levels for traders to keep and eye on at the start of the week, as they mark recent intra-day highs and lows, with the 50-Day Moving Average also sat at $27,120.
To the downside, the $26,500 area proved a key zone of resistance-turned-support back in March and could offer decent intraday support was Bitcoin to fall back to these levels this week.
If the bears really gain control, a test of key long-term resistance in the $25,200-400 area is on the cards.
Meanwhile, to the upside, the $28,800-$29,300 area marks a series of late-March/early-April highs and the 21-Day Moving Average.
These levels could combine with a recently broken uptrend from late March to offer solid intraday resistance were the bulls to regain control.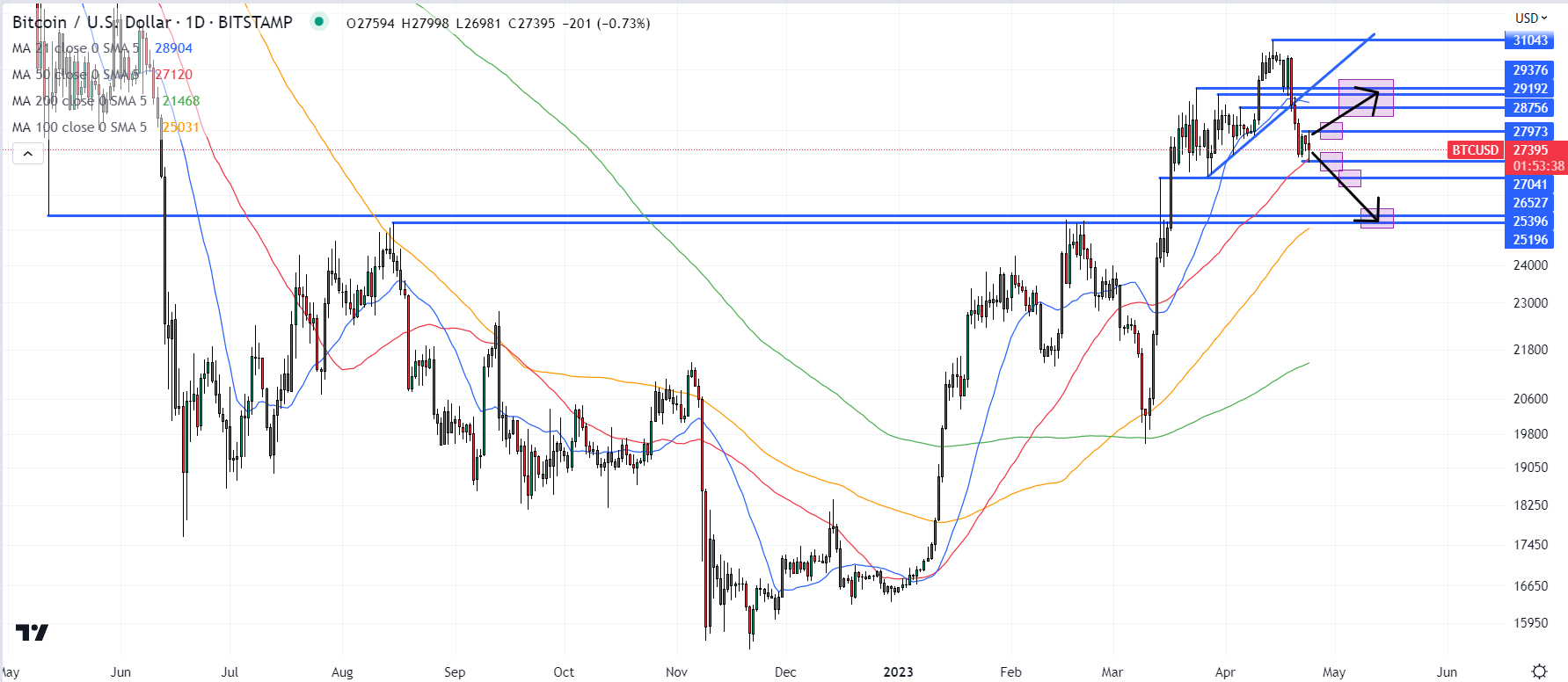 A recent trading signal that fired off midway through last week highlighted by Bloomberg suggests that a rebound back above $30,000 within the next few days is likely based on historical price action patterns.
More broadly, even if Bitcoin was to drop back to the $25,000s, that is much more likely to be viewed as a great buying opportunity by market participants than a catastrophe.
With numerous long-term on-chain indicators flashing a buy signal for Bitcoin and with long-term market cycle analysis suggesting that the cryptocurrency is in the early stages of a bull market, long-term focused dip-buyers are likely to keep the BTC price supported for the foreseeable future.
---