Bitcoin Mining Difficulty Drops to June 2020 Level
Bitcoin (BTC) mining difficulty dropped once again this weekend, reaching the June 2020 level. (Updated on July 18, 06:23 UTC, with the adjustment data.)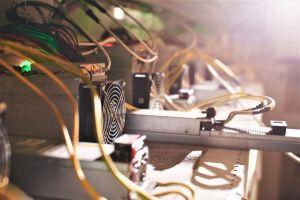 Bitcoin mining difficulty, or the measure of how hard it is to compete for mining rewards, dropped by 4.8% on Sunday night (UTC time).
This is the fourth-highest drop this year, out of six in total, and it follows the historic drop of nearly 28%.
Furthermore, this change took the difficulty level down from 14.36 T to 13.67 T, or the similar level last seen at the start of June 2020, once again helping miners earn more while BTC is still stuck in a range. In June 2020, BTC was trading above USD 9,000. At 06:219 UTC on Sunday, BTC is trading at USD 32,068 and is up by 1.5% in a day, trimming its weekly losses to 5%.
Notably, this adjustment marks the fourth consecutive drop after the mining difficulty hit its all-time high (ATH) of 25.05 T in mid-May this year.
Per BitInfoCharts.com, hashrate, or the computational power of the network, has been on the rise since the previous adjustment, going up 18% in twelve days until July 15. This level, however, is still 45% lower than the ATH seen in mid-May.
Bitcoin mining profitability has also increased since the end of June.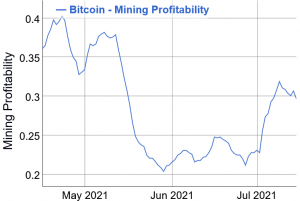 The mining difficulty of Bitcoin is adjusted around every two weeks (or every 2016 blocks, to be precise) to maintain the normal 10-minute block time. The 7-day simple moving average block time on July 15 was 10.46 minutes - down from more than 17 minutes recorded on July 2.
Meanwhile, in the past weeks, miners have stopped spending newly generated BTC and have been holding more coins instead, according to ByteTree.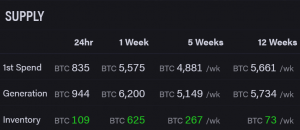 All this has been happening during the massive exodus of miners from China, due to the ongoing government crackdown on this section of the industry.
However, new data by the Cambridge Centre for Alternative Finance at Cambridge Judge Business School suggested that China's hashrate had already been in a "significant decline for some time" before the actual crackdown on mining. Its share of total Bitcoin mining power declined from 75.5% in September 2019 to 46% in April 2021, per the estimations. Meanwhile, those of the US and Kazakhstan have been rising.
___
Learn more:
- Bitcoin Miners Secure Nuclear Deals
- Crypto Mining Rigs 'Selling Like Scrap Metal' as Mainland China Mood Darkens
- The Bitcoin Mining Council and ESG Discussion
- China Is Not Done Yet With Its Crackdown On Crypto Mining - Researcher
---