Bitcoin Bonanza Review – Scam or Legitimate Trading Software
Disclosure: Crypto is a high-risk asset class. This article is provided for informational purposes and does not constitute investment advice. By using this website, you agree to our terms and conditions. We may utilise affiliate links within our content, and receive commission.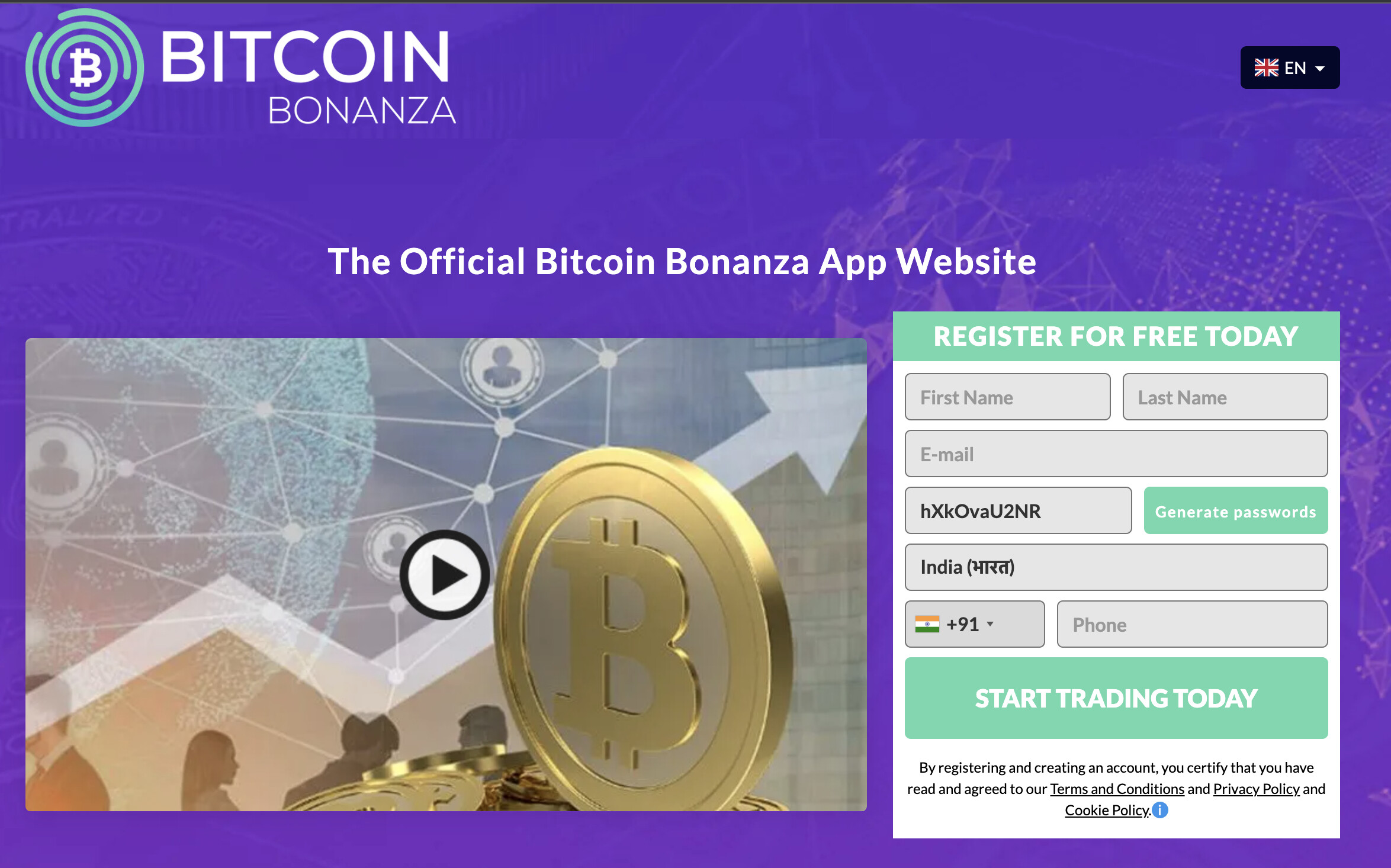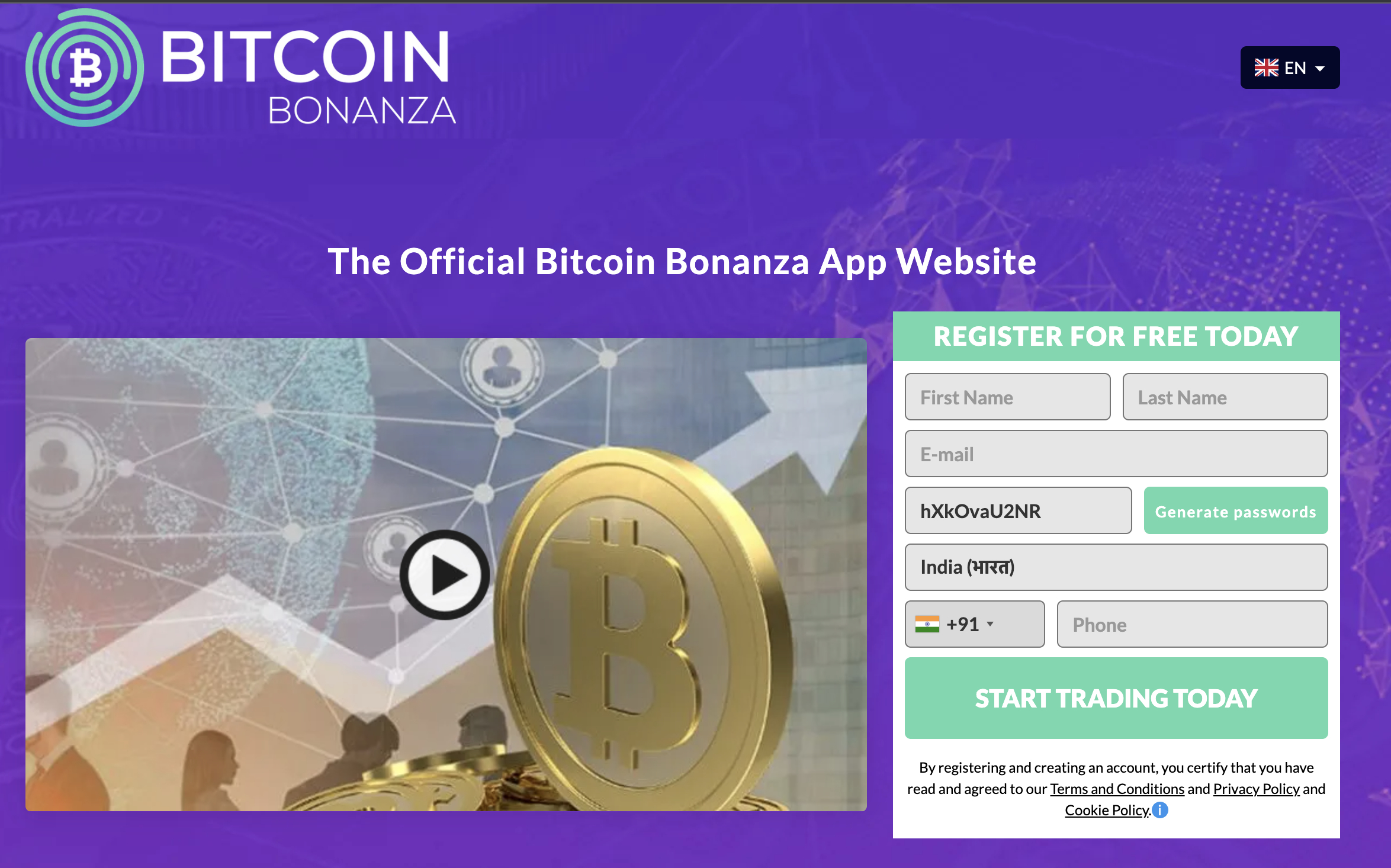 Disclaimer: The text below is an advertorial article that is not part of Cryptonews.com editorial content
Bitcoin Bonanza is a trading platform that claims to have tools and research to help crypto investors reduce risk and market better choices while trading. In this review, we'll take a close look at the platform and determine if it's as good as it claims.
Bitcoin Bonanza Summary
Here's a quick look at all the highlights of the Bitcoin Bonanza platform.
| | |
| --- | --- |
| Supported Crypto | Bitcoin, Ether, Litecoin, XRP, Bitcoin Cash, Dash, Monero, and more. |
| Claimed Success Rate | No mention of success rate on the website |
| Available on Mobile? | No Bitcoin Bonanza app |
| Fees | No fee |
| Customer Support | Accessible to registered users |
| Withdrawal Speed | Withdrawals processed under 24 hours |
| Minimum deposit | $250 |
Cryptocurrencies are unregulated. Trading with unregulated brokers will not qualify for investor protection
What is Bitcoin Bonanza?
Bitcoin Bonanza is a crypto trading software that allegedly makes use of advanced technologies to help users achieve profitable trades. Bitcoin Bonanza asserts the adaptability of its trading app software, allowing users to customize it according to their specific trading preferences and risk tolerance.
According to the website, users can select the cryptocurrencies they wish to trade and retain control over stop/loss levels, which reportedly empowers them to manage their trading activities effectively.
The registration process for Bitcoin Bonanza is straightforward. Users can sign up for free by providing basic personal information on the platform's website, such as their name and email address. Once the registration is approved, users gain access to a demo account, offering a risk-free environment to practice trading strategies and become acquainted with the platform. However, engaging in actual trading requires a minimum deposit.
Bitcoin Bonanza claims to offer a comprehensive trading experience across diverse asset classes, supported by its adaptable trading app and a user-friendly registration process.
Bitcoin Bonanza asserts that it operates as an advanced trading platform utilizing advanced technology for market trend analysis and trade execution on behalf of users. According to the website, its objective is to streamline trading strategies, eliminating the need for manual analysis and trade execution.
In addition to its underlying automated trading features, the platform also claims to provide users with the option to do manual trading. This user-friendly platform is accessible to both experienced traders and newcomers to the cryptocurrency market, per the site's claims.
Bitcoin Bonanza Pros and Cons
Here is a quick overview to help you understand Bitcoin Bonanza's strengths and weaknesses, making it easier for you to decide if it's right for your trading needs.
Pros:
Claims to be ideal for new traders
Quick deposit and withdrawal processes
Claims to have comprehensive portfolio management features
Ensures SSL security and GDPR compliance
Trading operations are available 24/7
Cons:
Not accessible in all Countries
Involves minor Daily administrative tasks
A minimum deposit of $250 is required
Not much detail is provided about how the site actually works
How Does Bitcoin Bonanza Work?
In this section, we'll take a closer look at how Bitcoin Bonanza works, based on the information we found on their website. Remember that we haven't tried the platform for ourselves, and this review is based on the claims made by the platform alone.
According to the website, Bitcoin Bonanza offers a special way to trade cryptocurrencies. They say it's powered by smart computer programs – crypto trading bots – that work on their own. These computer programs do a lot of work for you, like watching how prices change in the cryptocurrency market, looking at lots of data, and making quick decisions about when to buy or sell.
The website also says that Bitcoin Bonanza constantly keeps an eye on multiple factors from the cryptocurrency market. Insights from the movements of these factors help the software decide the kind of trades it needs to make.
Even if you're not a cryptocurrency expert, Bitcoin Bonanza says their system is easy to use. They've made it simple and easy to understand. They give you tools and features that can help you get better at trading, even if you're just starting out.
So, in a nutshell, Bitcoin Bonanza claims to use advanced trading features to help you trade cryptocurrencies without you having to do all the hard work. However, proof of this platform's effectiveness as an AI crypto trading bot is lacking.
Cryptocurrencies are unregulated. Trading with unregulated brokers will not qualify for investor protection
Bitcoin Bonanza Key Features
Let's explore some of the key features that Bitcoin Bonanza claims to offer based on the content given on the platform.
Advanced Trading
The platform asserts that it uses advanced trading features to identify potentially profitable trading opportunities for its users. As per their website, these features continually evolve, becoming smarter over time as they adapt to and pick up on emerging market trends.
User-Friendly Design
Bitcoin Bonanza claims to feature an interface designed with user-friendliness in mind. Per the claims, these features provide traders with a straightforward and intuitive platform that simplifies portfolio management, enables easy customization of trading preferences, and provides real-time monitoring of trading activities. It's worth noting that, as we haven't registered on the platform, we cannot independently verify these claims.
Tailored Customization and Control
According to the information available on their website, Bitcoin Bonanza grants users the flexibility to define their risk tolerance, set stop-loss and take-profit parameters, and adjust various other settings to align with their investment preferences and objectives. The platform is said to consider these individual preferences and constraints when executing trades on behalf of users.
Real-Time Market Insights
Bitcoin Bonanza purportedly offers traders access to up-to-the-minute market data, including price charts, indicators, and historical data. This comprehensive information empowers users to stay well-informed and make informed trading decisions based on a real-time understanding of market dynamics.
24/7 Customer Support
For assistance and inquiries, Bitcoin Bonanza maintains a professional support team available around the clock, as indicated on their website. While we cannot independently verify the responsiveness of their support, it's reassuring to know that help is readily accessible.
Bitcoin Bonanza Account fees
Bitcoin Bonanza's website lacks transparency when it comes to its fee structure. They claim that there are no deposit, or withdrawal fees. While there's no way to verify this information, investors can refer to other reviews or testimonials about the platform to get accurate details about the fee structure.
Bitcoin Bonanza Minimum Deposit
To initiate trading on Bitcoin Bonanza, a minimum deposit of $250 is mandatory. According to the website, this amount serves as the initial investment capital for engaging in cryptocurrency trading. However, it also acts as a barrier, preventing access to the platform's key features until this threshold is met.
Bitcoin Bonanza Compatible Devices
Even though we didn't directly use the trading system, let's talk about how the official website works on different devices. The website seems to do fine on various devices. On big screens like desktops, it stretches out nicely. On smaller screens like laptops and tablets, it still looks good. And on mobile phones, it adapts well, making it easy to navigate. One thing to note, though, is that there's no mention of a crypto app on mobile.
Is Bitcoin Bonanza a Scam?
When it comes to evaluating the credibility of Bitcoin Bonanza, there are several key considerations to keep in mind. While definitive proof may not be readily available, it is important to exercise caution and conduct thorough research before engaging with any trading platform.
One crucial aspect to look for is regulatory compliance, which ensures that the platform operates under the oversight of respected financial authorities, offering an added layer of security for users. Furthermore, examining user reviews and the platform's reputation can offer valuable insights into the experiences of fellow traders.
Transparency is vital in building trust. Clear information, such as easily accessible terms and conditions, fee structures, and risk disclosures, can go a long way in instilling confidence. Evaluating the responsiveness and quality of Bitcoin Bonanza's customer support is also crucial. This can provide an indication of their dedication to addressing user inquiries and concerns promptly.
In our review of the platform, we found the lack of information a red flag. The site wasn't completely clear about how it works, and the details about its fees were not available.
Furthermore, we didn't come across legitimate testimonials that could vouch for the credibility of the platform, nor were there any details about the founders available. Therefore, we advise users to evaluate the platform for themselves before they make any significant investment.
Bitcoin Bonanza Customer Support
If you're thinking about joining Bitcoin Bonanza, it's good to know they have a way for you to talk directly to their support team. Once you finish signing up, some testimonials say that you can reach their customer support anytime through live chat or phone calls. These ways are there to help you with questions, address your worries, and support you with your trading on Bitcoin Bonanza.
How to use Bitcoin Bonanza?
Step 1: Register on the Platform
First, go to the official Bitcoin Bonanza website and furnish all the details you are asked for. Typically, it should take less than five minutes to complete this process.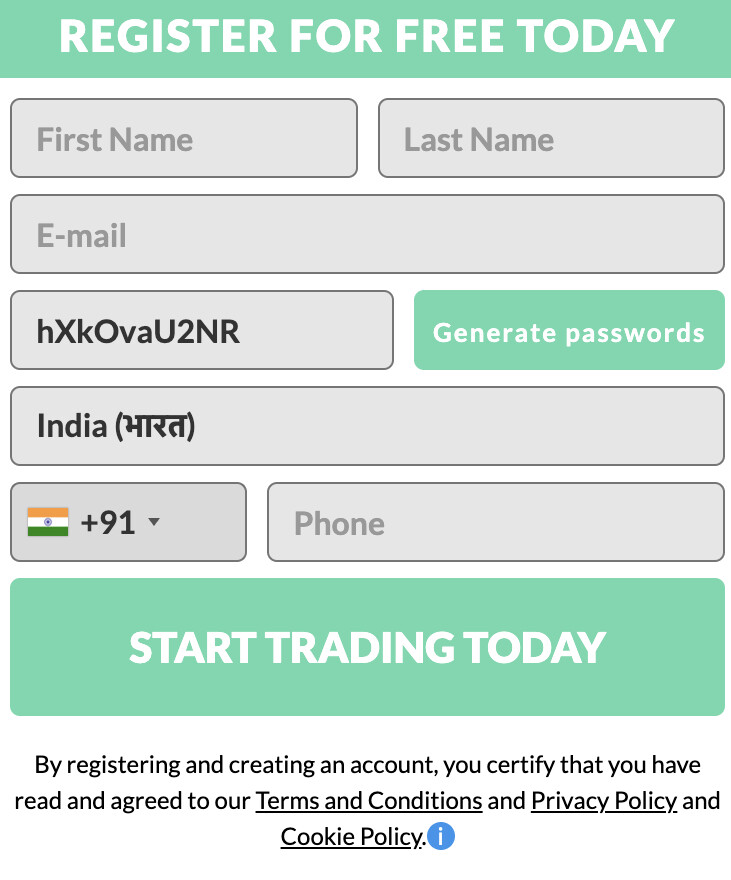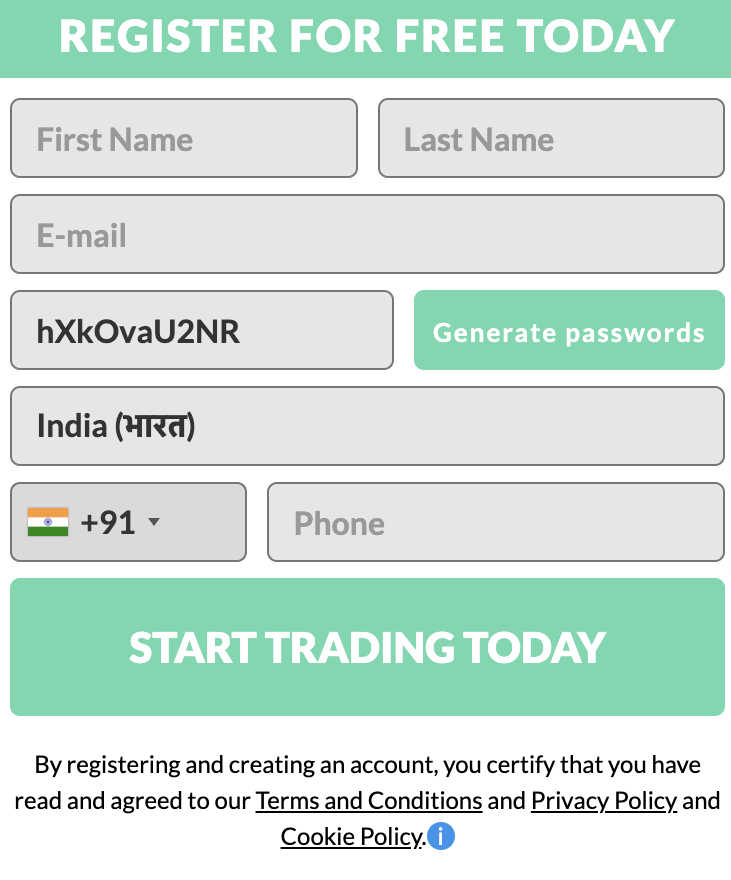 Step 2: Make a minimum deposit
Bitcoin Bonanza requests users to make an initial investment of at least $250 to gain access to the platform. Do so using the link provided
Step 3: Start Your Trading
Once you have gained access to the platform, find out if a demo account is available. If it is, use it to explore the platform without risking their capital. Switch to live trading if you are satisfied with the returns. But note that the results you get during live trading may not reflect the returns you got during your paper trading sessions.
Cryptocurrencies are unregulated. Trading with unregulated brokers will not qualify for investor protection
How to Delete a Bitcoin Bonanza Account?
To delete your Bitcoin Bonanza account, follow these simple steps: Log in to the official website, access your dashboard, and locate the account deletion option. If you can't find this feature, don't hesitate to reach out to the customer support team for step-by-step instructions.
Is Bitcoin Bonanza Endorsed by Celebrities and Big Brands?
Bitcoin Bonanza doesn't claim any celebrity or big brand support. Not many people are talking about it, except for a few third-party reviews and customer feedback. This shows that the platform is relatively new and not widely known. However, if you come across any mentions of celebrity collaborations, be sure that these claims are not verified.
Who is the Founder of Bitcoin Bonanza?
The creators behind Bitcoin Bonanza have chosen to remain anonymous, and there's no information available about them. Despite our efforts, we couldn't find any mentions of this platform on social media either. While many cryptocurrency developers prefer anonymity, it's worth noting that current regulatory standards emphasize the importance of transparency in the crypto space.
Latest Bitcoin News
Here are the latest updates about Bitcoin to know:
Bitcoin traders are eyeing a move towards the $28,000 level, while the SEC has postponed its decision on whether to approve spot Bitcoin ETFs.
A group of US lawmakers has urged the SEC to "immediately" approve spot Bitcoin ETFs, citing the fact that they have already been approved in other countries.
The Verdict
In our review, we've examined Bitcoin Bonanza in detail. We found that while Bitcoin Bonanza claims to have some cool features, like a demo account, and support for multiple assets, there is no way to assess them. There are also red flags like no mention of the platform's success rate, or a mandatory minimum deposit, which does cast some doubts about its legitimacy.
On the flip side, the website looks simple, is responsive, and it is easy to create an account. Keeping these points in mind, it is important to stay cautious while trading on Bitcoin Bonanza.
Cryptocurrencies are unregulated. Trading with unregulated brokers will not qualify for investor protection
FAQs
What is Bitcoin Bonanza?
Bitcoin Bonanza is a cryptocurrency trading software that claims to employ advanced technologies to assist users in achieving profitable trades. The registration process is straightforward, and users can sign up for free, gaining access to a demo account for practice. However, actual trading requires a minimum deposit.
How Does Bitcoin Bonanza Work?
Bitcoin Bonanza allegedly utilizes smart computer programs to automate cryptocurrency trading. These programs analyze market trends, monitor data, and make quick buy/sell decisions. The platform claims to be user-friendly, offering tools and features for both novice and experienced traders.
Is Bitcoin Bonanza a Scam?
Determining the credibility of Bitcoin Bonanza involves considering factors such as regulatory compliance, user reviews, transparency, and customer support quality. Since we couldn't find concrete evidence of legitimacy, caution, and thorough research are recommended. Users should be aware of the minimum deposit requirement and exercise due diligence before investing.
---