Bitcoin Ballooned Over USD 5,000, Crypto Rally Extended (UPDATED)
After the surprising rally on Tuesday morning, the crypto market extended its gains on Tuesday evening and Wednesday morning, pushing bitcoin above USD 5,000 for couple of hours, while other top coins also moved higher. (Updates throughout the entire text.)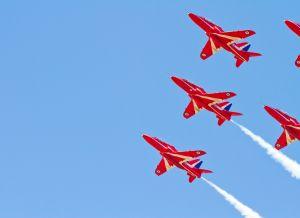 In the past hour (04:40 UTC), the market corrected lower, with top 10 coins by market capitalization dropping by 2%-5%.
Bitcoin trades at USD 4.964 and is up by almost 12% in the past 24 hours.
Bitcoin price chart:

____
Top 10 coins by market capitalization.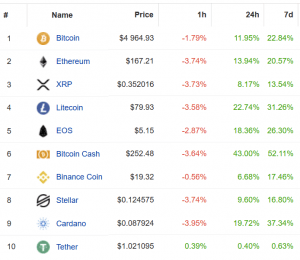 Among smaller capitalization coins, NEM and Dogecoin gained c. 29%, while Augur skyrocketed by 95%.
Meanwhile, according to Reuters, a major order, worth about USD 100 million, by an anonymous buyer might be a cause that set off a frenzy of computer-driven trading yesterday.
"There has been a single order that has been algorithmically-managed across Coinbase, Kraken and Bitstamp, of around 20,000 BTC," Oliver von Landsberg-Sadie, chief executive of cryptocurrency firm BCB Group, was quoted as saying.
Marcus Swanepoel, chief executive of London-based bitcoin company Luno, also commented that "what we've likely seen is that one large investor, probably institutional, bought quite a lot of crypto for their portfolio," Financial Times reported (FT).
However, Arca chief investment officer Jeff Dorman, a former trader for Lehman, Merrill and Citadel, told CNBC that even if buying by trading algorithms kicked off the euphoria, that would have reversed quickly if investors were eager to sell.
"Buyers outweighed sellers, and market makers felt the pressure so they took their markets higher, which triggered stop losses and liquidations, which added more buy pressure," according to Dorman.
George Harrap, chief executive officer at Bitspark, told Bloomberg he's putting "most things on pause" until the market settles down. While Dave Chapman, CEO of crypto exchange ANXONE, added that "events such as today's will probably be seen negatively, or viewed as this market doesn't conform to the trading of traditional instruments."
However, Nigel Green, chief executive of consultancy deVere Group, told FT that this dramatic jump is not only likely to attract many investors who have been sitting on the sidelines, but might reignite institutional interest, also.
Meanwhile, according to Dorman, the fact that every small dip has been bought immediately in the last few weeks shows that investors are not scared of sell-offs, they are hoping for them so they can buy more.
"This certainly raises the near-term floor, but this sentiment can change on a dime too," he was quoted as saying by CNBC.
_______
Watch Ryan Selkis, Messari, a crypto analytics and research company, founder and chief executive officer discussing the surge in Bitcoin's value:
_______
Crypto Twitter:
---