13 Best DeFi Coins to Buy in 2023
Disclosure: Crypto is a high-risk asset class. This article is provided for informational purposes and does not constitute investment advice. By using this website, you agree to our terms and conditions. We may utilise affiliate links within our content, and receive commission.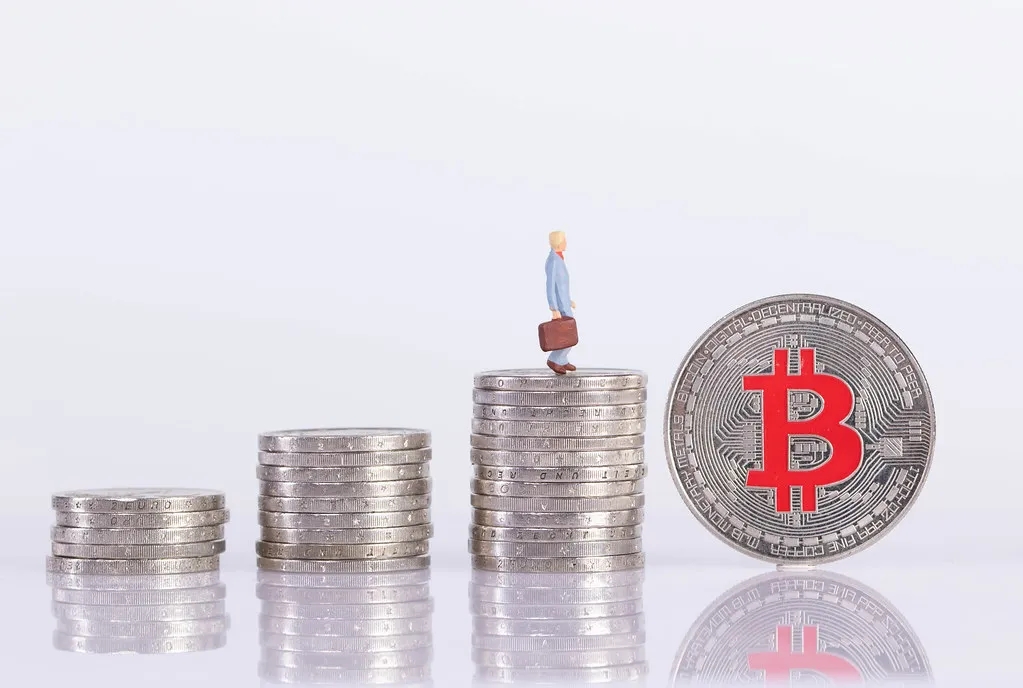 Disclaimer: The Industry Talk section features insights by crypto industry players and is not a part of the editorial content of Cryptonews.com.
Over the past couple of years, the decentralized finance (DeFi) sector has absolutely exploded, leaving many earlier investors very happy. While finding the best DeFi cryptos can be a difficult task, it doesn't have to be.
Throughout this guide, we'll be reviewing some of the best DeFi coins to buy, explaining whether or not DeFi cryptocurrencies make for good investments, and taking an in-depth look at perhaps the top exchange to buy the best DeFi coins in 2023. Let's get started.
13 Best DeFi Coins to Invest in 2023

We've included a brief summary of the best DeFi cryptos to invest in right now, with more detailed reviews of each project located slightly further down the page. 
Bitcoin ETF Token – Overall best DeFi coin to obtain with a high dynamic APY and a roadmap that coincides with important events in the broader market, particularly BTC ETF approval by the SEC. This ERC20 token trades at a steep presale discount and has raised $550,000 within just a single week. 
Bitcoin Minetrix – Revolutionary crypto project adopting a stake-to-mine mechanism to offer $BTCMTX token holders with Bitcoin mining power. Bitcoin Minetrix offers staking yields through its smart contract and decentralizes cloud mining through its ecosystem. The $BTCMTX token will rise by 30% on presale. 
Meme Kombat – ERC20 DeFi project offering steady APY on presale with three betting options on meme vs meme combat, with the world's most famous meme coins on display. Has raised over $1 million so far with AI-rendered graphics for enhanced fight scenes, and blockchain processing for increased transparency in terms of rewards allocation.
Launchpad XYZ – Web3 cryptocurrency ecosystem offering a decentralized exchange and crypto wallet, as well as a trading terminal, alpha signals group and other insights and data. $1.9m raised in its presale.
Scorpion Casino –  A complete online casino with all major games from all major game providers like Evolution, NetEnt, Play N Go, Novomatic, EGT, and AMATIC. Over $1.5 million raised.
yPredict – AI and ML-powered trading terminal providing a custom-built suite, community of traders and huge array of data – almost $4.5 million raised in its presale, with YPRED tokens used to access the protocol. 
Chainlink – This platform is the leading provider of oracle solutions. 
XRP – A peer-to-peer payment network to settle international transactions at a faster speed while reducing costs. 
Tezos – Build applications on this blockchain by deploying smart contracts.
Avalanche – A highly efficient blockchain network that hosts a range of Web3.0 projects and P2E ecosystems.
Maker – This is a governance blockchain that deploys the $DAI token. The token can be used to make decisions on the decentralized autonomous organization. 
Loopring – A layer-2 blockchain network that utilizes Ethereum's high levels of security but offers higher throughput. 
Uniswap – A top decentralized exchange that allows users to leverage the $UNI token to access discounts when trading.
Analyzing the Best DeFi Tokens & Projects 
We've included a broad range of the best DeFi investments in order to provide budding investors with ample choice. Each of the projects we're taking a look at shows plenty of promise and boasts strong fundamentals to support their inclusion on our list. 
1. Bitcoin ETF Token – Top DeFi Coin with 450% Dynamic Yield Tied To Important SEC Ruling
Bitcoin ETF Token ($BTCETF) is the overall best DeFi coin on the market at present. This is a newly launched ERC20 presale with a number of powerful USPs for investors. 
Aside from its 450% dynamic proof of stake APY, its main appeal is in its ties to the wider crypto economy.
The roadmap is designed in such a way as to correlate to major events that have a strong economic impact.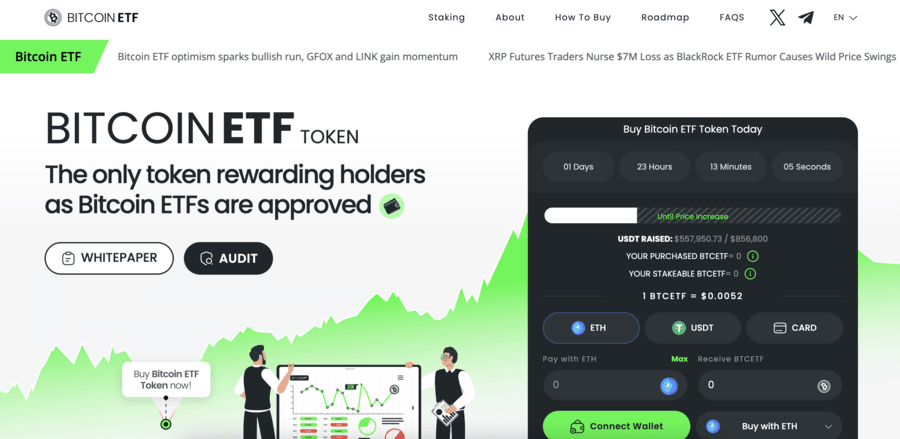 The main roadmap milestone mentioned in the Bitcoin ETF Token Whitepaper would be the approval of Bitcoin ETFs by the SEC. This scenario could expand the crypto market cap by hundreds of billions of dollars. It might also improve the price of BTC and altcoins. 
However, Bitcoin ETF Token could 10x or more, outperforming all others. This is due to the fact that the DeFi token was created with this precise event in mind, and is positioning itself accordingly. 
Other key roadmap milestones include the launch of the first BTC ETF, the global BTC ETF AUM market hitting $1 billion, and the price of Bitcoin reaching $100,000. As each of these milestone targets are acquired, 5% of the supply is burned. So the burn mechanism, a core part of the campaign, is linked to important market phenomena. 
There are five milestones in total, for a 25% token burn. This is a large figure and can serve to improve the price of the remaining coins. Of the remaining token allocation, 40% (840 million) is reserved for the presale, 25% (525 million) is allocated to staking, and 10% (210 million) goes to DEX liquidity. 
This is a transparent token allocation with nothing reserved for core members, and the campaign enjoyed a clear smart contract audit from Coinsult.   
Additional information on this #1 DeFi coin can be found within the Bitcoin ETF Token Whitepaper. 
It might also be useful to connect with the Bitcoin ETF Token socials (Twitter and Telegram) for essential alerts and updates.
| | |
| --- | --- |
| Presale Started | 6 Nov 2023 |
| Purchase Methods  | ETH, USDT, BNB, MATIC, Card |
| Chain | Ethereum |
| Min Investment | None |
| Max Investment | None |
2. Bitcoin Minetrix – New Stake-to-Mine Crypto is Decentralizing Cloud Mining, $BTCMTX will Rise By 30.9% on Presale  
Our #1 DeFi coin to invest in right now is Bitcoin Minetrix ($BTCMTX). This new project leverages DeFi mechanisms such as token staking to decentralize cloud mining operations.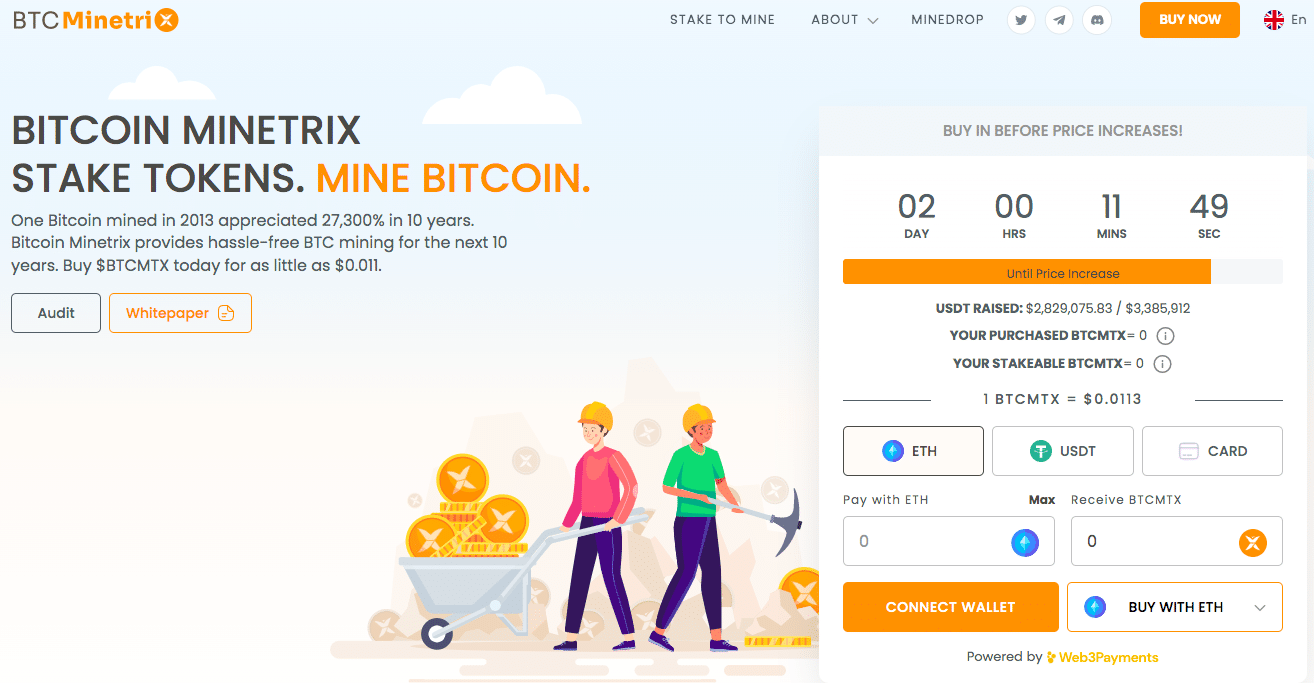 While mining Bitcoin and other cryptos can be rewarding in the long term, it requires huge investments and fixed costs to get started. Therefore, mining presents a huge entry barrier to everyday individuals. Bitcoin Minetrix will connect with third-party operations to offer rented mining times to investors. 
While there are many third-party renting corporations, Bitcoin Minetrix is the first to decentralize this process. Investors will be awarded with cloud mining credits – ERC-20 tokens that are stored on a digital ledger. This offers more transparency and autonomy to the token holders, as there is less chance of committing fraud or stealing tokens. 
To reap the benefits of this stake-to-mine cryptocurrency, investors must purchase $BTCMTX tokens. At the time of writing, $BTCMTX is priced at $0.0113 during its ongoing presale round. By the final stage of the presale, the price will rise by 30.97% to $0.0148 per token. 
After buying $BTCMTX, token holders can stake their holdings on an Ethereum-powered smart contract. This mechanism will generate ERC-20 cloud mining credits. Your credits can then be burned to acquire Bitcoin mining power and earn allocated mining times. This will allow investors to earn a percentage of Bitcoin and crypto mining revenues.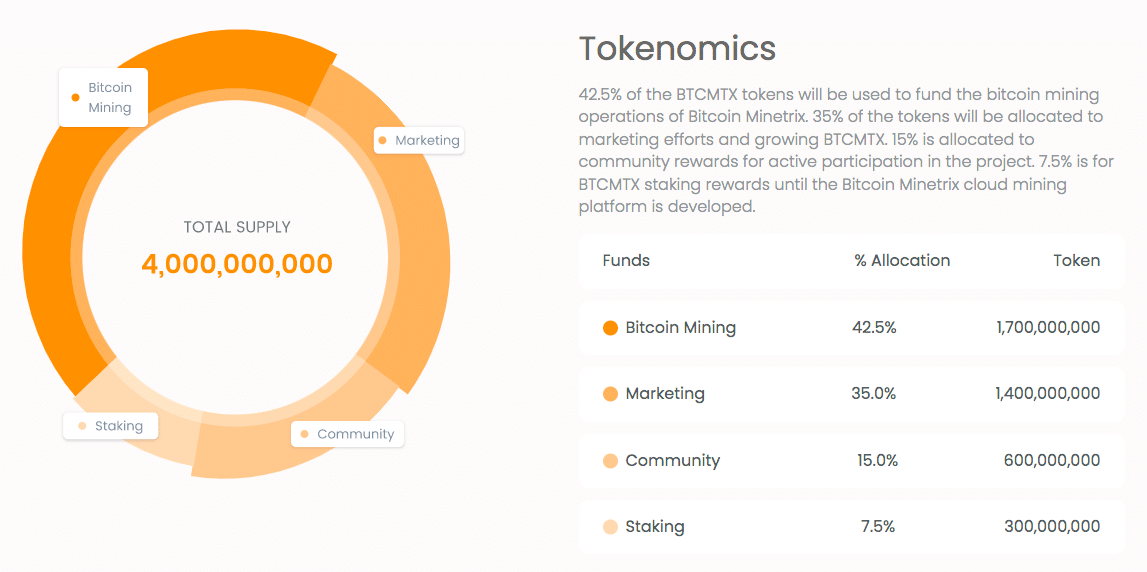 This new DeFi coin is off to a great start during the presale – having raised more than $2.8 million in a few weeks. The presale is distributing 2.8 billion tokens across 39 presale rounds and hopes to raise over $33 million. 
Read the Bitcoin Minetrix whitepaper and join the Telegram channel to stay updated with this new crypto project. 
| | |
| --- | --- |
| Presale Started | 26 Sept 2023 |
| Purchase Methods  | ETH, USDT, BNB |
| Chain | Ethereum |
| Min Investment | $10 |
| Max Investment | None |
3. Meme Kombat – ERC20 DeFi Token Offers Steady APY, Raises $1M, Offers $5K Giveaway
Meme Kombat ($MK) is a multi-meme platform with the appeal of many memes, not just one. This DeFi ecosystem offers three primary means of ROI. The first is the APY, which is 112% throughout the presale but will switch to dynamic staking after presale completion. 
The second is straight price appreciation. At present, the token price is $0.1667, which will rise to $0.183 shortly (a 10% increase). The price could increase further at different presale stages and upon DEX exchange listing.  
The third ROI mechanism is income from wagers on the combat itself. The DeFi ecosystem provides meme vs meme warfare. So you might see Doge vs Floki, Pepe vs Shiba Inu, or Sponge vs Wojack. Special promotional fights take place at given intervals. Users can research the odds and upcoming fights to see if they would like to make a bet. 
Rewards are distributed automatically on the blockchain, which helps in terms of transparency. The founder of this presale is publicly accessible on social media and the smart contract audit results revealed no serious errors or flaws within the code. The team is launching a $5k giveaway shortly.
There is a total of 120 million tokens with 50% allocated to the presale, 30% to staking, 10% to DEX liquidity, and 10% to the community. $1 million out of the $10 million hard cap has been raised throughout this presale.
The could be a 10x or 100x coin in 2023 if some of the gigantic online meme communities hear about it and start to place bets on their favorite memes. 
Those interested in this DeFi platform might consider examining the Meme Kombat Whitepaper.
The social accounts (Telegram and Twitter) may also be useful for essential updates.
| | |
| --- | --- |
| Presale Started | Sept 2023 |
| Purchase Methods  | ETH, USDT, BNB |
| Chain | Ethereum |
| Min Investment | $5 |
| Max Investment | None |
4. Launchpad XYZ – All-in-One Web3 Cryptocurrency Ecosystem 
Members can access a range of Web3 services through the Launchpad XYZ ecosystem. The platform offers its own decentralized exchange, a crypto wallet, and access to presale listings. Powered by the $LPX token, Launchpad XYZ will offer discounts on trading fees and access to partner discounts. 
The presale has seen a lot of interest so far, raising more than $1.9 million at the time of writing.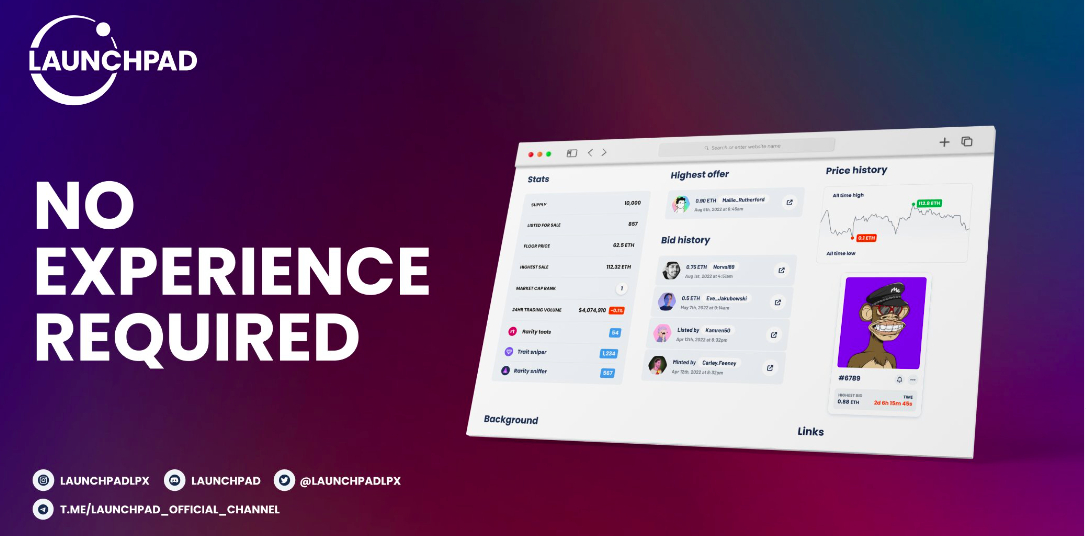 Launchpad XYZ aims to onboard the next 10 million users to the world of Web3. To reach this feat, Launchpad XYZ offers several tools, such as a decentralized exchange where members can access crypto trading pairs and perpetual contracts. Through a Web3 wallet, one can interact with DApps, swap tokens, and trade hundreds of asset pairs. 
Launchpad XYZ will also provide a platform for users to find the most promising and upcoming Web3 utility tokens. Members can view current market trends and past performance across different market sectors. The platform will also host presale projects. Members who stake a minimum monthly average of 10,000 $LPX can also get guaranteed access to some of the presale listings. 
Another available feature is Launchpad XYZ's trading terminal. This tool offers access to an API-based trading platform. Users can access real-time trading insights and custom indicators tailored to their specific needs through the trading terminal. 
One of its main features, an alpha signals group on Telegram, is already live and has made a number of 1,000%-plus calls in recent weeks, including a 7,000% call on LINQ.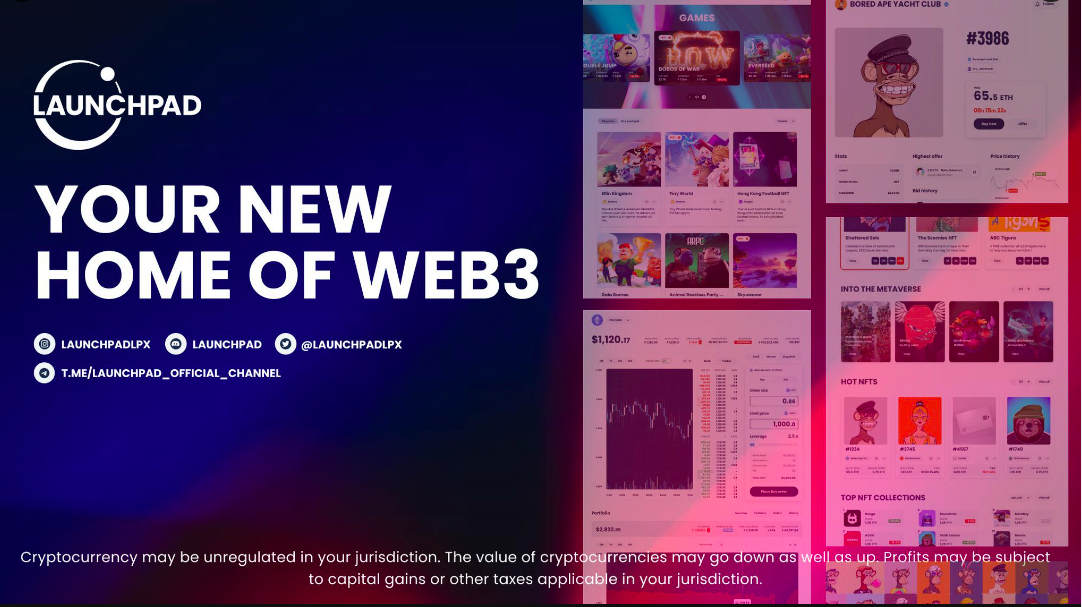 The Launchpad XYZ whitepaper states that $LPX can be used to purchase fractionalized assets on the ecosystem. The $LPX token is priced at $0.0445 during the presale.
Join the Launchpad XYZ Telegram group to learn more about this cryptocurrency token. 
| | |
| --- | --- |
| Presale Started | 27 April 2023 |
| Purchase Methods  | ETH, USDT, Credit Card |
| Chain | Ethereum |
| Min Investment | 100 LPX |
| Max Investment | None |
5. Scorpion Casino –  Regulated and Licensed Social Gambling Platform with Daily Rewards
SCORP is a utility-rich DeFi crypto with excellent use cases in the fast-growing online gambling and betting market. It is the native cryptocurrency of Scorpion Casino.
Scorpion Casino sets itself apart from competitors with a strong blockchain foundation, which makes it provably fair and transparent. Something that the gambling industry has long been missing. And therein lies the large growth potential of SCORP.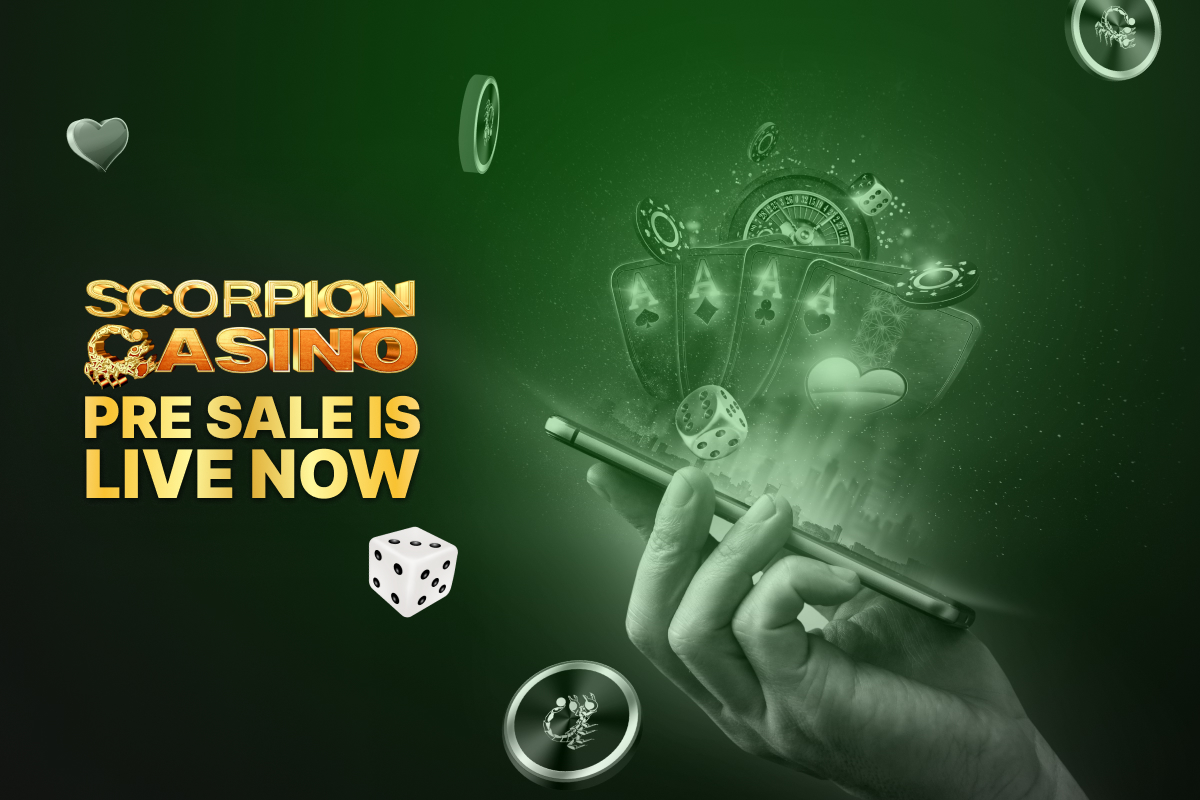 As the governance and reward token of Scorpion Casino, SCORP fuels two of its components primarily.
The first is a licensed crypto sports betting and casino platform that gives you access to more than 30,000 bet opportunities monthly. The 200+ casino games listed on the platform include slots, blackjack, roulette, poker, and 160 live games. The sports-betting section, on the other hand, covers a wide range of football, tennis, American football, horse racing, basketball, golf, boxing, and MMA events.  
The second is a reward & referral affiliate system. If you're holding SCORP, you won't just benefit from its long-term value appreciation. You can earn up to $10,000 as daily passive income too. The re-distribution system integrated into the smart contract rewards you based on the casino's performance. A deflationary token-burning mechanism helps maintain a healthy value for the token in the open market.
Scorpion Casino has taken diverse measures to feature a safe and secure gambling experience for users. This is clear from its choice of providers, which is limited to highly reputed platforms like Evolution, NetEnt, Play N Go, Novomatic, EGT, and AMATIC. To provide the best user experience, Scorpion Casino has partnered with leading platforms like CoinsPaid and BitRadar as well.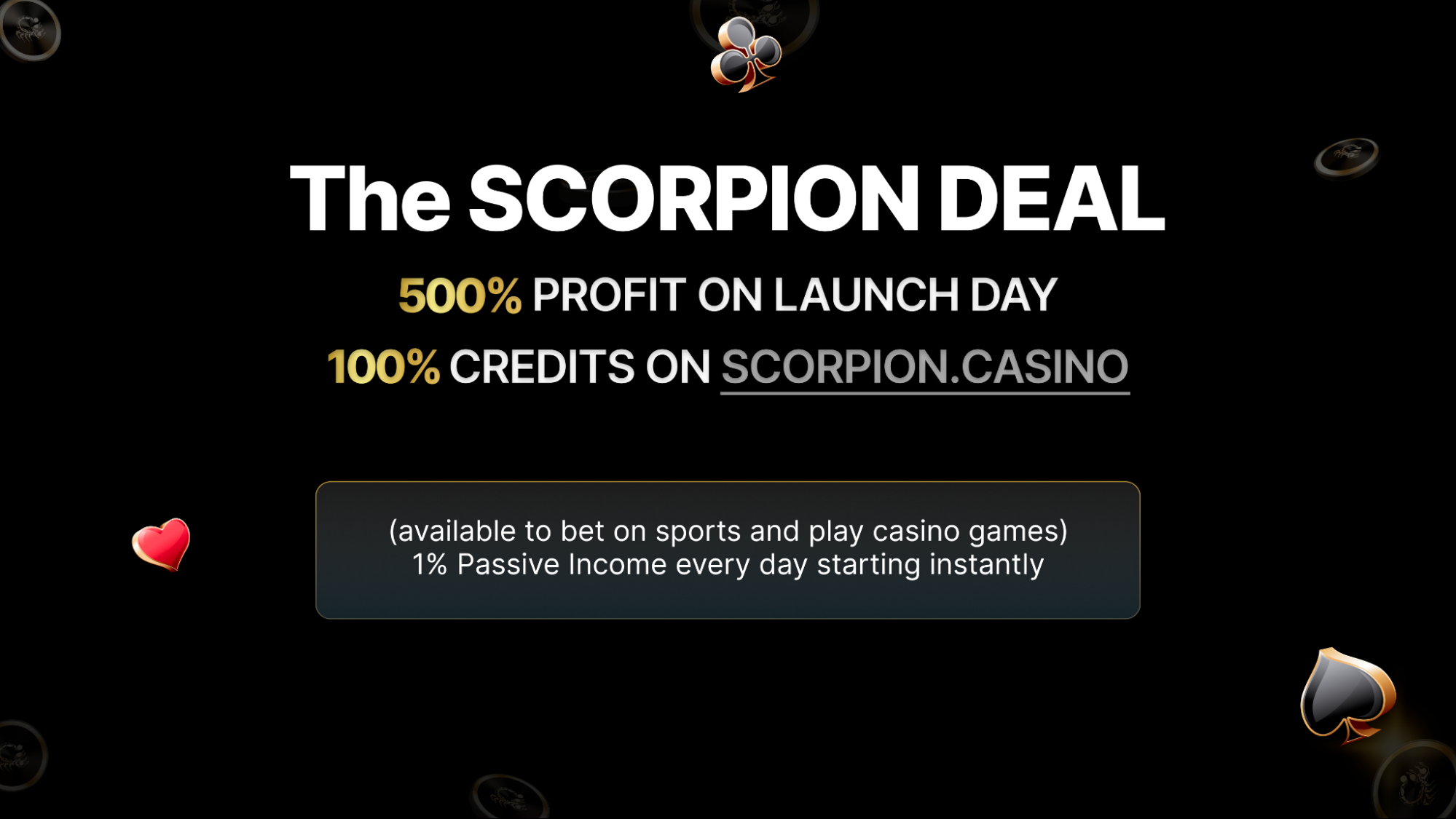 As one of the top emerging players in the online gambling and betting markets, Scorpion Casino has already secured a listing with a top-tier centralized exchange. Follow the platform on Telegram and Twitter to get the latest updates about upcoming listings and roadmap milestones. 
The best way into Scorpion Casino is the ongoing SCORP presale, which has now raised more than $1 million.
| | |
| --- | --- |
| Token Symbol  | SCORP |
| Presale Supply | 200,000,000 SCORP |
| Token Type | BEP-20 |
| Payment Method | ETH, USD, BNB |
| Listing Price |  $0.05 |
6. yPredict – Earn Passive Income with this Cryptocurrency Platform 
yPredict is a cryptocurrency analytics and research platform which can be used to access predictive models on the digital assets space with $YPRED tokens. This native token can be used for various purposes in the ecosystem, including earning passive income and rewards through a Learn2Earn environment. 
Powered by artificial intelligence and machine learning, yPredict also has a custom trading terminal and community of expert traders to help users maximize their profit-making ability.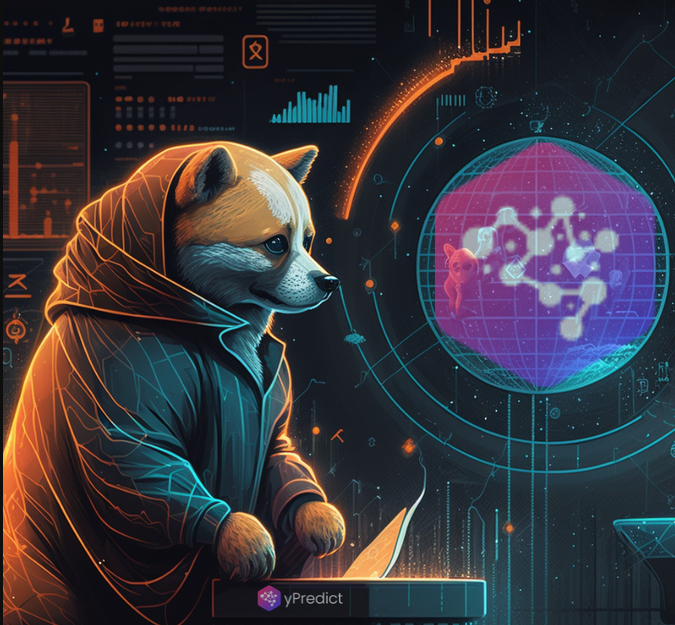 The platform offers tools to enable data-driven analytics. One can head to the financial marketplace and access the latest financial predictive models and metrics with $YPRED. Subscriptions can be made with the token, giving you access to these models developed by AI experts and financial quants. 
yPredict leverages AI tools, such as sentiment analysis, to determine the future movement of a particular token. The platform also sends AI-based trading signals to users. By using over 25+ charting patterns, the ecosystem analyzes the potential movement of hundreds of crypto tokens. 
$YPRED is also used to generate passive income in the ecosystem. 10% of all subscription revenue generated on the ecosystem is sent to existing token holders. The platform will also distribute 15% of swapping fees to a staking pool. 
Furthermore, users can learn more about the crypto markets by accessing yPredict's Learn2Earn feature. One can take assessments and earn tokens on this platform after successfully passing the available modules. 

There is also a 7% selling tax charged on $YPRED. 1% is distributed towards liquidity, 3% towards marketing, 1% towards development, and 2% towards platform research. Interested investors can purchase $YPRED for only $0.1 per token through the ongoing presale.
The exchange listing price is set at $0.12. yPredict has raised over $4.5 million since the presale started. To learn more about this cryptocurrency, read the yPredict whitepaper and join the Telegram channel.
| | |
| --- | --- |
| Presale Started | Q1 2023 |
| Purchase Methods  | MATIC, ETH, USDT, BNB, Credit Card |
| Chain | Polygon |
| Min Investment | 200 YPRED |
| Max Investment | None |
7. Chainlink – Leading Provider of Oracle Solutions
Chainlink (LINK) is a DeFi cryptocurrency dedicated to bringing off-chain data sources onto the blockchain to be used by other web3 projects, massively expanding the use cases of new crypto projects.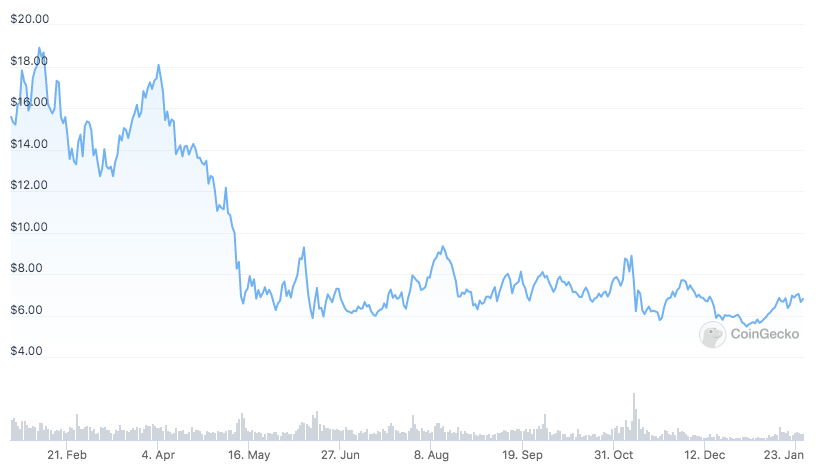 With Chainlink being one of the first projects to offer such a service, it has been picked up by key players and become the go-to platform for a number of the best DeFi crypto projects including Aave, Hedera, and Compound. 
As Chainlink's services are in such high demand, it's of little surprise that LINK has remained one of the strongest assets on the market, even during the recent crypto downturn. 
With many investors touting LINK as one of the best long-term crypto projects available, and the asset showing huge amounts of strength whenever the market enjoys a slight run-up, we'll be watching closely to see how it performs once the next bull run begins. 
8. XRP – Project Aiming to Decentralize Currency Conversion
XRP has been a favorite asset of crypto investors since its release as a fast settlement, low-fee, sustainable cryptocurrency alternative to Bitcoin. The asset has created by David Schwartz and Jeb McCaleb who then went on to launch Ripple Labs in order to create use cases for XRP.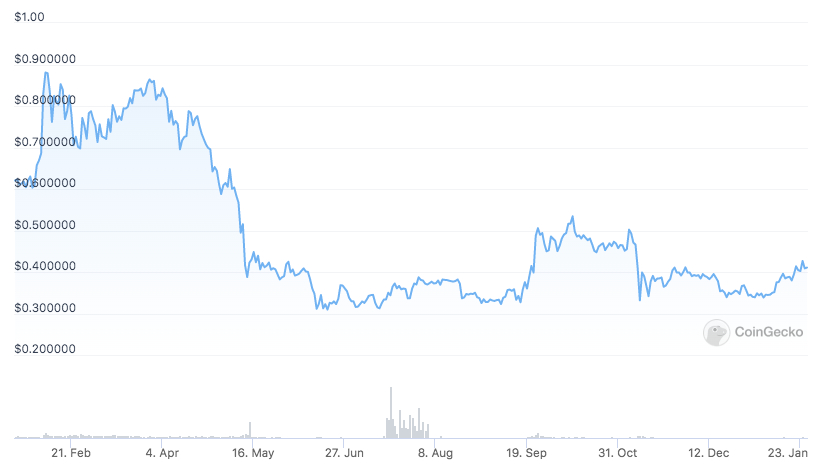 As we touched on, the primary attraction to XRP is its extreme efficiency. Transactions can be settled in just seconds and cost only a fraction of a cent, making it one of the fastest and cheapest networks on the market. Furthermore, the  release of the XRP Ledger (XRPL) in 2021 has expanded the project's use case by allowing other projects to be created on the network. 
The primary use of XRP is as a transactional cryptocurrency. It has already partnered with leading international currency transfer services like Swift and MoneyGram, leading many investors to consider the asset as one of the 10 best penny crypto projects currently available. 
9. Tezos – Easily Upgradable Ethereum Competitor 
Tezos (XTC) is a DeFi DeFi coin that is akin to a more efficient, easily upgradable Ethereum. The project was conceptualized in 2014 but it wasn't until far later in 2018 that the Tezos mainnet was officially released.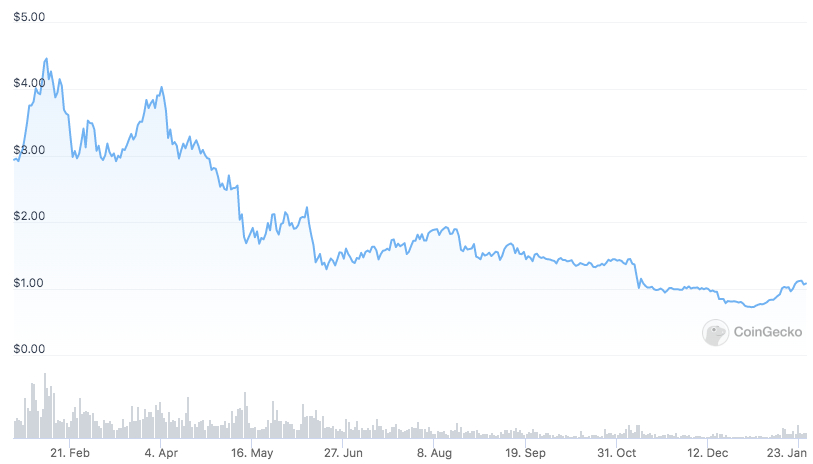 The project allows developers to build applications using the Tezos network through smart contracts. The project is consistently regarded as being a great alternative to Ethereum as the Tezos network can be easily upgraded with zero downtime, meaning the team can always ensure that the network boasts the latest technology. 
With the  Ethereum merge, the need for on-the-fly upgradable blockchains has become more apparent than ever before. With Tezos offering this functionality in an incredibly efficient package, many crypto fanatics regard it as being one of the best cryptos to buy in 2023. 
10. Avalanche – Low-Cost Layer-1 Blockchain 
Similar to Tezos, Avalanche (AVAX) is a new cryptocurrency and a highly-efficient layer-1 blockchain. The project exploded in 2021 at the height of the 'Ethereum killer' narrative, promoting a huge amount of P2E games and web3 projects to make the switch to the Avalanche network. 
While the hype surrounding the project has subsided over recent months, its technology remains powerful. One of the main reasons why Avalanche was able to pick up traction so quickly was its massively impressive throughput. 
Rather than treating every kind of transaction as one, Avalanche settles transactions on three different chains. The C-Chain is used to settle transactions that originate from the best DeFi coins and web3 projects, X-Chain is used for sending and receiving AVA, and P-Chain is for network validators. 
While AVAX has fallen a long way from its 2021 highs, the DeFi DeFi coinis trading at $17. While investor confidence has likely been shaken a bit following its dramatic fall, once the next bull run kicks off we could see impressive returns from AVAX.  
11. Maker – DAO Behind Leading Stablecoin
Maker (MKR) is a governance token that investors can use to make decisions in the Maker decentralized autonomous organization (DAO), that controls the popular stablecoin DAI. With the DAI stablecoin rapidly gaining market share falling the fall of algorithmic dollar-pegged stablecoin UST, MKR could be the best DeFi crypto to buy this year.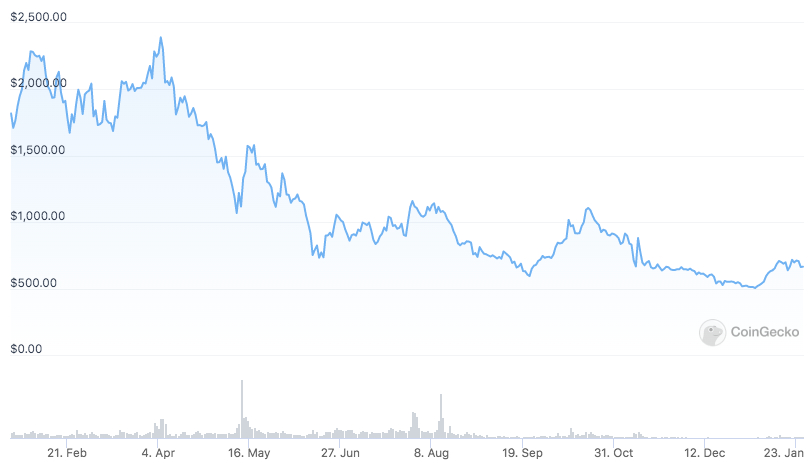 As, by design, stablecoins don't have any room for growth (unless something goes seriously awry), the MKR token is used to provide value to investors and fans of the project. As anyone holding MKR can vote on the development of DAI, and the price of MKR is linked to DAI's success, this system should, in theory, ensure that only the best decisions are made regarding the future of the stablecoin.
Out of all the best DeFi projects to invest in, Maker fits perfectly in the industry. MKR is currently priced at $665 per token, as of January 2023. With the need for a trusty stablecoin more apparent than ever, we could see big things from this DeFi cryptocurrency in the coming months. 
12. Loopring – Advanced Ethereum Layer-2 Scaling Solution
While there was a large demand for Ethereum alternatives, the focus has now shifted to Layer-2 scaling solutions like Loopring (LRC). These projects utilize the Ethereum network but commonly settle transactions in a different way. This means that Layer-2 solutions benefit from Ethereum's security but aren't held back but its lackluster throughput.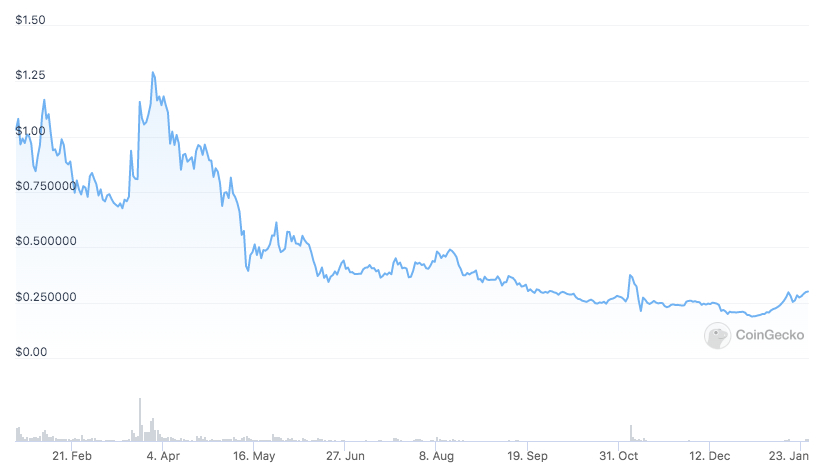 In order to achieve higher throughput than its parent network, Loopring bundles multiple transactions together off-chain, before settling them together on-chain at a later date. This allows the project to validate transactions far more efficiently than Ethereum, reducing fees and network congestion. 
With its partnership with GameStop, Loopring has been brought into the limelight. While it's yet to enjoy a meaningful move to the upside, there's plenty of hype surrounding the project meaning it could end up being one of the best DeFi projects to invest in ahead of the market's recovery. 
13. Uniswap – Decentralized Exchange and DeFi Platform
Created by former Ethereum developer Hayden Adams, Uniswap (UNI) is packed with pedigree. It is a decentralized exchange (DEX) that hosts some of the best DeFi projects to invest in right now. During the DeFi explosion, the platform enjoyed widespread notoriety and quickly become one of the most used DEXs on the planet.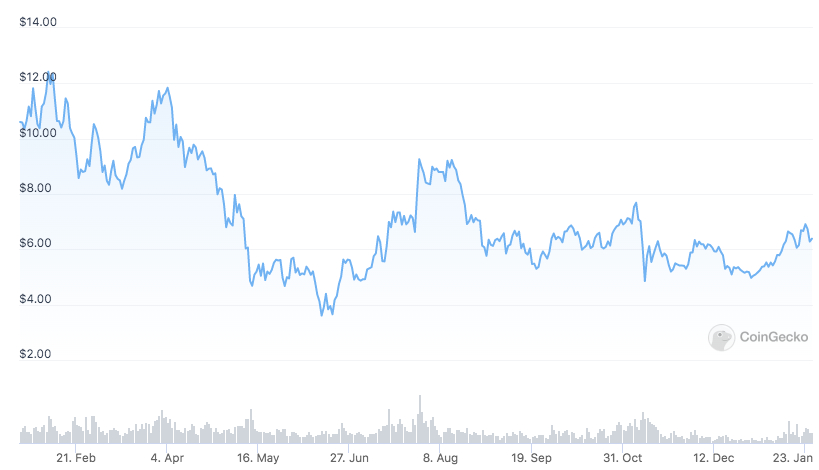 UNI was created as a governance token, allowing fans of the project to help forge its future. With Uniswap (alongside PancakeSwap) remaining one of the largest decentralized trading protocols on the market, clearly, this model worked.
Although Uniswap can no longer be considered a low-cap crypto with its multi-billion dollar market cap, the project remains a favorite of DeFi-centric investors worldwide. While the smaller DeFi projects that live on Uniswap have been hit hard by a downtrend, it's likely that Uniswap will enjoy huge amounts of volume after these projects begin to draw attention once again. 
What are DeFi Coins?
DeFi is short for decentralized finance. This refers to any sort of financial application that does away with a central authority and instead allows users to act for themselves. For example, on the PancakeSwap platform users provide liquidity in order to earn interest, with the platform then using an algorithm to match a buyer and liquidity provider. 
With cryptocurrency having a heavy focus on both finance and decentralization, there are a huge number of projects that could be considered DeFi coins. We've already discussed some of the best DeFi crypto projects to watch but a few other notable examples include Aave, The Graph, and Fantom.
To summarize, any cryptocurrency that has a focus on finance or decentralization can be considered a DeFi coin. As decentralization requires that there is no central body controlling an application, it's common for DeFi coins to be largely autonomous, hence the inclusion of a large number of DAO-based projects on our list. 
Are DeFi Coins a Good Investment?
With decentralized finance growing in popularity massively over the past couple of years, the best DeFi cryptos can make for solid investments. However, as with any sector, there will be projects that fail to perform as expected. 
With that said there are now DeFi 2.0 projects which is an umbrella term for a new era of decentralized finance ecosystems. Read our article on the best DeFi 2.0 projects for more details.
Multitude of Use Cases
As we briefly touched on, DeFi coins can comprise a huge variety of sectors and use cases. With such diversity, the future of DeFi holds near-endless possibilities. With what's possible in cryptocurrency constantly changing, DeFi projects are set to evolve as blockchain technology improves, making the best DeFi investments great for getting exposure to a future-first market.
Future of Finance
Decentralized finance has already disrupted the traditional finance sector in a big way and with cryptocurrency adoption steadily rising, this is unlikely to change in the foreseeable future. While it's impossible to know for sure how things will progress as the DeFi market matures,  few sectors can compete with DeFi when it comes to future potential. 
Adheres to the Crypto Ethos
At the core of the cryptocurrency ethos is decentralization, the belief that no one individual or organization should have total control. With this concept being important to many die-hard crypto investors, projects that respect this, tend to generate more buzz from key players in the industry. 
Early Mover Advantage
While finance in the traditional sense has been around for centuries, the DeFi revolution is only just starting. The cryptocurrency market as a whole has existed for just over 10 years and DeFi far fewer. As such, the sector has seldom had time to mature. With this in mind, investing in DeFi can provide users early access to what could eventually become the new financial system. 
Where to Buy DeFi Coins
In order to assist investors looking to purchase DeFi coins, we've reviewed one of the top regulated platforms on which they can be acquired. 
eToro – Best Platform to Buy DeFi Coins
eToro was launched back in 2007 and has since grown in popularity massively, serving millions of users all around the globe. Being one of the world's leading brokers, eToro supports a plethora of DeFi coins as well as other cryptocurrencies and even stocks.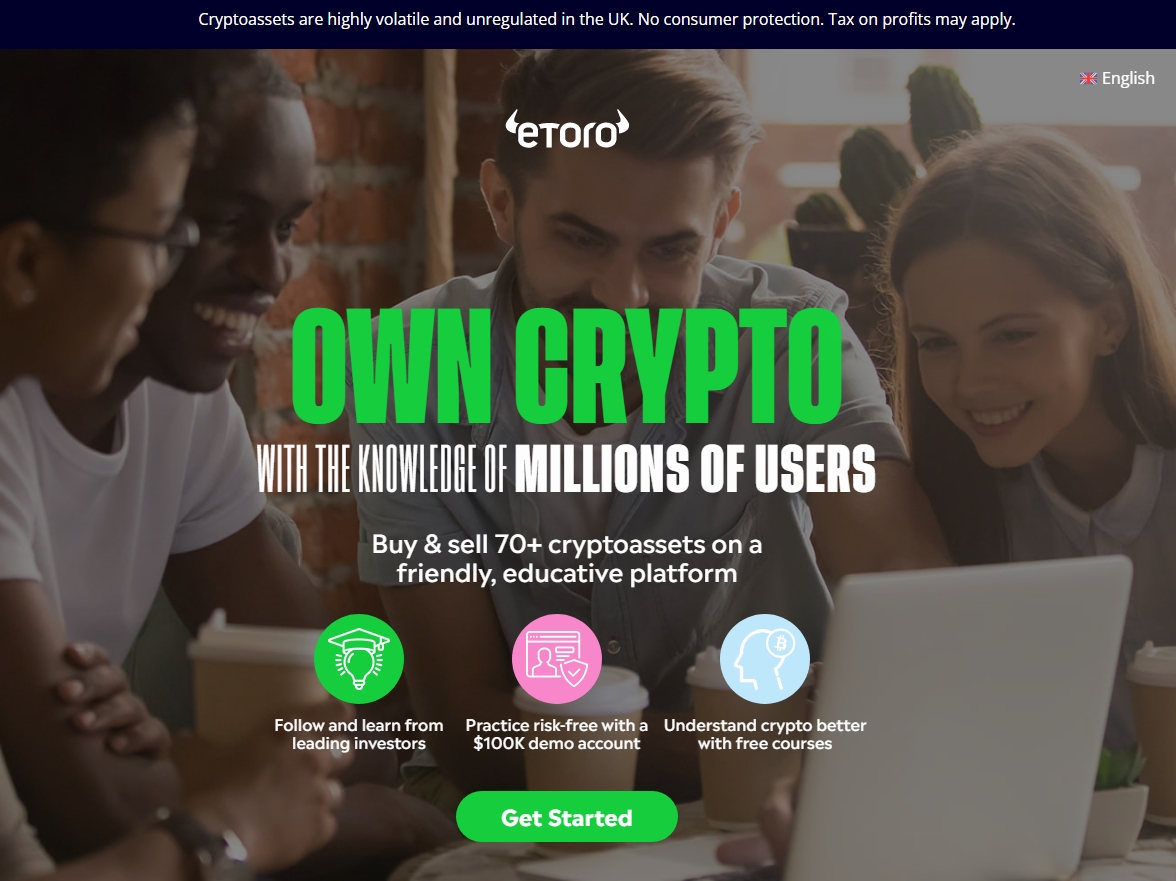 eToro supports over 50 of the most popular crypto assets and allows users to buy and trade them with just a 1% commission. As such, crypto investors are able to get far more value for their money when compared with other large exchanges which often charge anywhere between 2-3% on purchases. 
In addition to its low fees, the platform's security is also phenomenal. eToro encrypts all sensitive data before it leaves the user's device, ensuring that it's of no use to nefarious individuals attempting to intercept traffic. Furthermore, the platform uses cold storage for the vast majority of client funds. Therefore, even if eToro was compromised, clients wouldn't be left out of pocket.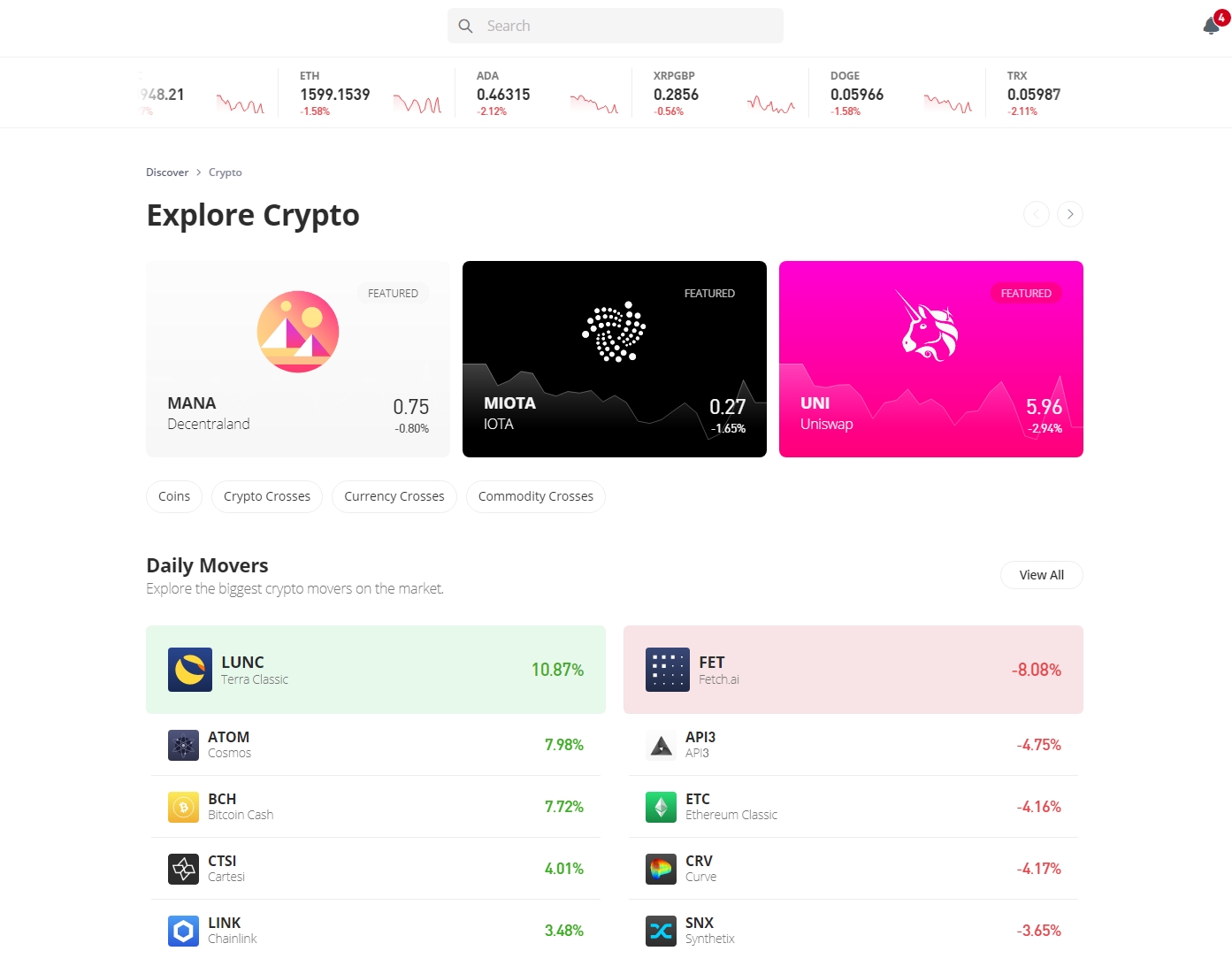 For investors that are just getting started and want to learn strategy or simply get used to trading, eToro has the perfect tool. The broker offers a social trading platform that allows users to automatically mirror the trades of other users. Those wishing to copy trade can view the performance of the users they're able to copy, helping to ensure transparency. 
For investors looking to buy the best DeFi project, eToro is a great choice. It's an extremely capable exchange that offers a plethora of the best DeFi coins as well as plenty of other financial instruments. 
Cryptoassets are highly volatile and unregulated. No consumer protection. Tax on profits may apply.
Conclusion
Decentralized finance is one of the hottest sectors in cryptocurrency right now. Throughout this article, we've looked at some of the best DeFi cryptos currently available, discussed the merit of DeFi as an investment, and reviewed the top DeFi exchange. 
One of the top cryptocurrencies we reviewed in this guide is Bitcoin ETF Token. Aside from its high dynamic yields, presale discounts, and 25% token burn, the campaign is intimately tied with SEC approval of Bitcoin ETFs. 
Should this approval occur, we think it could be one of the best-performing coins on the market. 
FAQs
What crypto coins are DeFi?
DeFi simply means decentralized finance. As such, a huge number of crypto coins fall under the category. In the strictest sense, DeFi coins are the native tokens of DeFi protocols, such as Maker (MKR) which powers the Maker decentralized lending platform – a way for people to benefit from loans without the need of a centralized entity like a bank. Some people apply the term more loosely.
What is the best DeFi Coin to invest in?
Each of the projects we've reviewed has plenty of room for upwards growth. Many can be invested in as part of a DeFi portfolio on eToro.
Are DeFi Coins worth it?
While it's important to understand that every project is different, the best DeFi coins have historically yielded excellent results for early investors. So, while it's crucial to perform ample due diligence, DeFi coins can make for solid investments.  
What are the best DeFi projects?
The best DeFi project will vary greatly based on a particular investor's goals. Most DeFi projects specialize in different areas so it's important to consider what one is looking for prior to investing. One of the top DeFi projects we reviewed is Bitcoin ETF Token – a new presale style with a roadmap designed to correlate with important events in the wider crypto ecosystem. This could be a 10x token if regulatory rulings are aligned and market conditions are appropriate. Plus, it provides many additional incentives to attract cost-conscious investors. 
 
---