Best Crypto to Buy Today 20th January – NEXO, MEMAG, HBAR, FGHT, ENJ, CCHG, APE, RIA, SNX, TARO, D2T
Disclosure: Crypto is a high-risk asset class. This article is provided for informational purposes and does not constitute investment advice. By using this website, you agree to our terms and conditions. We may utilise affiliate links within our content, and receive commission.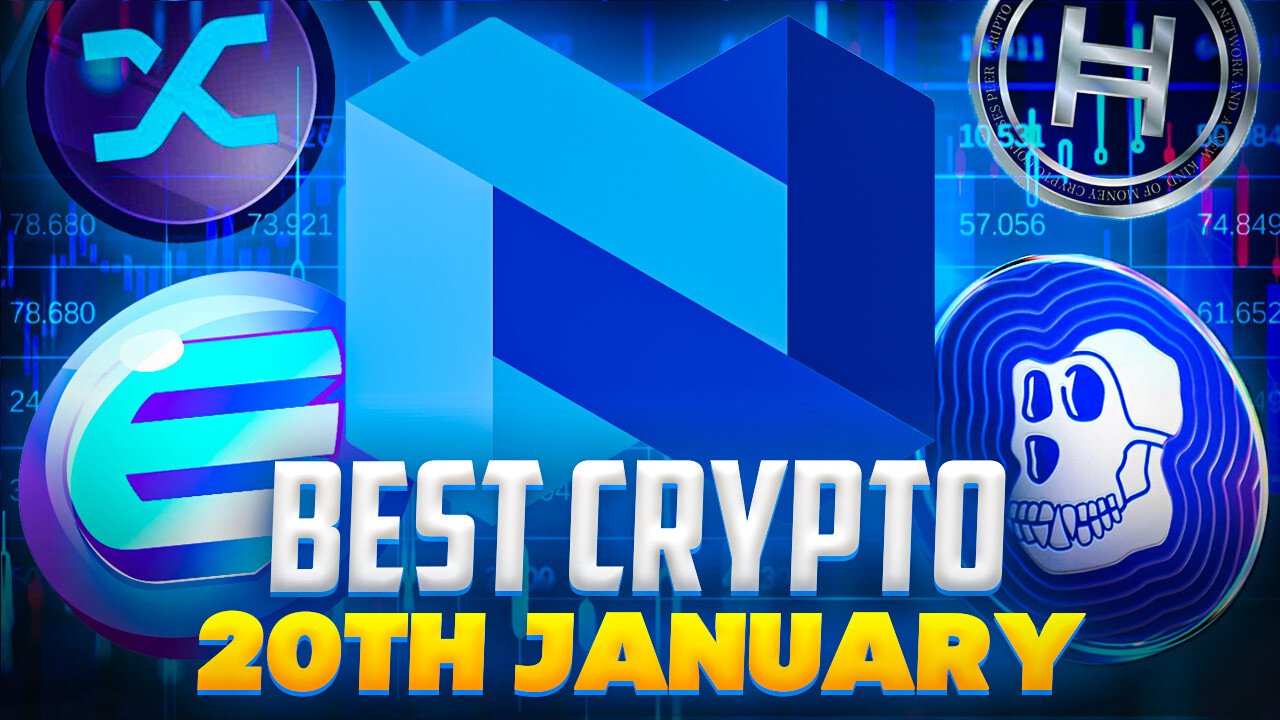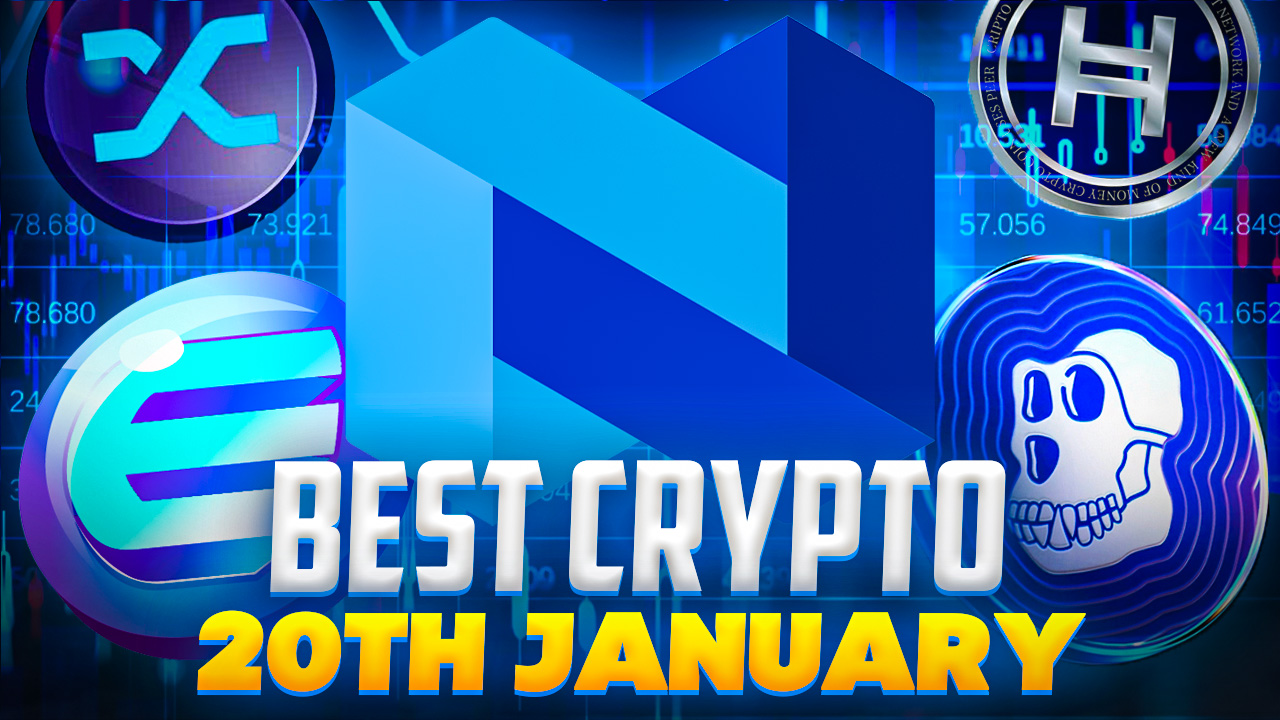 The cryptocurrency market has risen by 1.5% in the past 24 hours, recovering some of the losses from its slight selloff yesterday. At $1.01 trillion, its total cap has risen by 7% in a week and by 20% in a month, with positive US inflation figures published last week causing a mini-recovery.
While the market as a whole hasn't done too much today, a number of tokens have posted notable returns. This article analyzes them in this list of the best crypto to buy today, while it also includes some new altcoins currently holding presales.
Nexo (NEXO)
NEXO has reached $0.832523 today, representing a 16% rise in 24 hours. It also represents a 16.5% gain in a week and a 27% increase in the last 30 days.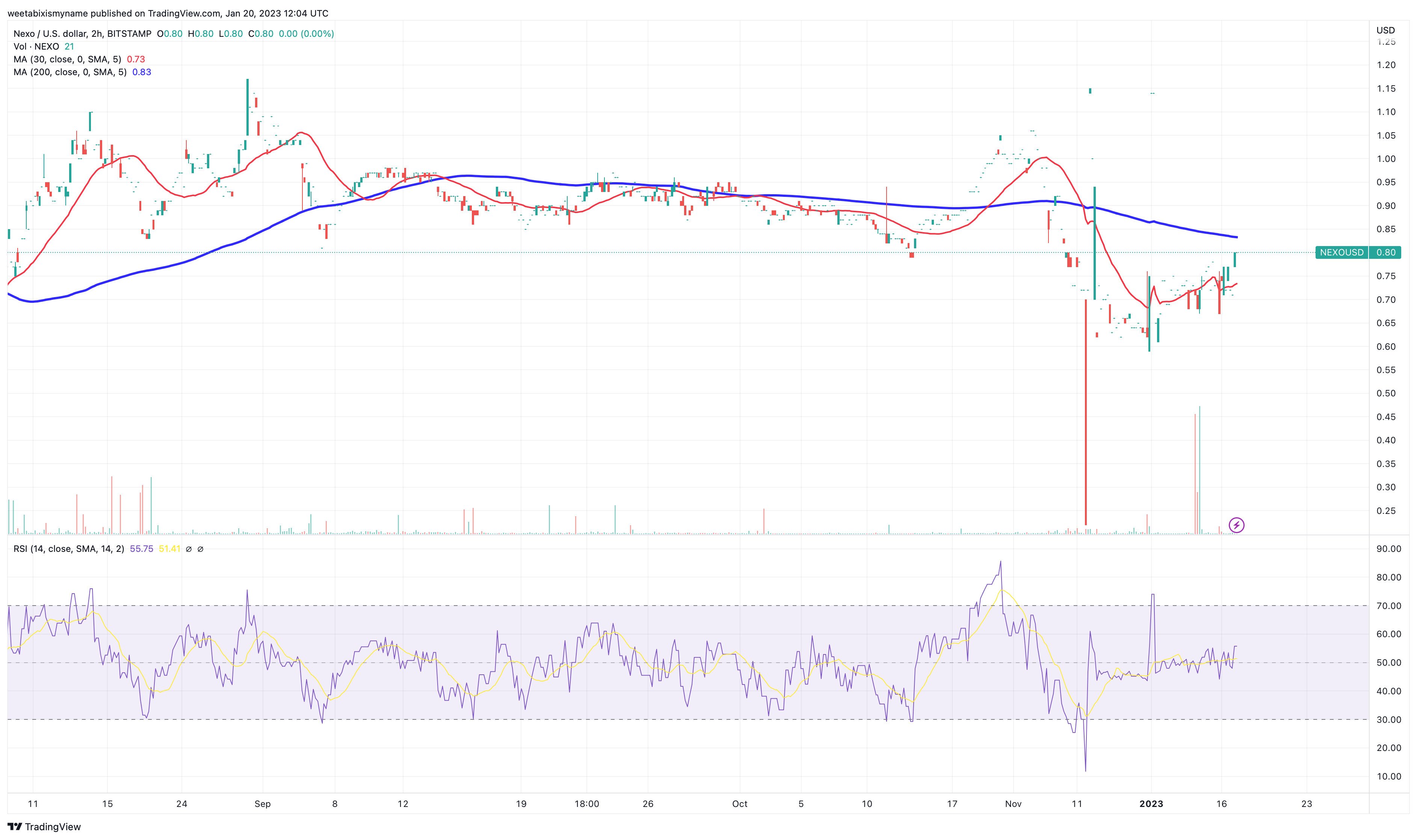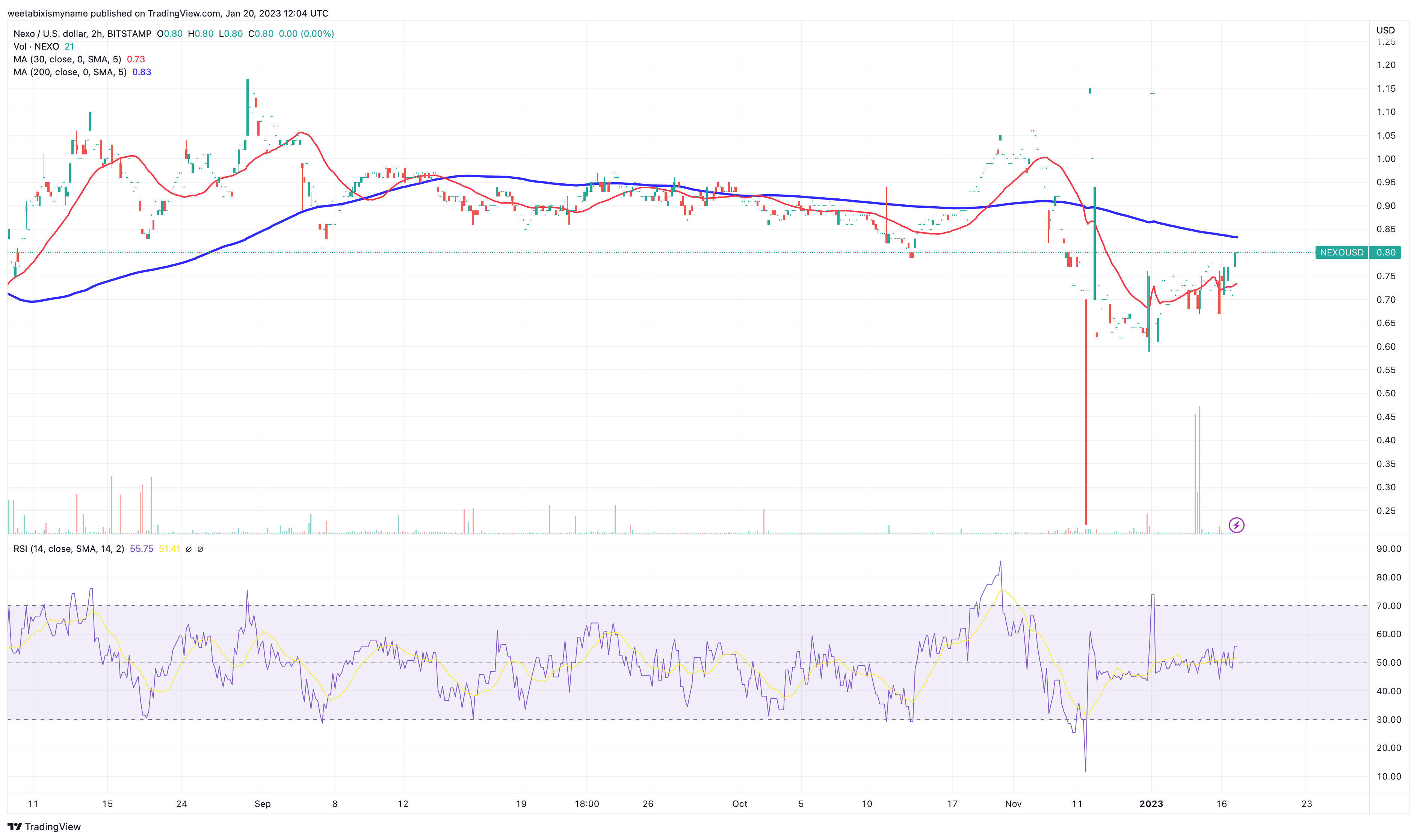 NEXO has risen strongly today for one simple reason: Nexo has settled with the SEC for $45 million, after the US securities regulator charged the cryptocurrency lender for "failing to register the offer and sale of its retail crypto asset lending product, the Earn Interest Product."
The SEC charges NEXO for its "lending product," and settles with them the same day. A $45 million collection.

But isn't NEXO an exchange? What about the numerous "securities" that NEXO is unlawfully selling to U.S. citizens? That's okay now?? I'm confused. https://t.co/Dyyp4l1WFJ

— Jeremy Hogan (@attorneyjeremy1) January 20, 2023
Given that this settlement follows a period when Nexo's Bulgarian offices were raided in relation to money laundering, the market has taken it as a sign that the lender will likely face no other serious legal or regulatory consequences (or further customer withdrawals). In other words, it may be plain sailing from here on out as NEXO continues its journey back to its record high of $4.07, set in May 2021.
Meta Masters Guild (MEMAG)
Meta Masters Guild has now raised over $700,000 in its presale, indicating just how popular the play-to-earn gaming platform is becoming with investors, even before it has officially launched.
🚀 #MEMAGFAM, we're making waves! 🌊

💰 We've raised over $700K! 💰

⏰ Don't miss out on Stage 2 of our presale. Grab $MEMAG now and be a part of the revolution! 💪

➡️ https://t.co/SBqVjX5mWn#mmg #memag #memagpresale pic.twitter.com/3sMamhEyHg

— Meta Masters Guild (@MEMAGgames) January 20, 2023
Due to launch its first game in Q3 2023, Meta Masters Guild is a mobile-focused gaming guild that will develop a range of Web3 and play-to-earn games. Its native token, MEMAG, will be used for governance purposes, as well as for staking and for purchasing items and NFTs.
The token sale will have a total of seven stages, with the second — and current — stage offering 1 MEMAG for $0.01.
Hedera (HBAR)
At $0.061650, HBAR is 8% up in the past 24 hours, as well as 29% up in the past week. It has also risen by 43% in the last 30 days, with the proof-of-stake coin still 89% below its ATH of $0.569229 (set in September 2021).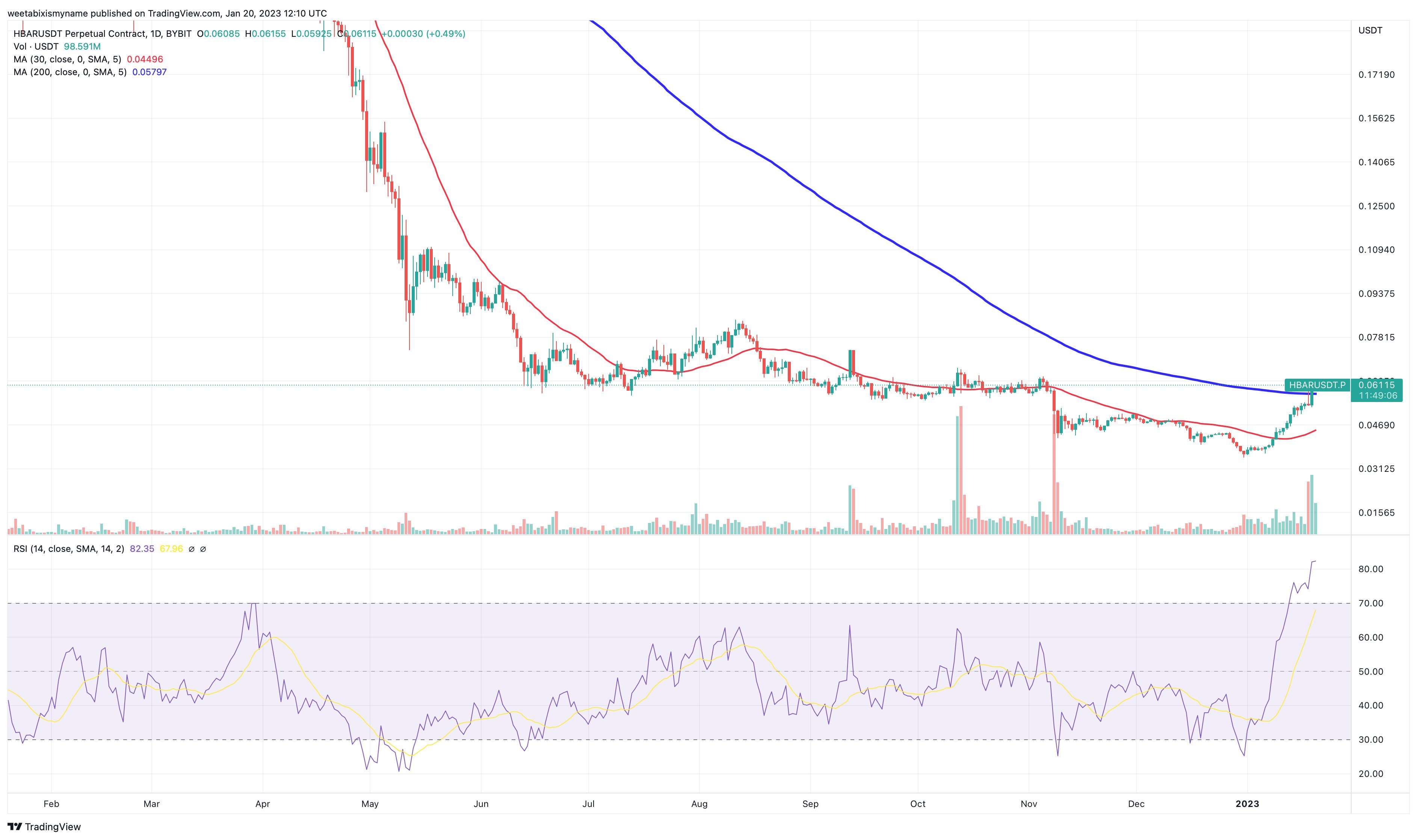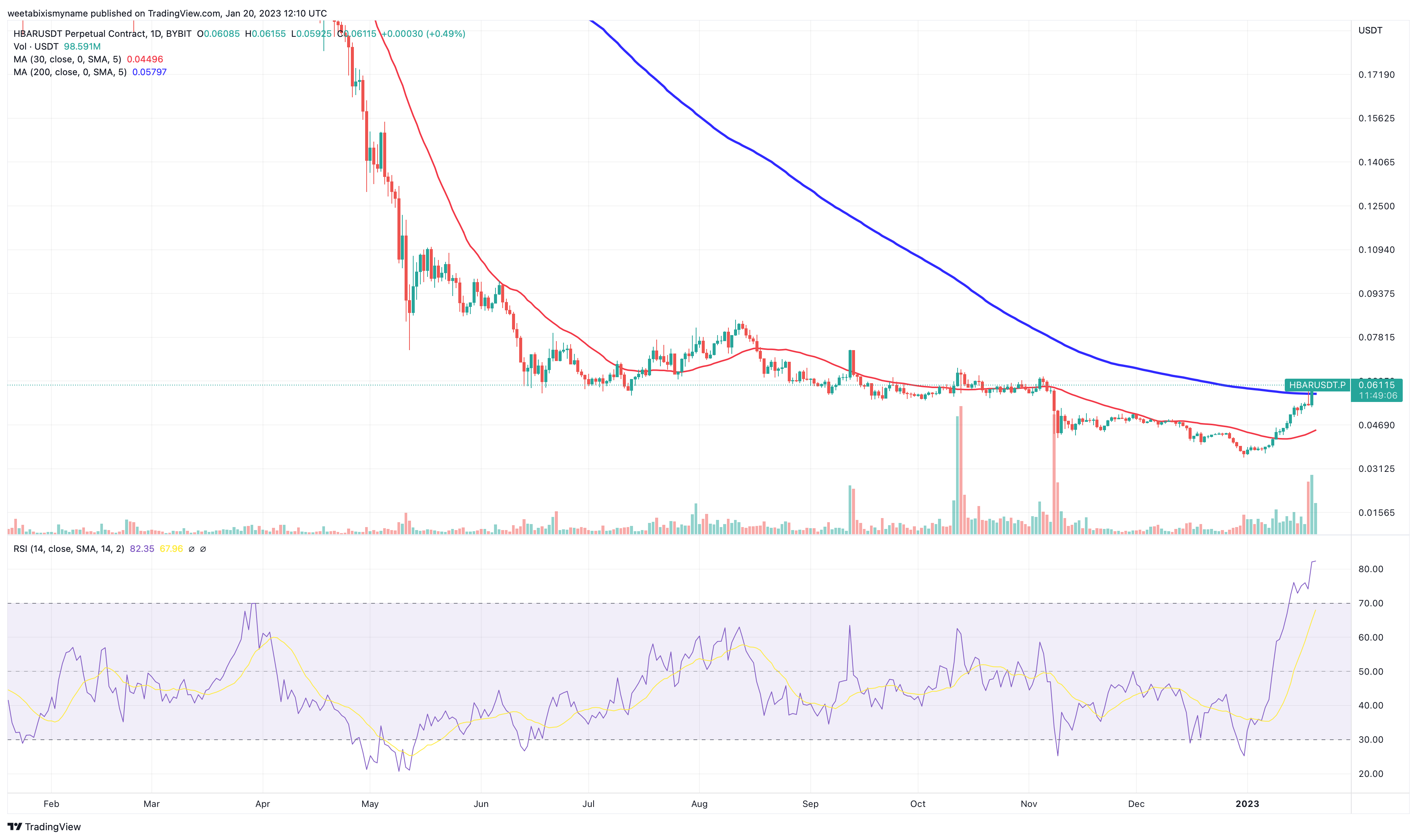 HBAR's indicators reveal very strong momentum right now. Its relative strength index (purple) has jumped beyond 80, while its 30-day moving average (red) is on course to overtake its 200-day (blue), suggesting a breakout.
Much of the reason for this rally is to do with the growth of HBAR's native platform, Hedera. This is a layer-one proof-of-stake blockchain that uses a unique hashgraph-based structure, and in recent weeks it has witnessed very strong organic growth.
Over the past seven days, the #Hedera network:

⚫️Processed >323M transactions, averaging 535 TPS.
⚫️Reached a new throughput ATH of 8,061 TPS.
⚫️Achieved transaction finality in 3.56 seconds (avg.)

Speed. Security. Volume. Utility. #HelloFuture

🔗https://t.co/zNYyknLLnT pic.twitter.com/ILOXSdLcnJ

— Hedera (@hedera) January 20, 2023
On top of this, it has signed a variety of new partnerships, including a deal announced at the World Economic Forum with security and digital ID manager Wisekey. As such, expect Hedera and HBAR — which is used for fees and staking — to continue growing this year.
Hedera a @wisekey #blockchain partner $ WKEY pic.twitter.com/FSQK6VlUXT

— Carlos Creus Moreira (@CreusMoreira) January 16, 2023
Fight Out (FGHT)
Fight Out (FGHT) is a move-to-earn platform that will mix real-life workouts with Web3 when it launches in the second quarter of the year. It will track and reward a much wider range of workouts than earlier M2E platforms, including boxing, weightlifting and yoga, while also offering a range of in-app and IRL courses at its own branded gyms.
Huge milestone #FightOutCrew! 👊

We have just raised over $3M in our stage 1 presale! 🔥

⏰ Only 5 days left until the stage 2 price starts increasing! ⏰

Don't miss out – Get up to a 50% bonus with $FGHT! https://t.co/uoCKFB3X3n pic.twitter.com/b44ZDKaHXt

— Fight Out (@FightOut_) January 18, 2023
Its token sale opened in December and has already raised over $3 million, with 1 FGHT currently selling at $0.0166. The sale is due to end on March 31, with exchange listings due from April 5, when the coin will potentially make some market-beating returns for early investors.

Visit Fight Out Now
Enjin Coin (ENJ)
ENJ has risen to $0.420110 in the past 24 hours, representing a gain of 1%. That said, the gaming token is up 37% in a week and by 58% in a month, marking a very good period for other gaming- and metaverse-related coins.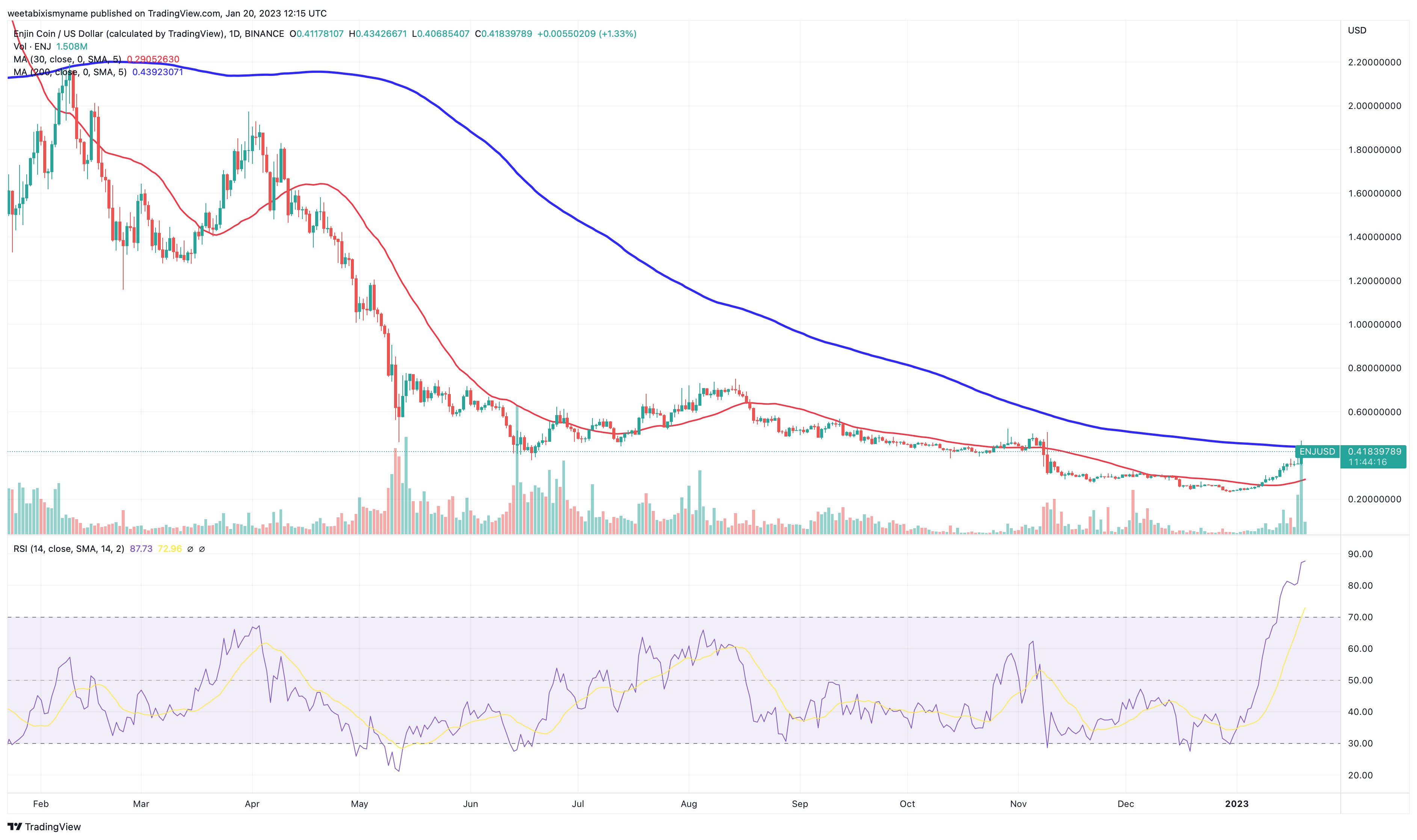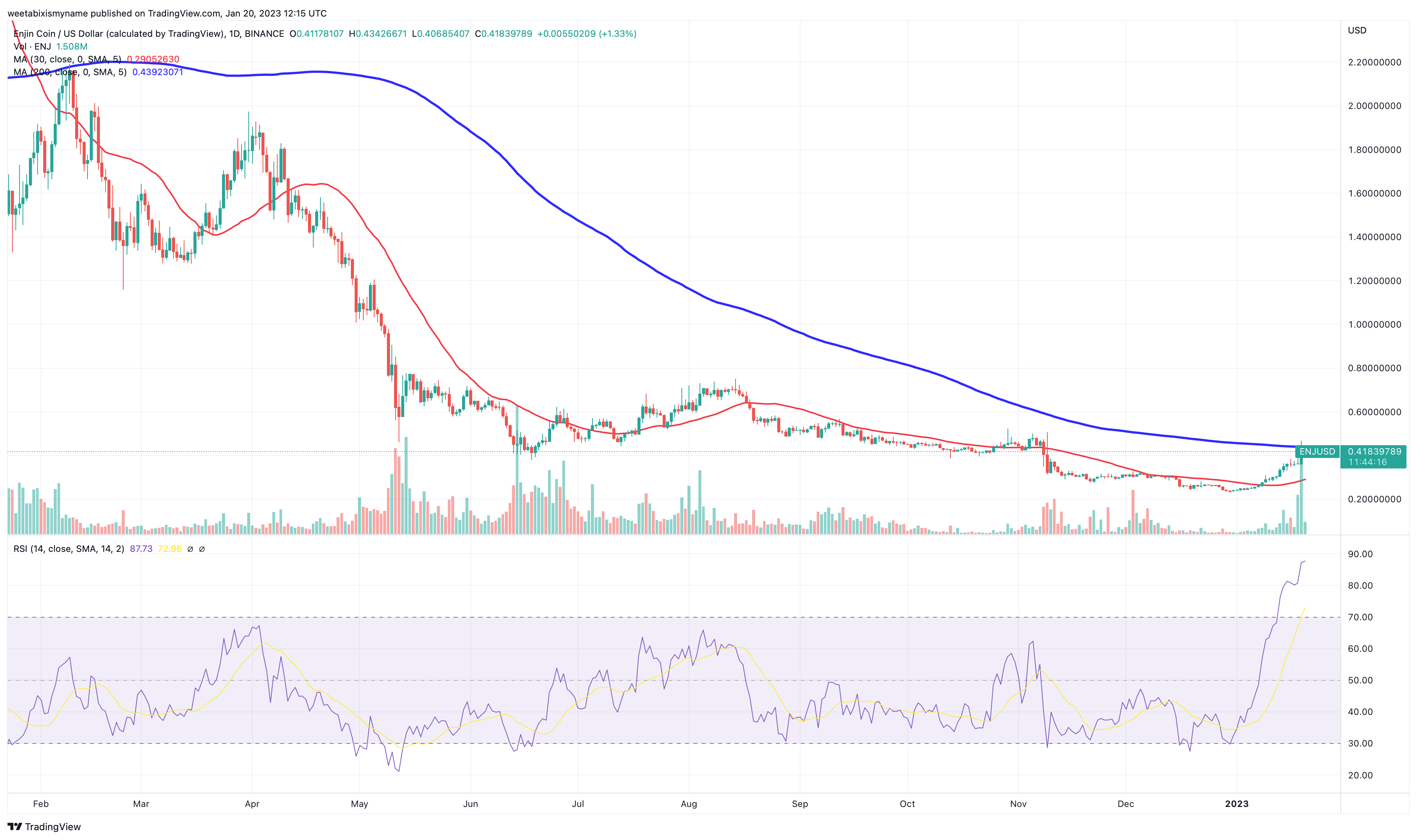 As with other performing coins today, ENJ's RSI is nearing 80. This indicates strong buying pressure, at precisely the time its 30-day average predicts a significant breakout.
Our first developer update of the year is a big'n!

Not only is Enjin Wallet 2.0 out on iOS and Android, we've also got:

✅ Better Beam support on @nft_io
✅ Lots of updates for the Enjin Platform
✅ Minor fixes in the SDK

Visit 👉 https://t.co/WAPjuvgbxd pic.twitter.com/l6N5JYBhcj

— Enjin (@enjin) January 17, 2023
The rises of the past few days comes after Enjin announced its first major update for 2023, introducing Enjin Wallet 2.0 for iOS and Android, as well as various tweaks that improve efficiency. Its new wallet is significant insofar as it enables users to download NFTs simply by scanning QR codes, making ownership of such tokens more accessible to wider demographic.
More generally, Enjiin is the biggest platform in the crypto ecosystem for developing NFTs that can be used within games and other applications. And with the continued interest of the gaming industry in NFTs, it's likely to remain big for the forseeable future.
C+Charge (CCHG)
C+Charge (CCHG) is a peer-to-peer payment network for electric vehicle (EV) charging stations. Based on BNB Chain and having raised just over $337,000 in its presale, it aims to use blockchain and crypto to democratize access to carbon credits, with its native CCHG set to be used within its network by EV owners to pay to charge their vehicles.
C+Charge's charging station partners support not only electric cars but also other forms of #EVs, such as bikes, scooters, buses, and even trucks🛵🛴🚛

Grab some $CCHG whilst you still can😎

Join our presale now! ⬇️https://t.co/ixe18bPqzI pic.twitter.com/ICw1cw1QqN

— C+Charge (@C_Charge_Token) January 20, 2023
C+Charge will reward users with NFT-based carbon credits for charging their EVs at its stations, giving people an incentive to go green. It has also already signed partnershps with Flowcarbon and with Perfect Solutions Turkey, adding 20% of the EV chargers in Turkey to its network.
ApeCoin (APE)
APE has risen to $4.95, marking a 7% gain in 24 hours and a 2% rise in a week. At the same time, the governance token for ApeCoin DAO has also risen by 23% in a week and by 40% in the last 30 days.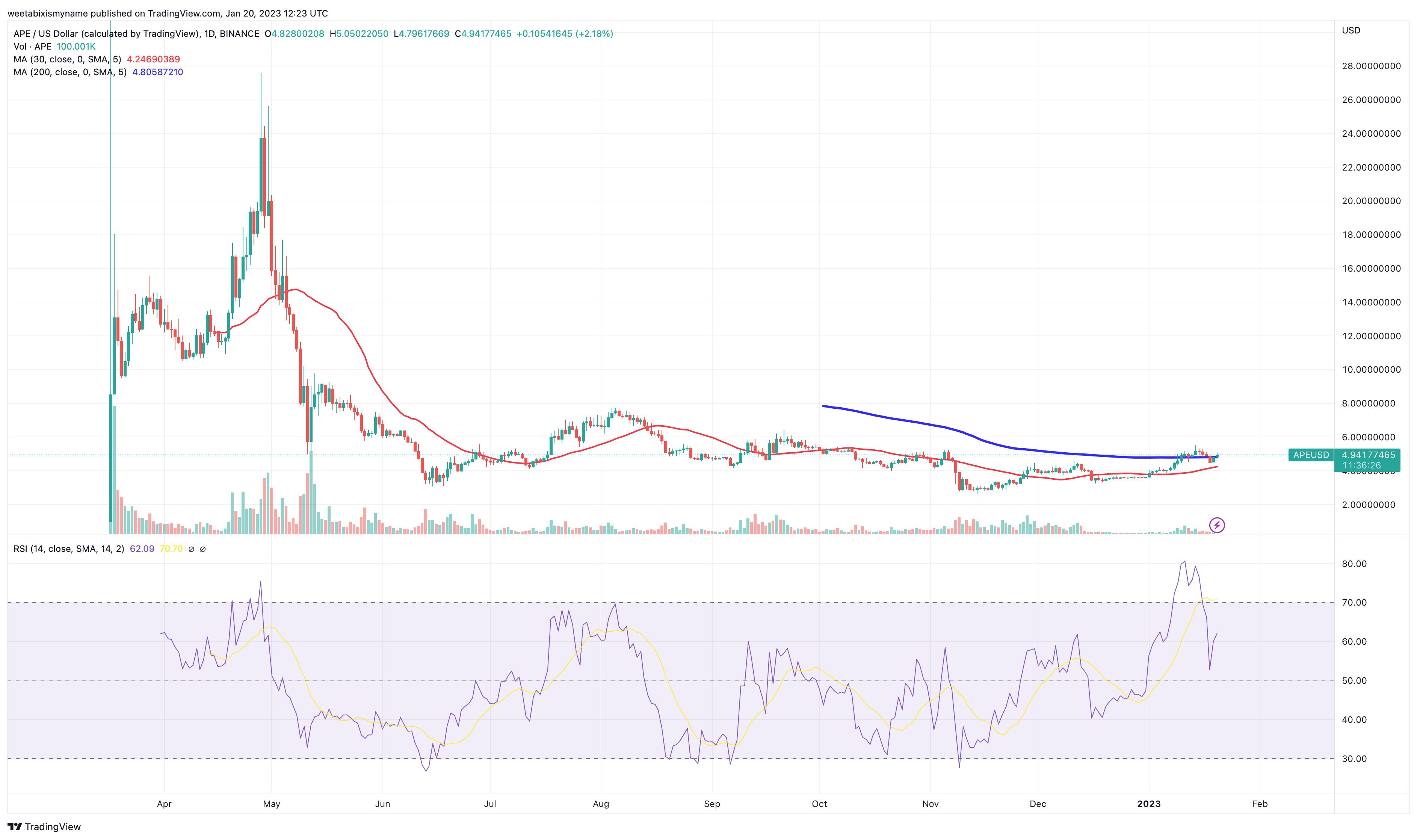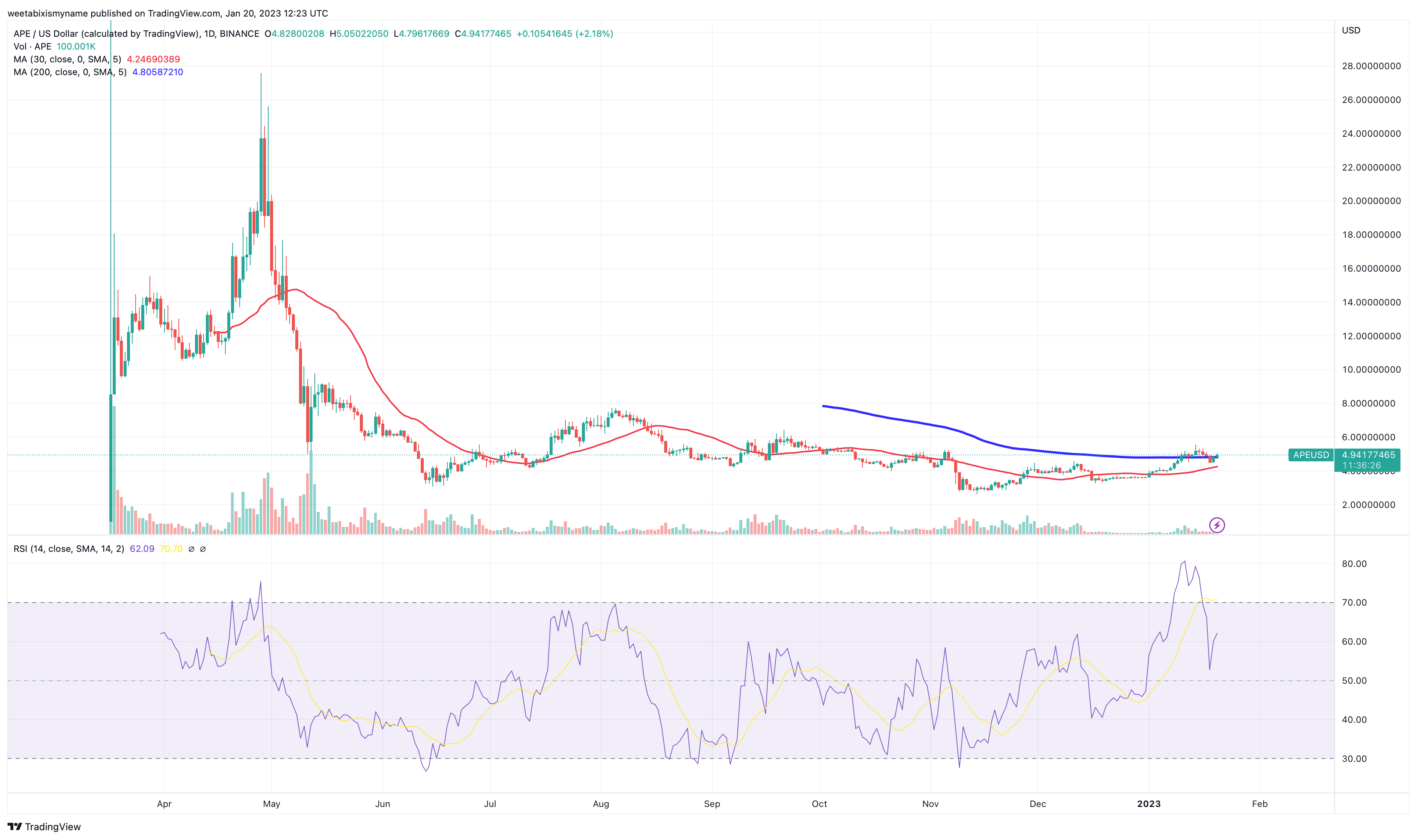 Looking at APE's chart, its indicators suggest it could be at the beginning of a substantial rally. Its RSI is rising back up towards 70 after a brief dip, while its 30-day average is on the brink of overtaking its 200-day, signalling a breakout.
Working through some issues with the dookeydash .xyz domain. For now the game is up and running at https://t.co/IHBzWCHkT4. All your scores remain intact, and any purchased powerups affected by the outage will be refunded.

— Bored Ape Yacht Club (@BoredApeYC) January 20, 2023
APE's recent success are largely the product of Bored Ape Yacht Club announcing a new game, Dookey Dash. The merits of its name notwithstanding, the game requires ownership of BAYC NFTs to play, meaning that demand for such NFTs — as well as APE — has skyrocketed in recent days.
How long this effect will last is anyone's guess, but with BAYC remaining the biggest NFT-related property in crypto, APE is likely to continue growing as the market continues to recover.
Calvaria (RIA)
Calvaria is an upcoming play-to-earn battle card game that's now in the final stage of its token sale, having raised over $2.8. This means that only 7% of the available RIA coins remain, with the token due to list on such exchanges as LBANK Exchange and BKEX Global in the next few weeks.
Set to be available on PC and smartphone, Calvaria doesn't require any cryptocurrency to play, although it does also include numerous play-to-earn elements. This makes it more accessible than pre-existing blockchain-based games, and could open it up to a much wider audience.
Next step in our partnership with KuCoin team is the @KuWallet integration! $RIA will be available there at launch, and KuWallet is supported right now on our ICO page: https://t.co/JekxLNMJgh where kuwallet users can purchase $RIA directly from the wallet!#calvariagang https://t.co/OqzmDd1yUE

— Calvaria: Duels of Eternity! ✨ (@CalvariaP2E) December 29, 2022
The game itself is due to launch in Q2 2023, with its world set in a mythical afterlife. Players will have the ability to earn and upgrade a wide ecosystem of collectible cards, which will also be used to battle with different factions in the game's universe.
Synthetix Network (SNX)
At $2.39, SNX is up by an impressive 12% in 24 hours. It's also up by 30% in a week and by 47% in a month, with the liquidity token down by 91% compared to its ATH of $28.53, from February 2021.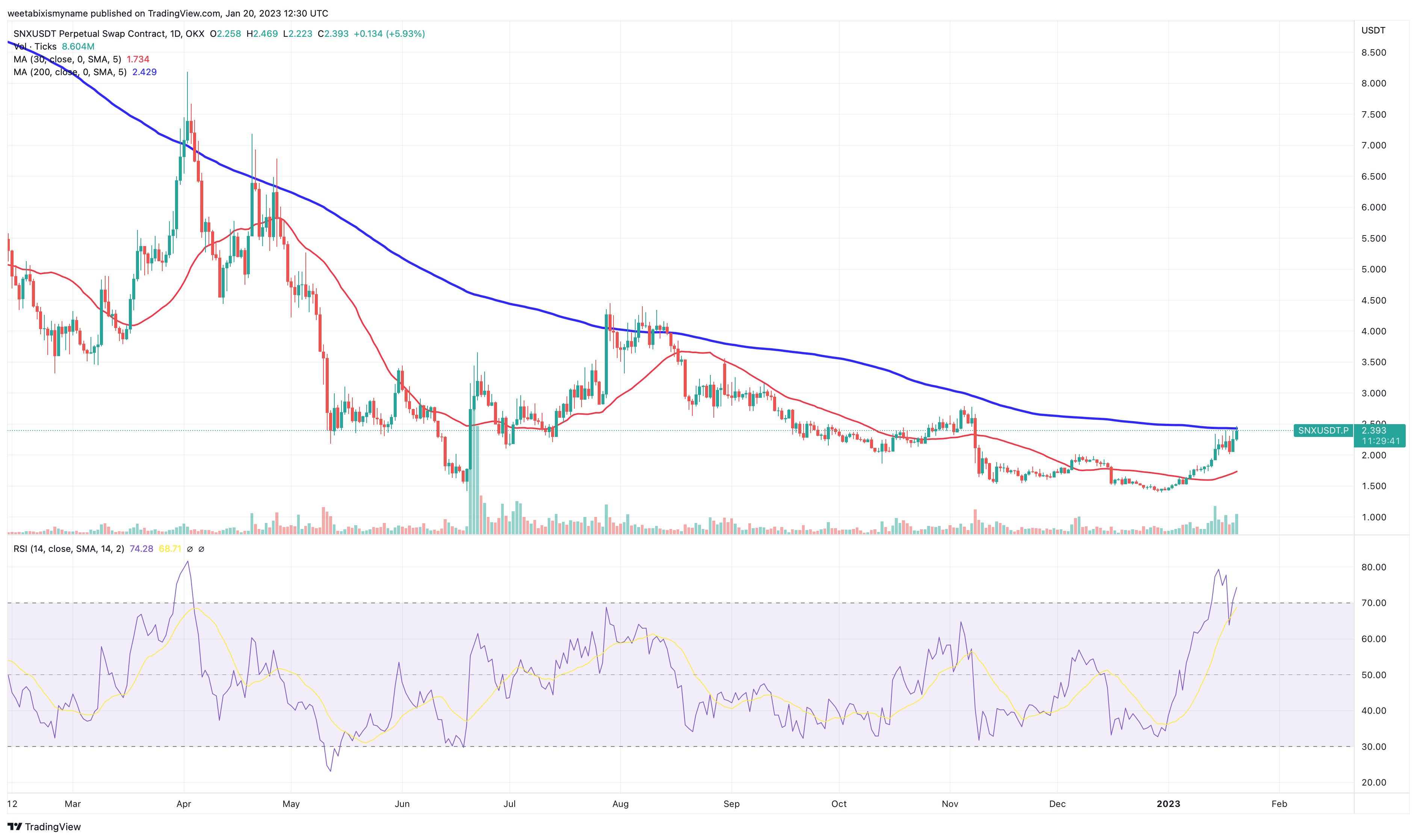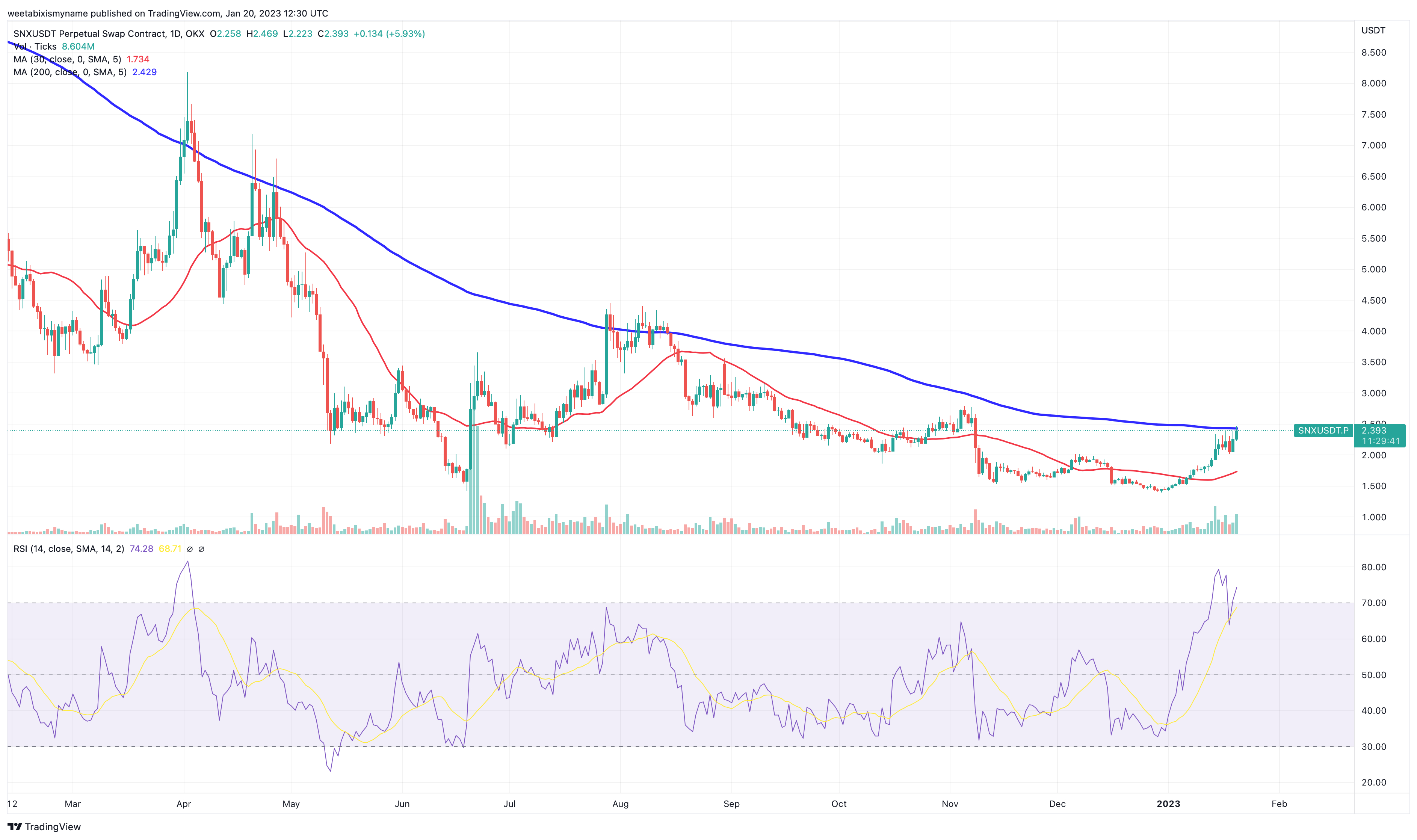 SNX indicators suggest further rises, espeically when its RSI spent so much of 2022 depressed. In terms of its fundamentals, SNX is benefitting from the gradual expansion of the Synthetix Network, a protocol that enables the creation of synthetic assets and derivatives on the Ethereum blockchain
🚨 Polynomial Perp ✨ @PolynomialFi is building a decentralised derivative trading exchange powered by Synthetix protocol on Optimism.

✅ To get beta access to the polynomial perp platform fill the formhttps://t.co/c65vYOuHVc pic.twitter.com/s812BPRx5J

— Alpha Drops (@myAlphaDrops) January 19, 2023
For example, Polynomial Protocol is to launch a decentralized exchange for derivatives trading on Synthetix. This launch has been helped by Synthetix's recent release of a second version of its perpetuals integration doc, enabling developers to more easily launch on the network.
Synthetix V2 perps integration doc is now live.

Now any frontend expert can implement onchain decentralized perpetuals permissionlessly and earn from it.

Places like @1inch or @DefiLlama can offer a perps interface without needing to manage complex contracts.

— Adam Cochran (adamscochran.eth) (@adamscochran) January 20, 2023

Meanwhile, the Synthetix Network's total value locked in has begun rising again, reaching $385 million as of writing. This only hints at just how big it could become later in the year.
RobotEra (TARO)
Running on Ethereum, RobotEra is a Sandbox-style Metaverse, where players can participate in the creation of NFT-based land and buildings. An alpha version of its Metaverse galaxy is due by the end of Q2 2023, from which point forwards various new gameplay elements — including VR and AR features — will be introduced.
Are you ready to create your own NFTs and lands to share with the community? 👨🏻‍💻🤖

You won't want to miss out on this incredible opportunity, so join #RobotEra now! ⬇️
https://t.co/UJ3inomU89 pic.twitter.com/6iBHmhdymX

— RobotEra (@robotera_io) January 20, 2023
It launched the presale for its TARO token at the end of last year, and has currently raised over $720,000. Investors can participate by going to the RobotEra website and connecting their Wallet Connect cryptocurrency wallet to purchase TARO for either ETH or USDT.
At the moment, 1 TARO is selling for $0.020, although this will rise to $0.025 during the second phase of the sale, which is due to begin soon. There will be three stages in total, accounting for 15% of TARO's total maximum supply of 1.5 billion, with the biggest shares being set aside for its DAO-based treasury (33%) and for play-to-earn rewards for players (25%).
Dash 2 Trade (D2T)
Having listed earlier this month, D2T is down by 10% in 24 hours, having dropped to 0.01233660. This represents a 42% drop in a week and a 69% fall since the coin listed for the first time on January 11, testifying to the volatility (both good and bad) that can hit newly launched coins.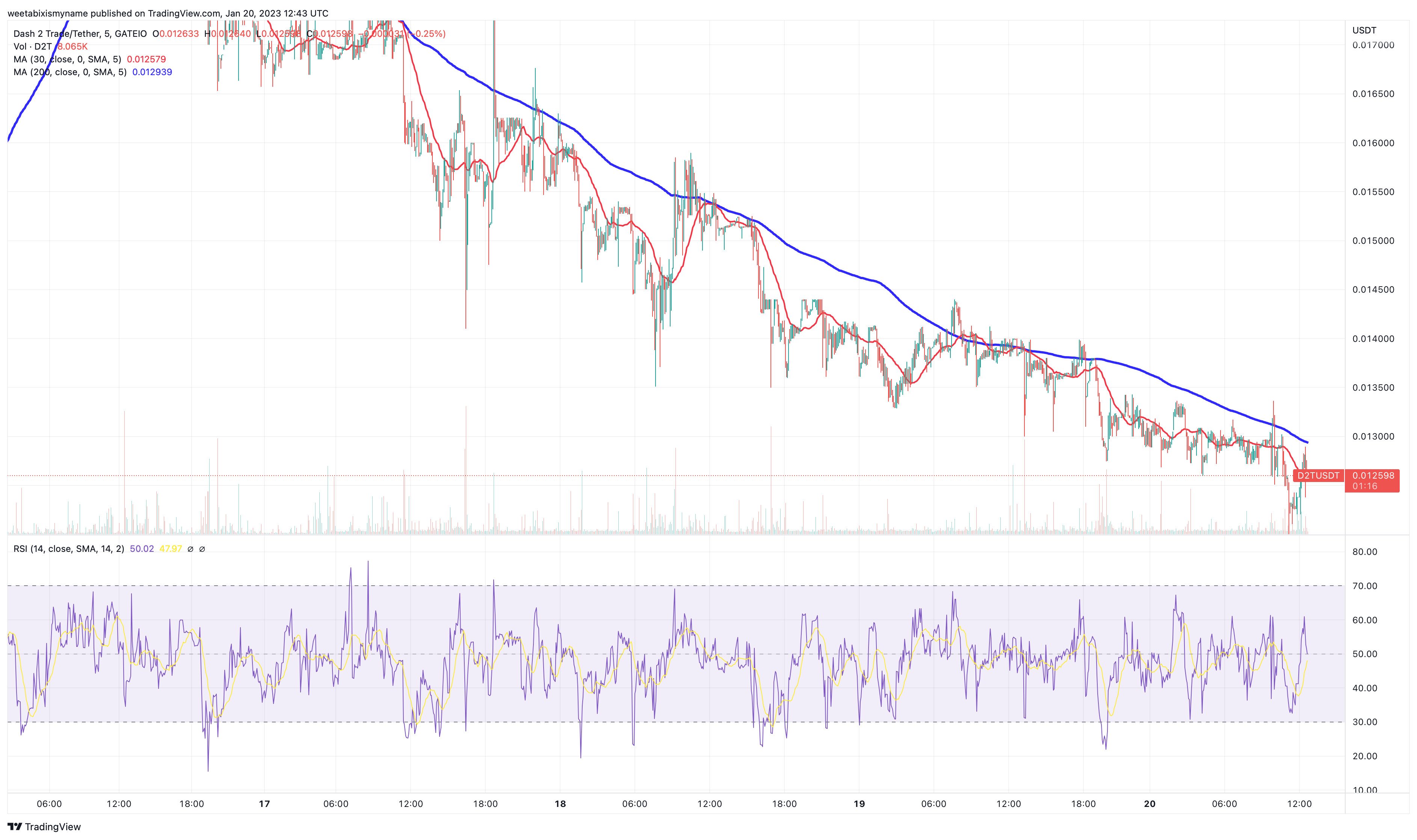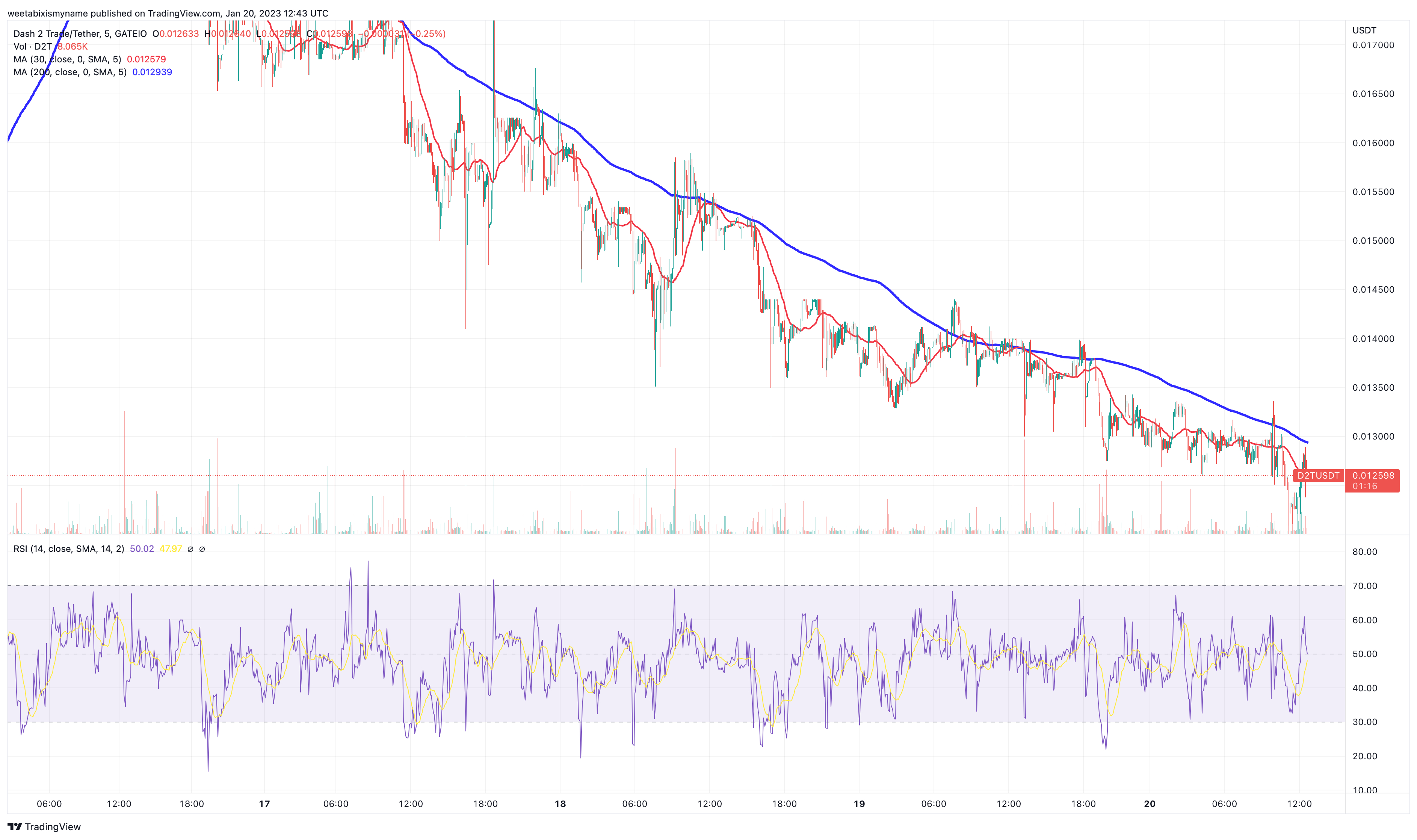 Set to launch by the end of this quarter, Dash 2 Trade is a trading intelligence platform that will provide real-time analytics and social trading data, giving investors all the resources and tools they could possibly need to inform and improve their trading.
https://www.twitter.com/dash2_trade/status/1616405216982704128
Having raised over $15 million in its sale, D2T has now listed on Gate.io, with BitMart, Changelly Pro, and LBANK Exchange also listing the coin.
---