Best Crypto to Buy Today 17 February – MEMAG, MATIC, FGHT, LRC, CCHG, FIL, RIA
Disclosure: Crypto is a high-risk asset class. This article is provided for informational purposes and does not constitute investment advice. By using this website, you agree to our terms and conditions. We may utilise affiliate links within our content, and receive commission.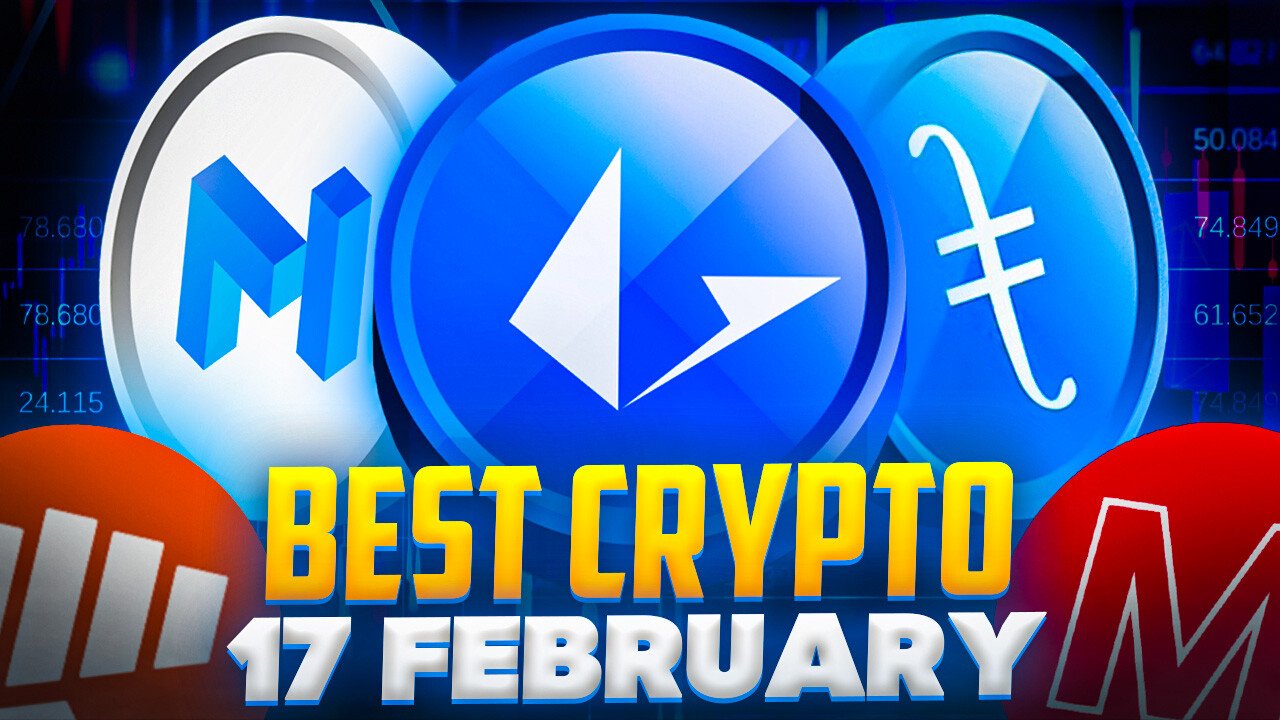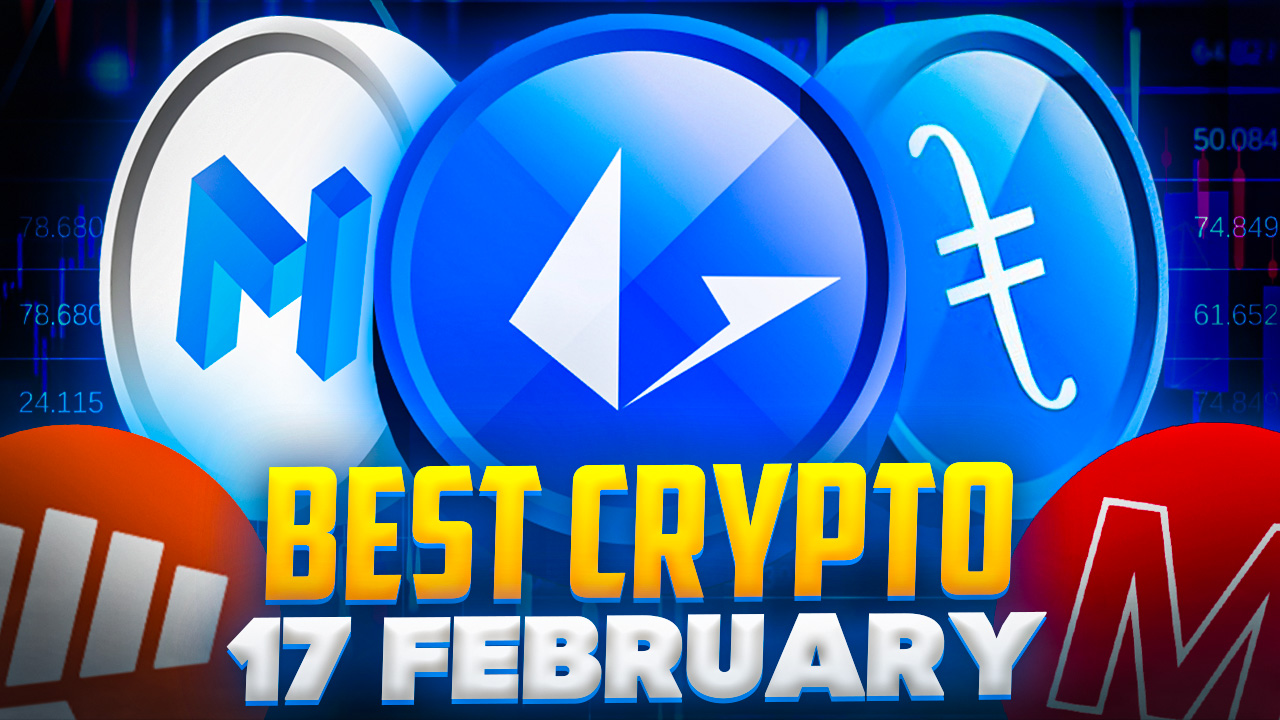 The cryptocurrency market experienced a significant decline on Thursday, with a net outflow of $35.215 billion causing the market cap to fall by 3.32% from $1.062 trillion to $1.026 trillion. This news comes as a blow to bullish investors who have seen the cryptocurrency market rally in recent weeks. What are the best cryptos to buy today in this environment?
The two most significant cryptocurrencies by market capitalization, Bitcoin and Ethereum, led the way with declines in their market caps. Bitcoin's market cap dropped by 2.90% to $459.49 billion, while Ethereum's fell by 0.78% to $203.99 billion.
However, Bitcoin's price is currently making a bit of a recovery in the past hours and is trading at $24,420 as of writing. Although Bitcoin's price rose above $25,000 for the first time since August 2022 earlier this week, it was unable to maintain the gains and later retreated to its current levels as investors began to take profits.
Ethereum's price has also made a recovery in recent hours, trading at $1,697 as of writing. Ethereum's followed a similar pattern to Bitcoin's, reaching a peak of $1,732 before falling back to its current levels and hitting a low of $1,631.
In the SEC's latest move in its crackdown on crypto, it's charging Do Kwon and Terraform Labs for allegedly defrauding investors in a scheme involving billions of dollars since April 2018. In an official court filing from the Southern District of New York, it was revealed that Kwon raised money from investors through the sale of several interconnected digital assets that were unregistered securities.
Terraform Labs & CEO Do Kwon Charged with #Fraud by SEC over #Terra & #Luna Crash https://t.co/ANq8Jdzx0l #fintech #crypto #stablecoin #regulation https://t.co/aVECGoufKp pic.twitter.com/0xU5VUfKzh

— Neira Jones (@neirajones) February 17, 2023
The SEC's complaint said that Terraform Labs and Kwon misled investors about the stability of TerraUSD (UST) and that the company's cryptocurrency tokens would increase in value.
TerraUSD derived its value through another paired token called Luna. Investors in TerraUSD and Luna lost an estimated $42 billion globally. Prior to its collapse in May 2022, TerraUSD had a market cap of over $18.5 billion and was the tenth-largest cryptocurrency.
As Bitcoin's value consolidates, investors are taking the opportunity to re-evaluate their portfolios and seek new investment opportunities. If you're looking for the best crypto to buy today, consider the potential positive technical and/or fundamental analysis on coins such as MEMAG, MATIC, FGHT, LRC, CCHG, FIL, and RIA to determine which may be the right fit for you.
Meta Masters Guild Takes on Web3 Gaming with Next-Gen Platform
Meta Masters Guild is committed to resolving some of the challenges present in the world of Web3 gaming through their innovative gaming concepts and cutting-edge platform. With the gaming industry shifting towards decentralization and player empowerment, MMG is positioned to be a major player in this thriving sector.
Investors have shown a great deal of interest in MMG's MEMAG token, with the presale stages repeatedly selling out, and the final stage now complete. The company's partnership with the distinguished game studio Gamearound on the impending launch of Meta Kart Racers in Q3 2023, has only served to intensify the excitement surrounding MMG.
MMG's games incorporate Non-Fungible Tokens (NFTs), enabling players to own various aspects of the game they are playing. The creation of a native NFT marketplace provides opportunities for in-game asset trading, while MEMAG serves as the MMG ecosystem's currency, offering governance and staking features and serving as the primary means of transaction for MMG players.
🔮Unveil the tactics of the Meta Masters Guild through our verified social media channels.⚔️

💪 Follow us to access exclusive tips, tricks, and strategies from top players 🎮

😎Stay in the loop and don't miss out on the excitement!⬇️https://t.co/9lUbEoKbdS#Play2Earn #P2E

— Meta Masters Guild (@MEMAGgames) February 17, 2023
According to industry experts, the Web3 gaming market is expected to reach $104.5 billion by 2028, a growth opportunity that MMG is eager to seize. MMG places a premium on providing players with an engaging gaming experience rather than pay-to-progress models, demonstrating its commitment to delivering top-tier games.
MMG has a well-defined roadmap and a diverse range of games, making it well-placed to establish itself as a thriving gaming ecosystem in the rapidly expanding GameFi market. Investors have raised $4.950 million during its presale, which has now concluded. Investors can now explore the project's NFT store to purchase exclusive MEMAG NFTs, and an exchange listing announcement is forthcoming.
Polygon (MATIC)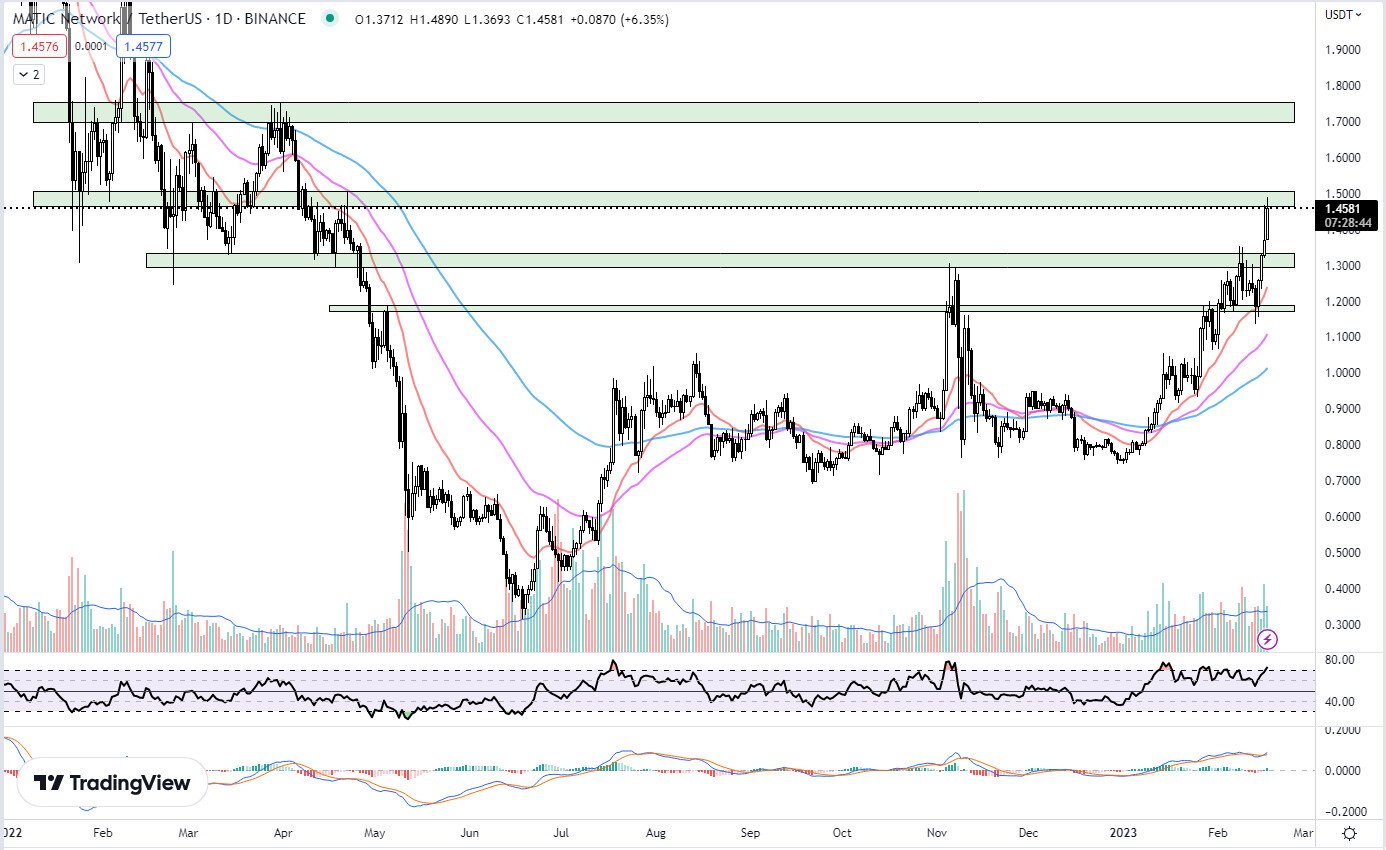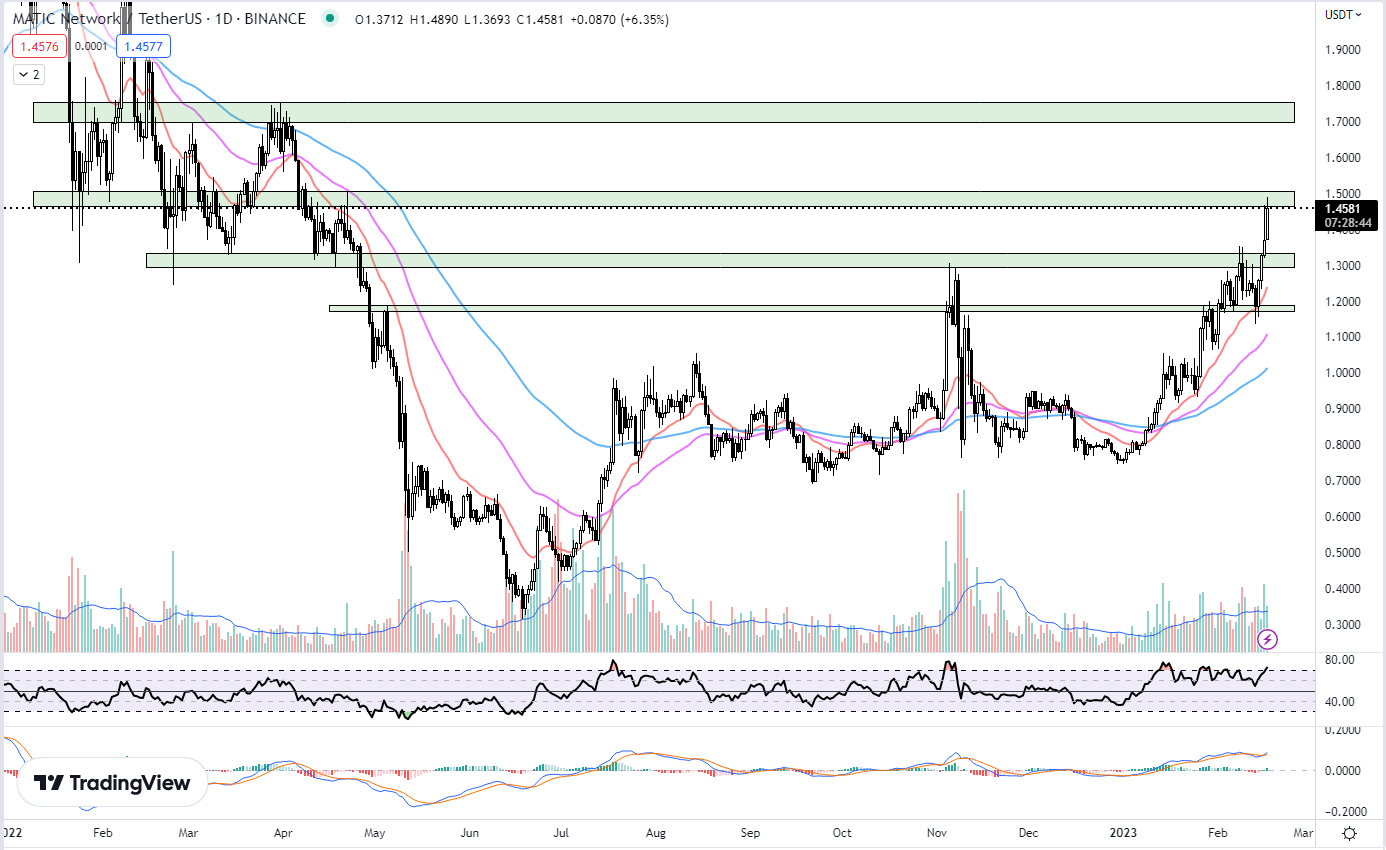 Polygon (MATIC) has been on an upward trajectory recently, with a 60% increase in value over the last two months. Polygon has set March 27 as the date for its zero-knowledge Ethereum Virtual Machine (zkEVM) to go live, which is expected to be a major bullish driving force for the crypto.
Polygon's price is currently up by 17.63% in the weekly candle. As of writing the cryptocurrency is trading at $1.4581 and is up by 6.35% for the day. It's currently attempting to break north of the $1.50 point. If it succeeds, it would represent a 10-month high for the crypto that powers the layer-2 Ethereum scaling solution.
The technical indicators of MACD and RSI are suggesting that the short to long-term bias for MATIC is bullish. The immediate support for MATIC is the range between $1.2930 and $1.3341 while resistance may be found between $1.4624 to $1.5060.
Polygon's resilience in the face of higher-than-expected US inflation has surprised some. However, a growing number of game developers are choosing the scaling network for their launch sites instead of ETH's mainnet, which may be a contributing factor to its growth.
Fight Out Transforming Fitness Industry with Web3, M2E
Fight Out is looking to make moves in the fitness sector with its unique Web3 and move-to-earn (M2E) technology, tackling common issues such as high gym member dropout rates.
According to IHRSA, 50% of new gym members quit within six months mainly due to lack of motivation, connection, and personalization.
The IHRSA report also highlights that "the permanent closure of 17% of clubs in the U.S.—and as high as 40-50% in some countries—has left a large segment of displaced members seeking new alternatives" amid the COVID-19 pandemic.
Fight Out offers a comprehensive solution for individuals seeking alternative options, including a personalized NFT avatar that showcases their fitness stats, gamifies their fitness journey, and motivates continued engagement, as well as REPS token rewards and custom workout plans.
With REPS tokens, users are incentivized to work out at home or in the gym, and can redeem the tokens for discounts on subscriptions, merchandise, and gym memberships.
Fight Out is set to launch its first gym in the last quarter of 2023, equipped with advanced equipment and unique features such as Web3-powered technology like digital mirrors displaying the user's fitness profile and sensors tracking workouts for suggestions and workout information.
By fostering a community-driven, personalized, and goal-oriented environment, Fight Out is positioning itself to make inroads in the fitness sector.
Investors can also capitalize on this opportunity with investments over $50,000 receiving bonuses of up to 50% in the project's token presale. FGHT tokens have already raised close to $4.28mn in the presale period, with the next phase soon to begin at higher prices.
Loopring (LRC)
After starting the new year with a massive 85.52% for the first month of the year, LRC has been moving sideways for the majority of February so far. The cryptocurrency attempted to break over the psychological level of $0.50 on Wednesday and registered an intraday high of $0.4949.
However, the price was immediately met with selling pressure, which ultimately pushed the price down to $0.4456 for the day with a loss of 2.01%. As of writing, LRC is trading at $0.4457 with a gain of 3.96% for the day. Technical indicators are suggesting that LRC will experience a period of bullishness in the short to long-term future.
The immediate support is in the range of $0.3941 to $0.4020 and the immediate price target is still the psychological resistance level of $0.5000. If retaken, a potential impulse move can send the price to $0.5500.
C+Charge Charging Forward With Major EV Market Innovations
Electric vehicle (EV) owners will soon enjoy a smoother and more informed charging and payment process, thanks to the innovative blockchain platform C+Charge. The growing interest in EVs worldwide has led to a transition towards sustainable energy solutions, but the current charging infrastructure is unable to keep up with the increase in EV ownership, resulting in inefficiencies and vague pricing.
⚠️ According to @WWF, one of the greatest environmental challenges we face today lies in mobility, with a quarter of global CO2 emissions

Join our #greenenergycrypto #presale now! ⬇️https://t.co/ixe18bPqzI pic.twitter.com/3cgFtUkVV2

— C+Charge (@C_Charge_Token) February 17, 2023
C+Charge will offer a mobile app for EV owners who want more information about charging stations and their vehicles. The app will provide real-time data on nearby charging options and diagnose the vehicle for any charging issues.
C+Charge is developing its own charging stations and partnering with existing ones, while allowing users to pay with the exclusive CCHG token. The blockchain technology that powers CCHG ensures fast and transparent payment processing.
In addition to streamlined payments, EV owners who use C+Charge will also earn carbon credits through Goodness Native Tokens (GNT). These tokens symbolize verified voluntary carbon credits and can be stored in the C+Charge app to be traded.
The first stage of the C+Charge presale has sold out and the project has now raised over $1.2 million. The token's price will raise further in stage 3, making this a great time to buy CCGH, one fo the best cryptos to buy today.
Filecoin (FIL)
Filecoin is a decentralized storage network that is designed to offer a secure, efficient, and decentralized alternative to traditional storage solutions. Filecoin enables users to store, retrieve, and share digital information, and it operates on a blockchain network that includes a native cryptocurrency, FIL.
FIL is currently on a tear trading at $7.782 and is up by 44% for the day. This comes after the cryptocurrency has traded sideways for the past 25 days. This current move has broken over two significant resistance ranges of $5.683 to $5.893 and $6.560 to $6.981.
The next potential target for the cryptocurrency is the psychological level of $9, which coincides with another significant resistance range of $8.410 to $8.901.
Calvaria (RIA): Duels of Eternity Changing the Web3 Game
Introducing Calvaria: Duels of Eternity, an upcoming battle card game that is set to change the way we think about gaming and cryptocurrency. The game offers players the chance to compete in strategic tournaments using a range of unique characters and abilities, each with its own strengths and weaknesses.
Calvaria is committed to decentralization, giving players true ownership of their in-game resources and assets, and the freedom to buy, sell, and trade as they please. This, along with its engaging gameplay, is what sets Calvaria apart from other similar games.
At the heart of the Calvaria ecosystem is the $RIA token, which serves as the main currency of the game's economy.
Players can earn tokens by winning tournaments in the "Play-to-Earn" version of the game or participating in staking.
Built on the Polygon Network, Calvaria offers fast, affordable, and secure transactions within the game, eliminating the various roadblocks and problems that players on the Ethereum network must contend with.
We are very happy to announce that this coming Tuesday we have finalised out listing to Uniswap!

The patience and understanding of our community is greatly appreciated as we're accompanied through the development of our project and game.

— Calvaria: Duels of Eternity! ✨ (@CalvariaP2E) February 17, 2023
The Calvaria development team has big plans for the game, including seasonal competitions and large prize pools, making it well-suited for esports. With a community-driven approach, the team is committed to creating a sensible balance between supply and demand and optimizing the incentives for all project participants.
In short, Calvaria: Duels of Eternity is poised to become a major player in the world of blockchain gaming. It will offer addictive gameplay, real ownership of game resources, and cutting-edge technology that sets it apart from all other games in its class. Those wishing to take a position in RIA can do so on BKex, LBank, and Uniswap.
---