ApeCoin Soars After Launch, BAYC NFT Prices Pump and Dump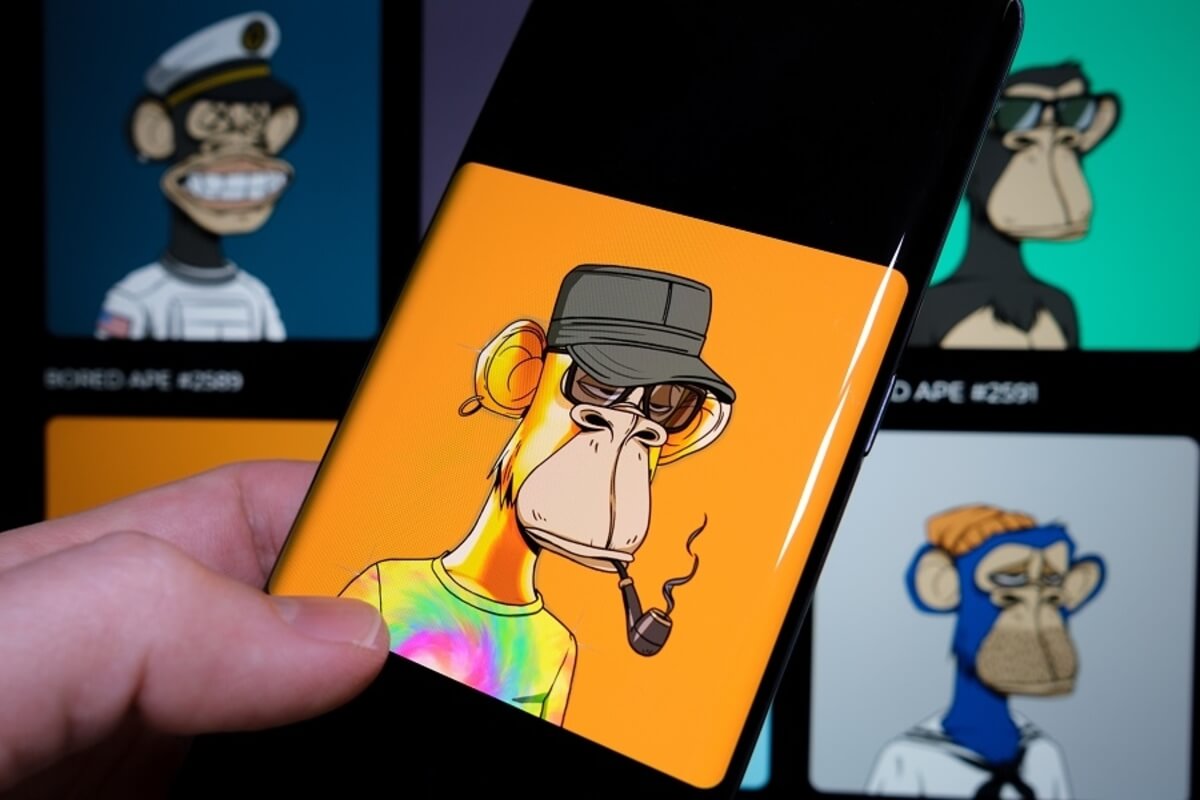 The Bored Ape Yacht Club (BAYC) non-fungible token (NFT) collection's new utility and governance token ApeCoin (APE) was airdropped to holders of NFTs in the BAYC ecosystem on Thursday, soaring in price as major exchanges rushed to list it.
At 10:13 UTC on Friday, APE traded at USD 14.61, up 41% for its first day of trading.
On OKX, one of the first major exchanges to list the token, APE immediately shot up in price upon listing, which happened at noon UTC time on Thursday. The price later stabilized around USD 8. Overnight, the price again started to increase, reaching a high of just over USD 18 in early trading in Europe.
APE token price on OKX: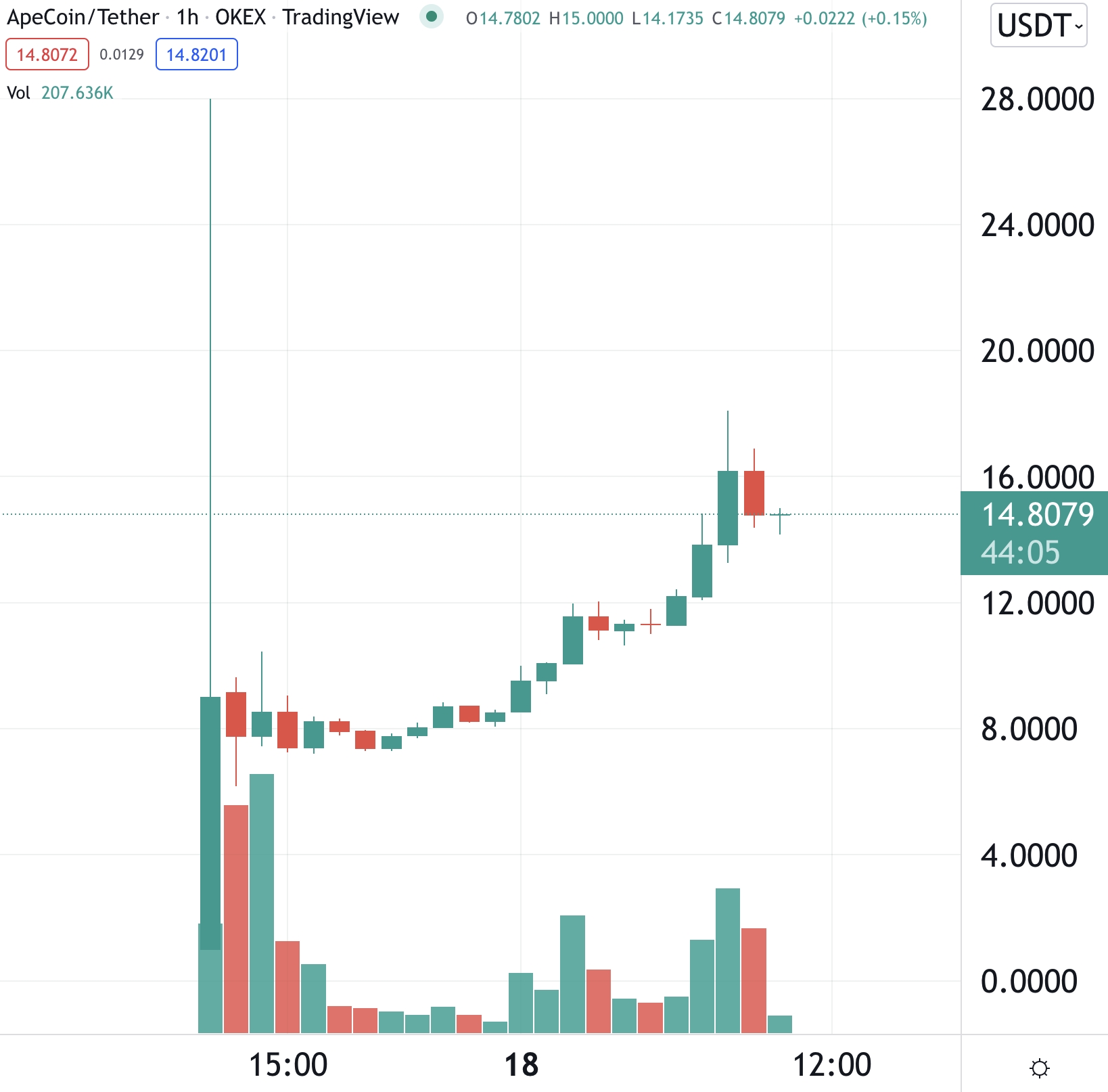 Developed and issued by the ApeCoin Decentralized Autonomous Organization (DAO), the coin is already ranked as the 62nd most valuable cryptoasset by market capitalization on CoinGecko.
According to the ApeCoin DAO, owners of any NFT in the BAYC ecosystem can claim their token allocations, with the number of tokens varying depending on the specific NFTs owned.
NFT owners have 90 days starting from Thursday to claim their tokens, the DAO said.
Following the release of the tokens, the floor prices of the three NFT collections in the BAYC ecosystem spiked, before falling back down again.
The three collections in the ecosystem include the main Bored Ape Yacht Club (BAYC), in addition to Mutant Ape Yacht Club (MAYC), and Bored Ape Kennel Club (BAKC).
Among these, the fall in the price was particularly heavy for BAKC as investors realized that NFTs from this collection had to be paired with one or more NFTs from BAYC or MAYC to be eligible for the token claim.
Meanwhile, BAYC was the most resilient of the collections, with prices bouncing back relatively strongly after the initial drop.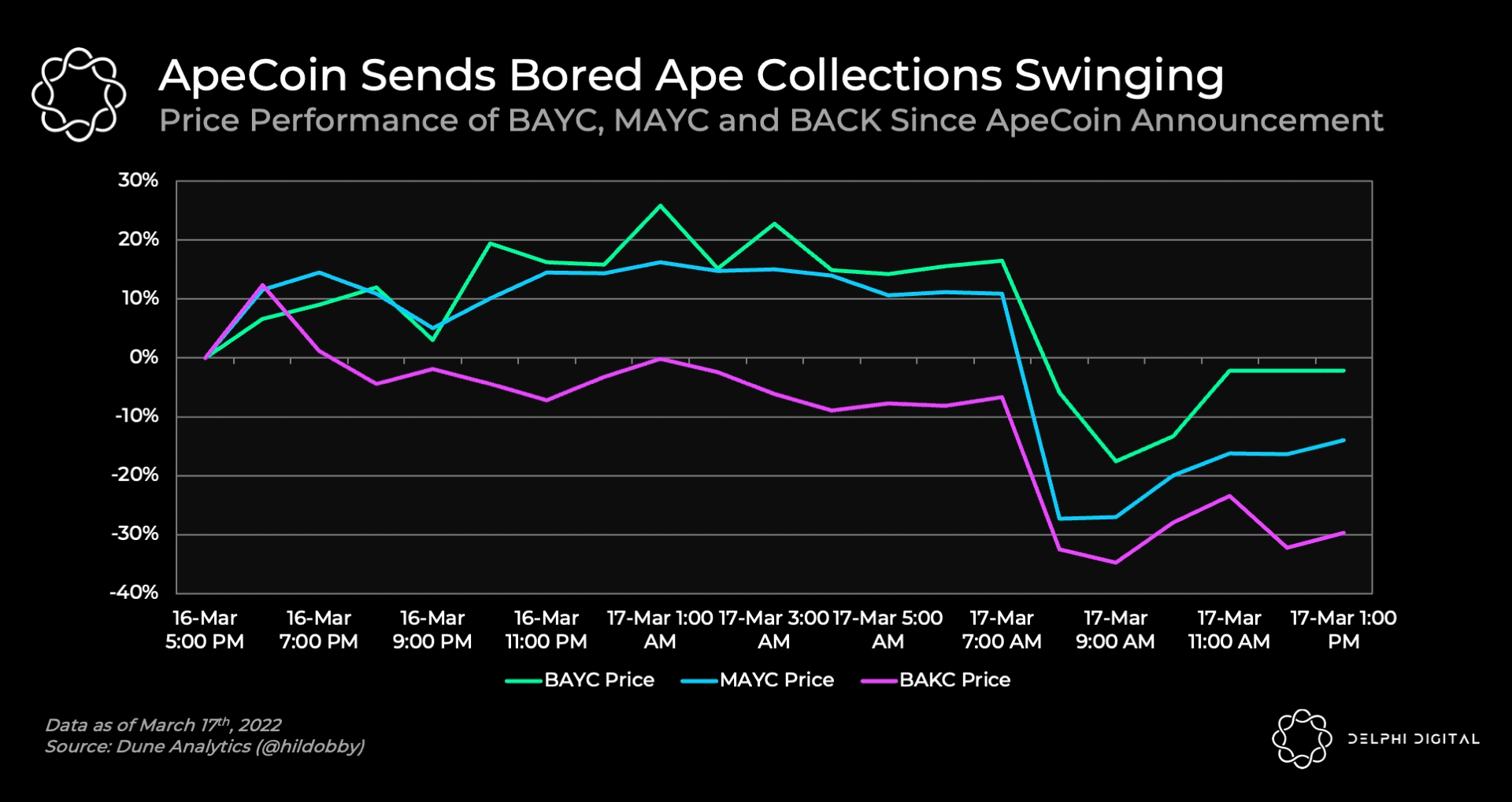 Notably, the brand new coin was almost immediately listed on many of the top crypto exchanges. Besides OKX, these exchanges included Binance, Coinbase, FTX, and Gemini.
Over the past 24 hours, more than 35% of the trading volume in the coin has been seen on Binance, followed by the decentralized exchange Uniswap (UNI) and Coinbase.
For now, holders of APE can use their tokens to vote on proposals as part of the governance process of ApeCoin DAO. However, more utility is expected in the future, with crypto game developers such as Animoca Brands and nWayPlay already hinting that the token will be integrated into future play-to-earn games.
____
Learn more:
- Bored Ape Yacht Club and MetaMask Join the Altcoinization Bandwagon
- Sotheby's Bored Ape NFT Auction Attracts Nearly USD 20M In Bids

- DAO Snaps up South Korean Cultural Treasure that Dates Back to Antiquity
- NFT Market Continues to Outperform Crypto Despite Correction – Nansen

- NFTs Coming to Instagram in 'Several Months' as Metaverse is 'Next Chapter of the Internet' - Zuckerberg
- Web3 in 2022: Defining a Concept & Developing a New Paradigm
---