Americas' Share in Crypto M&A and Fundraising is Shrinking
Disclosure: Crypto is a high-risk asset class. This article is provided for informational purposes and does not constitute investment advice. By using this website, you agree to our terms and conditions. We may utilise affiliate links within our content, and receive commission.
The Americas are loosing their share in crypto mergers and acquisitions (M&A) and fundraising, according to major consulting company PwC. (Updated at 14:49 UTC: Updates in bold.)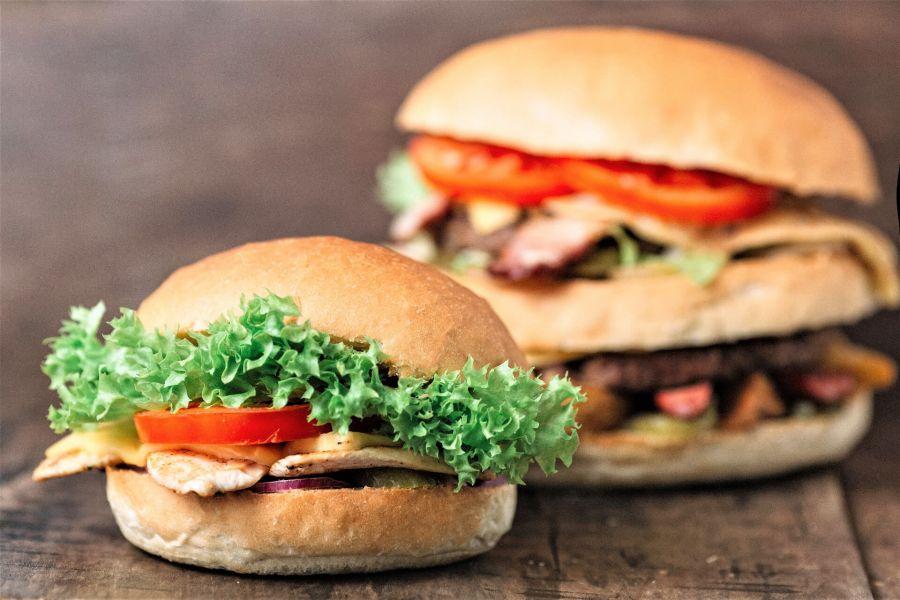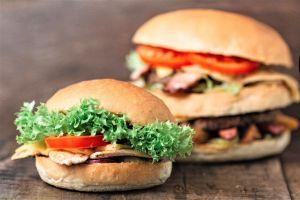 In their latest report which looks into the first six months of 2020, PwC found that the total value of crypto M&A in the first half of this year surpassed the total seen in 2019, while the average deal size went up as well.
However, the report said that,
"Crypto M&A deal activity continues to shift away from the Americas, with 57% of deals occurring in APAC [Asia-Pacific] and EMEA [Europe, the Middle East and Africa] in H1 2020."
It goes on to say that this percentage is an increase from 51% seen in 2019, as well as from 43% seen in 2018.
Separately, 30% of the deals were done in APAC, up from 26% in 2019, while 27% happened in EMEA, up from 25%.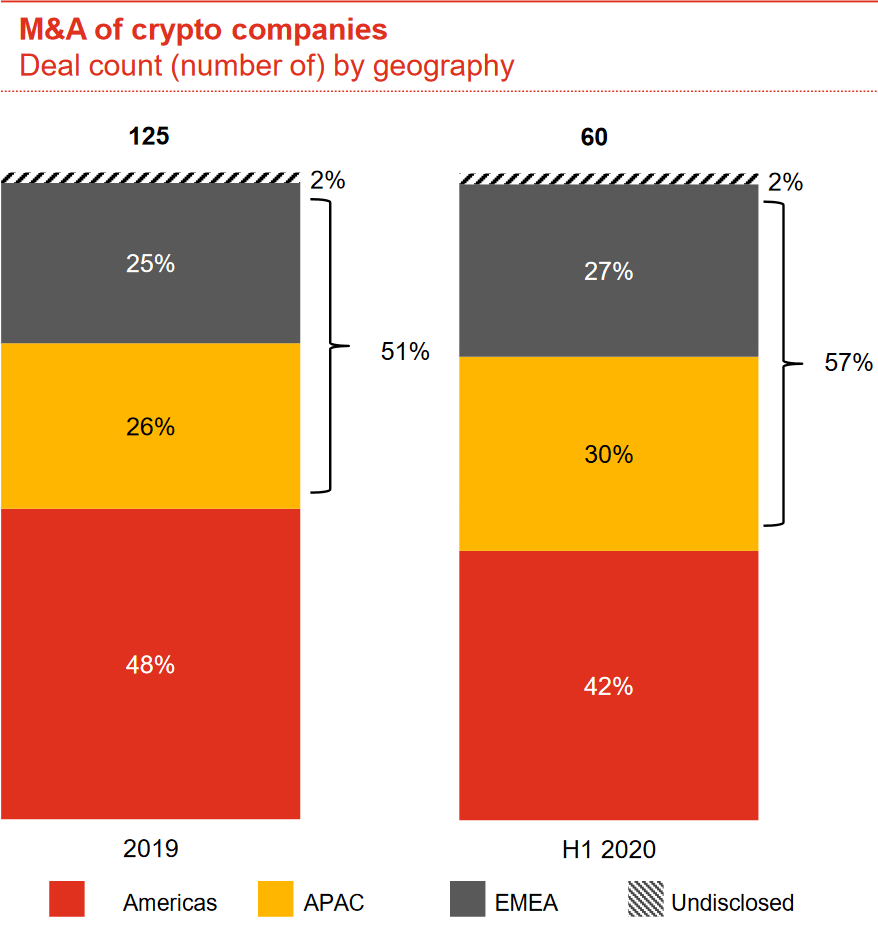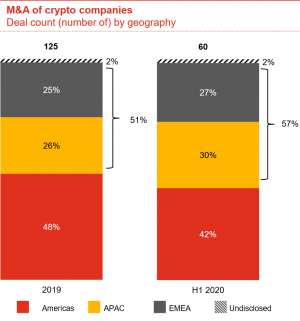 "Asia already plays an important role in the global crypto ecosystem, from central bank digital currencies to crypto exchange trading activity, so it's natural to see the region play an important role when it comes to global crypto M&A activity," said Henri Arslanian, PwC Global Crypto Leader, in an emailed comment.
"It will be interesting to see if the recent wave of increased regulatory and policy clarity in the US will have an impact on the crypto M&A and fundraising market over the coming months," he told Cryptonews.com.
And that's not all the bad news for the Americas.
The PwC report found that, globally, the number of equity fundraising deals went down in H1 2020, but that the total amount raised by crypto companies "remained relatively stable." Fewer deals were made overall, but the average deal size increased by 33%.
Once again, the report said that,
"We continue to see APAC and EMEA be home to the majority of crypto equity fundraising deals."
Together, these two regions boast 56% of total crypto fundraising deal count, compared to 54% in 2019. Separately, EMEA has 32%, and APAC 24% in H1 2020. The Americas are down from 44% to 42%.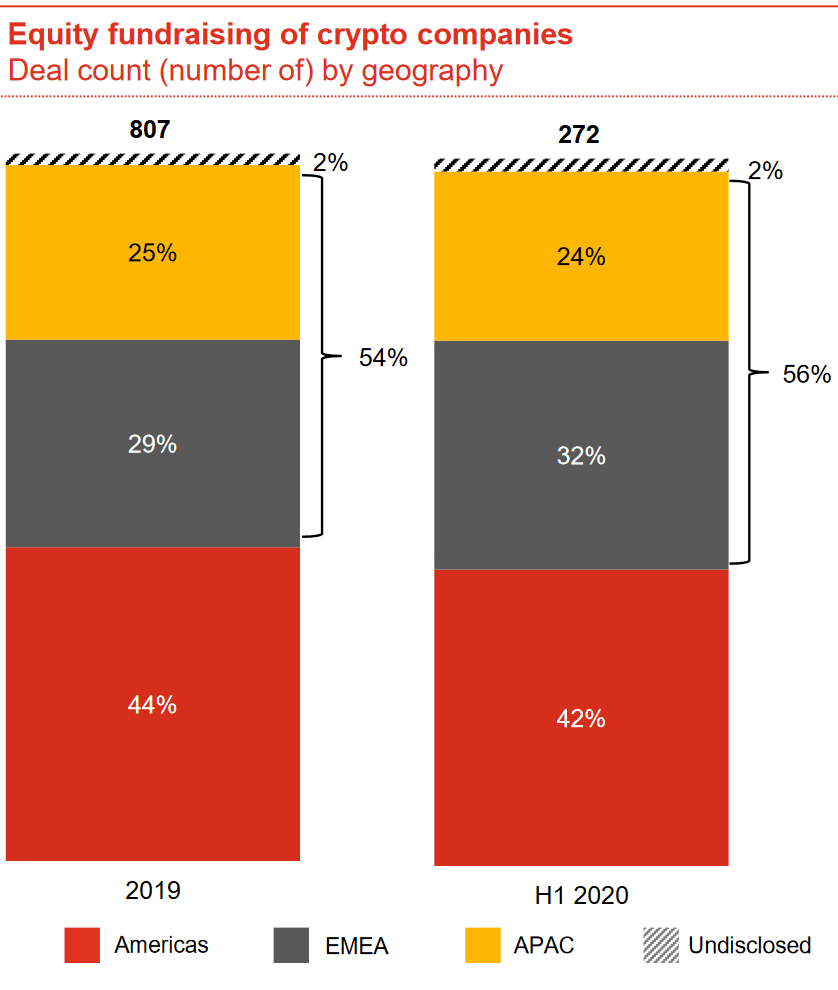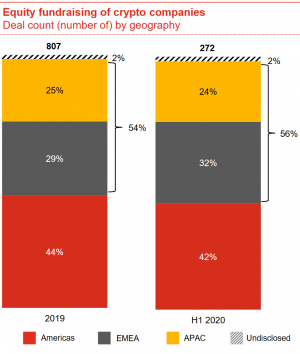 The report further found that the first half of 2020 saw an increase of M&A transactions involving crypto exchanges and trading infrastructure, driven mostly (74%) by existing players' strategic acquisitions. These used M&A "to expand their offering as opposed to relying solely on organic means."
"We should expect the large crypto unicorns to become increasingly like crypto octopuses by acquiring or investing in various ancillary businesses in order to remain dominant," Arslanian said. He added that M&A activity will remain strong in the coming months, especially "with some of the larger or more profitable players acquiring firms that offer ancillary services to their current offerings."
Furthermore, crypto and blockchain companies are found to still be "the biggest source of M&A activity in the sector." Looking at the deal count by buyer type, in 2019 crypto and blockchain companies accounted for 48% of the total number, with the same percentage reached in the first half of 2020 alone.
Compared to last year when wallet and data companies were the most common crypto M&A targets, in H1 2020, 5 out of 10 top deals involved crypto exchanges or trading companies, such as crypto exchange Binance's March acquisition of CoinMarketCap for USD 400m.
There was also an increase in fundraising activities involving crypto exchanges and trading companies, thanks to the increase in crypto prices, regulatory clarity and interest by institutional players, among other factors. One such example is the USD 300m Series B fundraise of crypto derivatives provider Bakkt, said PwC.
Seed rounds accounted for 50% of all the crypto fundraising deals in H1 2020, while the major funding source for crypto companies still remain traditional VCs (36%) and crypto-focused VCs and funds (19%).
Nine of the top ten fundraising deals were in the trading infrastructure and blockchain infrastructure sector, while half of the ten happened in the US.
Crypto-focused funds and crypto incumbents are the top 5 investors, and these, like in 2019, include crypto exchange Coinbase, blockchain company ConsenSys, and venture capital firm Fenbushi.
___
Learn more:
Bithumb Operator Wants At Least USD 430m For Its Stake In Exchange – Report
New Asian Crypto Behemoth Blessed But Merger Delayed
Expect More M&As As New Type of Buyers to Compete With 'Crypto Octopuses'
---