'Altcoin Hype Has Largely Died Off' – Kraken CEO
Jesse Powell, CEO of major U.S. cryptocurrency exchange Kraken, believes that the hype surrounding altcoins in the Cryptoverse is at its dying breath.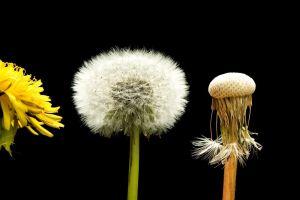 "Altcoin hype has largely died off," said Powell in a recent interview with Ivan on Tech, a popular YouTuber. He explained his view by saying that a vast majority of the altcoins, "probably 99%" of them, are down by some 95% of their value from their all-time highs. Instead, people have refocused on the top few high-potential, high-quality projects, he says.
"I think that people have kind of realized that most of these altcoins are really seed-stage startups and, you know, most startups fail," Powell says. As for the issues that people get burned by, or reasons that will lead to this failure of the majority of projects, the CEO mentions "tons of terrible stocks in the public stock markets," and says that "a lot of the incentives are screwed up" with ICOs (initial coin offerings), where "founders got paid millions of dollars before they even delivered a working product and, you know, maybe now they're not really incentivized to continue building."
Kraken now offers 30 digital assets to its clients.
Top 10 markets on Kraken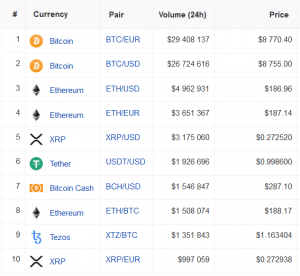 In regards to Bitcoin (BTC), he says he never recommends shorting BTC. He added that Kraken has "way more demand to go long Bitcoin, but we've only got so many dollars in the system. The margin pool for borrowing dollars to buy Bitcoin is constantly being exhausted, which I think is good. People are bullish."
Powell also said that a lot of people coming into crypto, do so through video games – especially young people nowadays, who don't even have a bank account, are familiar with digital / virtual value and currency.
Meanwhile, popular crypto researcher and analyst Willy Woo took to Twitter to post about the top 50 coins by trading volume. "Below the top 40 doesn't even register i.e. 4938 coins are illiquid," says the analyst. He added that "very few coins" have credible liquidity to make good investments, and what investors want is exactly liquidity "at entry [and] on exit." This is the chart Woo provided to back up his claims.
Top coins by trading volume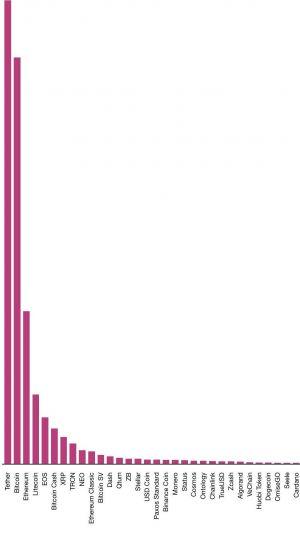 Some, however, believe that these projects are still too young. Erik Voorhees, founder and CEO of the crypto exchange ShapeShift, replied to Woo, saying: "Put Bitcoin from 2012 in there. Most of these projects are only 1-3 years old."
Learn more: This is Why Dogecoin is Better than 'Altcoins-Degenerators'
Brad Garlinghouse, CEO of Ripple, also said recently that "there are too many" crypto assets and "99% of crypto probably goes to zero."
Meanwhile, in September, Kraken admitted it was cutting 57 jobs. Powell allegedly said at the time that the job cuts were a cost-saving measure that will have no impact on the quality of Kraken's service. Later that month, Dan Held, Director of Business Development of the company, told Cryptonews.com that the exchange is planning a "major change" soon, as improving user experience is one of the main focus areas in the company this year.
---